Birthday Cookie Cake that's a delightful dessert for your birthday! Soft, chewy birthday chocolate chip M&M cookie cake topped with buttercream frosting & sprinkles!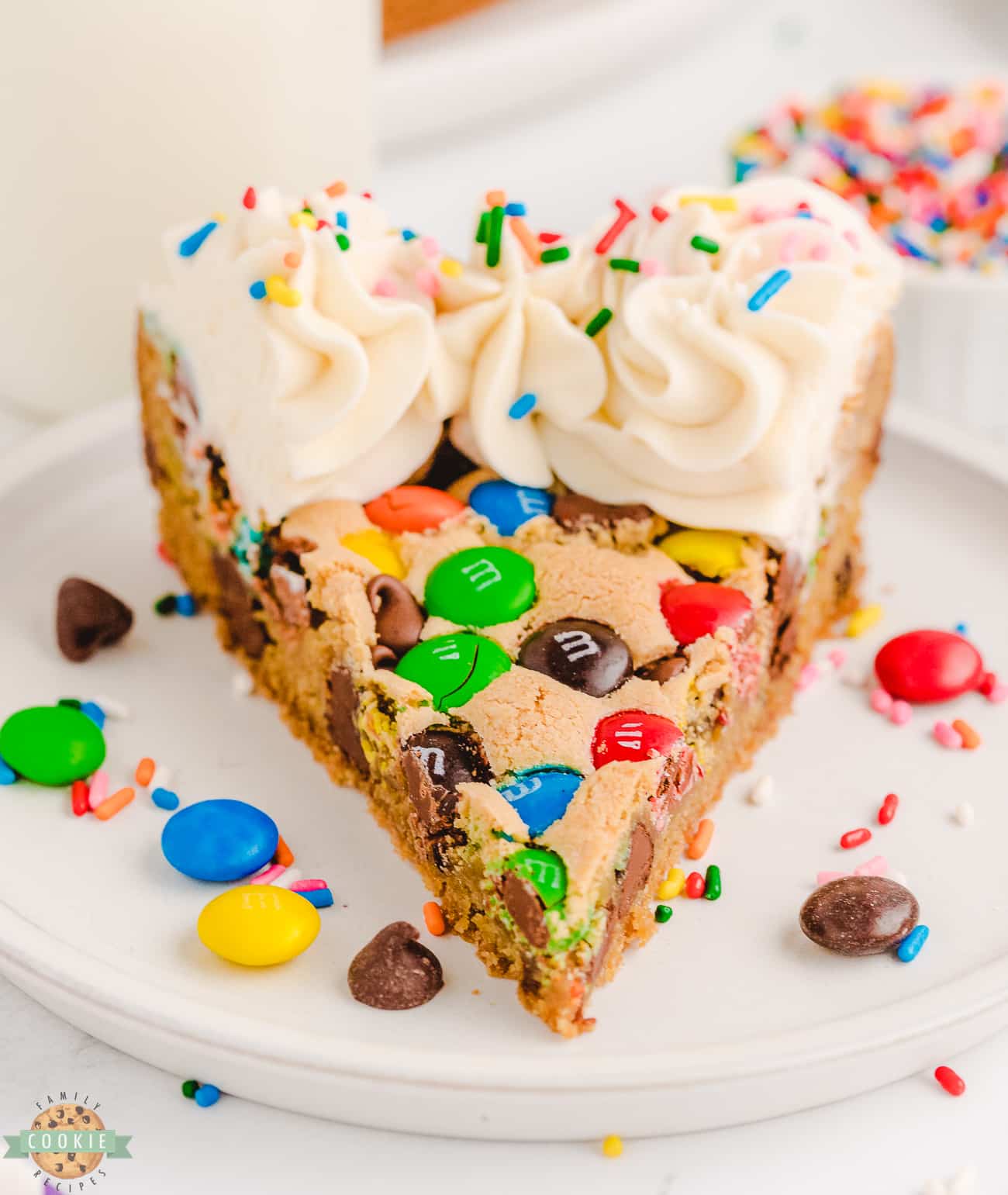 This birthday cookie is a perfectly sweet, soft and delicious treat to surprise your family or friends with. A cookie cake is a fantastic alternative dessert that tastes incredible and is easy to serve too!
M&M Birthday Cookie Cake
A cookie cake is a great dessert to bring to your next family or friend birthday celebration. I love making this unique treat because it is just a bit simpler than individual cookies or a standard cake. There is no scooping or rolling required and you can still enjoy the fun of slicing a cake!
The M&M's in the cookie dough provide a wonderful and sweet crunch throughout the cake. You can also have fun with the candy colors and create a special color theme for the birthday party of even make them for a holiday event. Have fun with this cookie cake and see for yourself how amazing it tastes!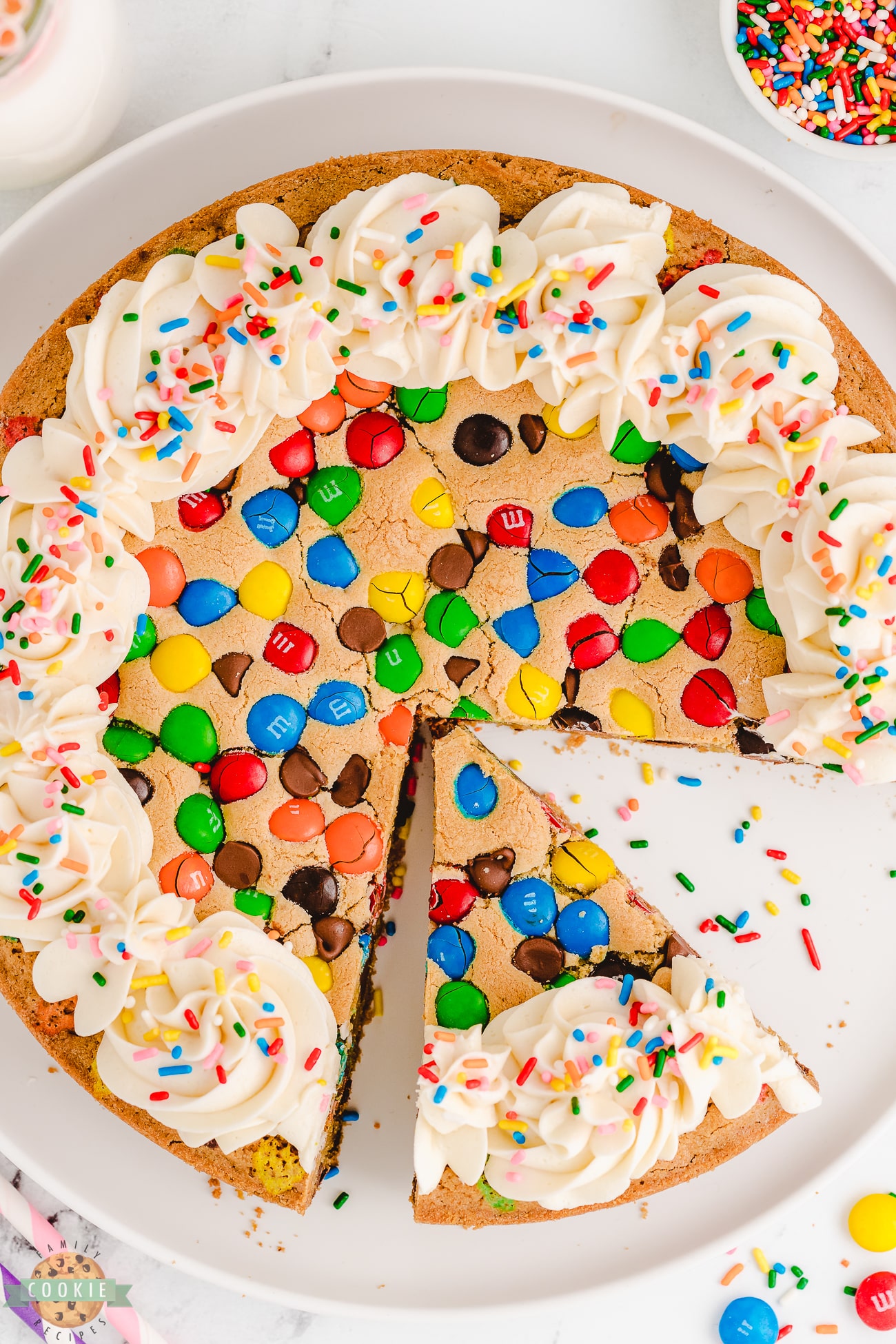 WHY YOU'LL ABSOLUTELY LOVE THIS COOKIE CAKE RECIPE
It is EASY. No fussing with cake layers! The ease in which you can make this birthday cookie cake is amazing. Most of the ingredients are probably in your kitchen too, making it a simple recipe to whip up!
Adapt to suit your tastes. For the delicious candy addition, use milk, dark or even peanut butter M&M's. You can also use white, milk or dark chocolate chips depending on your preference.
No chilling is required. Patience while waiting for dessert to be ready can be difficult, but this recipe does not require any chilling of the dough. You can mix and bake in a matter of minutes!
Homemade Birthday Cookie Cake Ingredients
Butter: You will need 12 tbsp of butter, softened, to create a wonderfully rich tasting cookie base.
Brown sugar: Adding in 1 cup of brown sugar will give this cookie cake a nice depth of flavor.
Sugar: Use ¼ cup of sugar to make this cookie perfectly sweet and chewy.
Egg: Add in 1 whole egg + 1 egg yolk to help bind the ingredients together well.
Vanilla extract: Using 2 tsp of vanilla extract will help enhance all the amazing flavors in this dough.
Flour: For the structural base of this cookie dough, use 1 ¾ cup of flour.
Cornstarch: Use 1 tsp of cornstarch to make the perfect cookie cake texture.
Baking soda: You will need 1 tsp of baking soda to help the dough to rise as it bakes.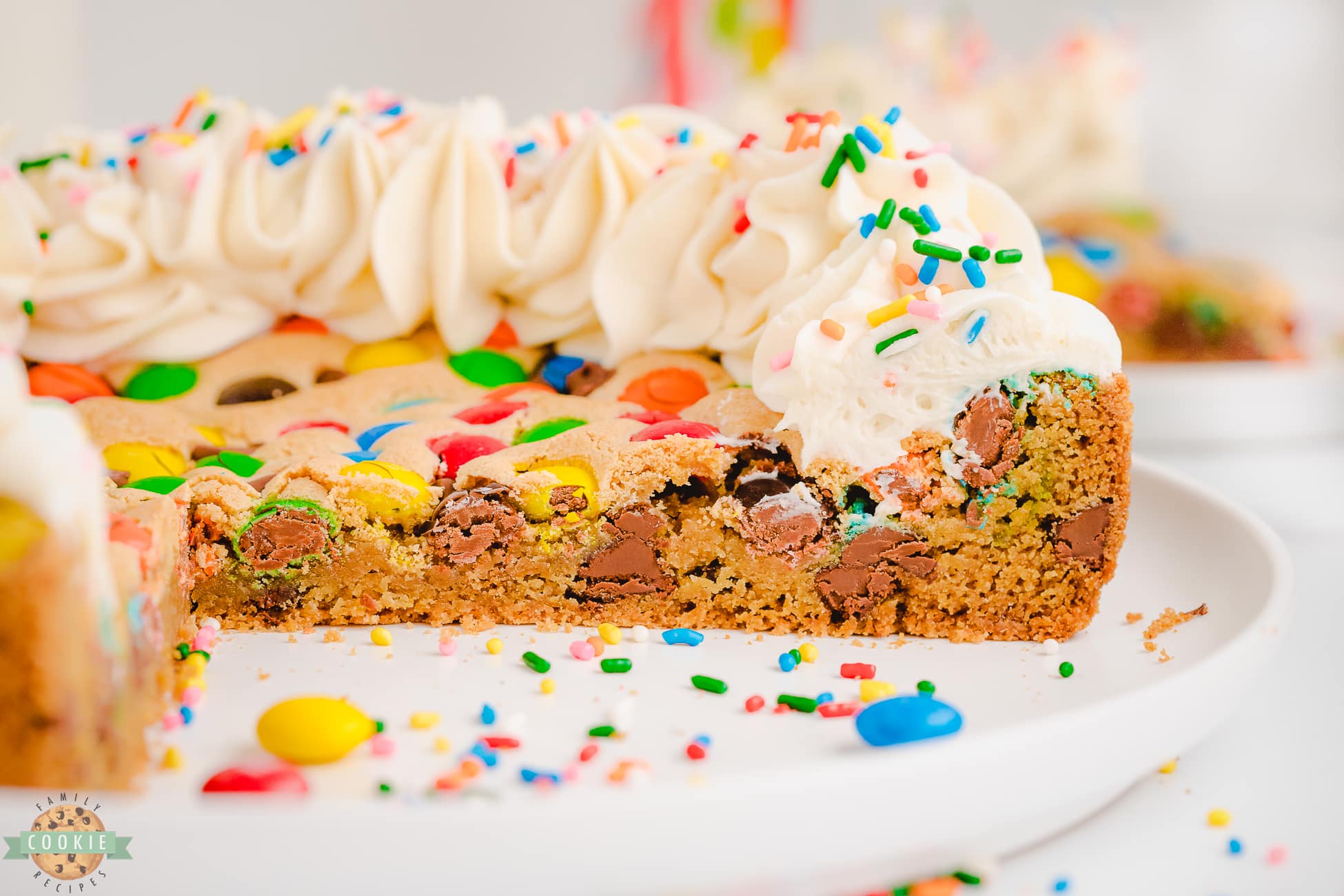 Chocolate chips: Adding in ½ cup of chocolate chips, milk, dark or white, will give this cookie cake even more amazing flavor.
M&M candy: To give this treat more great taste and a pop of color, use ½ cup of M&M candies in the dough.
Frosting
Butter: For a lovely rich cake frosting, use ½ cup of butter, softened.
Powdered sugar: Add in 2 cups of powdered sugar to make the frosting perfectly sweet.
Vanilla extract: You need 1 tsp of vanilla extract to flavor the frosting nicely.
Sprinkles: Use your choice of festive sprinkles to give this cookie cake a beautiful and fun appearance!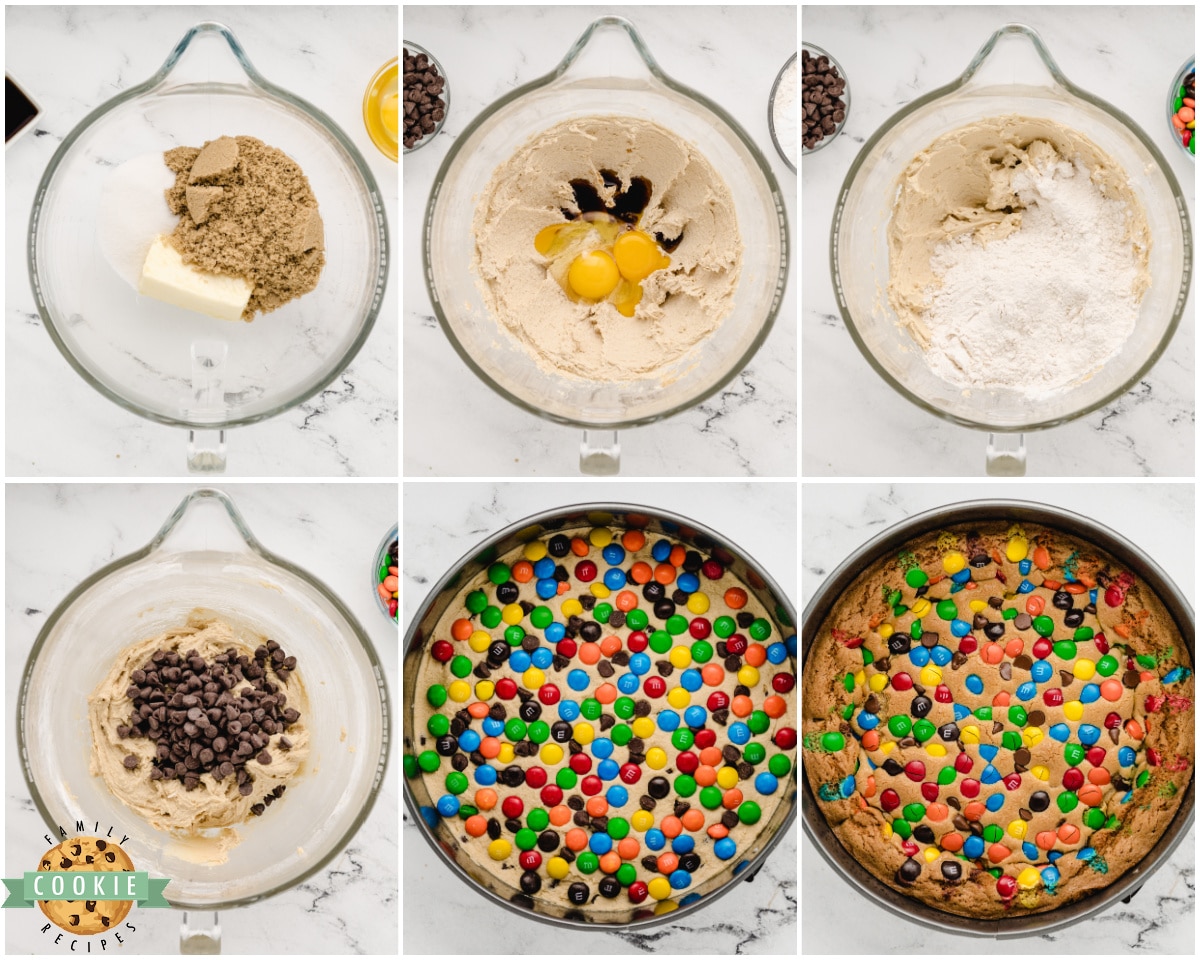 How to make Birthday Cookie Cake
Prep
Start by preheating the oven to 350°F. Then spray an 8-inch springform pan with nonstick spray and set aside.
Batter
Next, in a large mixing bowl, beat the butter, brown sugar, and sugar until it is light and creamy. I find this easiest to do with an electric mixer or KitchenAid mixer. After that, add in the egg, egg yolk, and vanilla extract; continue to mix for 1 minute.
Proceed to stir in the flour, cornstarch, and baking soda and mix again until combined. Then stir in the chocolate chips until just combined, be careful not to overmix.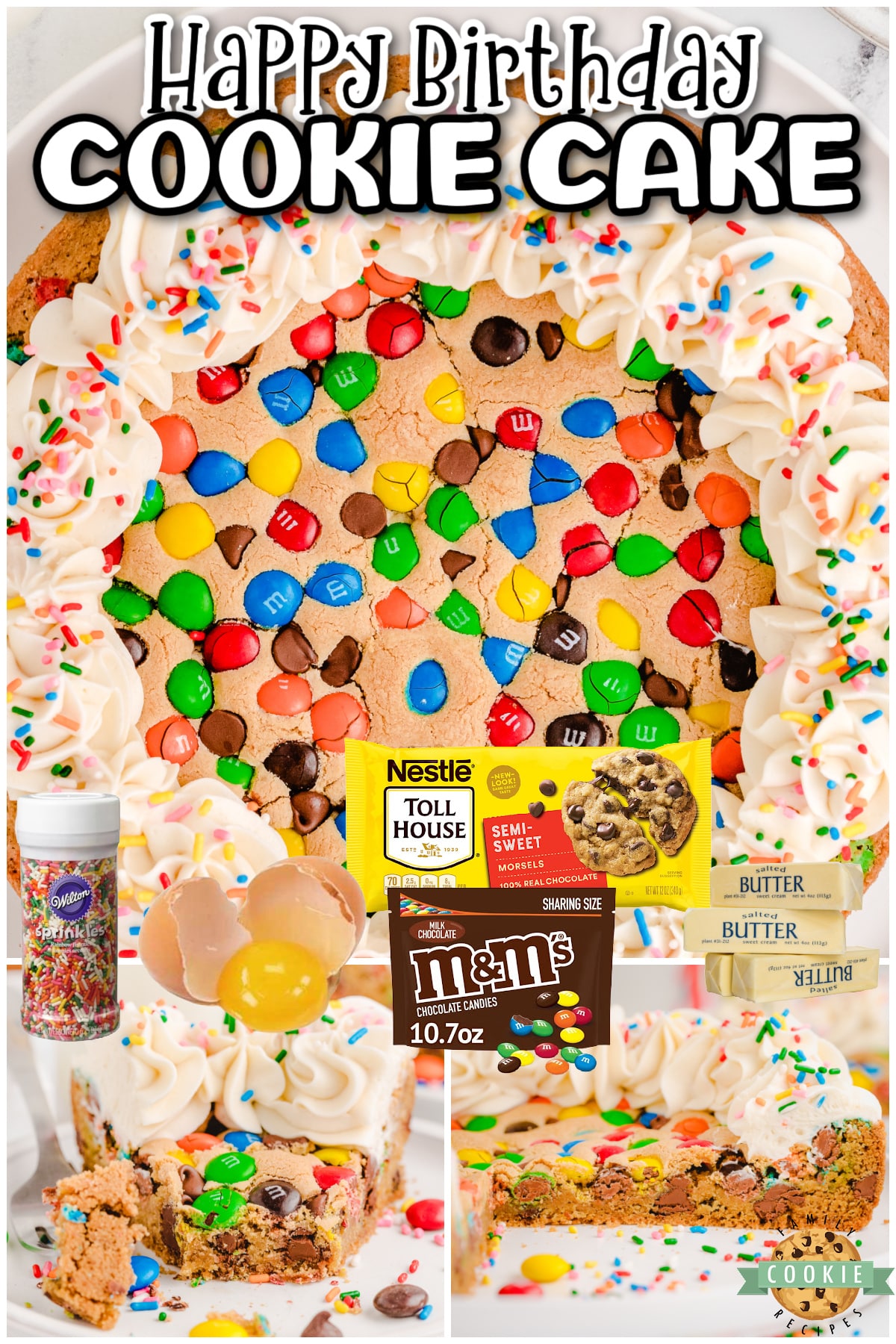 Bake
Continue to spread the cookie dough into the prepared springform cake pan and top with the M&M candies, gently pressing them into the top.
Place in the preheated oven and bake for 20-25 minutes, until golden brown. Let the cookie cool for about 20 minutes, then run a knife around the edge and release the springform pan.
Frosting
Prepare the icing by combining the butter, vanilla extract, and powdered sugar, mixing until the mixture is light and fluffy. Again, using an electric mixer helps greatly with this step.
Then pipe the frosting around the edges of the cake and top with sprinkles. Slice into wedges, serve and enjoy!
How long are these cookies good for?
This cookie cake can be kept stored in an airtight container for up to 3-5 days. To keep the cookie nice and chewy I recommend keeping it stored in the fridge.
Can I freeze this frosted cookie cake?
Yes, you can freeze this cookie cake. It will last up to 3 months if store properly. To freeze, place your frosted cookie cake onto a baking sheet and freeze for about 2 hours until the frosting is solid. Then transfer to an airtight container and it should last up to 3 months.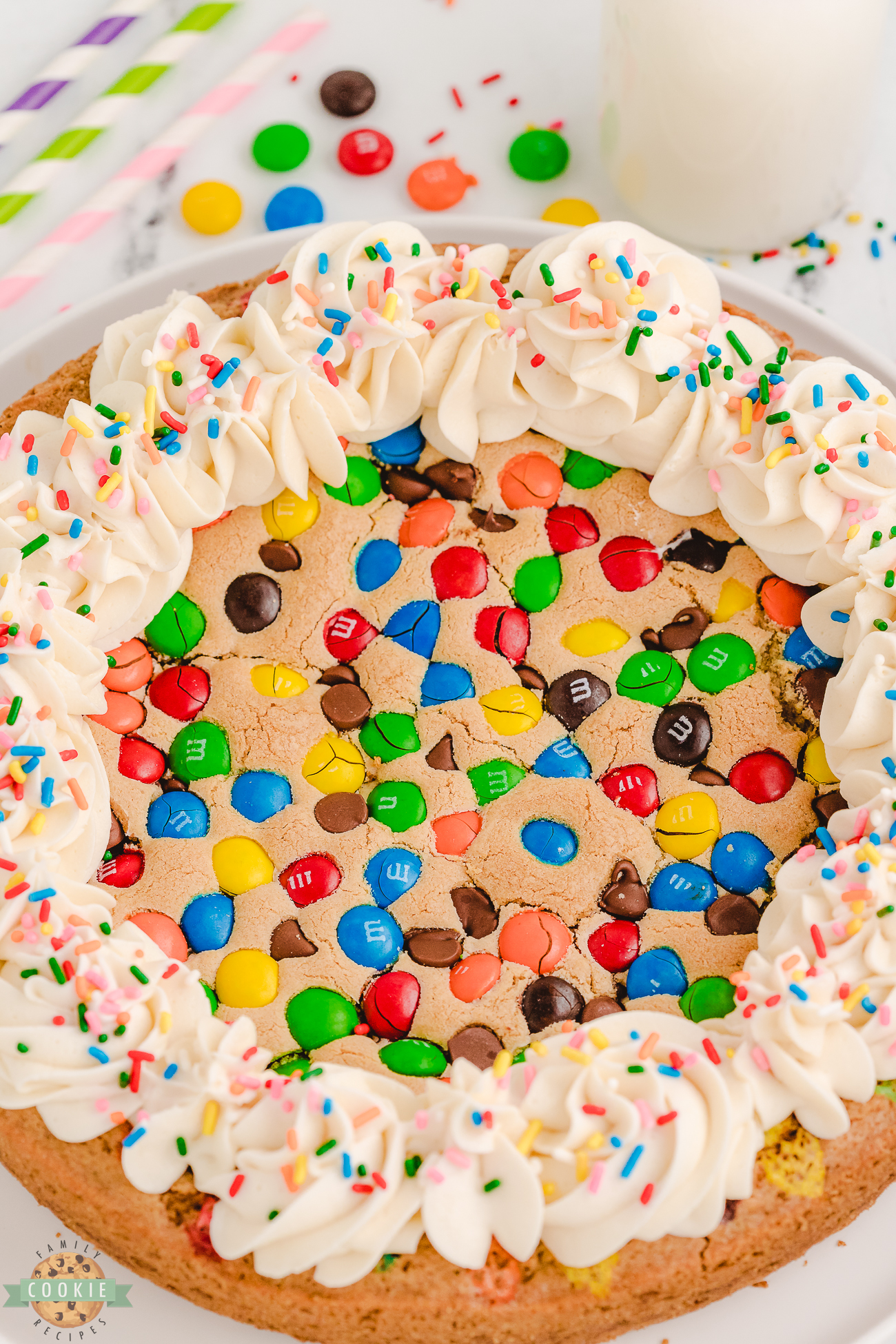 WHAT TYPE OF VANILLA EXTRACT SHOULD I USE?
A few years ago I tested 10 different vanilla extracts and found new favorites! I love using TOTONAC's Mexican Vanilla for everyday use. It's pure vanilla and contains no alcohol, which I like because I don't like the taste of extracts made with alcohol. Each time I try another, I go back to Totonac's quickly afterward; it's so good! I also love using Nielsen Massey Vanilla Bean Paste. Again, this one has the best flavor by far!


I came across this darling picture a couple weeks ago- my middle child at about 2 years of age, taking a bit of a bath in my kitchen sink! He saw those bubbles and just couldn't resist. Ha!!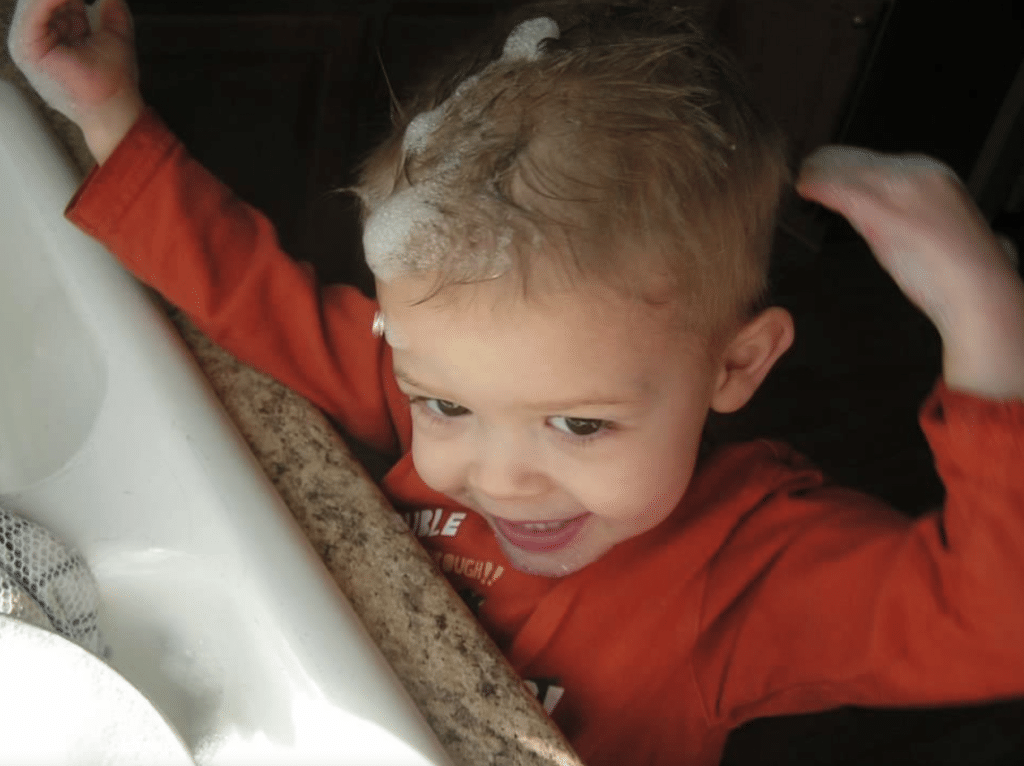 Need more cookie ideas for your next celebration? Try these:
Birthday Cookie Cake an incredible and delectable treat for your special celebration. Make birthday sugar cookies easily thanks to the basic kitchen ingredients that this recipe calls for.