Buttermilk Sugar Cookies are pillowy soft, moist and are topped with a fantastic vanilla buttercream frosting. This recipe for buttermilk sugar cookies is a delicious twist on a typical sugar cookie, the results are delicate and sweet treat!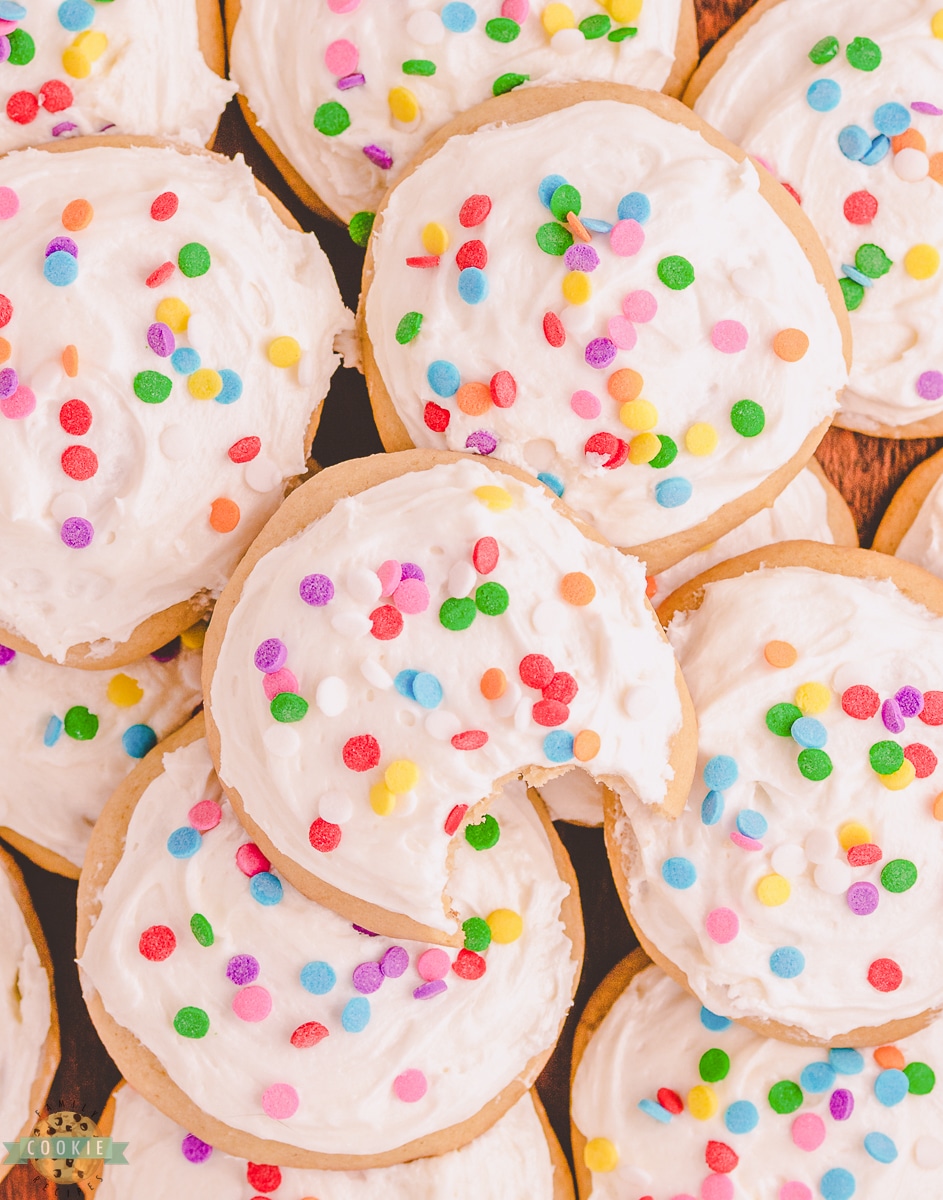 Making this buttermilk cookie is so quick and easy, with just a few staple ingredients that you probably already have in your kitchen! These frosted sugar cookies are fluffy, moist and just might be the most delicious sugar cookie you will ever taste!
Buttermilk Sugar Cookies
Making great sugar cookies begins with a great recipe and this one is absolutely fantastic. This soft buttermilk sugar cookie is a recipe I recently found on the back of the sugar package that looked interesting. Yes, I look at the recipes on the back of the sugar package, don't you?! I did however, make some small changes and honestly, these are easily one of the best sugar cookies I have ever had! They are soft and pillow-like and they have amazing flavor. I have brought these to several family gatherings now and they disappear so fast. Even my son who does not like cookies raves about them, they are that good! Give them a try, you will love them too!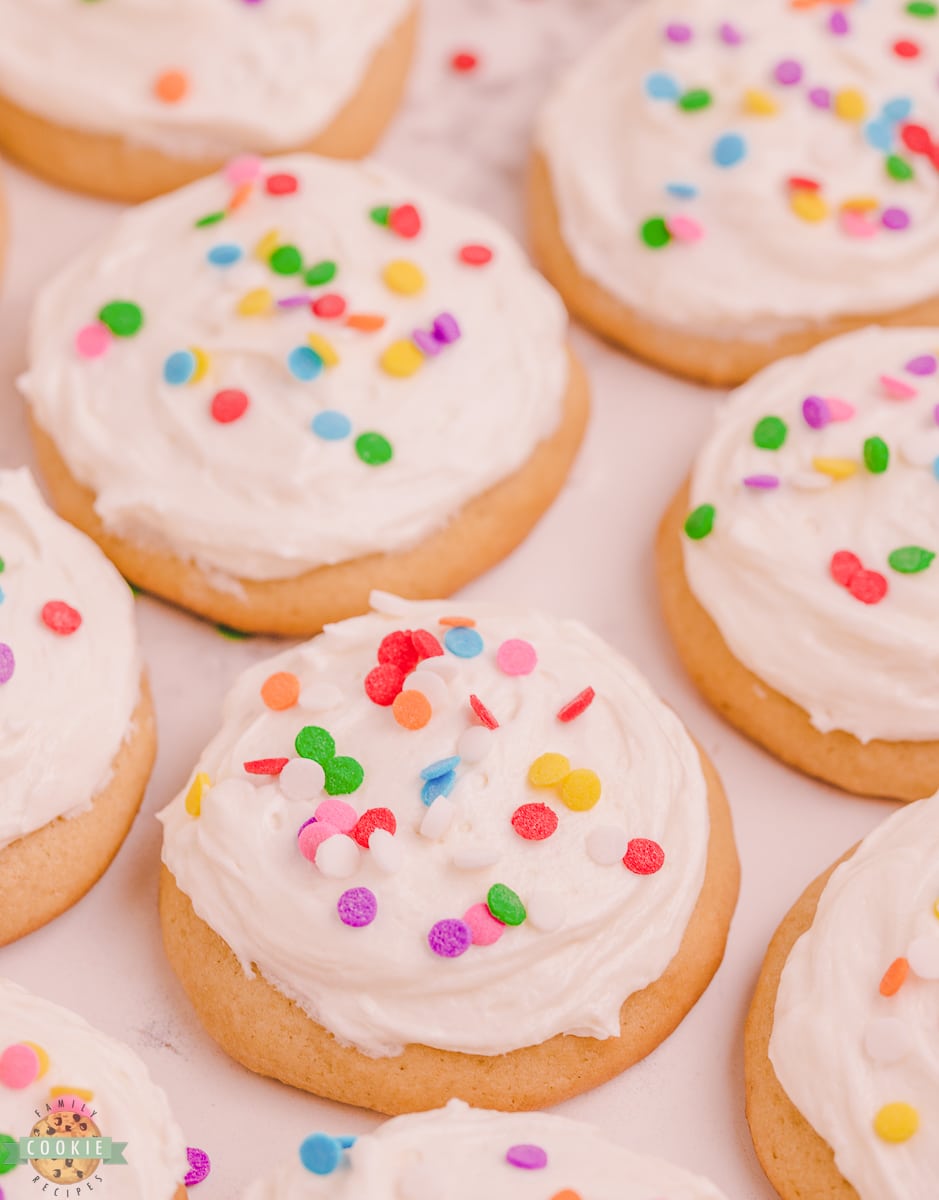 Why you should try these cookies today!
As if anyone needed more reasons to make cookies, but here are a few if you need convincing.
Under 15 ingredients needed. That is the cookie and the frosting combined, less ingredients, less effort, but loads of great flavor!
Sweet and pretty. These cookies not only are delicious but they make for a beautiful presentation on any dessert table as well. They are simple and stunning in flavor and appearance.
Simple to make. Making these cookies requires very little effort, which makes them ideal for any busy family. There is 1 hour of chill time for the dough, but that only makes these cookies taste even more incredible so they are worth the wait.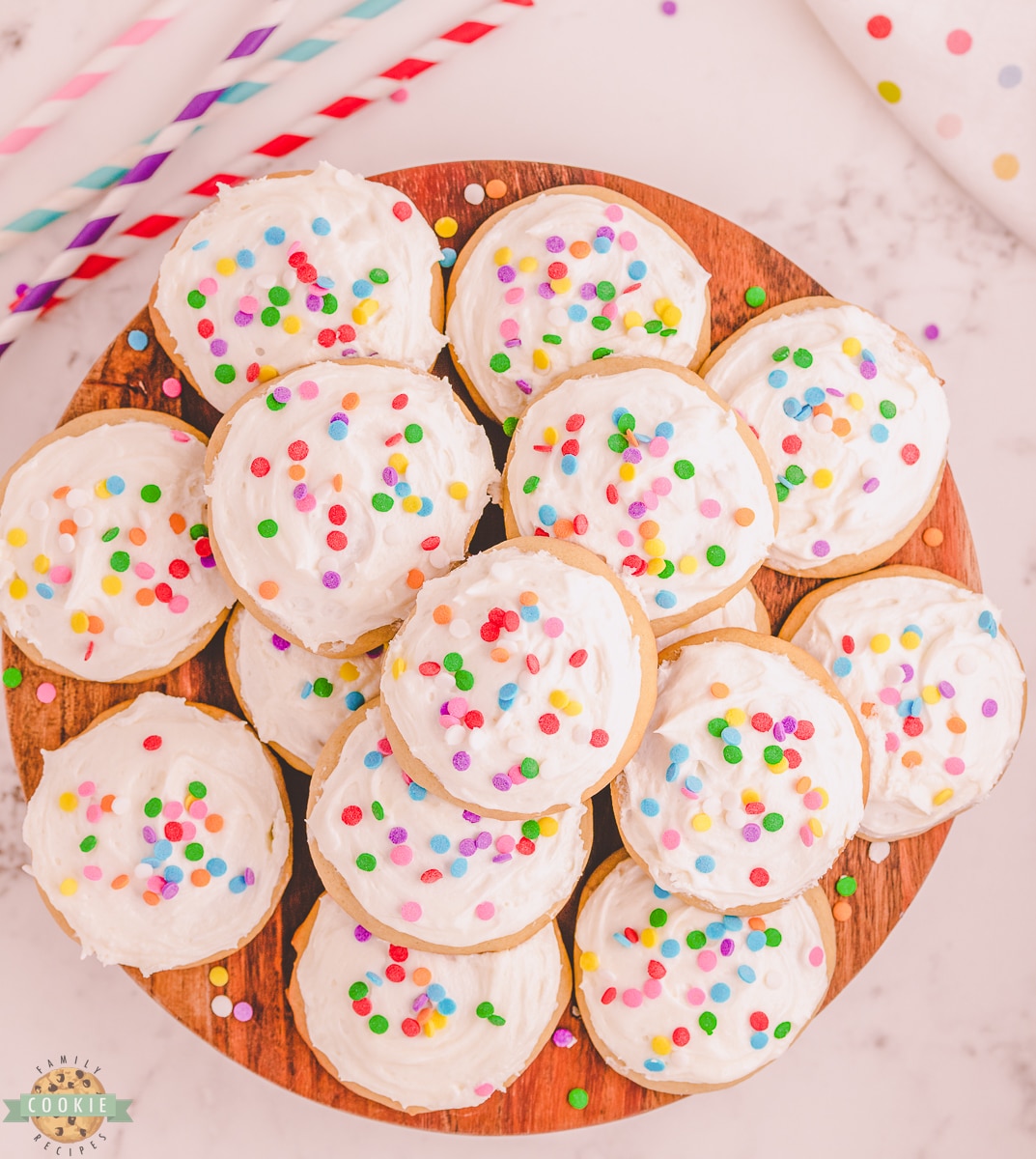 Soft Buttermilk Sugar Cookies ingredients
-Butter: Using ½ cup softened butter (1 stick) will give these cookies a nice rich taste.
-Sugar: You will need ½ cup granulated sugar to create the perfect sweet cookie.
-Brown sugar: For extra sweetness and a wonderful depth of flavor, add ½ cup brown sugar.
-Egg: You will only need 1 egg to create this amazing cookie treat.
-Buttermilk: Use ¾ cup buttermilk to help make these cookies extra soft and chewy.
-Vanilla extract: You need 1 tsp vanilla extract to help enhance all the wonderful flavors in this recipe.
-Flour: Use 2 ½ cups all-purpose flour for the base of this cookie recipe.
-Baking soda: Adding ½ tsp baking soda will help these cookies rise nicely while baking.
-Salt: You need only ½ tsp salt to help balance the sweetness of these cookies.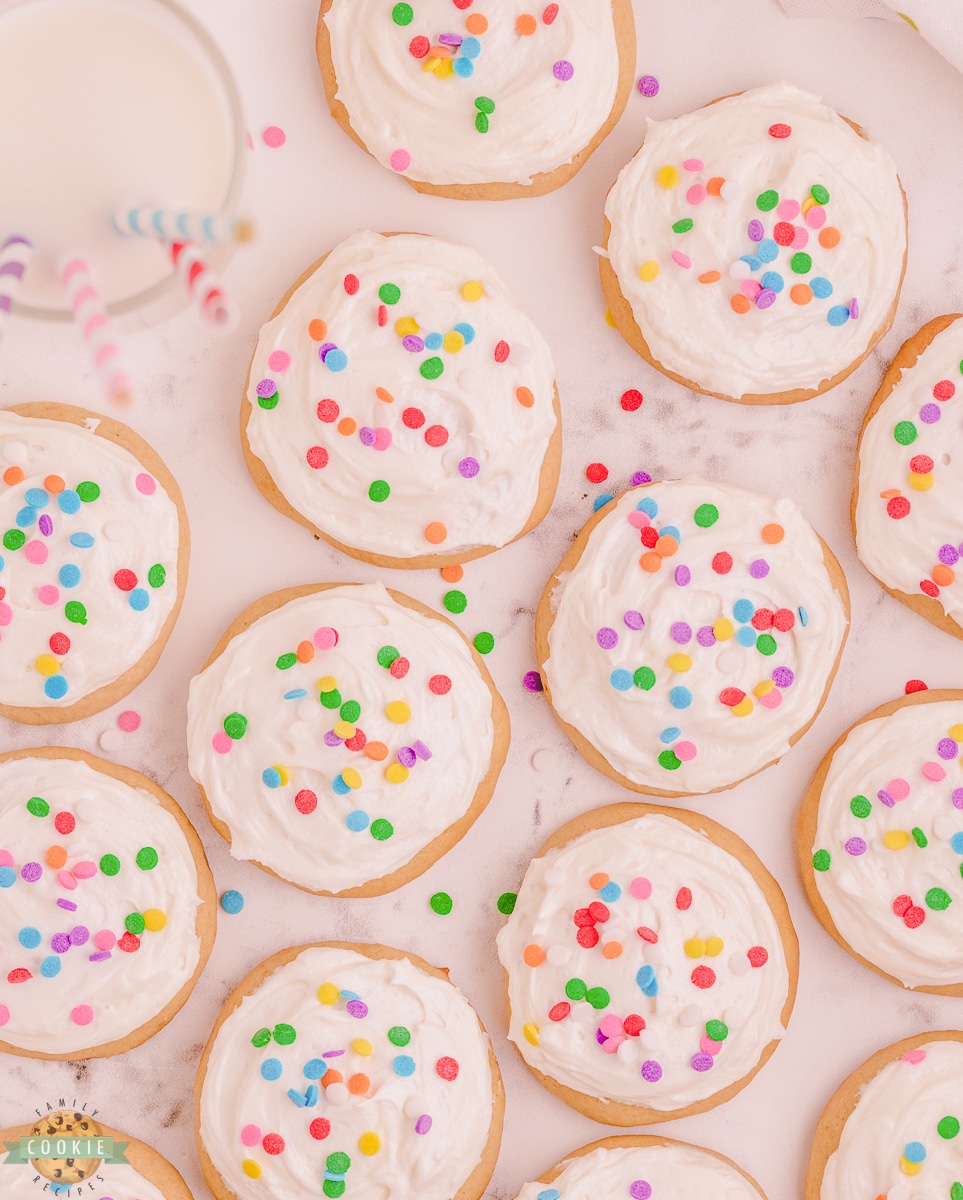 Fluffy Vanilla Buttercream ingredients
-Butter: You will need ½ cup room temperature butter (1 stick) for a rich and creamy frosting.
-Vanilla extract: Use 1 tsp vanilla extract to enhance the wonderful flavors in this topping.
-Milk: You need 2-3 TBSP milk to create the lovely smooth texture for this frosting.
-Powder sugar: Adding 2 rounded cups powdered sugar will make this frosting nice and sweet.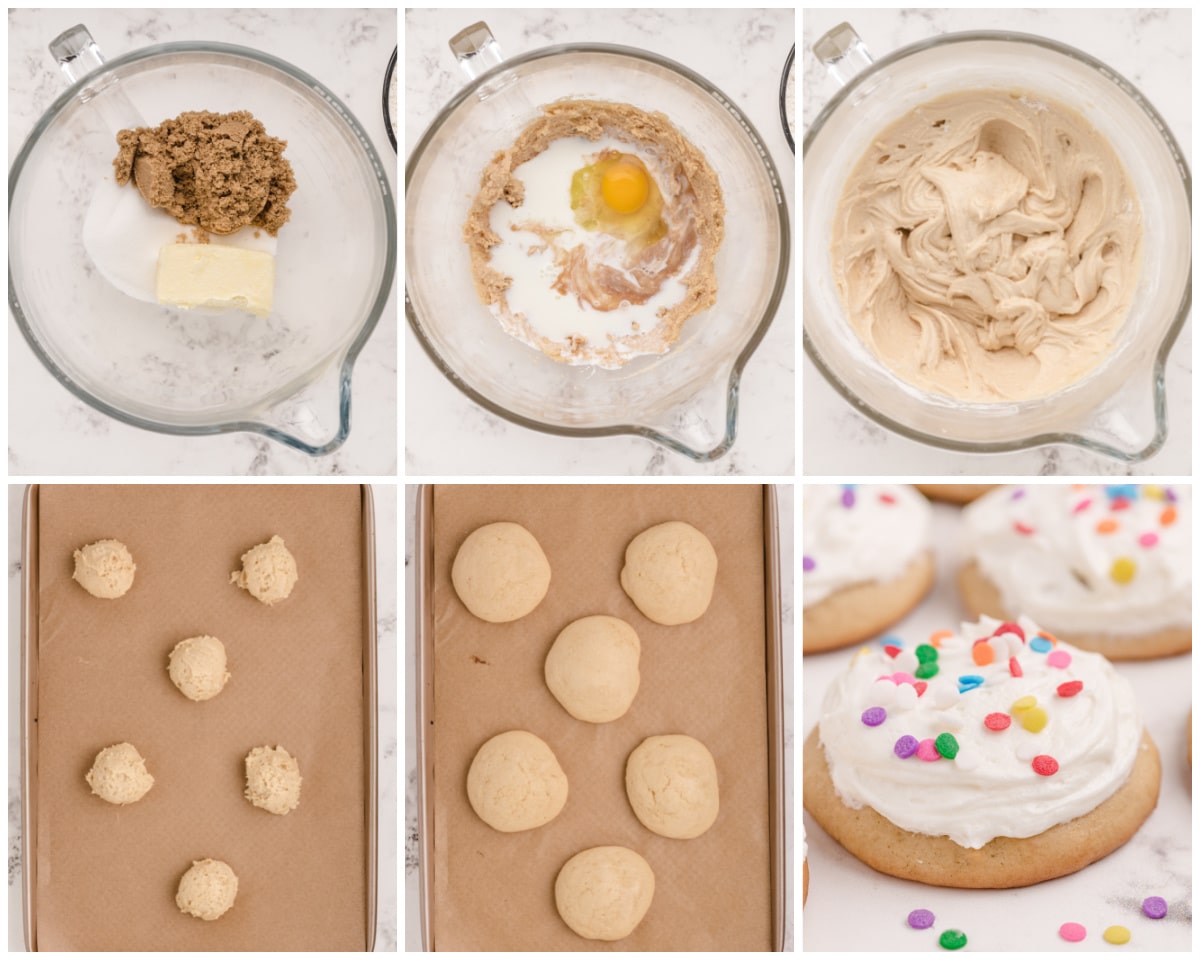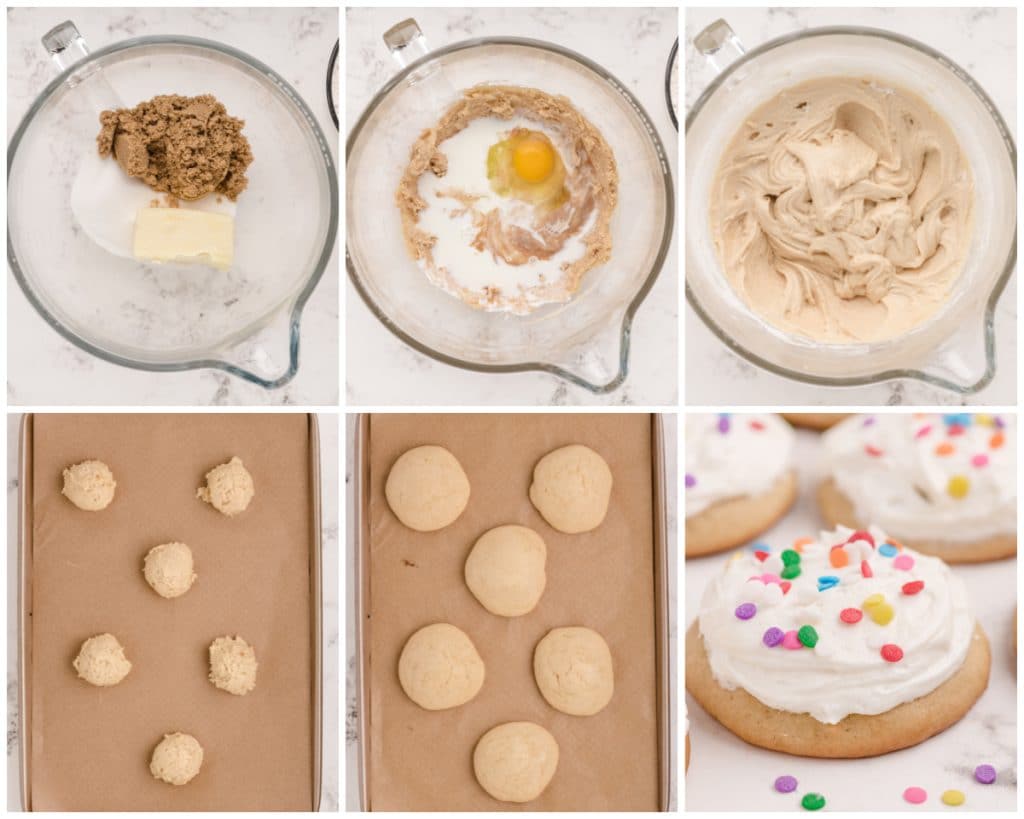 Step by step on how to make Buttermilk Sugar Cookies
Cookie dough
In a large bowl, cream together the softened butter and both sugars for about 1 minute.
Then, add in the egg, buttermilk and vanilla extract and mix until nice and smooth.
Next, in a separate small bowl combine the flour, baking soda and salt.
After that, add about ½ of the dry ingredients to the wet mixture, mix well, then add the other half.
The dough will be softer than normal cookie dough and stickier, cover the bowl and let cool in fridge for 1 hour.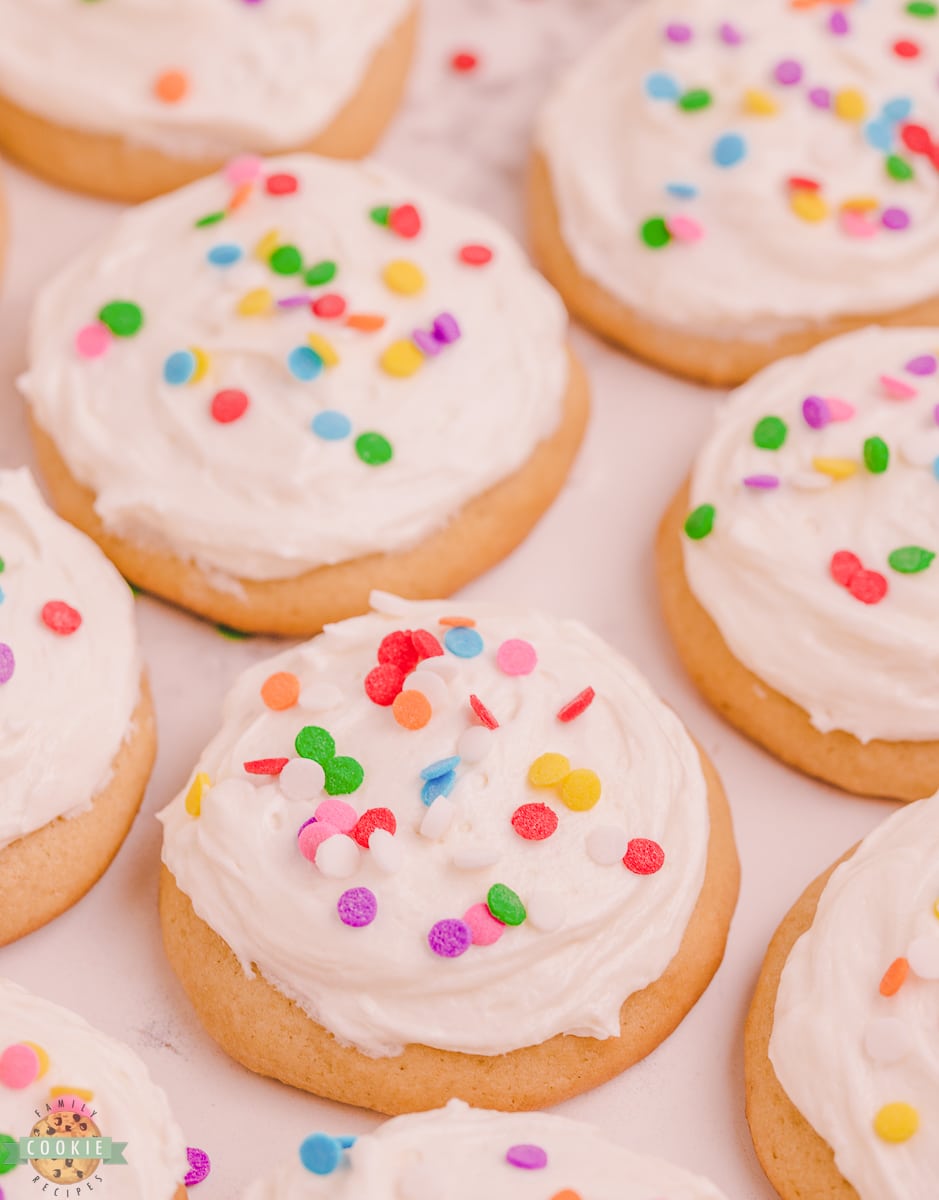 Baking
Start by preheating the oven to 400 degrees F.
Then, line a baking sheet with parchment paper or spray with non-stick cooking spray. Set aside.
Once the cookie dough has cooled, scoop out about 2 TBSP of cookie dough onto the parchment lined cookie sheet.
Proceed to bake for 9-10 minutes.
Let cool for an additional 2 minutes on the cookie sheet, then transfer to a cooling rack.
Frosting
With an electric handheld mixer, whip the butter in a mixing bowl on medium power for about 3 minutes, until fluffy and light in color.
Then, add in the vanilla extract, milk and 1 cup of the powdered sugar. Continue to mix for 1 minute.
Next, add in the other cup of powdered sugar and mix on medium for 3-4 minutes.
Once the cookies are fully cooled, frost with about 1 TBSP of vanilla buttercream per cookie. If you want to add some fun sprinkles, feel free!
Serve and enjoy!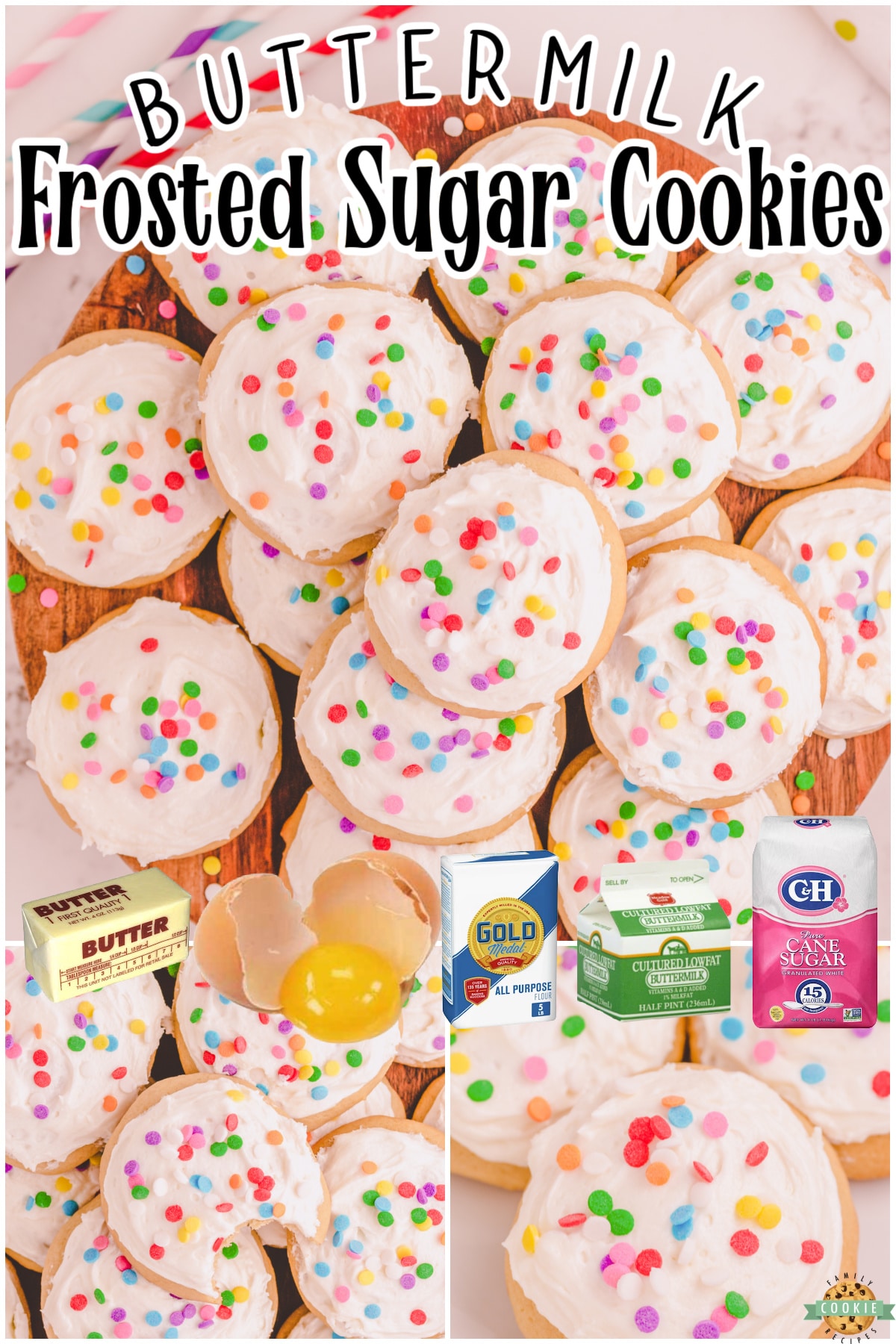 Is there a substitute for buttermilk?
Here are several ideas for substitutes to buttermilk in this recipe. You can instead use plain yogurt, greek yogurt or sour cream instead. First measure out 3/4 cup, then add 3 TBSP of milk and whisk to combine.
How to make buttermilk at home
You can make buttermilk at home by combining milk with either plain white vinegar or lemon juice. First measure out 1 TBSP of either vinegar or lemon juice into a 1 cup measuring cup. Then add enough milk to yield 1 cup. Stir and let mixture sit for 10 minutes, then proceed with your recipe.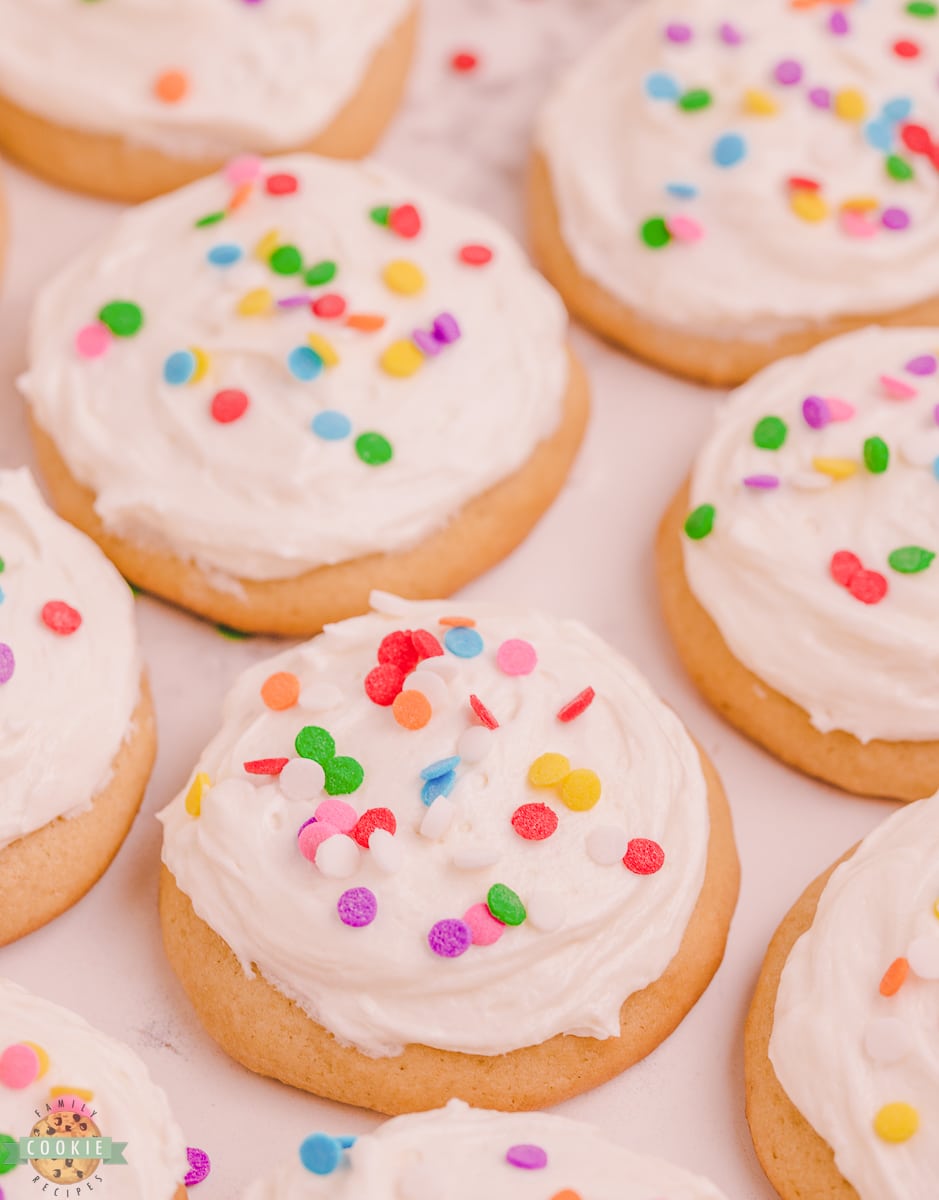 Can you freeze buttermilk sugar cookies?
Yes you can either freeze the sugar cookie dough prior to baking or you can bake the cookies, then freeze them to frost and eat later on. I like to scoop the dough into balls and line a cookie sheet with them, then placing the entire sheet in the freezer. Once frozen, remove the dough balls and place in an airtight container. Freeze up to 2 months. Before baking, place dough on cookie sheets and let sit 15 minutes to thaw. Bake as directed.
How long should I let these cookies cool?
Cookies are best left to cool on the baking sheet they're cooked on for 3-4 minutes, then you can transfer them to a cooling rack to cool further. This way, they don't fall apart as cookies are pretty soft still when they're pulled out of the oven. After a couple minutes on a cooling rack, cooking are usually cool enough to eat! Warm cookies are the best!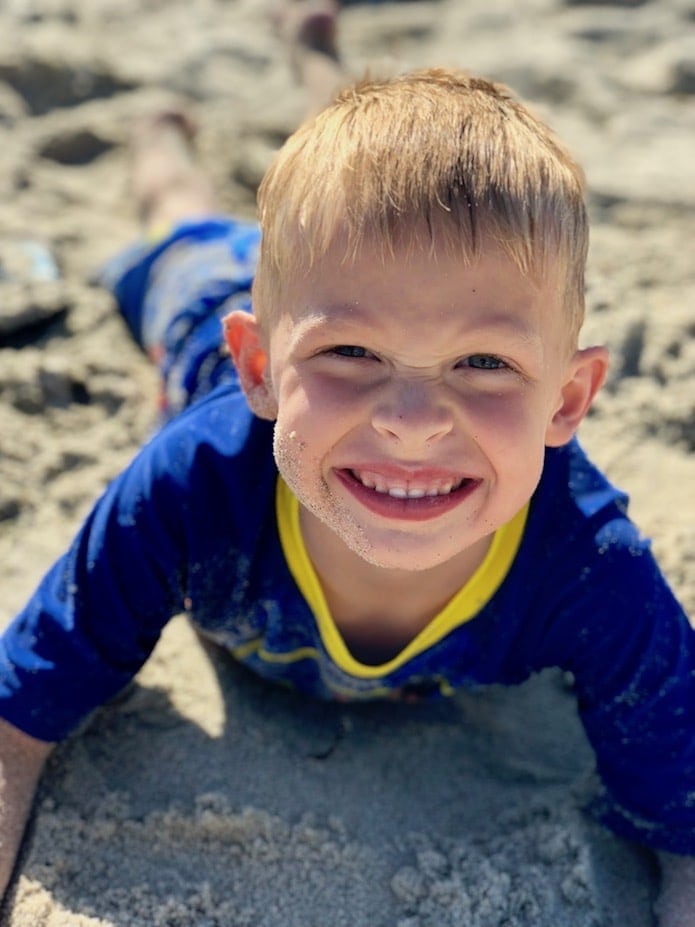 This is my last baby! I know, he is not much of a baby anymore, but he will always be MY baby. This is during his first trip to the beach since he was an infant. It was actually pretty entertaining because he thought he knew what the beach was all about. It only took a few waves knocking him over (with me hovering close by to help him when he needed me!) for him to realize waves were much more powerful than he anticipated. And sand! It gets everywhere. Ha! Shortly after this cute picture he asked to go swim in the hotel pool instead. LOL!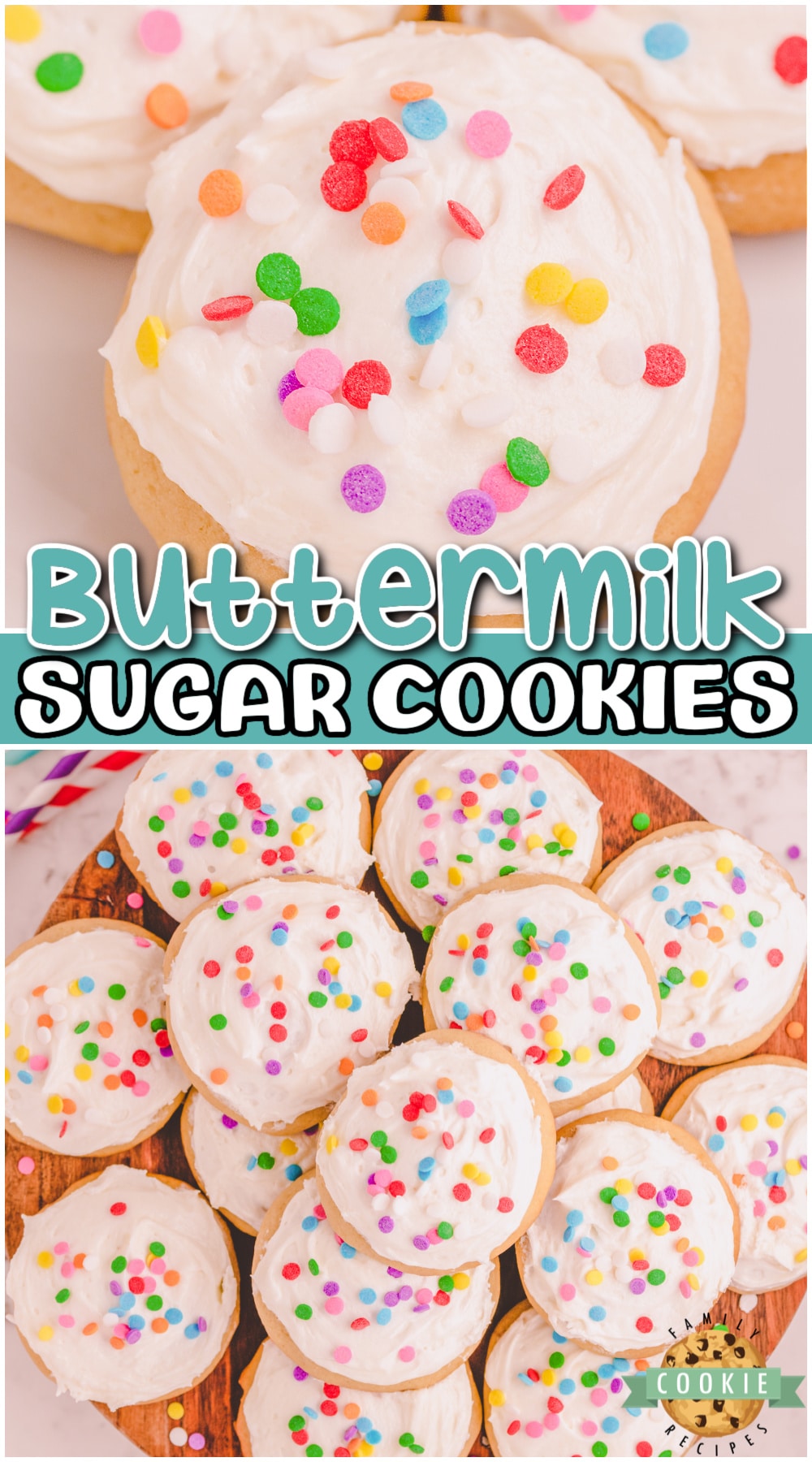 Buttermilk Sugar Cookies are a cookie lovers' dream come true! This sugar cookie with buttermilk is seriously so soft and delicious.