Carrot Cake Cookies are soft and chewy, flavorful carrot cake cookies made with a cake mix! Topped with a creamy cheesecake frosting, these carrot cake cookies are perfect for Easter!
Be sure to check out our updated collection of BEST EVER SWEET & SAVORY RECIPES FOR EASTER DINNER here!
I've used boxes of cake mix to make cookies in the past, but I think these new Carrot Cake Cookies are a new favorite! They were so easy to whip up and they had the perfect carrot cake flavor I was looking for. I topped them with a homemade cream cheese frosting and sprinkled them with festive Easter sprinkles. So fun!
What are Cake Mix Cookies?
Cake Mix Cookies are cookies made using a store bought cake mix. They're a quick & easy way to make semi-homemade cookies at home! I love their soft texture and the flavor the cake mix adds to the cookies.
Tips for the perfect Cake Mix Cookie recipe
Use a mixer. Either a stand mixer or an electric hand mixer will work, just use one! Using a mixer helps get the cookie dough extremely smooth which results in perfectly chewy cookies.
Add the eggs first and then the melted butter. This helps with the overall texture of the dough, therefore the final cookie.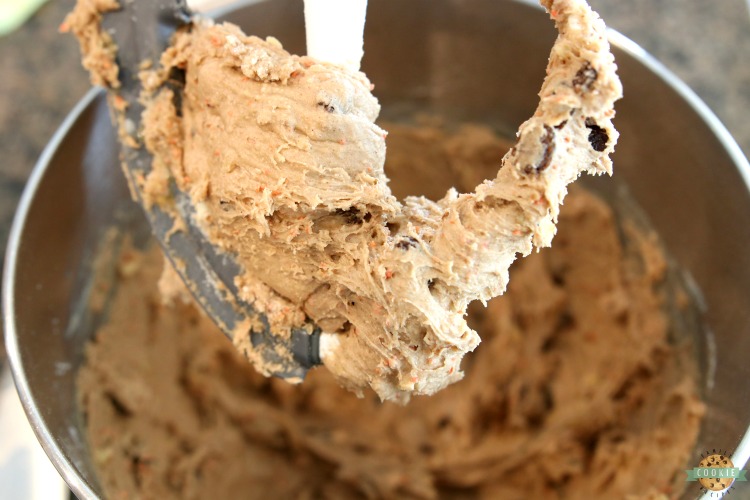 Use a cookie scoop! I bought mine on Amazon, this is so handy when it comes to making cookies! Using a scoop allows you to easily create the exact same size of cookie time and time again. When the cookie dough balls are different sizes, the cook time isn't even among all of the cookies. I used the medium cookie scoop for this recipe. It uses 1.5 TBSP of cookie dough for each cookie.
Parchment paper is another thing I would recommend if you are looking for the absolute perfect Cake Mix Cookie. Never worry about cookies sticking to the pan again!
Here's what you need to make Carrot Cake Mix Cookies:
–one 15.25 oz box carrot cake mix
–2 eggs
–1/3 cup butter, melted
1/2 cup raisins
1/4 cup chopped walnuts
How to make Carrot Cake Cookies from a cake mix
The order of the ingredients are important and will effect the final cookie. First, add the cake mix and two eggs into a medium sized bowl.
I used my electric hand mixer, but you could use your stand mixer if you'd rather. Mix the eggs into the dry cake mix. The mixture will be similar to wet sand.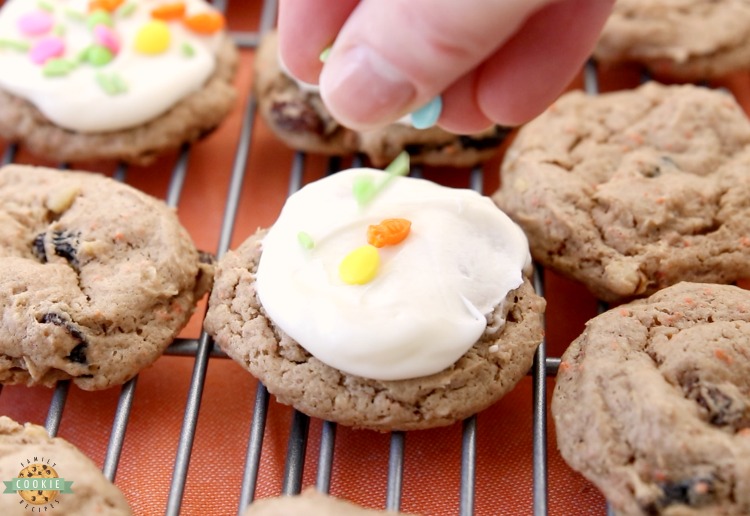 Melt the butter in the microwave and add it to the mixture.
Mix thoroughly. The dough will be very thick and sticky.
Let the dough sit for 5 or so minutes before scooping and rolling. Letting the dough rest for a few minutes will make it easier to scoop and roll.
Use a cookie scoop to create uniform balls. To achieve the perfect cake mix cookie, roll the dough in your hands after scooping to smooth all of the edges.
Skipping this step will effect the final cookie. The final cookie will show its rough edges.
Bake at 350° for 8-10 minutes. You'll want to pull them out of the oven when the middles of the cookies are puffy and no longer glossy.
How to make Cream Cheese Frosting
Making cream cheese frosting is easy! For best results, I plan ahead and take the butter and cream cheese out of the fridge to come to room temperature. If you skip this step, it's OK, but you'll need to soften the cream cheese and butter using the defrost function on your microwave. Go SLOW. Start with the lowest setting and stop often, so that you can soften them without completely melting the butter.
Whip the butter and cream cheese together using an electric mixer. Add in powdered sugar, milk and vanilla extract. I love using vanilla bean paste because you can see the small flecks of vanilla in the frosting and it tastes so good! Use a spoon to add a dollop of frosting onto cooled cookies, using the back of the spoon to spread it around gently.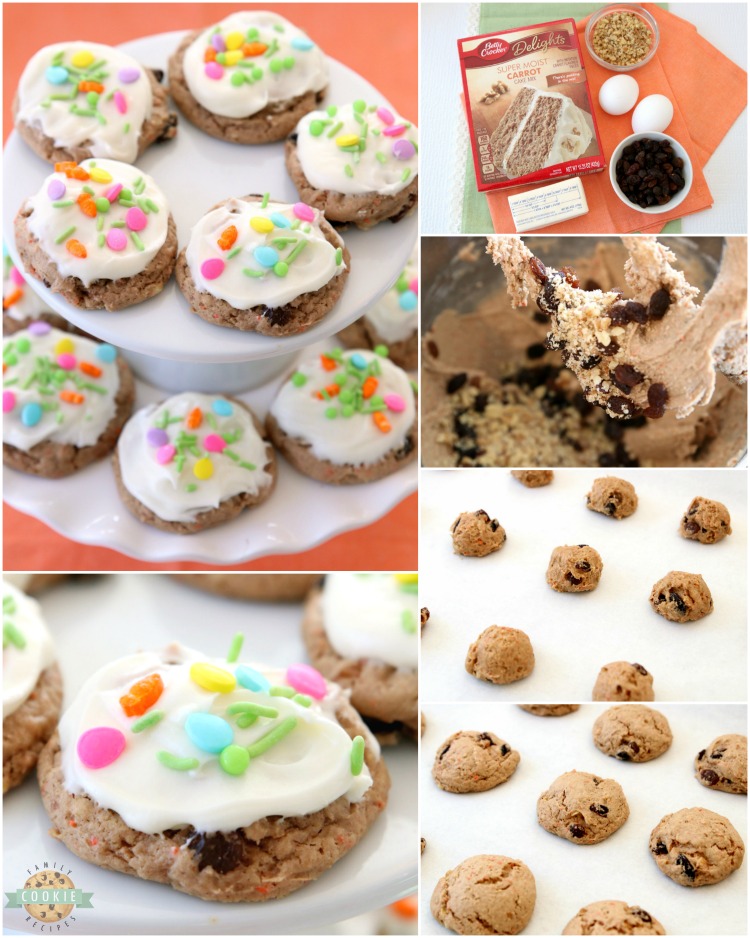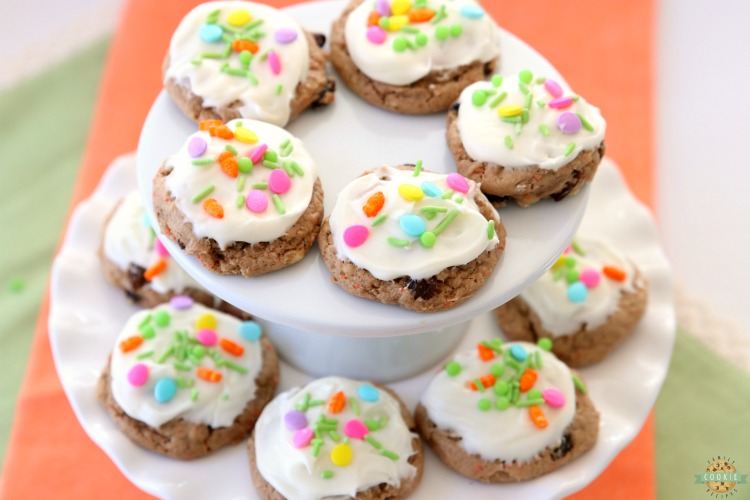 How do I soften butter?
The traditional way of softening butter is leaving however much you need for a recipe out at room temperature for long enough to soften. However, there are some other, quicker ways to soften butter such as: cutting up the butter, pounding the butter, beating the butter and if it comes to it, microwaving the butter. If microwaving, use the defrost setting for only about 15 sec. You don't want your butter to melt!
Are cake mix cookies soft?
Yes, cake mix cookies are soft and chewy cookies! That's part of the appeal of using a cake mix to make cookies; you get that soft texture very easily. Do not overbake cake mix cookies and let them cool on the cookie sheet for 3-4 minutes after removing them from the oven.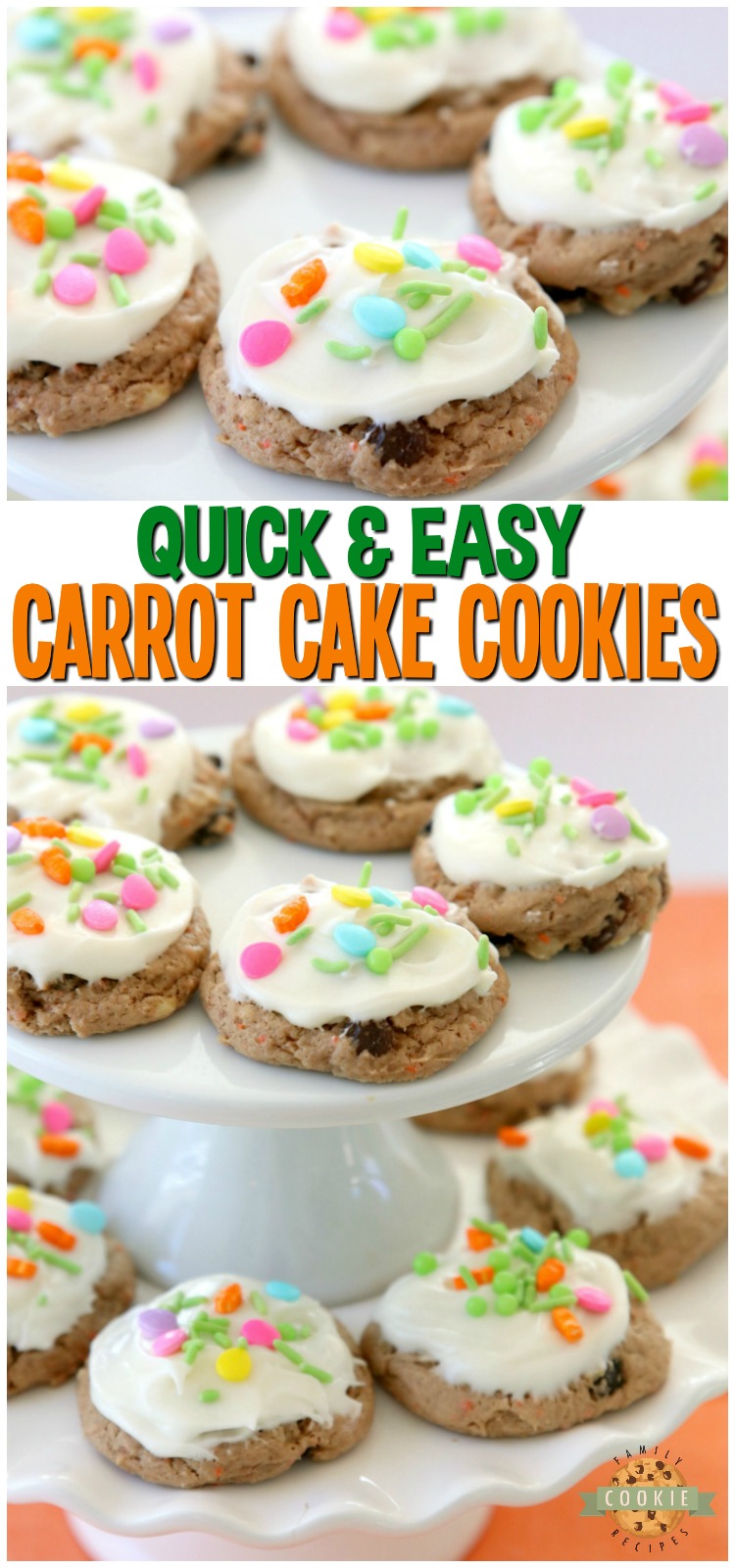 I've always thought of myself as a pretty even keeled mom. I tend to not freak out over minor injuries, applaud them over accomplishments, etc. However I think I've discovered a new part of myself as a mom once my son began playing flag football. I'm not sure what I anticipated- maybe games that were more chaotic, children running around, goofing off? I wasn't prepared for how organized, strategic and passionate these cute 10 year old boys are! They have a list of plays I can't even keep straight and 1.5 years later, I'm still learning all the terminology. It has been so much fun watching my son on the field each time! I don't mind taking him to practices because I see how invested he in in his team's success. It's been a really awesome experience! His first game of the season is tonight- fingers crossed they all have fun and that no one is injured. (I just can't seem to turn that mama worry off, even for flag football!)