Cherry Almond Cookie Bars are simple cookie bars that fall somewhere between a shortbread and a sugar cookie. This cookie bar recipe is packed with almond flavoring and topped with chopped maraschino cherries and a simple powdered sugar glaze.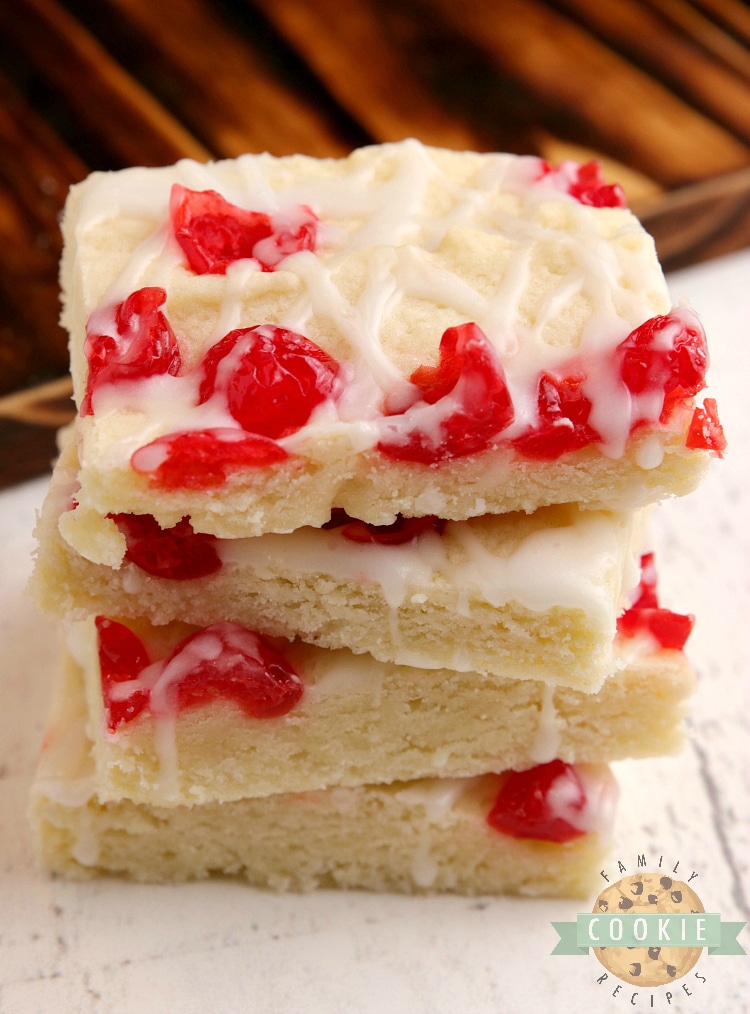 These Cherry Almond Cookie Bars will be going on all of my neighbor goody plates this holiday season – they are absolutely delicious, super easy to make and they look beautiful on any tray of treats!
If you love sugar cookies, but don't really love traditional frosting, these bars are perfect. The cherries and the glaze add just enough sweetness without overpowering the flavor of the cookie bars. The texture of these cookie bars is slightly drier than a sugar cookie bar, but more moist than a shortbread. I've only made these a few times now, but something about them is absolutely addicting!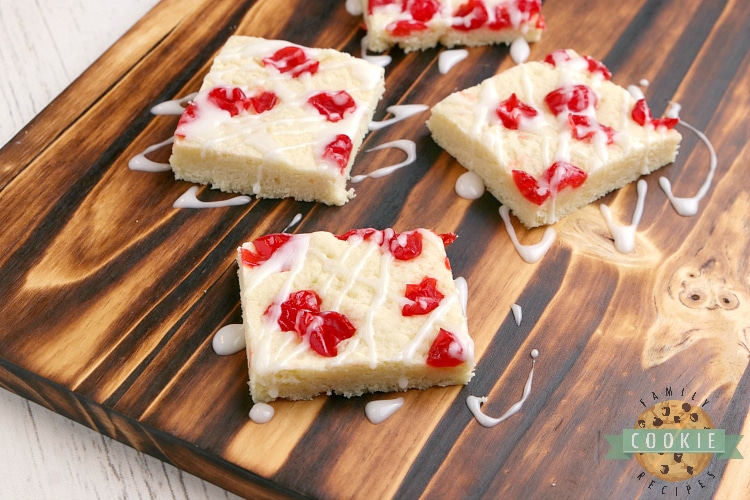 Ingredients in Cherry Almond Cookie Bars
1 cup butter, softened to room temperature
1 cup sugar
2 eggs
1 tsp almond extract
2 1/2 cups flour
1 tsp salt
I (16 oz) jar maraschino cherries, drained and patted dry with paper towels, quartered
Glaze:
2 cups powdered sugar
2-4 Tbsp milk
1/2 tsp almond extract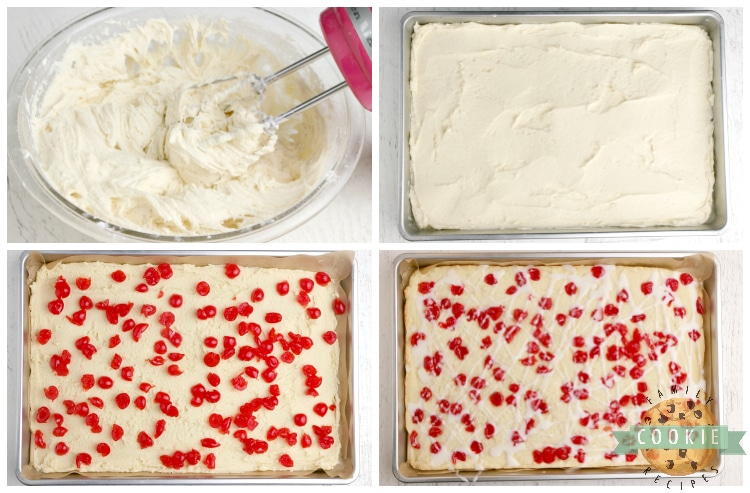 How to make Cherry Almond Cookie Bars
Preheat oven to 350°.
In a large bowl, cream together butter, sugar and eggs for about 2-3 minutes. Add the almond extract and beat for another minute. Add the flour and salt and mix just until combined.
Spread batter into a prepared 10″X15″X1″ pan. You can either grease the pan well or line with parchment paper. Spread the batter evenly in the pan and then sprinkle the cherries on top.
Bake for 15-18 minutes or until the edges begin to very lightly brown. Remove from the oven and cool.
Mix together the milk, powdered sugar and almond extract in a small bowl. Add more milk if needed to get to the desired glaze consistency. Drizzle the glaze over the cooled bars and then cut into squares and serve.

Can you freeze cookie bars?
Yes! These bars freeze beautifully, but even better without the glaze. Just cut into bars and freeze and then when you are ready to serve, lay all the bars out on the counter over waxed paper to thaw, and then drizzle with fresh glaze.
HOW TO CUT PERFECT COOKIE BARS
The answer to getting every single cookie bar cut and looking perfect is parchment paper! I used to always get frustrated with desserts that are made in a large baking pan because I felt like I was always destroying the entire first row trying to get them out of the pan! Then I discovered that if you use parchment paper, you can remove all the cookie bars from the pan and slice them perfectly.
If you don't have parchment paper, you can just grease your pan like you usually do but your first row may just not be quite as pretty! This cookie bar recipe is one of the easiest to cut into squares – they stay intact much better than many other desserts!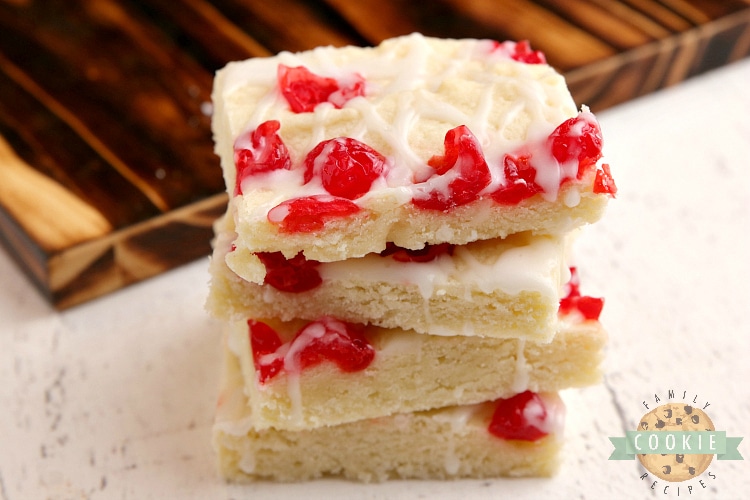 TIPS FOR MAKING THE BEST COOKIE BARS
Do not melt the butter! The butter needs to be softened (at room temperature), but using melted butter will ruin the cookies.
Spend a little extra time when you mix everything together. Adding a few extra minutes (as the recipe states), will make a huge difference in the texture and consistency of the cookie bars.
Preheat the oven. This will help your cookies turn out right every time!
Use parchment paper. Doing this will make it really easy to remove the cookies from your pan.
Make sure not to over bake your cookie bars.  Once the edges begin to turn even the lightest golden brown, take them out of the oven! I prefer to err on the side of being slightly undercooked for cookies/cookie bars because if they cook even a little bit too long, they can get hard and I really like soft cookies!
LIKE COOKIE BARS? HERE ARE SOME OF OUR FAVORITE COOKIE BAR RECIPES!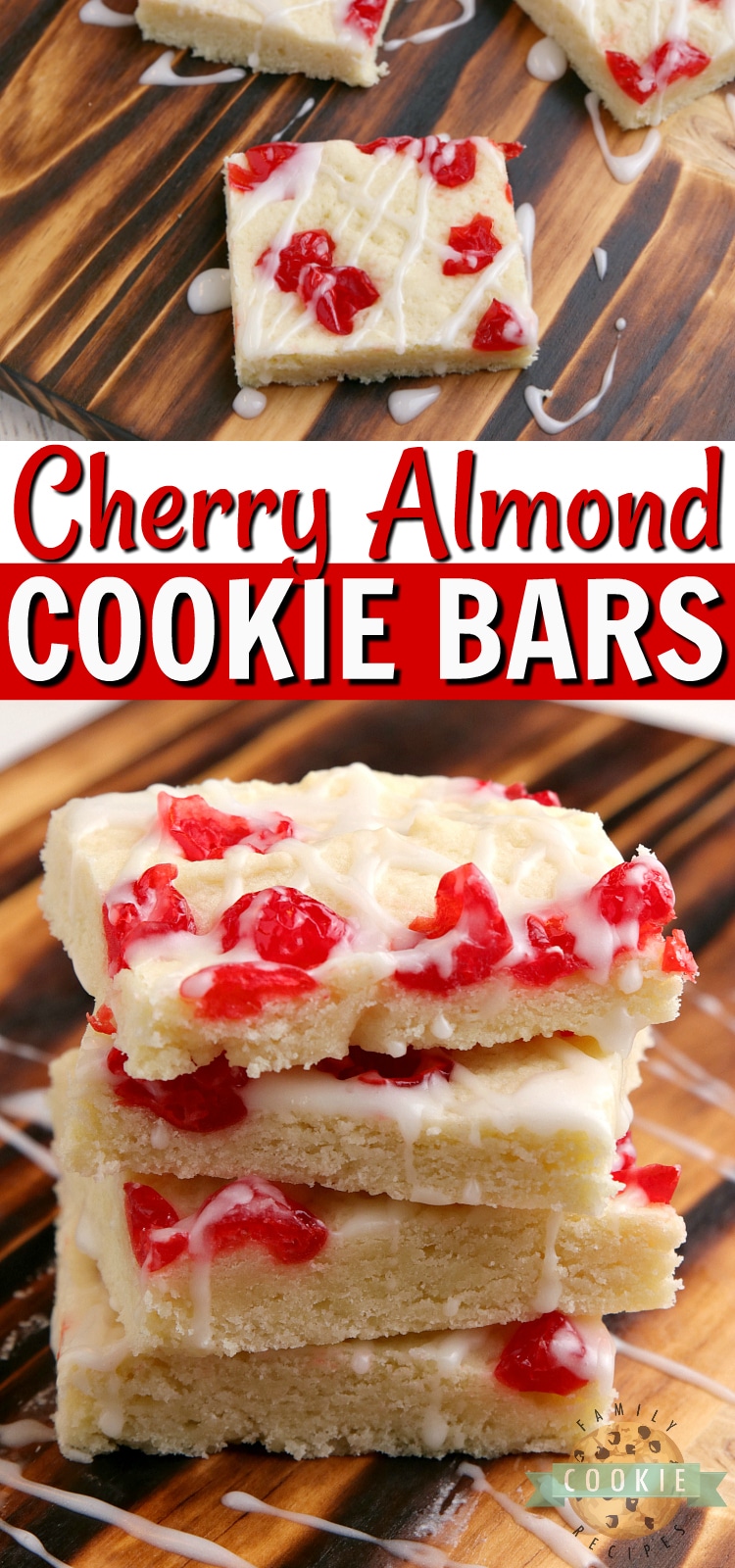 As we get closer to Christmas this year, I keep thinking about past years holidays and Christmas two years ago was one of my favorites. My little one was only a couple weeks old (she just barely turned 2!) and it was so special to have a tiny baby in our home for Christmas. I loved having an excuse to slow down and just enjoy spending time by the Christmas tree snuggling a newborn – it was one of the most magical holidays ever.