Chocolate Chip Cookie Bars are quick & easy variation on a classic chocolate chip cookie recipe. These buttery, chocolaty cookie bars are family favorites!
I was craving cookies one day but didn't have the time to bake several batches, so I broke out this recipe and wow! They were so delicious. It's probably the cup of butter, right? Right.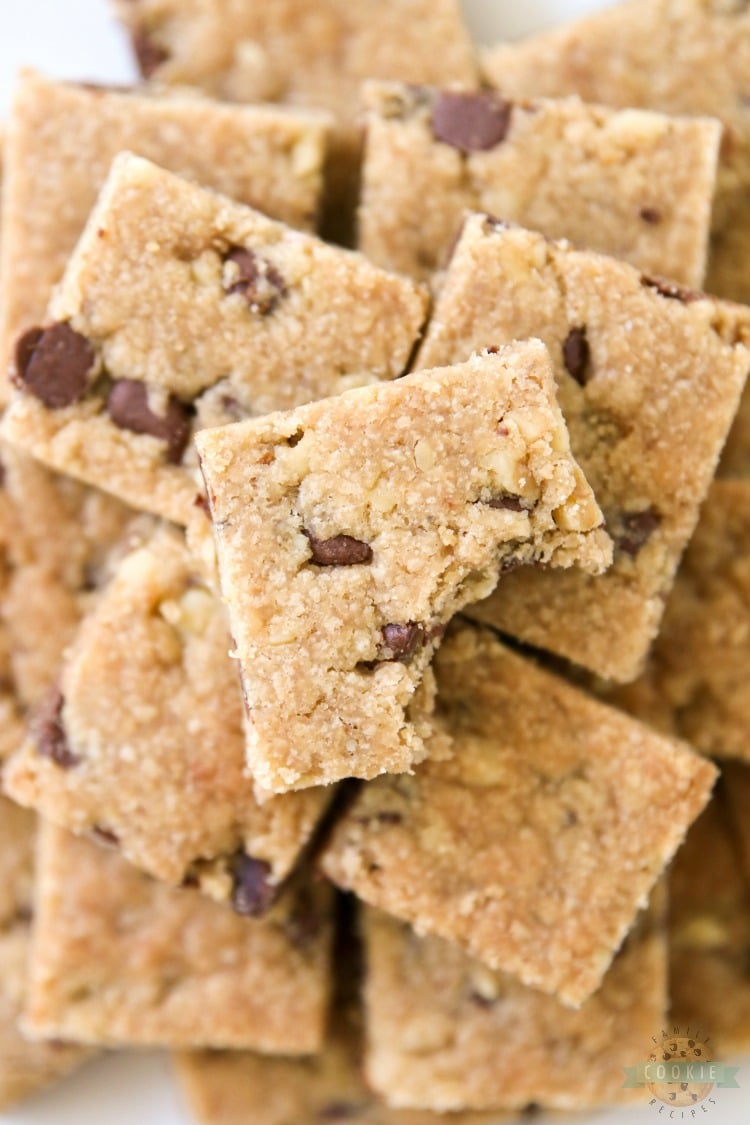 I thought they'd taste just like regular cookies in bar form, but they were different. Dense, great flavor and the butter/ brown sugar combination bakes an almost toffee-like crust on the bottom. It's heavenly. These disappeared in record time in our house!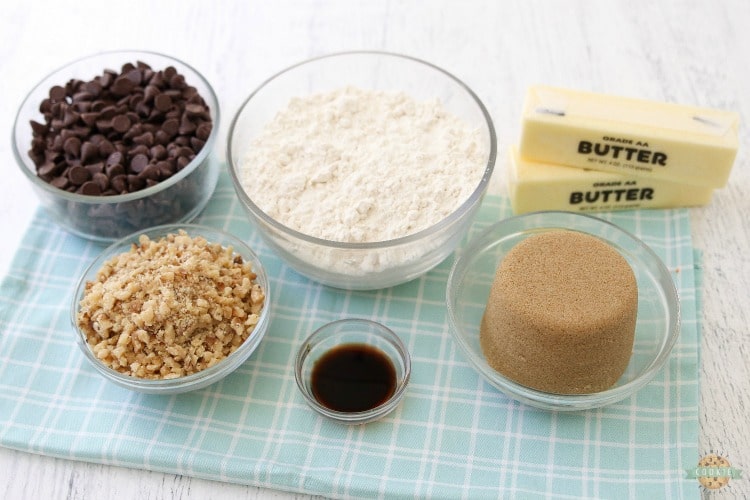 Ingredients needed to make Chocolate Chip Bars Recipe
This is what you'll need to make Chocolate Chip Cookie Bars ~
Softened butter
Packed brown sugar
Vanilla
Flour
Salt
Semi-sweet chocolate chips
Chopped walnuts or pecans

How to make Chocolate Chip Cookie Bars
Preheat oven to 350 degrees F. Line a Bakers Quarter sheet with parchment paper.
Beat butter, sugar and vanilla until well blended. Add in flour and salt. Mix until blended.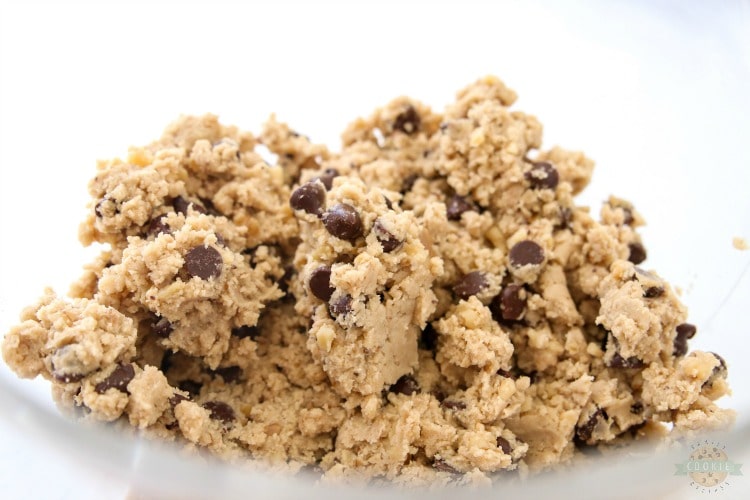 Stir in chocolate chips and nuts.
Press mixture into the prepared pan.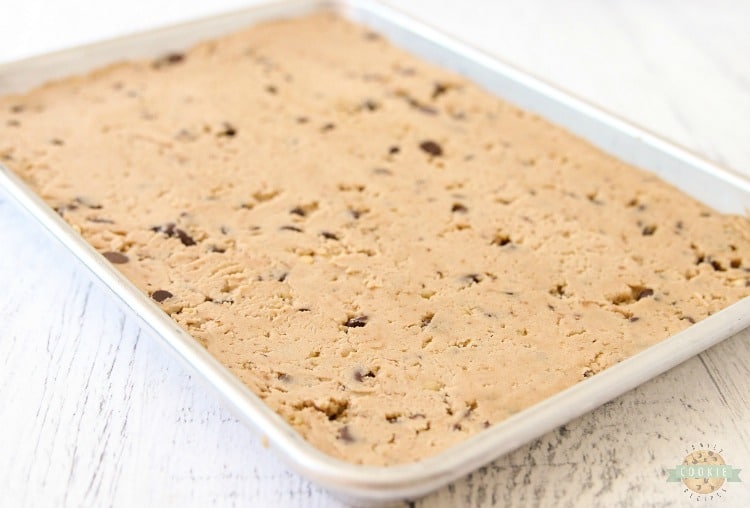 Bake 20-25 minutes, until edges are lightly browned. Cool 5 minutes and cut into squares.
Enjoy with a glass of milk!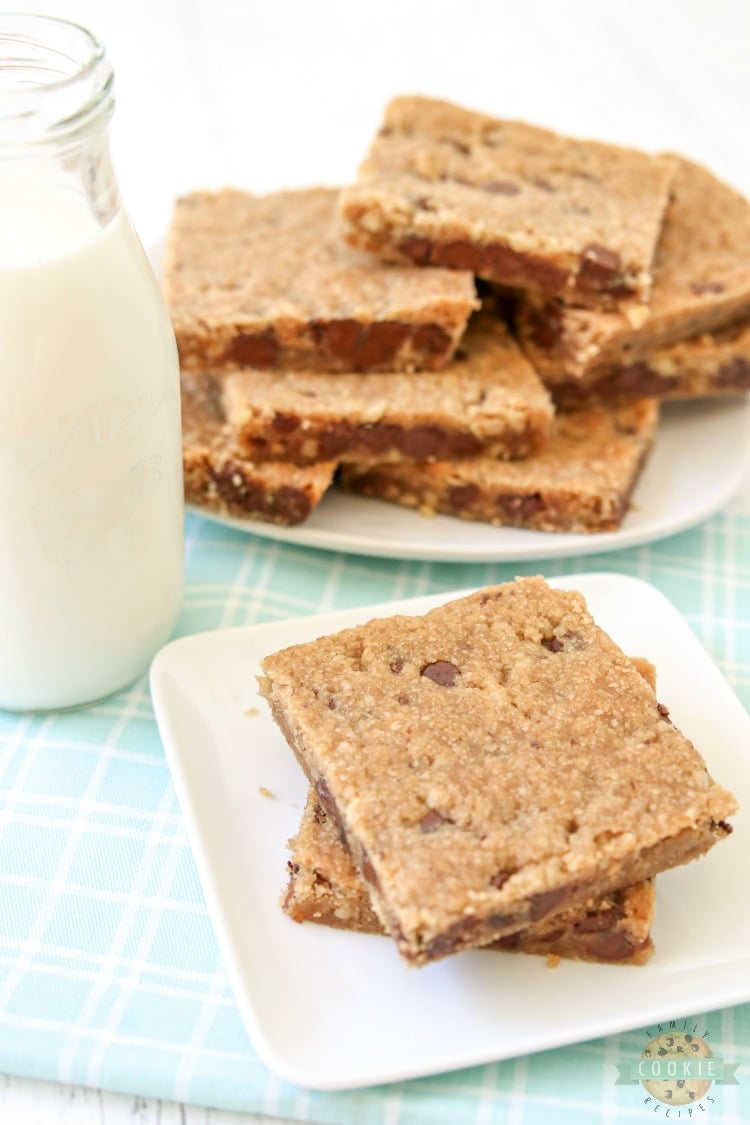 Tips for making the best chocolate chip cookie bars:
Making homemade chocolate chip bars is easy! Here are a few tips to getting perfect cookie bars every time!
Make sure you use softened butter – DON'T melt it! One of the most common errors in cookie making is using butter that is either really cold and hard, or using butter that is too warm and melted. If you have time, just leave butter out on the counter for about 1-2 hours before making your cookies. If you are like me and don't plan your cookie cravings that far in advance, just place the butter in your microwave and soften in 5 second intervals, being very careful to pull it out before it melts. I actually like to use the defrost setting on my microwave to soften butter- I don't know the technical reasons behind it, but it seems to soften the butter more evenly and takes a little bit longer so I'm less likely to start melting it! 
Most cookie recipes require that you mix the dry ingredients separately before adding the wet ingredients. This is an important step! And be sure not to over mix the dry and wet ingredients together. Just mix until combined and then stop!
Make sure to slightly press peanut butter cookies on the top with a fork before baking.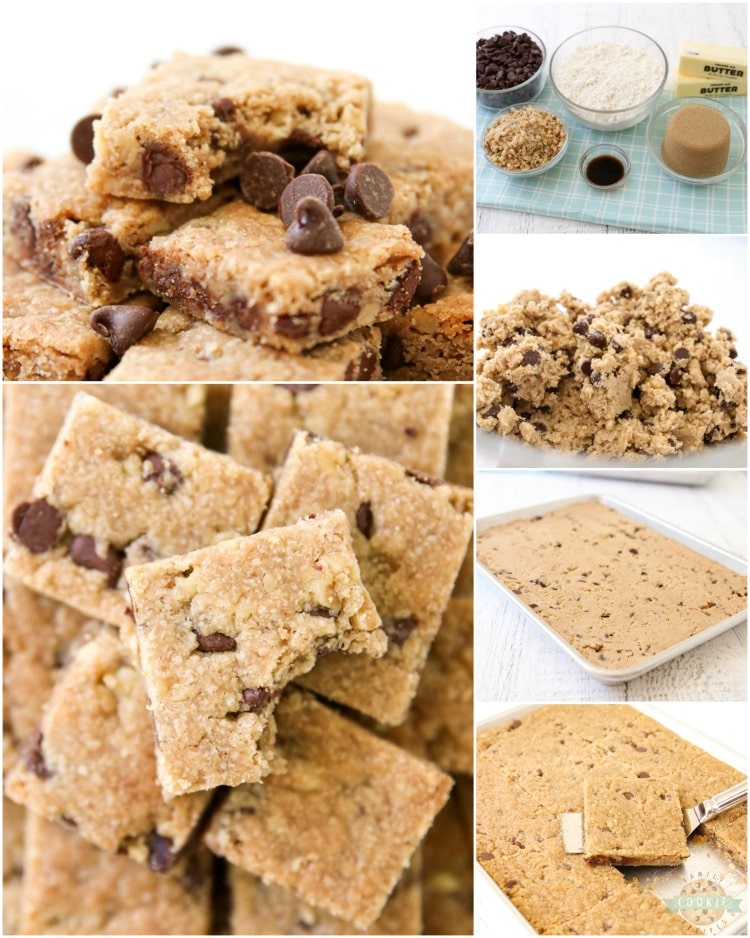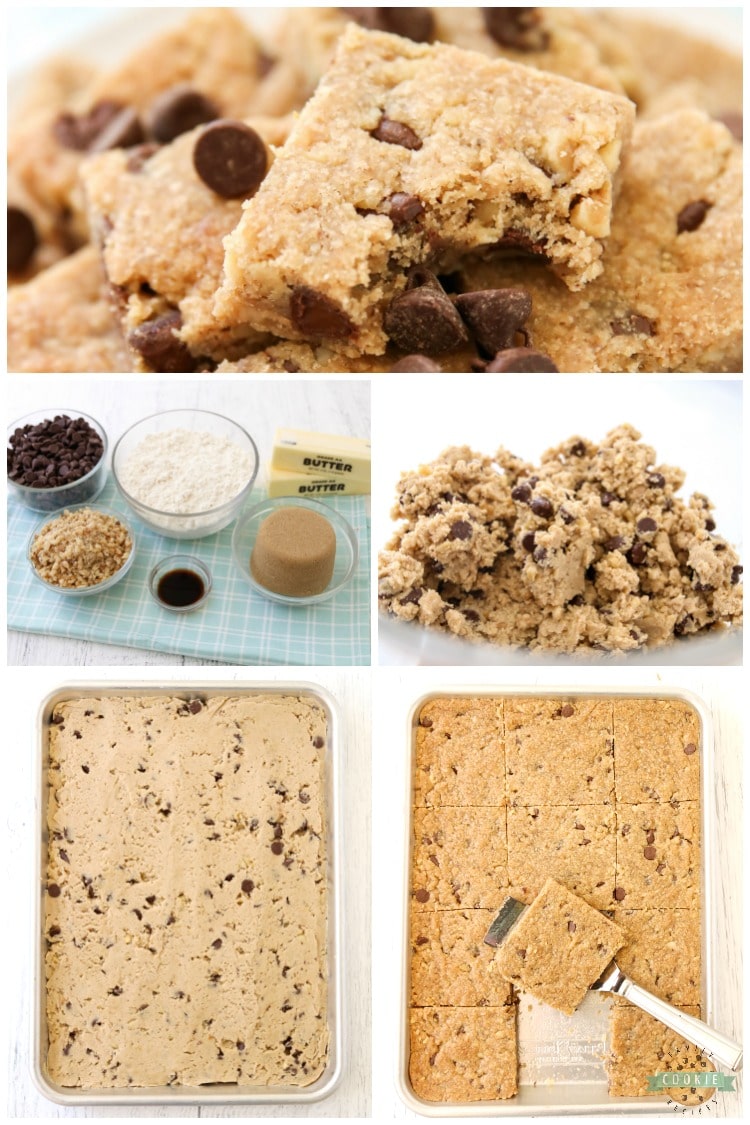 How do I soften butter?
The traditional way of softening butter is leaving however much you need for a recipe out at room temperature for long enough to soften.
However, there are some other, quicker ways to soften butter such as: cutting up the butter, pounding the butter, beating the butter and if it comes to it, microwaving the butter. If microwaving, use the defrost setting for only about 15 sec. You don't want your butter to melt!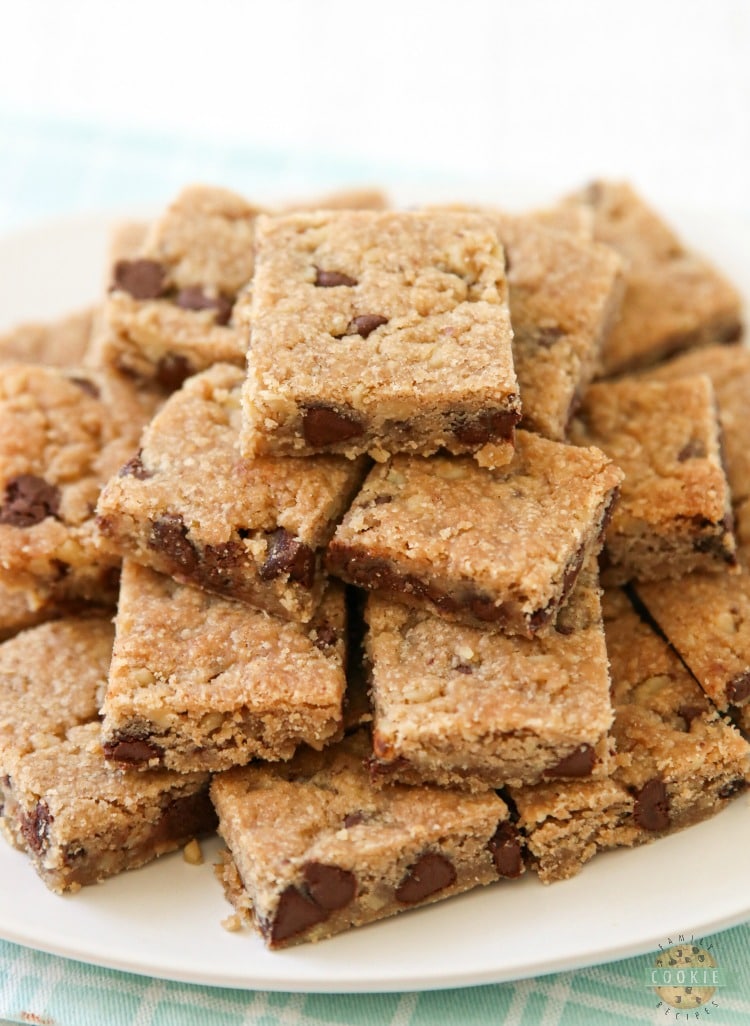 Can you freeze Chocolate Chip Cookie Bars?
Yes, you can freeze these cookie bars! After the bars have baked, and you've cut them, you can freeze them. Just separate layers with parchment paper and be sure to use an air tight container.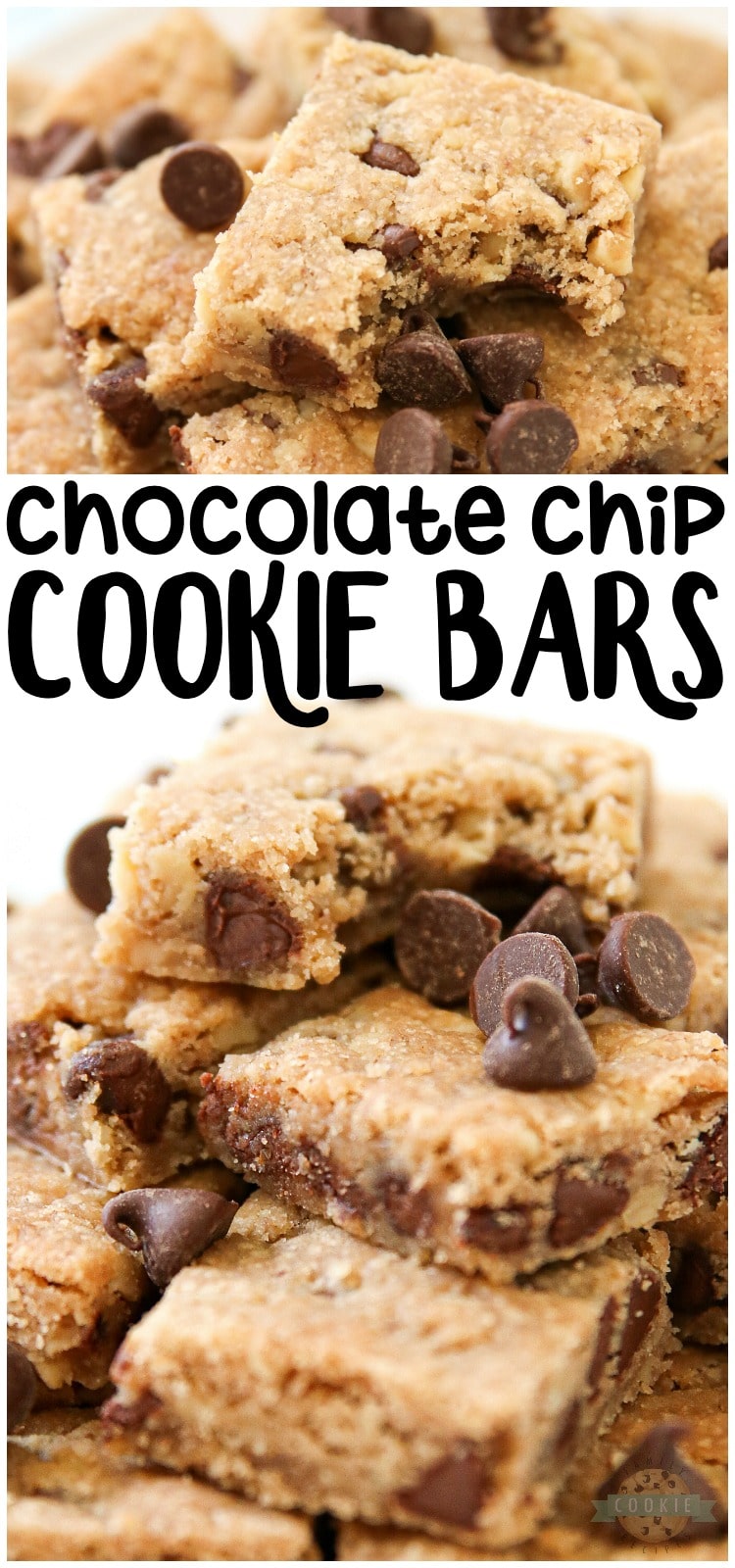 We're dog sitting for a couple weeks and it's been eye opening! First, this dog is smart. Super smart. I'm convinced she's half human because no dog can be THIS easy to take care of. She listens. And then somehow very clearly communicates what she wants or needs. It's amazing! I grew up with dogs but none quite like this one. My kids keep saying, "let's just keep her!" Ha! It doesn't quite work that way, I'm afraid. At any rate, here they are enjoying said smart dog with their cousins. Everyone always wants to be petting the dog all the time… so the two of mine that aren't, well I'm sure you can guess which ones they are by the scowls on their faces. HA!
Do you have a dog?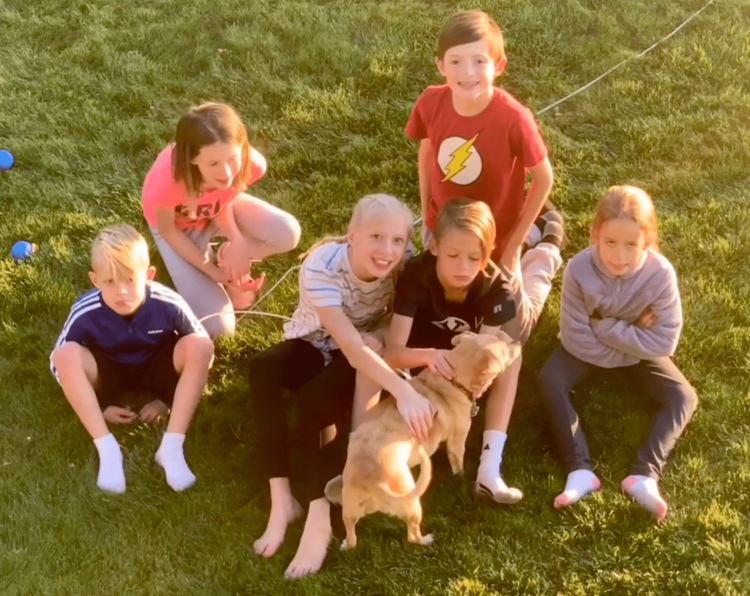 Chocolate Chip Cookie Bars are the best chocolate chip cookie recipe made into a cookie bar recipe! This delicious treat is so easy, ready in 30 minutes, and is loved by everyone.