Chocolate Heart Valentine's Sugar Cookies are soft, buttery cookies topped with vanilla icing & candy hearts! These simple Valentines Day sugar cookies are adorable and festive!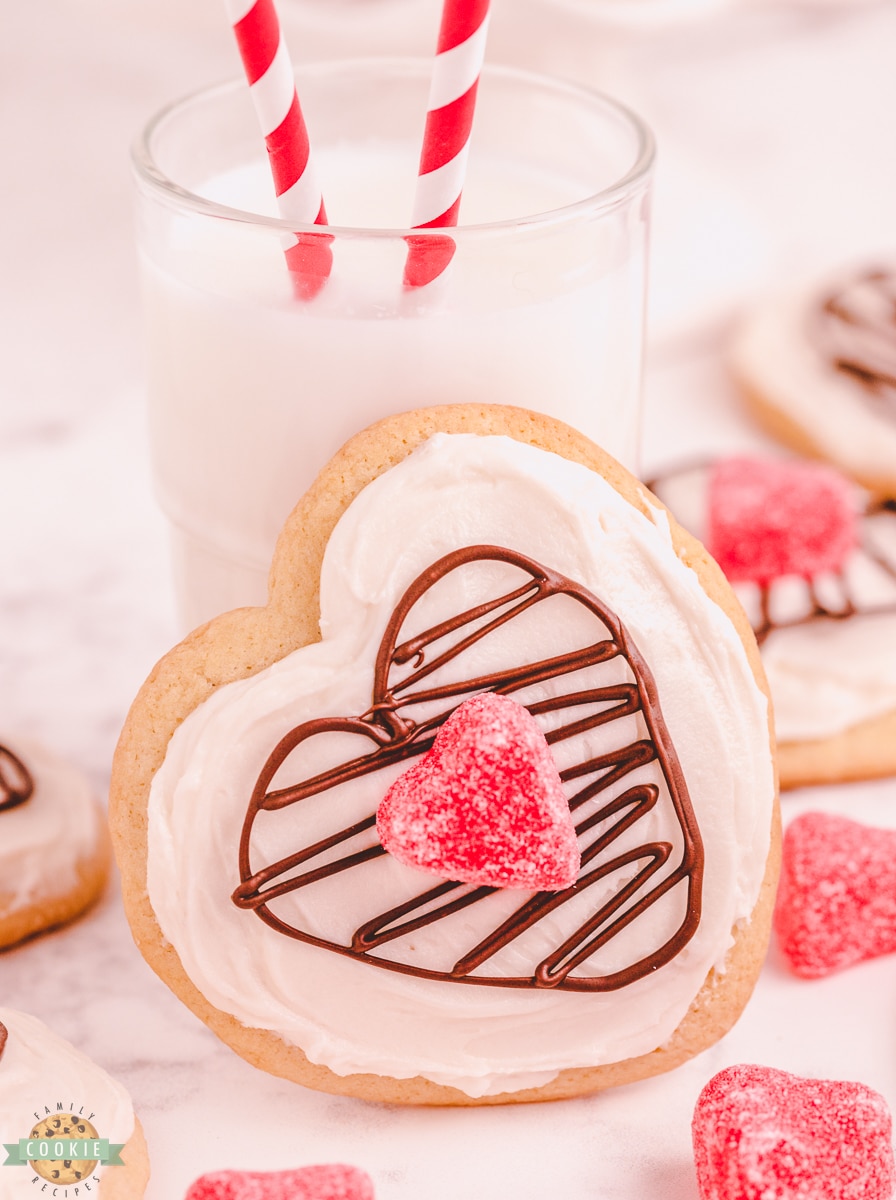 These Valentine's Day soft sugar cookies are so delectable and easy to make, the simple ingredients speak for themselves. These decorated sugar cookies for Valentine's Day are appetizing, savory and oh so pretty too!
Valentine's Day Sugar Cookies
If you are anything like our family, sugar cookies are a hot commodity in our house. They are a fun and easy holiday treat and we all love to decorate them. This year I opted for a more "mature" version for Valentines Day. They are simple to make, cheerfully festive and they do not have all the food coloring and 2 pounds of sprinkles that my kids would insist on. Hence the reason why I made these when they were not at home! HA! To make these super easy, I did use Nellie's Super Soft Sugar Cookie recipe she posted a few months ago. They are SO yummy. I love the addition of sour cream and how it adds to the light texture of these cookies!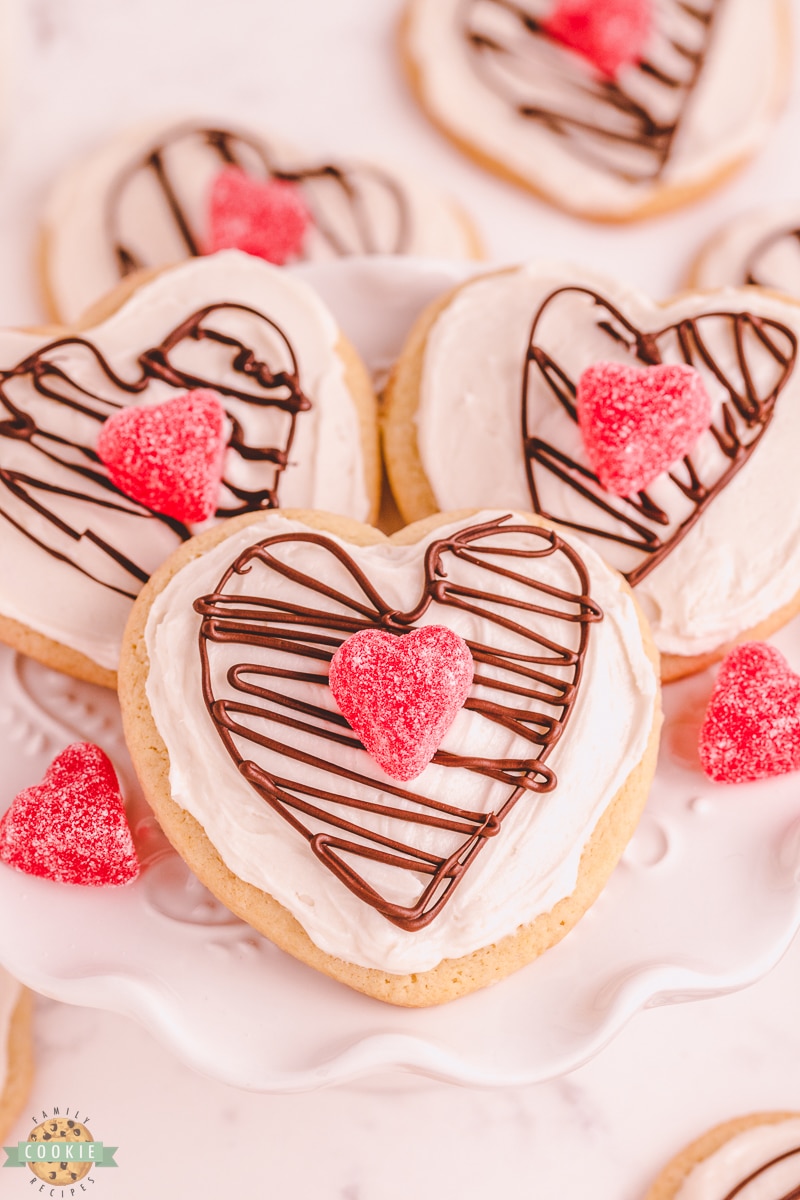 Valentines Chocolate Lattice Sugar cookie ingredients
-Sugar: Using 1 cup sugar will provide just the perfect amount of sweetness to this cookie.
-Butter: You will need ½ cup softened butter to make this dough nice and rich.
-Egg: You need 1 egg to help bind the dough together well.
-Vanilla extract: Using 1 tsp vanilla extract will enhance the delicious flavors in this recipe.
-Sour cream: You will need ⅓ cup sour cream to achieve the wonderfully moist cookie we are after here.
-Salt- Use ½ tsp salt for an extra jolt of flavor.
-Baking soda: You will need ½ tsp baking soda to give the cookies a great puffy shape.
-Flour: Using 2 cups flour will give us the perfect consistency for the dough.
Sugar Cookie Frosting ingredients
-Butter: You will need ½ cup softened butter to make the frosting creamy and smooth.
-Powder sugar: Using 4 cups of powdered sugar will provide the perfect sweet addition to these cookies.
-Milk: Use ¼ cup milk for the perfect frosting consistency.
-Vanilla extract: You need 2 tsp vanilla extract for a lovely flavor enhancer.
Chocolate Lattice Hearts
– Chocolate chips: You will need about ¼ – ½ cup of chocolate chips for the festive chocolate topping.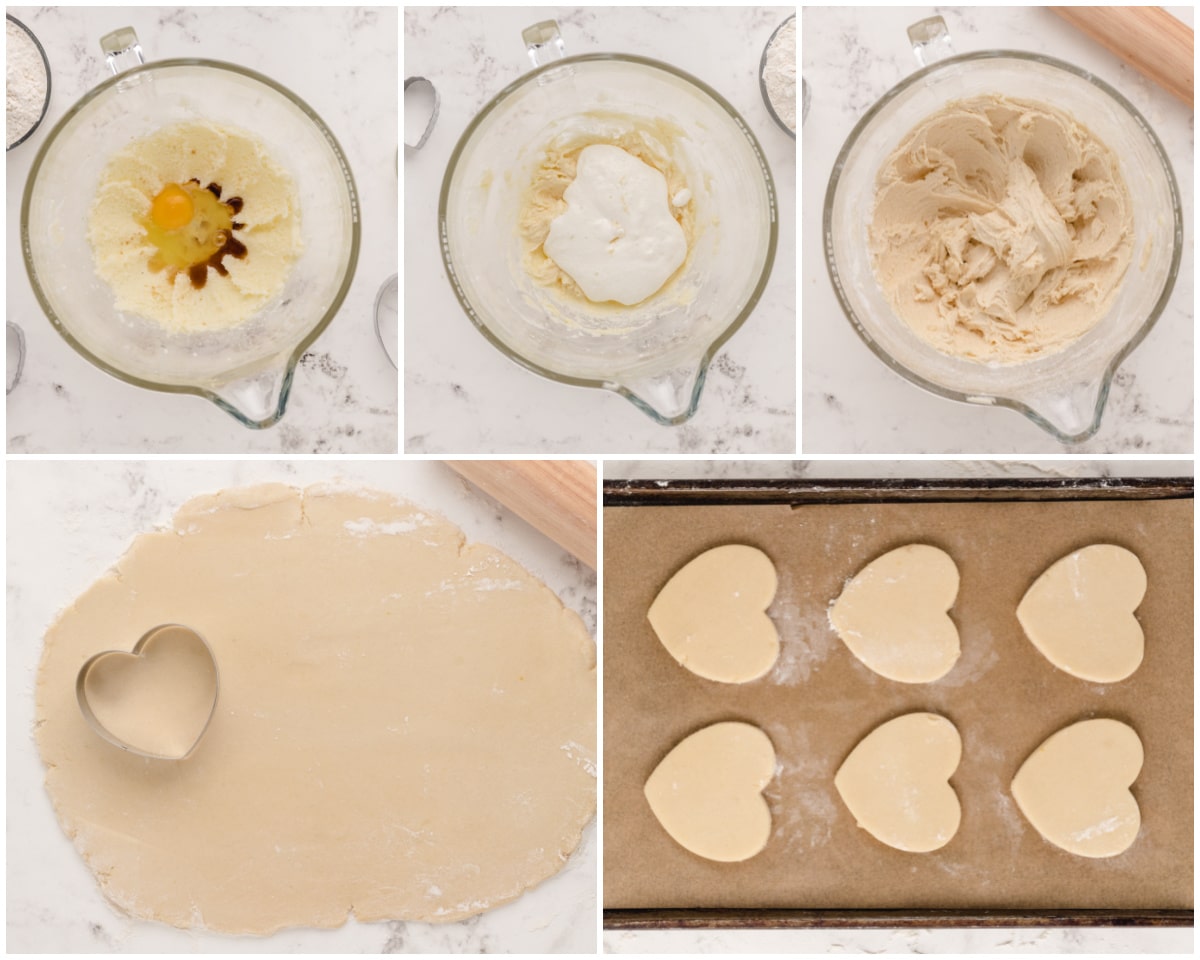 Step by step on how to make Valentines Day Sugar Cookies
Dough prep
In a medium size bowl, start by creaming together sugar and softened butter. Then, add the egg and vanilla extract. Stir to combine.
Then, in separate bowl, combine the sour cream, salt and baking soda.
Next, add the flour and sour cream mixture to first bowl with the butter mixture, beat together until smooth.
Proceed to let the dough chill for several hours, 1-2 would be fine if you want to enjoy the cookies that day. If you have time to let the dough chill overnight that would give the dough time to develop more flavor.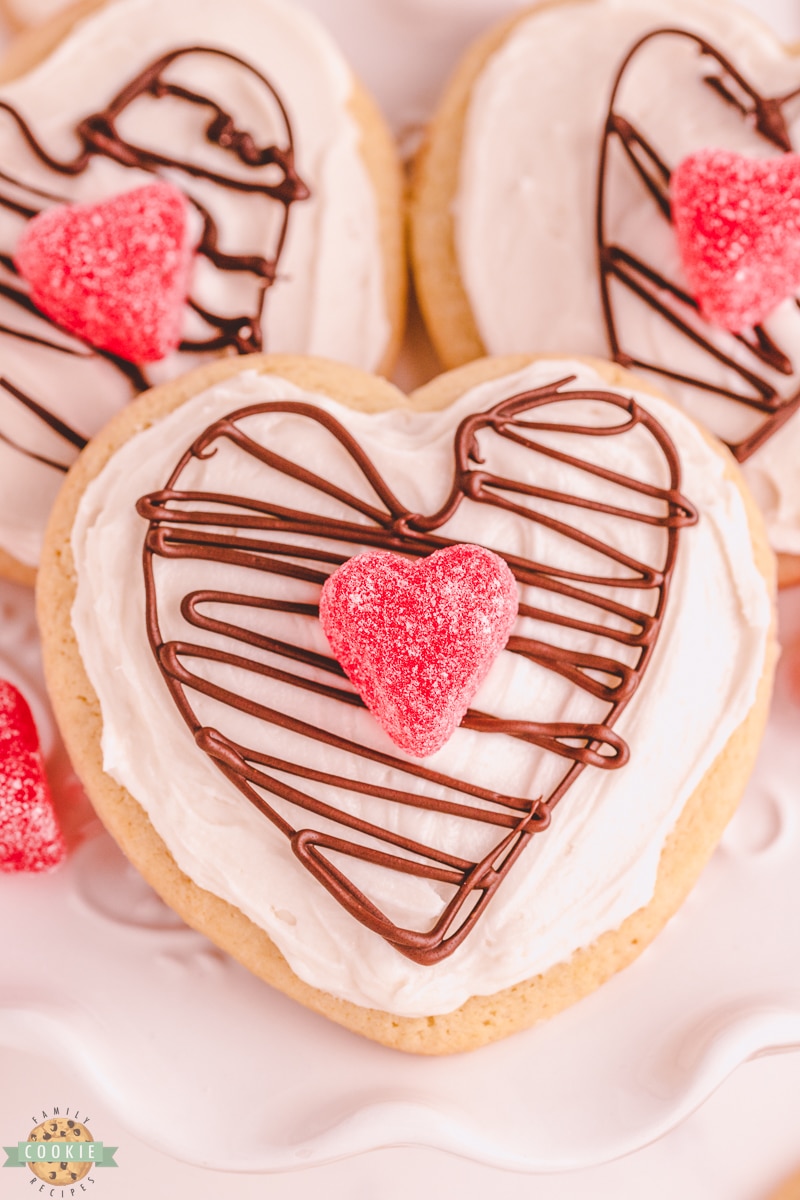 Baking time
Set the over to 375 degree F. Spray a baking sheet with non-stick spray or use parchment paper, set aside.
Next, roll out the dough to about 1/3 of an inch thick. Proceed to cut the dough using your heart shaped cookie cutter and place them on your prepared baking sheet. The dough will be sticky, so you will need to use a good amount of flour to cut your shapes. I like to stick the cookie cutter in the tub of flour between cutting each shape.
Stick them in the oven and bake for 10 minutes. Make sure not to over-bake your cookies. They may not even look totally done on the tops, but if the bottoms start to brown, I take mine out and they are perfect!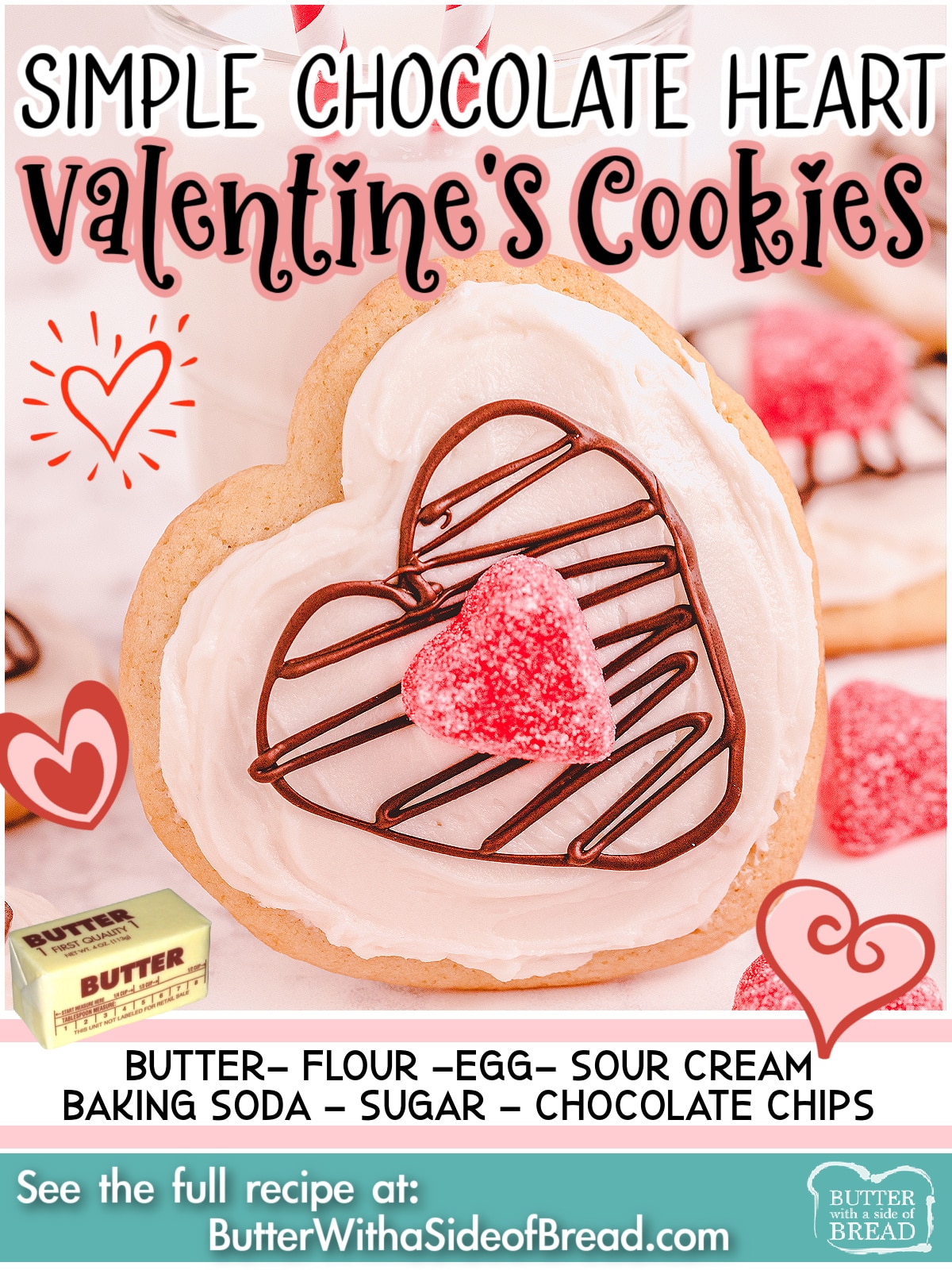 Frosting
In a medium size bowl, beat the softened butter until smooth.
Next, add in and mix the remaining ingredients until smooth, about 2 minutes. Add additional milk a little at a time if thinner consistency is desired.
Chocolate Lattice Hearts
First, stick a dinner plate or a cookie sheet in the freezer. Sounds odd, I know, just trust me on this one.
Then, put 1/4 – 1/2 cup of chocolate chips in a small ziplocked bag. Proceed to microwave for 1 minute, then turn over, and microwave again in 30 second increments until chips are melted and chocolate can be easily squished around the bag. Mine took 2 thirty-second increments, so an additional minute.
Next, lay out a square of wax paper. Cut a very small corner off the bag and draw a heart on the wax paper about the size of your cookie cutters. Then, fill in the hearts with crisscross lines and such. There is no method to my madness, I just sort of went crazy. When your wax paper is full, take the pan or plate from the freezer and slide the wax paper on top of it. You will noticed the chocolate begin to harden immediately. Let sit until fully set.
When the cookies have cooled, frost them, then place a chocolate heart on top. I also dabbed a cinnamon jelly heart in a tiny bit of frosting and added those to the center.
Serve and enjoy!
How do you keep sugar cookies soft?
This is another reason to love these cookies, thanks to the cream cheese in the dough- they stay softer for longer! After the cookies have cooled, simply place them in an airtight container to keep them fresh for as long as possible. It also helps to make sure that when you roll out the cookie dough that you do it to the right thickness so that they don't become brittle when baking.
How long will decorated sugar cookies last?
If you keep your cookies properly stored in an airtight container you can expect them to last up to a week at room temperature.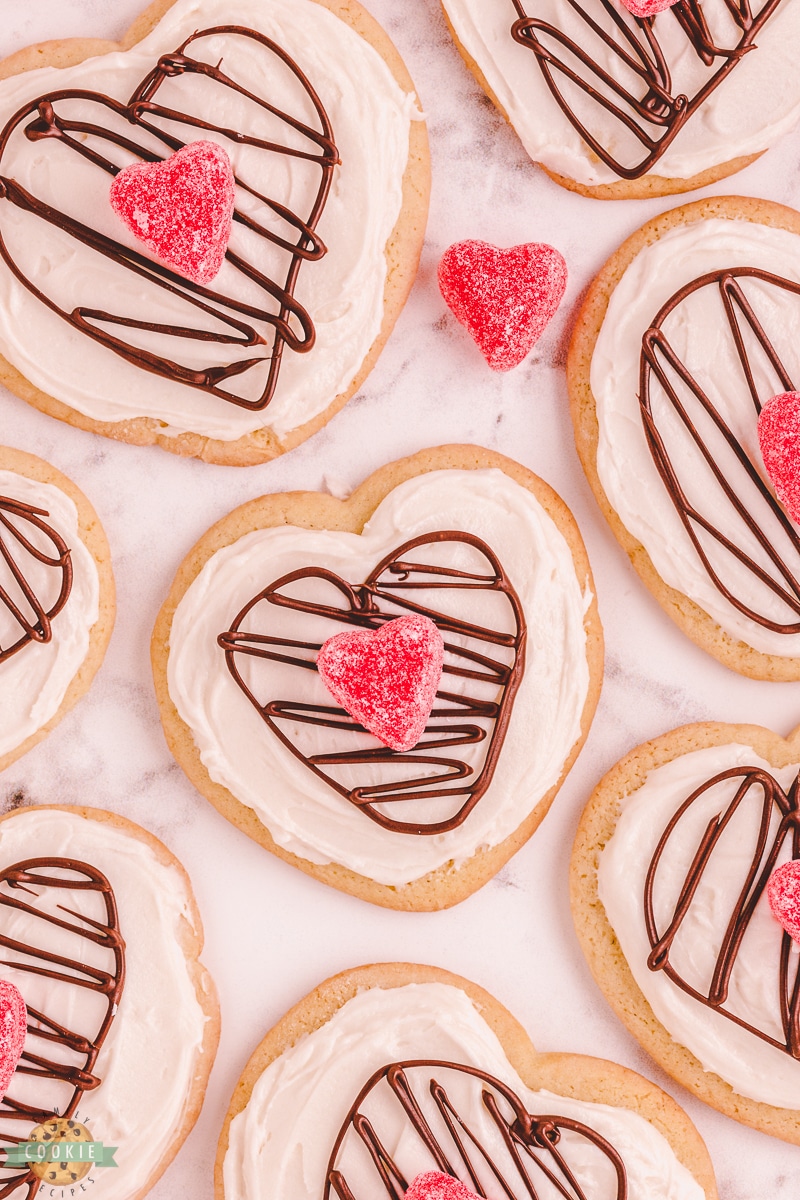 Can I freeze decorate sugar cookies?
Yes. After frosting has been applied, allow them to set at room temperature for about an hour so that the frosting can firm up a bit. Then place the cookies in a single layer on a baking sheet and flash freeze until solid (about 1-2 hours). After that, transfer to an airtight container. I recommend laying a sheet of parchment paper between the cookie layers, just in case. Then simply remove and thaw to eat.

Pictures are hard to take when you're a family of 7! Here we are on vacation in California, stopping at one more spot after a fun day of sightseeing. We're tired, wind blown and hungry, but 6 out of 7 are smiling, so I'll take that as a win!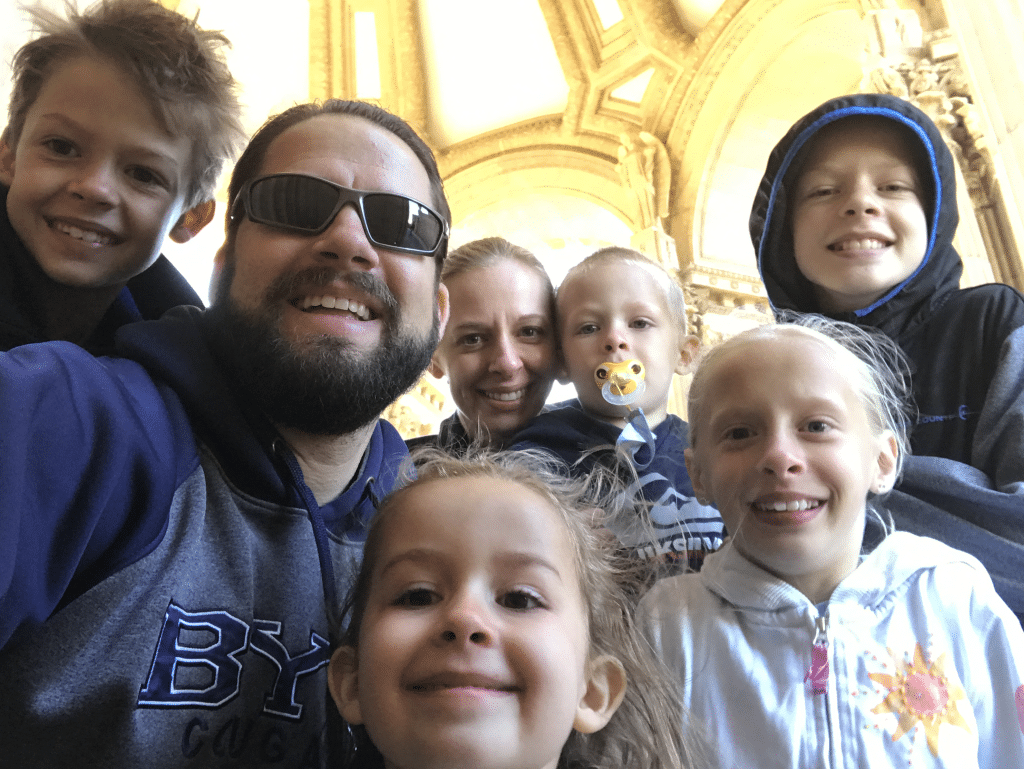 Check out some more great Valentine's Day recipes to try!
These easy Valentines Day sugar cookies are made with simple pantry ingredients and the result is these festive cookies!