Double Chocolate Junior Mint Cookies are chewy chocolate cookies topped with Junior Mints! Perfect fudge cookie recipe for mint chocolate lovers.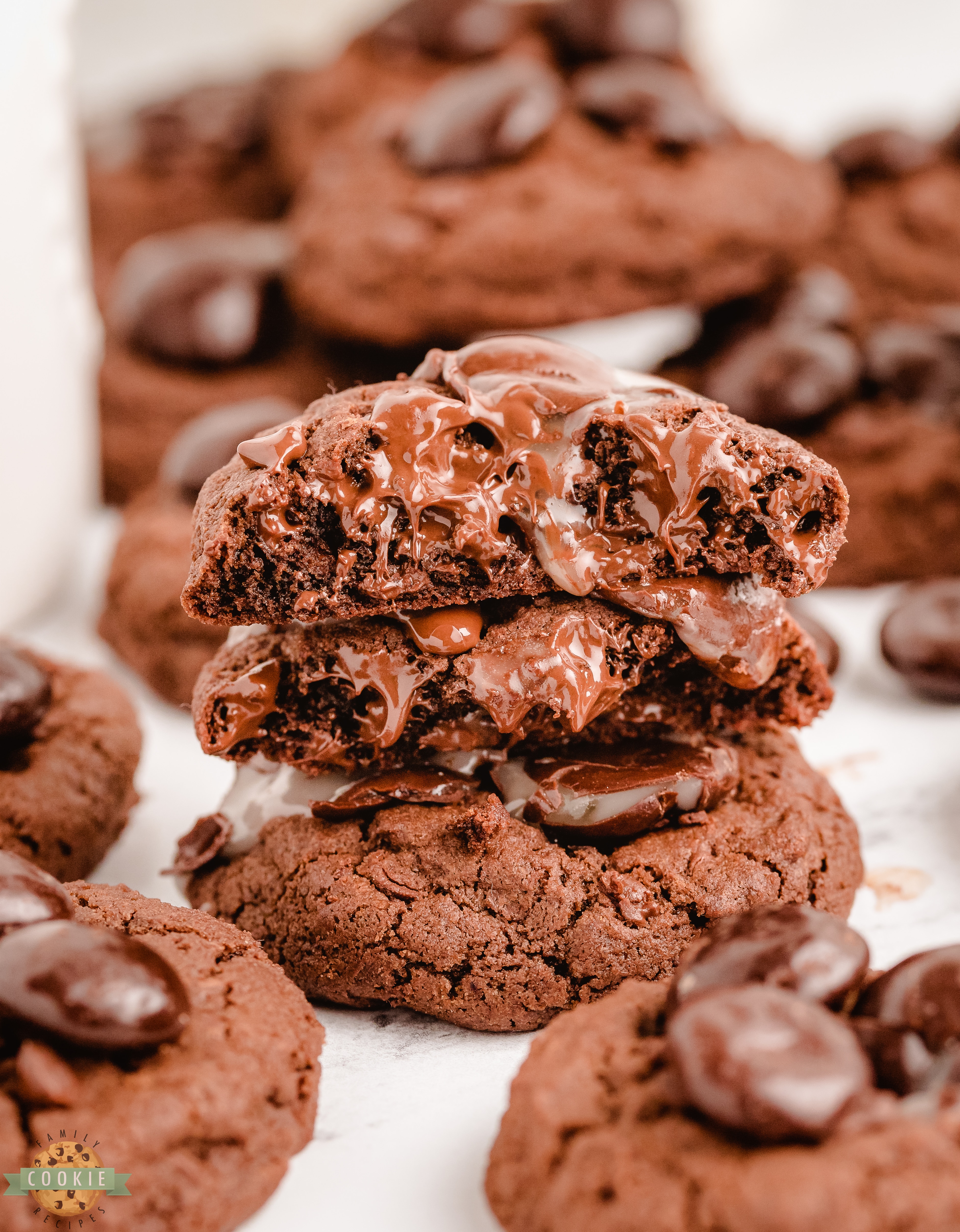 These chocolate cookies are soft and chewy with just the right amount of peppermint to compliment the rich chocolate cookie.
Chocolate Junior Mint Cookies
Take these Chocolate Mint Cookies to your Cookie exchange party this year, they will be a hit, pinky promise! The best part about these cookies is that they are easy to make, just like a regular chocolate chip cookie recipe. They taste fancy, but honestly there is no extra work aside from topping the cookies with the candies!
You'll need a couple boxes of the movie theater size Junior Mints. Be on the lookout for the seasonal boxes of Christmas Junior Mints! They're flecked with red and green candy and add a really festive look to these cookies!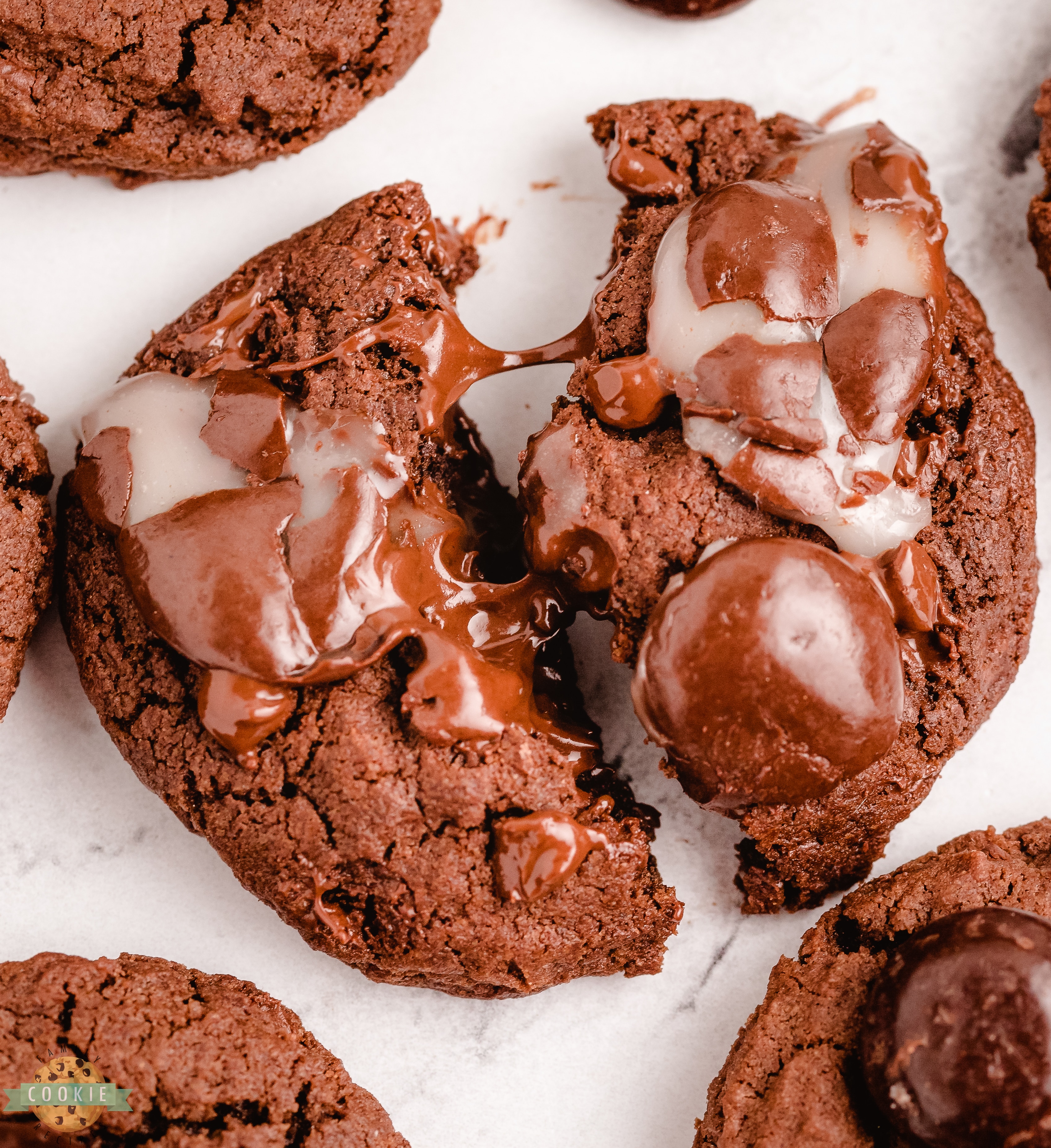 Why You'll love these Junior Mint Cookies:
Simple ingredients! You likely have everything in your pantry already. The only item you might need to purchase are the Junior Mint candies…unless you're me and you keep those on hand as well, ha!
Mint + Chocolate = ❤️❤️❤️. Need I say more? Mint and chocolate are one of my favorite dessert combinations ever!
Ooey gooey goodness! The chocolate in the cookies, combined with the chocolate from the candies on top add up to some seriously decadent cookies.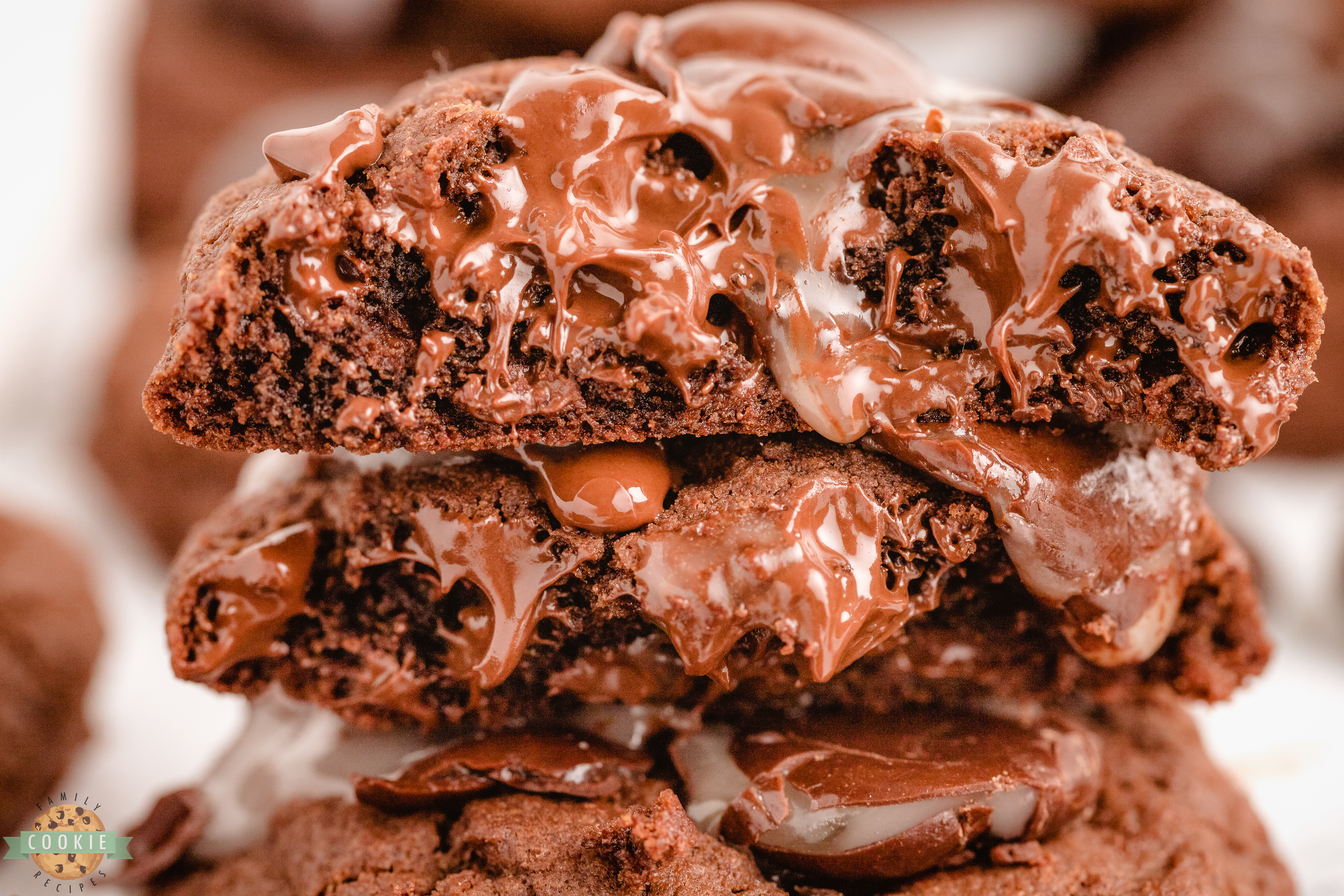 Ingredients for Junior Mint Cookies
All of the ingredients in this recipe are pretty basic, most of which should be easily found in your pantry!
— BUTTER: You'll need 3/4 cup salted butter that's been softened.
— SUGARS: We use both 1/2 cup granulated sugar and 1/2 cup brown sugar to add the right amount of sweetness to the cookies.
— EGG: You need just 1 egg to bind the cookie ingredients together.
— VANILLA: We added an entire tablespoon of vanilla to the cookie dough to add some great flavor.
— DRY INGREDIENTS: We use 1/2 cup cocoa powder, 1 1/2 cup all purpose flour, 1 tsp baking soda and 1/2 tsp salt for the cookie dough.
— CHOCOLATE & CANDY: We added 1 cup chocolate chips to the cookie dough and then topped the baked cookies with about 75 Junior Mints, about 3 candies on each cookie.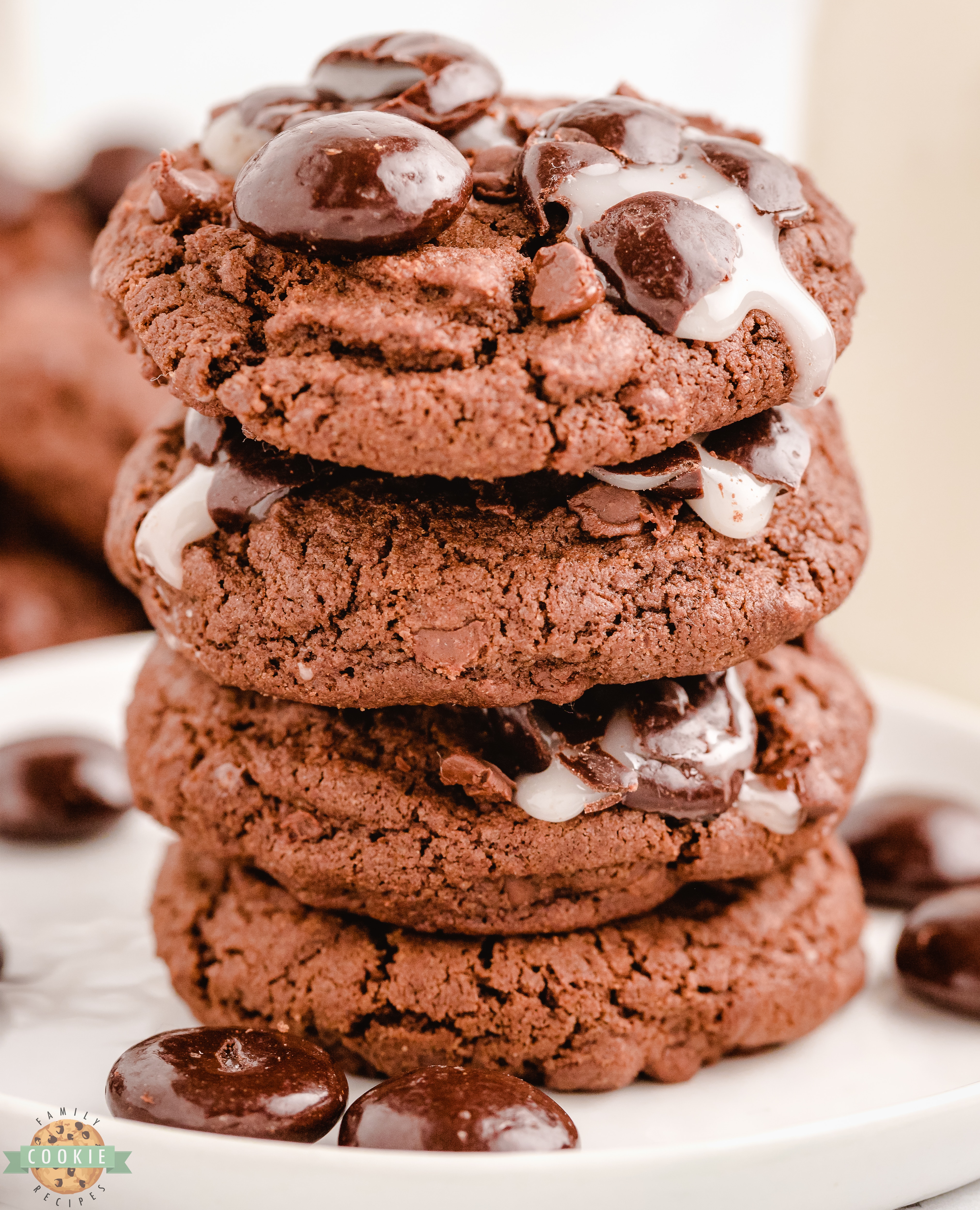 HOW TO MAKE CHOCOLATE MINT COOKIES
Making Chocolate Mint Cookies is just as easy as making regular chocolate chip cookies. We will cream together the butter and sugars first. Then the egg and vanilla goes into the mix. Next, the dry ingredients are added, followed by the mini chocolate chips.
We are not going to add the Junior Mints until after the cookies have baked. It is important to wait until after the are cooked or else all of the pepperminty goodness will escape and dissolve into the cookie instead of having a burst of Pepperminty goodness.
As soon as the cookies come out of the oven, press 2-3 junior mints onto the top of each cookie and allow them to cool.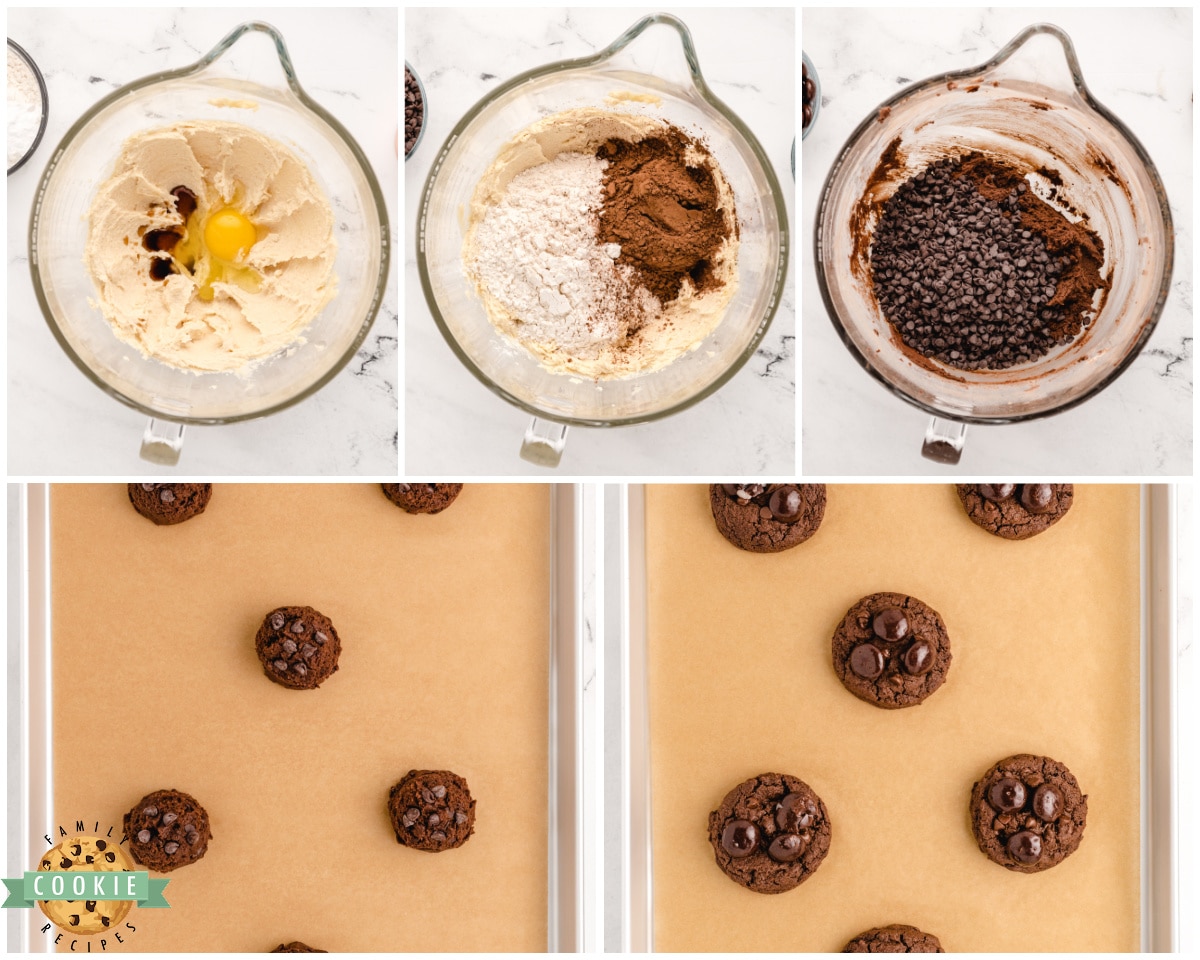 How long should I let these cookies cool?
Cookies are best left to cool on the baking sheet they're cooked on for 3-4 minutes, then you can transfer them to a cooling rack to cool further. This way, they don't fall apart as cookies are pretty soft still when they're pulled out of the oven. After a couple minutes on a cooling rack, cooking are usually cool enough to eat! Warm cookies are the best!
HOW TO FREEZE CHOCOLATE COOKIE DOUGH
If you'd like to freeze the dough before baking, I would suggest scooping the dough and then freezing the balls on a cookie sheet for about 1 hour. After the hour is over, you can then toss the cookie dough balls into a zip top bag without the cookie dough balls sticking to each other.
When you are ready to bake the cookies, arrange on the cookie sheet and let them sit at room temperature while your oven preheats. You will then bake as usual before topping the cookies with Junior Mints.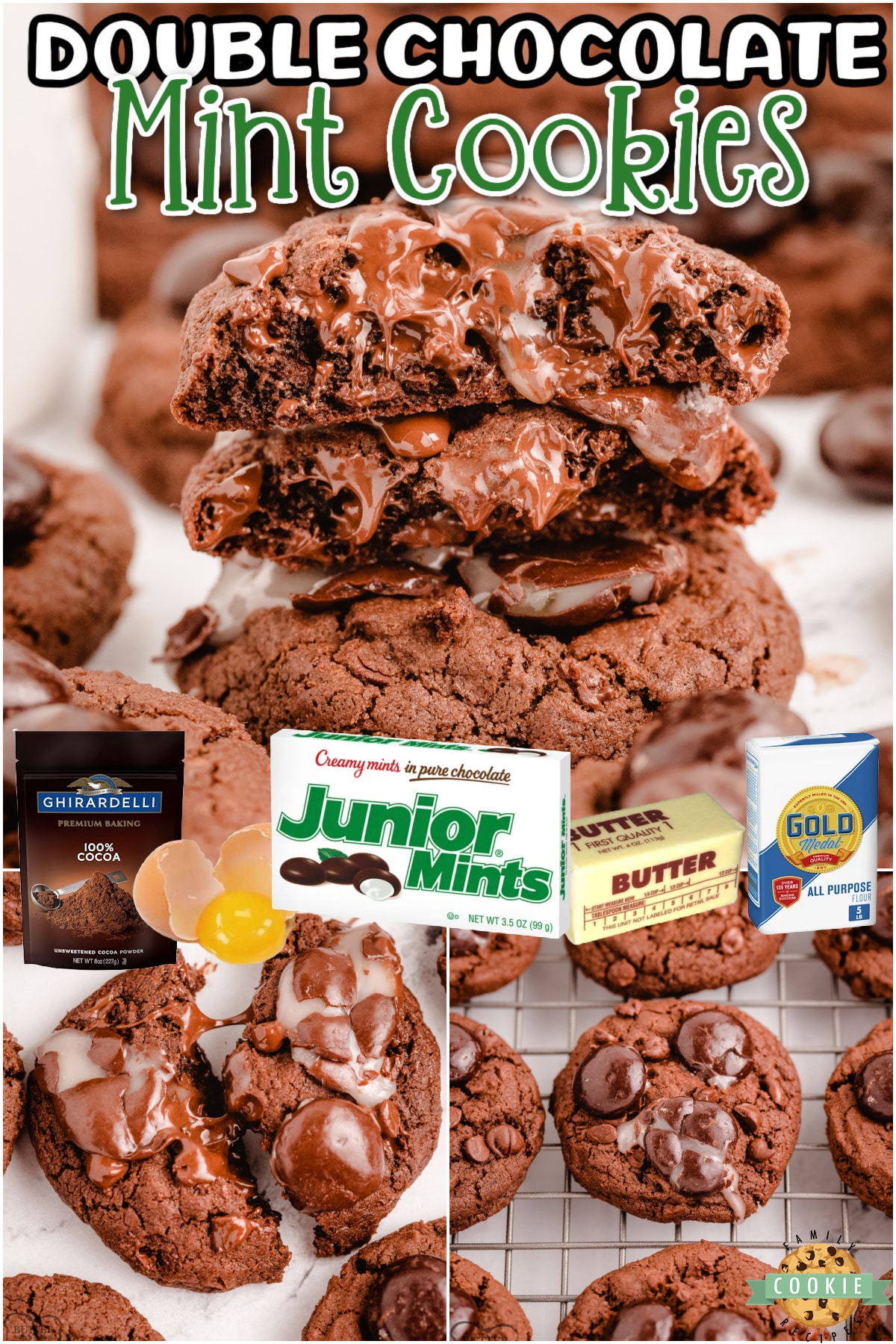 WHAT CAN I USE INSTEAD OF JUNIOR MINTS?
If you prefer not to use Junior Mints, you can also break up pieces of Andes Mint candies and place on top of each cookie.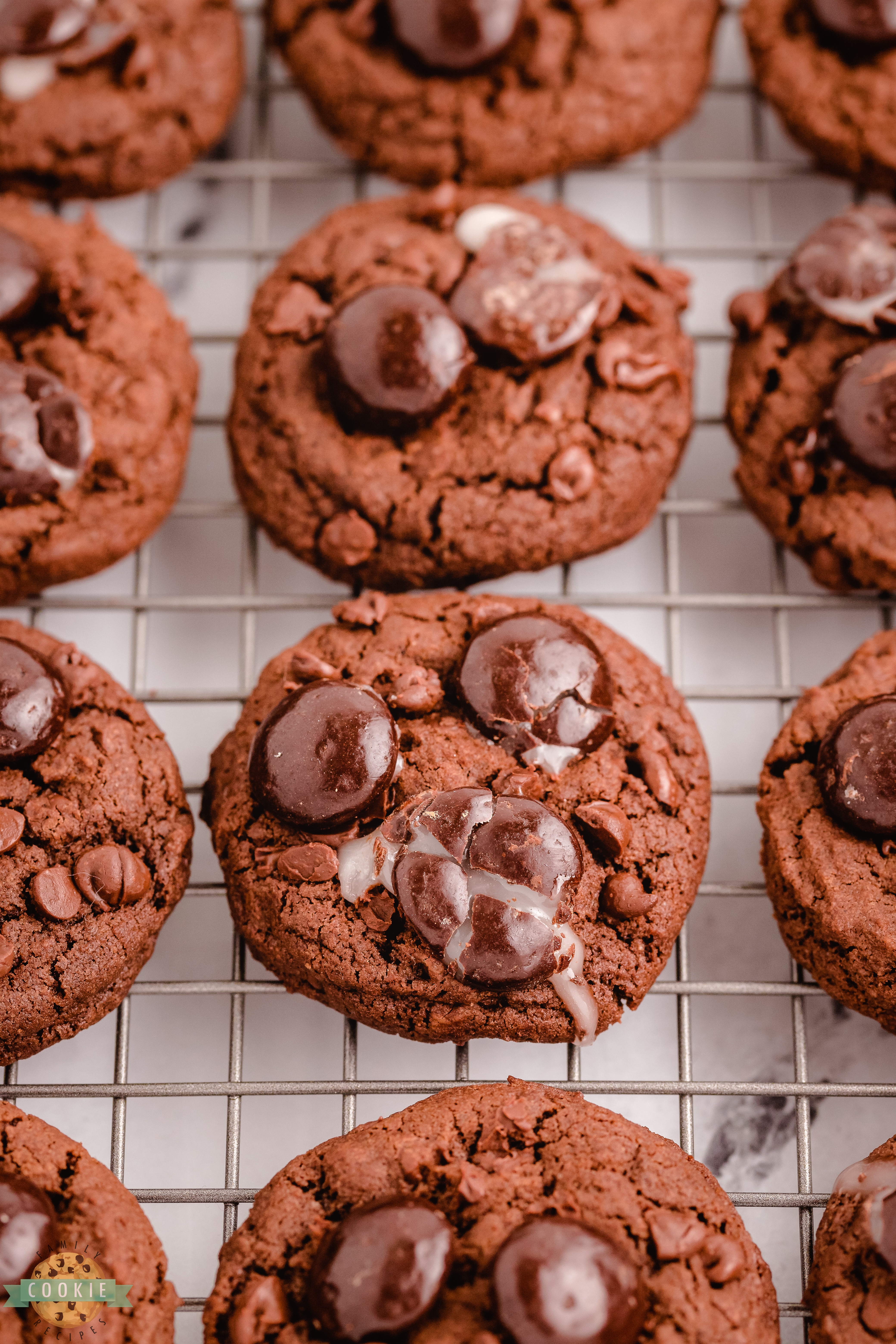 WHAT TYPE OF VANILLA EXTRACT SHOULD I USE?
A few years ago I tested 10 different vanilla extracts and found new favorites! I love using TOTONAC's Mexican Vanilla for everyday use. It's pure vanilla and contains no alcohol, which I like because I don't like the taste of extracts made with alcohol. Each time I try another, I go back to Totonac's quickly afterward; it's so good! I also love using Nielsen Massey Vanilla Bean Paste. Again, this one has the best flavor by far!


I get a kick out of this photo. I remember this game! My son is the one in orange blocking the ball…one handed because the other hand is in a cast. Ha! He broke his finger in 2 places, but it's so interesting, these days, they wrap the cast in an ace bandage and let them continue to play. I guess having the kid continue their active lifestyle helps them to heal. Which he did! And now this same kid just rolled an akle yesterday.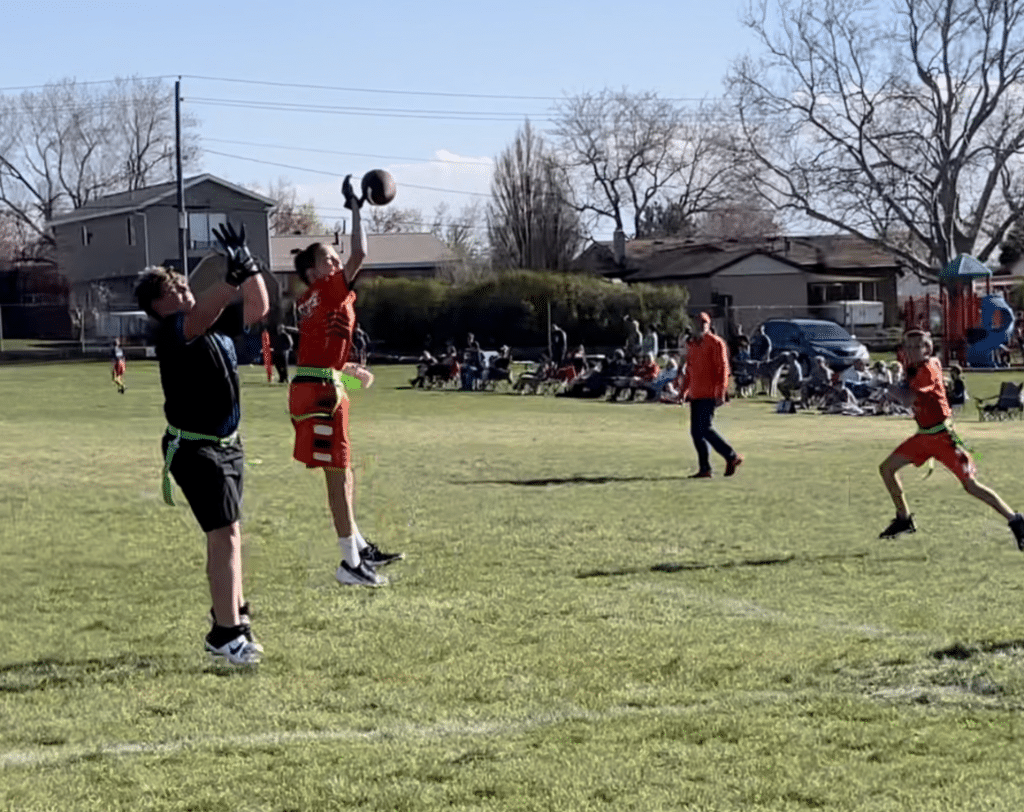 What is the scoop and level method?
The scoop and level method is also sometimes referred to as the "spoon and level method" because you are scooping flour from the container or bag, usually with a spoon, and then placing it into the dry measuring cup. After the cup has been filled a straight edge (like a butter knife) is then run over the top of the cup to make sure that the flour is level with the top of the cup.