Chocolate Mint Cookies are soft and chewy chocolate cookies that have a York peppermint patty right in the middle. This easy cookie recipe is the perfect balance of chocolate and mint!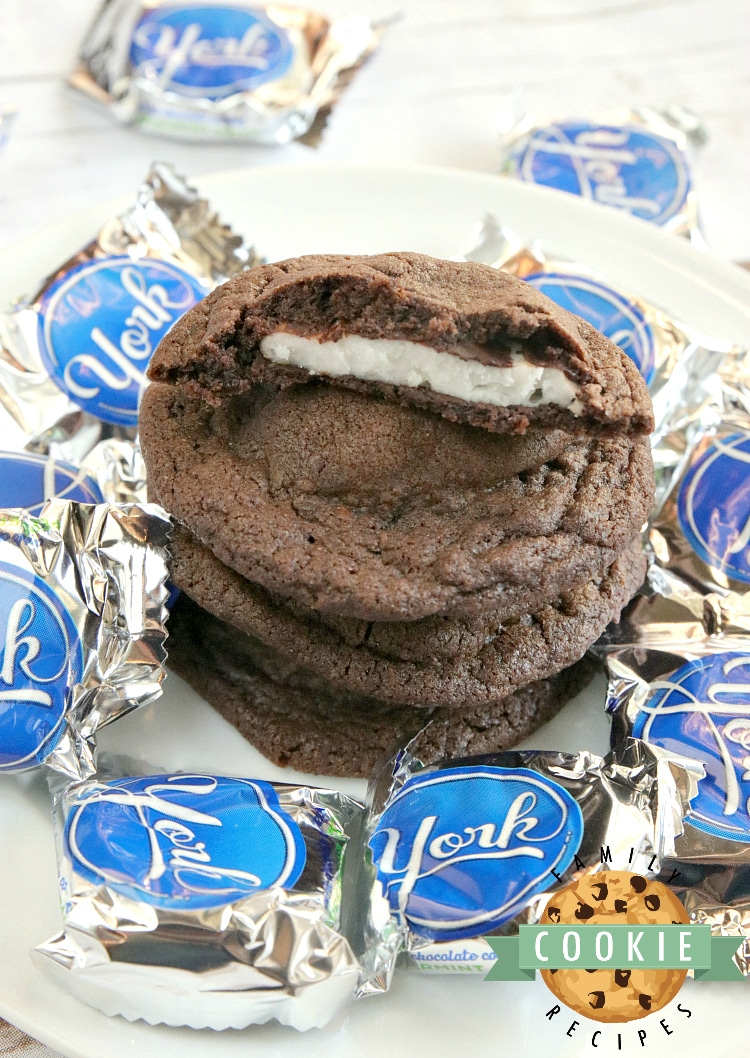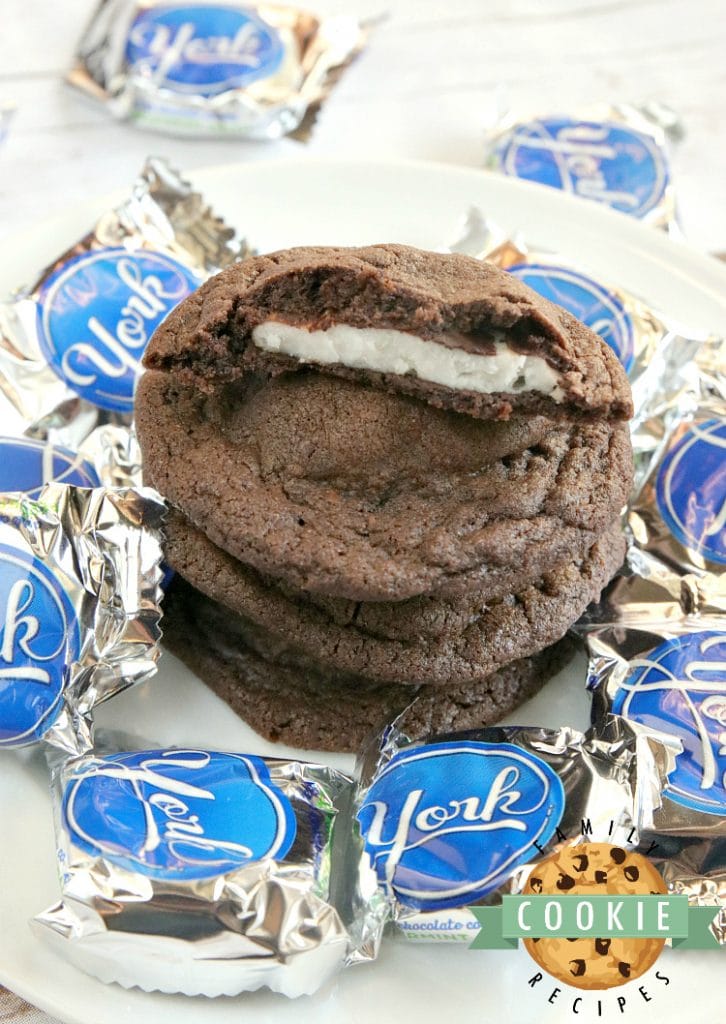 Chocolate Mint Cookies are so easy to make and they have the perfect mint flavor because you don't have to use any extracts or flavorings – the York peppermint patties in the middle of the cookies work out perfectly. Anyone else love York peppermint patties? To make these cookies, you just press the dough around a peppermint patty and then bake. The peppermint patties stay intact and taste amazing with the cookie around them.

Ingredients in Chocolate Mint Cookies
1 1/4 cup butter, softened to room temperature
2 cups sugar
2 eggs
2 tsp vanilla extract
2 cups flour
3/4 cup cocoa
1 tsp baking soda
1/2 tsp. salt
36 York peppermint patties

How to make Chocolate Mint Cookies
In a mixing bowl, cream the butter and sugar together for about 2-3 minutes.
Add eggs and vanilla and continue to beat the mixture for a few more minutes.
In a separate bowl, combine the flour, cocoa, baking soda and salt. Add the dry mixture to the butter mixture and mix just until combined.
Use a cookie scoop to scoop out a tablespoon of the dough and then press a peppermint patty into the center, using your fingers to shape the dough all the way around the peppermint patty. Bake at 350° for 8-9 minutes. Cool on baking sheets for at least 5-6 minutes and then carefully transfer to a wire rack to cool.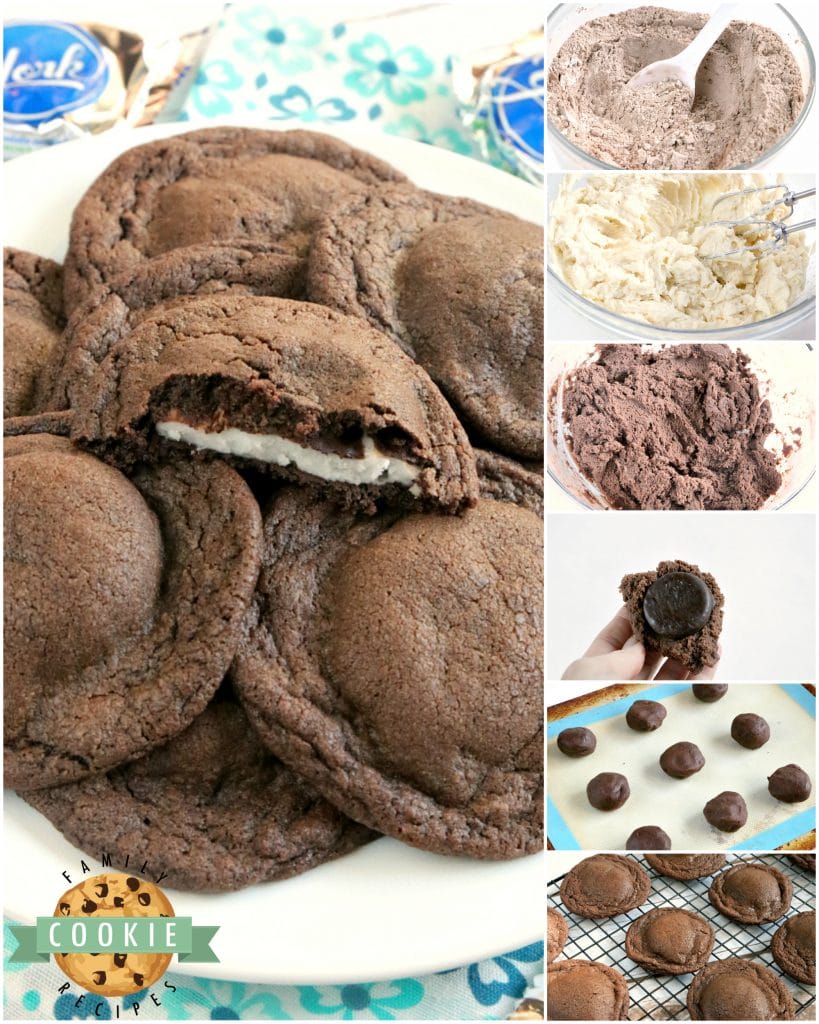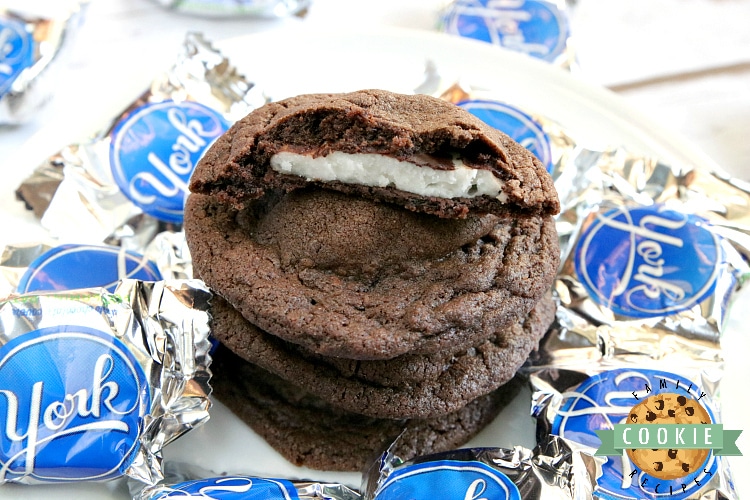 Tips for making the best chocolate cookies:
Make sure that you have enough flour in the dough. If the dough is too sticky, you may need to add a little bit of flour.
Do not melt the butter! The butter needs to be softened (at room temperature), but using melted butter will ruin the cookies.
Spend a little extra time when you mix the butter and sugars. Creaming them together for 2-3 minutes will improve the consistency of your cookies.
Preheat the oven. This will help your cookies turn out right every time!
Use a cookie scoop! If you want all your cookies to be perfectly shaped and have them all be the same size, a cookie scoop is the way to go.
Use parchment paper or a silicone baking mat. Doing this will make it really easy to remove the cookies from your cookie sheet so that you don't have to scrape them off the pan – they will just slide right off in perfect shape!
Don't overbake the cookies – when I take mine out of the oven, they still look slightly underbaked but they will continue to bake on the cookie sheet for a couple more minutes so that's ok!

How do you soften butter to room temperature?
The best way to soften butter is to set it out for a few hours before you make your cookies. Since most of us (or maybe just me!) aren't that prepared or don't think that far in advance, there are a few tricks to softening butter perfectly in just a matter of minutes. My favorite way to soften butter is in the microwave. It's definitely fast, but you do have to be very careful not to melt it. Just put the whole stick of butter in the microwave (as long as it isn't wrapped in foil!) and microwave for about 6-7 seconds. If the butter is still really cold, try another 5-7 seconds and check it again. You may need a few intervals, and if the butter is starting to feel soft, you can shorten the final interval to just a few seconds to make sure it doesn't start melting.
actually prefer to use the defrost setting on my microwave – I don't know exactly what that mode does differently, and it takes a little bit longer (closer to 30 seconds), but it seems to be easier to get the butter to soften without melting.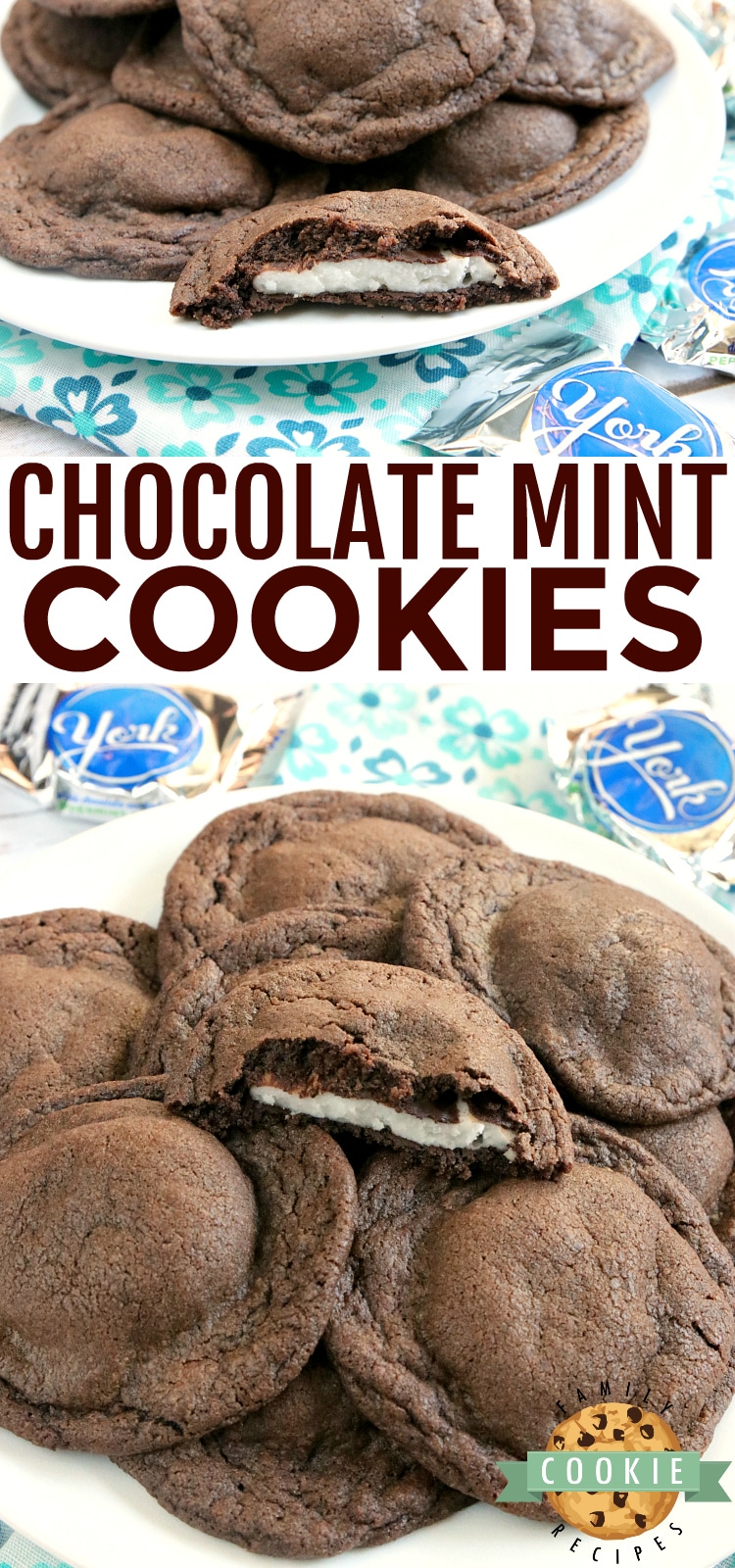 Chocolate Mint Cookies are soft and chewy chocolate cookies that have a York peppermint patty right in the middle. This easy cookie recipe is the perfect balance of chocolate and mint!


I have one boy. Four girls, but only one boy. When he found out that our last baby was a girl, he was pretty upset because he really wanted a brother. We had a rough couple of months, but slowly she began to win him over. Little B is ten months old now and C is a fabulous big brother. He is so sweet with her and is the best one in our family at getting her to laugh. She absolutely adores him, and even though she is fully mobile and doesn't like to sit still very long, she gives quick little cuddles occasionally to those she loves the most. Hope these two always stay close and I hope she realizes how lucky she is to have such a great big brother!