Christmas Jello Sugar Cookies made with red and green Jello in the cookies and the frosting. Festive and flavorful cut-out sugar cookies that can be made with any flavor of Jello!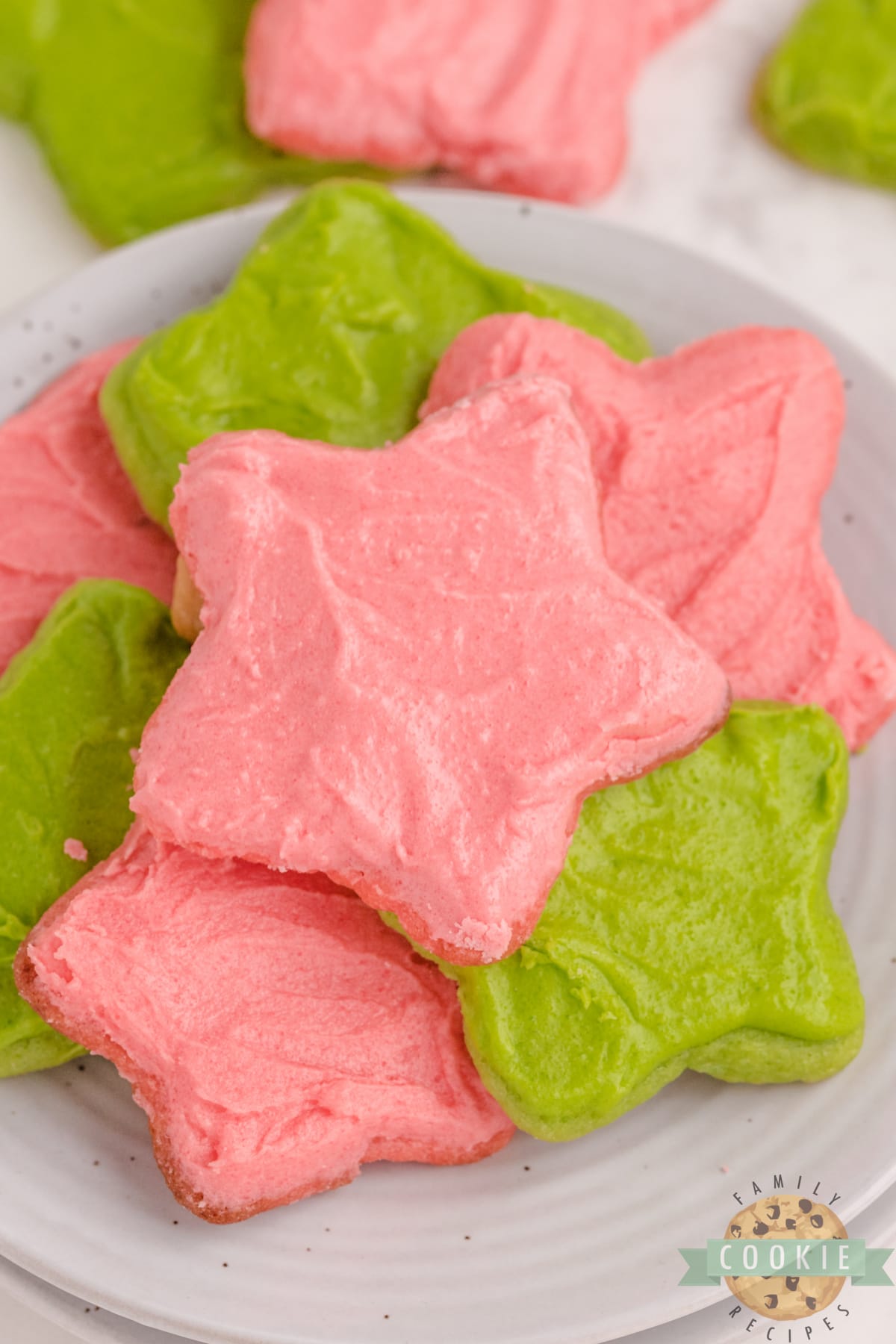 Jello Sugar Cookies are amazing. You can use any flavor of Jello that you want and the rest of the ingredients are pretty standard for a sugar cookie recipe. The best part is that you can choose if you want to roll them out and cut shapes or you can just make regular ball-shaped cookies and the frosting is also optional. Since the Jello adds so much flavor and color to the cookies, you honestly don't really need fancy shapes or frosting and the cookies are delicious (and cute!) just plain. I've made the sugar cookies both ways and both were a huge hit.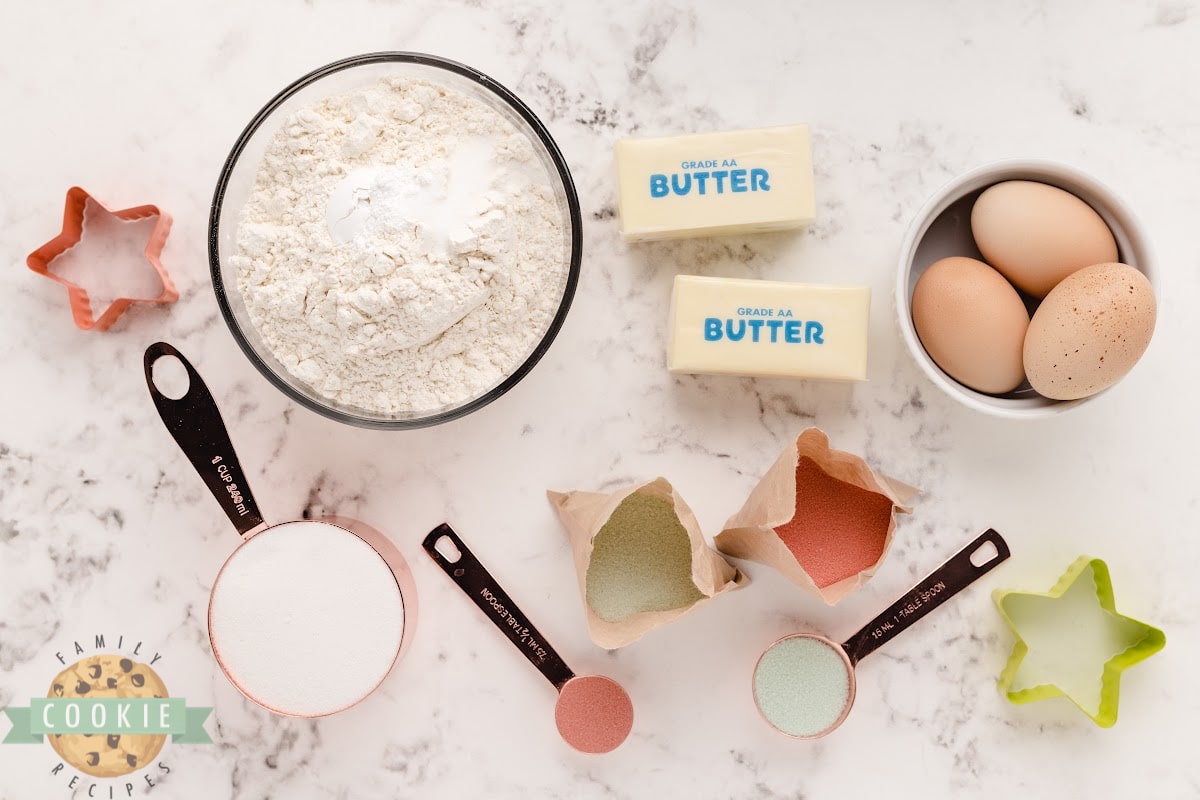 WHAT INGREDIENTS ARE IN JELLO SUGAR COOKIES?
To make Jello Sugar cookies, you will need butter, sugar, eggs flour, baking powder and salt. And a box of Jello in any of your favorite flavors. That's it! If you want to add frosting, you'll just need a few basic ingredients. Butter, sour cream, powdered sugar, milk and vanilla.\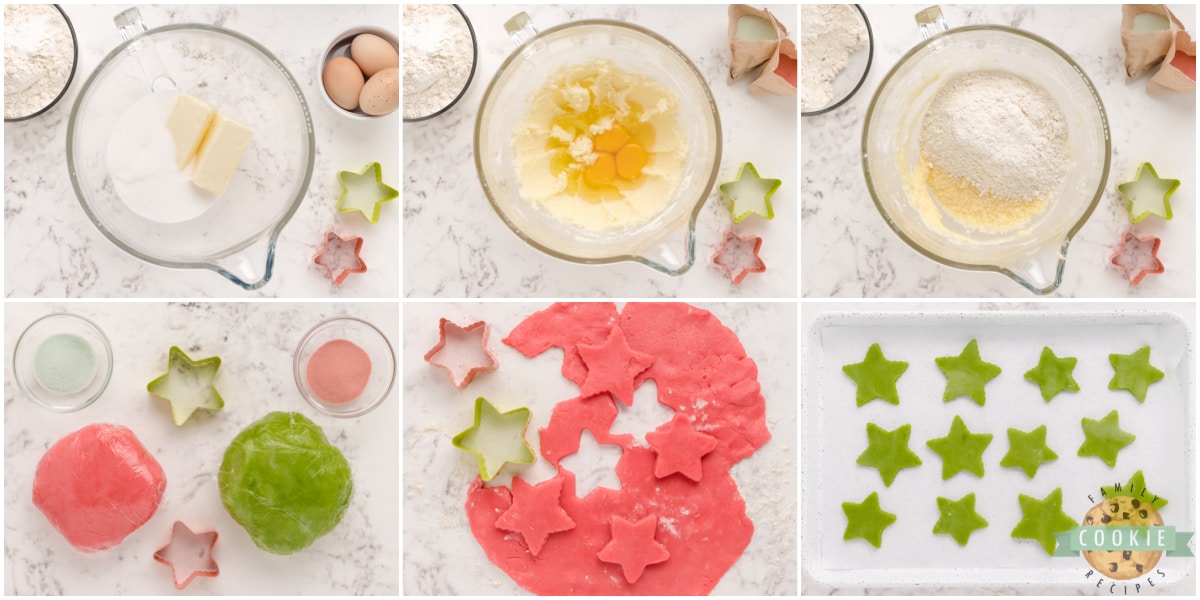 HOW DO YOU MAKE CUT OUT SUGAR COOKIES?
Once the dough has chilled for at least 2 hours (you can chill it longer – even overnight), divide it in half. Prepare the surface that you where you will be rolling out the dough. You can prepare the surface in any of these ways:
–Flour. Sprinkle a little bit of flour onto your countertop and make sure that the flour is covering the entire surface where your dough will be rolled out.
–Cooking spray or oil can also be used to coat the surface where you will be rolling your dough out.
–Wax paper. This method is definitely the easiest one to clean up!
Use a rolling pin to roll out the dough. The dough is much easier to handle and work with if you have divided it into halves (or even thirds) before rolling it out. The dough should be about 1/4″ thick. Use cookie cutters to cut out shapes in the dough and place the cut out shapes onto a prepared cookie sheet. Bake at 375° for 8-9 minutes.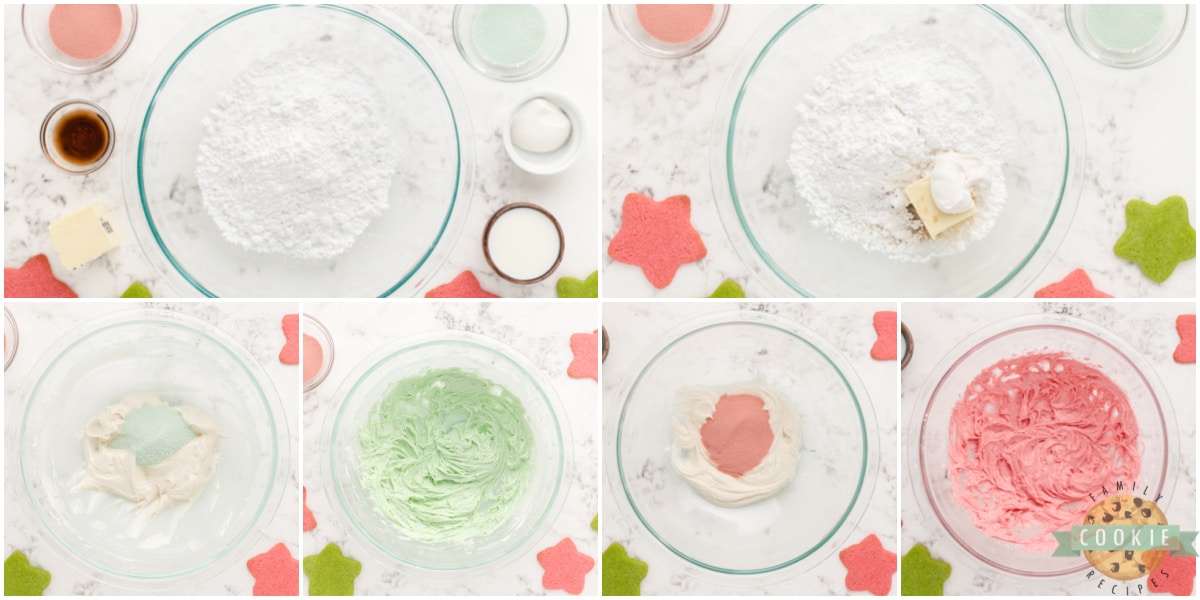 HOW DO YOU MAKE SUGAR COOKIE FROSTING?
This sugar cookie frosting is made with butter, sour cream, powdered sugar, vanilla, a little bit of jello powder, and a little bit of milk. I prefer this buttercream frosting on sugar cookies – it pairs so well with a soft and chewy cookie! If you want to flavor the frosting to match the cookie, reserve a tablespoon of the Jello powder before making the cookie dough. Add that reserved amount to the frosting. This adds color and an amazing amount of flavor to the frosting!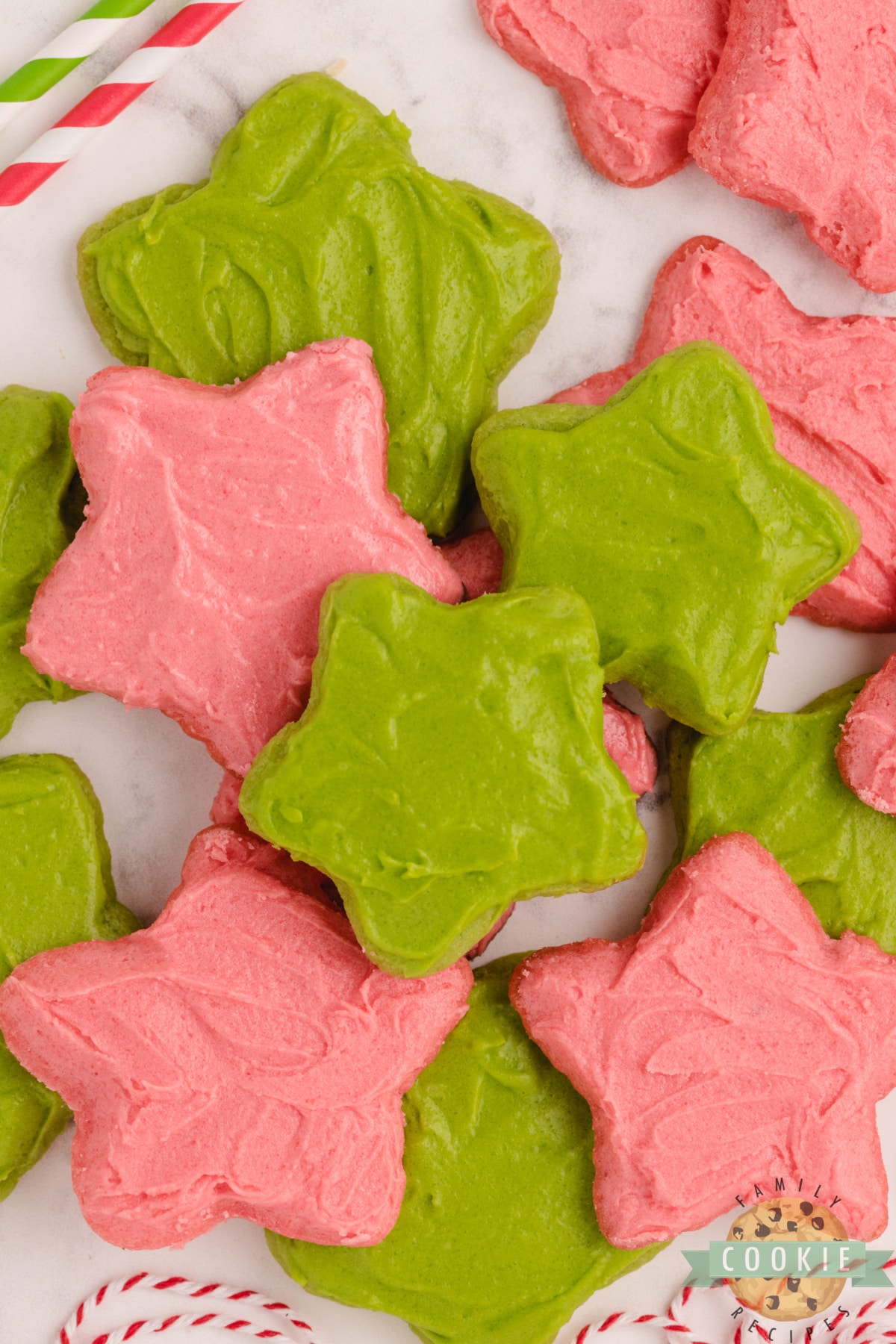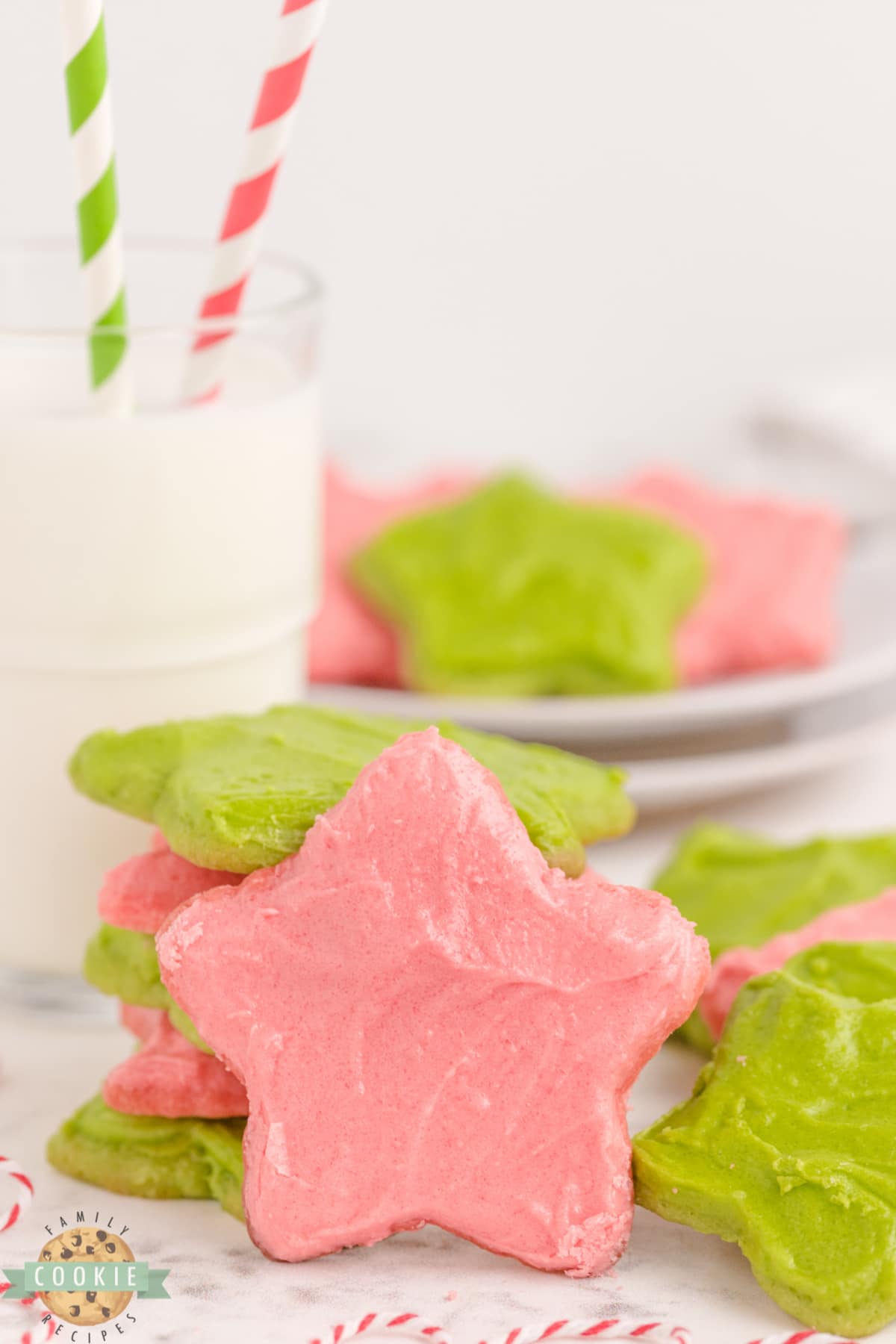 TIPS FOR MAKING THE BEST SUGAR COOKIES
Sugar cookie dough is sticky, but once it's sufficiently chilled, it's much more workable. Resist the urge to add more flour to the dough before chilling! If you add too much flour, the ratio of wet to dry ingredients is off and the cookies end up drier and more crumbly.
Do not melt the butter! The butter needs to be softened (at room temperature). Using melted butter will ruin the cookies.
Spend a little extra time when you mix the butter and sugars. Creaming them together for 2-3 minutes will improve the consistency of your cookies.
Preheat the oven. This will help your cookies turn out right every time!
Use parchment paper or a silicone baking mat. Doing this will make it really easy to remove the cookies from your cookie sheet so that you don't have to scrape them off the pan. They will just slide right off in perfect shape!
Make sure that you don't roll out the dough too thin before cutting your sugar cookies out. You want the dough to be about 1/4″ thick. If the dough is too thin, your cookies will be crispy and hard and easily breakable. But if the dough is too thick, the cookies may not bake all the way through the middle.
Make sure not to over bake your cookies. They may not even look totally done on the tops, but if the bottoms start to brown, I take mine out and they are perfect!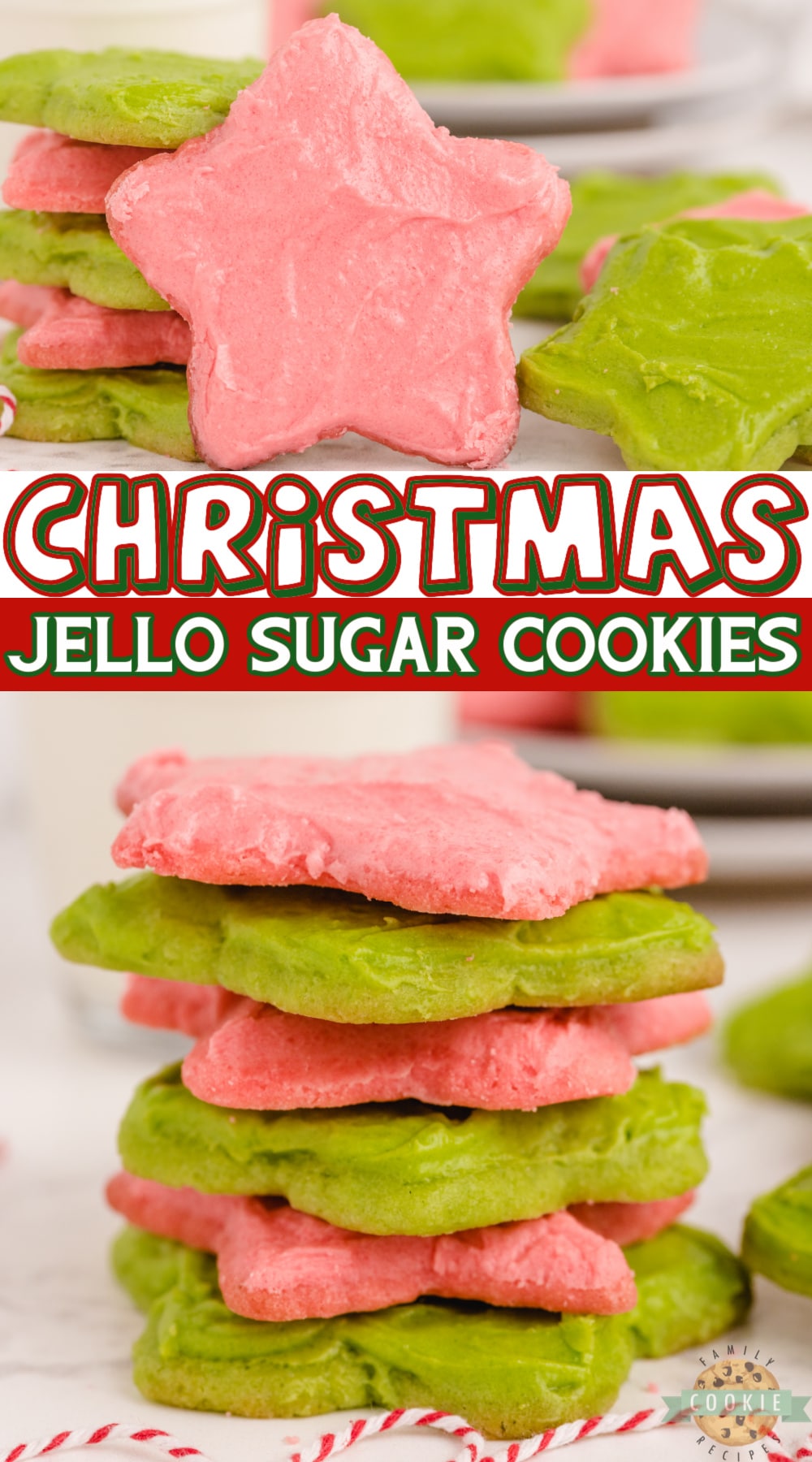 Christmas Jello Sugar Cookies made with red and green Jello in the cookies and the frosting. Festive and flavorful cut-out sugar cookies that can be made with any flavor of Jello!



This is my second daughter and she constantly amazes me. She is always busy trying something new and excelling at all of it! She plays soccer and does track, excels in school, and is very musical too. She has been playing the oboe for about 5 years and absolutely loves it. She spends so much time practicing and is currently playing in two different orchestras, plus she decided to learn the saxophone this year in order to be in marching band and jazz band!