Easy Apricot Cookies perfectly combine a sweet cookie base with tangy fruit flavor. These apricot sugar cookies are dipped in dark chocolate & are simply delightful!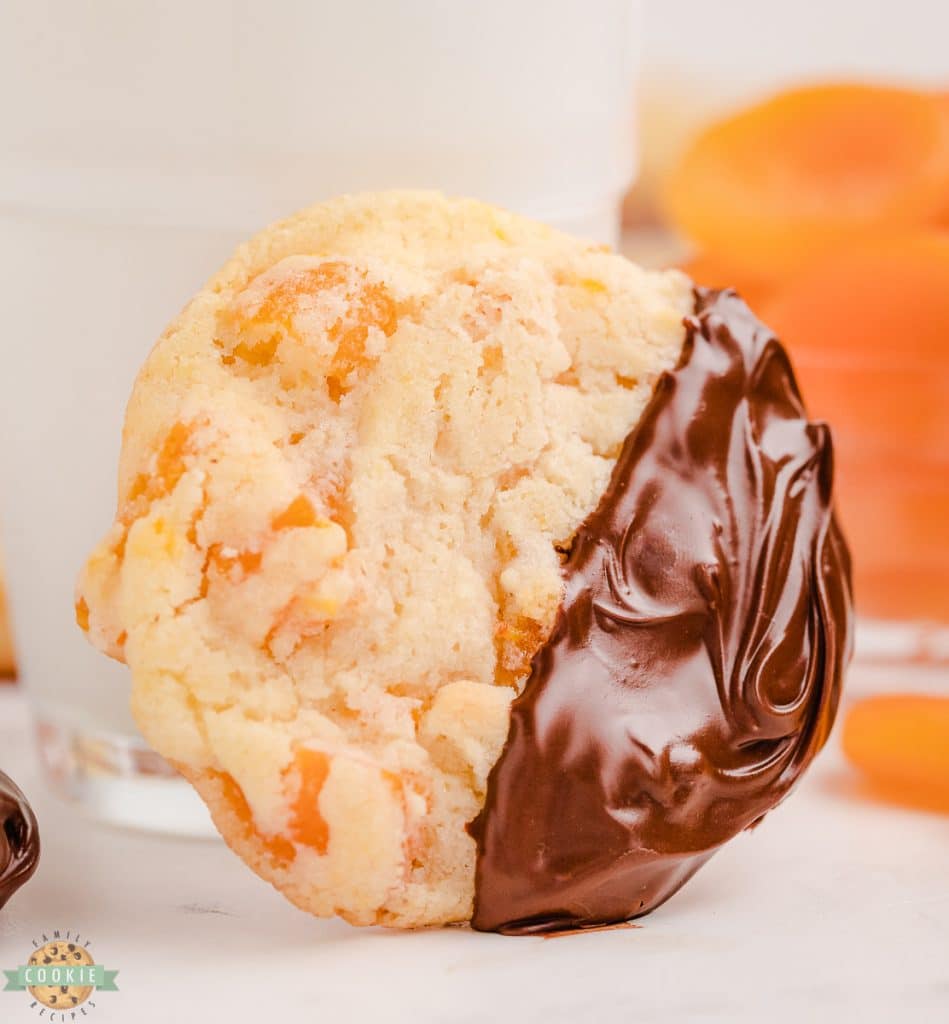 Making this dark chocolate apricot cookie recipe is simple, we use a packaged cookie mix as the base and add tangy dried apricot bits for an incredibly tasting treat. These apricot cookies are a great summer cookie, a light delicious dessert good all year round!
Chocolate Dipped Apricot Cookies
The combination of the bitter dark chocolate, with the sweet cookie and tasty apricot chunks, this cookie is absolutely amazing. The bits of apricot pair so perfectly with the chewy sugar cookie, then add the chocolate coating and it takes this cookie to the next level. This simple recipe is understated and yet decadent at the same time, you will want to try this recipe for sure!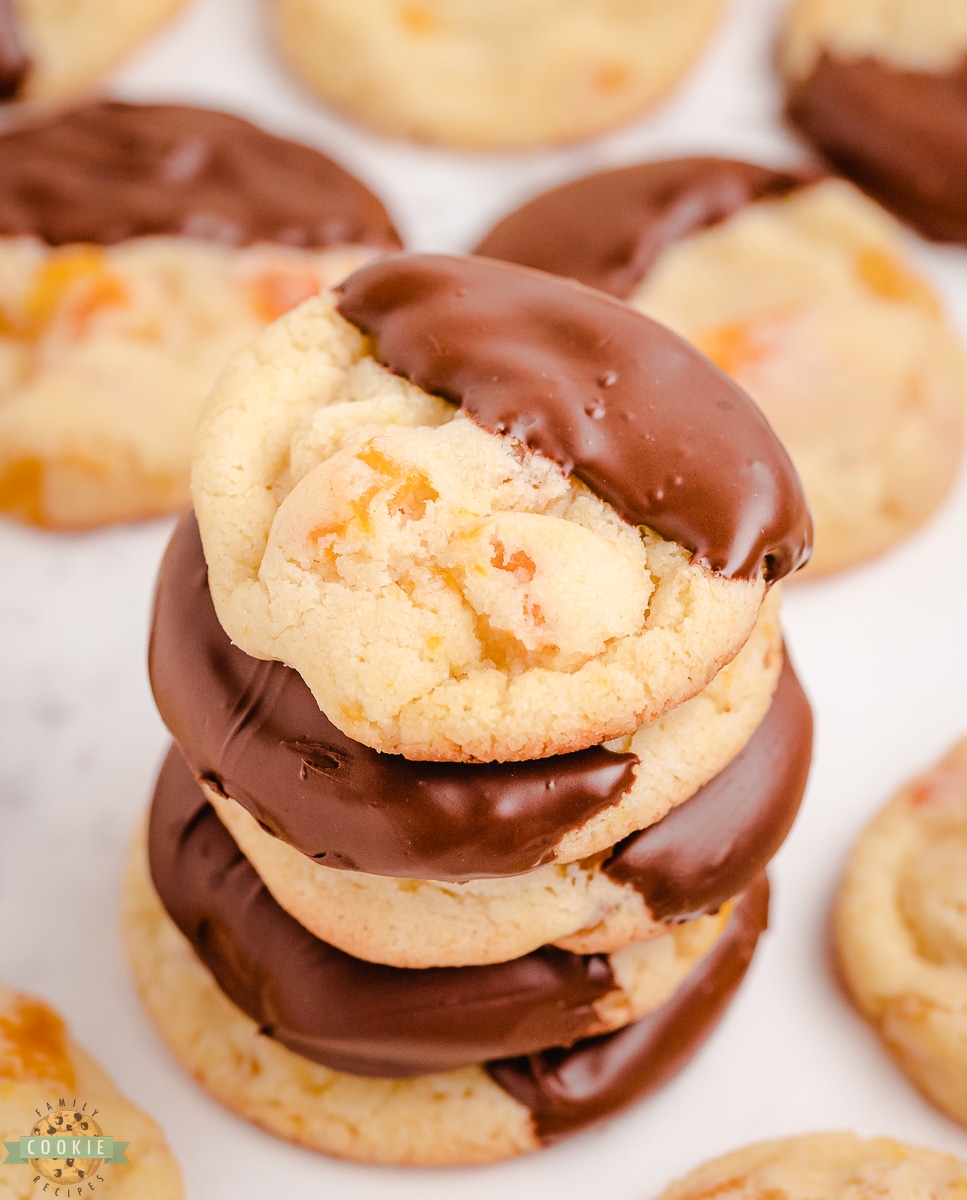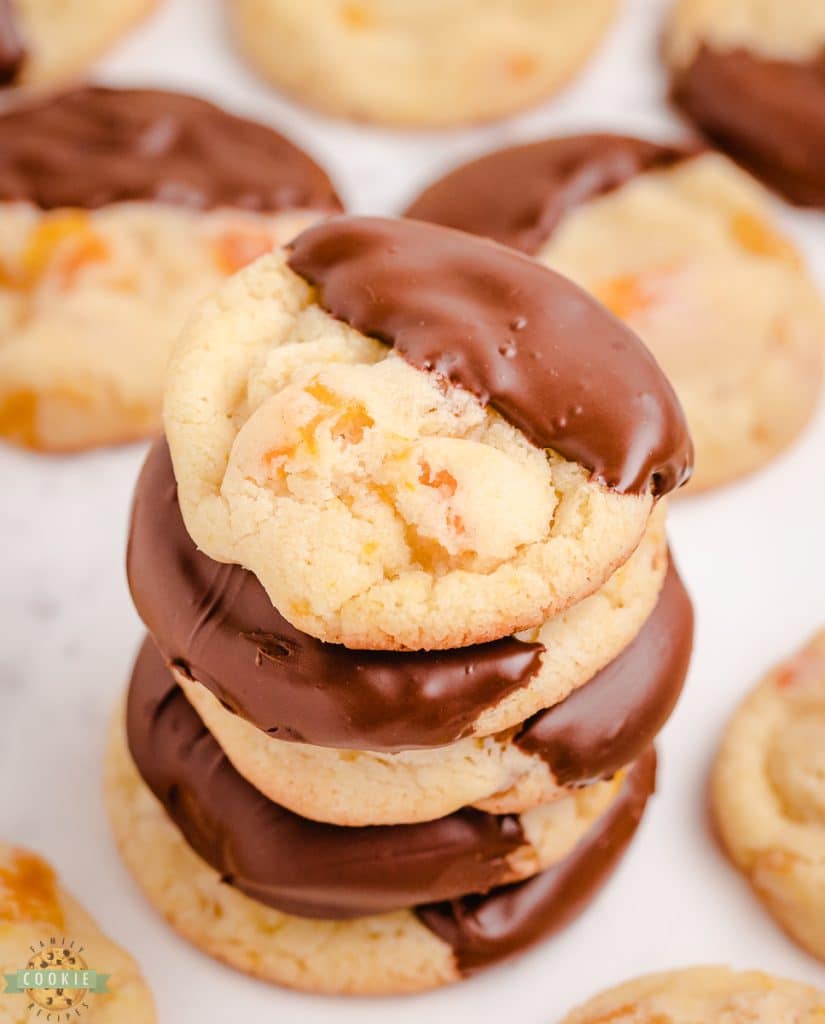 Why we think you will love this amazing cookie recipe
In case you needed more convincing, here are a few reasons why we think you will adore this easy cookie recipe.
Another reason to bake at home. These cookies are so soft and chewy, and the way your house will smell while these are baking is absolutely incredible too!
Minimal ingredients. You will only need 6 ingredients from start to finish to make this amazing cookie recipe. Perfect for a small shopping trip or reducing kitchen messes.
Shortcuts can be delicious. I love the shortcut of starting out with a cookie mix too, it makes this unique cookie recipe so easy to whip up a batch.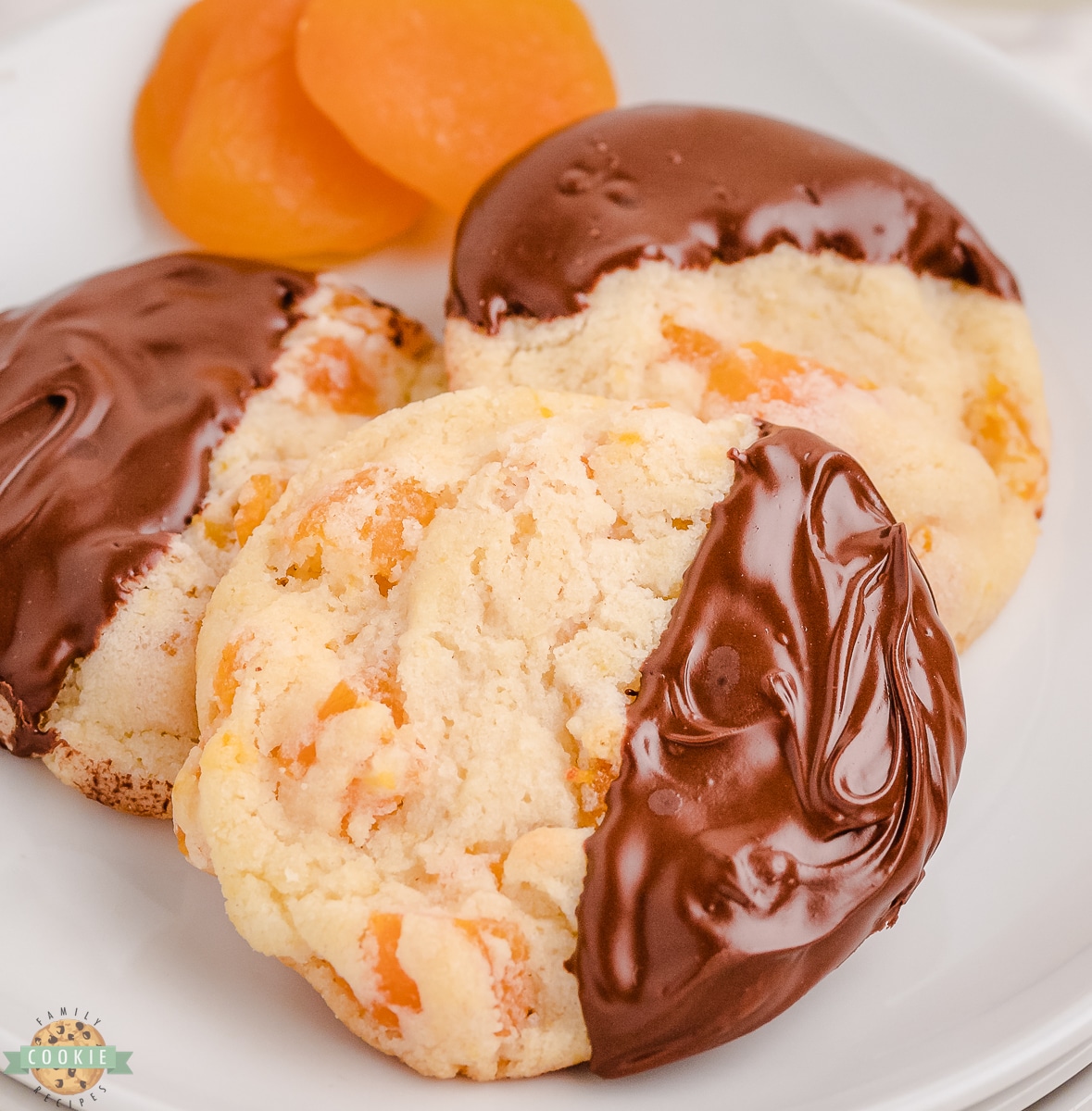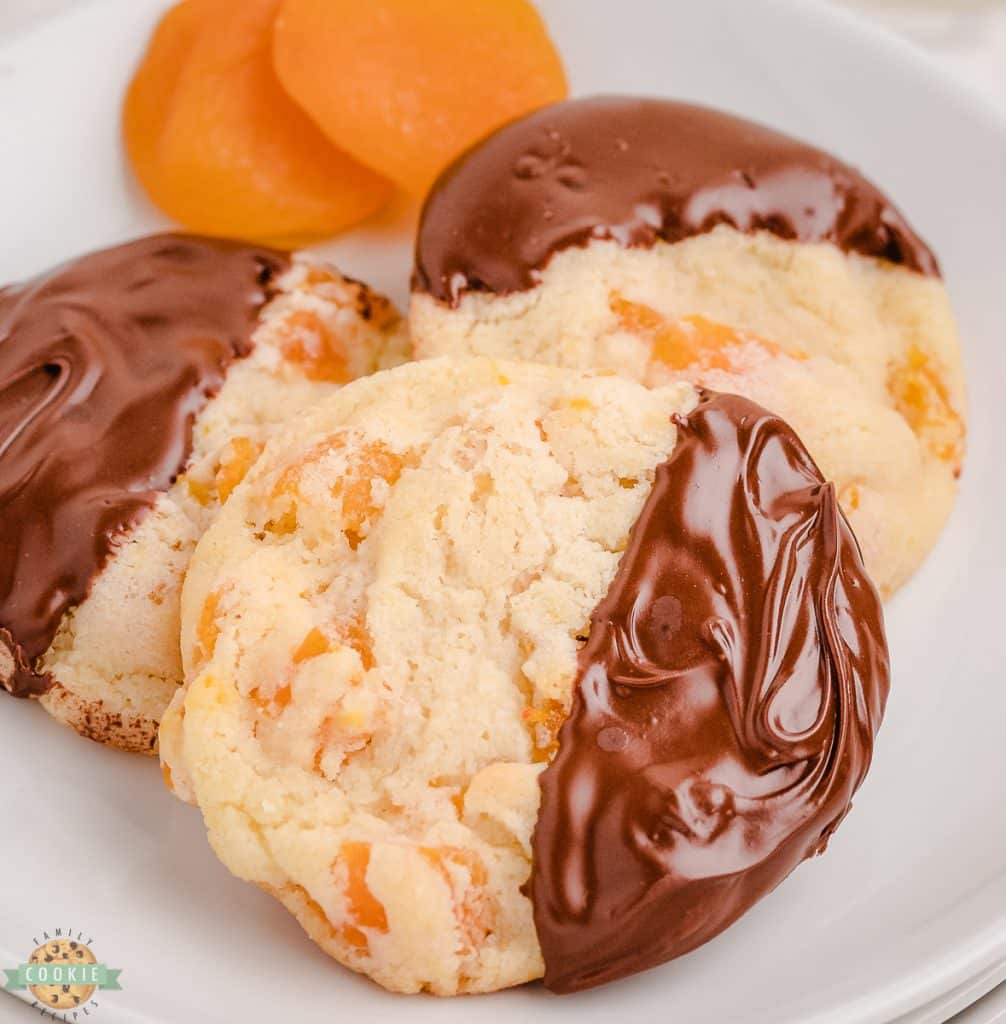 Easy Apricot Cookie Ingredients
Sugar cookie package: To make this cookie so easy to make, you will need 1 pouch (1 lb 1.5 oz) of Betty Crocker sugar cookie mix. You can use whatever brand you like, I am a lover of the Betty Crocker brand.
Butter: Add in ½ cup of butter or margarine, softened, to create a nice rich tasting cookie.
Orange extract: For amazing flavors, you will want to add in ¼ teaspoon of orange extract.
Egg: Use 1 egg in this recipe for great texture and taste.
Apricot: You will need 1 cup of dried apricots, chopped, for more amazing flavor.
Dark chocolate chips: For the amazing chocolate cookie coating, you need 1 package (12 oz) of dark chocolate chips (2 cups).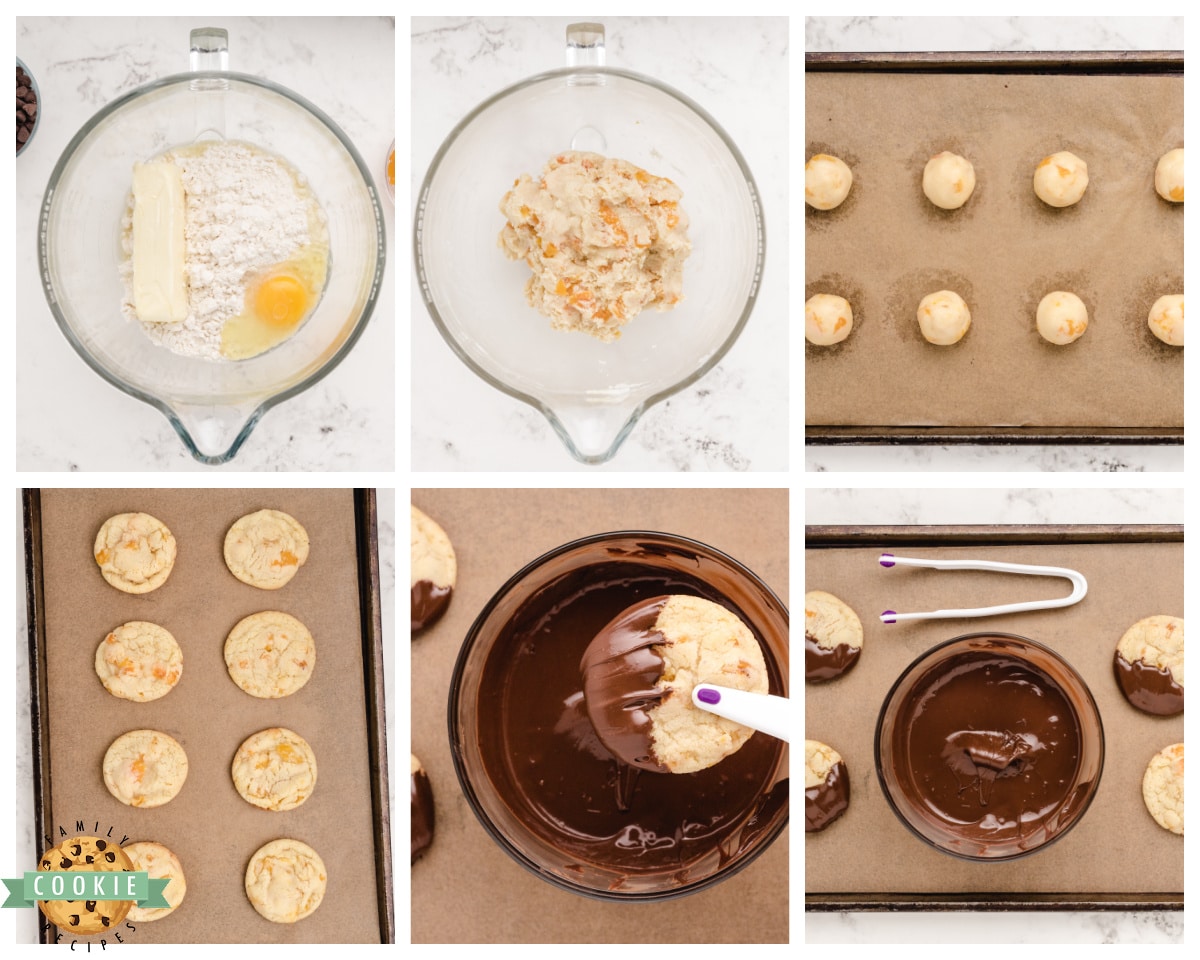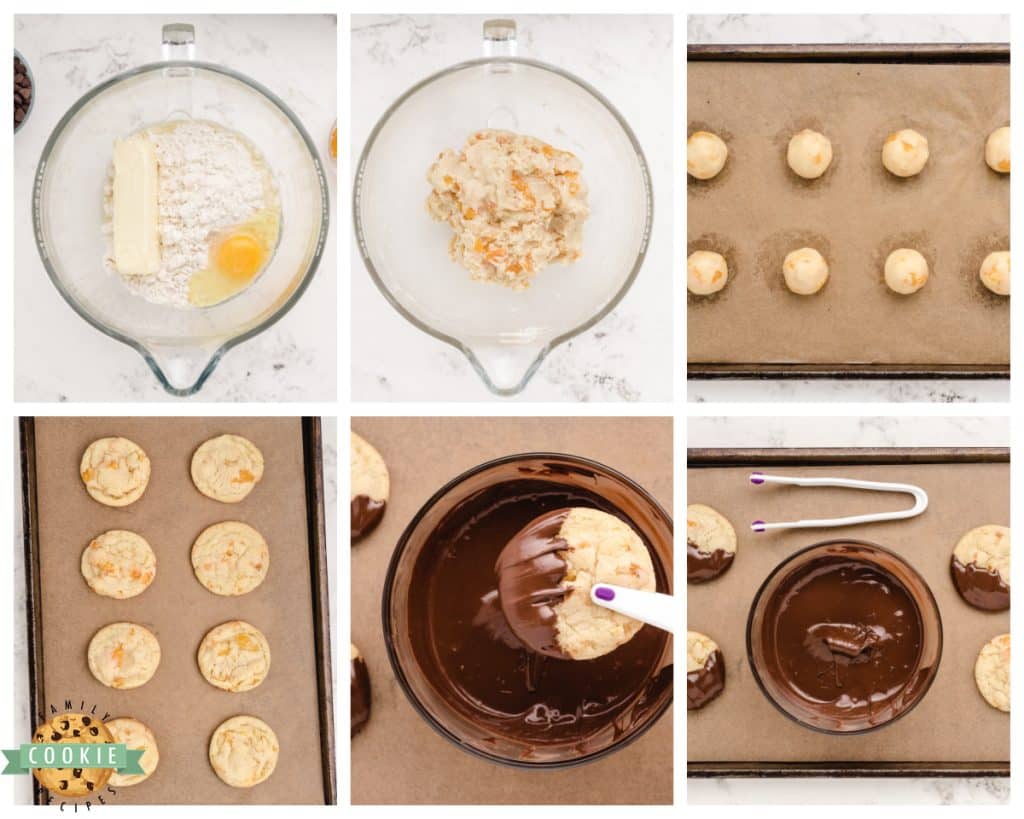 How to make Apricot Cookies Dipped in Chocolate
Prep
Start by preheating the oven to 375°F. Then, line a cookie sheet with parchment paper or a silicon mat and set aside.
Cookie dough
In large bowl, mix together the dry cookie mix, softened butter, orange extract and egg until soft dough forms. Next, stir in the dried apricots pieces until blended.
Proceed to drop cookie dough by rounded teaspoonfuls, 2 inches apart, on the parchment lined cookie sheet.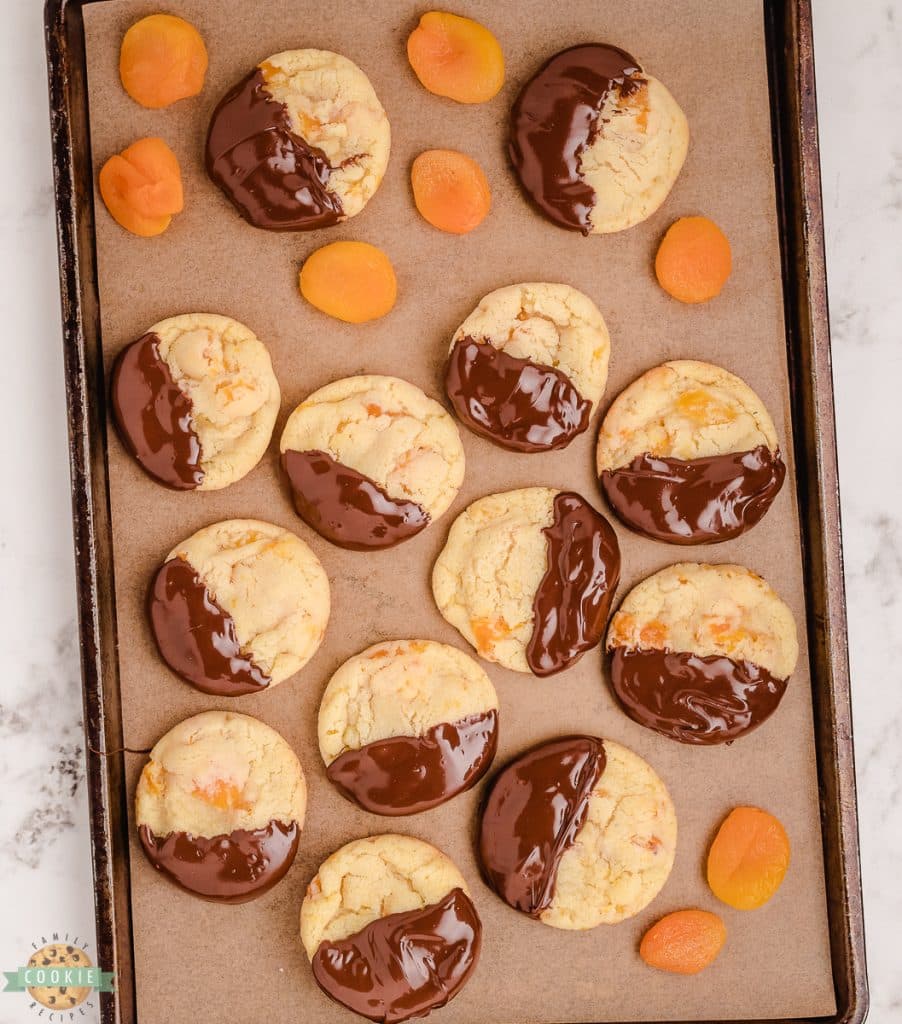 Bake
Place the cookies in the preheated oven and bake 8 to 10 minutes or until edges are light golden brown. Let the cookies cool for about 3 minutes, then remove them from the cookie sheet and move to a wire rack. Cool completely, for about 15 minutes.
Chocolate dip
After the cookies have cooled, in small microwavable bowl, heat the chocolate chips (uncovered) on high for 1 to 2 minutes, stirring every 30 seconds, until the chips are completely melted.
Then, dip each cookie halfway into the melted chocolate, letting excess drip off.
Place them on parchment paper and let sit until chocolate is set, about 1-2 hours. Or you can set them in the refrigerator for about 15 minutes for a faster setting process.
Serve and enjoy!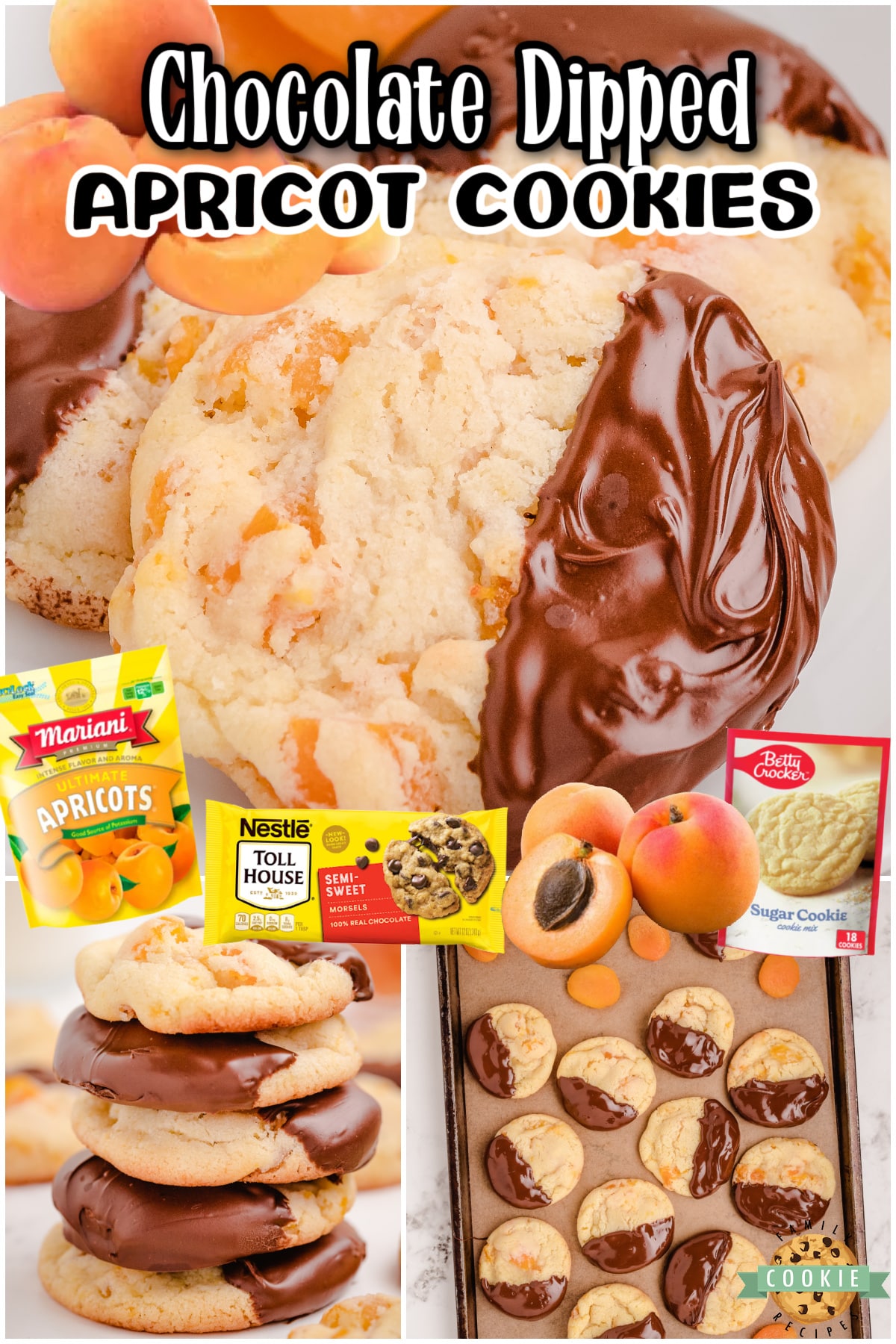 Tips for making amazing cookies every time!
Here are a few helpful tips to ensure your cookies taste and look amazing.
Preheat the oven. This will help your cookies turn out right every time! Having the oven temperature at the required level before you begin baking will ensure they cook evenly.
Do not melt the butter. The butter needs to be softened (at room temperature), but using melted butter, it could negatively affect the cookie results.
Spend a little extra time when you mix the butter and sugars. Creaming them together for 2-3 minutes will improve the consistency of your cookies.
Be careful not to overbake the cookies. When I take mine out of the oven, they still look slightly under-baked but they will continue to bake on the cookie sheet for a couple more minutes, so that is ok!
HOW DO YOU STORE APRICOT CHOCOLATE DIPPED COOKIES?
Store these cookies between sheets of parchment paper in a tightly covered container at room temperature.
HOW LONG ARE CHOCOLATE DIPPED APRICOT COOKIES GOOD FOR?
If stored in an airtight container, these cookies will be good for 3-5 days at room temperature.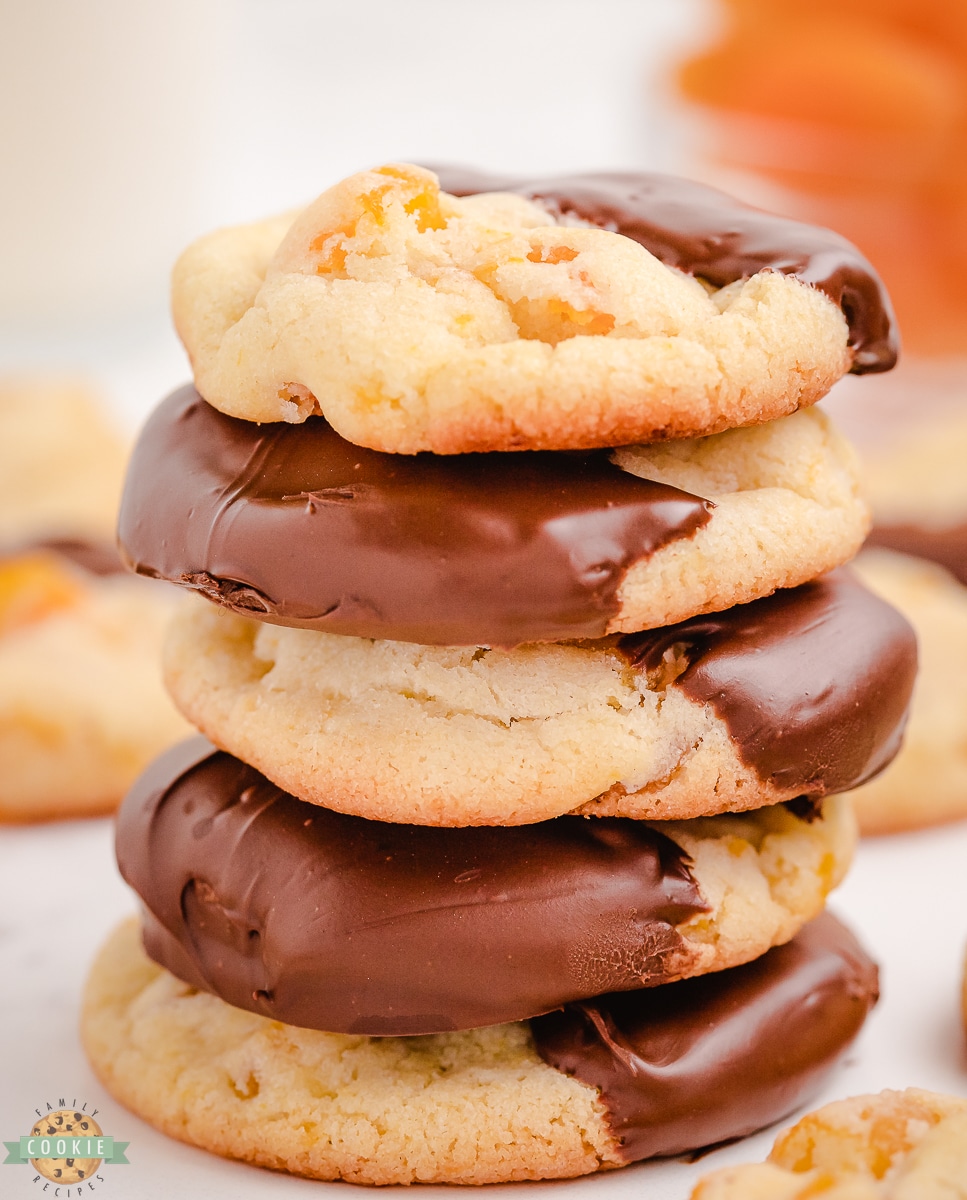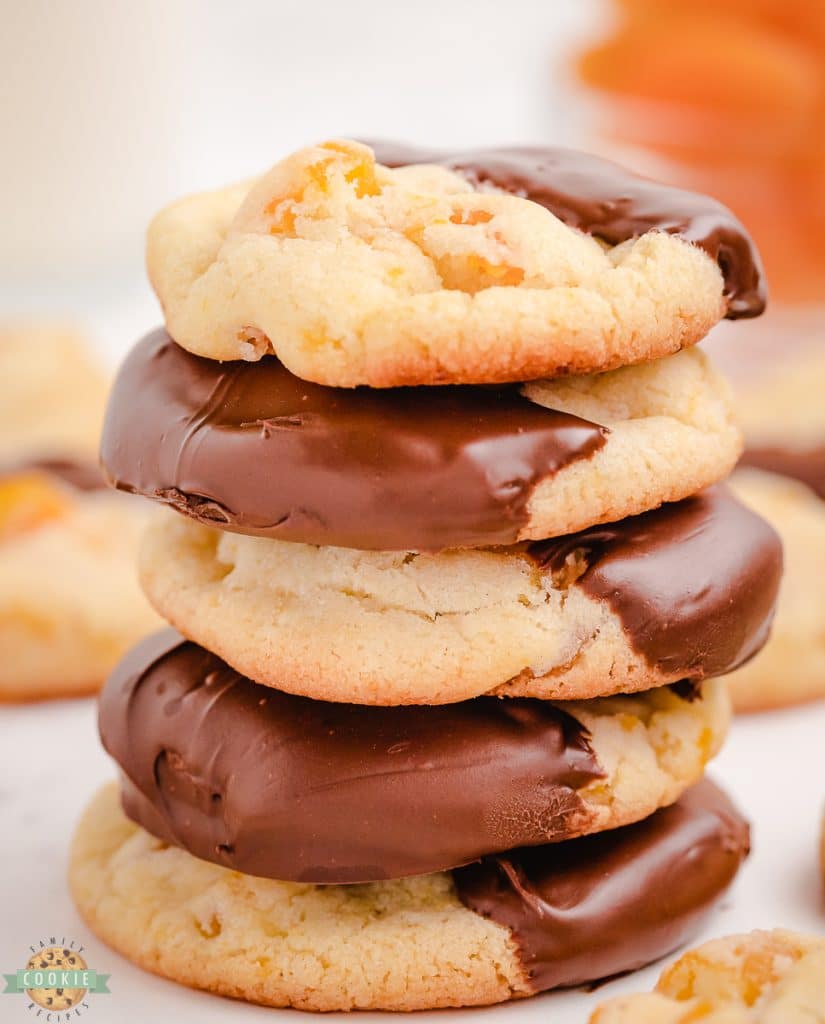 HOW DO YOU SOFTEN BUTTER?
I like to soften butter by using the defrost function on my microwave. If you need the full 1/2 cup cube of butter, you can leave it in the paper wrapper, otherwise, place the amount of butter you need in a glass or porcelain bowl. I use the lowest defrost setting on my microwave and just let it run for 20 seconds. Check the butter and see how soft it is by pressing it with a rubber scraper. If it is still not soft to the touch, meaning it doesn't indent when you press into it, let it warm for another 5-10 seconds. Watch it closely! Butter softens very quickly.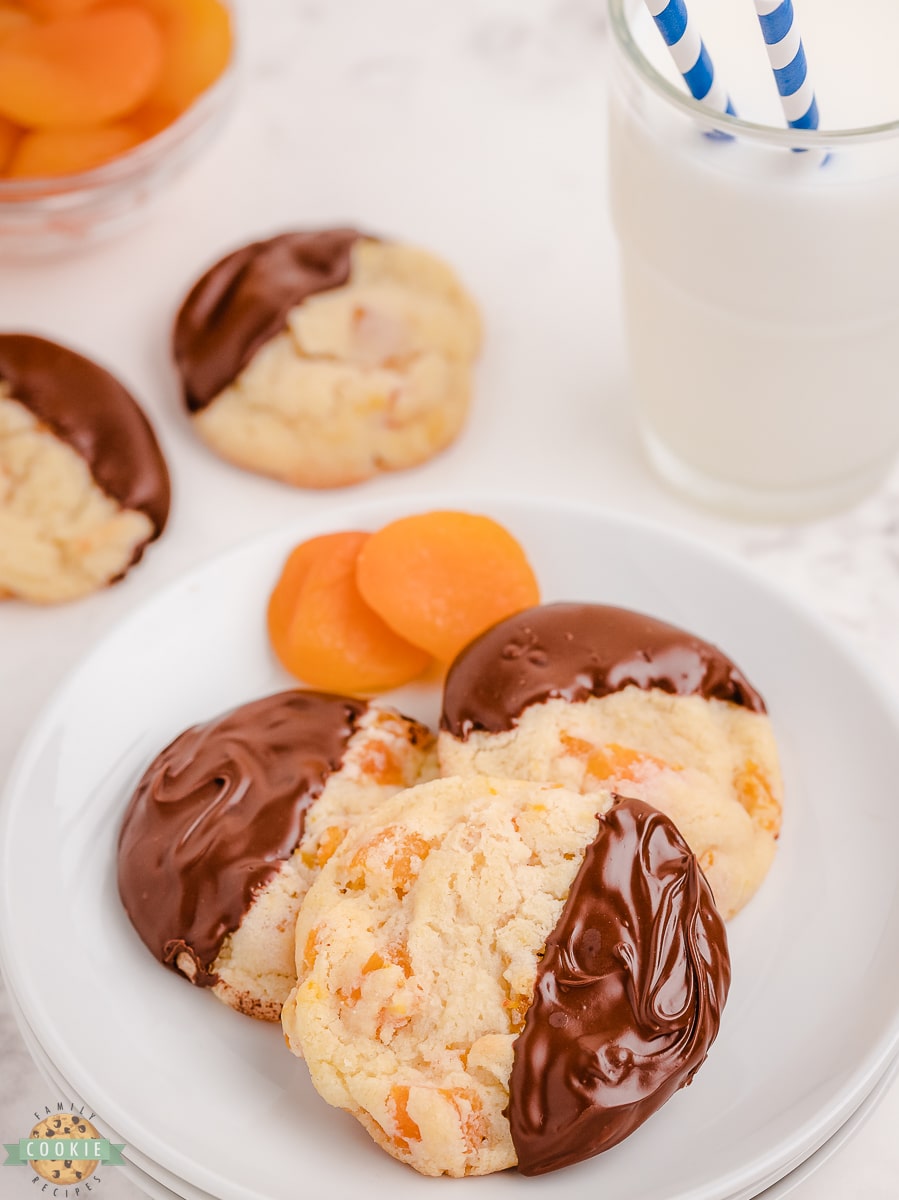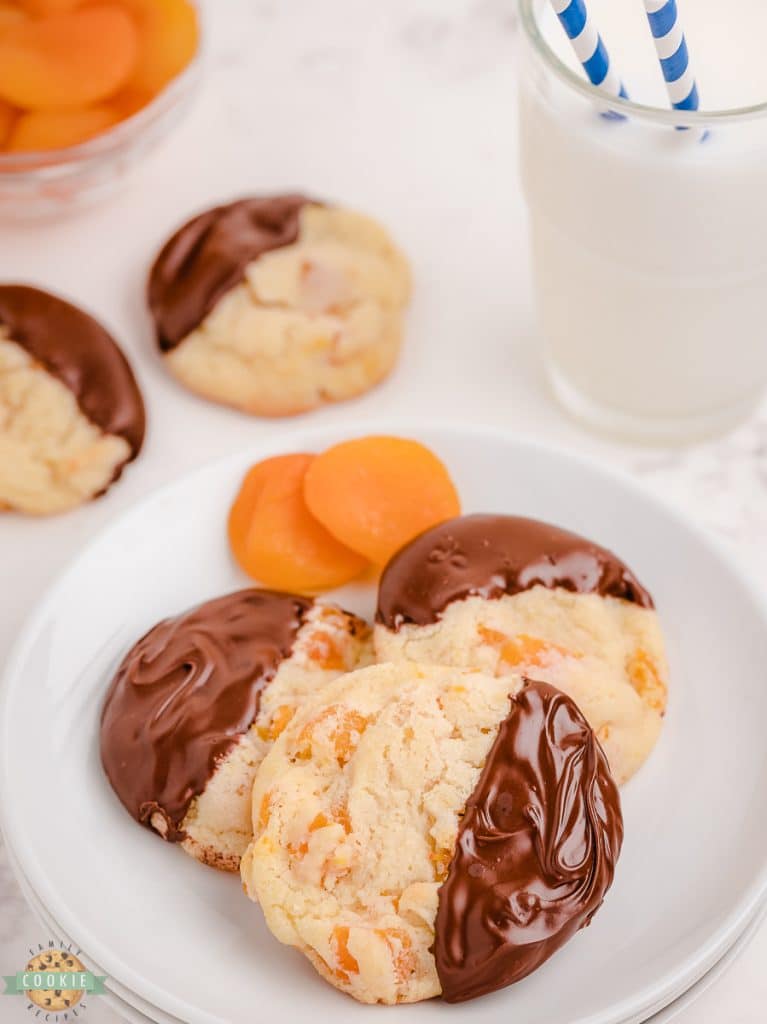 WHAT IS THE BEST WAY TO MELT CHOCOLATE?
Place a medium-sized saucepan over the stove and fill it with 1-2 inches of water at the bottom. Bring the water to a boil. Add a medium or large-sized glass bowl to the top. It should be able to nestle inside for stability, but the bottom of the bowl should not touch the water. Add your chocolate to the bowl and stir until melted before removing it from heat. Alternatively, you can use the microwave method. Add your chocolate to a microwave-safe bowl and heat in 30-second intervals in the microwave, stirring between each until smooth.


Our family belongs to the Church of Jesus Christ of Latter-day Saints and many 18-19 year old young men choose to serve a 2-year mission. My son just left a couple weeks ago, first to the MTC in Mexico, then on to Argentina! He's beyond excited. I'm… excited for him, but dang, this is harder than I thought it'd be! I miss him! We get to talk to him today, so I'm thrilled!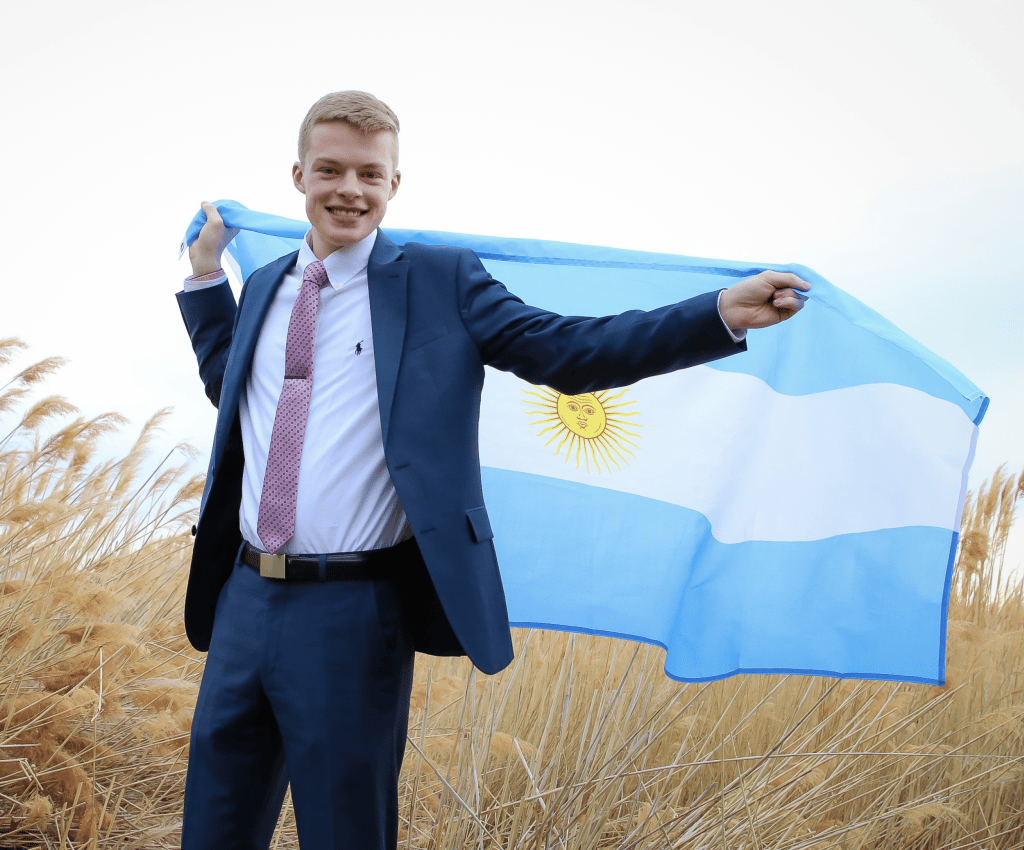 Easy Apricot Cookies are a perfect combination of a sweet cookie with a tangy fruit flavor. The coating of dark chocolate on these apricot sugar cookies is simply incredible too!