Easy No-Bake Easter Chick Cookies made with wafer cookies dipped in candy coating & decorated to look like darling baby chicks! Simple, quick & fun Easter cookie recipe that's done in under an hour!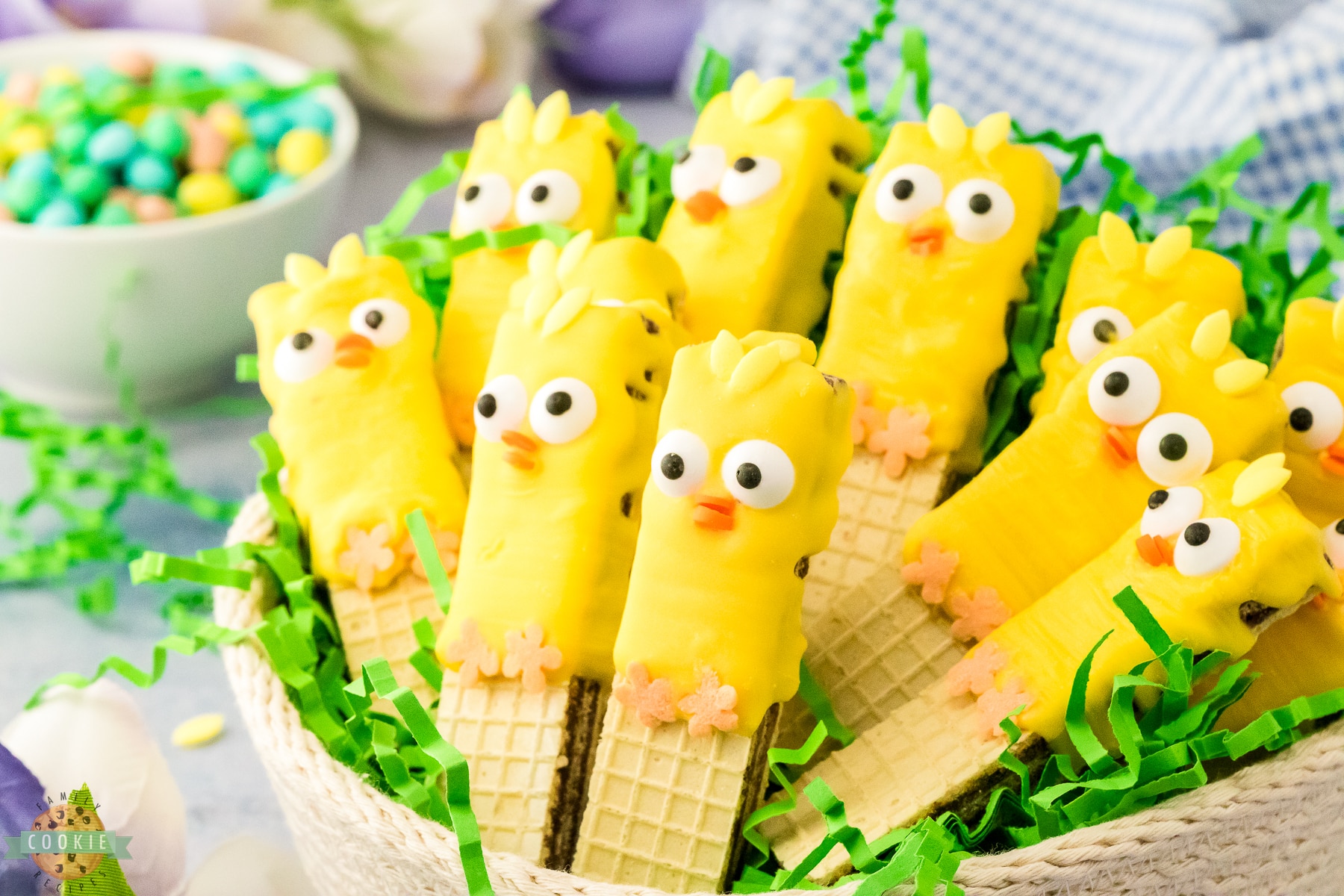 These decorated Easter Cookies are an easy and festive dessert that makes a cute addition to any holiday table! Get into the holiday spirt by creating and sharing these adorable Easter cookies with your family and friends.
What are No-Bake Chick Cookies?
These cute little treats are an Easter dessert that everyone is sure to love. They are made by using store bought wafer cookies, then covered in yellow candy coating and decorated to look like chicks. The process for making these cookies is pretty simple, melt some chocolate and add sprinkles. It is a great recipe to get the kids involved in the decorating fun! I took these to a family dinner and the whole family went crazy over them. Can you blame them, they are super cute right? Give them a try and see for yourself how amazing they are!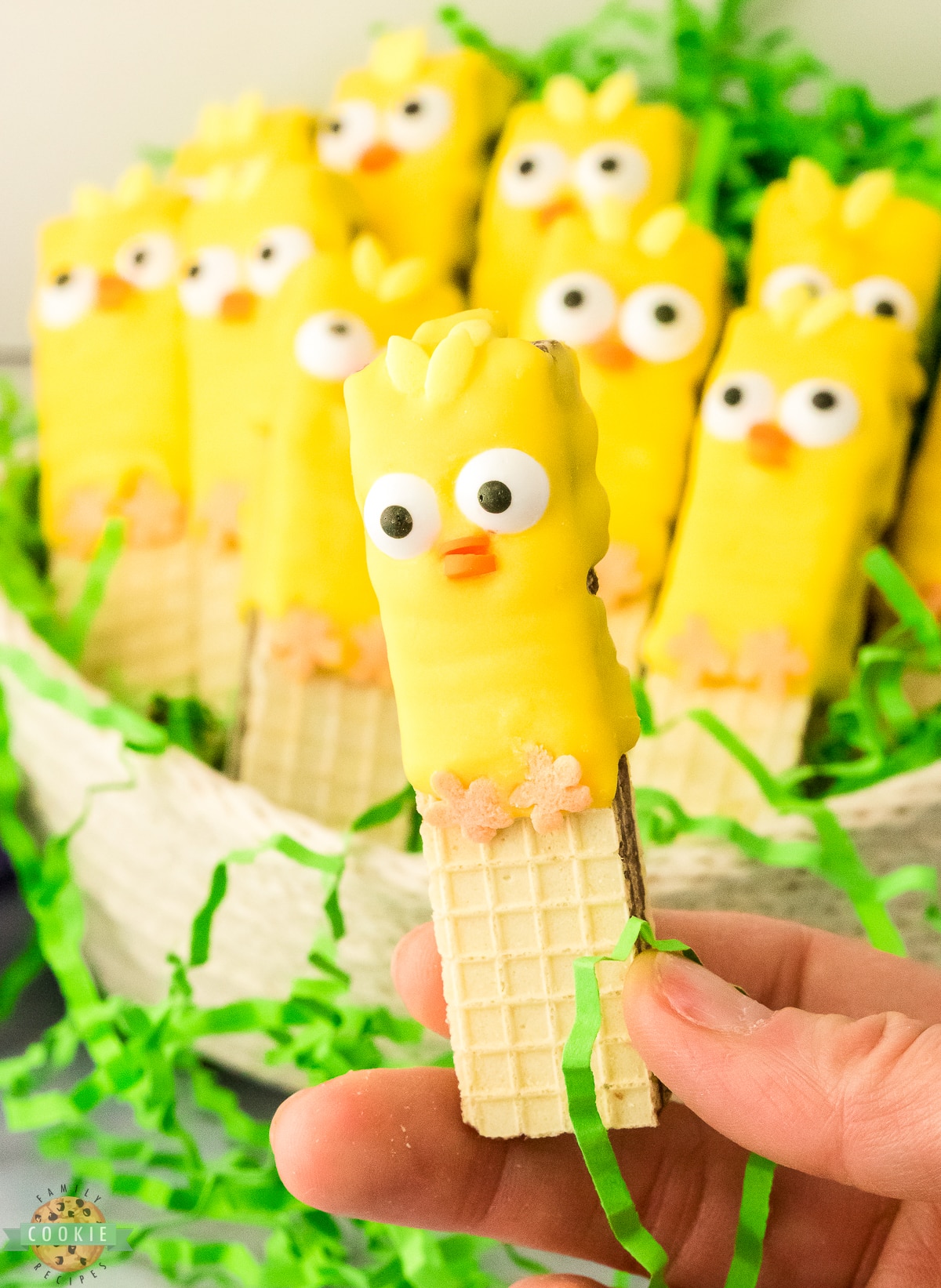 WHY YOU'LL ADORE THESE FESTIVE EASTER TREATS
No baking required! My favorite part of this recipe is that we use a store bought wafter cookie as they base. From there, we decorate and create an adorable and delicious dessert.
Simple ingredients. To create these fun Easter cookies, you only need a few basic ingredients. That means the trip to the store will be inexpensive and quick!
Festive and pretty. These little treats are such a fun way to celebrate the Easter holiday. They taste amazing but most importantly they are fun to make and are a great addition to any holiday dessert table. Get the family involved and enjoy time together creating these chick cookies.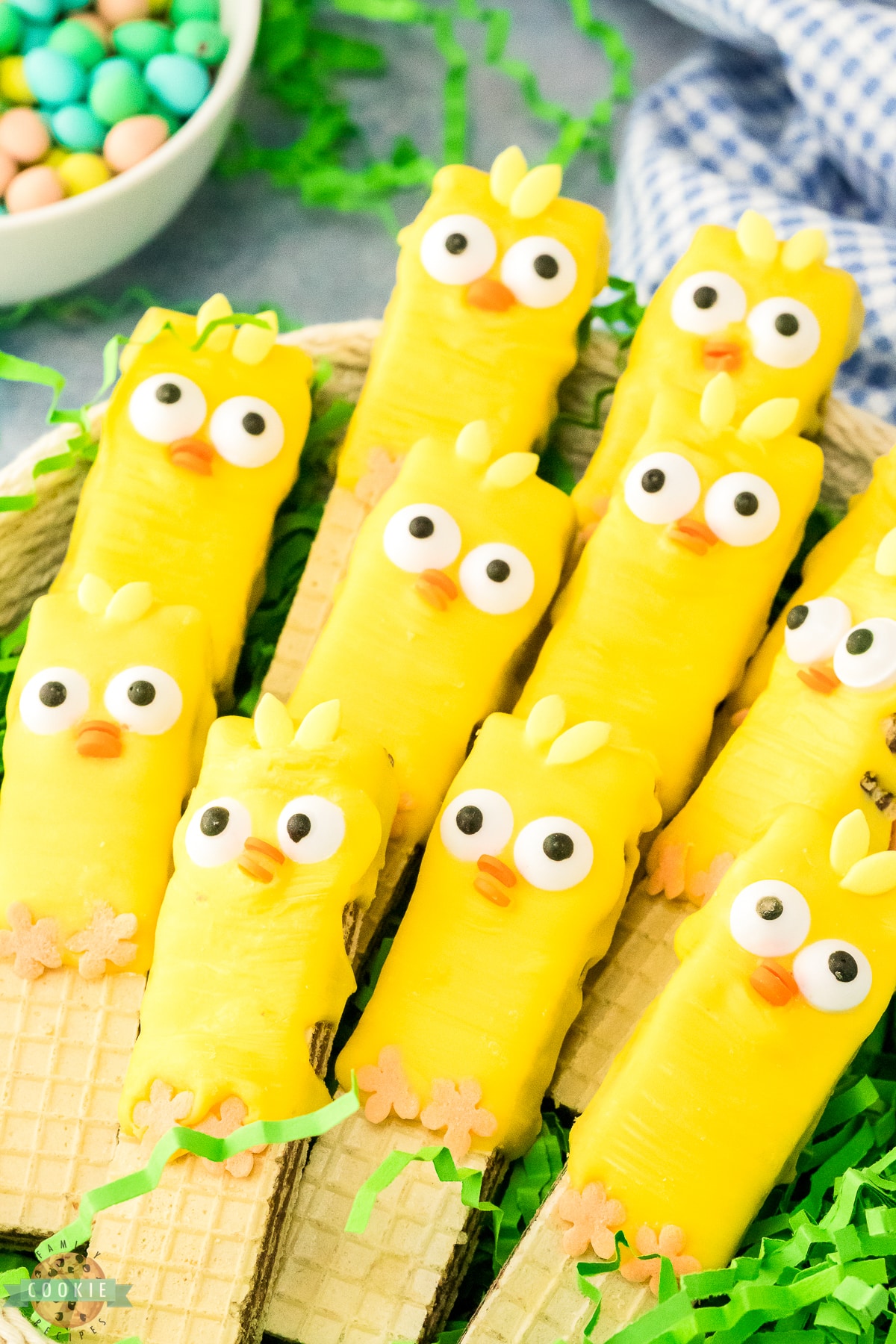 Equipment needed for Chick Cookies
Bowl: You need a small, microwave-safe, mixing bowl to make the candy coating for these cookies.
Piping bag: Having a piping bag on hand to use for this recipe will make the process so much easier.
Cooling rack: To elevate the cookies and allow the melted wafers to drip of is necessary for this recipe.
Parchment paper and/or baking sheet: To save yourself some clean up hassle, use parchment paper under the cooling rack to catch the drips of melted candy coating.
Tweezers: Using a set of small tweezers (optional), really helps with precision of making the Chicks face and body.
No-Bake Easter Chick Cookie Ingredients
Wafer cookies: You will need 1 package of wafer cookies, any flavor, to act as the base of this Easter Chick cookie recipe.
Yellow wafers: Using 1 cup of yellow melting wafers will coat and create about 30 cookies.
Coconut oil: Adding 1 tablespoon of coconut oil to the melting wafters will thin out the mixture and provide some delicious flavor.
Candy eyeballs: You will need 60 candy eyeballs to create this fun and festive cookie recipe.
Orange sprinkles: For the beak of the Chick cookies, you need 60 round, orange sprinkles.
Flower sprinkles: Use 60 orange, flower-shaped sprinkles for the feet of these cute cookies.
Leaf sprinkles: You need 60 yellow, leaf-shaped sprinkles for the hair on these chicks.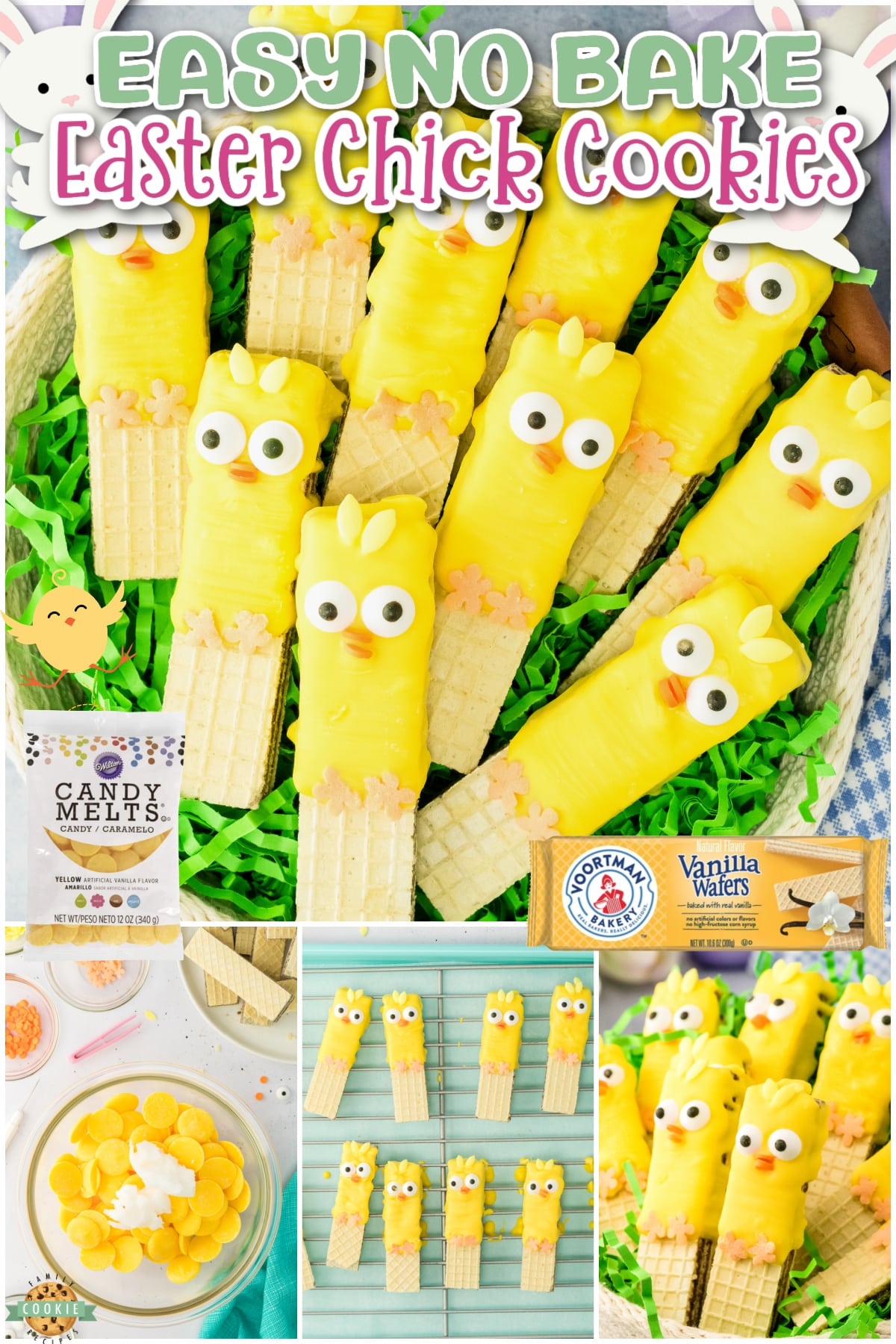 How to make Easy No-Bake Easter Cookies
Cookie coating
First, in a small, microwaveable bowl, melt the yellow wafers and coconut oil together. Melt for one minute at 50% power, then stir the wafers and coconut oil. Continue microwaving for 30 second increments at 50% power, until fully melted and smooth. This typically takes between 3 and 5 minutes.
Proceed to pour the melted wafers into a piping bag. This step isn't absolutely necessary, you can pour the melted wafers onto the cookie. However, I find that a piping bag helps with a more consistent pour and reduces waste of the melting wafers.
Place the wafer cookies on a cooling rack and use a parchment-lined baking sheet to capture any dripping from the melted wafers.
Starting at the top of the cookie, pour or pipe the melted wafers onto the cookie in a back and forth motion covering just two-thirds of the cookie.
Allow the melting wafers to drip off for just a minute. But you don't want the cookie to set before you add the sprinkles.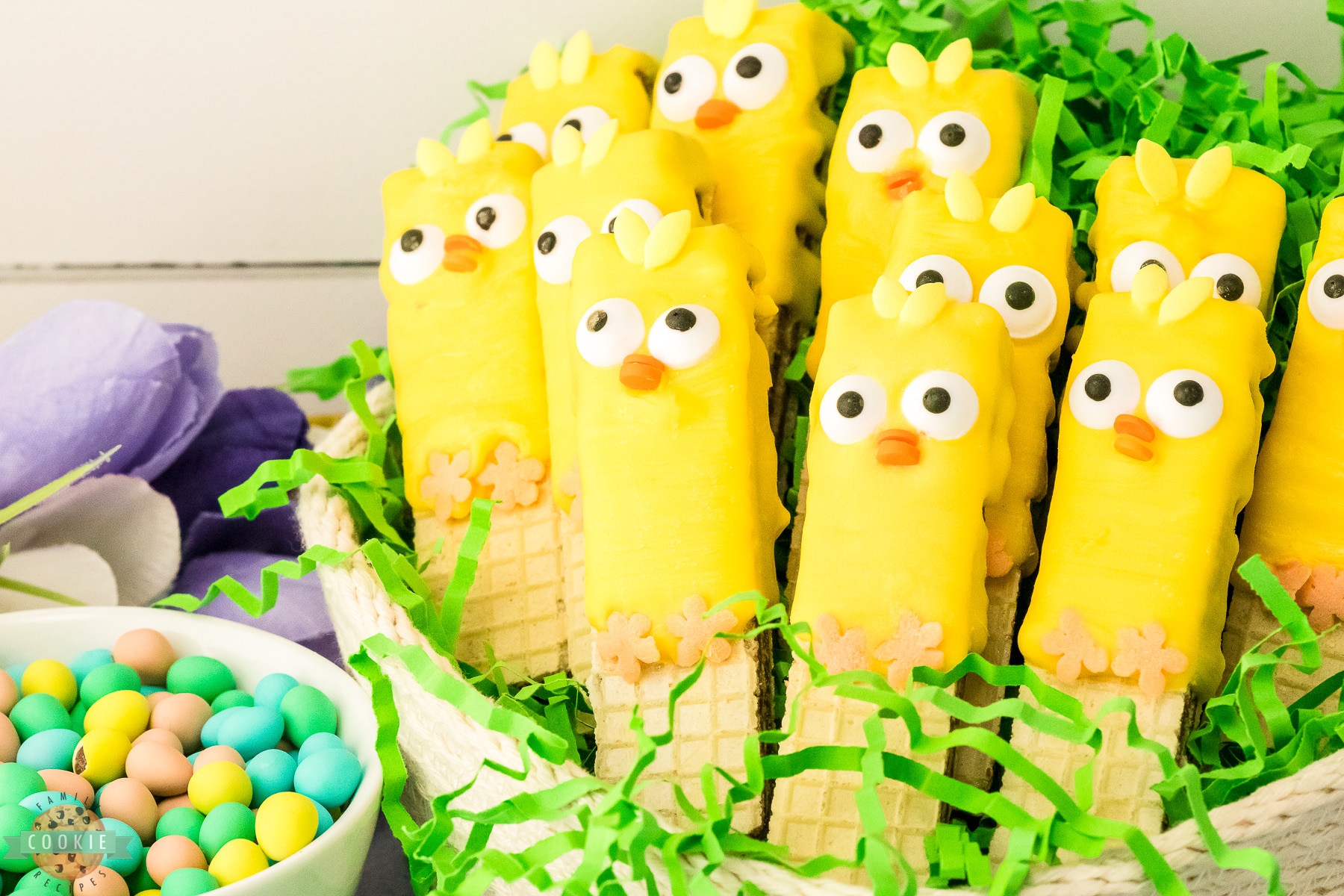 Decorate
Next, use tweezers to push 2 of the candy eyeballs into the melted chocolate then place 2 of the flower-shaped sprinkles to resemble the feet.
After that, add 2 of the yellow hair sprinkles above the eyes, near the top and place the 2 orange sprinkles under the eyes to give you the beak.
Allow the cookies to dry/set for at least 10 minutes. Then serve and enjoy!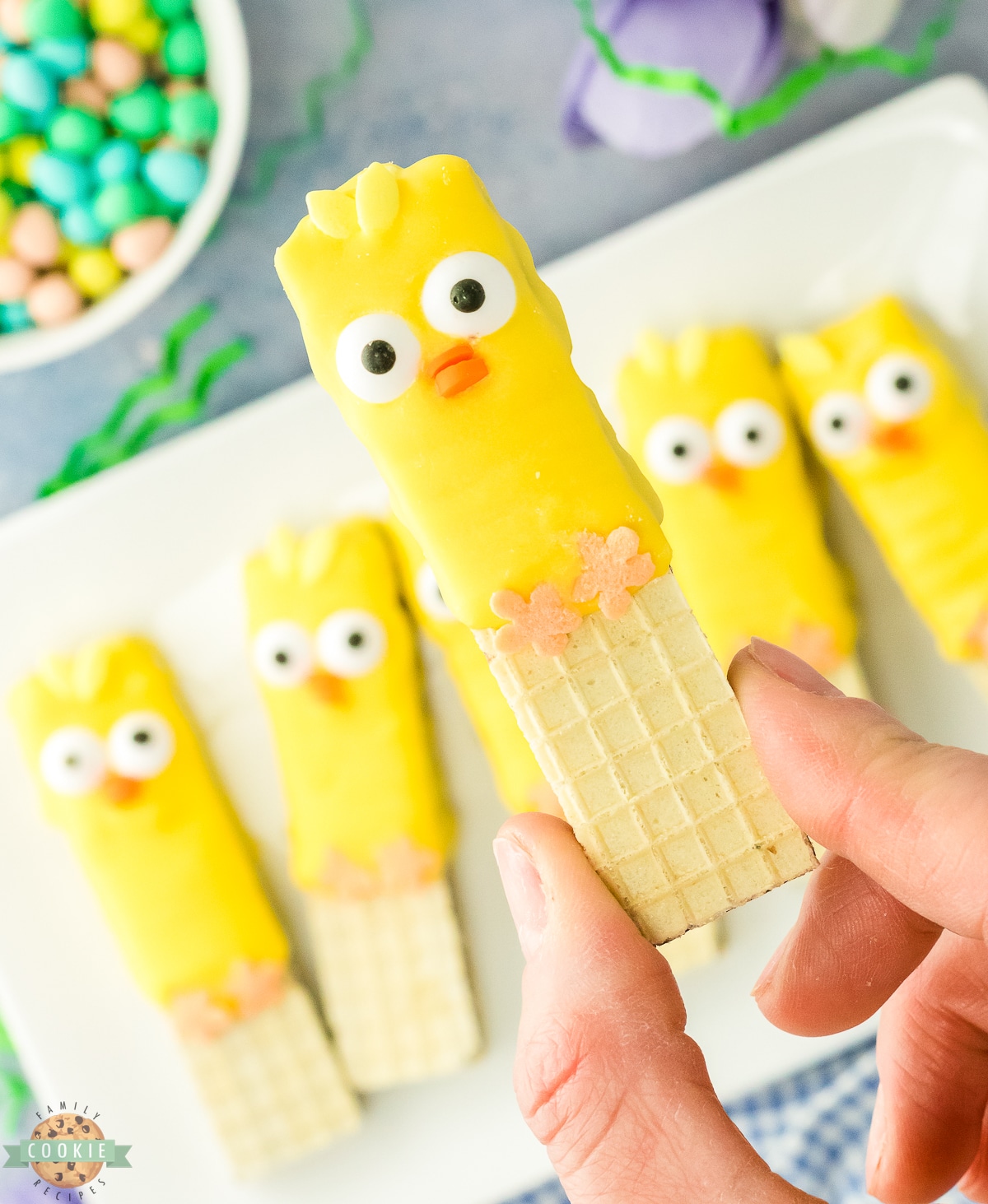 Tips & Tricks for creating amazing Easter Chick Cookies
Here are just a few things to take into consideration when making this fun and enjoyable Easter treat recipe.
Vegetable shortening can be substituted for the coconut oil, but I find that coconut oil tastes better. Whatever you have on hand will work great.
The melting wafers must be thinned out. If the coconut oil or shortening is not added then the wafers are clumpy and set too quickly. The cookies will not turn out if this happens.
Any sprinkles can be used for this as long as it resembles a beak and feathers. Use your imagination, have fun with this recipe!
A piping bag is not necessary however it is faster and more precise, this means less mess and less waste. You can also use a zip locked bag with a corner cut off to act as a piping bag.
How long are Easter Cookies good for?
If these cookies are stored in an airtight container, they will last up to 5-7 days. With the candy coating, you will want to place a piece of parchment paper between layers of the cookies to prevent them from sticking together.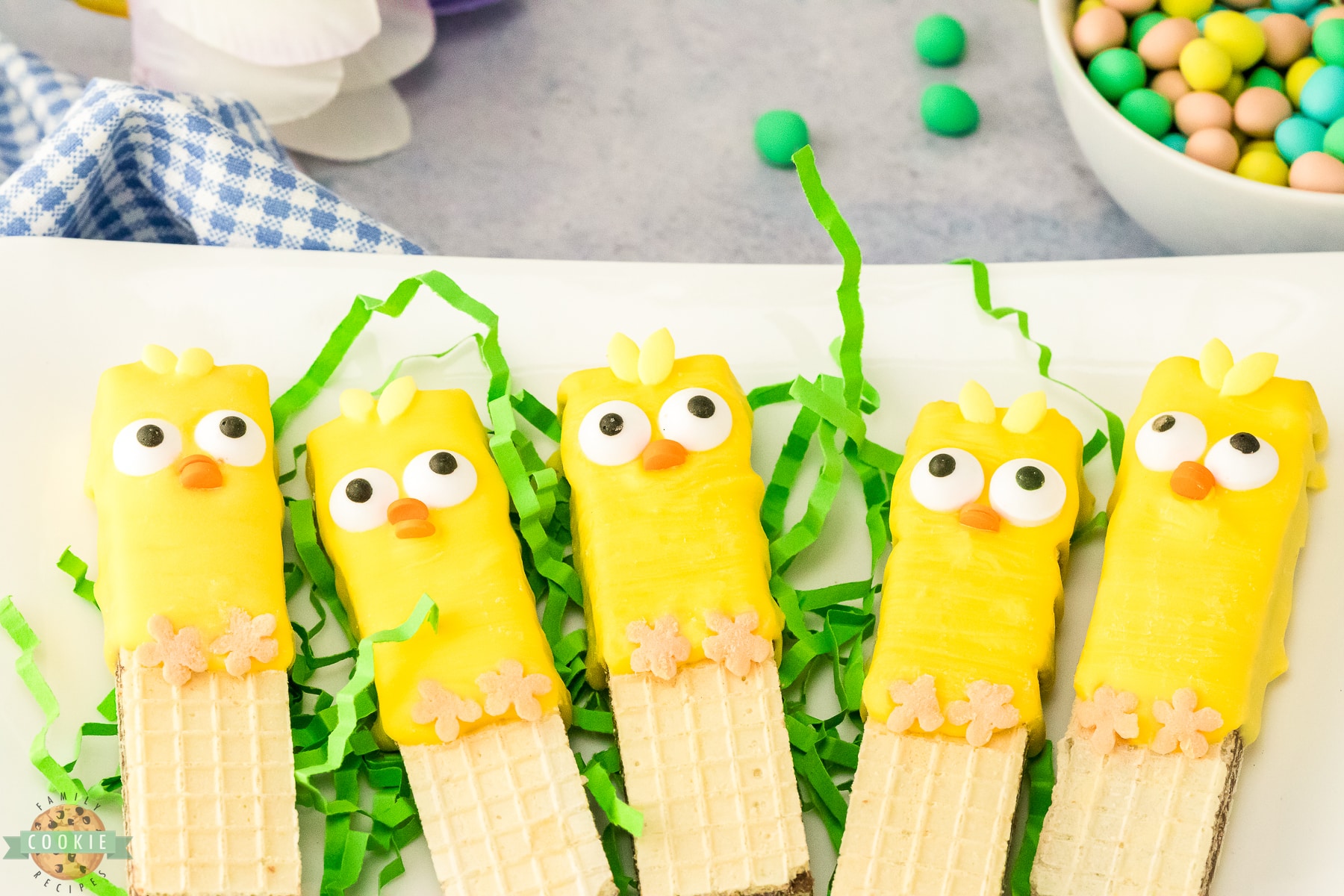 What Does Seized Chocolate Look Like?
When chocolate is overcooked, it seizes. When it's seized, the chocolate seems like it's refusing to melt, it's thick and gritty. Really overcooked chocolate will smell burned, but chocolate can still seize without smelling burned. If you've seized the chocolate, you can gently stir in 1 tsp shortening or coconut oil. I first fold it in the seized chocolate, making sure it's covered. Let it sit to soften, then try and stir the oil into the seized chocolate. Within a minute or so you'll be able to tell if you can use the chocolate. It just depends on how badly it's seized.


One of the first family dinners in our new kitchen! Raz made a lovely carrot cake- it was so pretty and SO delicious! Family time is the best!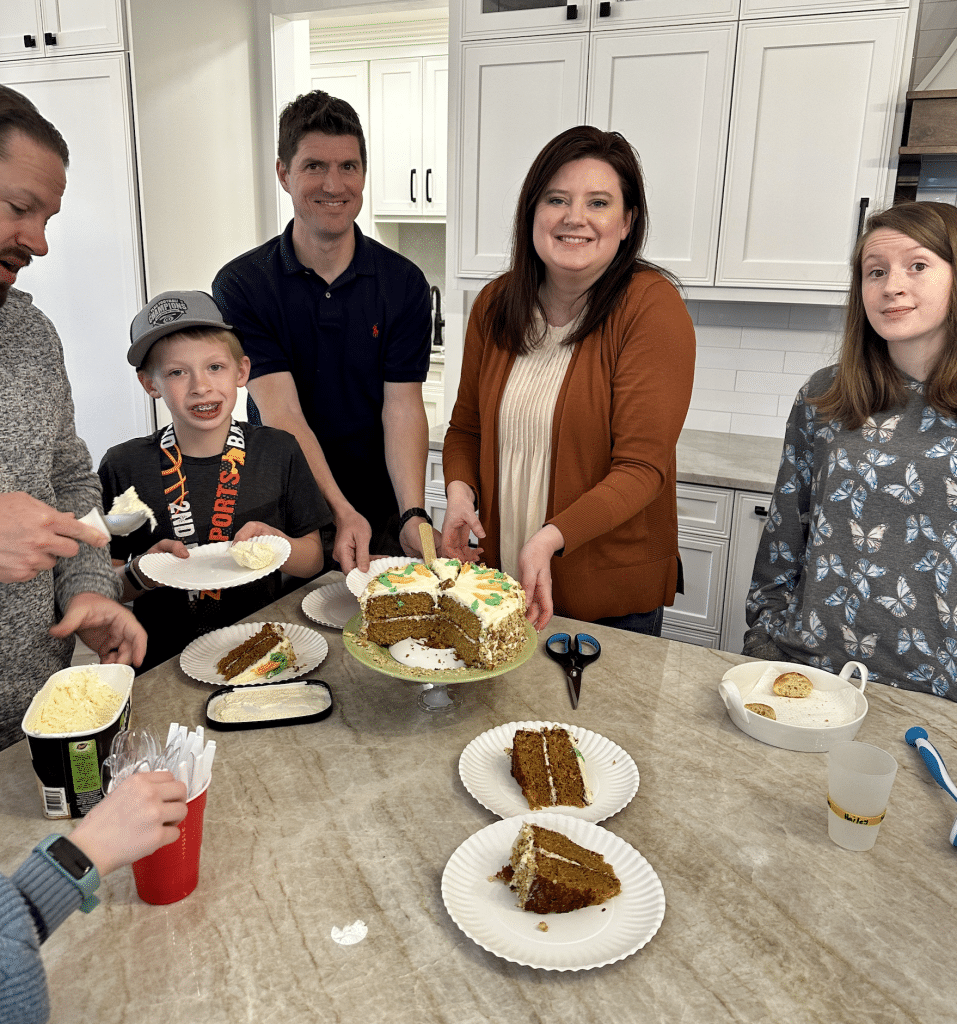 Need more festive Easter treat recipes? Try more here:
Easy No-Bake Easter Chick Cookies are made using packaged wafer cookies, dipped in chocolate coating & decorated to look like adorable baby chicks! An easy, fast & fun Easter cookie recipe that is ready in under an hour!