Edible Monster Cookie Dough made with heat-treated flour, no eggs and all of the peanut butter cookie dough flavor that you love. Monster cookie dough that is completely safe to eat!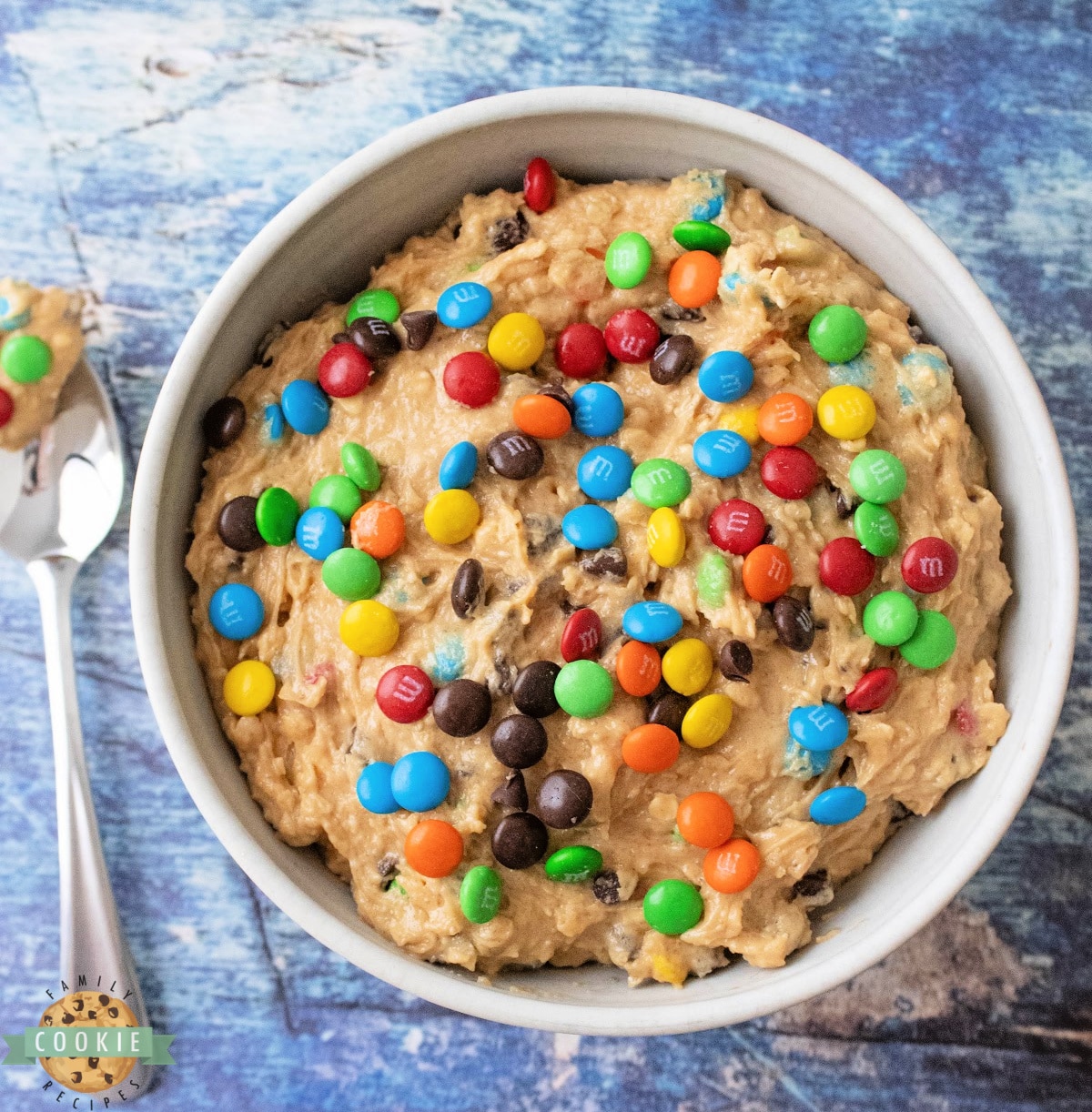 I make a lot of cookies. And the cookies are delicious, but I am definitely a bigger fan of the dough than the actual cookies. I'm going to be completely honest and confess that I have consumed quite a bit of regular cookie dough – the kind with raw eggs and non heat-treated flour, and I've survived so far, but I've always felt a tiny bit nervous about getting sick from it.
This Edible Monster Cookie Dough is completely safe to eat, but tastes just like the real deal! It only takes a few minutes to "cook" the flour to reduce any chance of harmful bacteria, and since you aren't baking the dough, no eggs are required.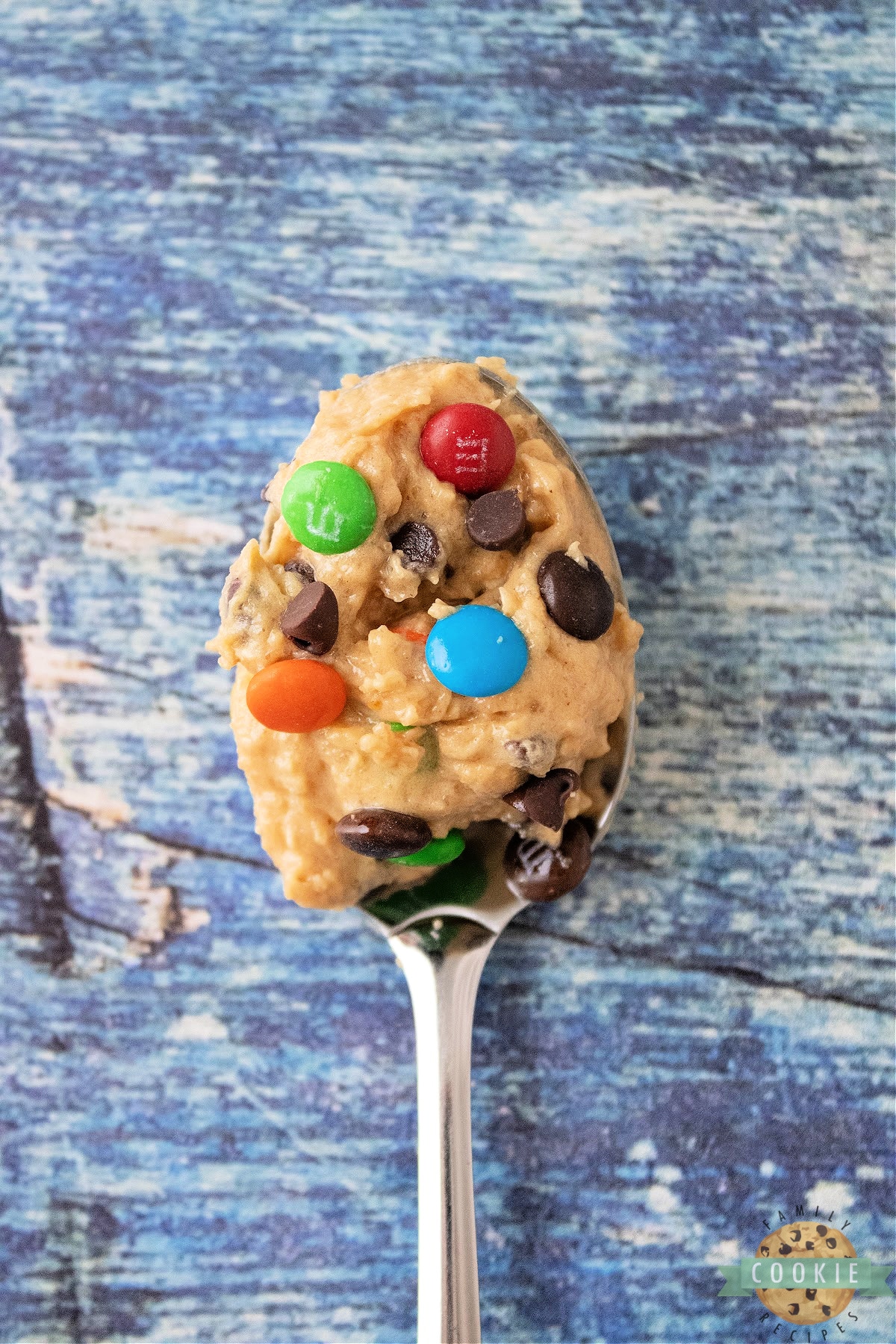 EDIBLE MONSTER COOKIE DOUGH
Monster Cookies are absolutely delicious. Classic monster cookies are made with oats, peanut butter and M&Ms…all of which are included in this edible cookie dough recipe. This recipe does call for some all-purpose flour, but you can swap it out with oat flour if you want it to be gluten free. Mix everything together and eat the cookie dough with a spoon or use it as a dip for pretzels, graham crackers, cookies and apple slices.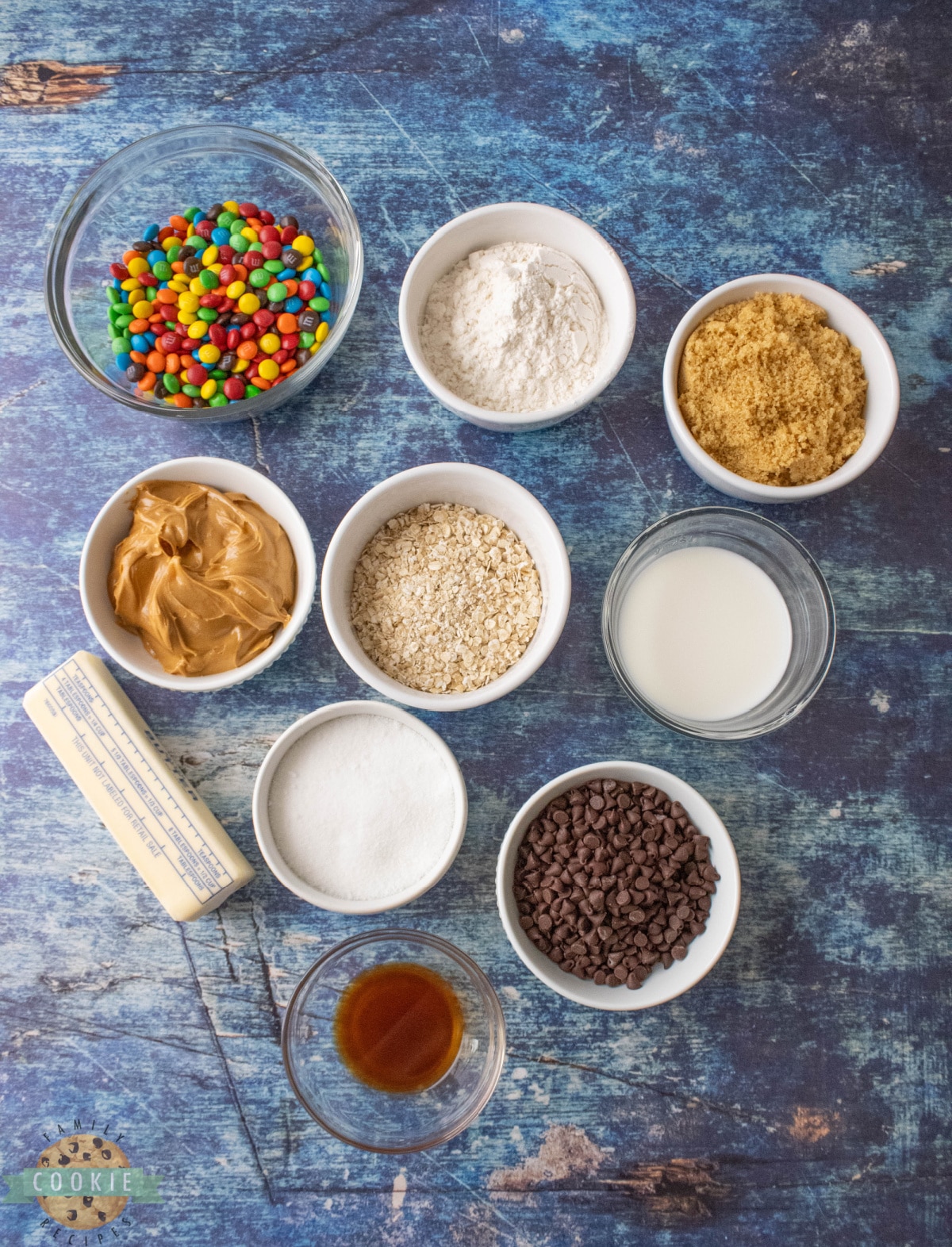 Ingredients in Edible Monster Cookie Dough
Butter – You will need 1/4 cup (1/2 stick) of butter to make the cookie dough. I usually use salted butter and it works great. For best results, use real butter and make sure it is softened to room temperature before adding to the other ingredients.
Sugars – You'll need brown sugar and granulated sugar. It's especially important to make sure your brown sugar is soft and fresh.
Peanut butter – The recipe calls for creamy peanut butter, but you could definitely use crunchy peanut butter if you prefer. Sometimes natural peanut butters don't work very well in peanut butter cookies when they are baked, but since you aren't baking this dough, you can use pretty much any type of peanut butter that you want!
Milk – Just 1/2 cup of milk gives the dough the necessary liquid. You can use any type of milk, even non-dairy alternatives.
Vanilla – The higher the quality of vanilla, the better.
Flour – All-purpose flour works best. Make sure to heat treat before adding to the recipe to make sure any potential bacteria is killed.
Oats – I usually use quick oats, but old-fashioned oats work just fine too! If you want the dough to be completely smooth, you can grind up the oats into flour before adding.
Mini M&Ms – A classic ingredient in monster cookies. Using different colors is a perfect way to make this dough fit any holiday or season.
Mini semi-sweet chocolate chips – Can't go wrong by adding more chocolate, right?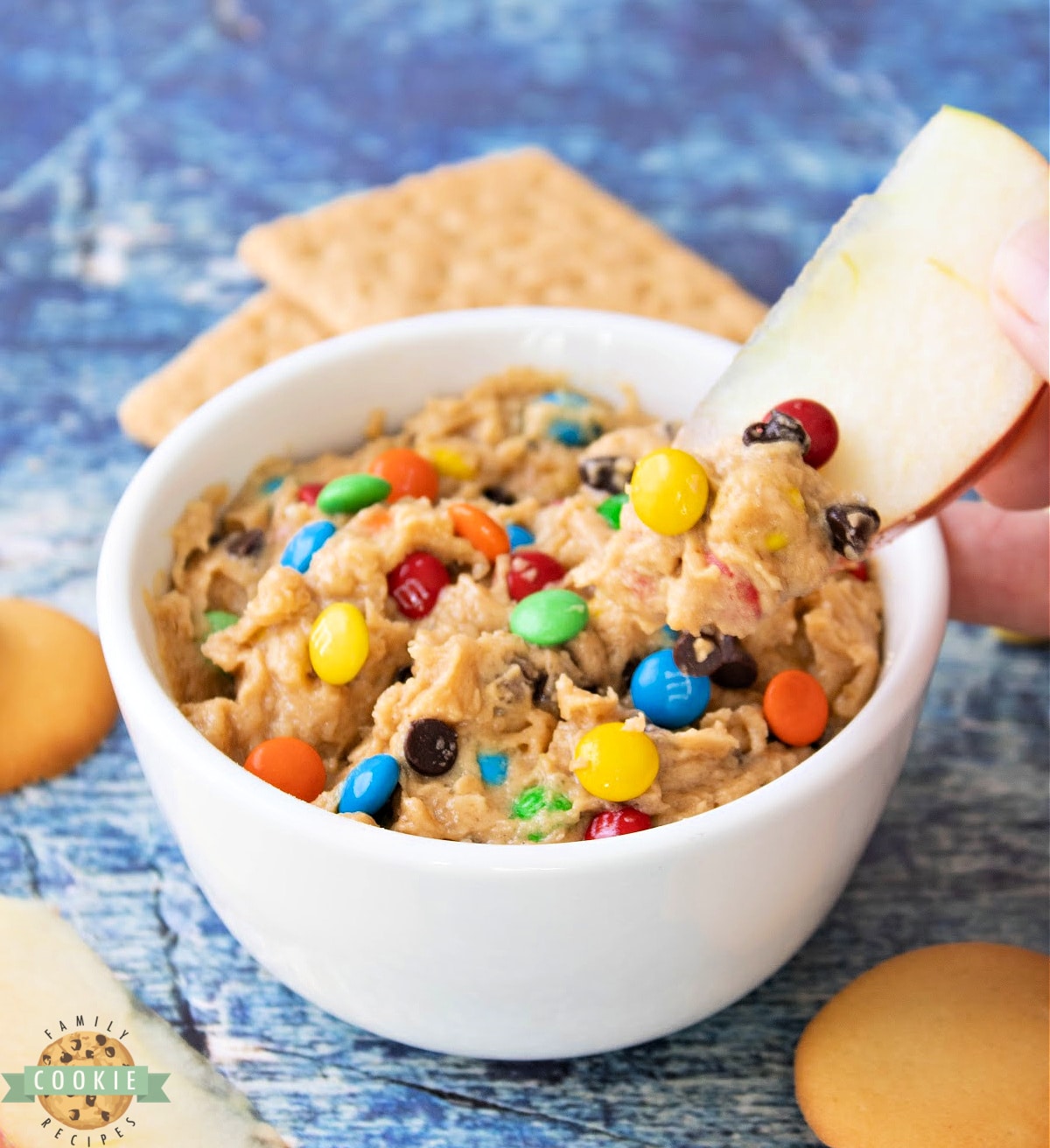 How to make Edible Monster Cookie Dough
Place the flour in a bowl and heat for 30 seconds at a time in the microwave, stirring between each interval. Do this until the temperature reaches 165 degrees. Set aside to cool. (If you want to avoid this step, you can grind up oats and use oat flour in place of the all-purpose flour. This also makes the cookie dough gluten-free!)
In a medium-sized bowl, cream butter, brown sugar and granulated sugar with a hand mixer for about 2-3 minutes. Add the peanut butter, milk and vanilla and mix until well combined.
Add the flour and oats and mix well. Fold in the mini M&Ms and chocolate chips. You can eat immediately or store the dough in the refrigerator until ready to eat.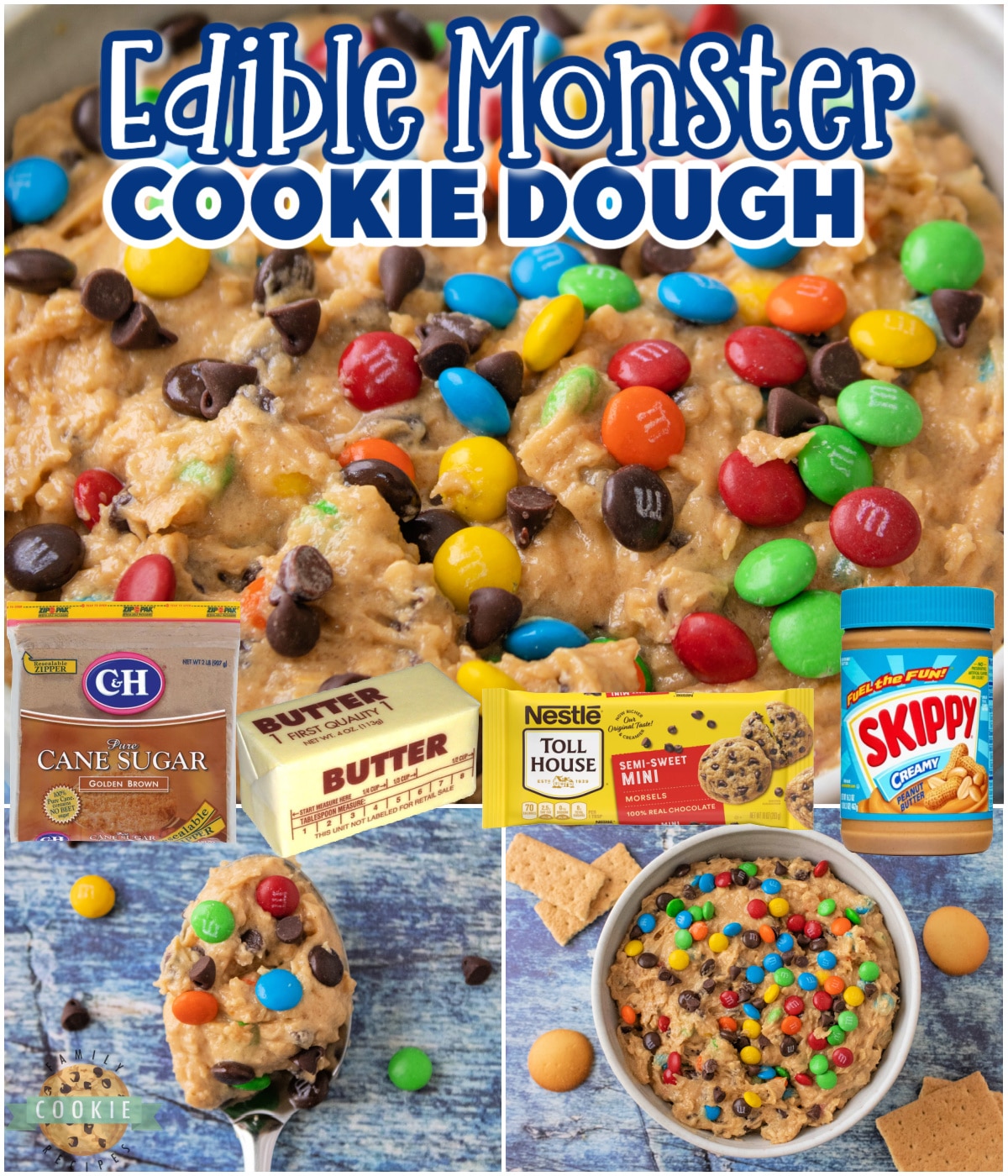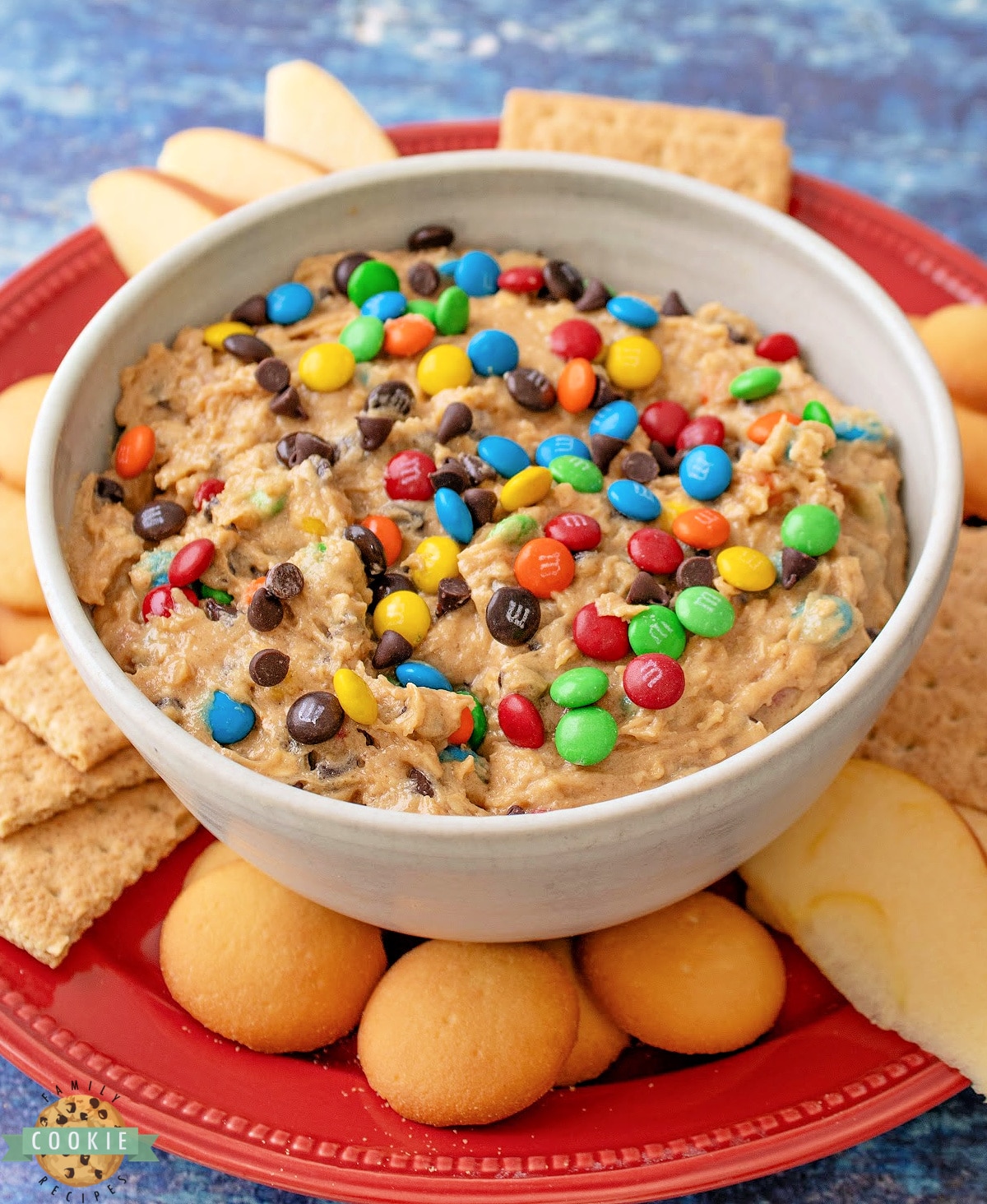 HOW TO HEAT TREAT FLOUR
Raw flour has the potential to contain harmful bacteria, so it is important to heat treat it to make sure all bacteria is killed before consuming.
IN THE OVEN
Line a cookie sheet with parchment paper and spread the flour in a thin layer on the parchment paper. Bake at 300° for about 5-6 minutes. The flour needs to be at a temperature of 160° to be safe. Use a meat thermometer to check and if the temperature isn't high enough, cook for another 1-2 minutes before checking again.
IN THE MICROWAVE
You can easily heat treat flour in the microwave as well. This works great as long as you don't need to treat more than 2-3 cups at a time. Place the flour in a large, microwaveable bowl and microwave in 30-second intervals until the temperature reaches 160°. Stir between intervals to make sure the flour heats evenly. You will probably need to heat the flour for about 2-3 minutes total.
Once the flour is ready, let cool. Use immediately in a recipe or store in an airtight container until ready to use.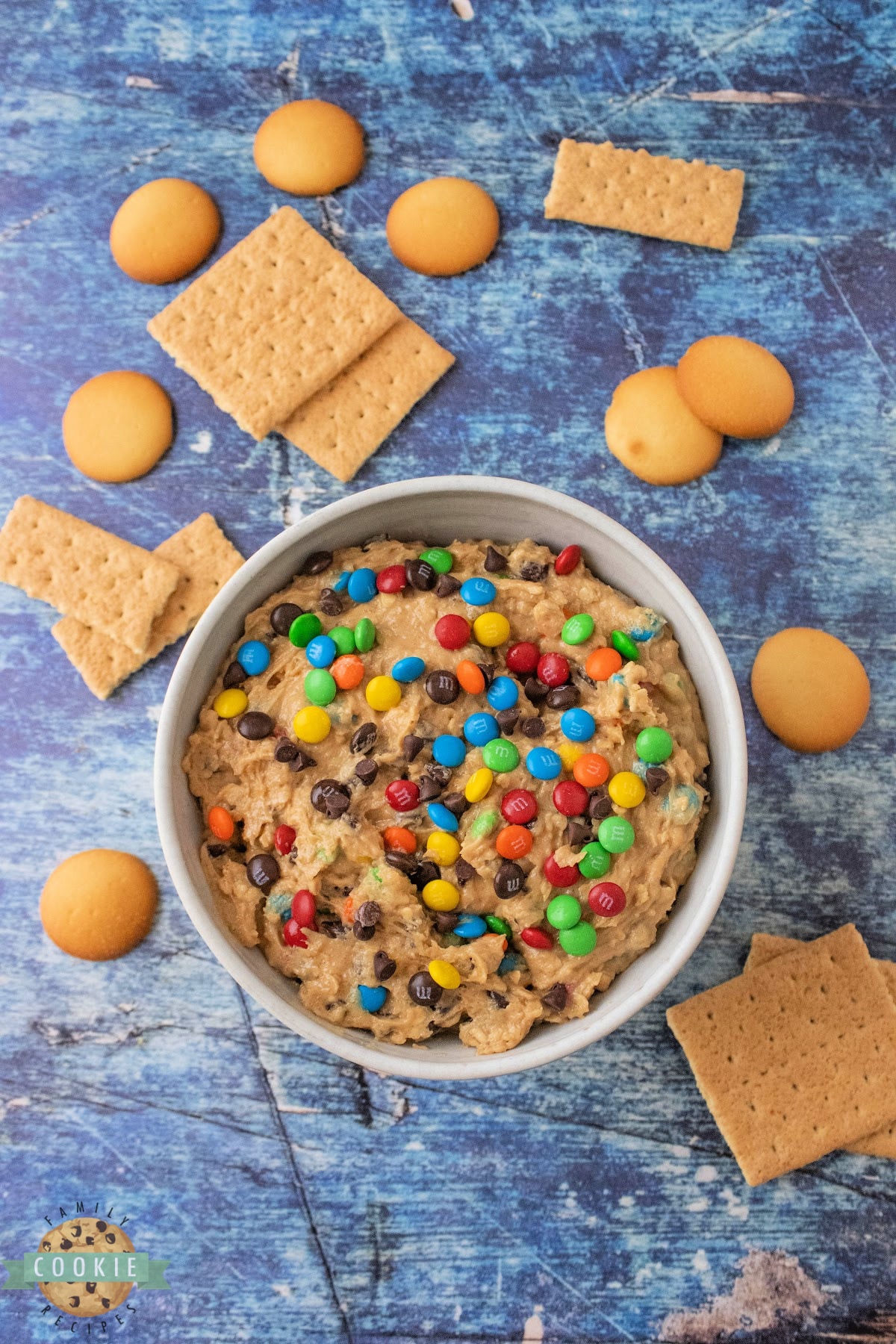 CAN YOU FREEZE EDIBLE MONSTER COOKIE DOUGH?
Edible cookie dough will stay good in the refrigerator for at least 2-3 weeks, but you can also store it in the freezer. It will easily last 2-3 months in an airtight container in the freezer. I prefer to roll the dough into balls before freezing since it's a little bit tricky to scoop out spoonfuls of frozen dough.
The monster cookie dough will harden in the fridge. To soften, simply cover and leave on the counter for 15-20 minutes.
CAN YOU BAKE EDIBLE COOKIE DOUGH?
You cannot bake this cookie dough. There aren't any leavening agents or eggs in the dough, so if you bake the dough, you'll likely have a hard, flat mess on your pan!
What to serve with Edible Monster Cookie Dough?
Personally, I like to just eat cookie dough plain, all by itself. But if you'd like to get creative, you can definitely use it as more of a dip. Use less flour in the recipe if you want the consistency to be a bit thinner. Then you can serve with graham crackers, pretzels, cookies or apple slices. This cookie dough is also delicious spread on top of pancakes or waffles. Or pretty much anything!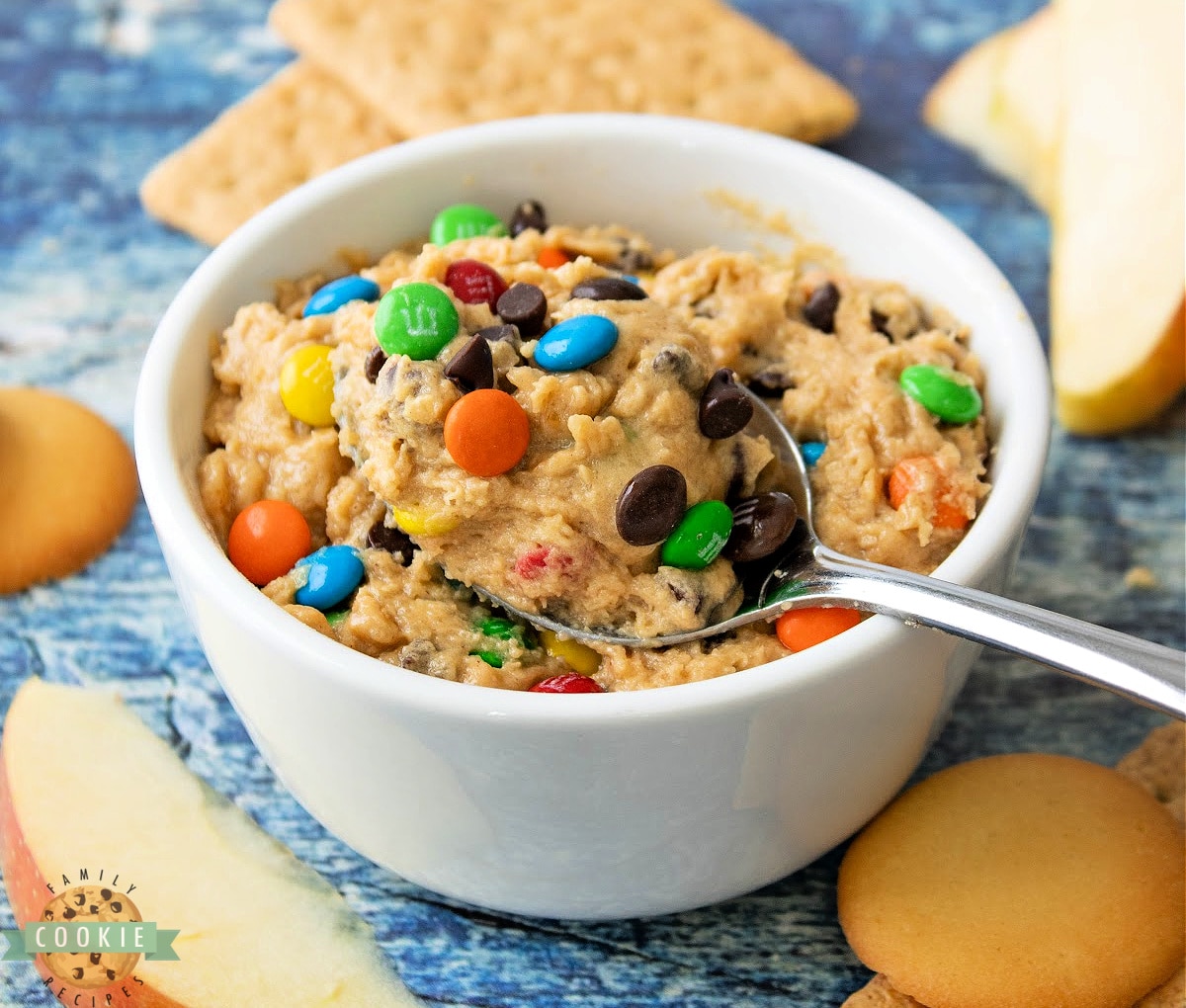 MORE PEANUT BUTTER COOKIE RECIPES TO TRY: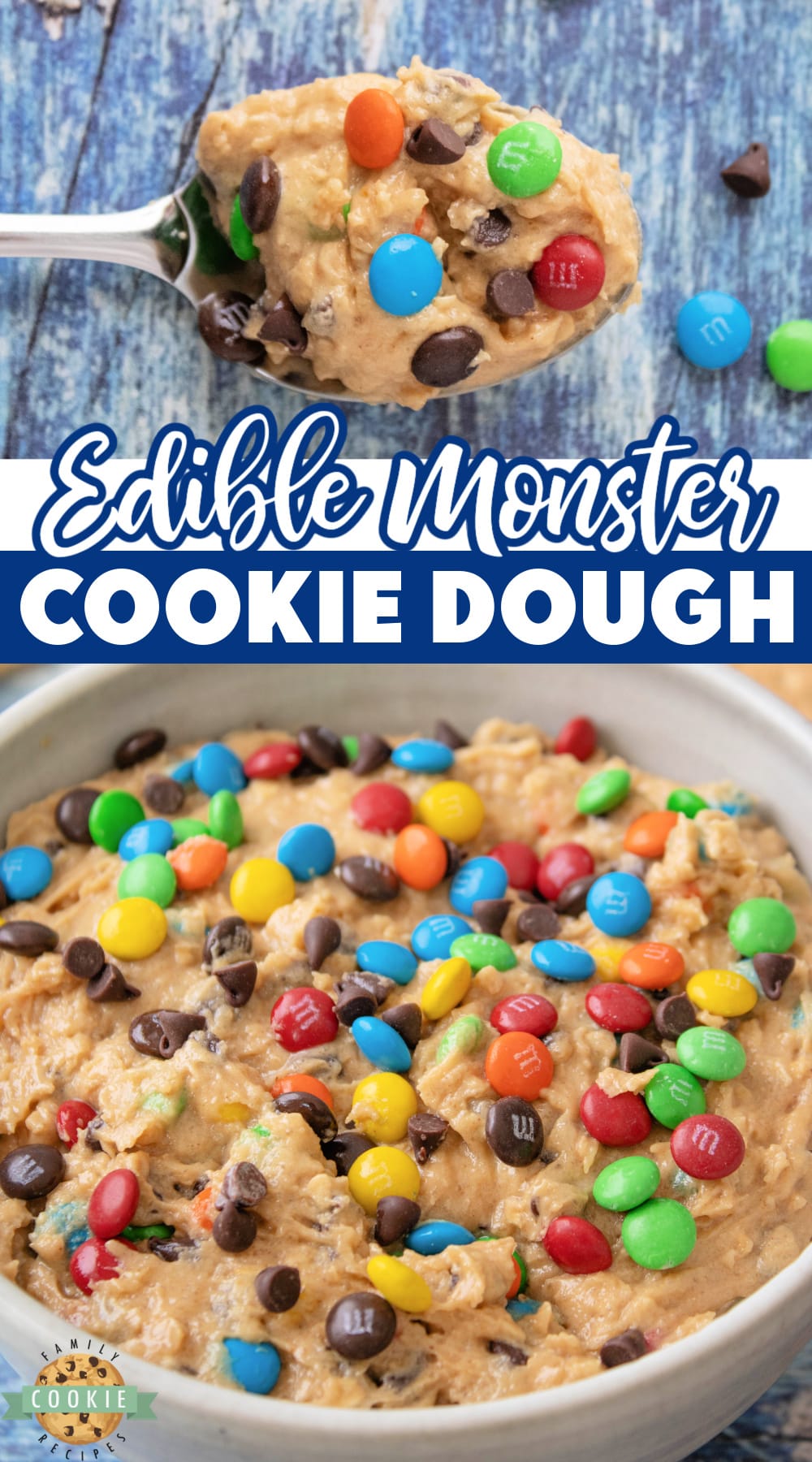 Edible Monster Cookie Dough made with heat-treated flour, no eggs and all of the peanut butter cookie dough flavor that you love. Monster cookie dough that is completely safe to eat!