Fall Cut Out Sugar Cookies are soft, flavorful pumpkin cookies cut into delightful Autumn shapes! Perfect pumpkin spice flavor in these buttery sugar cookies.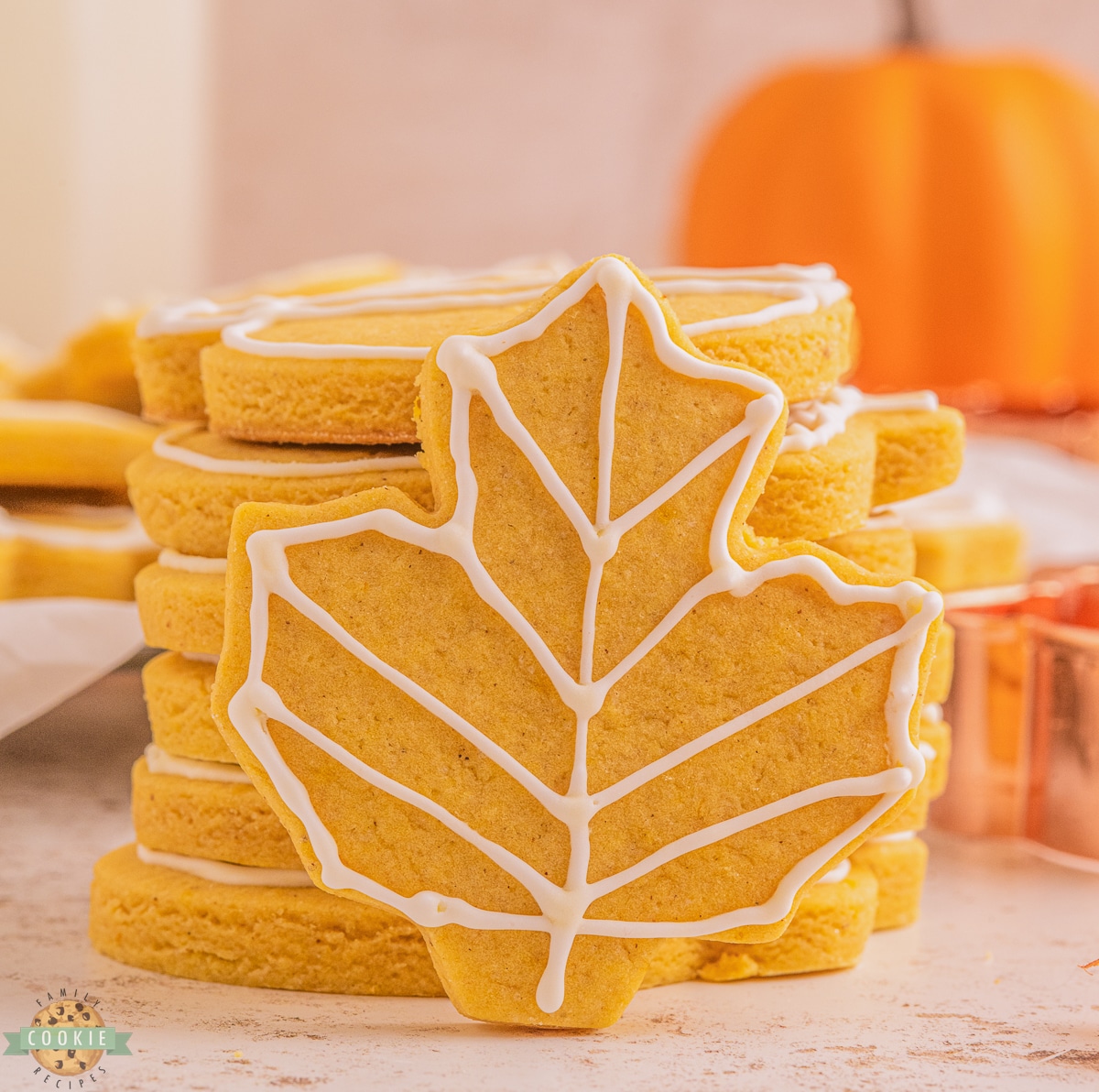 Making these fall leaf sugar cookies is pretty simple, they are made from scratch and are fun to decorate and taste incredible. These festive leaf shaped cookies are delightfully spiced, topped with a simple frosting and decorated beautifully. They are almost to pretty to eat, almost.
Leaf Shaped Pumpkin Sugar Cookies
Pumpkin Sugar Cookies, with just the name, can't you just smell these cookies baking? I sure can! I love everything about the Fall season, the cooler weather, comfy sweaters and most of all the baking! Pumpkin spice flavored treats are released with a warm welcoming in my house, I just enjoy this time of year so much. The texture of this pumpkin cookie is simply amazing, they are a soft pillowy cookie with the best flavor as well. These cookies have become my family's new favorite holiday cookie, we hope you enjoy them as much as we do.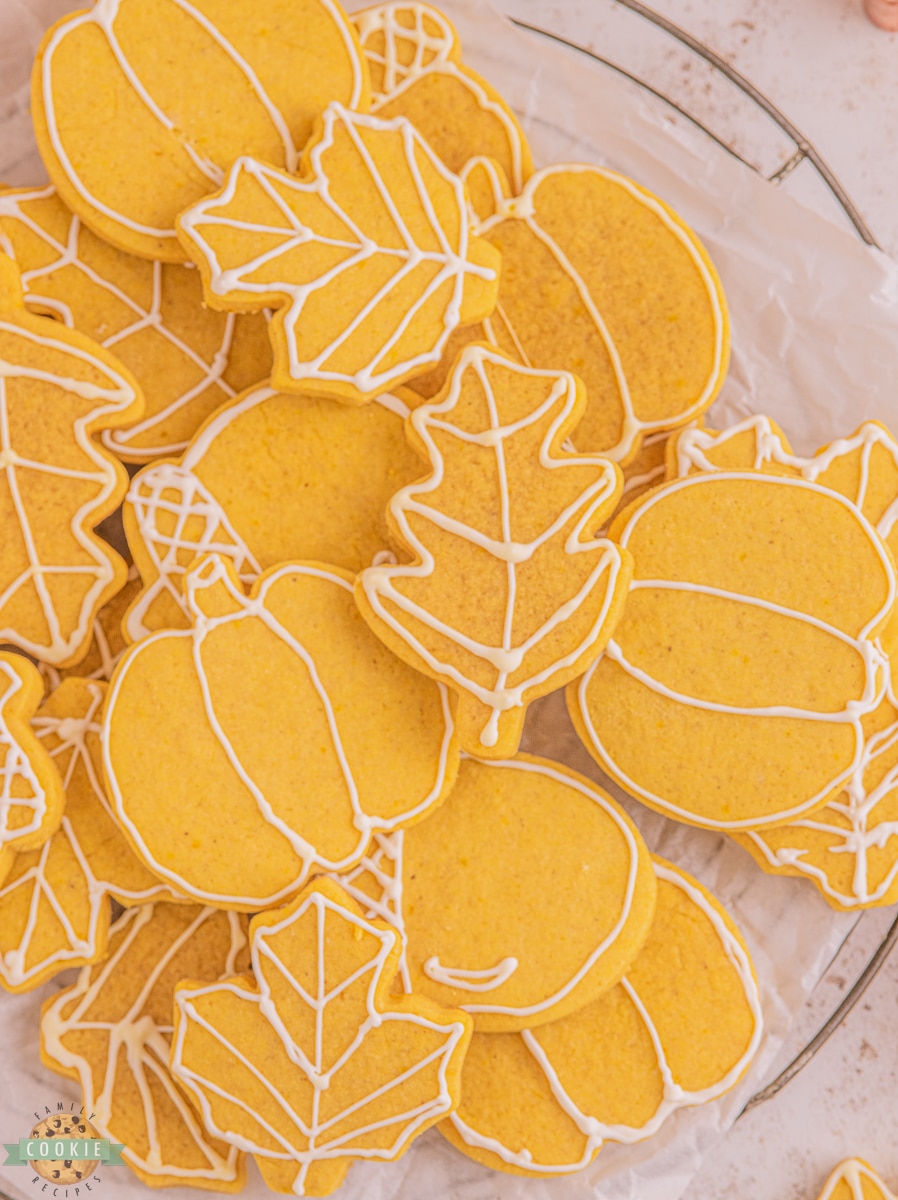 Why we think you will love these Fall Inspired Sugar Cookies
In case you need more convincing to give this recipe a try, here are a few reasons why we love this amazing cookie recipe and think you will too.
Classic fall flavor. If you are like me and adore fall flavors, you will love this easy cookie recipe. Pumpkin spice is a traditional fall flavor and these pumpkin sugar cookies deliver the perfect taste. 
Quick and basic ingredients. To make these incredible sugar pumpkin cookies you need about 10 minutes of prep time, then only 10 minutes of baking and 20 minutes for decorating. You can create a delightful dessert in a short amount of time, who doesn't love that?
Super cute! My kids just love making cut out cookies at different times throughout the year. These autumn leaves are so fun to decorate!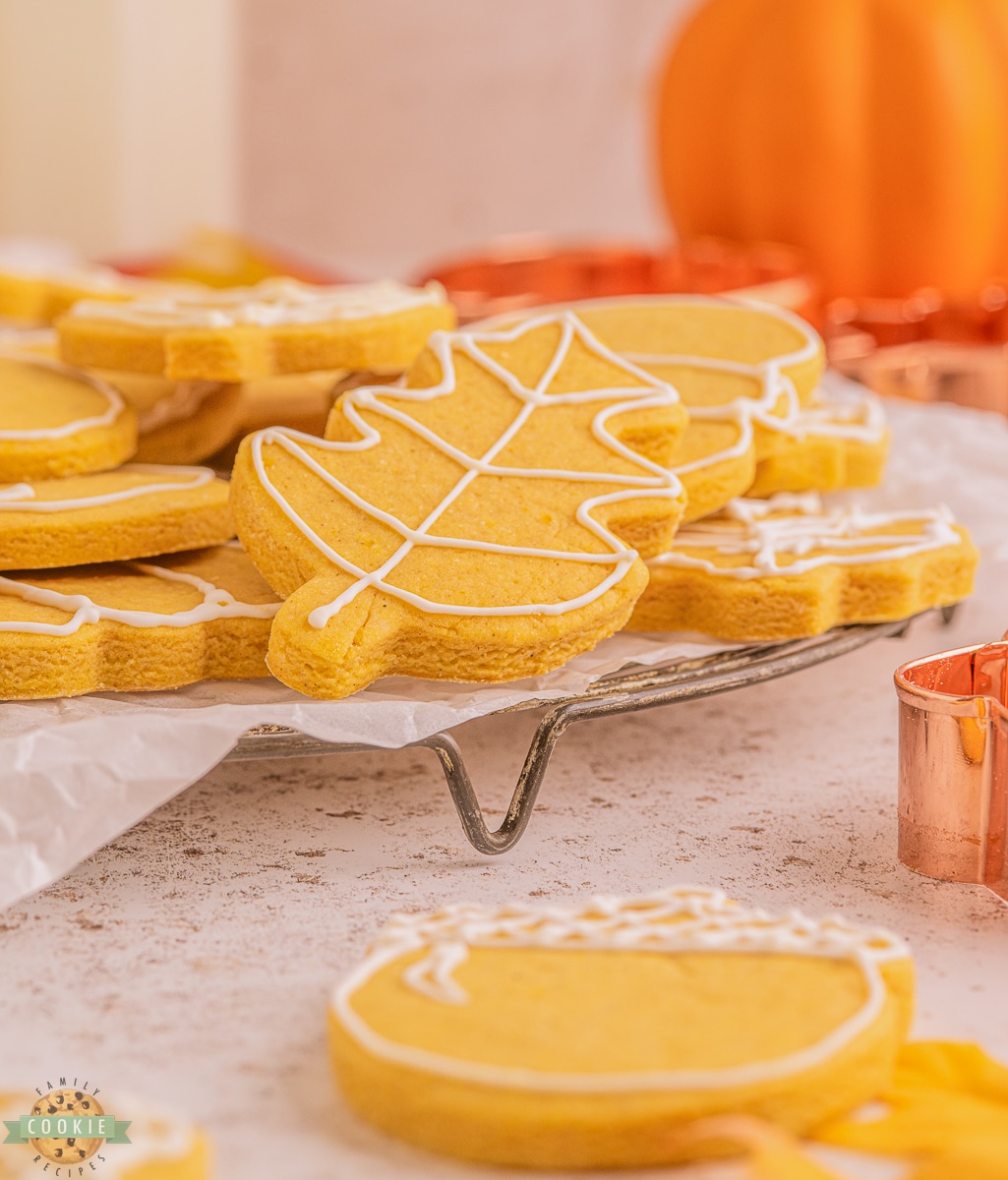 Fall Cut Out Sugar Cookie Ingredients
Sugar: Adding in 1 ½ cups of sugar will give these cookies great flavor and a nice crisp edge.
Butter: You need 1 cup of salted butter, room temperature, for a lovely rich tasting treat.
Pumpkin puree: Using ½ cup of pumpkin puree gives this treat a wonderful texture and amazing flavor.
Egg: You will need 1 whole egg + 1 yolk only to create the perfect consistency for this cookie dough.
Vanilla extract: To help enhance all the amazing flavors in this recipe, add in 1 ½ teaspoon of vanilla extract.
Flour: For the base of this cookie dough, use 4 ½ cups of all purpose flour.
Baking powder: Add 1 ½ teaspoon of baking powder to help the cookies rise as they bake.
Pumpkin pie spice: To add even more amazing flavor, use 1 teaspoon of pumpkin pie spice.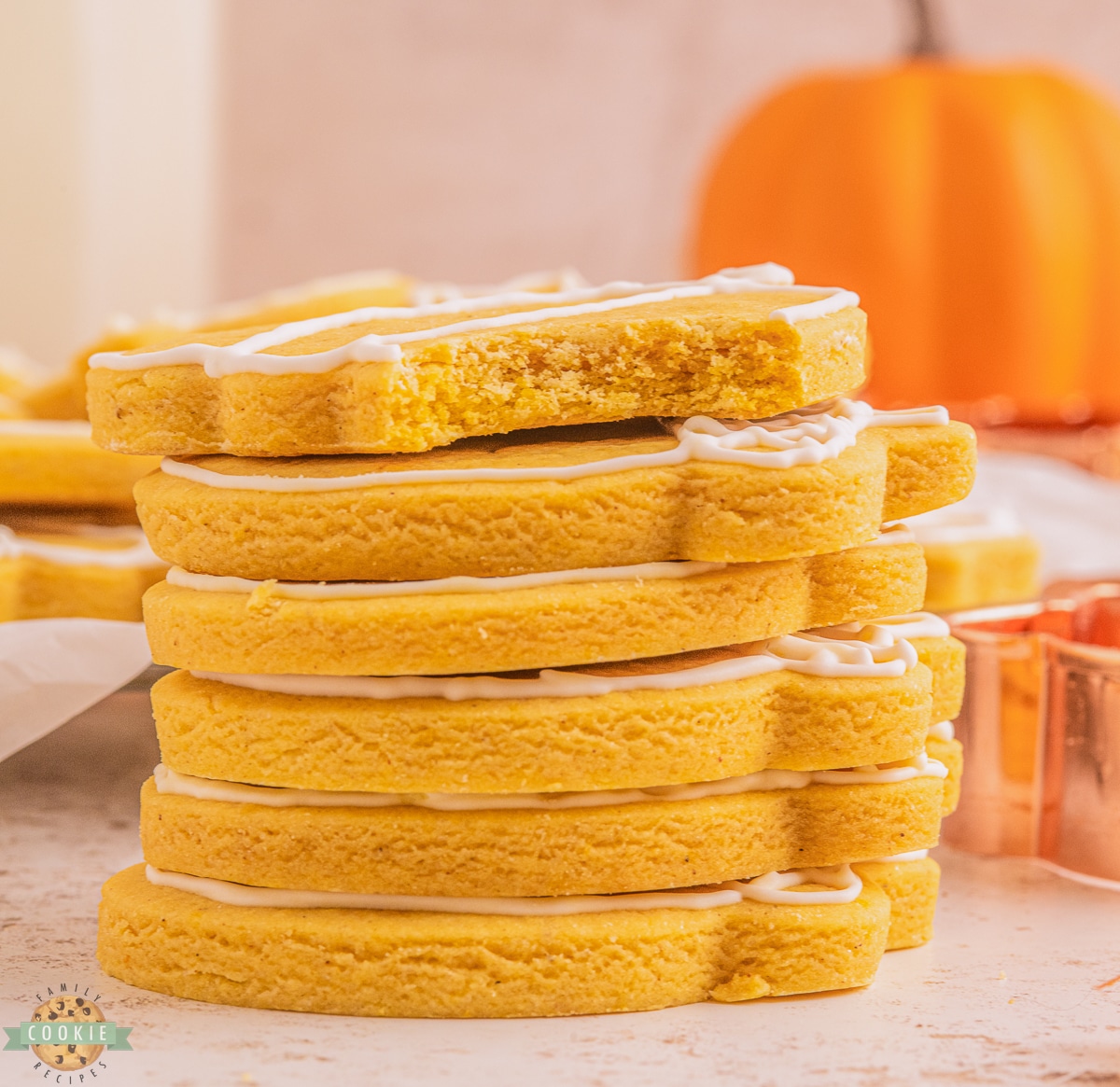 Salt: Balance all the wonderful flavors by adding in ¾ teaspoon of salt.
Frosting
Powder sugar: You will need 4 ½ cups of powdered sugar to make the frosting smooth and sweet.
Meringue powder: To create a fully and amazing topping, add in 3 ½ tablespoons of meringue powder.
Vanilla extract: Add in 1 teaspoon of vanilla extract to give this frosting wonderful flavor.
Salt: Use ¼ teaspoon of salt to balance the topping tastes well.
Water: You need ½ cup of warm water to create the perfect consistency for this frosting.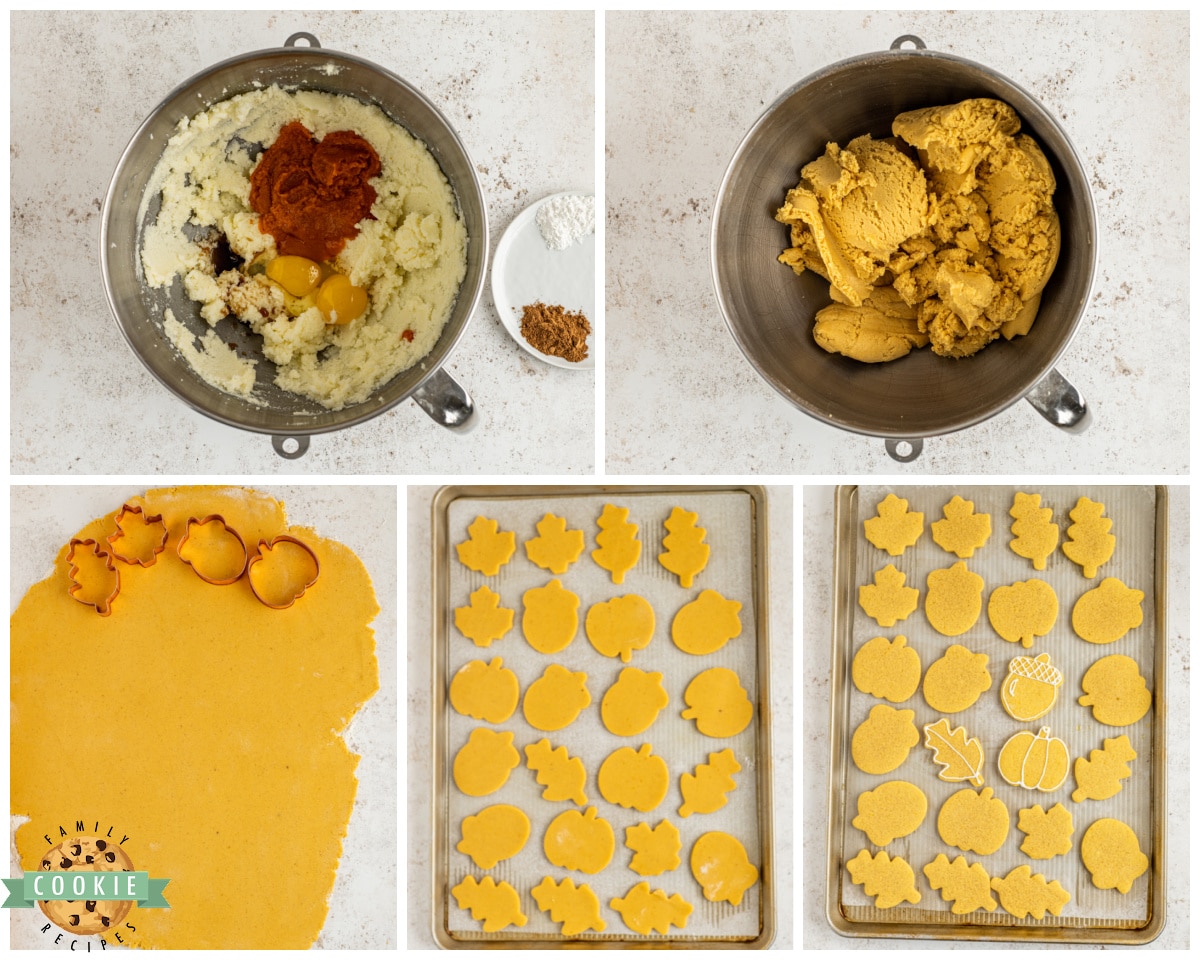 How to make easy Festive Fall Inspired Sugar Cookies
Prep
Preheat the oven to 350°. Then, line a baking sheet with parchment paper or a silicon mat and set aside.
Cookie dough
In the bowl of a stand mixer, fitted with a paddle attachment, combine the sugar and soft butter. Proceed to beat the ingredients together for 1 minute, until it is fluffy and light in color.
Next, add in the pumpkin puree, egg and vanilla extract and mix to combine.
After that, add the flour, then top with the baking powder, pumpkin pie spice and salt. Mix together until a dough forms, be careful not to overmix. Stir to just combined and no white flour streaks show.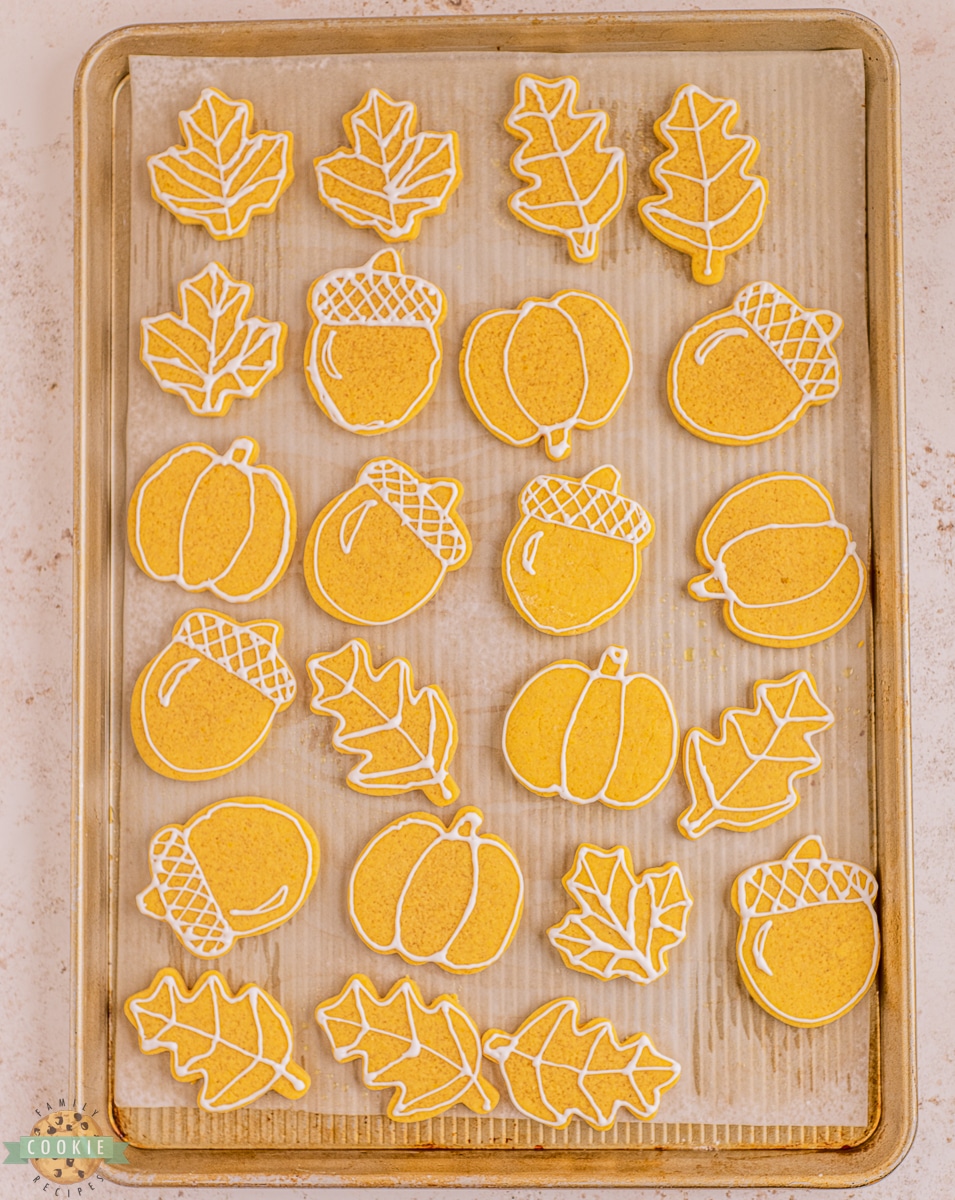 Bake
Proceed to transfer the dough onto a clean, lightly floured surface and roll out to ¼" thickness. Continue to cut out the desired amount of cookies using Fall cookie cutters.
Place the cut out cookies onto the prepared baking sheet and place into the preheated oven. Bake for 10 minutes. Once baked, remove from the oven and place onto a wire cooling rack to let cool completely. Repeat the baking process with the remaining cookies.
Frosting
In the bowl of a stand mixer fitted with a whisk attachment, combine the powdered sugar, meringue powder, vanilla extract and salt. While the mixer is running, stream in the water. The frosting will start out stiff, whisk for 4 minutes until smooth. Then, spoon the frosting into a cookie icing bag or a piping bag fitted with a small, round tip. If using the icing bag, tie the top of the bag and snip a small hole into the tip of the bag.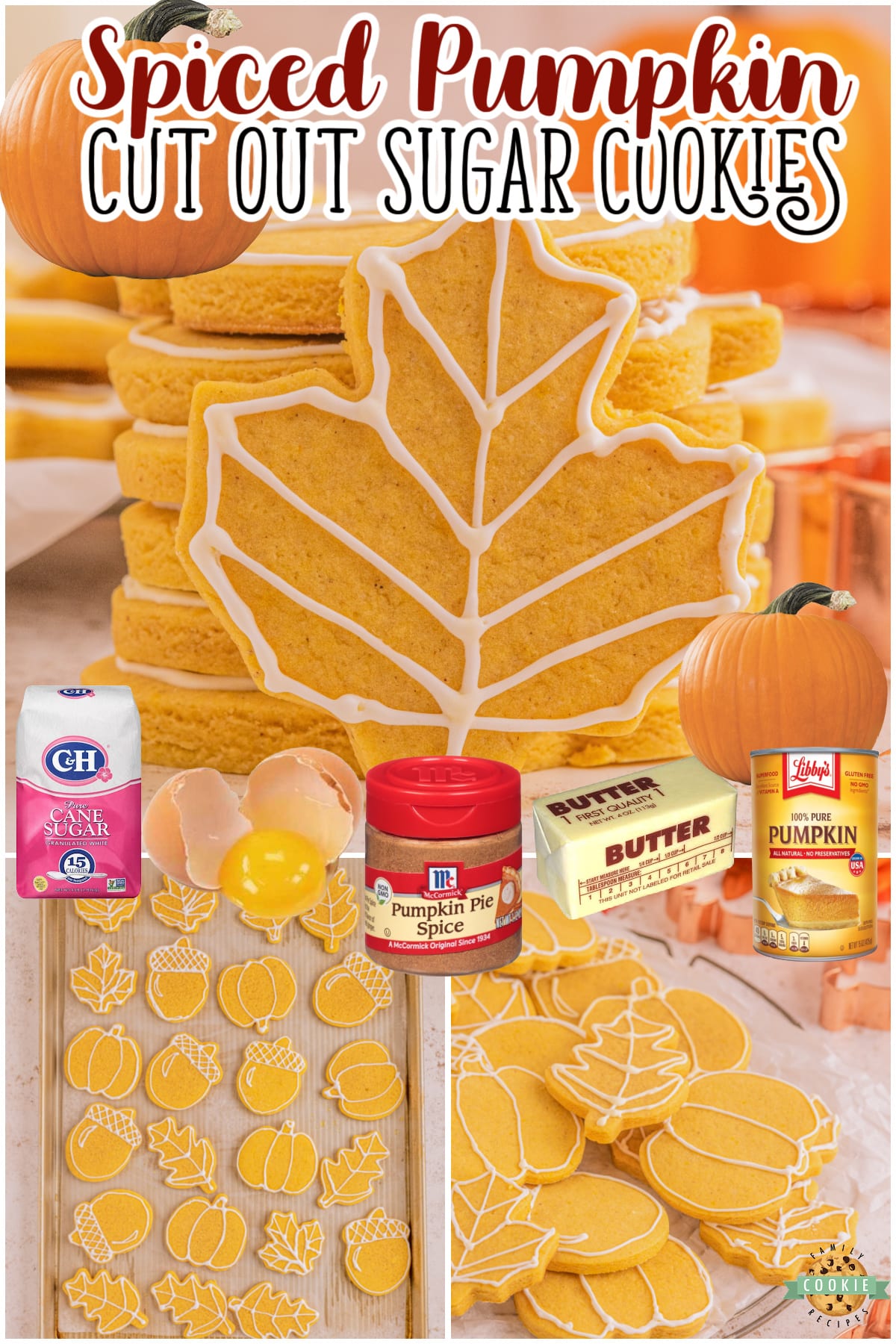 Decorating
Acorn: Outline the perimeter of the acorn, then make a oblong shape to outline the cupule of the acorn. Starting from the left to the right, make diagonal lines from the top to the bottom of the outlined cupule. Then, starting from right to left, make diagonal lines from the top to the bottom of the cupule to make X's. Add a small teardrop shape to the left side of the acorn for definition.
Pumpkin: Outline the perimeter of the pumpkin, then add a small square at the top, outlining the stem. Pipe two lines onto the center of the pumpkin so as to divide it into the thirds. Pipe the center lines on in a curve similar to the outer lines of the pumpkin instead of up and down.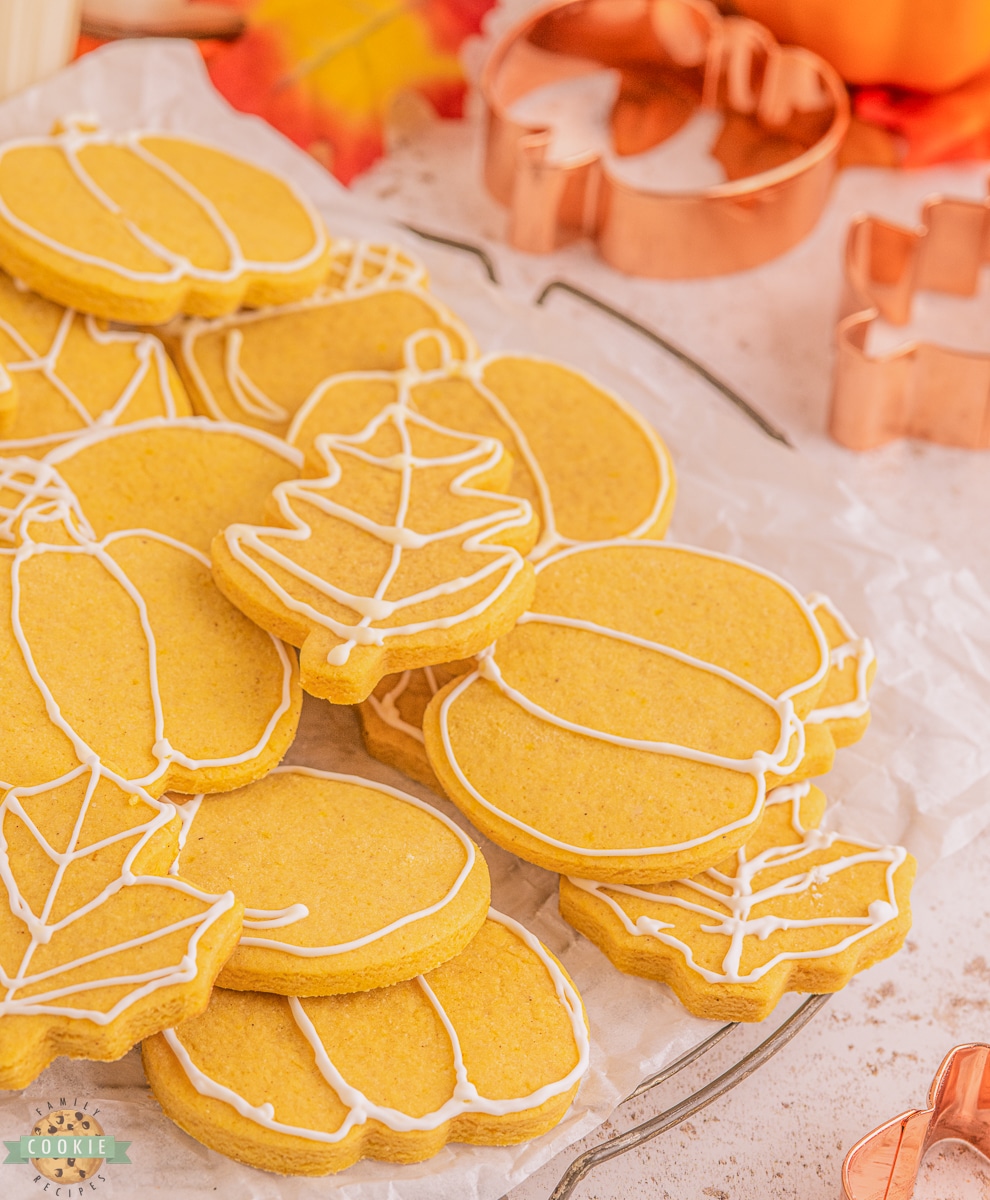 Oak leaf: Outline the perimeter of the leaf. Pipe a single line in the center of the leaf that goes from the top to the very bottom. Next, pipe 3 slightly diagonal lines on the left side of the leaf. Each line will start at a point in the leaf and end in the center line. Repeat on the right side.
Maple leaf: Outline the perimeter of the leaf, then pipe a slightly curved line from the top point of the leaf to the base of the leaf. Next, pipe 4 diagonal lines of the left half of the leaf. Each line will need to start at a point or curve in the leaf and end at the center line. Repeat on the right side.
Serve and enjoy!
What is Meringue Powder?
Meringue powder is made of dried egg whites that have been pulverized into a fine powder. It adds a lovely glossiness to frosting while also helping stabilize it and give it some volume, making it easier to outline these sugar cookies.
What can I use instead of Meringue Powder?
You can add 3 tsp unflavored gelatin in place of the 3 TBSP meringue powder, or just leave it out altogether.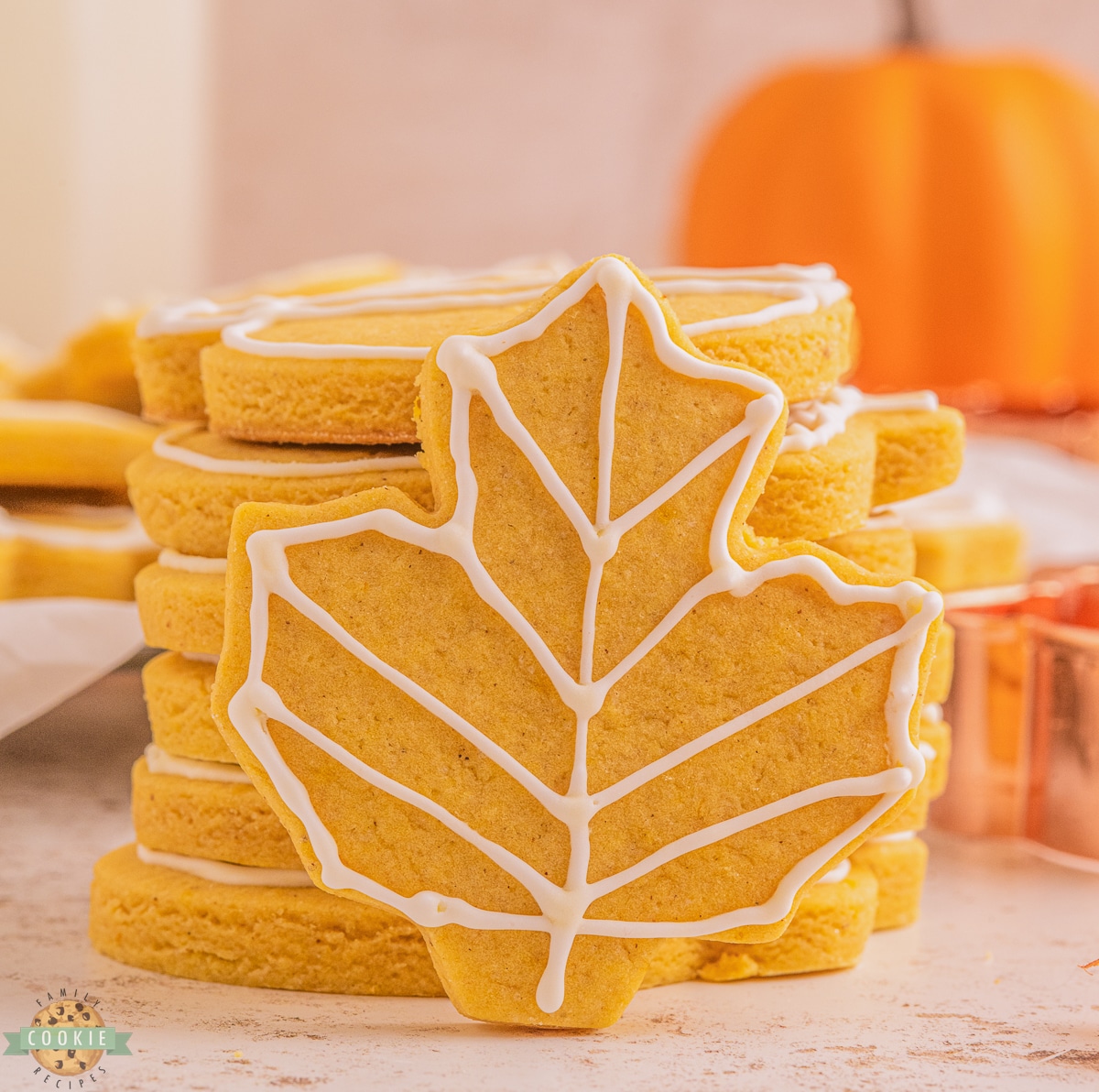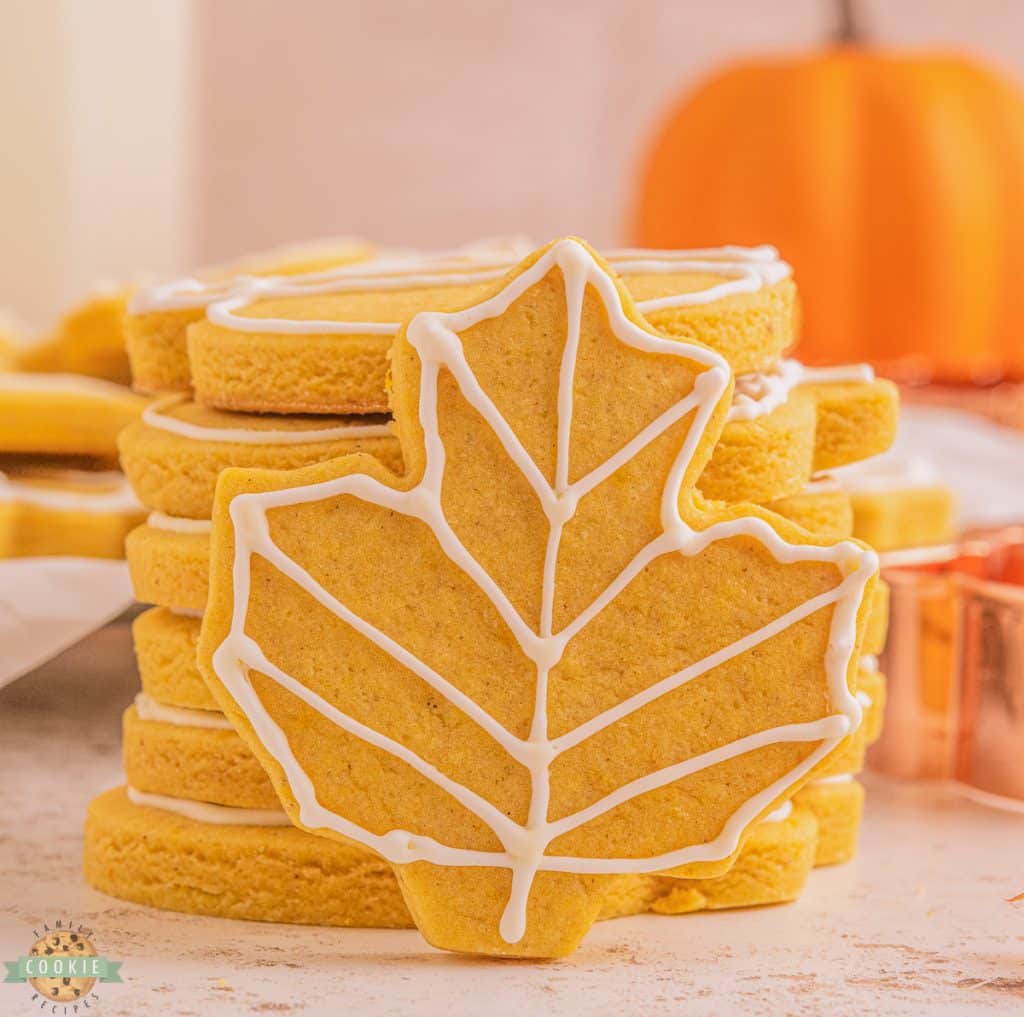 CAN I FREEZE PUMPKIN SUGAR COOKIES?
Yes. After the cookies have cooled completely you can transfer to an airtight container and freeze for up to 3 months. When you are ready to enjoy the cookies let them sit on the counter for an hour to come to room temperature.
HOW DO I STORE GINGER PUMPKIN COOKIES?
You can store these cookies in an airtight container for up to 1 week. That is, if there are any left!


After years of flag football, we finally made the jump to tackle football…and I'm not quite sure how I feel about it, to be honest. They physicality of the sport almost gets in the way of the athleticism, if that makes any sense. Maybe it's just this age, early teens? I loved seeing the agility & finesse of the plays in flag football. In tackle so much of it is just sheer force. At any rate, I love watching my kid play in any sport! He's the QB, so here he is trying out out run the brute that's chasing him! RUN!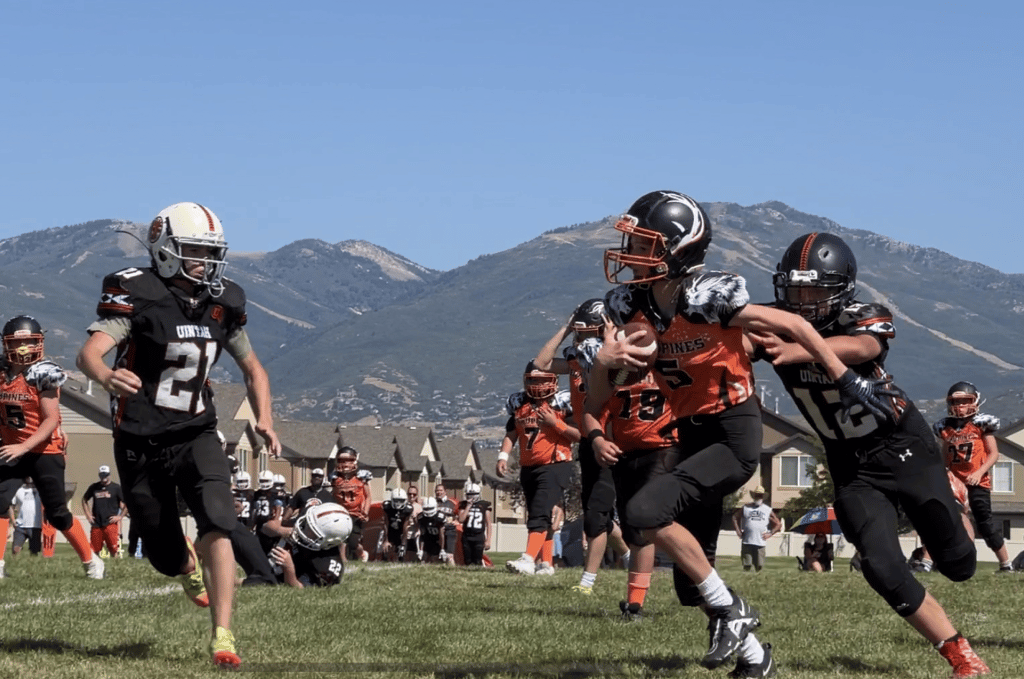 Try more amazing fall and holiday recipes here!
Fall Cut Out Sugar Cookies are a festive treat that taste incredible and are so pretty too. These pumpkin sugar cookies are soft, chewy and filled with wonderful warm spices that taste amazing.