Healthy Homemade Dog Cookies made with carrot, oats, peanut butter & apple! Our favorite healthy dog treat recipe is packed with nutrients, easily made at home and is perfect for your favorite fur friend!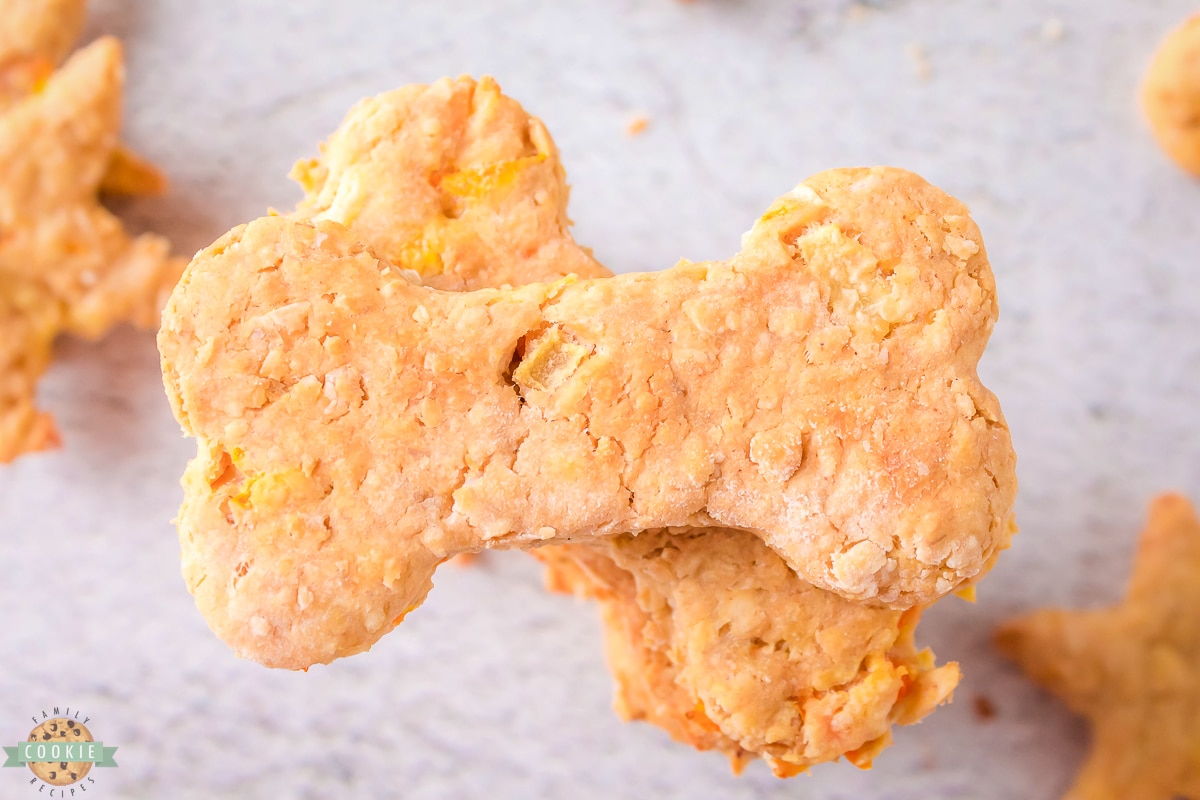 We are living in a day and age where cookies are not just for people anymore, our fur babies deserve some cookie love too. With this recipe, we are bringing the delightful taste of cookies to our furry companions. Let them devour a sweet dog friendly treat while you enjoy knowing it is good for them. Packed with nutrition in every bite and significantly cheaper than buying a box from the store, these treats are sure to be a favorite of yours and theirs.
What are dog cookies?
Way back in the 1800's an Ohio electrician traveled to London for business. While there he witnessed stray dogs feasting on hardtack, a dry biscuit or cracker, it was after that the idea of making a biscuit for dogs that could serve as their primary food was born. Since then, dog treats or cookies, have come a long way. Nowadays dog owners know the importance of our fur friends having a healthy and tasty treat. These healthy homemade dog cookies are loaded with oats, apples, carrots, and peanut butter for a sweet and savory bite that your fur baby will love.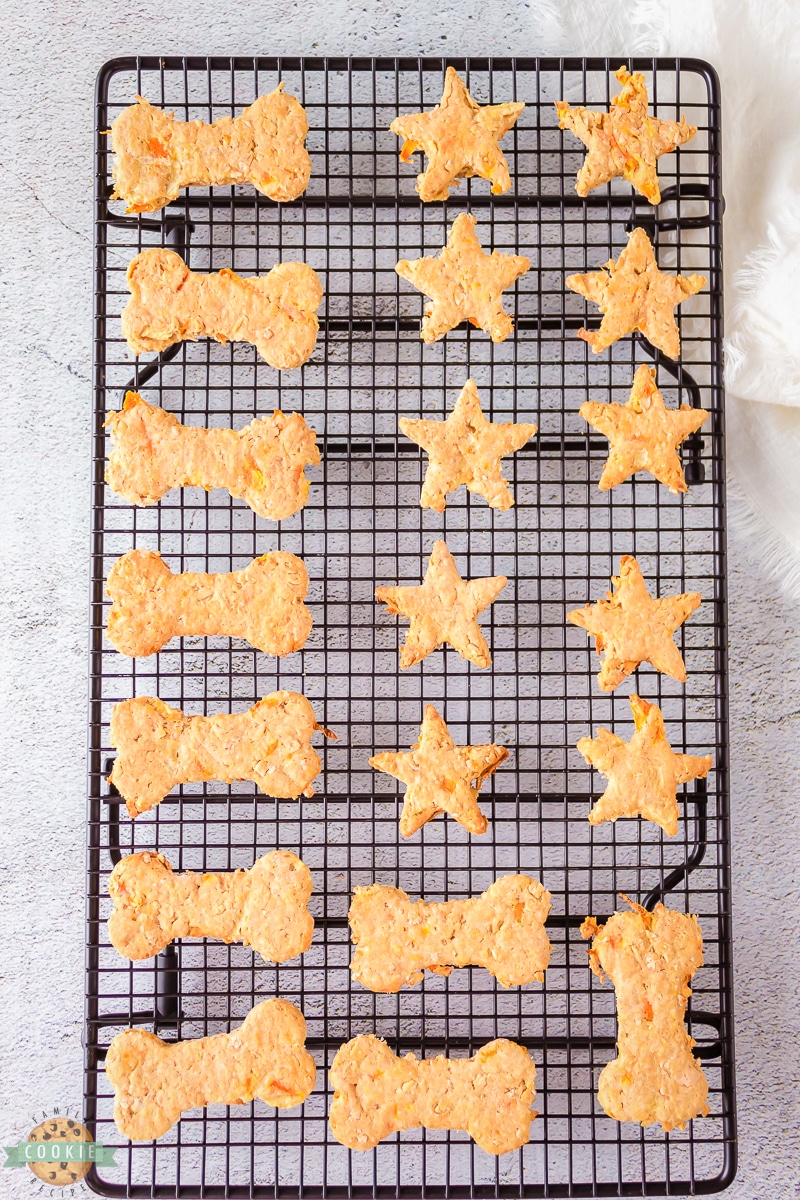 Carrot Apple Dog Treats Ingredients
-Oats: You will need 1 cup of oats. You can use old-fashioned oats or the quick-cooking kind as they will both work well.
-Flour: Use 1 cup of unbleached all-purpose flour or wheat flour depending on what your pups like.
-Baking powder: 1 teaspoon of baking powder will help to give these biscuits a cookie-like consistency when baked.
-Apple: Use ½ cup of shredded apple (I use Gala) to give these cookies a sweet flavor.
-Carrot: Use ¼ cup of shredded carrot for a pop of color and nutrition.
-Peanut butter: You will need ½ cup of creamy peanut butter but it's important to use peanut butter without xylitol as an ingredient because that chemical is toxic to dogs.
-Milk: Use ¼ cup of milk (any kind of milk you have on hand) to help moisten the dough for a good consistency.
-Egg: You will need 1 egg to work as a binder for the dough so that the cookies don't fall apart before being enjoyed.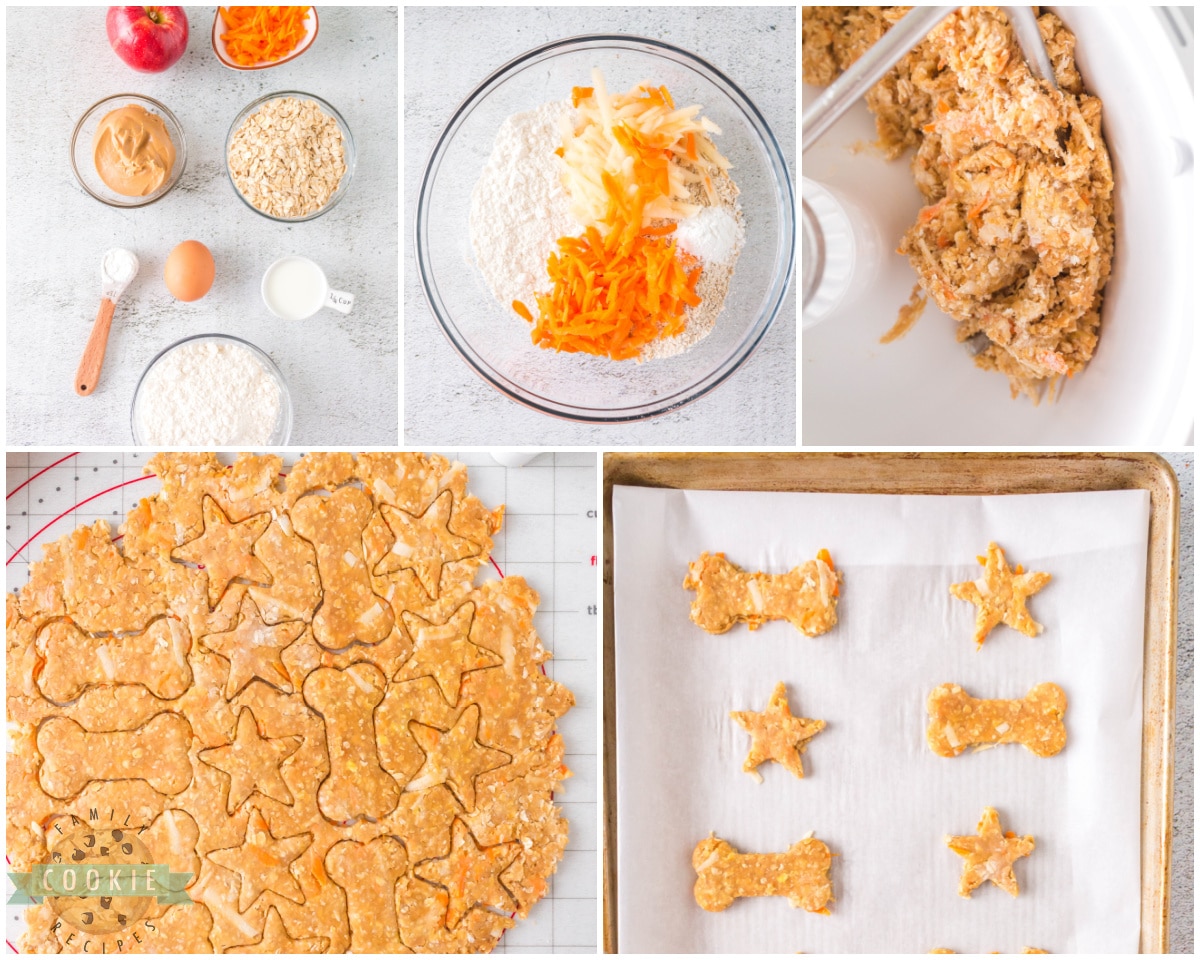 How to make healthy homemade dog cookies
Prepare the oven and dough
Preheat your oven to 350 degrees F. On a large baking sheet lighting coat with non-stick spray, set aside.
Shred the oats in a food processor or blender about 4 or 5 times until they're broken down into smaller pieces but not as fine as flour. This will make it easier for your pups to chew.
Shred the carrots until you have ¼ cup. Shred the apple for the ½ cup needed.
Combine the flour, oats, baking powder, shredded carrot, and shredded apple in a large mixing bowl. Mix until the carrots and apples are well-coated in the flour oat mixture.
In the separate bowl of a stand mixer combine the peanut butter, milk, egg, and add the flour/carrot/apple mixture until you have a thick dough. If you do not have a stand mixer, I recommend mixing the dough together with a large wooden spoon and NOT a hand mixer because the dough is very thick and can break your hand mixer.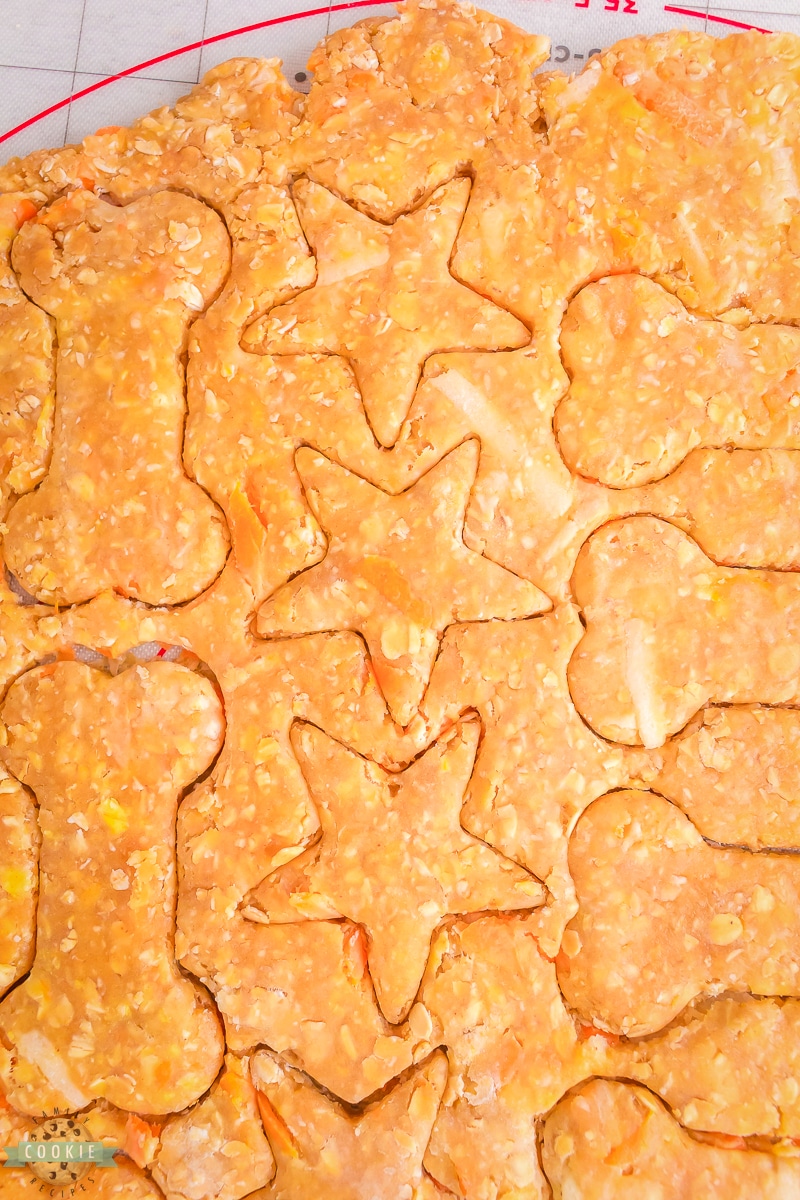 Cut the cookies
On a floured surface, roll the dough out to be about a ¼ of an inch thick.
Now the fun part! Using your favorite cookie cutters, cut the cookies into fun shapes for your pup. I like to use a 1 ½ inch-sized bone from Wilton https://www.amazon.com/Wilton-Metal-Cookie-Cutter-3-Inch/dp/B004EBSCLK . You can use any cookie cutters you have on hand or simply cut the dough into strips instead, whatever your dog loving heart desires!
Bake them to perfection
Next, place the treats onto your prepared baking sheet and bake in the oven for 5 minutes.
Flip the cookies over and bake for another 3 or 4 minutes.
Let the cookies cool completely on a wire cooling rack before giving to your pup. We hope your fur friend enjoys!
How long are homemade dog treats good for?
These doggie treats are good for about 4 or 5 days when stored in an airtight container at room temperature. I like to freeze my cookies and only keep a few at room temperature at a time so that they don't spoil before my dog gets to enjoy them all.
How long can I freeze dog treats?
You can keep these dog treats stored in an airtight container for up to 2 months. Just thaw before serving to your furry friend.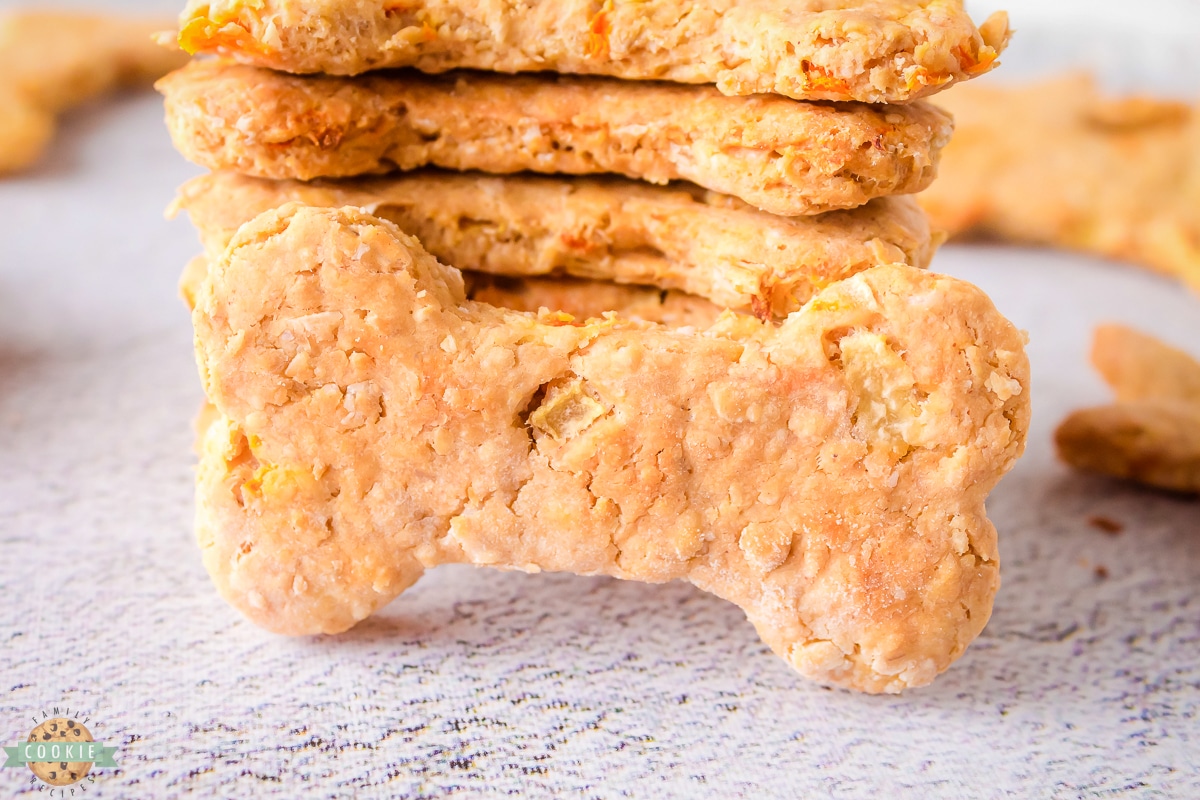 Are homemade dog treats healthier than store bought?
Healthy homemade dog cookies are a simple and effective way to ensure your pooch is getting the most fresh and nutritious ingredients in a treat. Although not all store bought treats have the potential to be bad for your pup, making these homemade treats are a sure fire way to guarantee they are the best treat available!

These are my two fur babies, Scout & Penny! They are Chihuahua- Miniature Pinscher mixes, one of those fun new "designer" breeds called "Chipins." They enjoy short walks to the pantry (for a treat), chasing squirrels, birds and deer, even though that last one often gets them in trouble! They play every day and LOVE getting new toys. One of their favorite past times is napping, preferably with me. They fit right in to our crazy family and we are so glad we have them!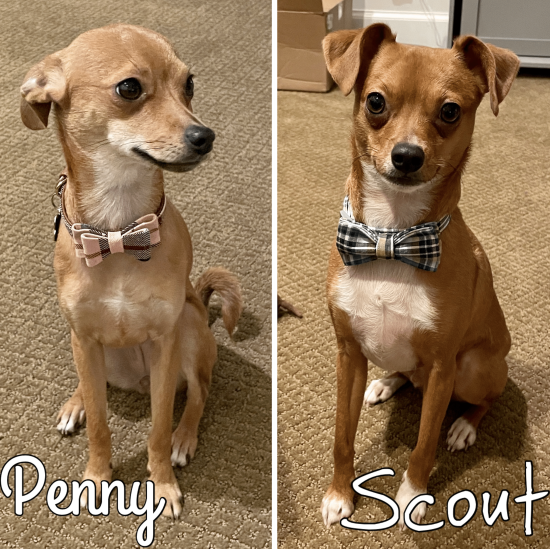 Healthy Homemade Dog Cookies are packed with nutrients and easily made at home, perfect for your favorite fur friend! These easy healthy dog treats are a great way to celebrate your furry companion.