Lemon Jello Sugar Cookies are delicious cookies made with lemon jello! Easy sugar cookie recipe with a simple buttercream frosting perfect for lemon lovers.
[adthrive-in-post-video-player video-id="LkP6QZhI" upload-date="2020-06-18T21:07:55.000Z" name="Lemon Jello Cookies" description="Lemon Jello Sugar Cookies are delicious cookies made with lemon jello! Easy sugar cookie recipe with a simple buttercream frosting perfect for lemon lovers." player-type="default" override-embed="default"]

These lemon sugar cookies are quickly scooped out into balls, baked and frosted for a lovely lemon treat!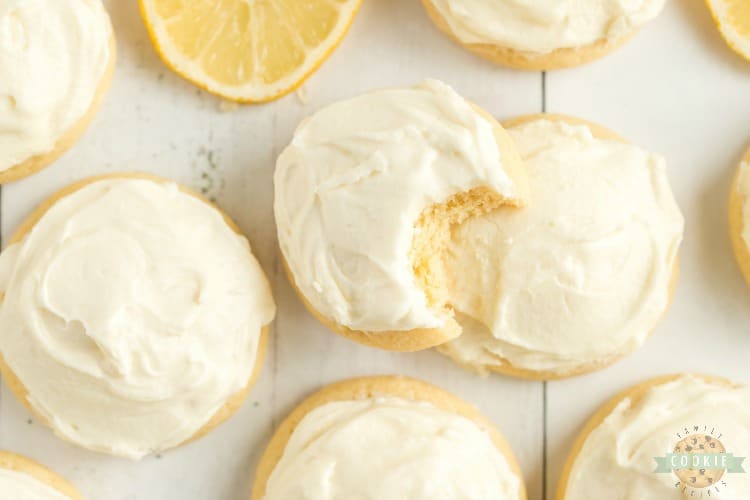 I absolutely love sugar cookies, but I typically only make them on special occasions, because of the effort involved with chilling the dough and then rolling it out, cutting out the cookies, baking them and then decorating. It's kind of exhausting! Factor in 5 kids who want to help, and well, let's just say it takes a lot of energy to attempt this whole process!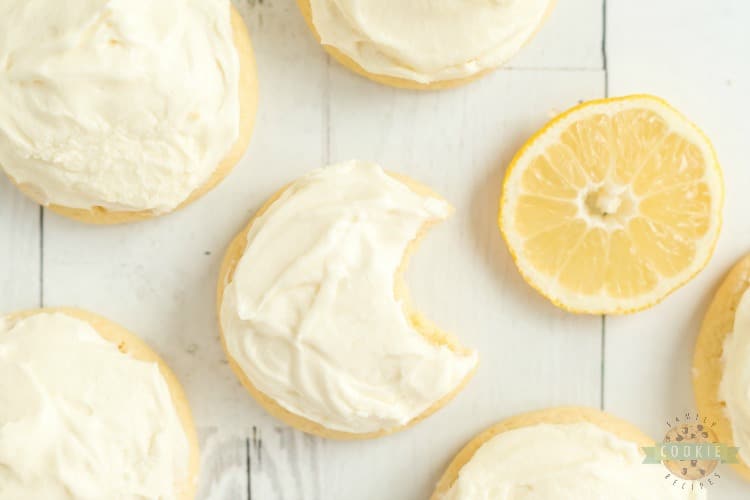 I recently came across this recipe for Jello Sugar Cookies and was intrigued. You can use any flavor of Jello that you want and the rest of the ingredients are pretty standard for a sugar cookie recipe. The best part is that you can choose if you want to roll them out and cut shapes or you can just make regular ball-shaped cookies and the frosting is also optional.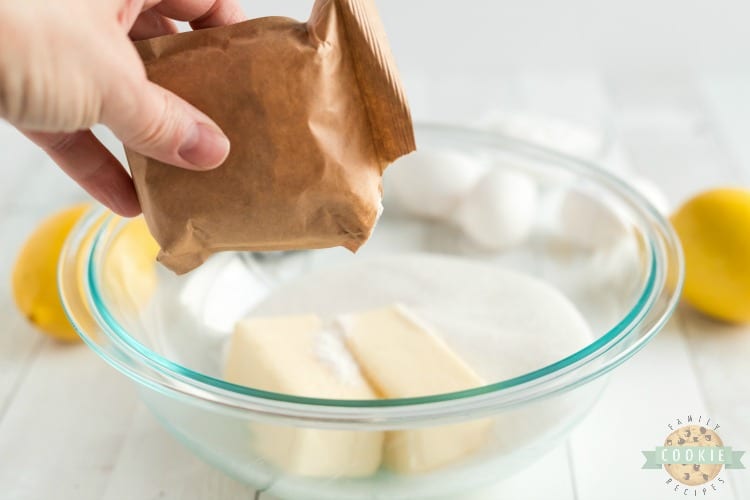 Since the Jello adds so much flavor and color to the cookies, you honestly don't really need fancy shapes or frosting and the cookies are delicious (and cute!) just plain. I've made the sugar cookies both ways and both were a huge hit. I decided I wanted to try Lemon and it worked out better than I could have ever imagined!
What ingredients are in Lemon Jello Sugar Cookies?
To make Lemon Jello Sugar cookies, you will need:
— Butter
— Sugar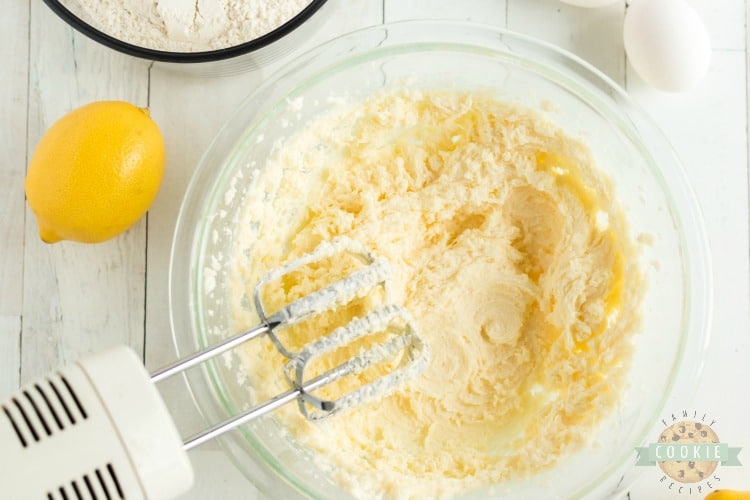 — Eggs
— Flour
— Baking powder
— Salt
— A box of Lemon Jello
That's it!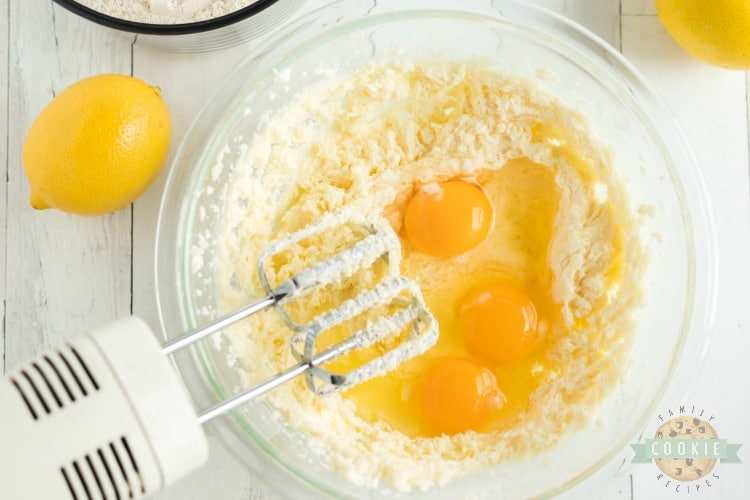 To make sugar cookie frosting, you will need:
— Butter
— Sour cream
— Powdered sugar
— Milk
— Vanilla
— Some Lemon Jello powder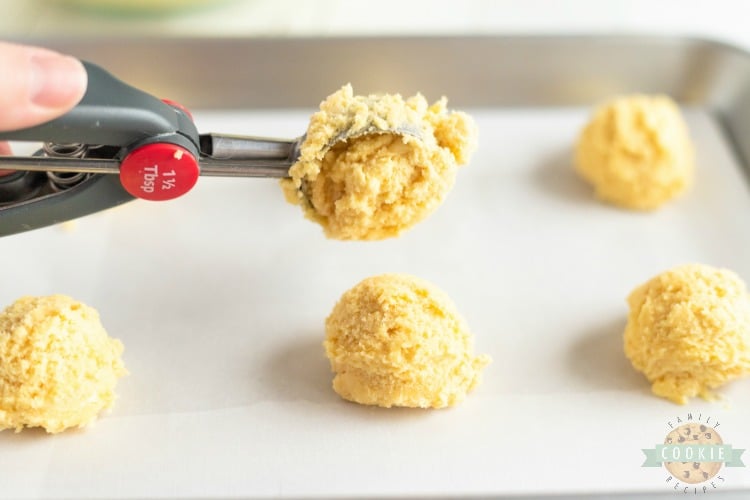 How do you make Lemon Jello sugar cookies?
To start making Lemon Sugar Cookie recipe, you will cream the butter and sugar together with the Lemon Jello powder. Next you will add the eggs and mix everything until well combined. Add in the dry ingredients and mix some more.
At this point, you can scoop the dough and roll into balls to cook immediately, or you can chill the dough for a couple of hours if you want to roll it out and cut it into shapes.
If you are rolling the dough into balls, I like to scoop the dough out with a cookie scoop. This helps to ensure that all of the balls are the same size and it is just so easy – I'm not sure how I ever made cookies without it. Scoop the dough and then roll it between your hands to make a smooth ball. Place the dough balls on a cookie sheet.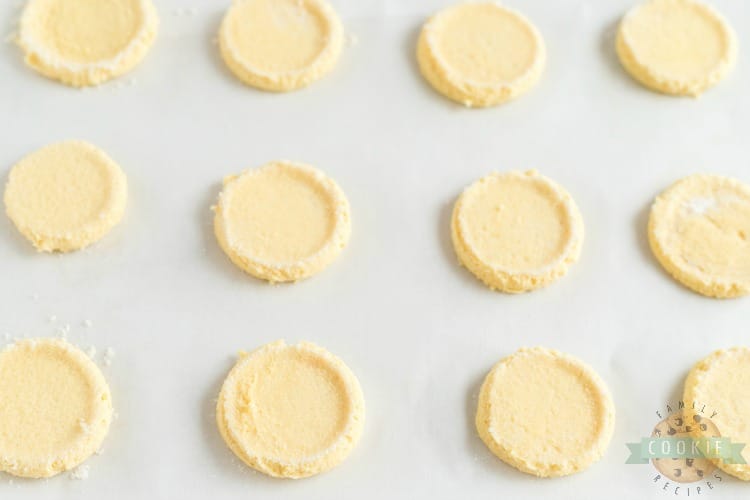 Spray the bottom of a flat glass or measuring cup with cooking spray. Place a little bit of sugar onto a plate and then press the prepared measuring cup into the sugar. Press each dough ball down slightly, just until flat.
You don't want to smash them down too much – you still want your cookies to be soft and thick, but pressing them down helps them to bake more evenly and also provides you with a nice flat surface on top for frosting. You will not need to re-spray the measuring cup in between each cookie, but you will want to press it into the sugar in between pressing each cookie ball.
Bake for 8-9 minutes at 375°. Let the cookies cool, and then frost. Enjoy!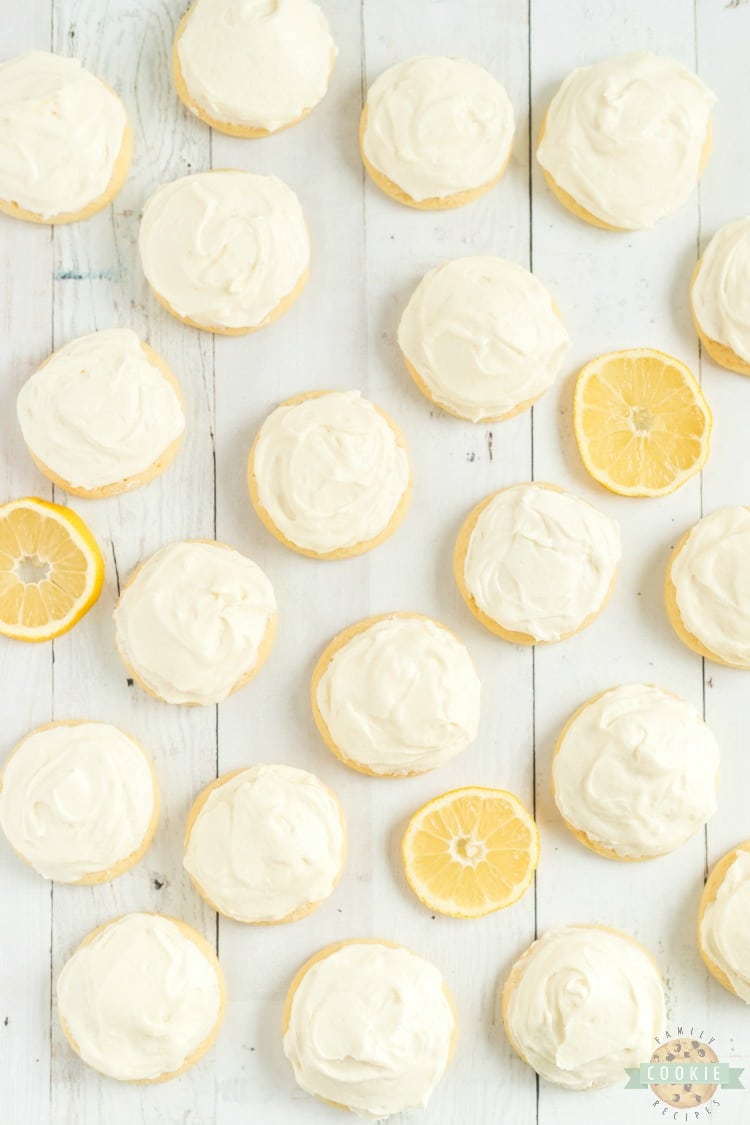 How do you make lemon sugar cookie frosting?
This sugar cookie frosting is made with butter, sour cream, powdered sugar, vanilla, a small amount of jello powder and a little bit of milk. I prefer this buttercream frosting on sugar cookies – it pairs so well with a soft and chewy cookie!
To make the flavor the frosting to match the cookie, reserve a tablespoon of the Lemon Jello powder before making the cookie dough and then add that reserved amount to the frosting. This adds a yellow color and an amazing amount of lemon flavor to the frosting!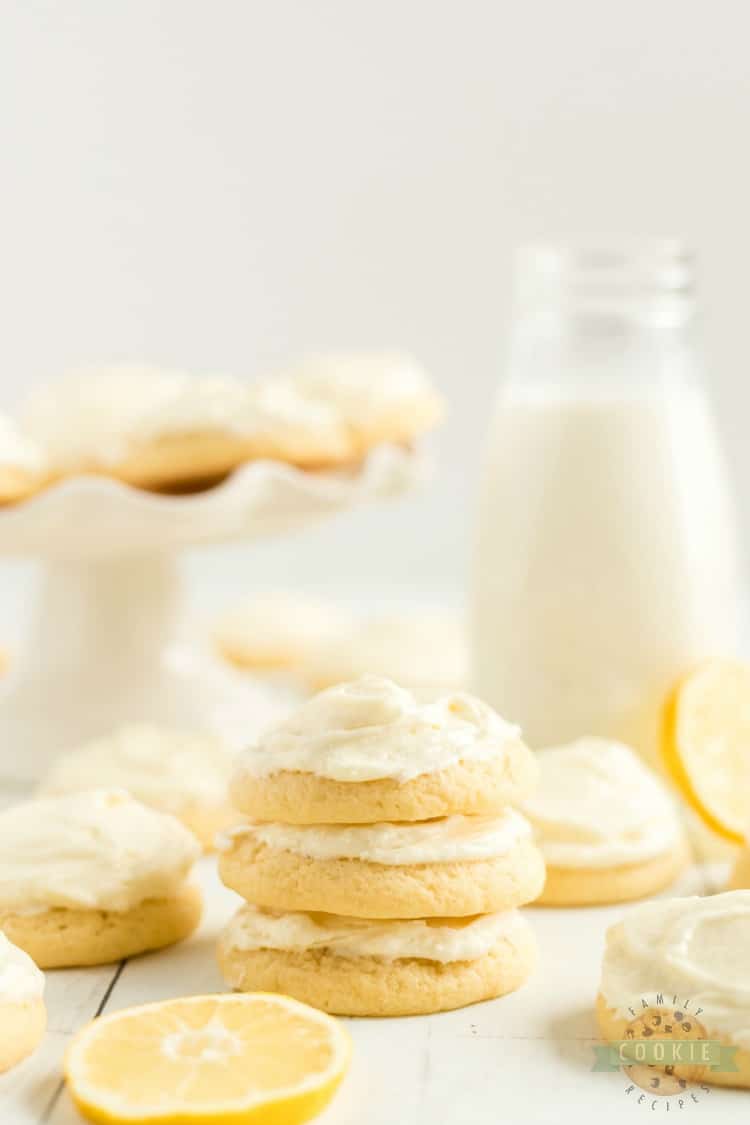 How do you make cut out sugar cookies?
Once the dough has chilled for at least 2 hours (you can chill it longer – even overnight), divide it in half. Prepare the surface that you where you will be rolling out the dough. You can prepare the surface in any of these ways:
– Flour. Sprinkle a little bit of flour onto your countertop and make sure that the flour is covering the entire surface where your dough will be rolled out.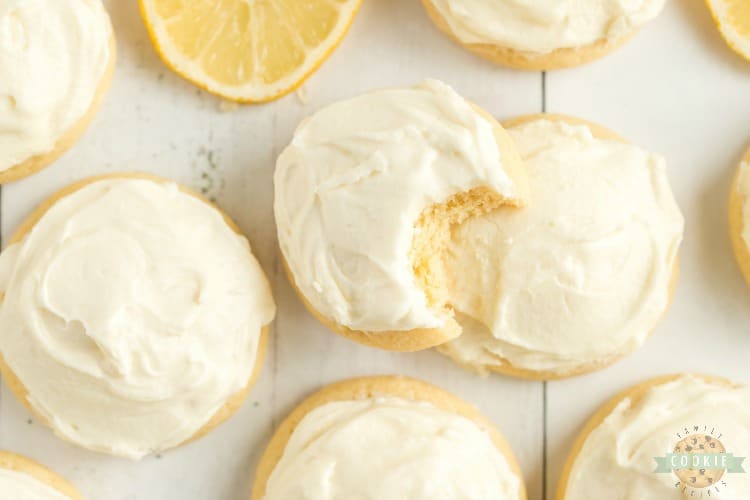 – Cooking spray or oil can also be used to coat the surface where you will be rolling your dough out.
– Wax paper. This method is definitely the easiest one to clean up!
Use a rolling pin to roll out the dough. The dough is much easier to handle and work with if you have divided it into halves (or even thirds) before rolling it out. The dough should be about 1/4″ thick. Use cookie cutters to cut out shapes in the dough and place the cut out shapes onto a prepared cookie sheet. Bake at 375° for 8-9 minutes.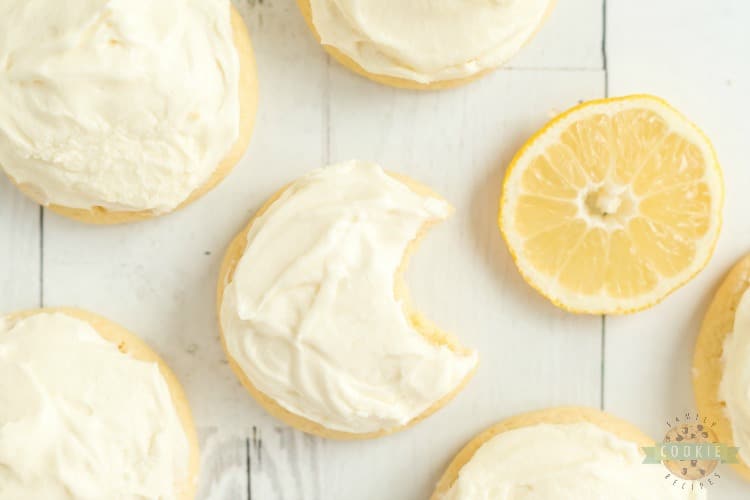 Tips for making the best sugar cookies
Sugar cookie dough is sticky, but once it's sufficiently chilled, it's much more workable. Resist the urge to add more flour to the dough before chilling! If you add too much flour, the ratio of wet to dry ingredients is off and the cookies end up drier and more crumbly.
Do not melt the butter! The butter needs to be softened (at room temperature), but using melted butter will ruin the cookies.
Spend a little extra time when you mix the butter and sugars. Creaming them together for 2-3 minutes will improve the consistency of your cookies.
Preheat the oven. This will help your cookies turn out right every time!
Use parchment paper or a silicone baking mat. Doing this will make it really easy to remove the cookies from your cookie sheet so that you don't have to scrape them off the pan – they will just slide right off in perfect shape!
Make sure that you don't roll out the dough too thin before cutting your sugar cookies out. You want the dough to be about 1/4″ thick. If the dough is too thin, your cookies will be crispy and hard and easily breakable, but if the dough is too thick, the cookies may not bake all the way through the middle.
Make sure not to over bake your cookies.  They may not even look totally done on the tops, but if the bottoms start to brown, I take mine out and they are perfect!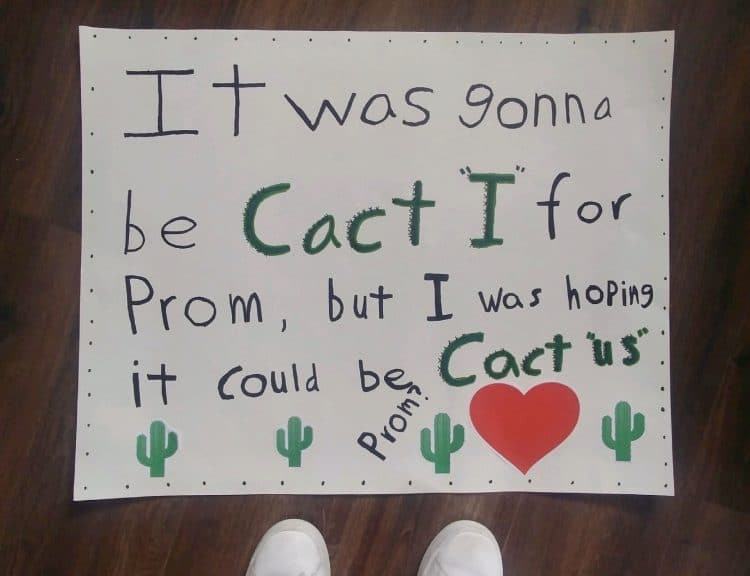 My oldest son just asked a girl to prom. PROM people. This is brand new parenting territory for me! He thought about his "promposal" for nearly a week before he decided on this one. SO CUTE. To make it even better he had several of her friend text her the cactus emoji randomly the week before. She was so confused! After school one day he left a small flowering cactus on her front porch and just when she was wondering what on earth is going on, he walked up to her holding this sign. MISSION ACCOMPLISHED. Now we're going to prom!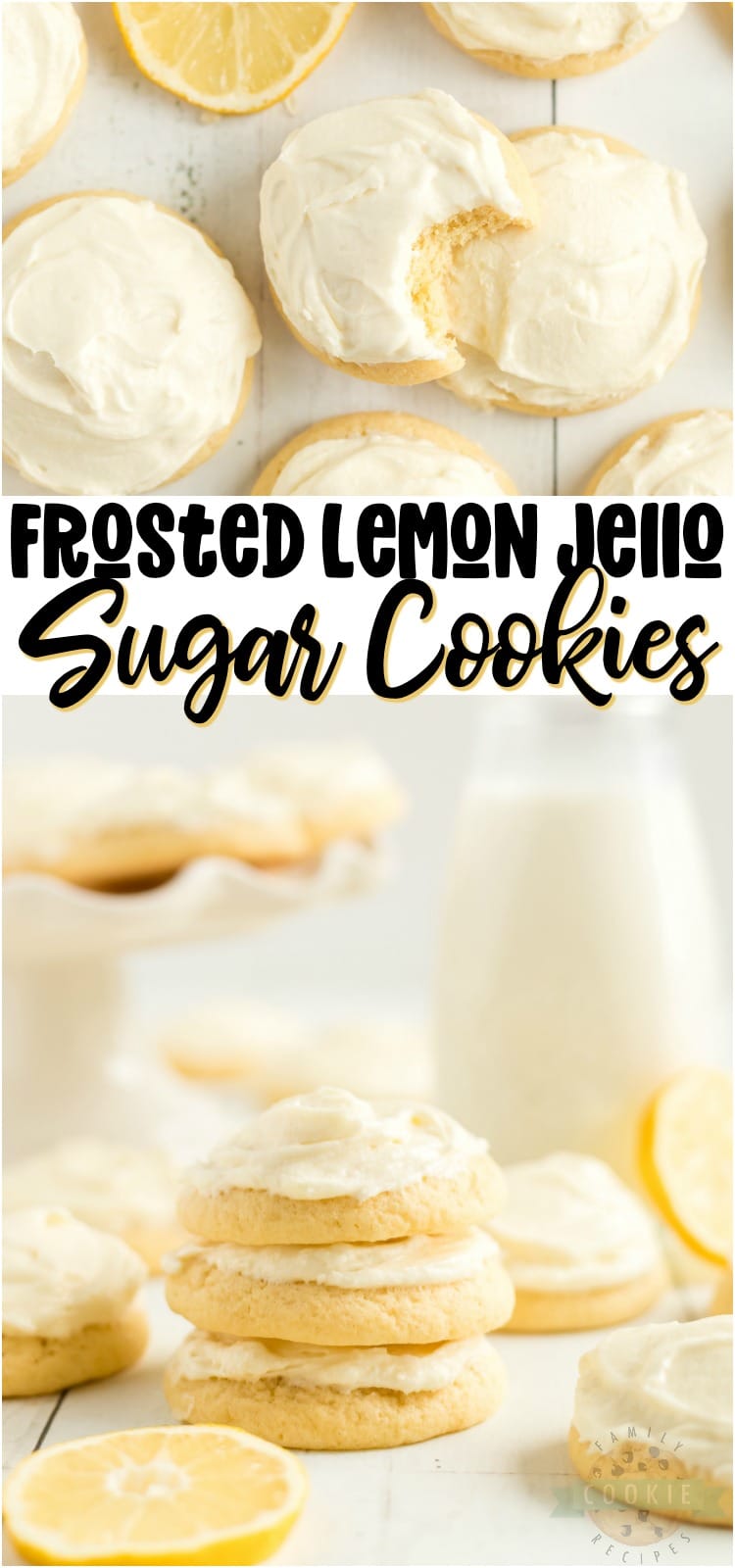 Lemon Jello Sugar Cookies are delicious cookies made with lemon jello! Easy sugar cookie recipe with a simple buttercream frosting perfect for lemon lovers.