Meyer Lemon Cookies with delicious citrus flavor topped with a sweet, tangy frosting. Frosted lemon cookie recipe made with simple ingredients for a bright, fresh treat!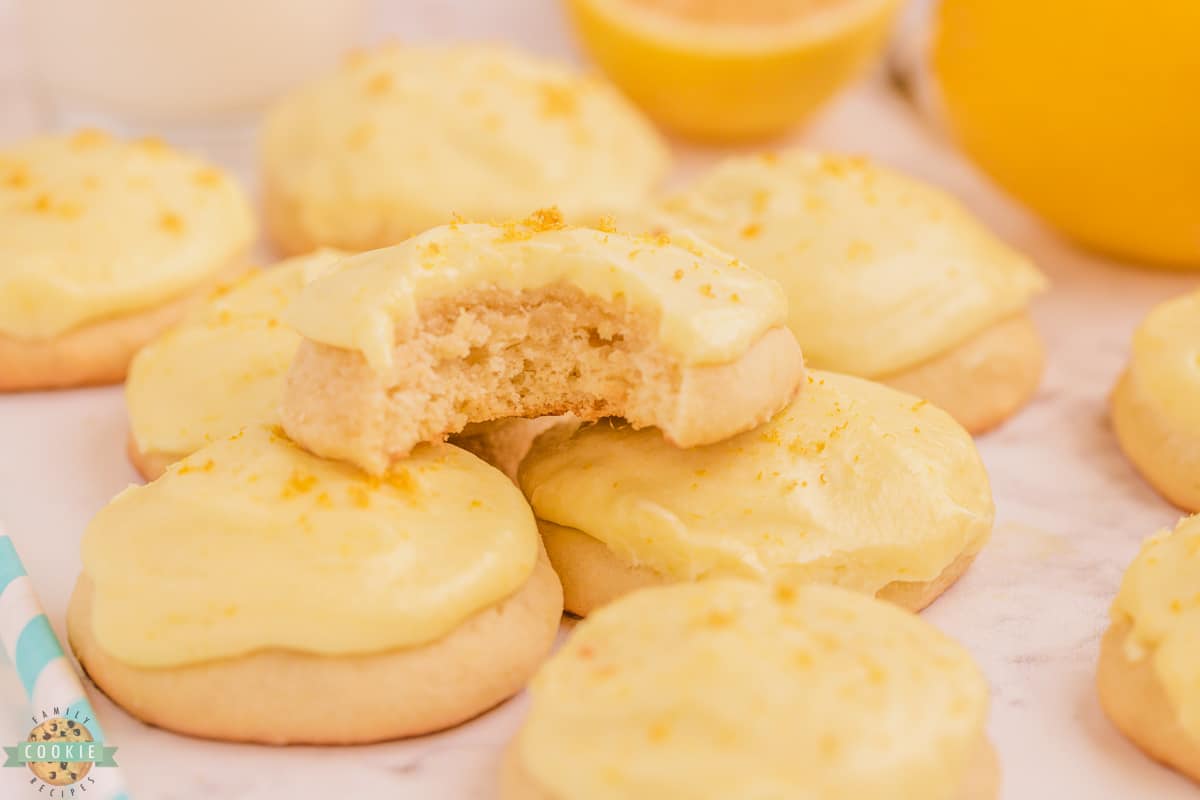 When you make this meyer lemon cookie recipe your taste buds will be surprised by the lovely mix of sugary and tart flavors. This homemade lemon cookie is a wonderful soft and buttery dessert that is great for so many occasions.
Lemon Cookies
This cookie recipe is a perfect treat to make when you are feeling the affects of the freezing winter days and nights, they are a welcomed ray of sunshine when needed the most. These lemon cookies are an amazing balance of fresh citrus flavor but not overly tart. They melt in your mouth and bring a bit of warmth and sunshine to an otherwise cold and gloomy season. It is a perfect recipe to use up those Meyer lemons from your tree, do not let them go to waste! Whip up a batch of these perfectly sweet and tangy treats and see what we mean!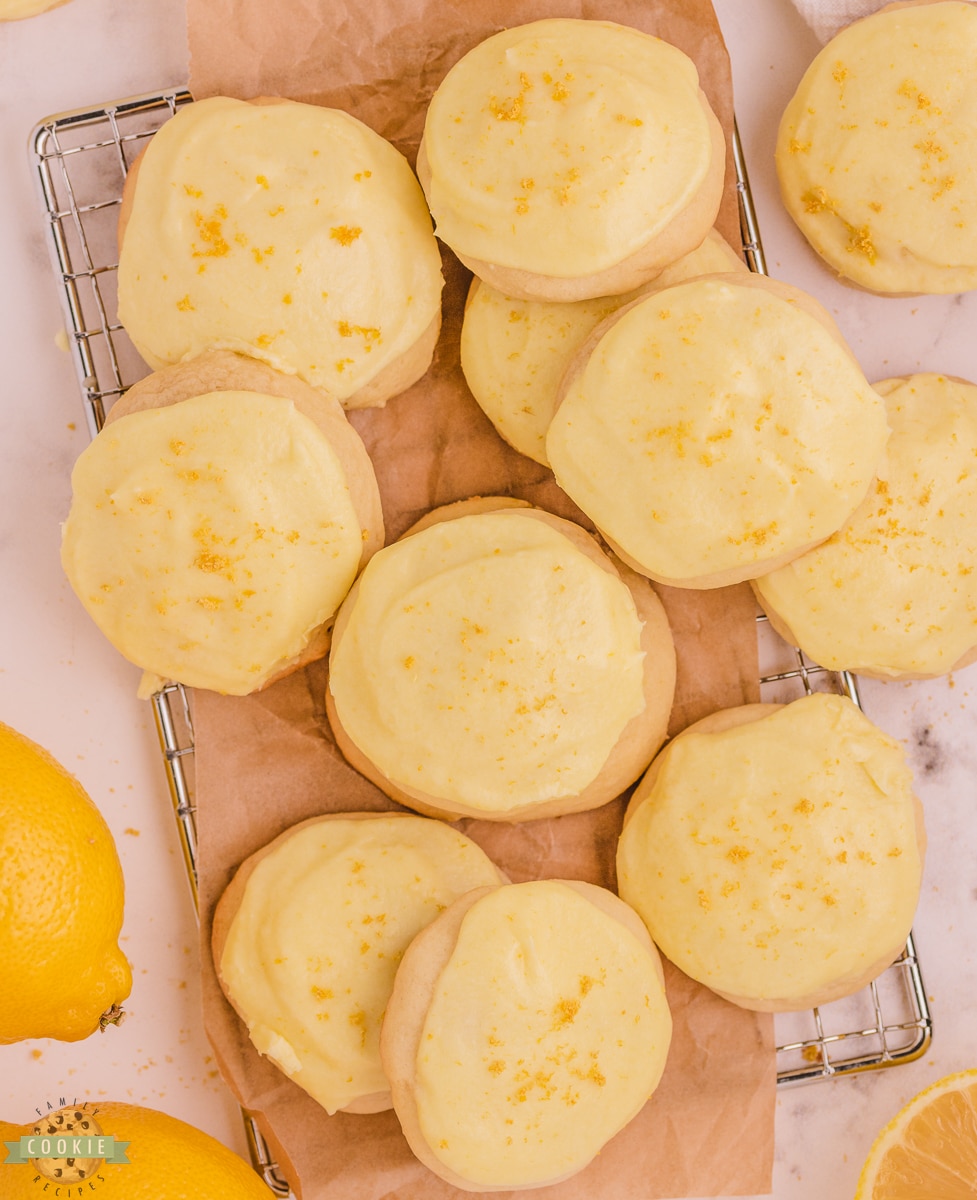 Meyer Lemon Cookie Ingredients
Cookie dough
-Sugar: You will need 1 cup sugar for a perfect balance of sweetness to the tangy lemon flavor.
-Butter: Using ¾ cup butter or butter flavored Crisco, will help make these cookies rich in flavor.
– Yogurt: Adding ¾ cup vanilla yogurt will give these cookies a wonderful moist texture.
-Egg: You need 1 egg for this recipe to help bind the dough together well.
-Flour: Use 2 ½ cup flour for the base of this cookie dough.
-Baking soda: You will need 1 tsp baking soda to help the cookie rise and puff up nicely.
-Lemon rind: Using 1-2 tsp Meyer Lemon rind (lemon zest) will give this dough a lovely burst of citrus flavor.
-Lemon juice: Adding the juice of 1 Meyer Lemon (about 2 tablespoons) will achieve the great flavor we are going for with this cookie recipe.
Lemon extract: You need 2 tsp Lemon extract to round out the amazing taste for this cookie.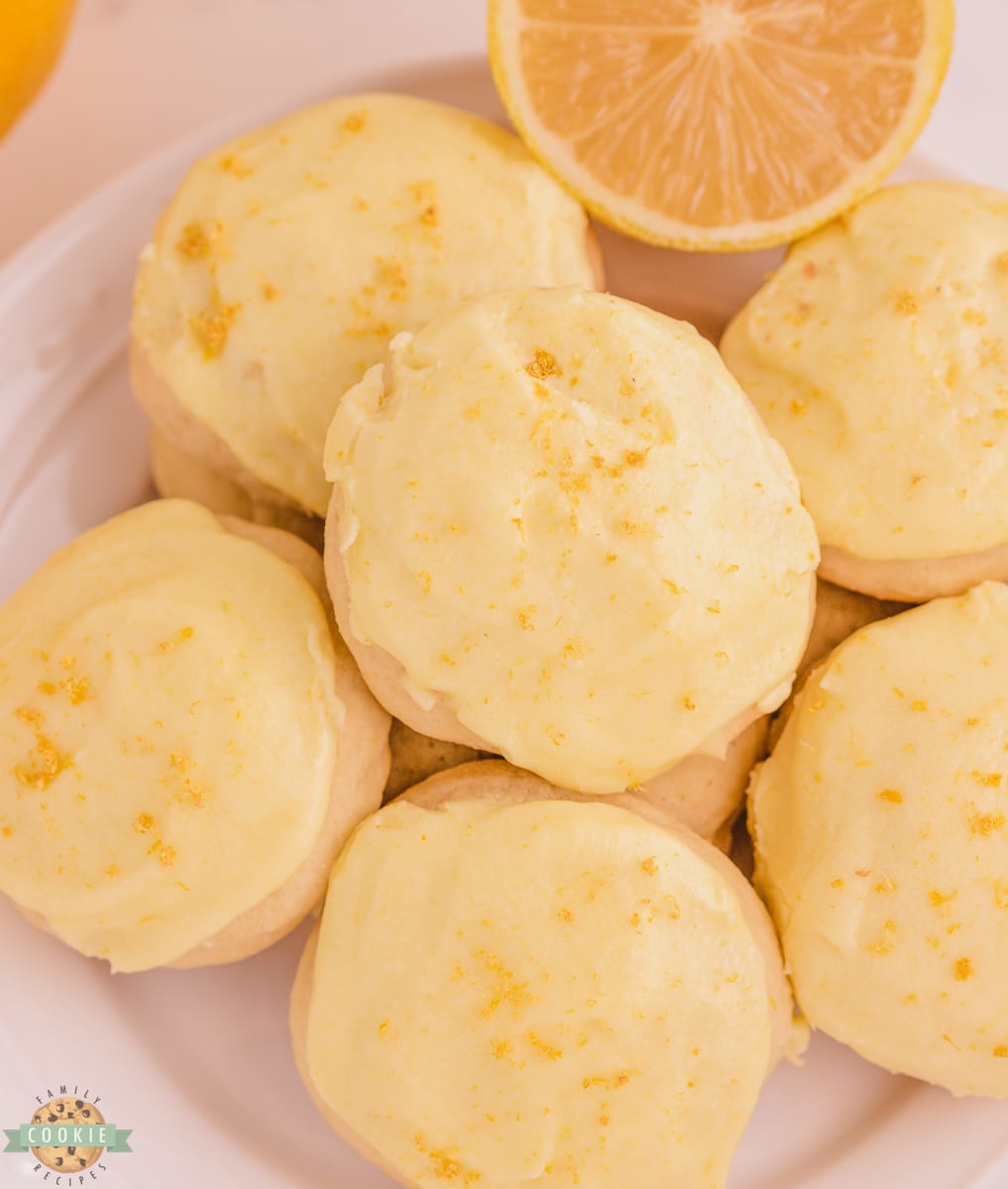 Frosting
-Butter: You need ⅓ cup butter for a creamy and delicious frosting.
-Powder sugar: Use 2 cups powdered sugar to help make the topping nice and sweet.
-Lemon rind: Adding 1-2 tsp grated Meyer lemon rind will add to are wonderful cookie flavor.
-Lemon Juice: You will need the juice of 1 Meyer Lemon (about 2 tablespoons) to help achieve the frosting consistency perfect for the cookie topping.
-Lemon extract: Using 1 tsp Lemon extract is a perfect amount for this frosting recipe.
-Milk: You will want to use 2-4 tbsp milk for a great creamy texture.
-Food coloring: To fancy this cookie up, you can use 1-2 drops yellow food coloring, the final result will be amazing.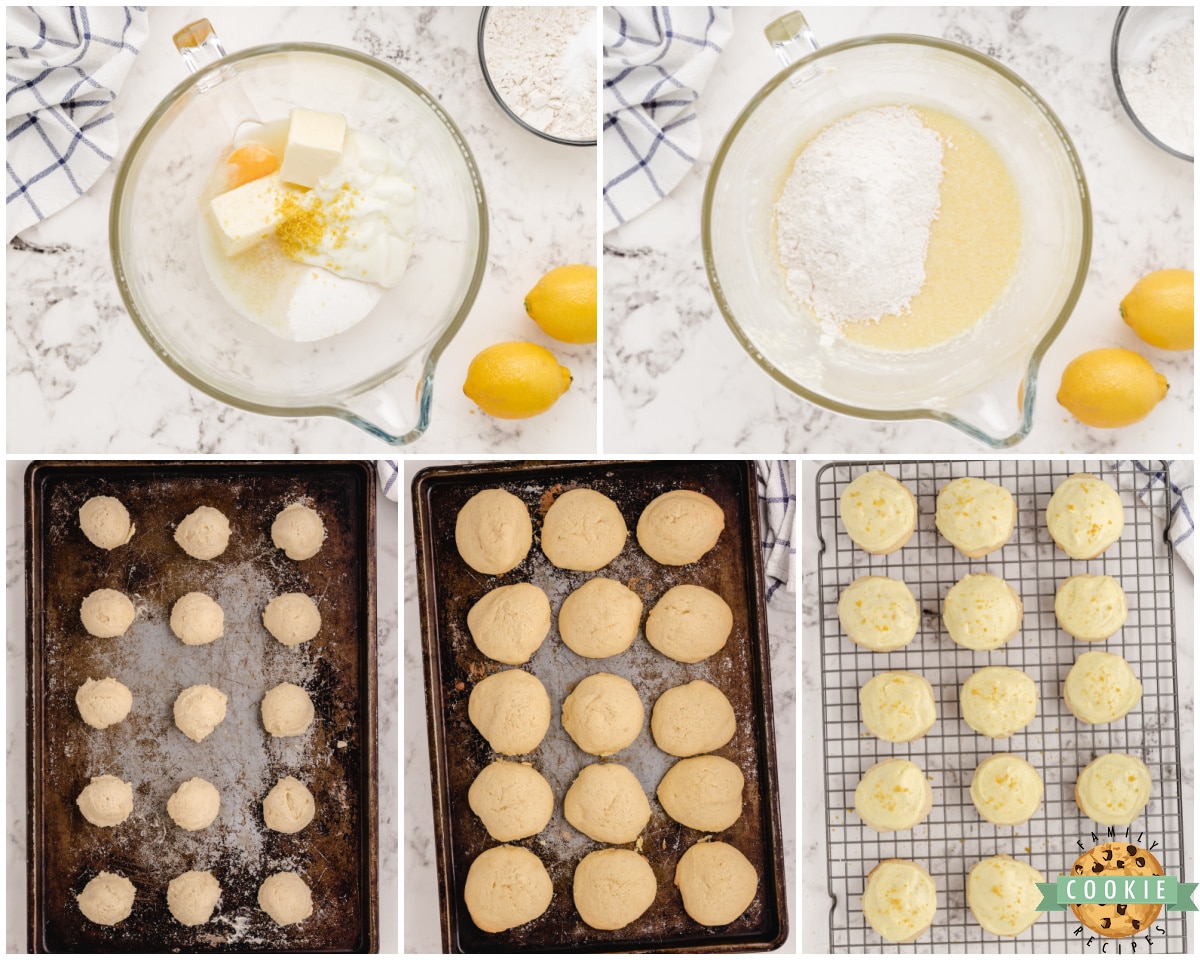 Step by step on how to make Lemon Cookies
Prep
Start by preheating your oven to 375 degrees.
Then, line a baking sheet with parchment paper or spray with non-stick cooking spray. Set aside.
Cookie dough
Next, in a large mixing bowl combine the sugar, lemon juice, zest, extract, the 3/4 cup butter, yogurt and egg. Beat with a mixer until well blended.
Then, add the flour and baking soda to form soft dough. Mix to combine, be careful not to overmix. Just until the flour is fully combined.
After that, refrigerate the dough for about 20 minutes so that it is easier to roll the cookies into a ball. You can skip this step, but note the dough will be sticky.
Once you are ready, start rolling the cookie dough into 1-inch balls and place on your prepared baking sheets.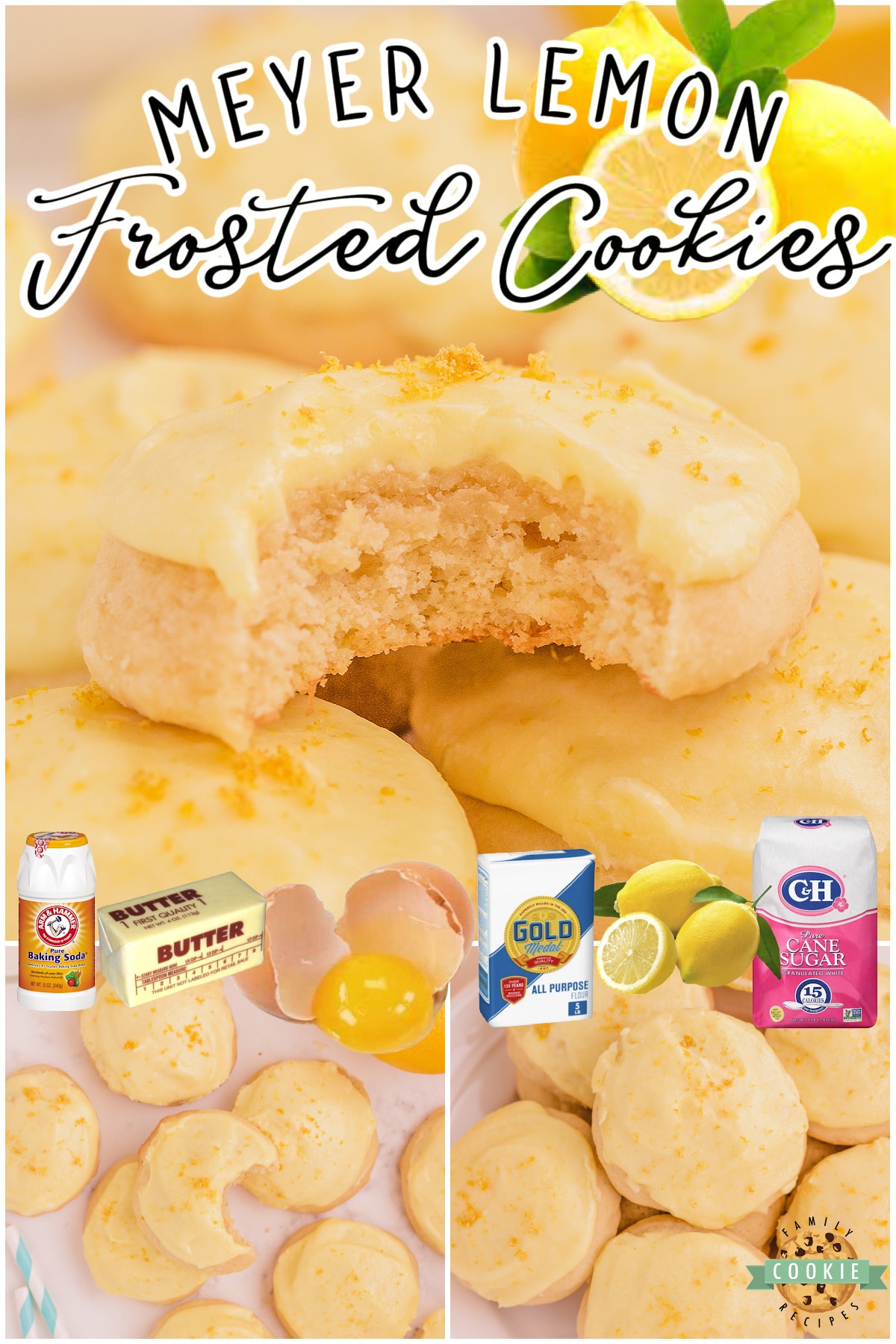 Bake
Place your cookie sheets in the oven and bake for 8-10 minutes. The cookies do not spread much at all, so I ended up baking about 20 on a tray!
When baking is complete, remove from the tray immediately and place on cooling rack.
Making the frosting
In a medium sized bowl, mix together the butter, powder sugar, the lemon ride, juice, extract, and milk with an electric handheld mixer until completely smooth.
If you want to add food coloring, add and mix again until fully combined.
Spoon the frosting onto the tops of the cooled cookies and spread out evenly. Top with sprinkles if desired.
Serve and enjoy!
What is the difference between a Meyer lemon and regular lemon?
While Meyer lemons and regular lemons can be used interchangeably in recipes, there are some important differences to note. Meyer lemons are smaller and sweeter than the average lemon. Because Meyers are less tart, recipes turn out sweeter and this is one of the leading reasons why they are the ideal lemon in a lemon dessert recipe.
Why is there lemon juice and extract in these cookies?
With lemon zest, lemon juice, and lemon extract you'd think that would be a lemony overkill, but it's not. Because of the sweet Meyer lemons, we get the sweet fresh lemon taste and sourness through the juice and the zest. With the lemon extract, we're able to amplify the lemon flavor without amplifying the lemon sourness. Together all three work together to create a wonderful symphony of flavors that work well in these lemon cookies.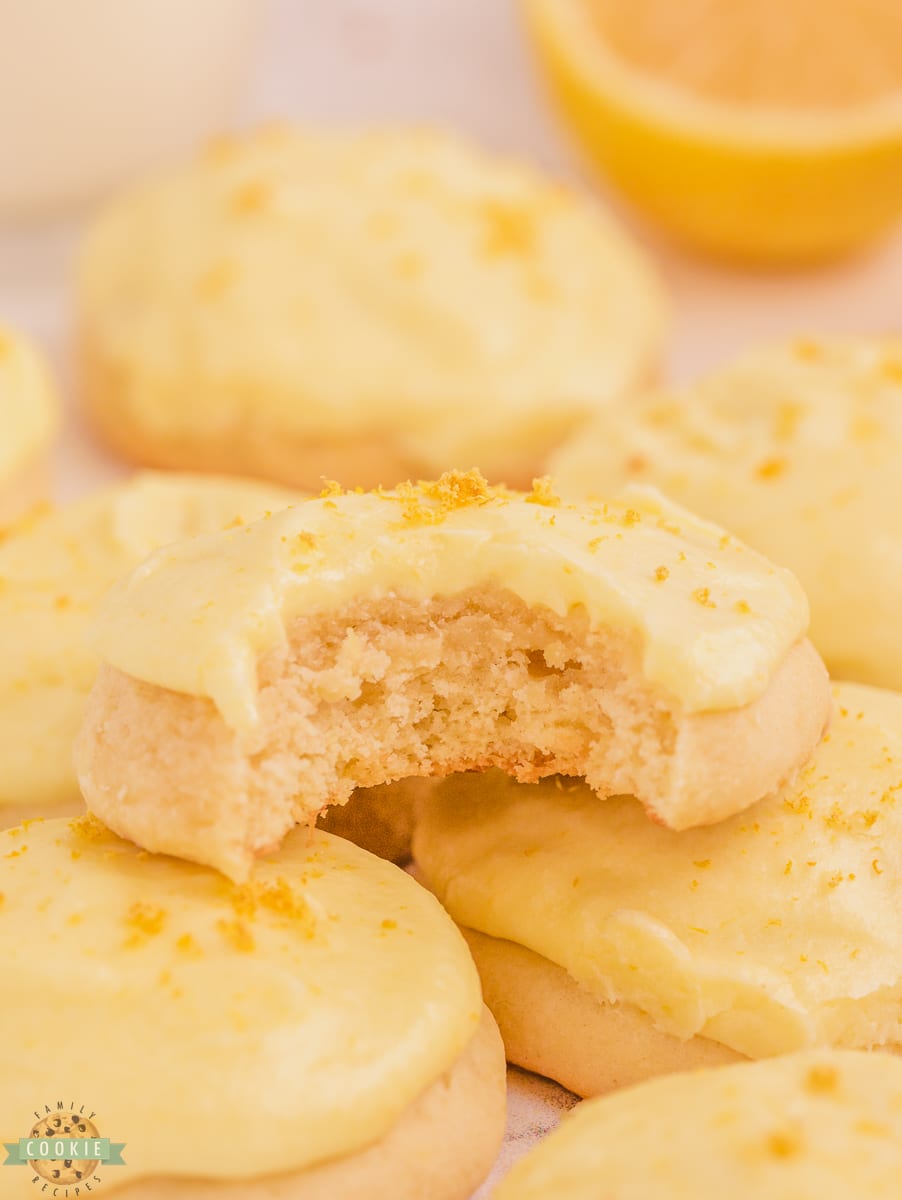 How long will these cookies last?
For freshness and best-tasting quality, I recommend eating these cookies within 5 days. Anything longer than that may result in stale cookies. Remember to keep them in an airtight container to keep them fresher longer.

Whenever we're tired of the cold & snow we drive down South and enjoy the nearly year-round warmth! Well, it feels warm to us. Ha! This is a gas station we always stop at. After stopping there for so many years, it's become tradition! It's a large, clean gas station with great snacks and… an elk statue outside. Actually, this is one of a few statues outside. Fun!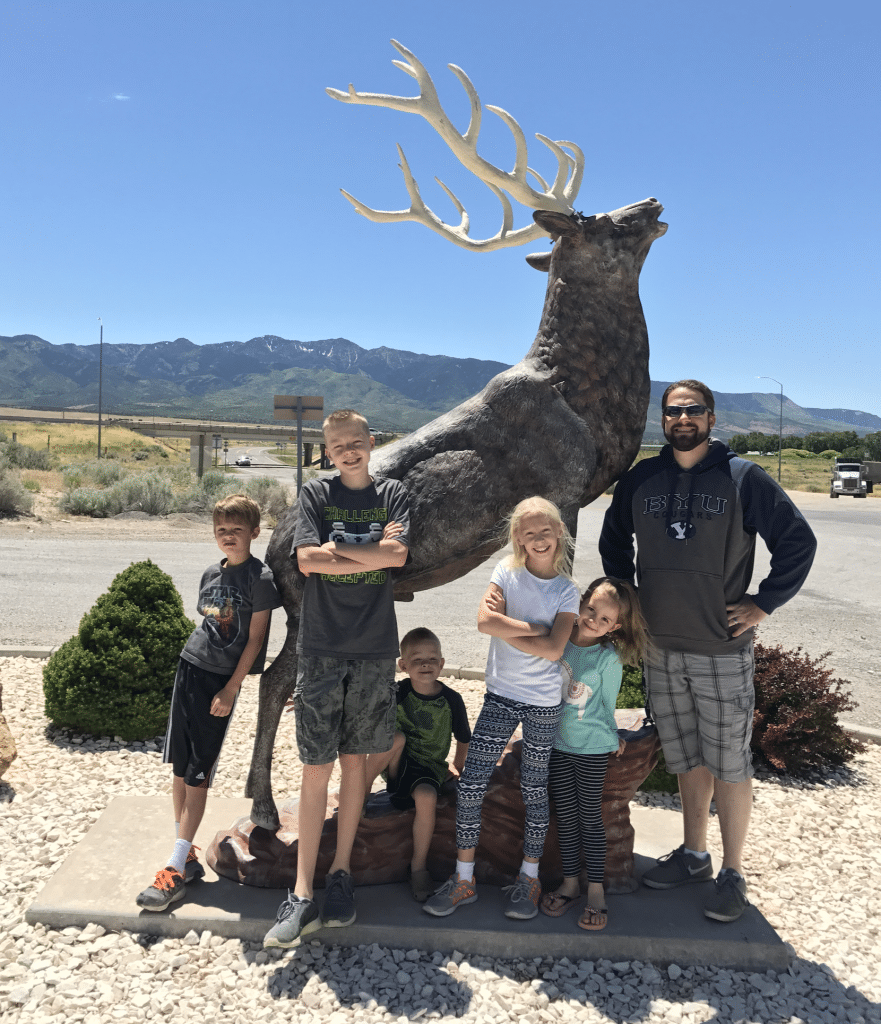 If you like these lemon cookies, check out these other amazing lemon recipes!
If you are looking for an amazing sweet and tart frosted lemon cookie, look no further than these Frosted Meyer Lemon Cookies. They will be a huge hit in your house!