Popsicle Sugar Cookies are fun & tasty summer treat! Homemade sugar cookies cut into popsicle shapes & topped with royal icing everyone loves!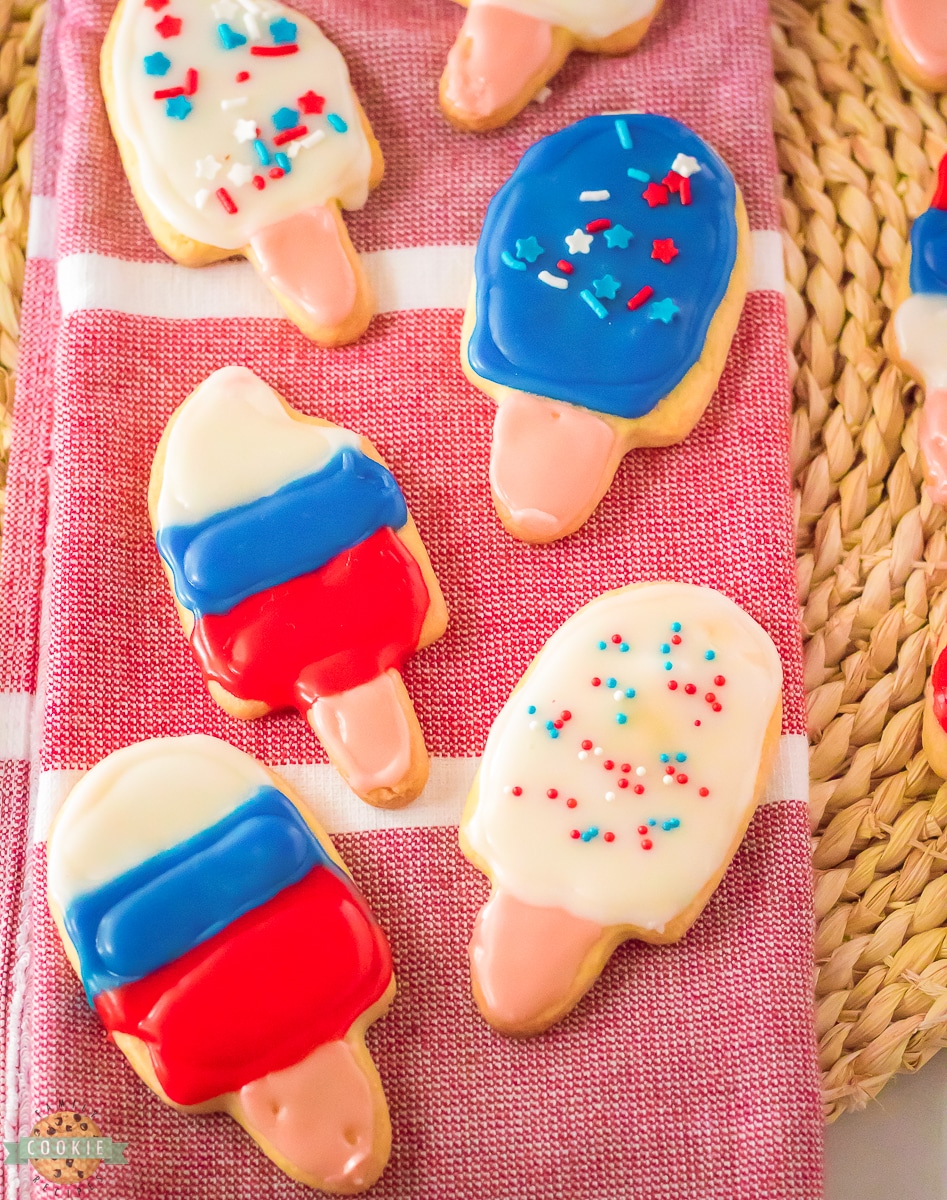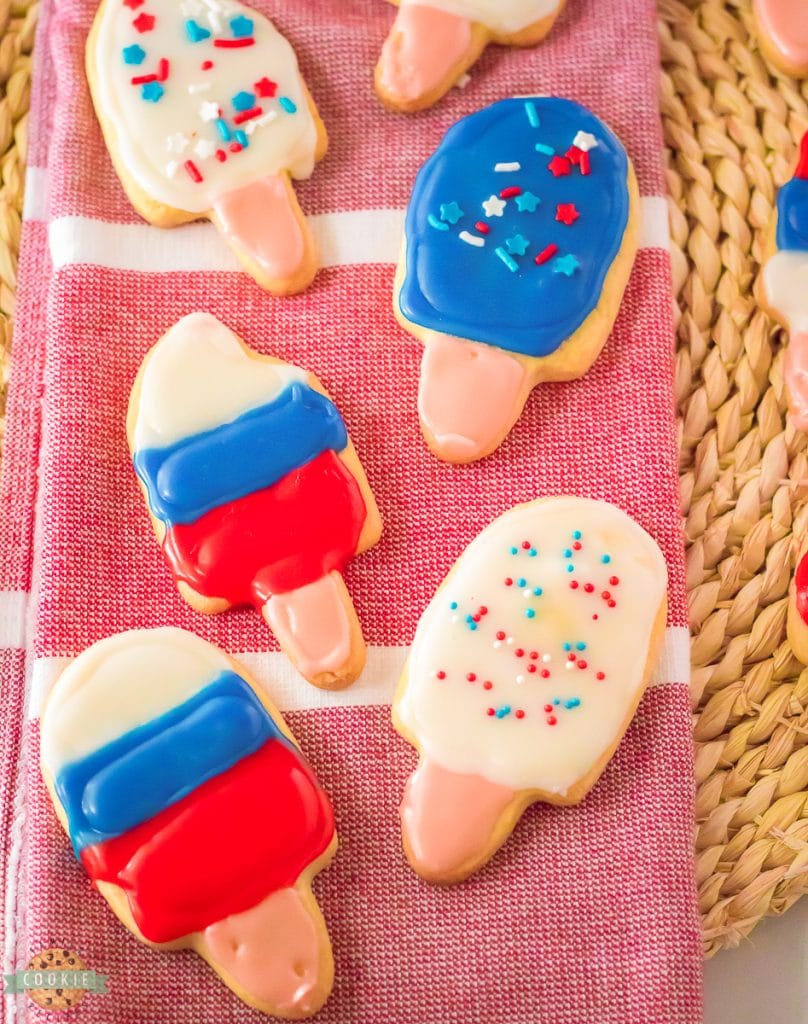 When you make these popsicle shaped sugar cookies you are sure to have everyone commenting on just how cute they are. This sugar cookie popsicles treat is great for serving during a summer pool party, kid birthday parties, or just a casual summer gathering.
What are Popsicle Sugar Cookies?
This fun sugar cookie shaped as a popsicle is a fun summer time treat that makes any gathering or event extra special. I love these sugar cookies, they are so adorable and perfect for the summer holidays. A simple sugar cookie that comes out perfect every time. Adding a quick royal icing and sprinkles makes them bright and colorful. These cookies are always a huge hit! These cookies do need to be chilled for a short period, but they are definitely worth the extra wait time.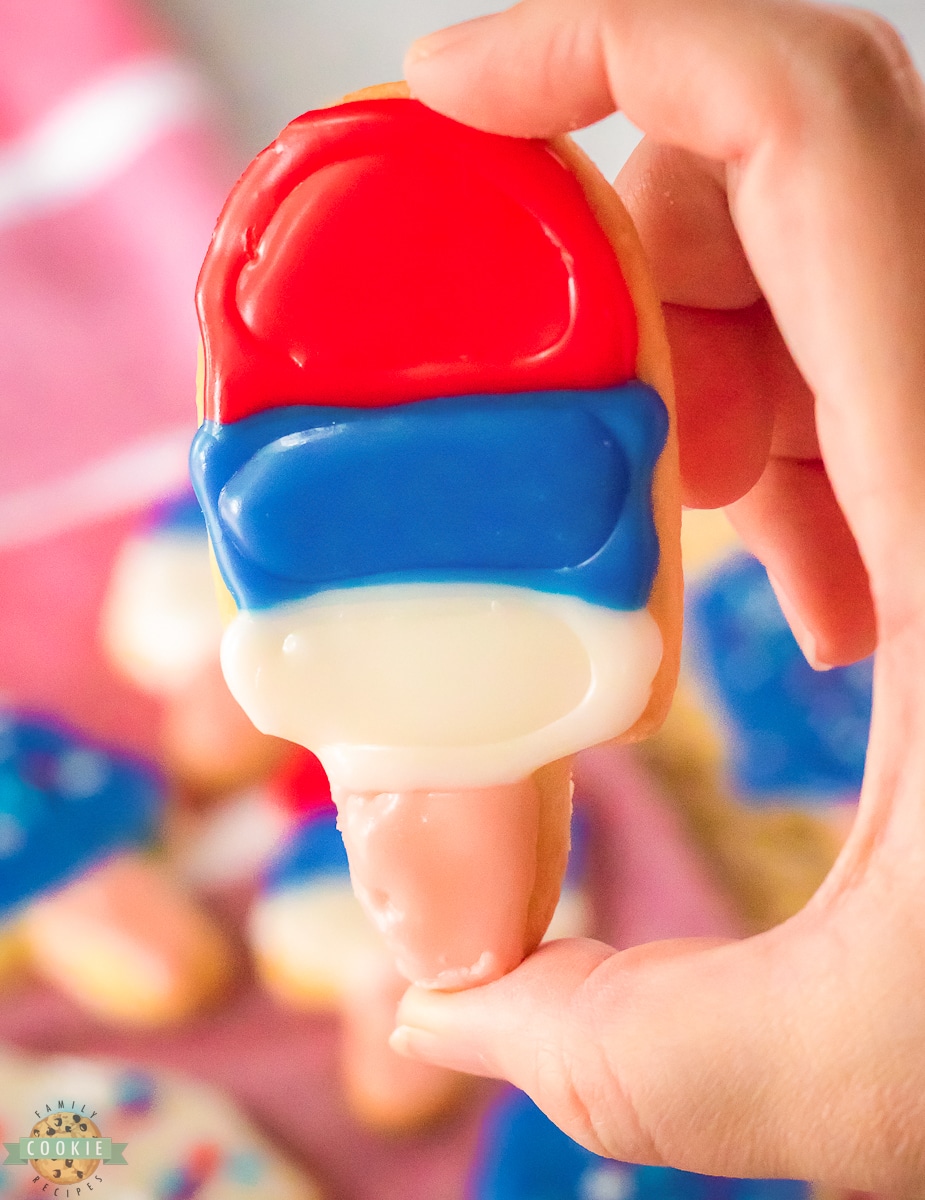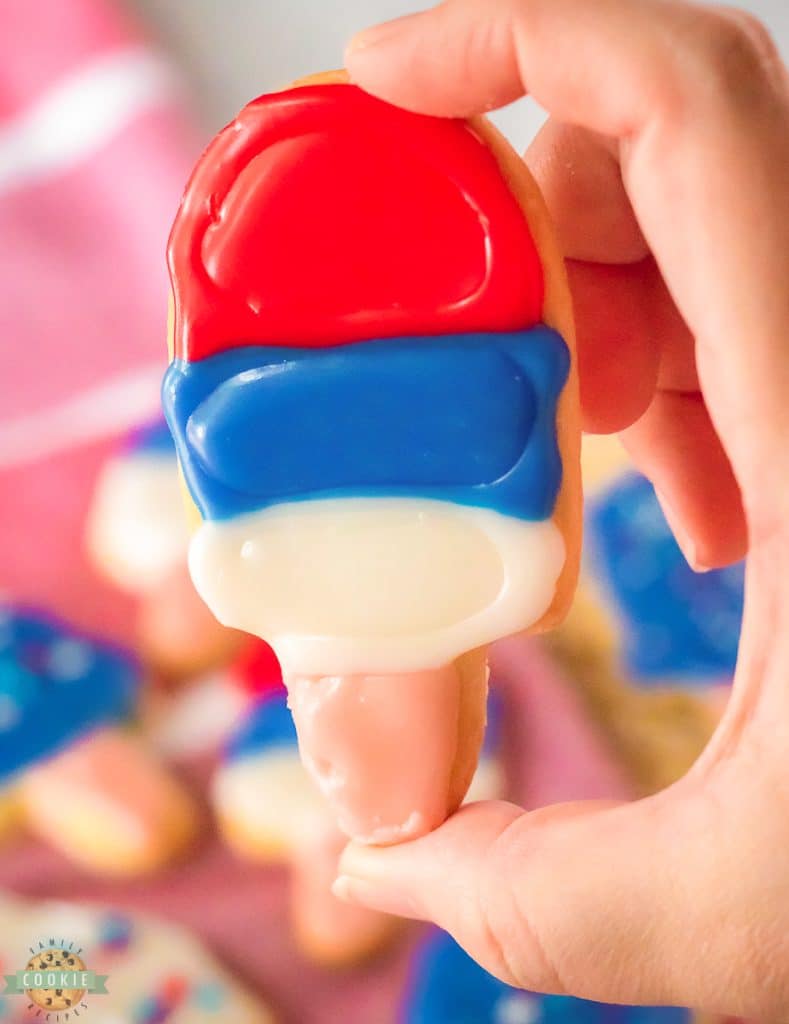 Why we think you should try these summertime cookies today!
If you need more reasons to give these sensational sugar cookies a try, here are a few more to convince you.
Simple ingredients. These cookies come together easily with basic ingredients that are most likely already in your kitchen. You do not have to make a special trip to the store for supplies, you can whip these up easily at any time!
Cute and unique. This recipe is not one you see everyday, but it is OH So delicious! The soft sugar cookie with the sweet royal frosting makes for a lovely cookie combination.
Fun for the whole family. Making this popsicle shaped cookie can be a family affair. After the sugar cookie base is made and it is time for the icing, get the kids involved for the decorating fun!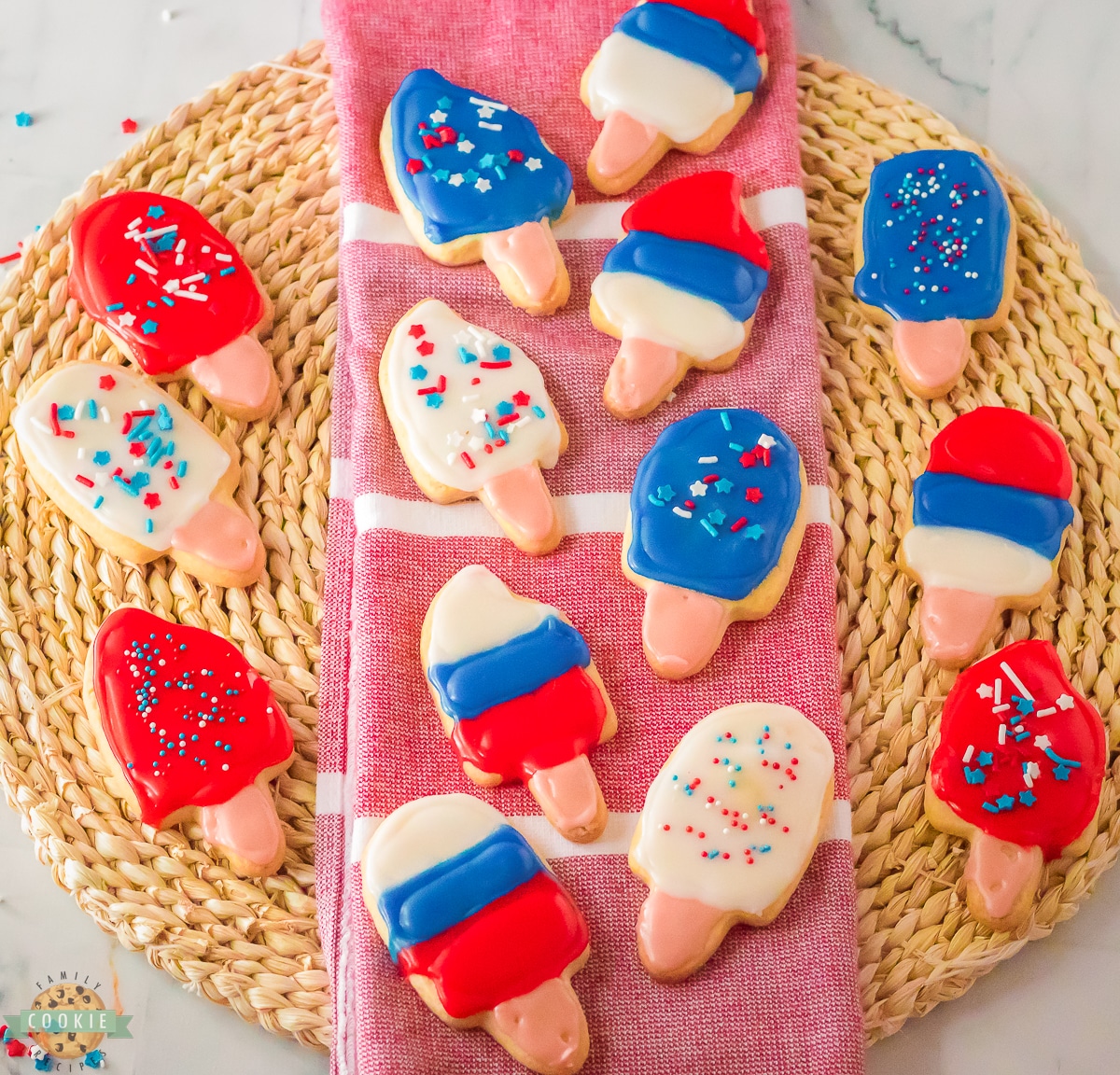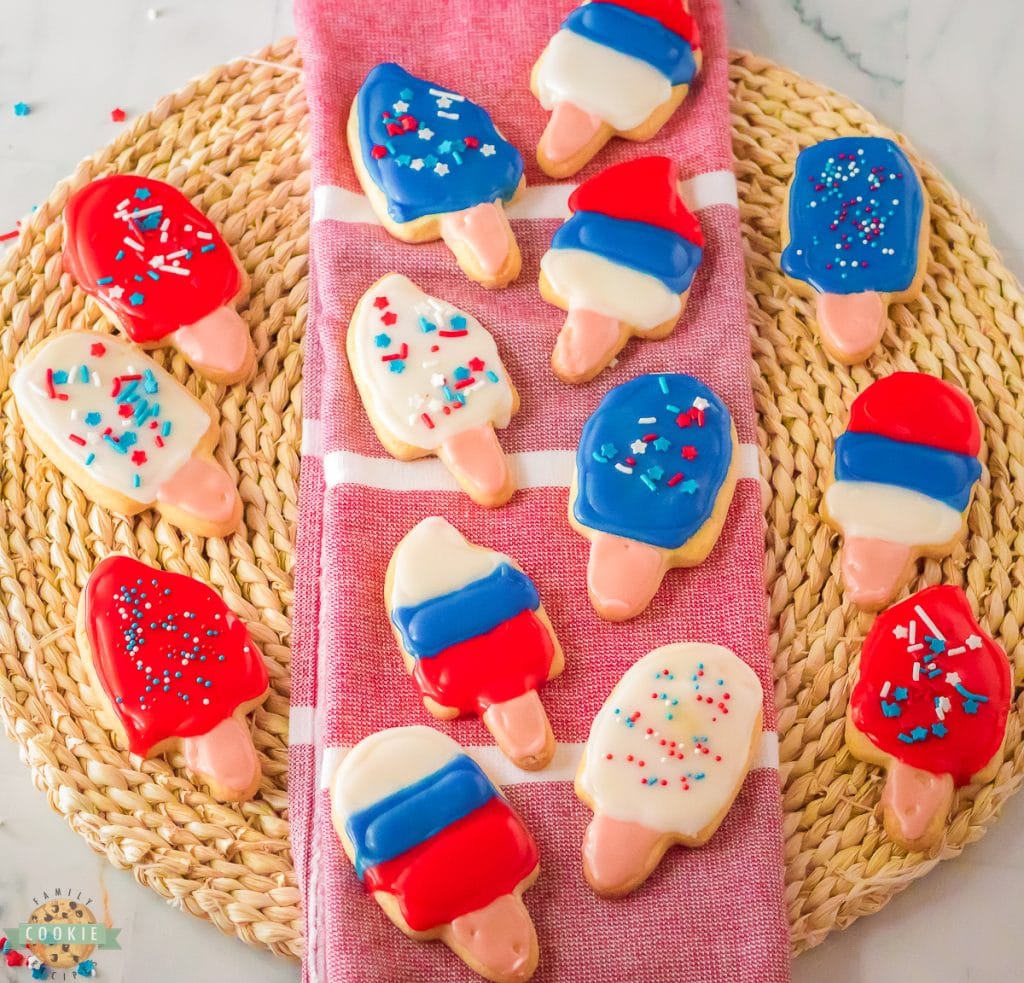 Popsicle Cookie Ingredients
Sugar Cookie
Butter: You will need 1 1/4 cups of unsalted butter, softened, for a nice rich and flavorful cookie.
Sugar: Adding in 1 1/4 cups of white sugar gives just the right amount of sweetness to this treat.
Eggs: Use 2 eggs to create a wonderful cookie texture.
Vanilla extract: To help enhance the flavors in this cookie, add in 2 teaspoons of vanilla extract.
Salt: Add 1/2 teaspoon of salt to help balance the sweet flavors in this lovely cookie treat.
Flour: You need 4 cups of flour, divided, for the base of this cookie recipe.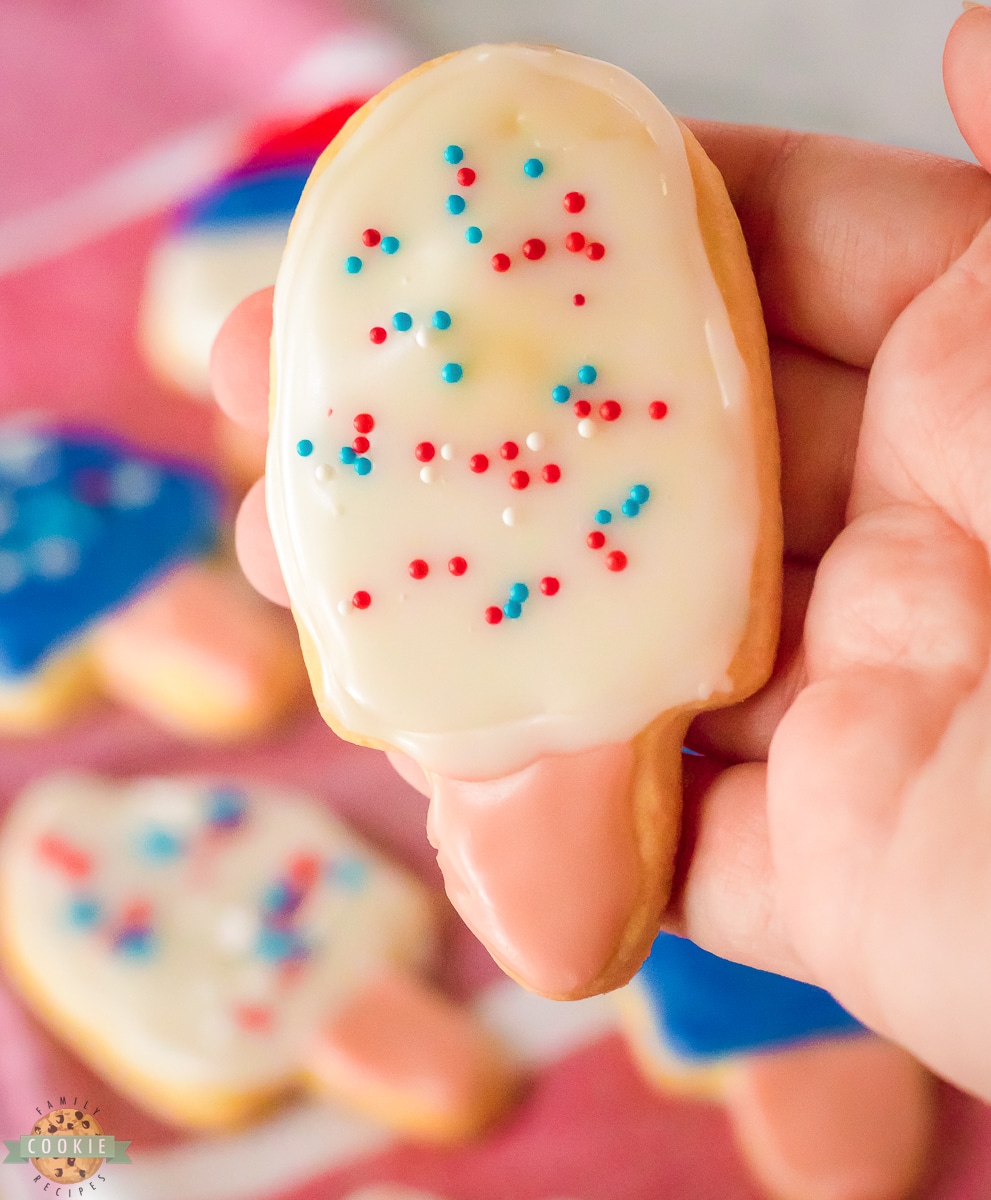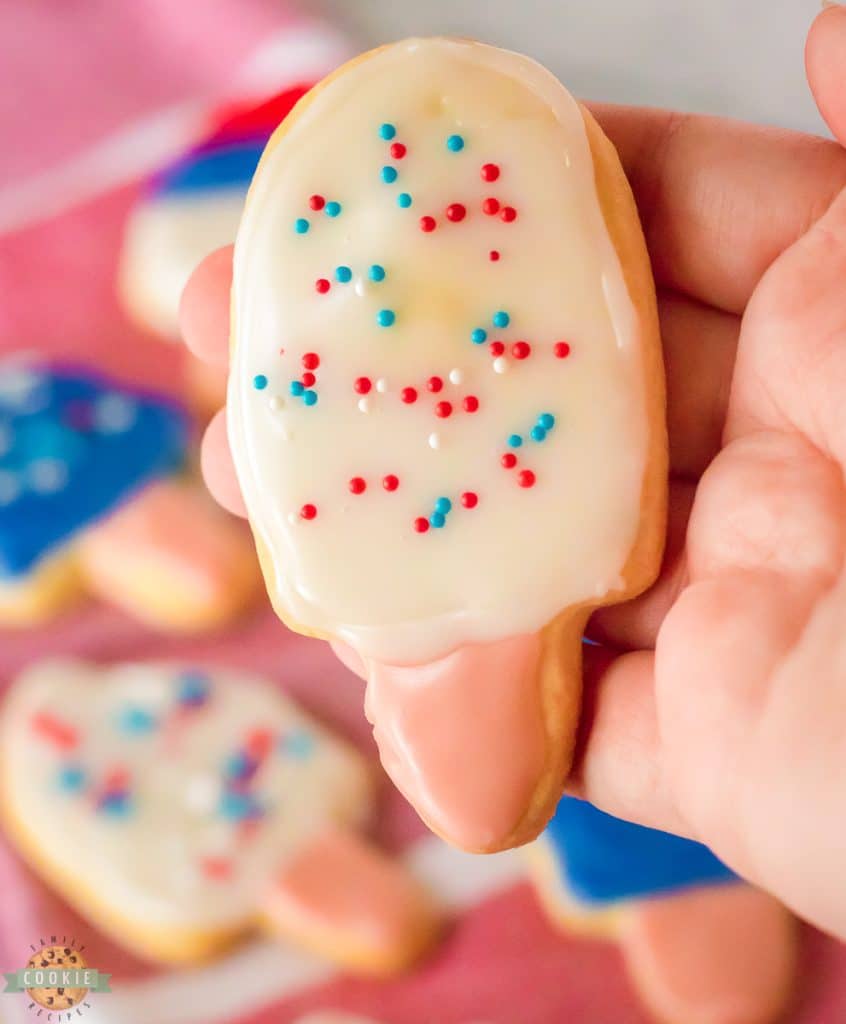 Icing
Powder sugar: Use 6 cups of powdered sugar for the frosting. The actual amount of sugar needed will vary based on the desired consistency of the frosting.
Water: Add in ¼ cup of water to help make the icing a smooth texture.
Corn syrup: You need 3 tablespoons of light corn syrup to add amazing flavor to this icing.
Food coloring: Grab the Red, blue and tan food coloring to create the fun popsicle cookie theme.
Sprinkles: You will want to use your favorite colored sprinkles, whatever you have on hand that is colorful and fun.
Equipment
Cookie cutter: For this fun summer time themed cookie, you will want a popsicle shaped cookie cutter.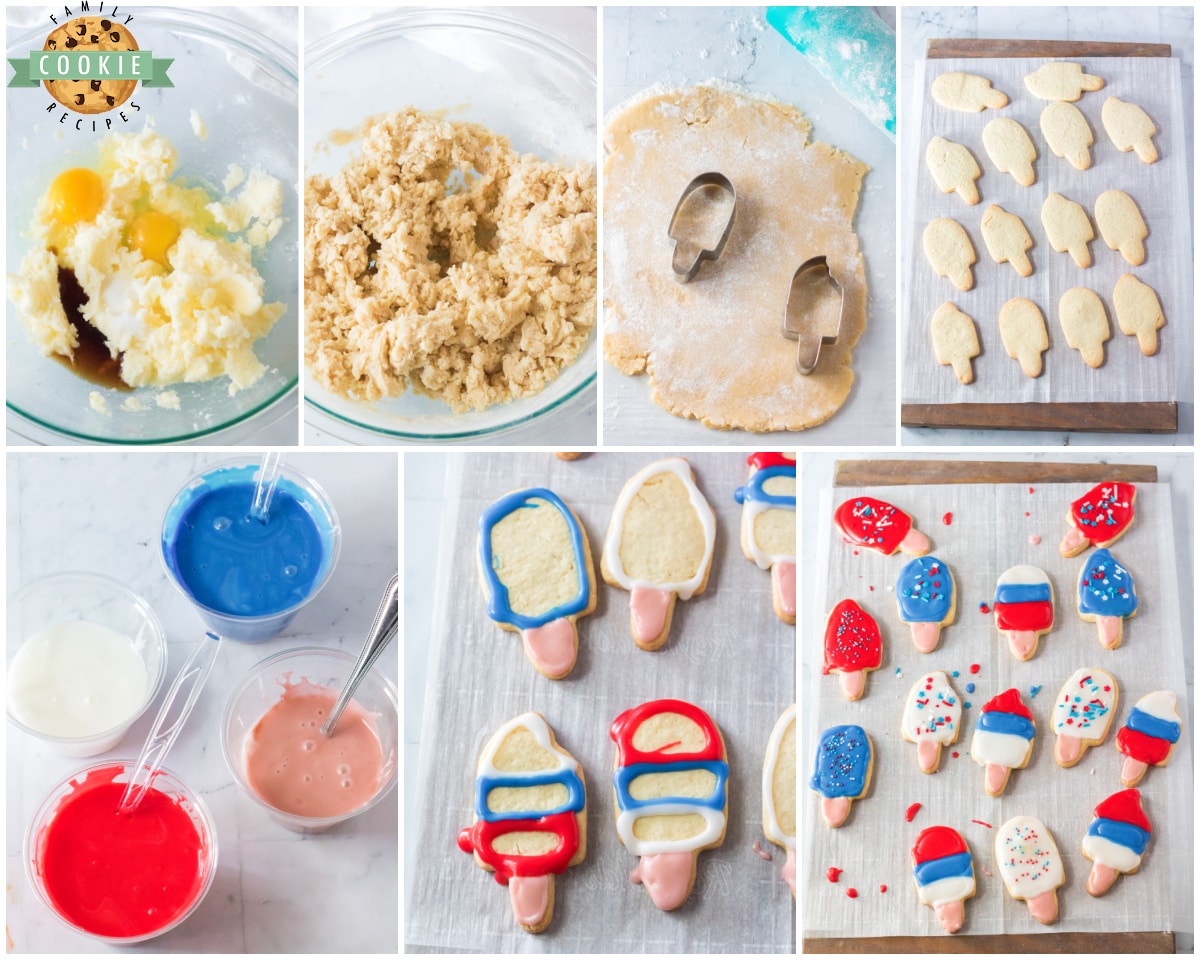 How to make Popsicle Sugar Cookies
Cookie Dough
In a large bowl, using an electric mixer, beat the sugar and softened butter until light and fluffy. Next, add in the eggs, vanilla extract and salt. Mix ingredients until well combined.
Then, gradually add in 3 ½ cups of flour. Stir flour until no white streaks are shown, be careful not to overmix.
Once the dough is combined, form it into a large ball and wrap in plastic wrap. Place it in the fridge for at least an hour to chill.
Bake
When you are ready to roll out and bake the cookies, start preheating the oven to 350° degrees. Then, line baking sheets with parchment paper and set aside.
Next, sprinkle a clean countertop with the remaining flour and roll out the dough to about a ¼ inch thick.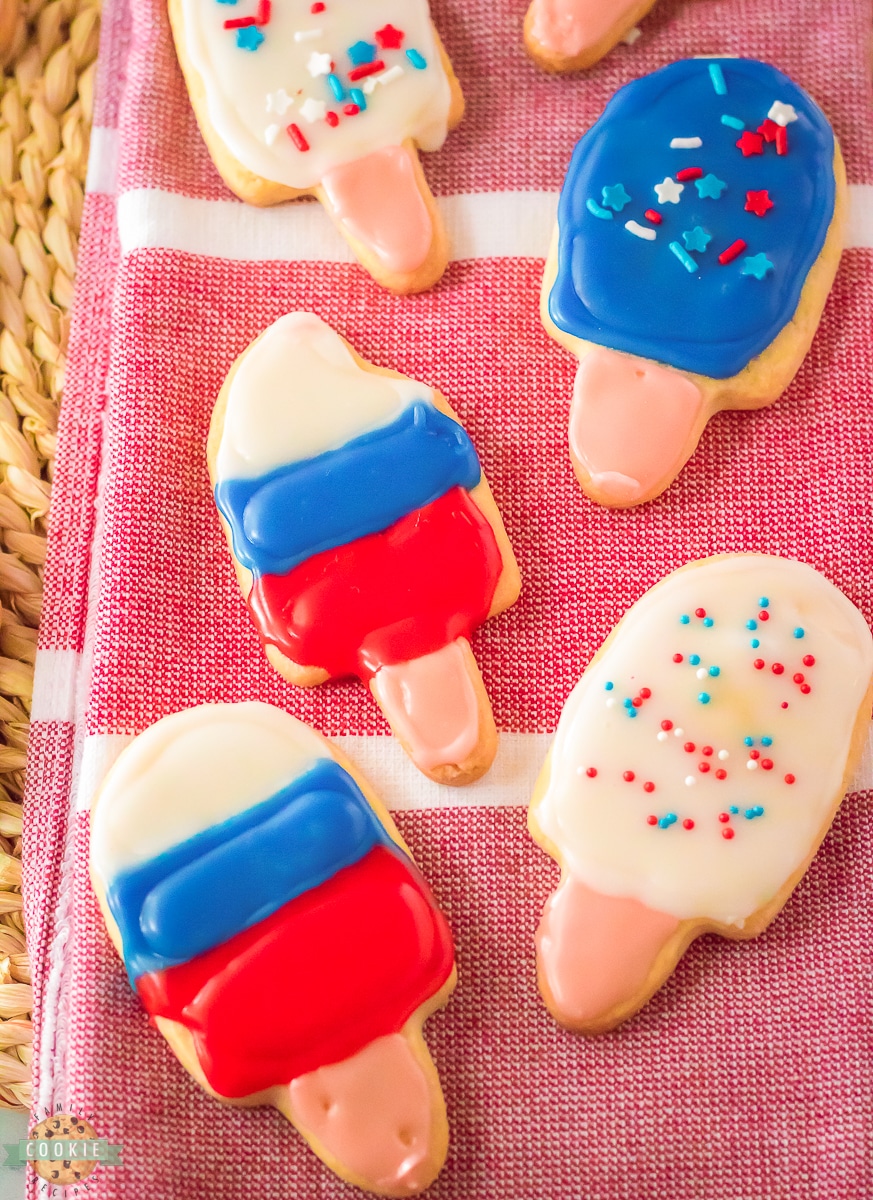 After that, use your popsicle cookie cutters and cut out the cookies, collecting the dough and re-rolling it as needed.
Place the cookies on prepared baking sheet and bake for 12 minutes or until the edges are just golden. Remove from oven and let cool before icing the cookies.
Red, White and Blue Royal icing
In a large bowl, whisk the powdered sugar, corn syrup and water until combined.
Then, separate the icing into 4 cups and color one blue, one red, one tan and leave one white. Transfer the icing to 4 little ziplocked bags and snip off a tiny corner.
Proceed to pipe around the edges of your cookies and the edges of the designs. Once the edges slightly set (5-10 minutes) you can use the icing to fill in the cookies. I like to use a toothpick to help spread the icing. Immediately top with sprinkles if you like.
Let the cookies set up for about an hour and enjoy!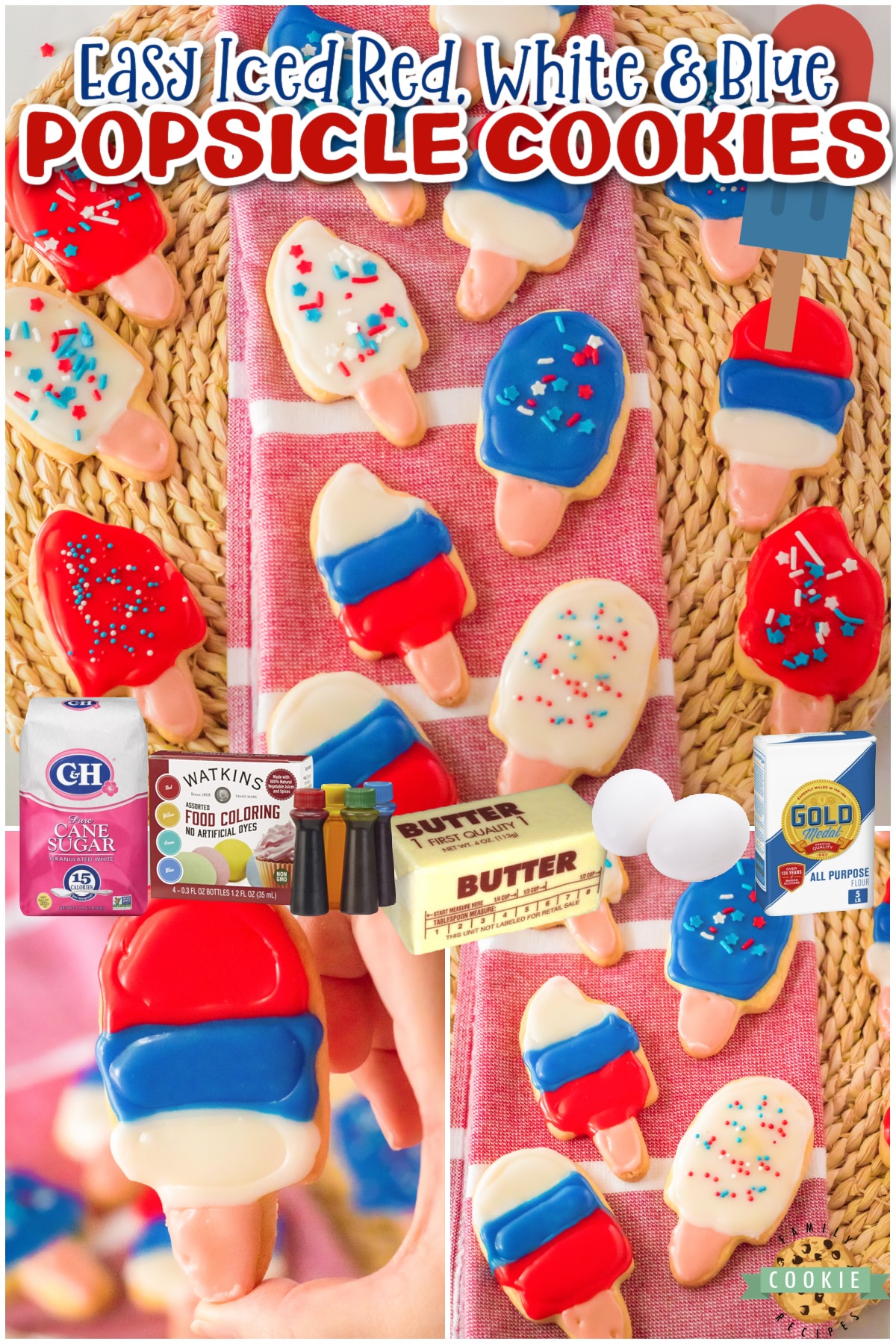 Tips and Tricks for Popsicle Cookies
Here are a few additional helpful tips to make these the best cookies of the season!
You can flavor the icing if you like but make sure you are using a clear flavoring or else you won't have such a bright white.
I used a gel food coloring to get the vibrant colors.
You can use an flavoring for the cookies themselves, I love lemon but you can use almond or even cotton candy!
Do I have to chill the cookie dough?
When recipes request that you chill your cookie dough it is usually for a good reason. That reason is that the flavor gets a bit more time to develop and the cookies taste even more incredible. But the biggest reason is because of the butter/fats in the dough. By chilling the dough we allow the fats to solidify which means your cookies will not spread out as much while baking, so the texture turns out perfectly. This is especially important on warmer days or when your butter is warm or softened.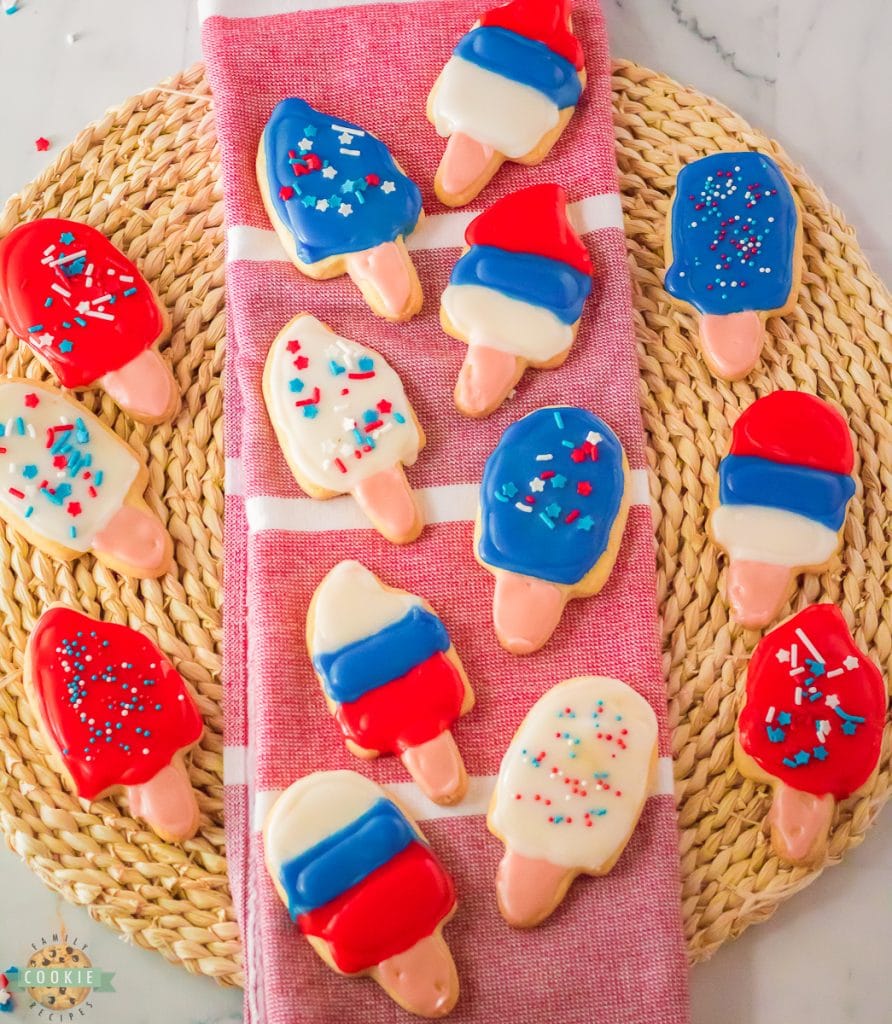 Can I freeze frosted cookies?
These cookies are great for freezing for later but I recommend waiting to frost them until after the cookies have thawed. If you frost the cookies before freezing the storage becomes harder with layers of baking paper to prevent sticking and the icing may melt or sweat as they thaw, looking less appetizing in the process.
How long are these frosted cookies good for?
These cookies can be kept stored in an airtight container for up to 3-5 days. To keep the cookies nice and chewy I recommend keeping them stored in the fridge.


My oldest two were never really into sports, which is kind of nice because my youngest 3 MORE than make up for them! We are constantly watching games & meets, driving to practices, tournaments, competitions… you get the idea. Sometimes the older ones will tag along to cheer on and support the younger ones. Like this day! She's got a cozy spot watching the 7 on 7 football tournament. I love seeing my kids cheer each other on!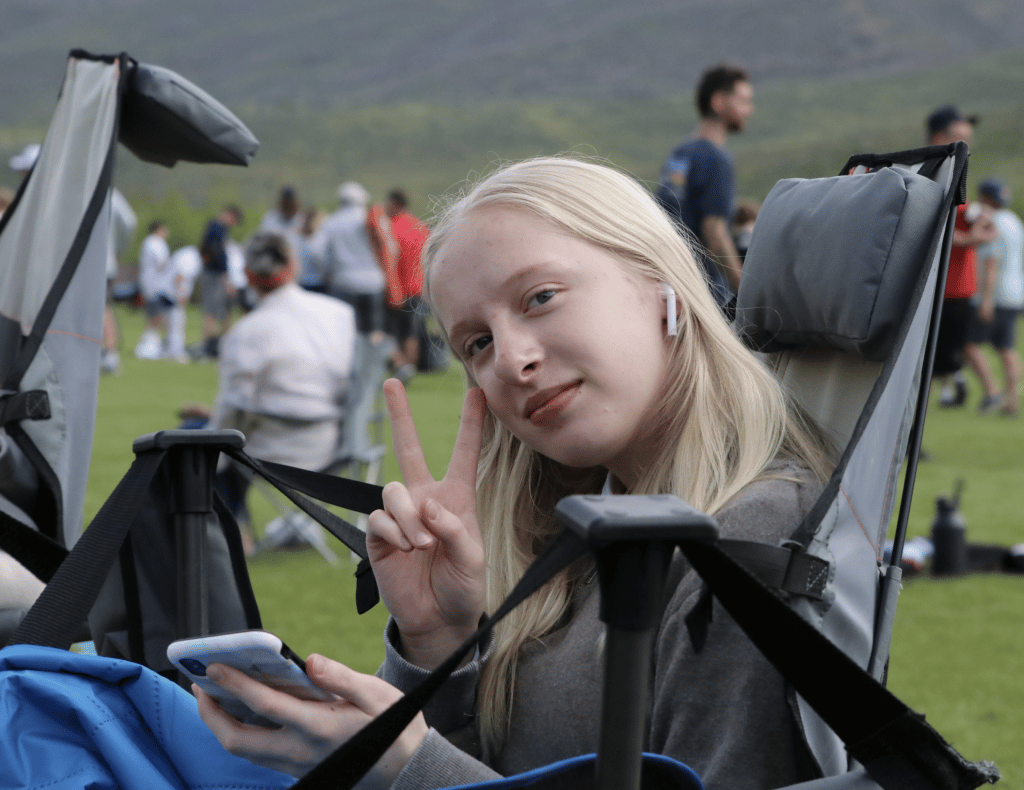 If you are a cookie lover, try more amazing recipes here!
Popsicle Sugar Cookies are a delightful and festive treat to serve during the summer months at any party or event! These summer time cookies are made with basic ingredients and the results are delicious cookies that are as fun to look at as they are to eat.