Smores Chocolate Chip Cookies are a delightful twist on a classic treat! These chocolate chip smore cookies are made with marshmallow bits, rich chocolate chips and soft cookie dough to create a perfectly sweet treat.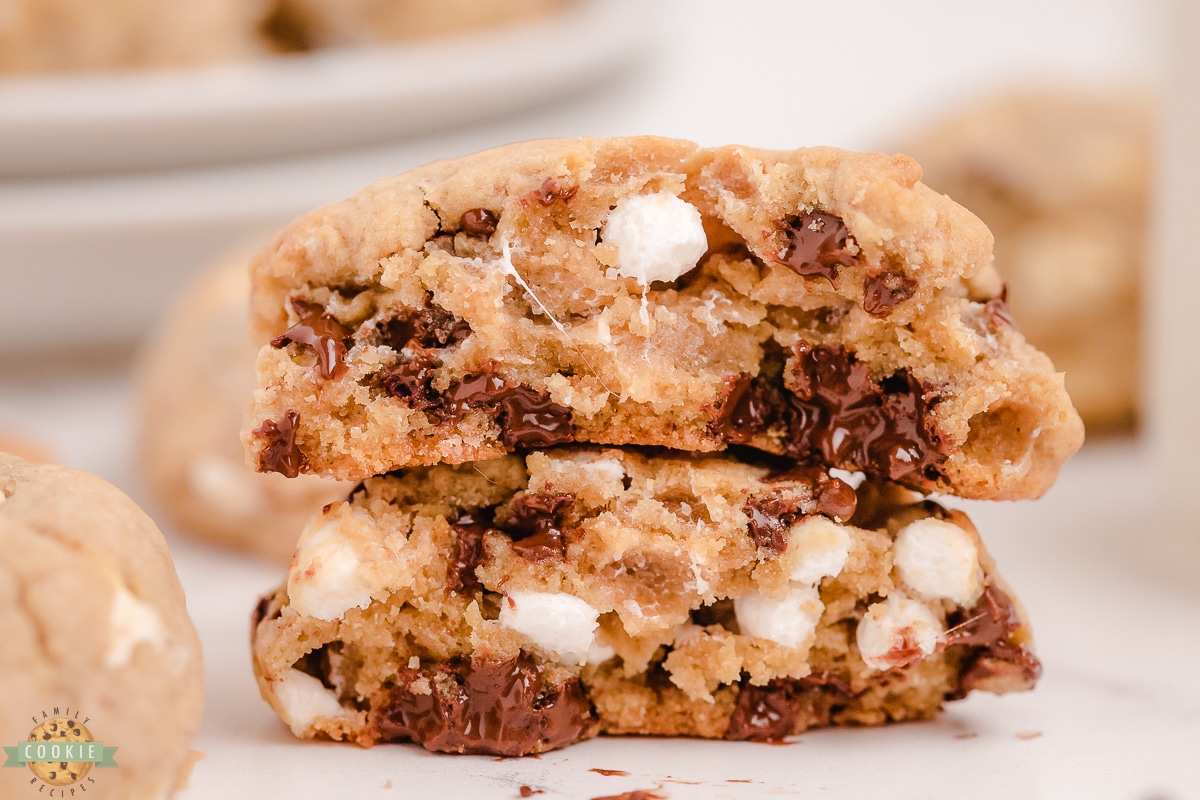 This smores cookie recipe are a decadent and amazing dessert that are a perfect replacement for actual smores. These campfire cookies bring the traditional taste of your favorite camping treat, directly to your kitchen and without all the effort!
Campfire Cookies
These smore chocolate chip cookies are a great way to enjoy this great classic camping treat, but without all of the work. If you are anything like me, I absolutely love camping food but the actual camping part, it's not really my thing. So any time I can enjoy the food aspect of camping without the bugs and dirt, that is my kind of enjoyment. I love the taste of smores, but without having to pitch a tent to get them. This smores cookie recipe brings the best parts of camping right to your living room! Give them a try today and taste just how amazing they are!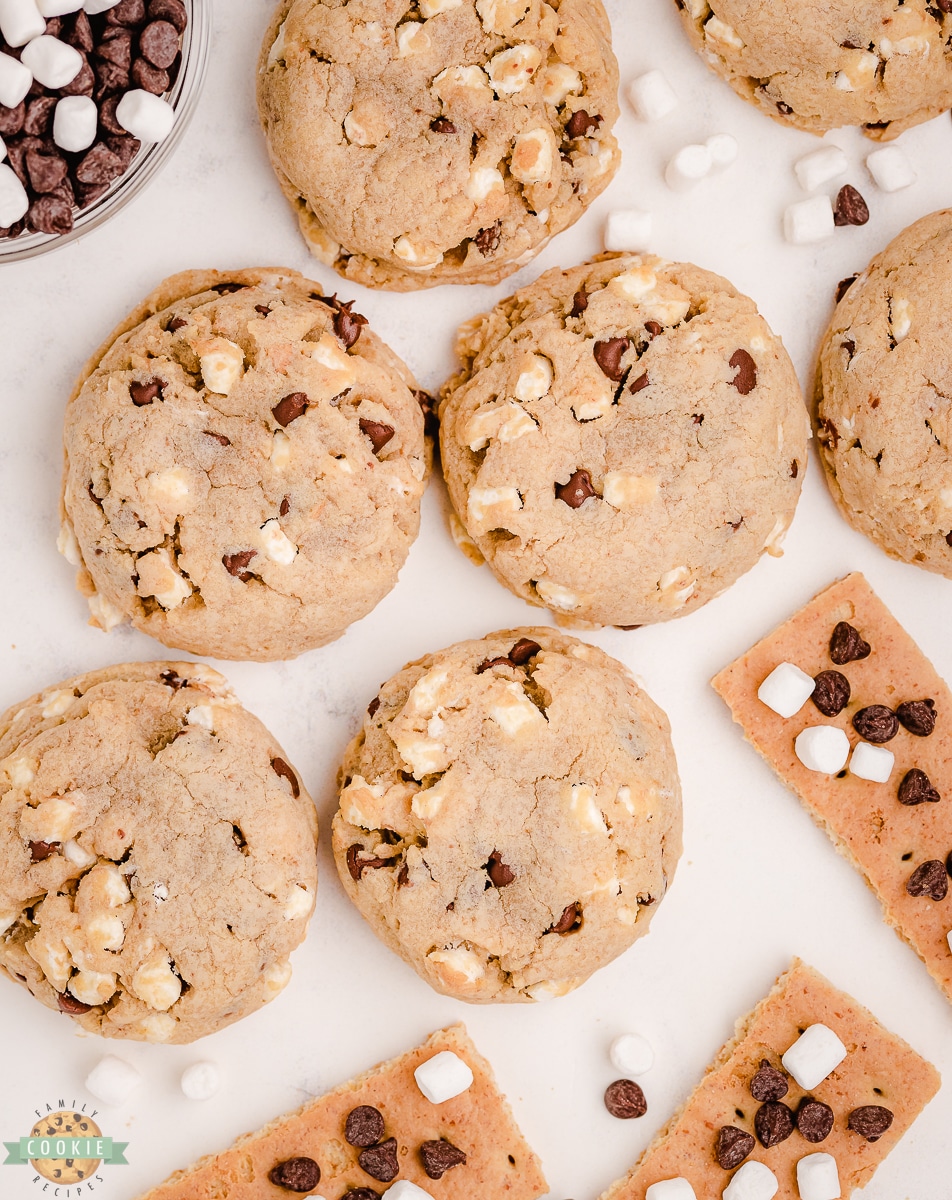 WHY WE THINK YOU WILL LOVE THIS S'MORE TREAT
In case you needed more convincing, here are our top reasons why we think you will enjoy this dessert.
No campfire is needed! The weather and your location may not always allow for campfires so traditional smores may not be an option, but these smores cookies can certainly help to fill that void.
Basic ingredients. This amazing and delicious recipe calls for very simple ingredients. It will not break the bank for a quick drive to the store and you may even have left over ingredients to make a second batch! Yum!
So easy to make. This recipe is so simple to assemble, it uses very basic homemade cookie ingredients and the steps are so easy to follow. You will be enjoying a tasty twist on a classic treat in no time.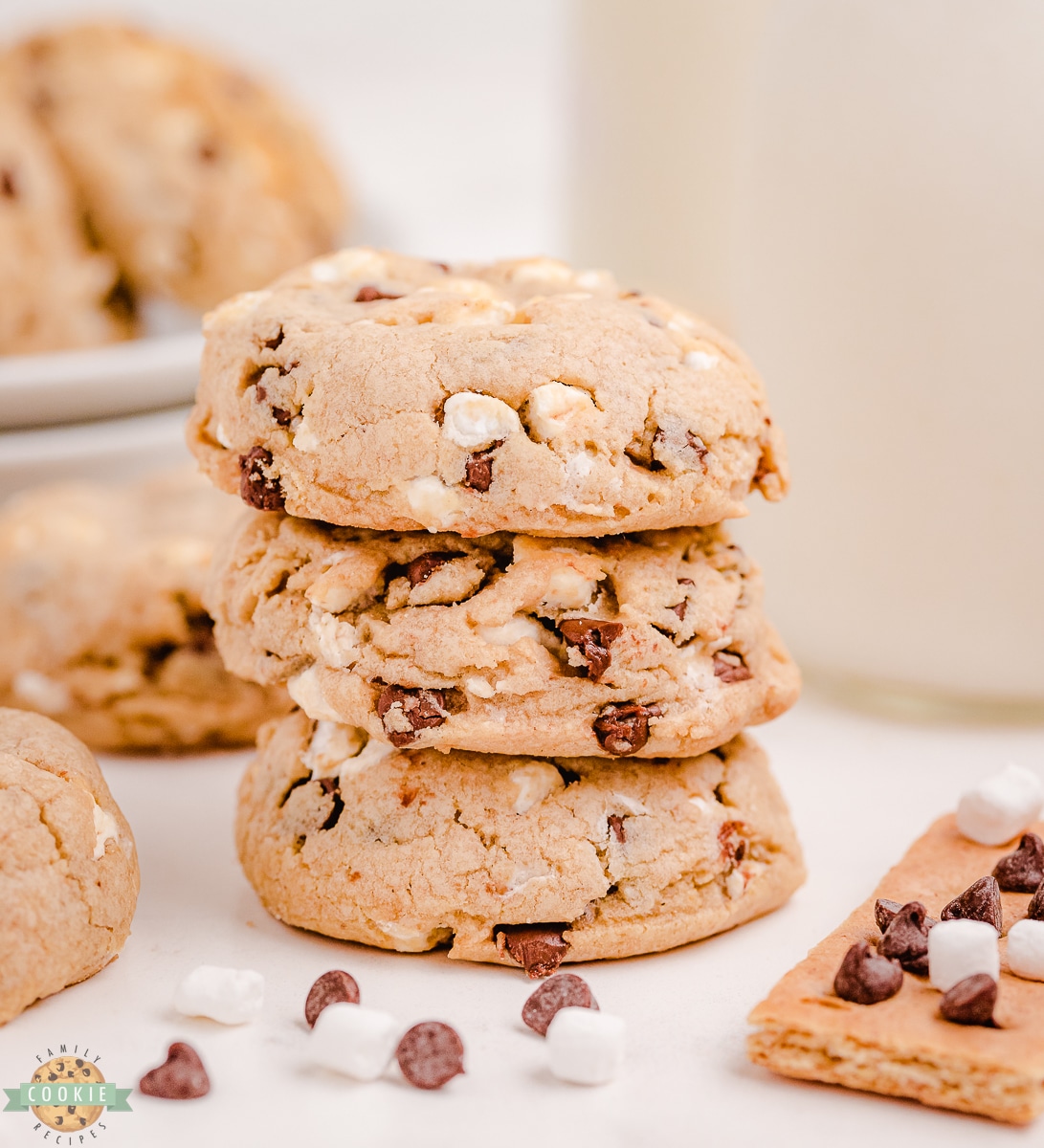 Smores Cookie Ingredients
Butter: You will need ½ cup of butter, room temperature, to create a wonderfully rich cookie.
Brown sugar: Adding in ⅔ cup of brown sugar will give these cookies an amazing depth of flavor.
Egg: Use 1 egg to help bind the cookie dough together well.
Vanilla extract: To help balance all the incredible flavors in this recipe, add in 2 teaspoons of vanilla extract.
Corn starch: You will want to add 1 teaspoon of corn starch to create the most perfect cookie texture.
Baking soda: Add 1 teaspoon of baking soda to help the cookies rise well as they bake.
Salt: To enhance the great flavors in this recipe, use ½ teaspoon of salt.
Flour: For the main structure of this treat, add in 1 ½ cups of flour.
Graham crackers: Adding in ⅔ cups of graham cracker crumbs, approximately 4 crackers crushed, to give this cookie the classic smore taste.
Marshmallows: You will need 1 cup of mini marshmallow bits to add the ooey gooey goodness in this treat!
Chocolate chips: Use ½ cup of mini chocolate chips for each bite to have amazing flavor.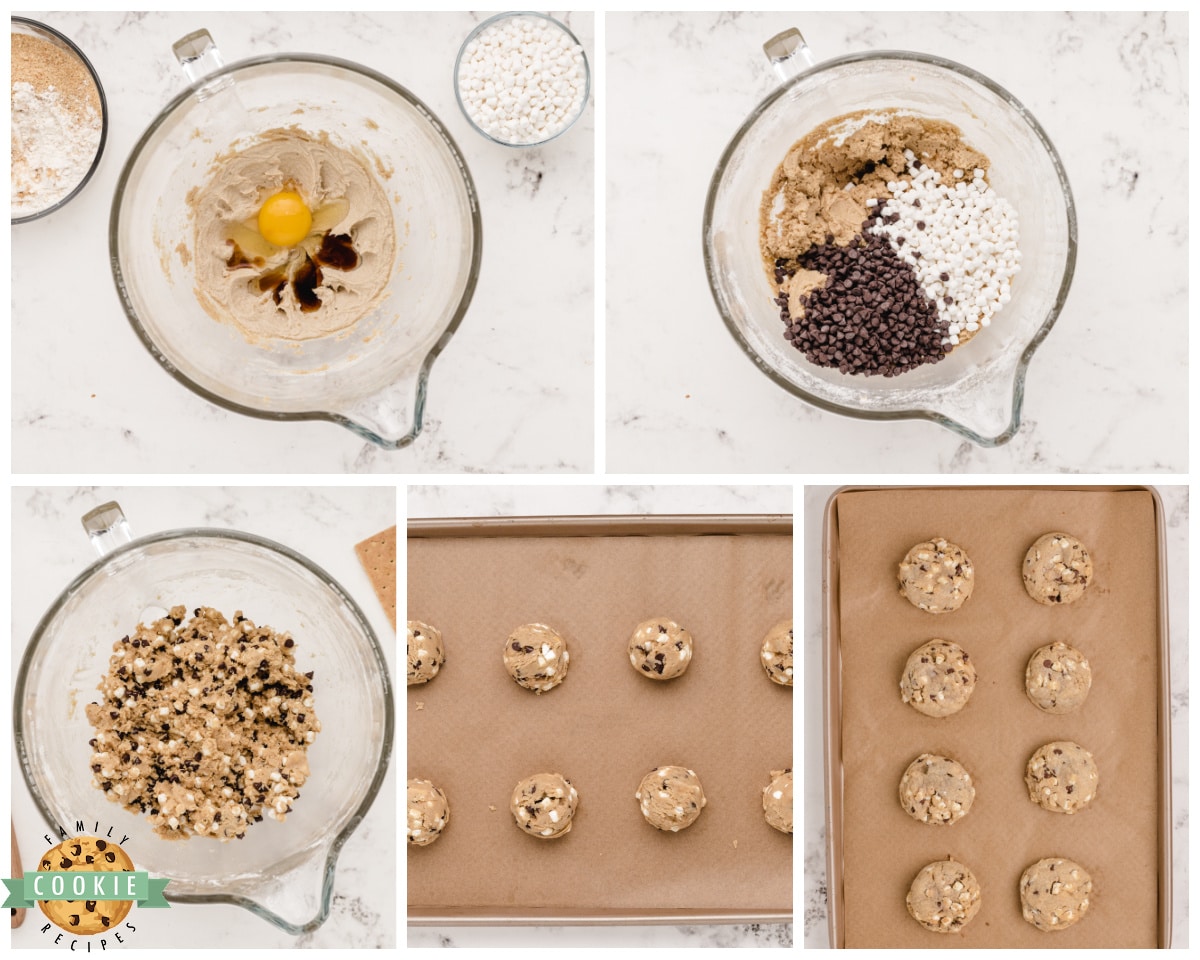 Step by step on how to make easy S'more Cookies
Prep
Start by preheating the oven to 350° F. Then, line a baking sheet with parchment paper or a silicon mat, set it aside.
Dough
Next, in a large bowl, cream together the butter and brown sugar. Then, scrape the sides of the bowl down and add the egg and vanilla extract. Mix ingredients well to combine.
In a separate bowl, sift together the cornstarch, baking soda, salt, flour, and graham cracker crumbs. Proceed to gradually add the dry ingredients to the butter/sugar mixture while mixing slowly.
Mix until just combined, over mixing the flour could result in stiff cookies. After that, gently fold in the marshmallow bits and mini chocolate chips.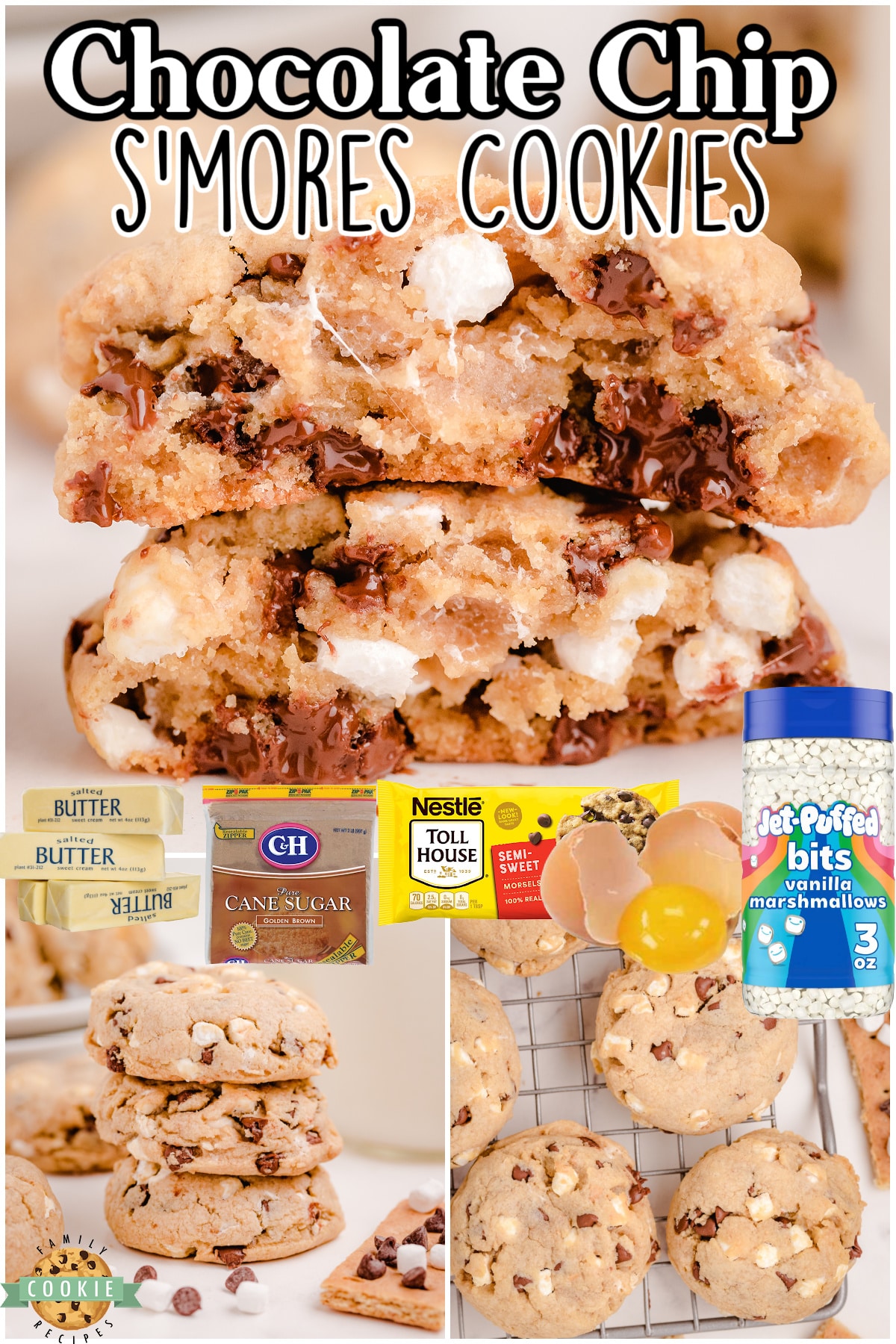 Bake
Then, scoop the dough into balls and place on the prepared cookie sheet. Use your fingers to lightly press down the tops of the dough a little.
Place the cookies in the preheated oven and bake for 8-10 minutes. To ensure that the cookies stay chewy and soft, you will want to pull them out of the oven when the cookies are no longer glossy on the top. Do not wait until they are golden brown, the cookies will firm up as they cool.
Let the cookies cool on the baking sheet for 5 minutes and then transfer to a wire rack to cool completely.
Serve alongside a tall glass of milk and enjoy!
HOW LONG ARE SMORE COOKIES GOOD FOR?
These cookies can be kept stored in an airtight container at room temperature for up to 1 week. Although, for best tasting results I recommend eating within 3 or 4 days.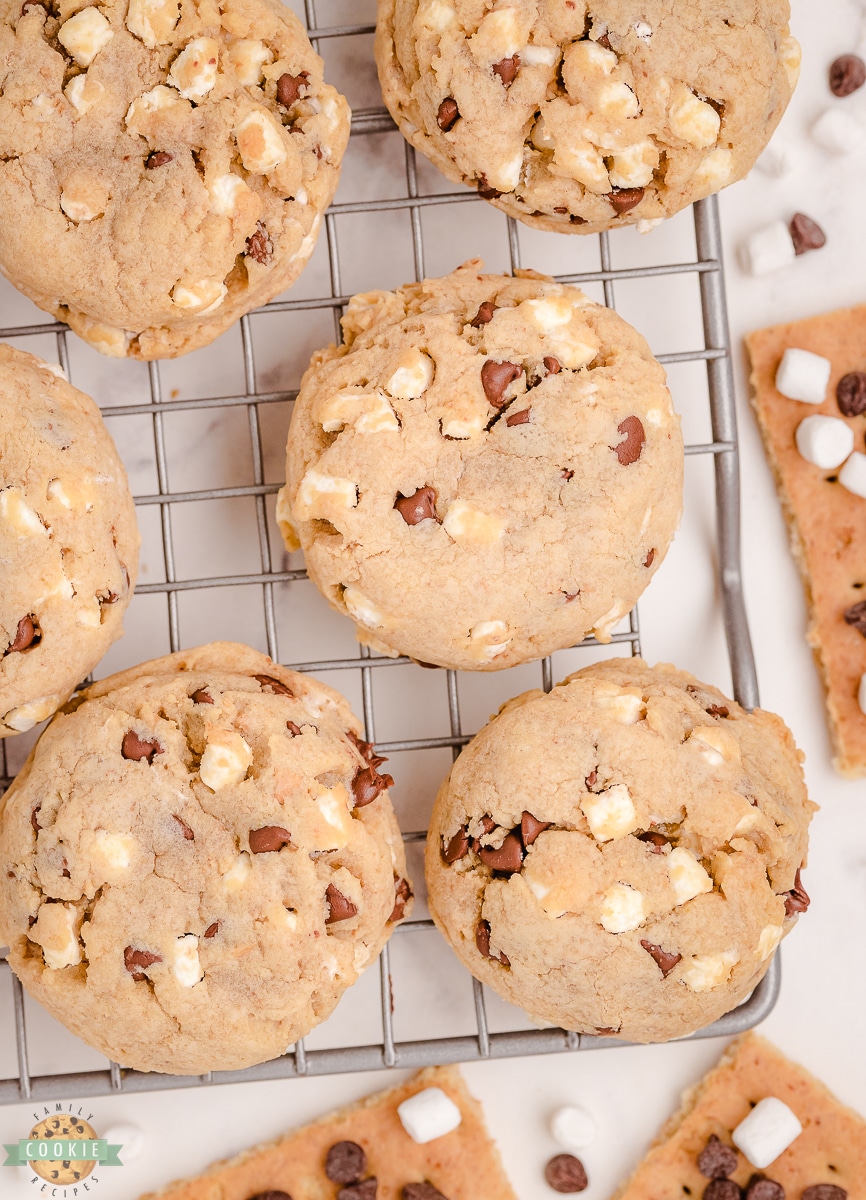 CAN I FREEZE S'MORE Chocolate Chip COOKIES?
You sure can! Once the cookies have cooled completely you can put them in a freezer safe container or airtight container and freeze them up to 2-3 months. When you are ready to enjoy them let them come to room temperature on the counter for a couple hours before enjoying. You can also reheat them in the microwave for 10 seconds to bring them back to life a little bit.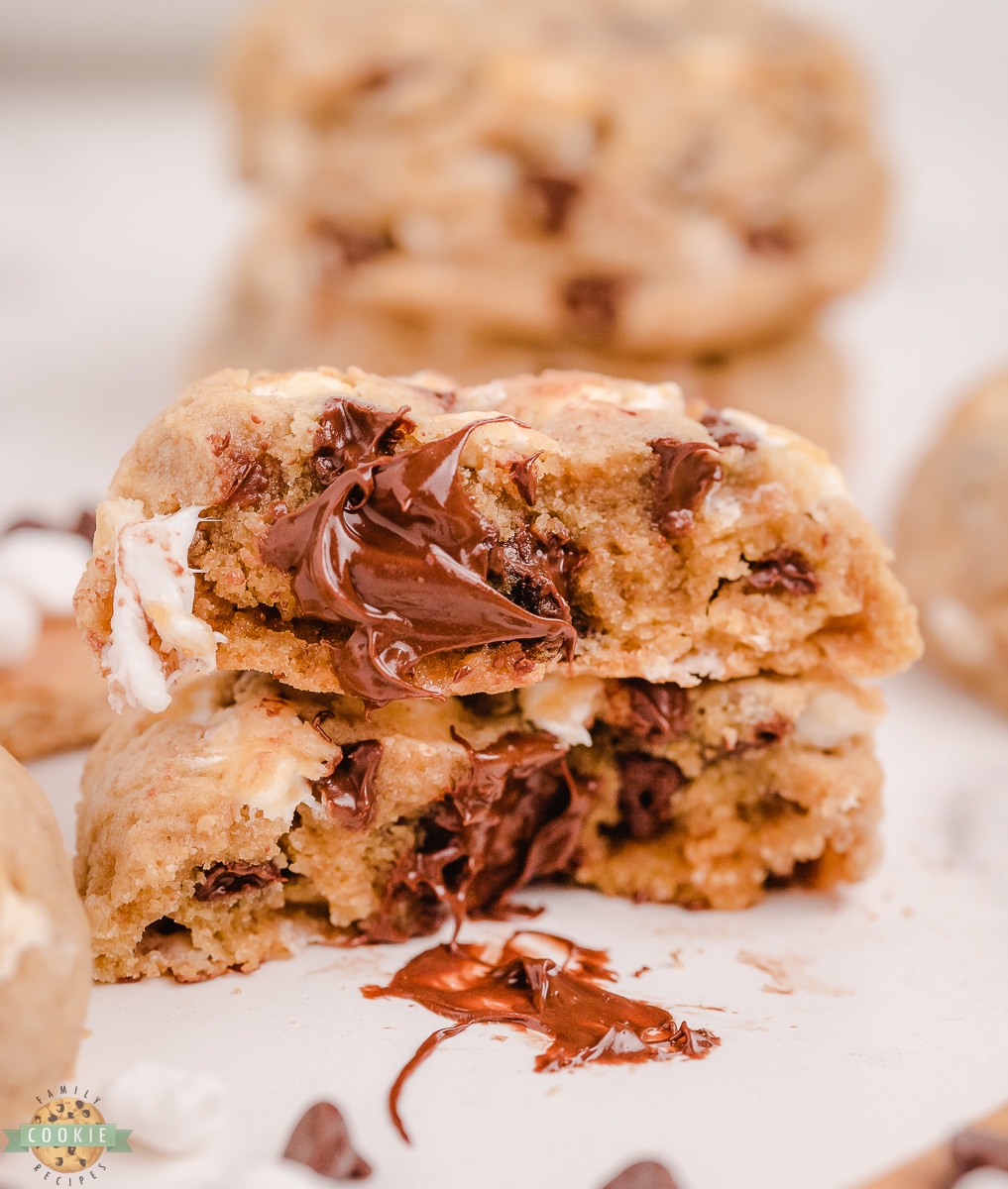 CAN I MAKE S'MORE COOKIE DOUGH IN ADVANCE?
Yes, you can prepare the cookie dough up to 2 days in advance and keep It stored in the fridge in a plastic wrap-covered bowl. Just scoop, assemble, and bake whenever you are ready.


Bless my sweet pupper who just thinks he fits in the smallest spaces lately! As he gets older he's gained a tiny bit more weight- not a lot, but enough that things are just a bit different. Like this bed used to be bigger, LOL. I'm sure we can all relate!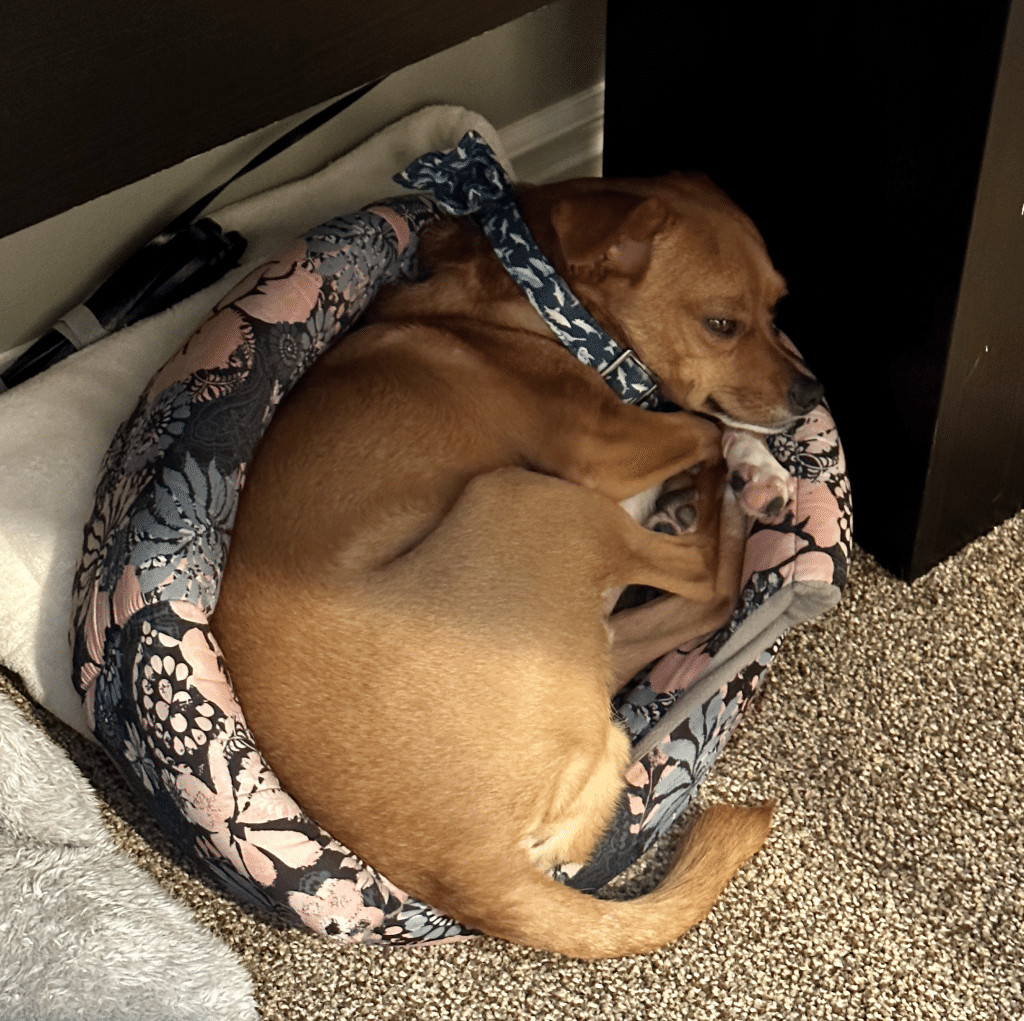 Love this amazing treat? Try more similar recipes here!
Smores Cookies are an enjoyable and incredible twist on a classic treat! These chocolate chip s'more cookies are made with rich chocolate chips, marshmallows, and soft cookie dough to create a perfectly sweet treat.