Soft Gingerbread Cookies are chewy, delicious and the perfect cookie for the holidays! This Gingerbread Cookie recipe is full of the flavors of cinnamon, cloves, ginger and molasses and the best part about these cookies is that they stay perfectly soft for several days!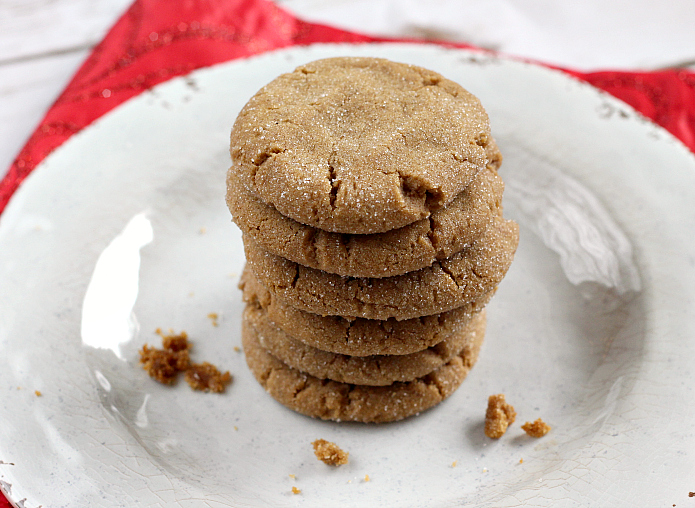 I never thought I liked Gingersnap Cookies until I tried this recipe. The ones from the store are always hard and crunchy and I have always preferred soft cookies so I'm not sure that I ever even gave the flavor much of a chance. I came across a recipe for gingersnap cookies in an old family cookbook that claimed to be "soft" and decided to give it a try. I figured that even if the cookies were a bust, my house would smell like gingerbread!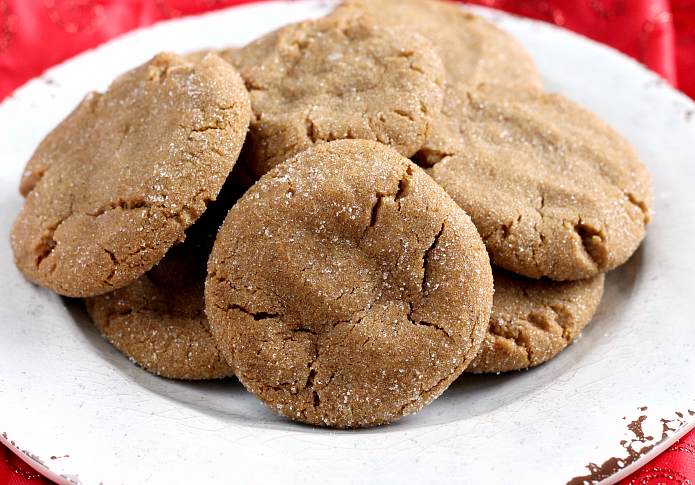 I was shocked when I tasted these cookies and LOVED them. The consistency and texture is perfectly soft and chewy and the flavor is absolutely incredible! My husband tried them and then kept eating another one. And another one. Then a few more. Every time he ate another one, he would say, "These are SOOOO good!" They really are that good! The cookies are so soft and chewy, I decided they were more of a gingerbread cookie than a gingersnap – I'm pretty sure the 'snap' part of the word refers to the hard and crispy consistency of a traditional gingersnap cookie!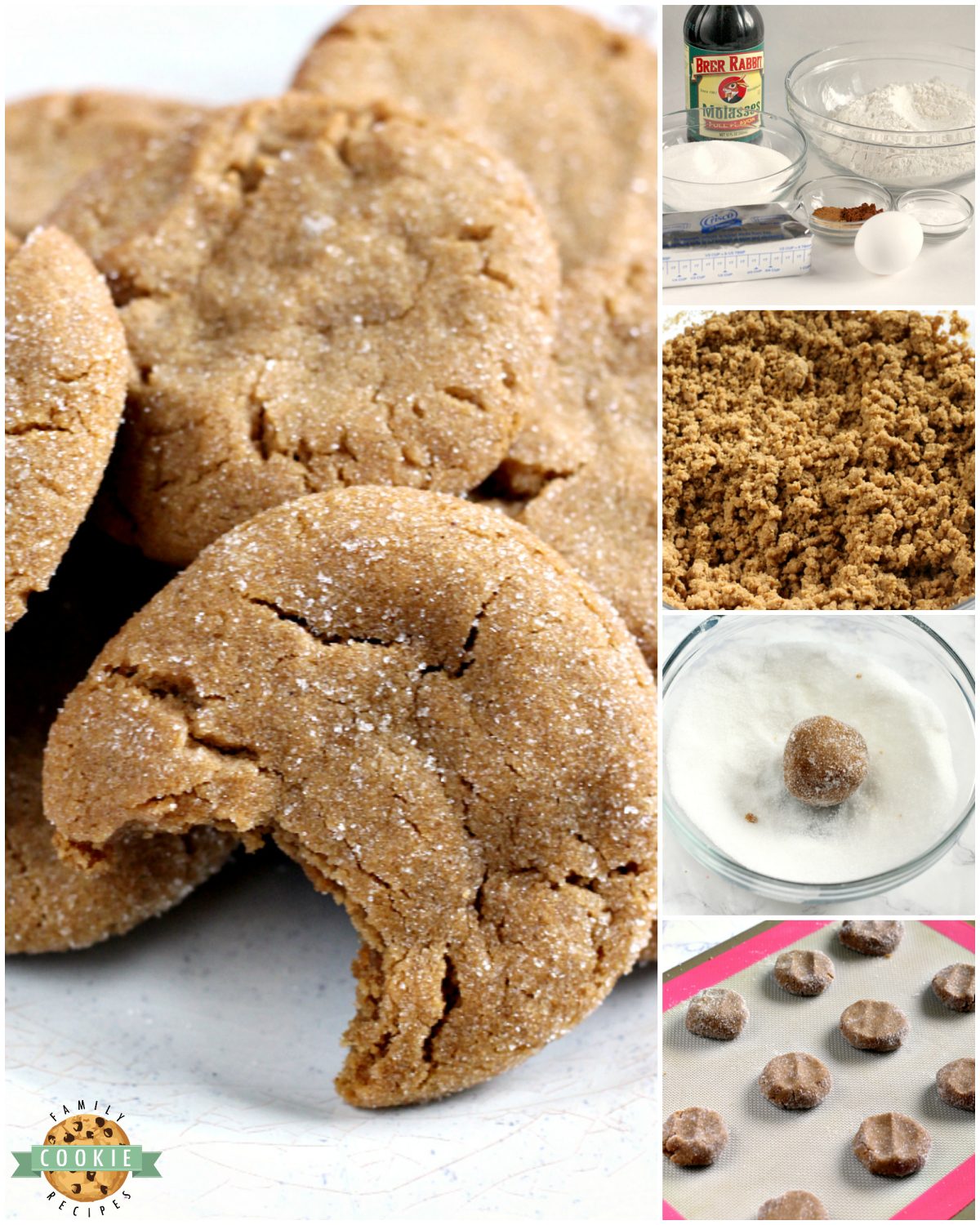 Tips for making perfectly soft and chewy Gingerbread Cookies:
Cream the shortening, sugar, egg and molasses together a little bit longer. If you mix them together for about 2-3 minutes, the texture of your cookies will be better than if you just barely mix them until combined.
Use high quality cookie sheets. If your cookie sheets are really thin or really dark, your cookies will likely burn on the bottom before the rest of the cookie is fully baked. I've recently started using silicone baking mats on my cookie sheets and I love how easy it is to scoop the cookies off of the trays.
Preheat the oven. This will help your cookies turn out right every time!
Use a cookie scoop! If you want all your cookies to be perfectly shaped and have them all be the same size, a cookie scoop is the way to go.
Don't over bake the cookies – when I take mine out of the oven, they still look slightly under baked but they will continue to bake on the cookie sheet for a couple more minutes so that's ok! I cooked my gingerbread cookies for 10 minutes exactly and they were perfect. Your oven might be a little bit different, but generally I like to bake my cookies for about a minute or two less than the time given in recipes. If the cookies don't look baked in the middle, then I will leave them in for another minute or two.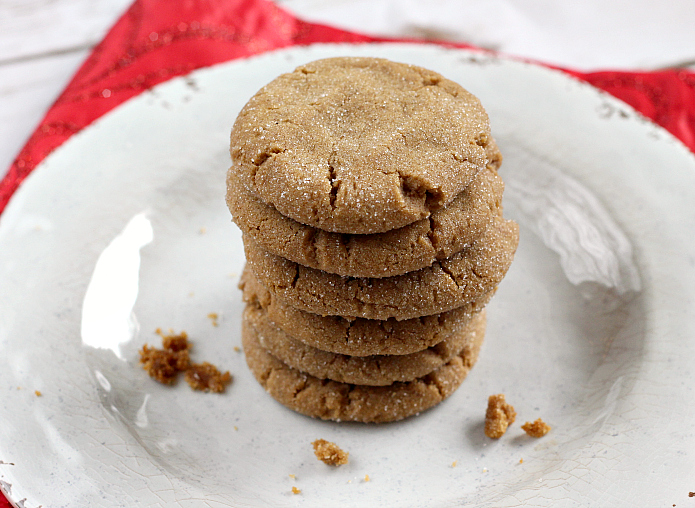 What are the ingredients in soft Gingerbread Cookies?
2 cups flour
1/2 tsp. salt
2 tsp. baking soda
1/2 tsp. cinnamon
1/2 tsp. ground cloves
1/2 tsp. ginger
3/4 cup shortening
1 cup sugar (plus about 1/4 cup to roll the dough in before baking)
1 egg
1/4 cup molasses

How do you make soft Gingerbread Cookies?
In a mixing bowl, mix the flour, salt, baking soda, cinnamon, cloves and ginger together. Set aside.
In a separate bowl, cream together the shortening, 1 cup sugar, egg and molasses. Beat with an electric mixer for about 2 minutes.
Add the dry mixture to the wet mixture and mix together until well combined.
Use a cookie scoop to scoop out tablespoon sized balls and roll them into shape between your hands.
Place the extra 1/4 cup sugar in a small bowl and dip each cookie ball into the sugar, coating on all sides.
Place cookie dough balls on a cookie sheet and lightly flatten with the palm of your hand (or the bottom of a measuring cup or glass).
Bake cookies at 350° for 10 minutes.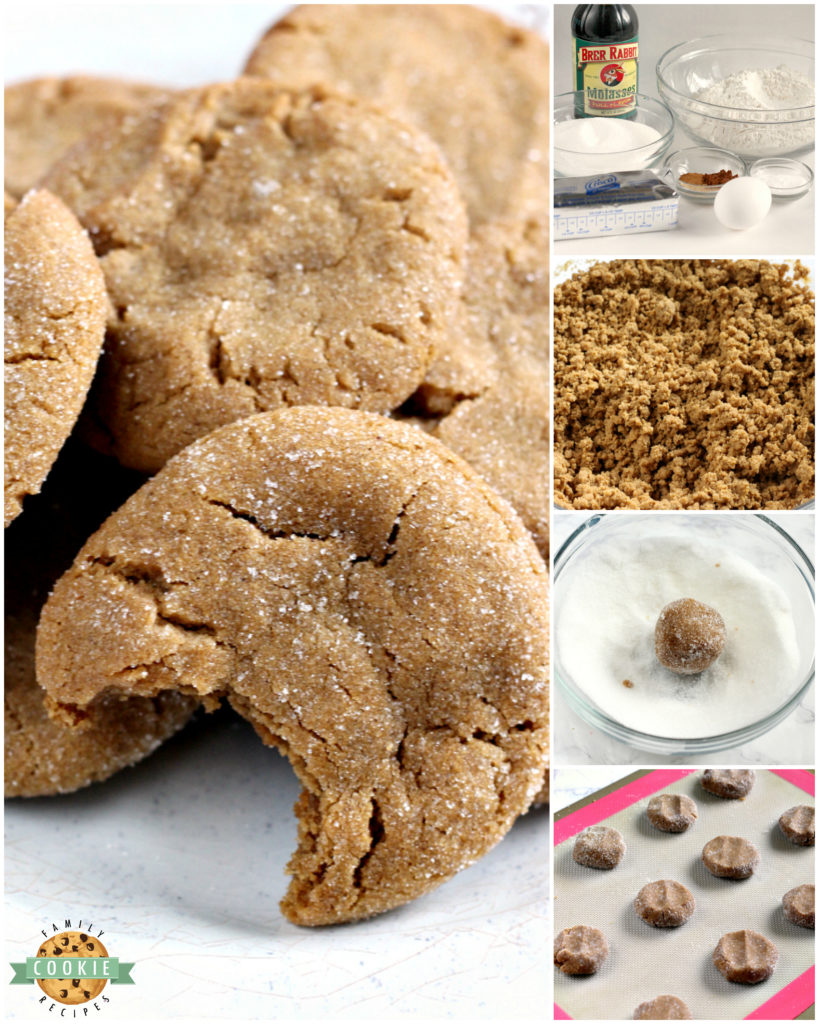 What type of molasses do you use in gingerbread cookies?
There are several different types of molasses, but you will want to use cooking molasses when baking gingerbread cookies. Cooking molasses is a blend of fancy and blackstrap molasses and is the kind that you will be able to find most easily at the store. You can use a different variety of molasses in gingerbread cookies, but the flavor will vary based on what type you use. The molasses I used just said "Full Flavor" molasses and was the only kind they had at my grocery store!
Where can I find molasses at the grocery store?
Sometimes it's tricky to find the molasses, but it is usually by the pancake syrup! Sometimes it will be in the baking aisle near the honey, and occasionally I have seen it in the coffee aisle!
Can you freeze Gingerbread Cookies?
You can freeze Gingerbread Cookies in an airtight container for up to 1 month. Make sure they have been cooled completely before you stack them and place them in the freezer.
How do you keep Gingerbread cookies soft?
Gingerbread cookies will stay soft at room temperature for about 2-3 days as long as they are stored in an airtight container. Usually cookies don't last more than a couple of days at my house, but if I manage to keep a few longer than that, you can easily soften them by placing half a slice of white sandwich bread in the container with the cookies.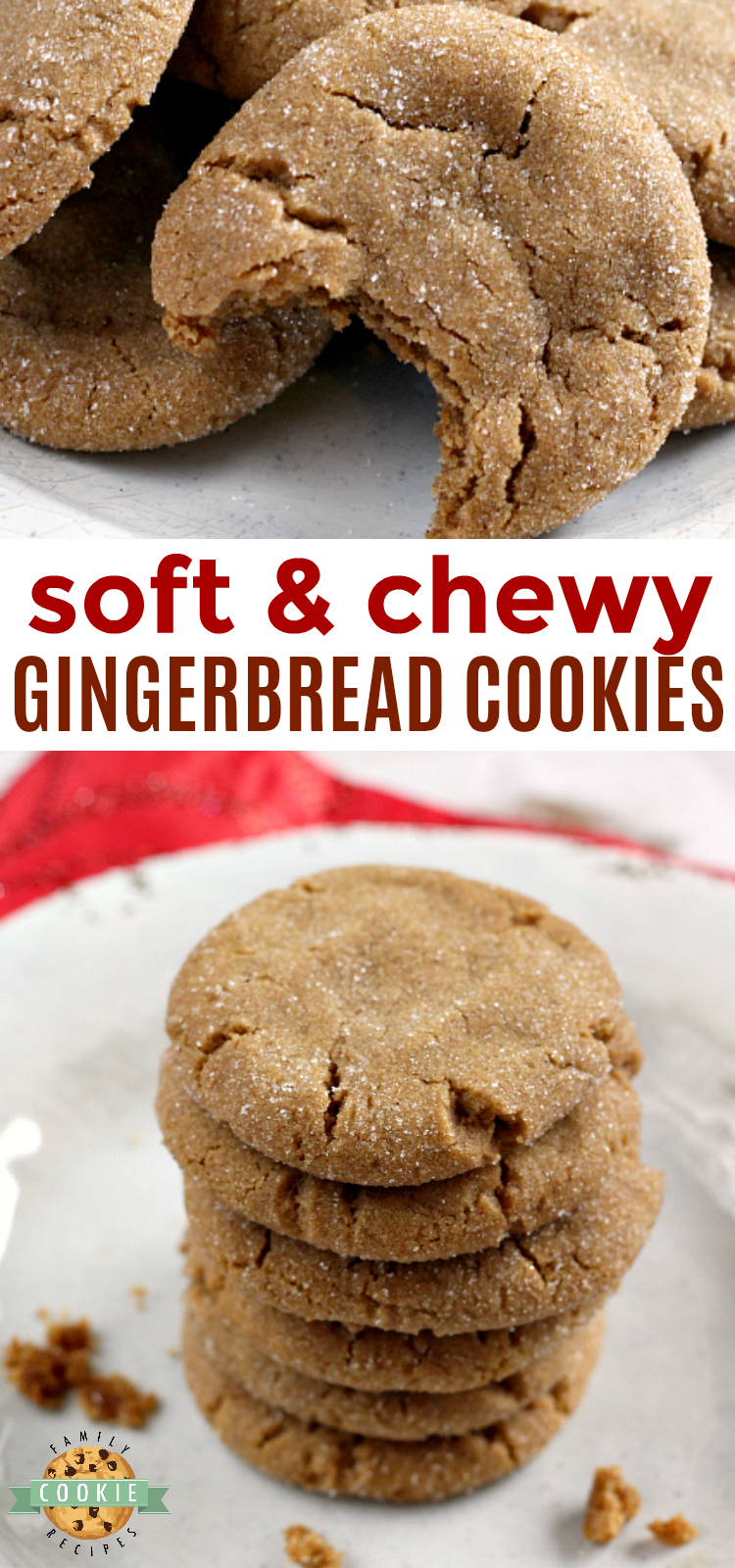 Anyone else have the tradition of new Christmas pajamas every year? We have done it for the kids every year, but last year we started getting matching pajamas for my husband and I too and the kids were so excited that we matched them so we decided to keep up with that tradition. Up until this year, we always waited until Christmas Eve to open the new pajamas but this year, we changed our tradition and opened them on December 1 so that we could enjoy them all month! And yes, that is baby #5! Just ad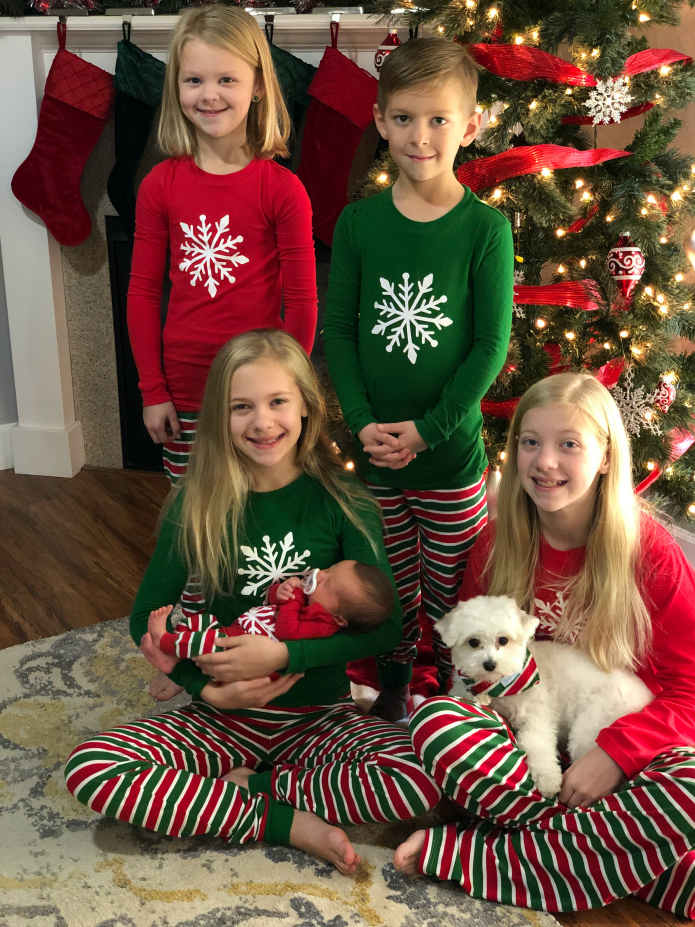 Soft Gingerbread Cookies are chewy, delicious and the perfect cookie for the holidays! This Gingerbread Cookie recipe is full of the flavors of cinnamon, cloves, ginger and molasses and the best part about these cookies is that they stay perfectly soft for several days!