Sugar Cookie In a Mug is a quick and easy warm sugar cookie, made in minutes, in a mug in the microwave! Make this mug cookie when you are craving something sweet, but do not want to make a full batch of cookies.
This mug cookie recipe is made with a few simple ingredients and is ready in just about 6 minutes from start to finish, so easy and delicious. There is never a wrong time for sugar cookies and with this fast and simple cookie in a mug, you can enjoy cookies more often!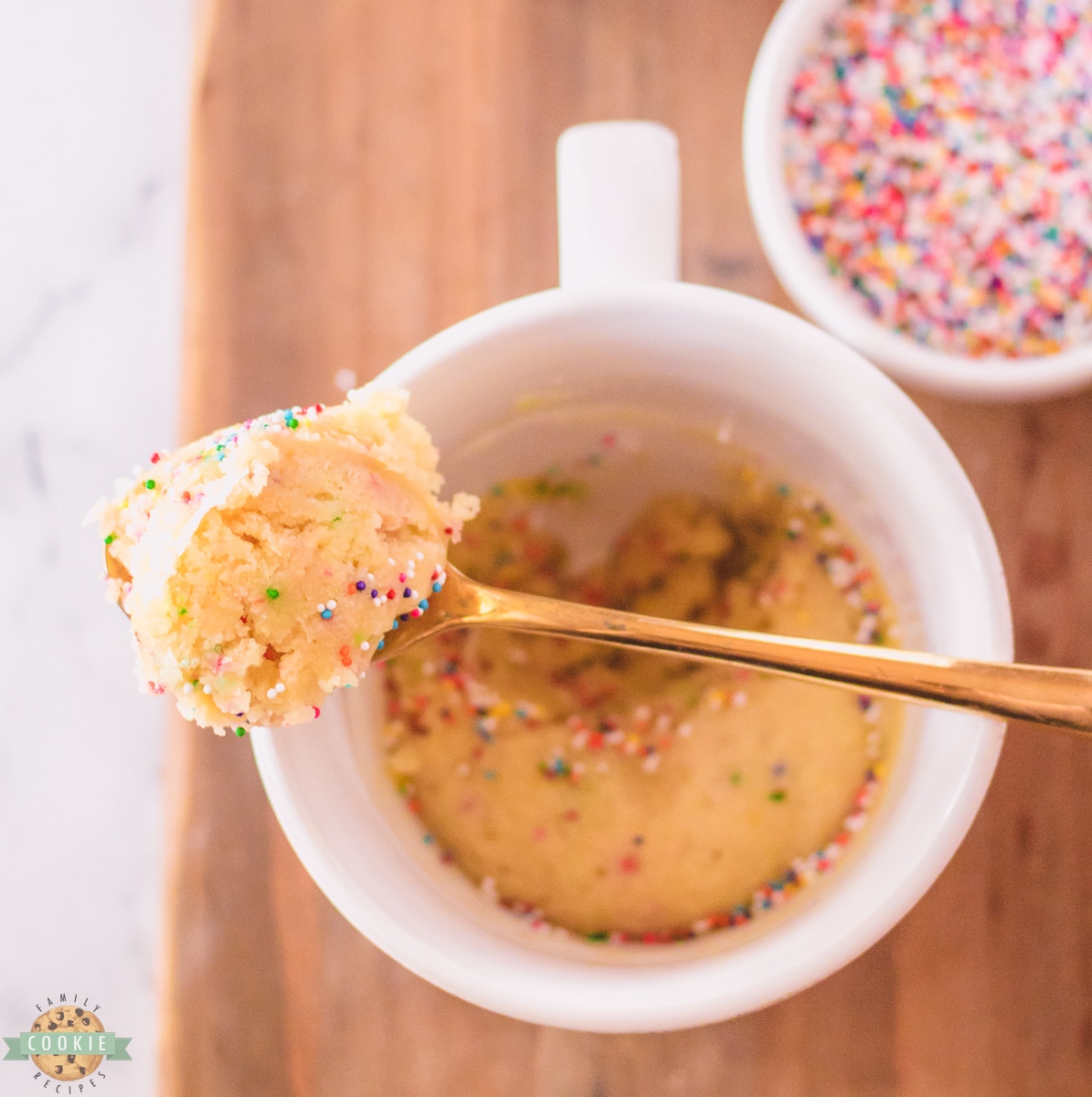 What Are Mug Cookies?
Mug cookies are literally that, a cookie, cooked inside of a coffee mug. This is a perfect example of recipe scaling to fit your needs. Sometimes you double or triple a cookie recipe so that there is enough for a party or gathering. But sometimes it is just you curling up on the couch after the kids go to bed and you want something sweet. This mug cookie is a perfect single serving dessert for those nights or for a fun evening with the kids too. Have everyone make their own microwave sugar cookie and decorate the top with sprinkles, colored sugars, or whatever else add-ins might be desired (chocolate chips are always a hit!)
WHY WE THINK YOU WILL LOVE THIS COOKIE IN A MUG
If you were not already sold on this simple and tasty recipe, the following reasons are sure to convince you to give it a try.
Simple ingredients. This mug cookie is made with basic ingredients like flour, eggs, sugar and butter. You may have most, if not all, of the ingredients needed to make this cookie already in your home.
Easy to make! It is a cookie, baked in a mug. How much simpler does it get than this? Give it a try, see for yourself how easy it is to whip up this sweet treat.
Versatile recipe. One thing I really love about this cookie in a mug recipe is that I can switch up the toppings for whatever I feel like in the moment. I love simple sprinkles, but sometimes I feel like a little chocolate and add chocolate chips. Or even drop a few M&M's on top and mix them in before cooking. Use whatever you love to take this sugar cookie up a notch!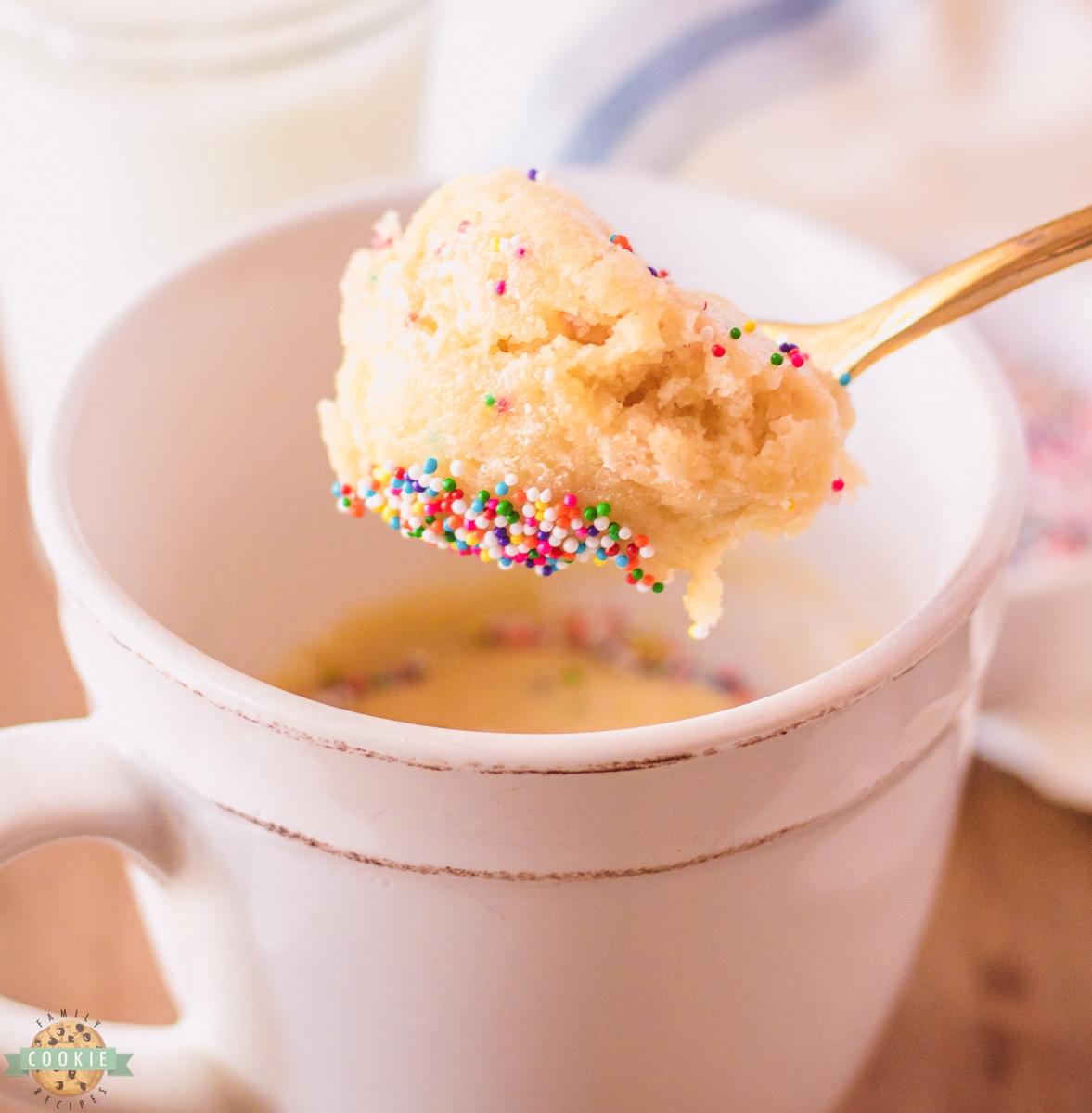 Mug Sugar Cookie Ingredients
Butter: Use 1 tablespoon of butter to help add a nice rich taste and texture to the mug cookie.
Sugar: Adding in 2 tablespoons of granulated sugar will help our cookie to turn out nice and sweet.
Vanilla extract: For a great tasting treat, adding in 1/4 teaspoon of vanilla extract will help to do just that.
Salt: Add in a pinch of salt to help enhance the flavors in this cookie and really make it taste incredible.
Egg: You will need to use 1 egg yolk to help bind the dough together and create a nice cookie texture. Egg yolks are what make baked goods, like cookies, taste incredible.
Flour: You need 3 tablespoons of all-purpose flour to be the base and structure of the dough.
Sprinkles: If desired, you can use fun and colorful sprinkles to garnish your cookie with before baking.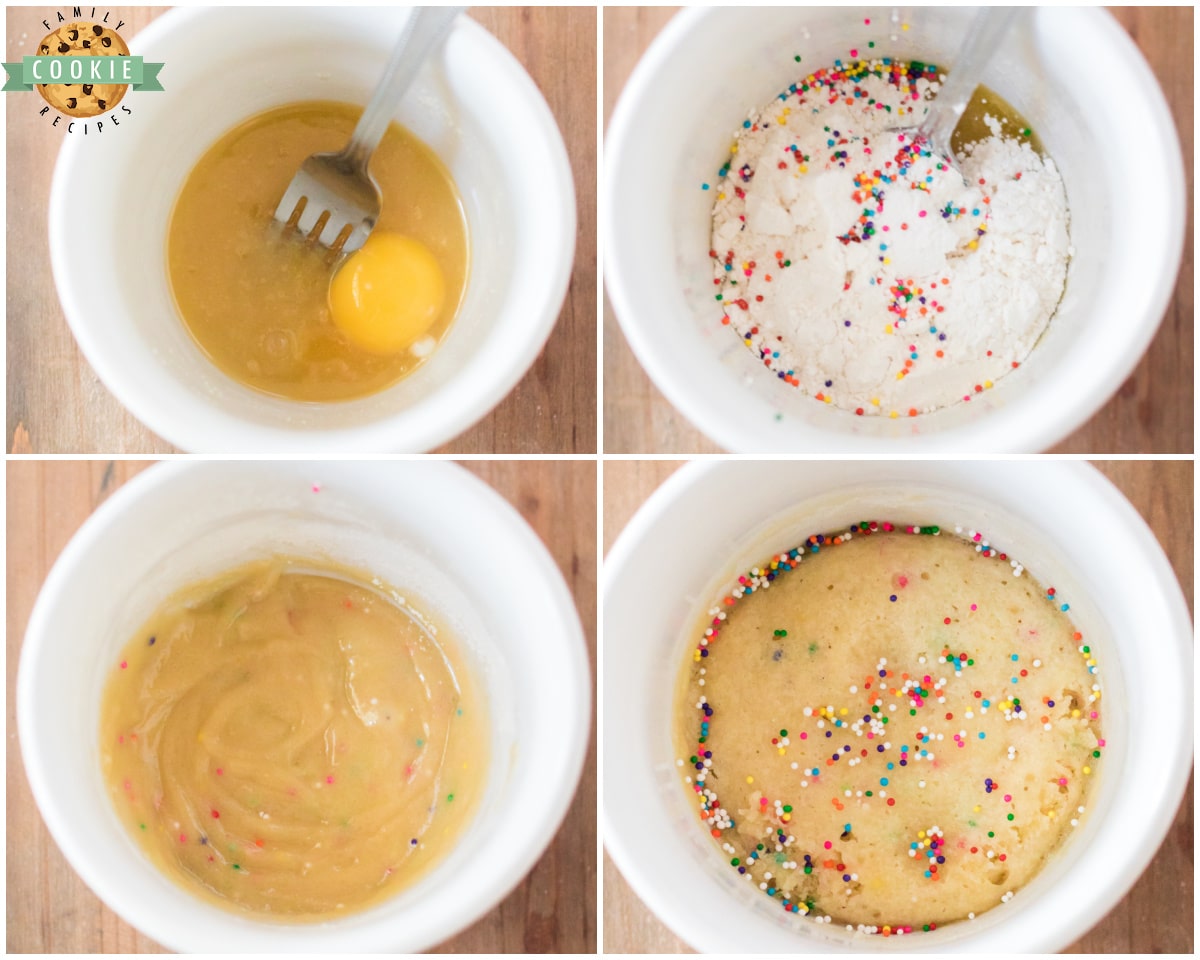 How to make a Sugar Mug Cookie
Prep
Spray the inside of a microwave-safe coffee mug with nonstick cooking spray.
Then, place the butter inside the mug and put it into the microwave, heat for 20-30 seconds.
Dough
Next, add in the sugar, vanilla extract, and salt. Whisk ingredients together with a fork to combine.
Now add the egg yolk and mix again until well incorporated.
After that, add in the all-purpose flour and stir to combine again. Make sure there are no white streaks showing.
Microwave
Last step, if desired, top the cookie dough off with sprinkles or chocolate chips.
Proceed to cook the cookie dough in the microwave for 60 seconds.
Let cool for 1 minute, eat directly from the mug and enjoy!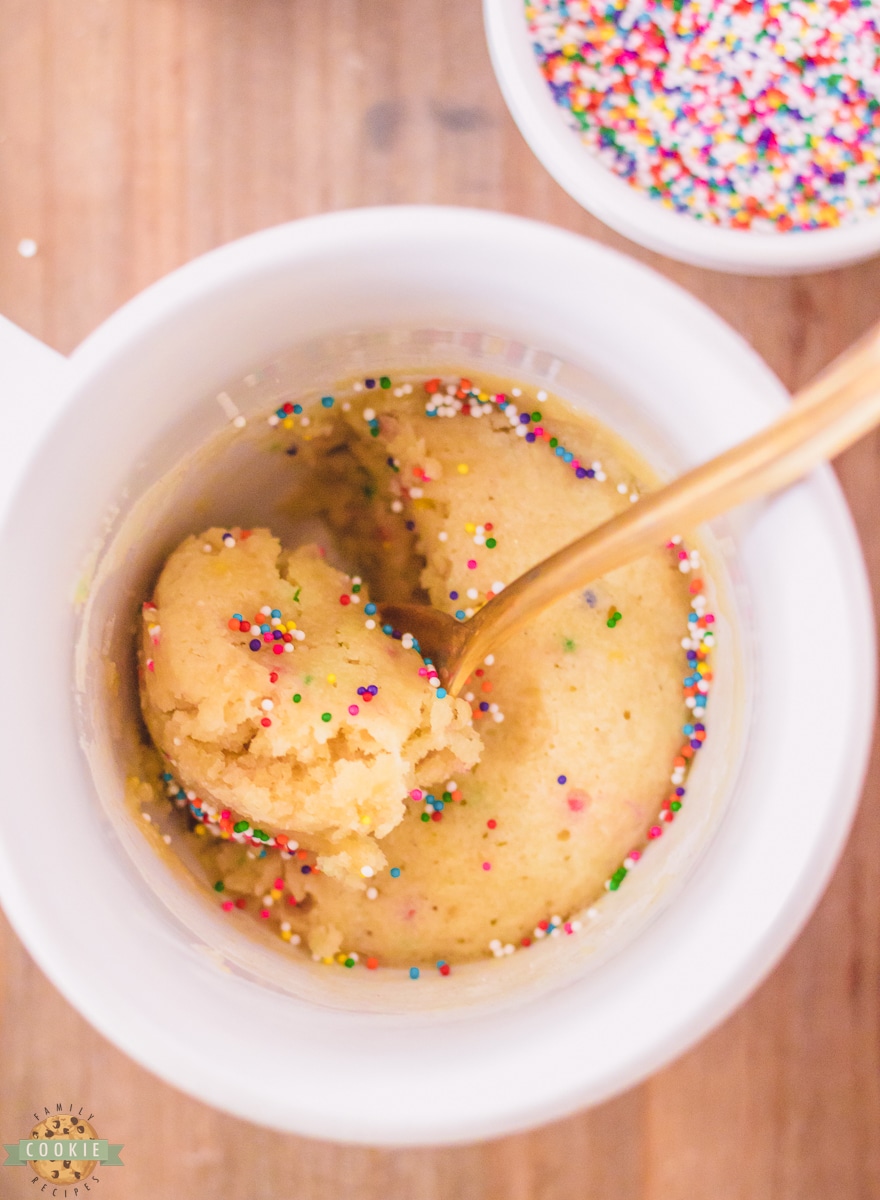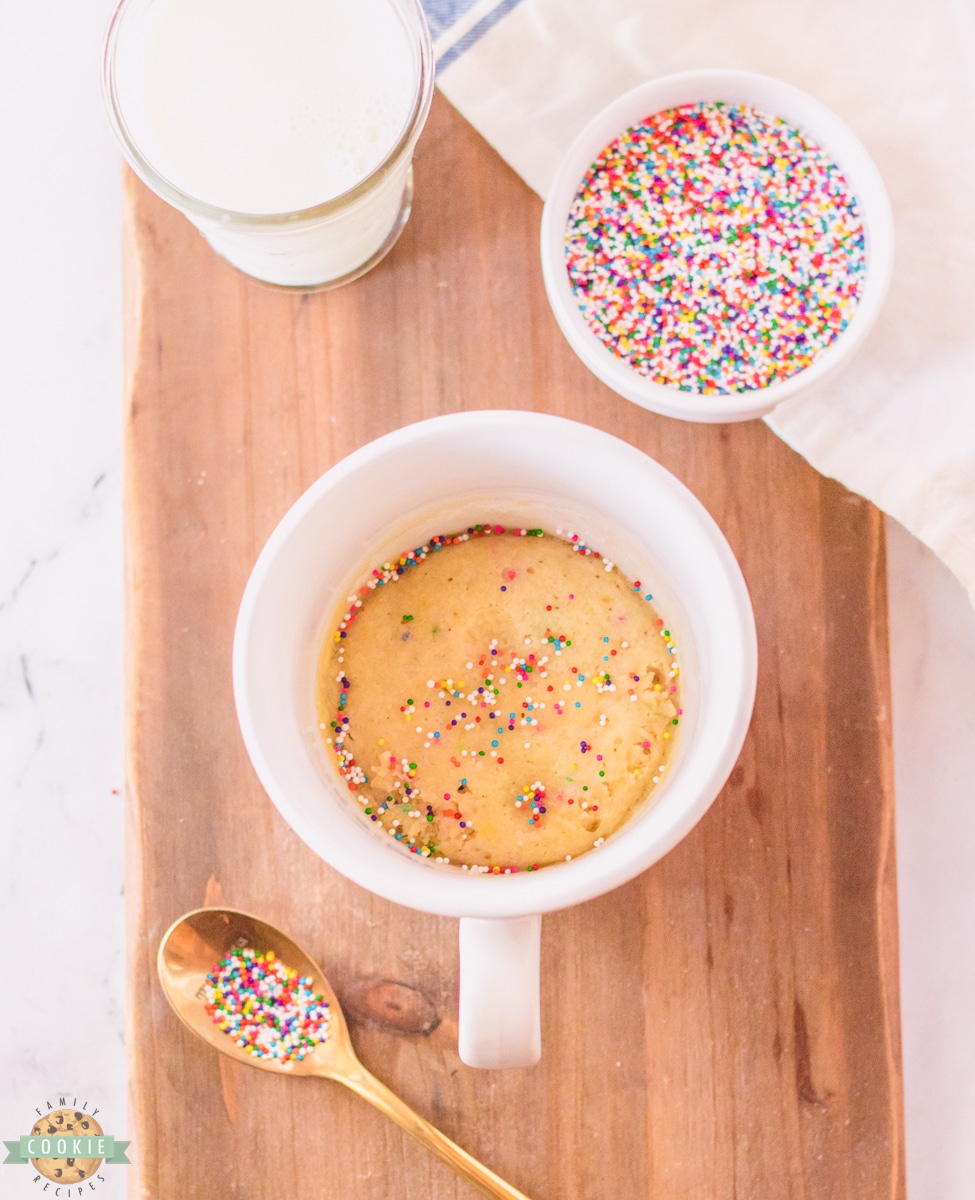 How do I know when my mug cookie is done cooking?
You will know that your mug cookie has finished baking when the time has elapsed and the cookies are puffed up within your coffee mug. Not only will the cookie look puffy, but the edges should appear to be set and dry while the center may look a little softer or glossy as well. If you are still unsure if the cookie has finished baking properly, you can check it with an instant-read thermometer, it should reach 165 degrees F.
What size coffee mug do I need?
A standard 12-ounce coffee mug is almost always recommended and a 10 ounce one usually works well too. You will have to trial and error test anything smaller than that (like a cappuccino mug) because sometimes they work and other times they puff up and over the mug sides as they are all slightly different in size, width, and depth, which leads to different results with each mug.
Check out these great sugar cookie recipes!
Sugar Cookie In a Mug is a fast and simple warm sugar cookie, made in minutes, in a mug in the microwave! Make this mug cookie when you are craving a sweet treat, but do not want to make a whole batch of cookies.

I came from a family of all girls, then my first child was a BOY! I was excited…and a bit nervous. I love my boys fiercely, but I am also delighted that I had 2 girls. Just like there's a special connection between mother and son, there is also something wonderful about having a daughter. Or two, in my case! I'm thrilled they have each other as sisters and am really enjoying all the lace and sparkles that come with girls.