Thin Mints Cookies made with homemade buttery chocolate cookies dipped in mint fudge glaze. This simple recipe for copycat Thin Mints tastes even better than the original!
We love Thin Mints in our house, so when I discovered this tasty recipe for copycats, I was delighted! They taste amazing- even better than the originals! They have a fantastic chocolate flavor and a buttery crisp texture with the perfect mint flavor. Try them; you'll love them!
How to make Thin Mint Girl Scout Cookies
One of my favorite things about this shortbread cookie recipe is that you can make them in advance! Use a hand mixer or stand mixer to mix the cookie dough. Start by mixing the butter and sugar, then add in the vanilla extract and cocoa powder. Mix in the flour, baking powder and salt. Stir in the chopped pecans.

Shape the dough into logs and wrap in plastic wrap or wax paper. Store the cookie dough logs in the fridge for at least 2 hours. You can even make this cookie dough and put it in the fridge days in advance! Slice the cookies while chilled, then bake, cool and drizzle with chocolate. Let cool to set and add these to your Christmas cookie tray!
Kitchen Tools for making Thin Mints recipe
Here are 2 of my favorite kitchen items I use to make these shortbread cookies. I actually use these items in nearly every cookie recipe I make, as well as several other types of recipes, so they're quite versatile. First, I line my cookie sheets with a piece of parchment paper. They're sold in sizes that fit a 12×16 cookie sheet perfectly and enable to cookies to bake well without sticking- and no mess from spraying oil on the cookie sheets!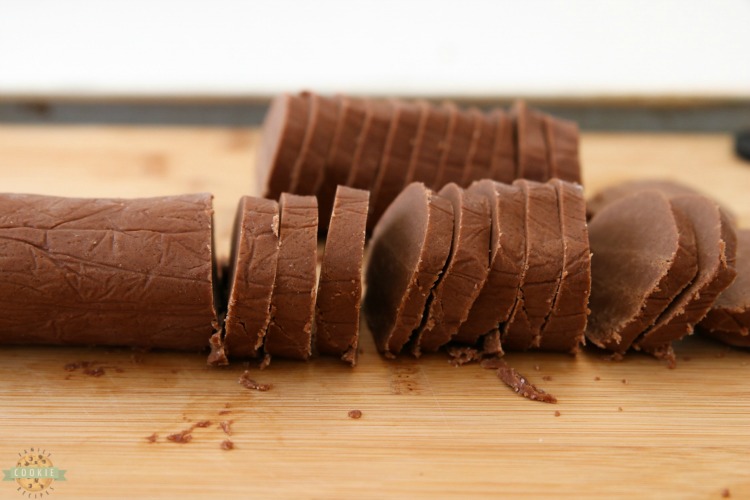 The second item is a KitchenAid mixer. I love mine! I have a Bosch as well but I find I use my KitchenAid for cookies. There is a cookie paddle that comes with every mixer that you attach to the mixer. They're easy to use and help you mix the ingredients uniformly. I also use the metal whisk attachment in this recipe to make the frosting. It whips it up super fast! Add this to your wish list because it's one of my all-time used small appliances ever!
What's that 3 pronged fork you use to dip your Thin Mints?
The 3 pronged fork I use to dip each Thin Mint cookie is a handy Winton Dipping tool. It's part of a 3 piece set that make it so incredibly easy to dip cookies and candy in chocolate.
Copycat Girl Scout Thin Mints ingredients
Here's what you'll need to make our Thin Mint cookies:
–1 cup butter softened (2 sticks)
–1/2 cup sugar
–1/2 tsp peppermint extract
–1/4 cup cocoa powder
–2 cups flour
–1 tsp baking powder
–1/4 tsp salt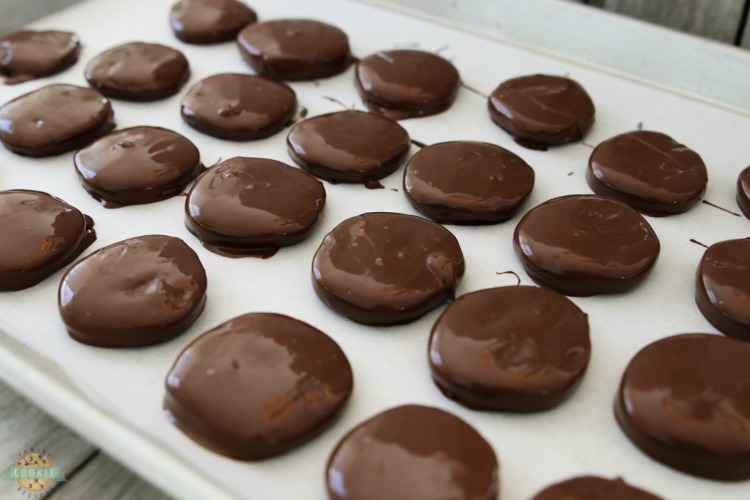 Dark Chocolate Glaze
–3 cups dark melting chocolate disks
–1/2 tsp peppermint extract
–1 tsp coconut oil, or shortening, for thinning
Step-by-Step Directions for Making Thin Mint Cookies
Here's how you make this recipe for Homemade Thin Mints:
With an electric mixer, cream the butter with the sugar until the mixture is light and fluffy. Add in mint extract and cocoa powder.
Add flour, baking powder and salt. Mix until it forms a dough.
Divide the dough in half. On a sheet of wax paper, form each half into an 8-inch long log. Chill the logs, wrapped in the wax paper, for at least 2 hours or overnight. (If you're pressed for time, 30 minutes in the freezer works well too!)
Heat the oven to 300°F. Line baking sheets with parchment paper.
Cut the logs into ¼-inch-thick slices with a sharp knife. Arrange the slices 2 inches apart on baking sheets.
Bake the cookies on the top rack of the oven for 22-26 minutes.
Transfer to wire racks to cool.
Heat melting chocolate chip in microwave for 2 minute. Let sit 3-4 minutes. Stir gently and continue heating in 15 second increments until smooth.*
Dip each cookie fully into the chocolate, tapping off excess. Transfer to a parchment lined tray. Let cool to set. Store cookies in an airtight container.
When making candy like this I really find that dipping chocolate just works best. You can purchase Ghirardelli Melting Wafers at most grocery stores. I buy my melting chocolate in bulk on Amazon. If you really want to use chocolate chips instead, I suggest melting 1/2 a tablespoon of shortening or 2 tsp coconut oil in with the chocolate chips, to thin it out and make it easier to dip the cookies.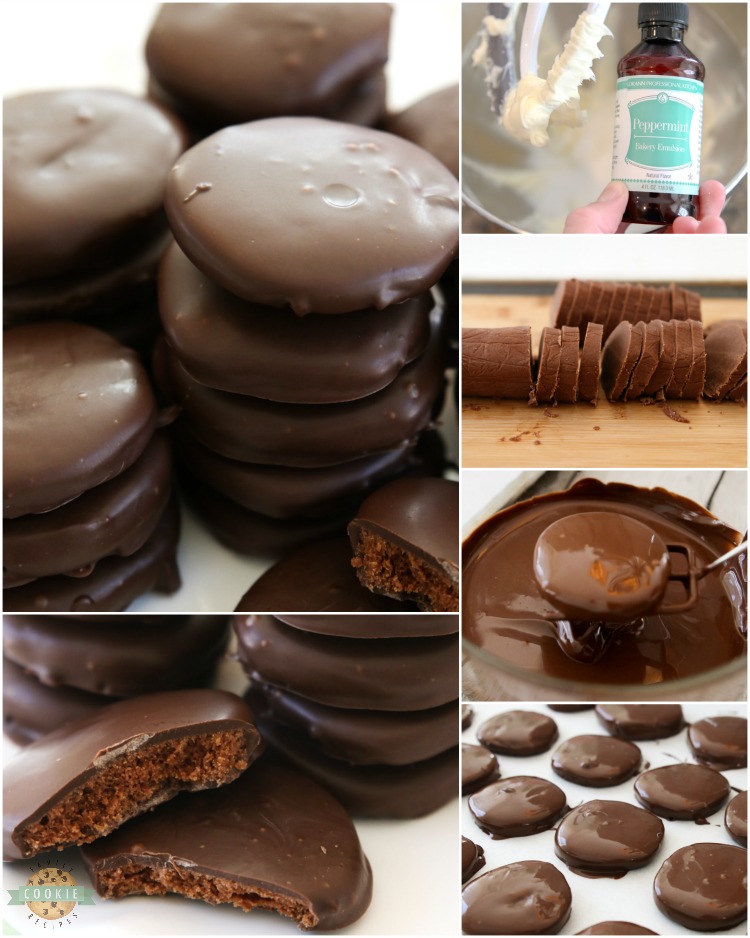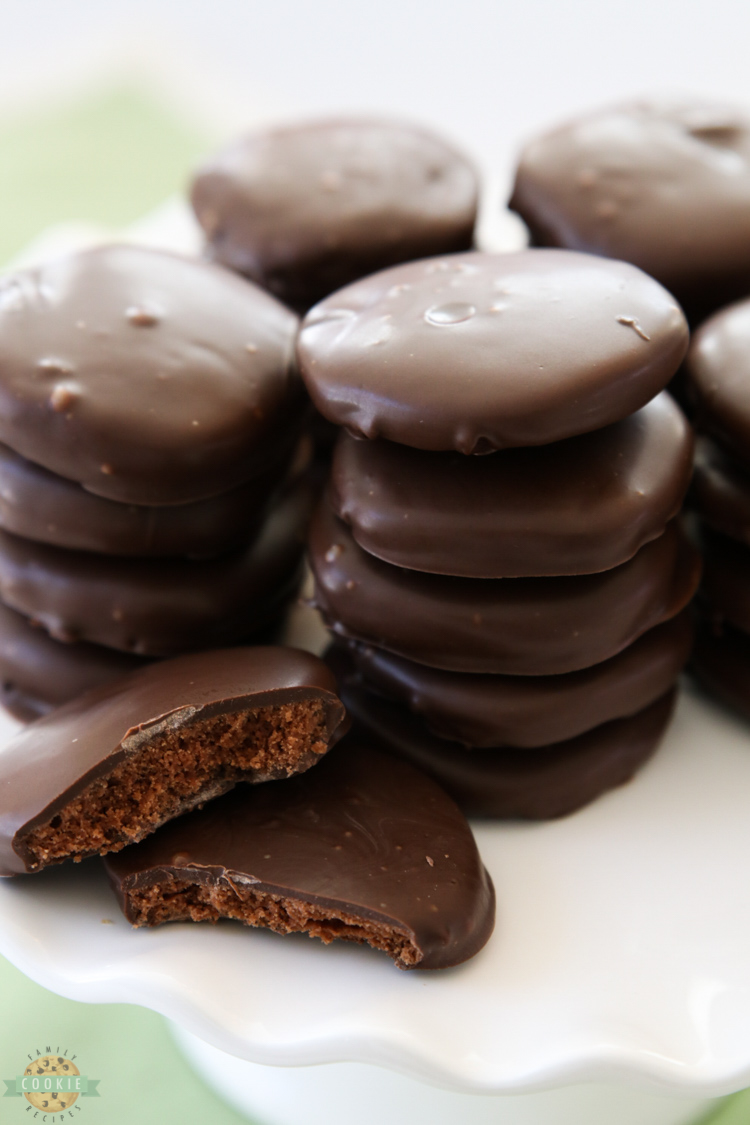 How do you melt chocolate in the microwave?
Melting chocolate in the microwave is easy if you go slowly. Always use a glass or ceramic bowl and chocolate that's not old. To melt 1 cup of chocolate chips I'd begin with 1 minute in the microwave. After the 1 minute, let chocolate sit for 2-3 minutes. Then, gently stir and see if chocolate begins to melt smooth. If it's still really solid, add 20 seconds in the microwave, then let it sit again.
Often chocolate looks like it's not melted when it really is, and you don't know for sure until you gently stir it. If your chocolate melts but it's too thick to work with, try adding 1/2 teaspoon of coconut oil or shortening, then letting it melt and stirring it in.
Can you freeze homemade Thin Mint cookies?
Yes, you can freeze these homemade Thin Mint cookies! Ensure the chocolate has fully set so that they don't stick. Then store the cookies in an airtight container. My favorite airtight containers are Snapware. I've found that when I use Snapware, the foods generally stay fresh for at least 3-4 days longer than when you use regular tupperware. You can freeze Thin Mints for 4-5 months in air tight containers! If you simply want to freeze them in a ziplock bag, just plan on freezing them for 4-6 weeks, so that they don't develop frost burn.
My cookies are cooked unevenly. What am I doing wrong?
If your cookies are darker on the bottom than you'd like, it's probably an issue with your cookie sheet. I do not like thin cookie sheets or dark cookie sheets as these both tend to burn the bottoms of cookies. If you use a lot of cooking spray, the same result can happen. I prefer to use lighter colored cookie sheets with parchment paper or silicon baking mats. My favorite cookie sheets are Nordicware– I have 3 half sheets and 2 quarter sheets and love them all!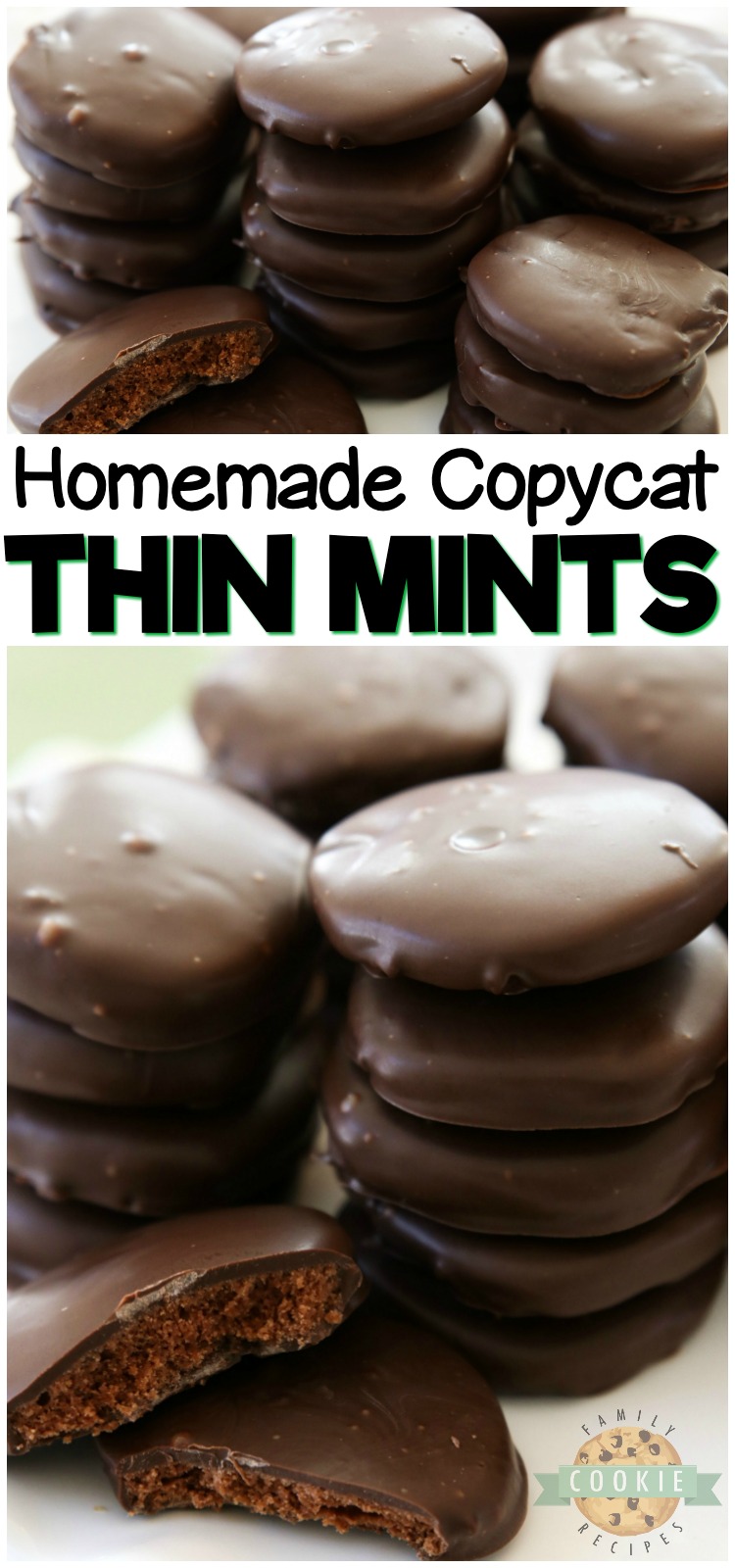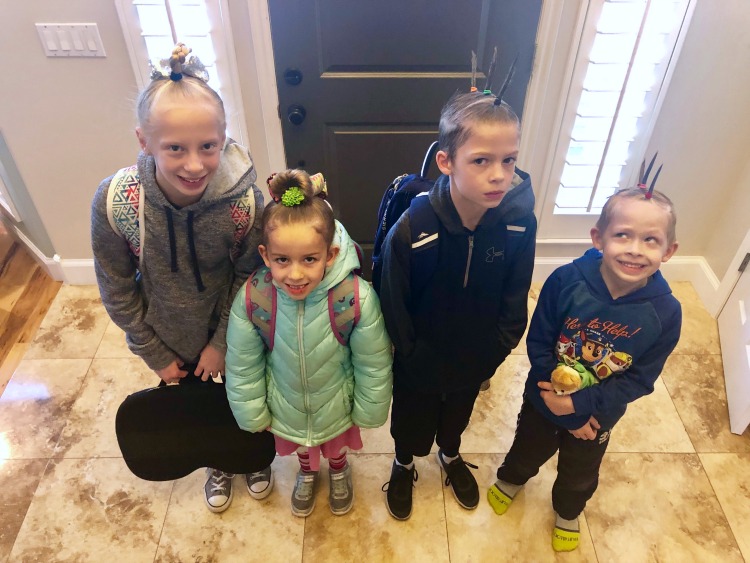 So, a little tidbit of info about me: I am not one of those moms who knows how to do the elaborate hair-do's for my girls. Or my boys. Really, I can barely do my own hair, so anything beyond the very basic is beyond me. Which leads to an interesting conundrum for "Crazy Hair" day. Each year my kids come to me with this freakishly elaborate ideas and each year they fail to notice the blank, confused expression on my face. Without fail, I steer them in the direction of something much simpler. And you know what? It works! This year the boys had spikes and my girls had Cindy-Lou-Who type hair with about 28 bows each. It was crazy. Ha! See what I did there?!