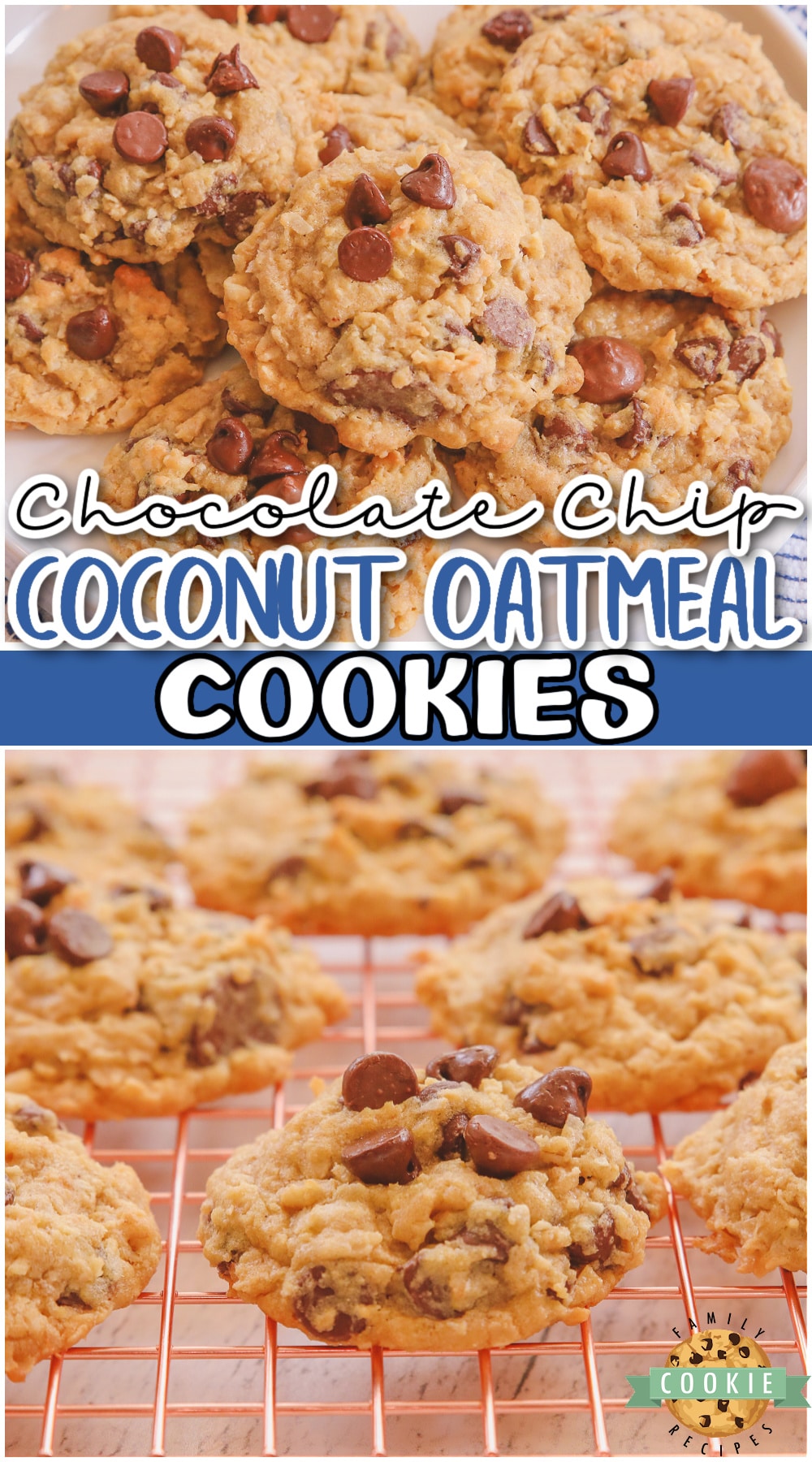 Chocolate Chip Coconut Oatmeal Cookies are packed with sweet coconut flakes, chocolate chips, and chewy oatmeal in every bite! These oatmeal chocolate chip cookies are so delicious, all the ingredients combined create a spectacular cookie like no other.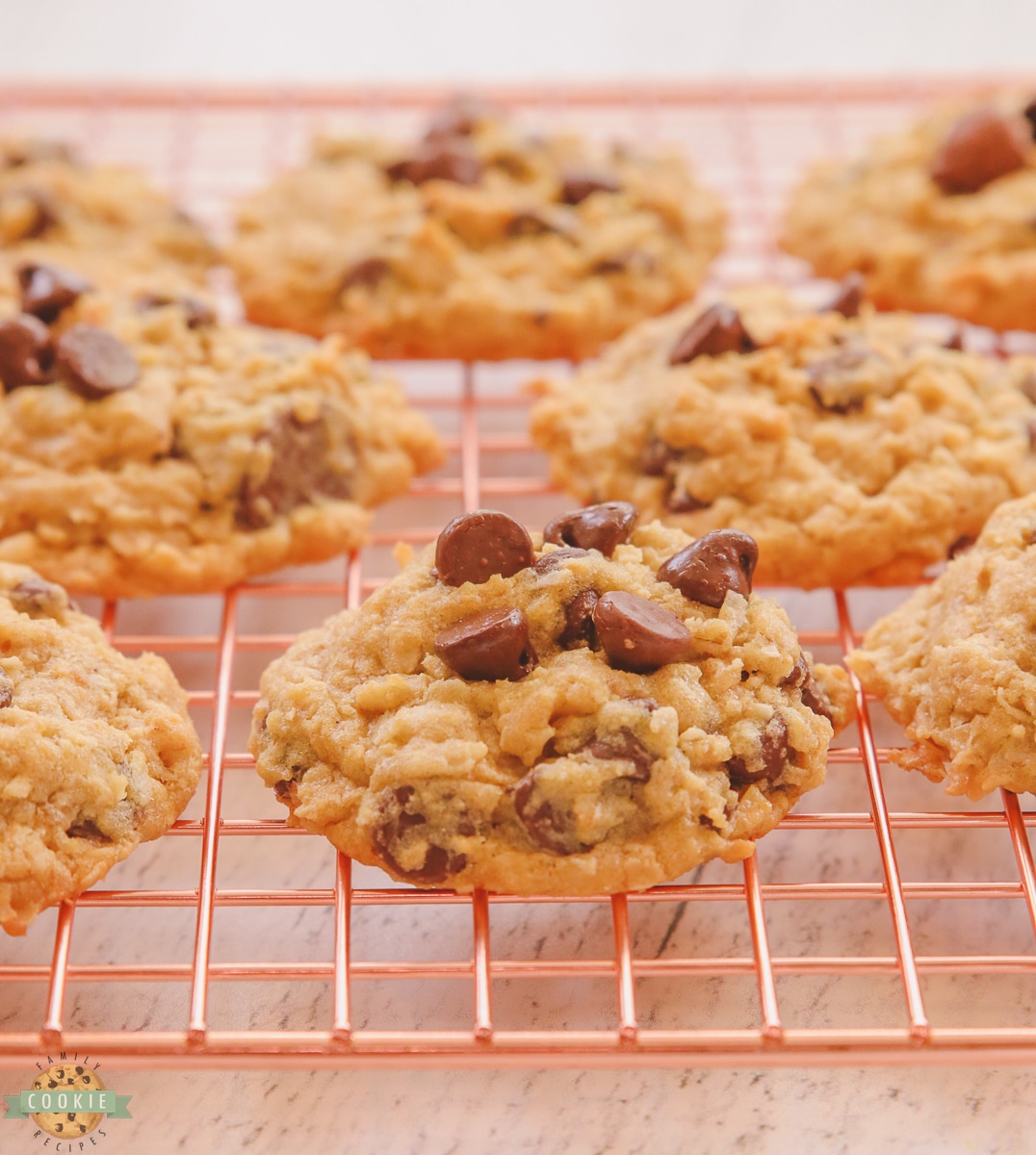 Oatmeal cookies are always satisfying, but when you add in chocolate chips and coconut, you really have a winning recipe! These chocolate coconut oatmeal cookies are truly an indulgent and delicious dessert. It is impossible to just eat one because they are the BEST oatmeal coconut chocolate chip cookies and will have you reaching for more.
Soft and chewy Oatmeal Cookies with Coconut
Making these oatmeal chocolate chip and coconut cookies is incredibly simple and easy. There is no chill time required so the dough comes together quickly, it is as simple as mixing ingredients together in mixing bowls. This is a perfect example of an easy cookie recipe for novice and professional bakers alike. Making them a perfect treat for any occasion! Whip up a batch on a weeknight to have a wonderful after dinner dessert or over the weekend for a special treat, either way they will be a huge hit in your house.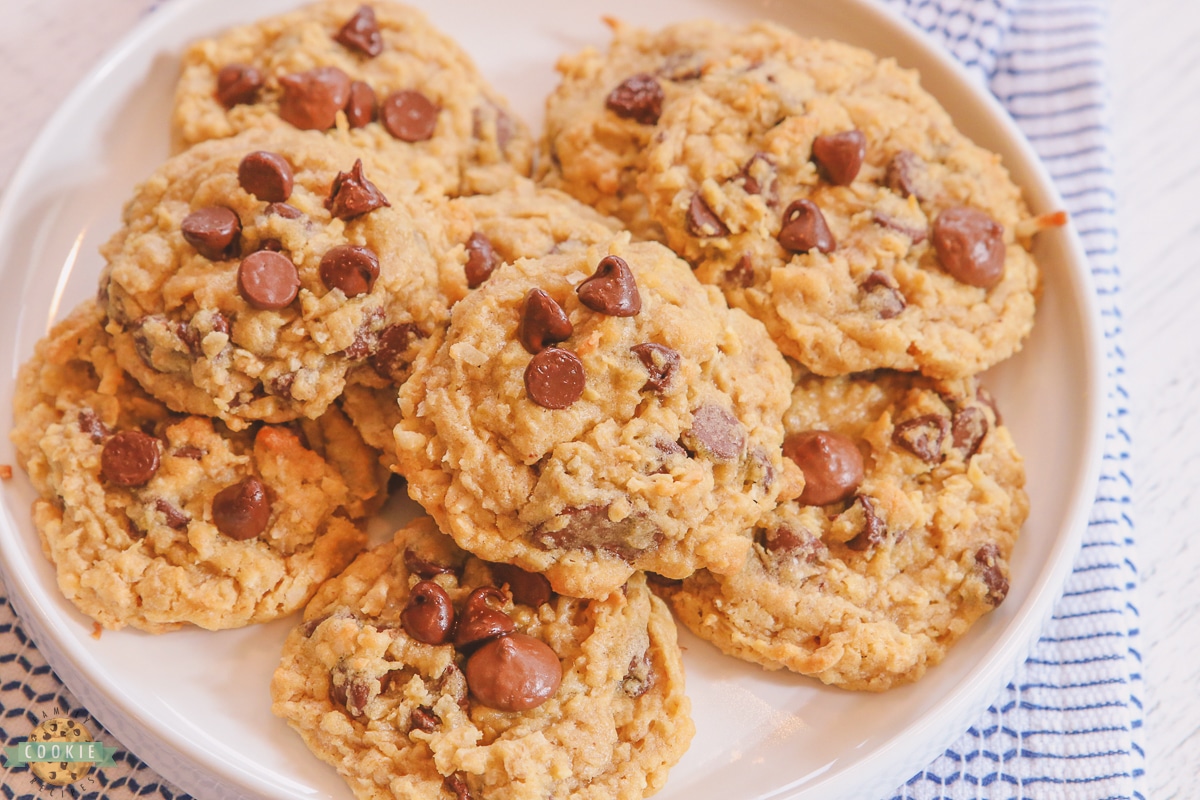 Chocolate Chip Coconut Oatmeal Cookies ingredients
–Butter: You will need 1 stick of butter that has been softened, this is equal to ½ cup of butter.
-Shortening: To make the cookies tender without losing flavor or causing the cookies to spread, add in ½ cup of butter-flavored shortening.
-Brown sugar: To make the cookies sweet and chewy, you will need 1 cup of packed light brown sugar.
-Granulated sugar: Add in ½ cup of white sugar to make the cookies a little more crisp in texture.
-Eggs: You will need 2 large eggs to help bind the dough together well. This will keep the cookies from crumbling apart when held.
-Vanilla extract: Use 1 teaspoon of vanilla extract to help enhance the flavors in the cookies well.
-Coconut extract: Add in 1 teaspoon of coconut extract or coconut emulsion to make the cookies taste even better!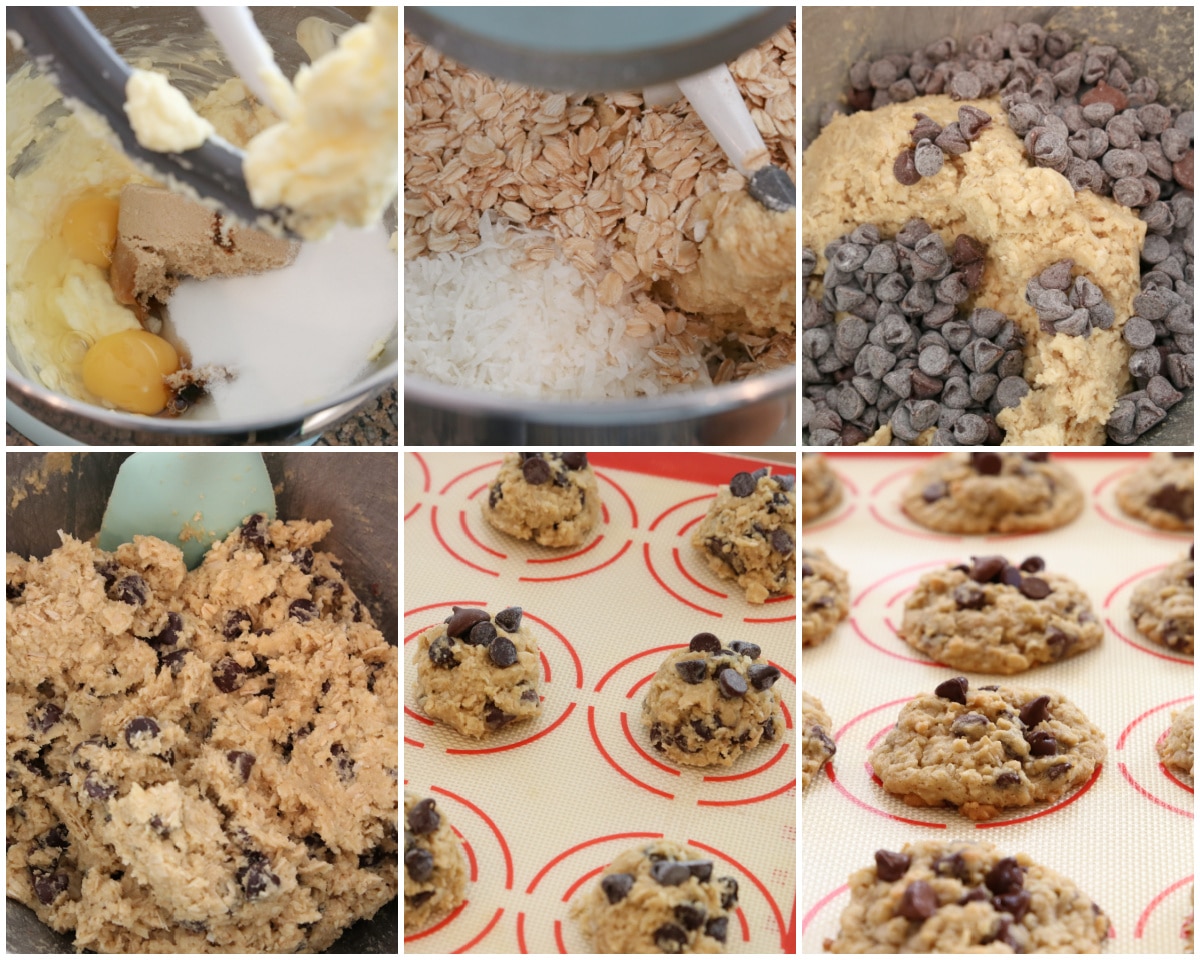 -Pudding mix: You will need 1 3.4-ounce sized box of coconut cream pudding mix to add to the dough. This adds more flavor and creates great texture for the cookie.
-Flour: You will need 1 ½ cups of all-purpose flour for the base of this recipe.
-Baking soda: Add in 1 teaspoon of baking soda so that the cookies puff up nicely as they bake.
-Salt: Use ½ teaspoon of salt to enhance the flavors in these cookies.
-Oats: You will need 3 cups of rolled oats to make these cookies nicely textured and chewy.
-Coconut: Add in 1 cup of sweetened coconut flakes to really make these cookies stronger in coconut flavor.
-Chocolate chips: To make the cookies extra special, use 2 cups of semi-sweet chocolate chips.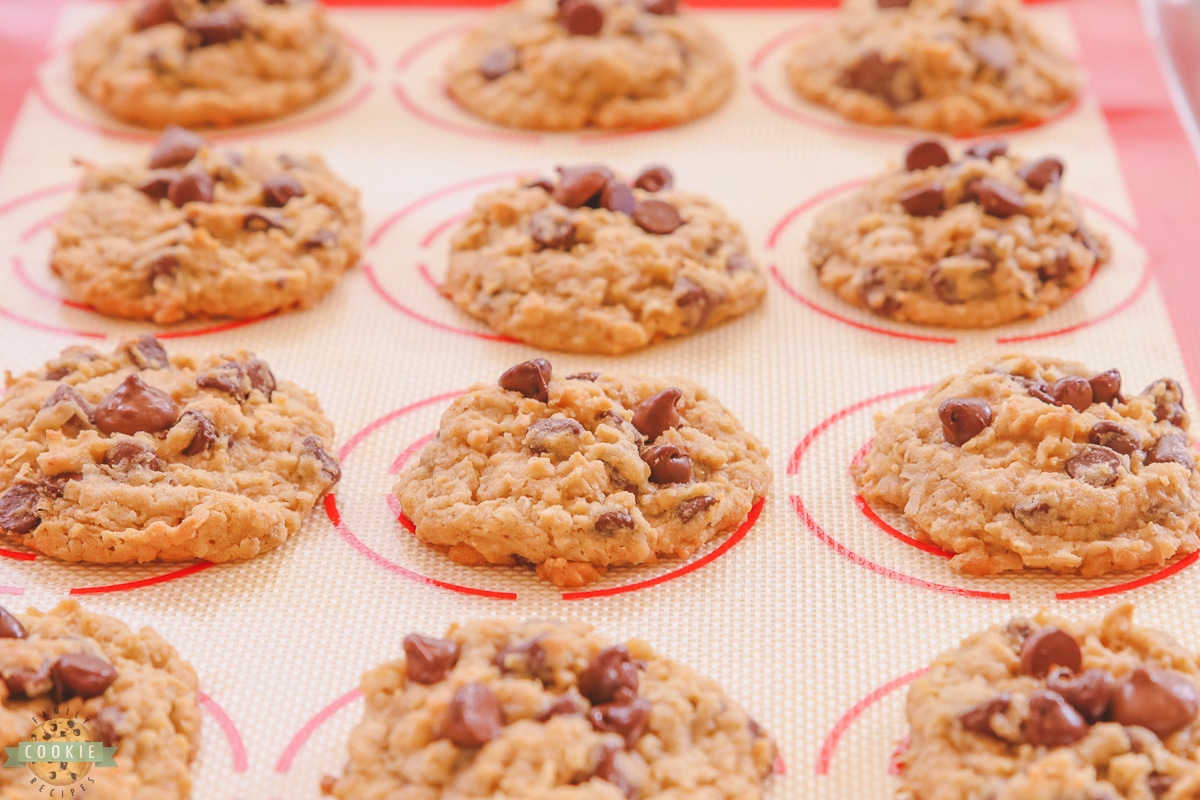 How to Make Chocolate Chip Coconut Oatmeal Cookies
Prep
Start by preheating your oven to 350 degrees F.
Then, line baking sheets with parchment paper and then set them aside.
Making the dough
Next, in a large bowl, cream together the butter, shortening, both brown and white sugars, eggs, and vanilla and coconut extracts, until smooth and creamy.
Then, add in the dry pudding mix and then stir again to combine well.
In a separate small bowl, whisk together the flour, baking soda, and salt until well mixed.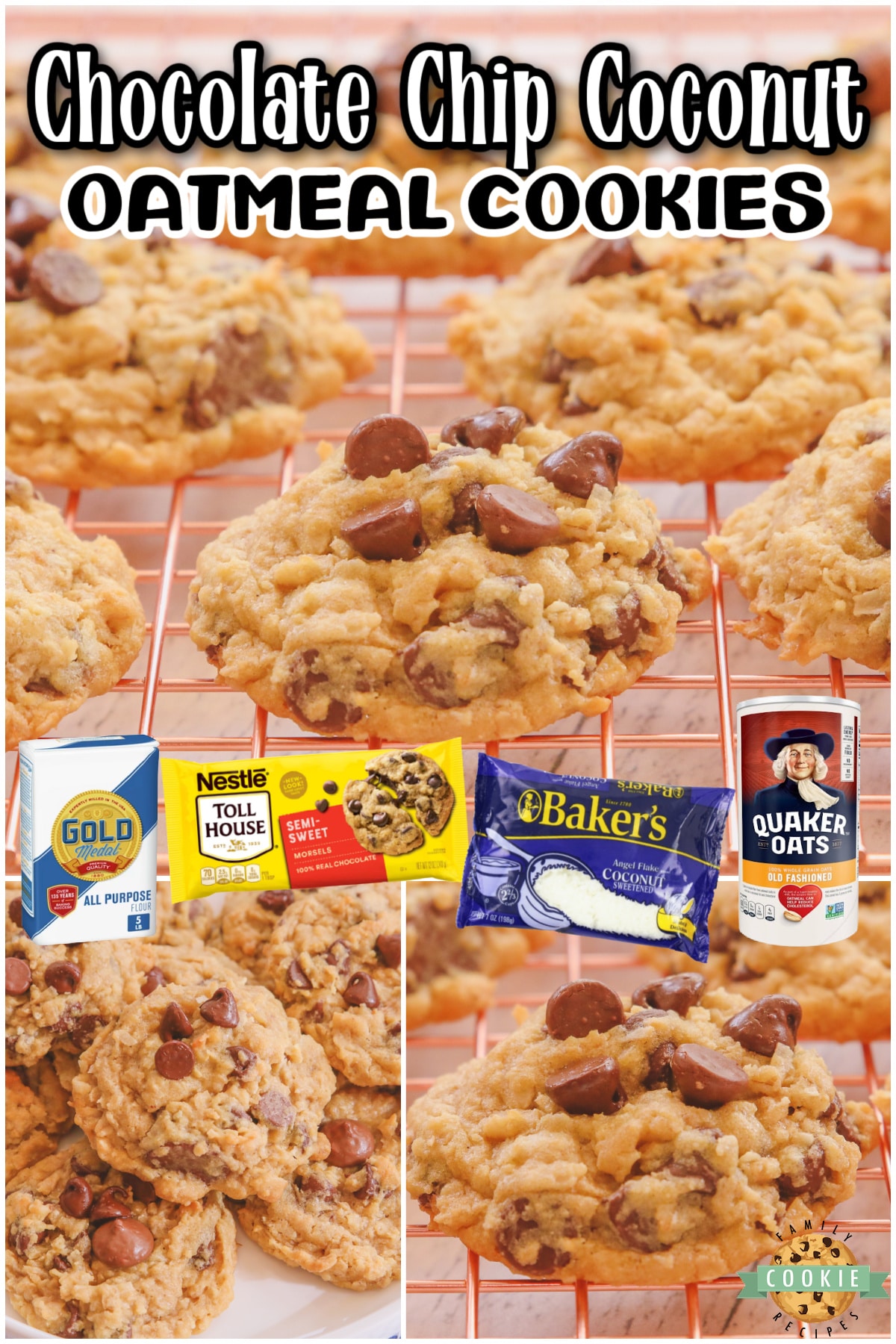 Proceed to add the flour mixture to the butter mixture and stir well to fully combine.
lastly, stir in the oats, shredded coconut, and chocolate chips until well incorporated.
Bake
Scoop the dough by the rounded tablespoon-sized balls and place them onto the prepared parchment-lined baking sheets.
For added deliciousness, add another 3-5 chocolate chips on top of each dough ball, if desired.
Bake in the oven for 9-11 minutes until light and golden. Be careful to not overbake the cookies.
Let the cookies cool for a few minutes, service slightly warm and enjoy!
How long are oatmeal cookies good for?
These cookies can stay fresh for up to a week if kept stored in an airtight container at room temperature. For best tasting results I recommend eating these cookies within 5 days.
Can I freeze oatmeal chocolate chip cookies?
Yes, these cookies can be frozen for a longer storage solution. To do this simply place the cookies in an airtight container in the freezer for up to 3 months. When you are ready to eat a cookie, just place it on the counter for several minutes to thaw before enjoying it.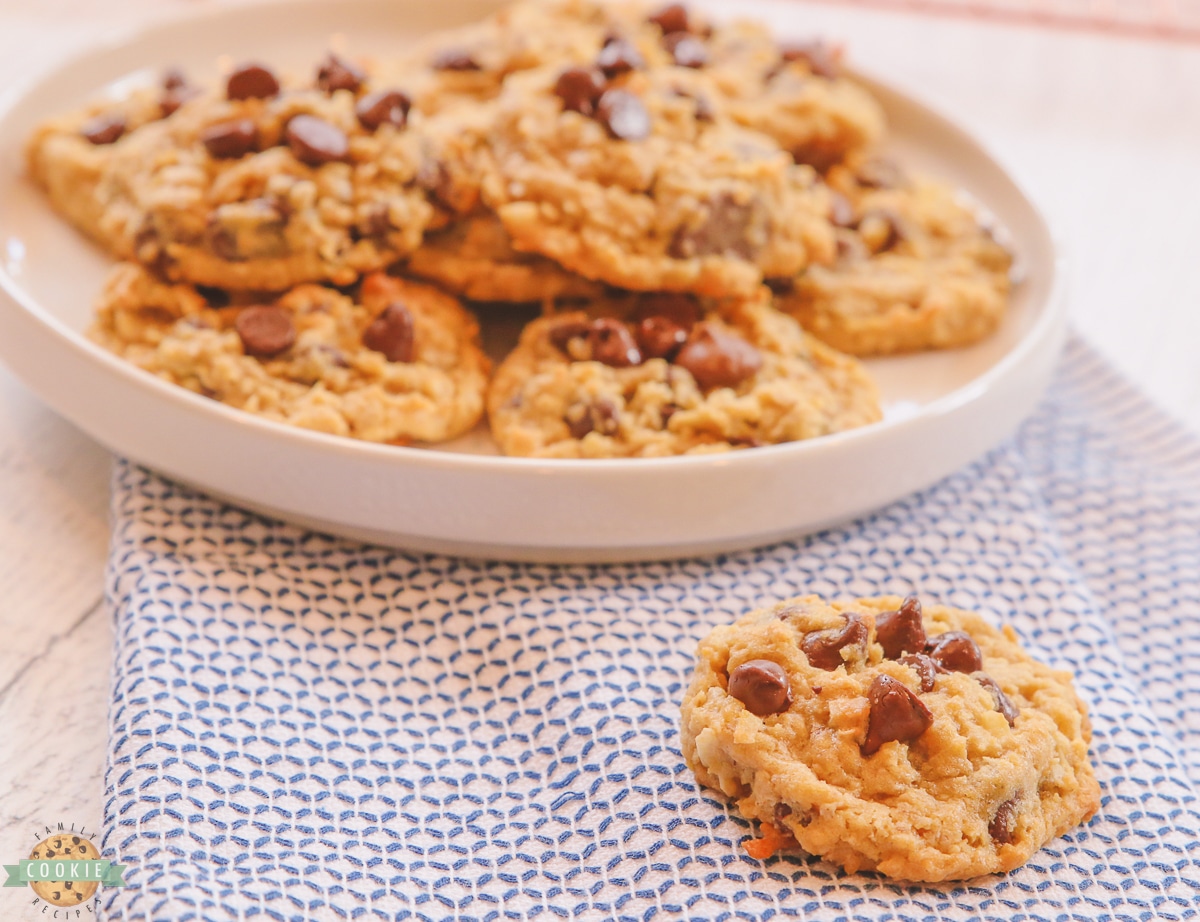 Why are my cookies coming out flat?
If your cookies are flat and spread out too much while baking, you may need to add a little bit more flour. Start by just adding a few tablespoons of flour to the batter and see if that is enough to help the shape of your cookies. If you are using a recipe with butter, make sure you are not completely melting the butter. There are a few cookie recipes that actually call for melted butter, but most of them just require the butter to be softened to room temperature.

I absolutely LOVE it when my kids get to hang out with their cousins! There's just something special about a cousin relationship. It's like they're automatically closer than just friends, even though they might not see each other as often. I'm also cracking up that 50% of the kids in this cousin photo are mine! ACCURATE!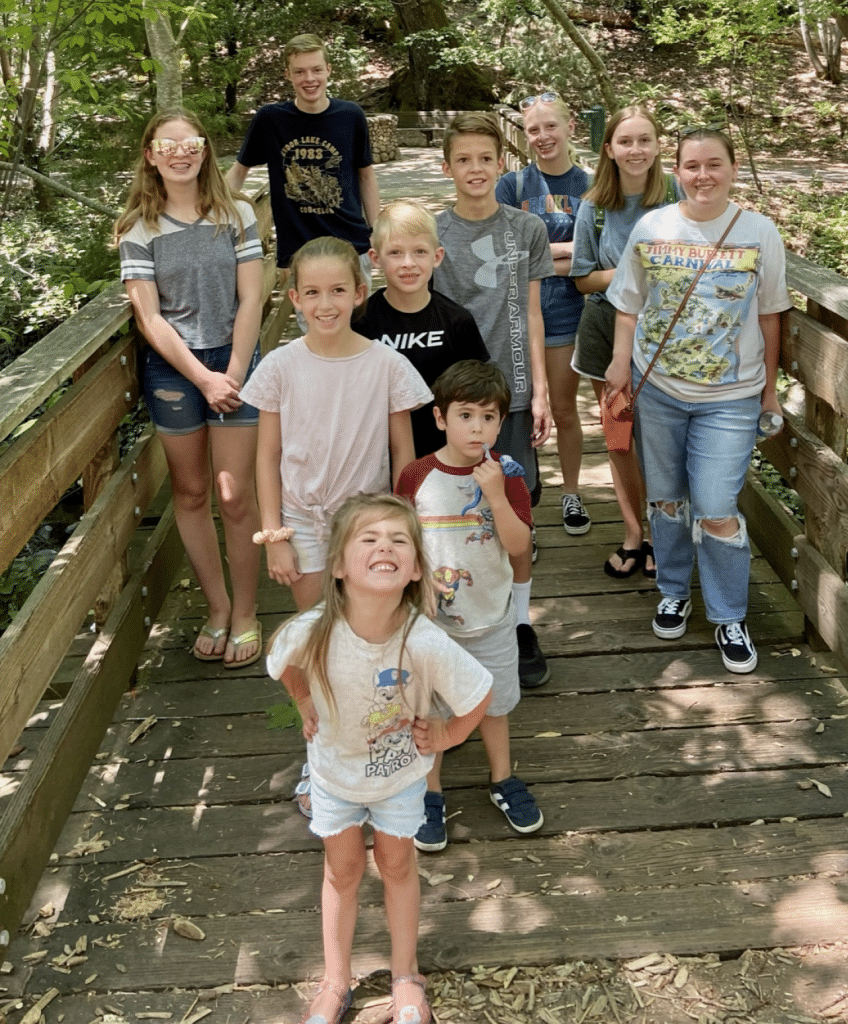 You will love these other great oatmeal cookie recipe suggestions!
Packed with sweet coconut flakes and flavor, chewy oats and sweet chocolate chips in every bite these Chocolate chip coconut oatmeal cookies are a dream come true and perfect for any occasion.