M&M Oatmeal Cookies are soft, chewy and loaded with mini chocolate chips and M&Ms. Delicious M&M cookie recipe that is loaded with oats too!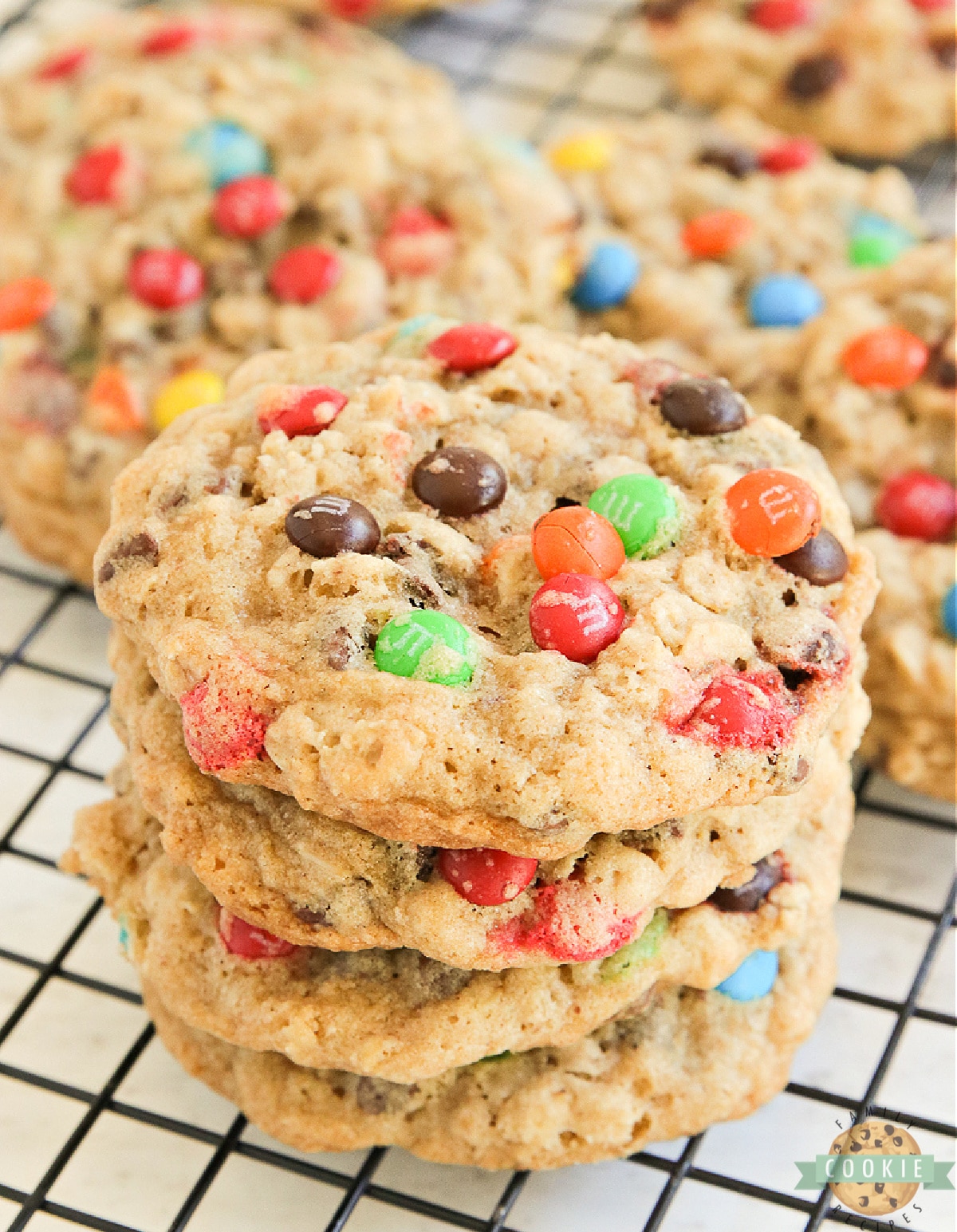 We love M&M cookies, but I decided to try adding M&Ms to a classic oatmeal cookie recipe and I really like this version too! I love making M&M cookies because you can use seasonal M&Ms to make the cookies fit any holiday or occasion. I used mini M&Ms in these cookies, but regular M&Ms work great too and you can use a different variety if you choose (peanut, peanut butter, pretzel, etc).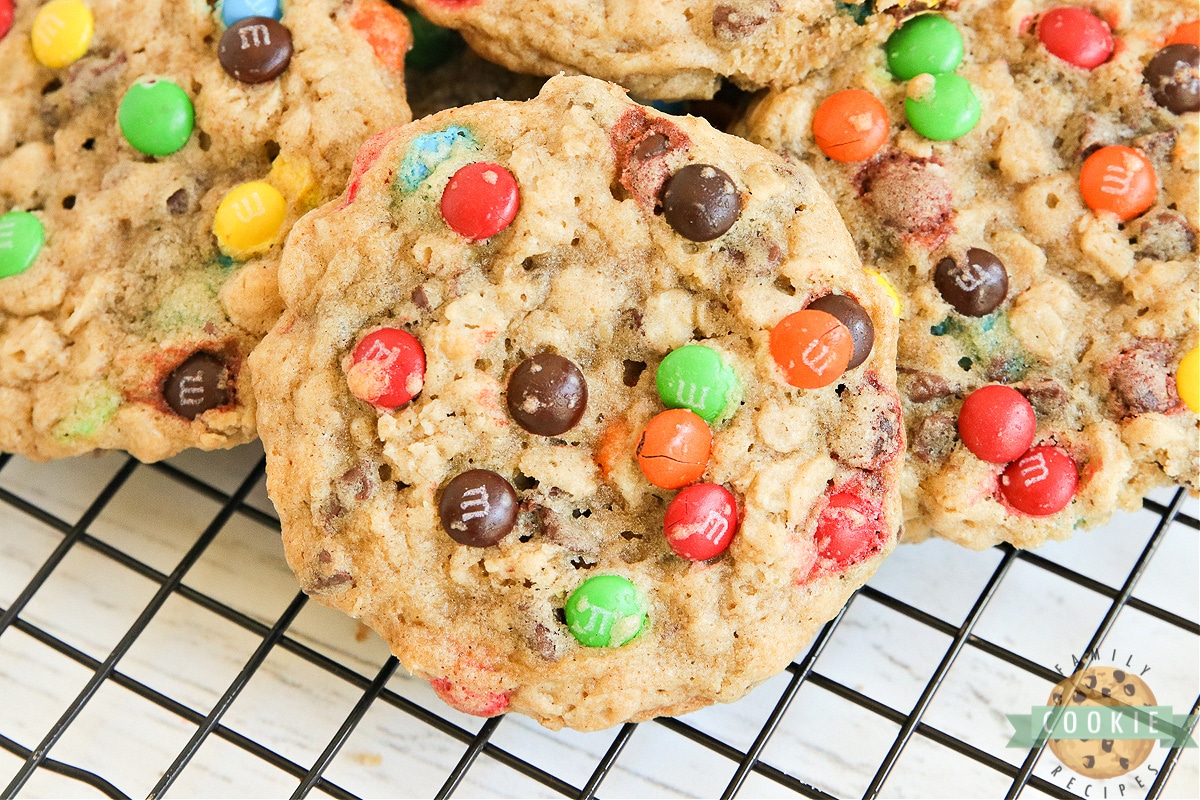 WHAT KIND OF OATS ARE BEST IN OATMEAL COOKIES?
You can use quick oats or old-fashioned oats in your cookies- it really comes down to a personal preference. I really love using old-fashioned oats in this recipe, and I really believe that old-fashioned oats make for much better oatmeal cookies. But it's totally up to you and what type of oats you have in your pantry! If you use all quick oats, the cookies will end up being a little bit more dense and a little bit puffier. I like the texture of old-fashioned oats because it make the cookies a little bit chewier (and also like I am eating real oatmeal which makes it easier for me to justify eating a few of these for breakfast!). You can even use a combination of both types if you'd like!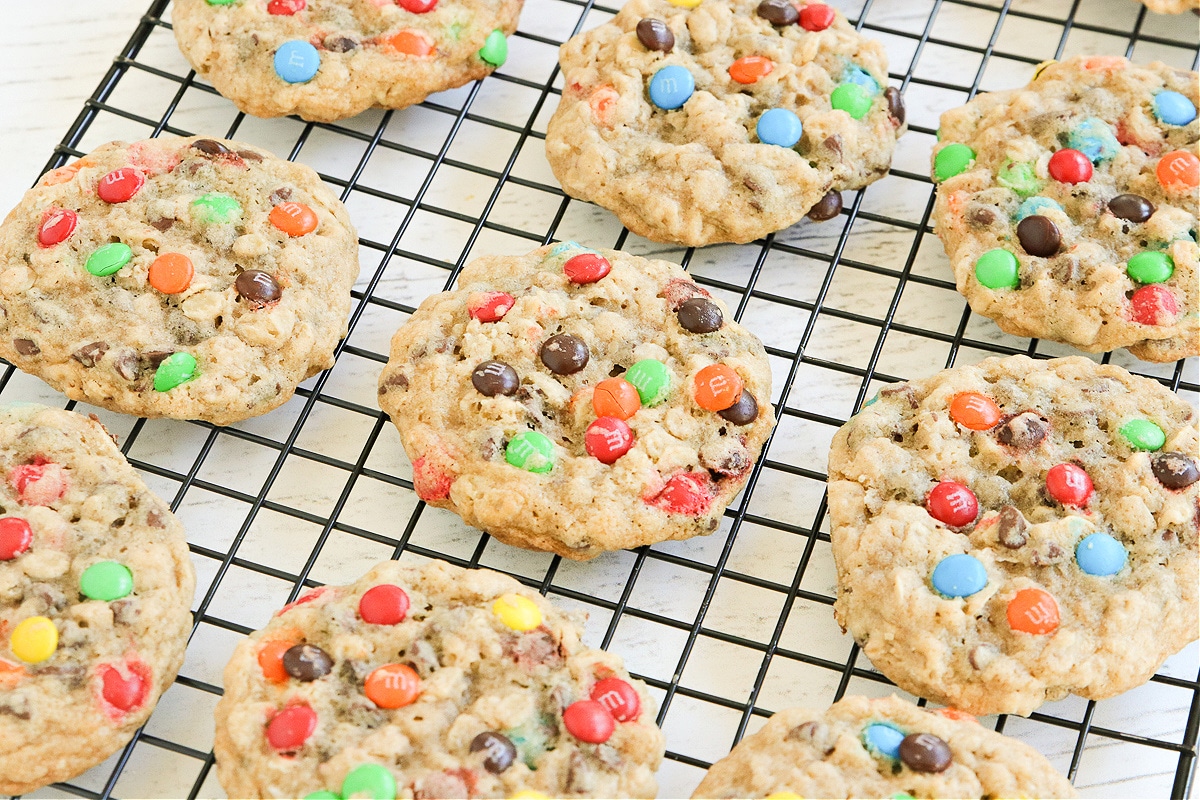 Ingredients in M&M Oatmeal Cookies
Butter – You'll need 2 sticks of butter in this recipe. Make sure to soften the butter before mixing with the sugars.
Brown sugar and granulated sugar– I always use light brown sugar, but you can use dark if you prefer. For best results, make sure the brown sugar is soft and fresh.
Eggs – You'll need two large eggs to bind everything together and make the perfect cookies.
Vanilla extract – The higher the quality of the vanilla, the better!
Flour – I use all-purpose flour in cookies, but cake flour works fine too. You can even swap some of it out with wheat flour if you want, but the taste and consistency will be different.
Cinnamon – You'll need an entire tablespoon of ground cinnamon in this recipe, but don't leave it out! The cinnamon pairs so well with the oats and gives these cookies so much flavor.
Baking soda, baking powder and salt – Just make sure your baking soda and baking powder aren't old or expired!
Oats – Old-fashioned oats definitely work the best in these cookies!
Mini M&Ms – You'll need about 1 1/2 cups. I used 4 of the small tube containers, but you can use a 10-oz bag of them and that will work perfectly too. You can always add more or less…more is generally better! You can also use regular sized M&Ms if you prefer, but I think the mini ones are easier to work with as far as getting them to stick on top of the cookies.
Mini chocolate chips – You will need about 1 cup of mini chocolate chips. You can leave these out if you'd like, but usually more chocolate is a good thing and I like combining them with the M&Ms. You can use regular sized chocolate chips if you prefer, but I really like to use the mini ones in cookies, and they seem to pair better with the mini M&Ms.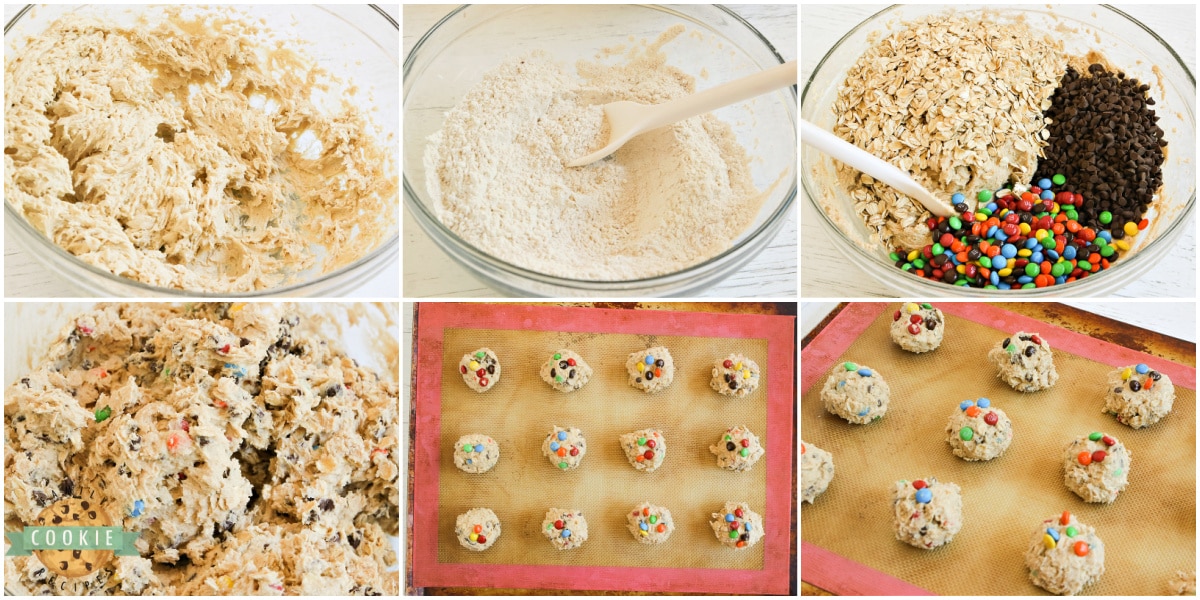 How to make M&M Oatmeal Cookies
Preheat oven to 350°.
In a large bowl, mix butter and sugars together for 2-3 minutes. Add eggs and vanilla and blend for another 2 minutes.
In a separate bowl, mix together the flour, cinnamon, baking soda, baking powder and salt until well combined.
Add the flour mixture to the butter mixture and mix just until combined. Add the oats, half of the M&Ms and chocolate chips and stir until evenly distributed throughout the dough.
Place the other half of the M&Ms into a small bowl. Use a cookie scoop to scoop the dough into balls and then press the top of each cookie dough ball into the M&Ms, so that each cookie dough ball is well coated with M&Ms on the top.
Place cookie dough balls onto a well-greased cookie sheet or a cookie sheet that has been lined with parchment paper or a silicone baking mat.
Bake cookies for about 12 minutes or until the edges just barely begin to brown. Don't overbake! Let the cookies cool on the cookie sheet for a few minutes before transferring them to a wire rack to cool completely.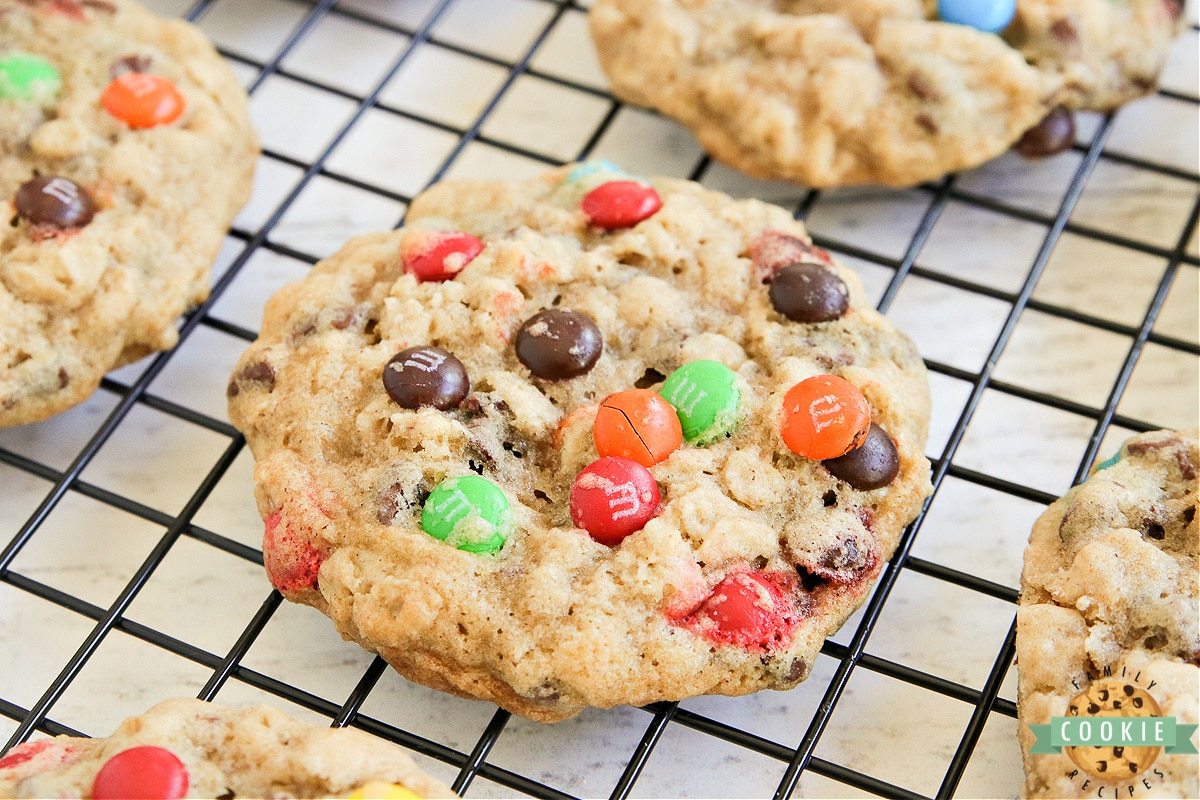 HOW TO MAKE THE BEST OATMEAL COOKIES:
After trying out multiple oatmeal cookie recipes over many years, I have picked up several important tips for making the absolute BEST Oatmeal Cookies!
Make sure that you have enough flour in the dough. If the dough is too sticky, you may need to add a little bit of flour. Keep in mind though that oatmeal cookie dough is a bit stickier than other cookie dough and that's ok!
Use old-fashioned oats. You can use quick oats, but the cookies won't be the same and I think old-fashioned oats make for much better oatmeal cookies.
Spend a little extra time when you mix the butter and sugars. Creaming them together for 2-3 minutes will improve the consistency of your cookies.
Preheat the oven. This will help your cookies turn out right every time!
Use a cookie scoop! If you want all your cookies to be perfectly shaped and have them all be the same size, a cookie scoop is the way to go.
Use parchment paper or a silicone baking mat. Doing this will make it really easy to remove the cookies from your cookie sheet so that you don't have to scrape them off the pan – they will just slide right off in perfect shape!
Don't over bake the cookies – when I take mine out of the oven, they still look slightly under baked but they will continue to bake on the cookie sheet for a couple more minutes so that's ok!
HOW DO YOU SOFTEN BUTTER TO ROOM TEMPERATURE?
The best way to soften butter is to set it out for a few hours before you make your cookies. Since most of us (or maybe just me!) aren't that prepared or don't think that far in advance, there are a few tricks to softening butter perfectly in just a matter of minutes.
My favorite way to soften butter is in the microwave. It's definitely fast, but you do have to be very careful not to melt it. Just put the whole stick of butter in the microwave (as long as it isn't wrapped in foil!) and microwave for about 6-7 seconds. If the butter is still really cold, try another 5-7 seconds and check it again. You may need a few intervals, and if the butter is starting to feel soft, you can shorten the final interval to just a few seconds to make sure it doesn't start melting.
I actually prefer to use the defrost setting on my microwave – I don't know exactly what that mode does differently, and it takes a little bit longer (closer to 30 seconds), but it seems to be easier to get the butter to soften without melting.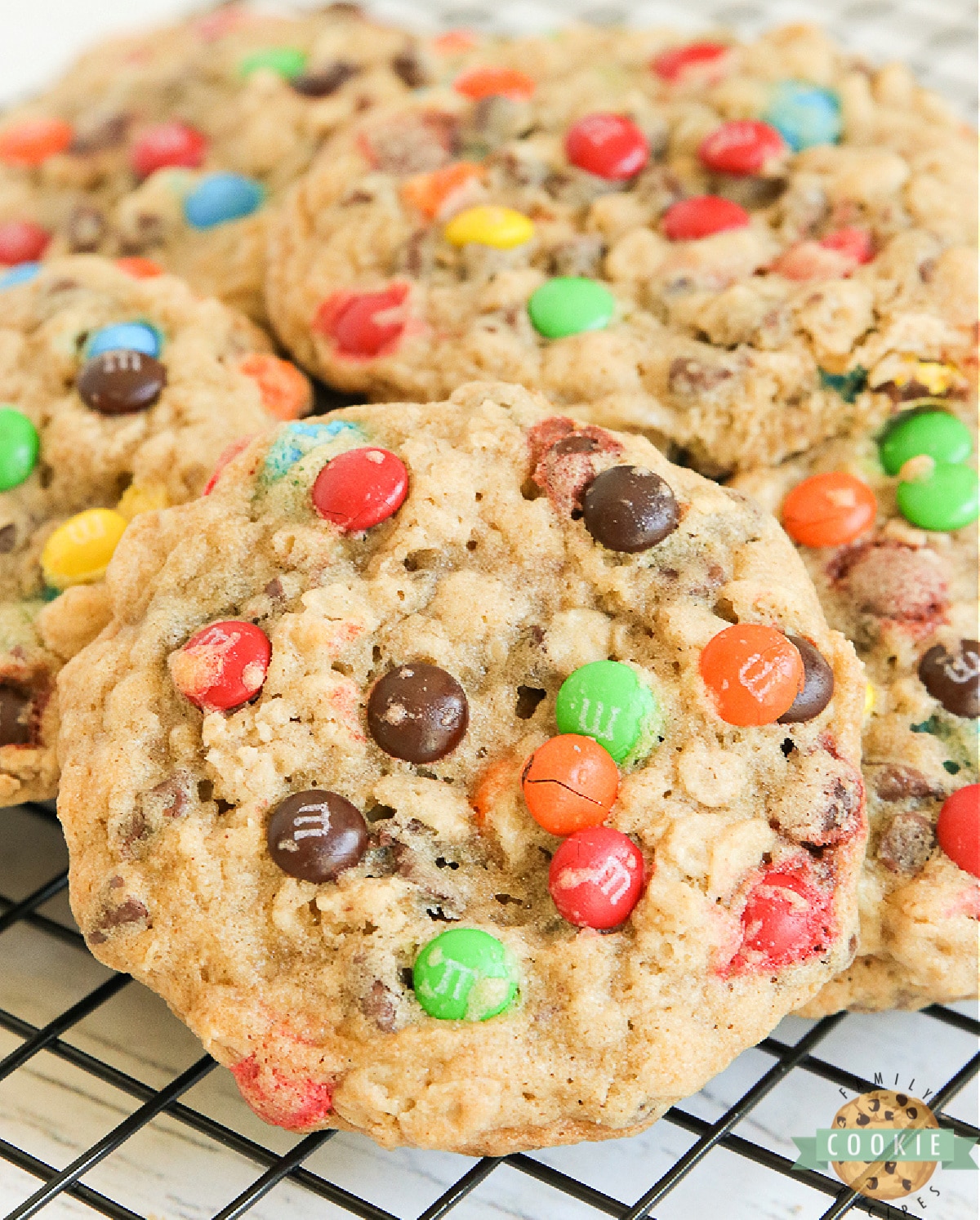 WHY DO MY OATMEAL COOKIES BURN ON THE BOTTOM BUT AREN'T DONE IN THE MIDDLE?
If your cookies are always burning on the bottom, it is probably a cookie sheet issue! If you are using really dark cookie sheets, the bottoms of your baked goods will tend to burn before they are actually cooked all the way through. If you use a lot of cooking spray, the same result can happen. I prefer to use lighter colored non-stick pans so that I don't have to use cooking spray at all. As mentioned above, I have been converted to silicone baking mats over the last couple of years and I love how easy it is for cookies to come off the tray – no sticking ever!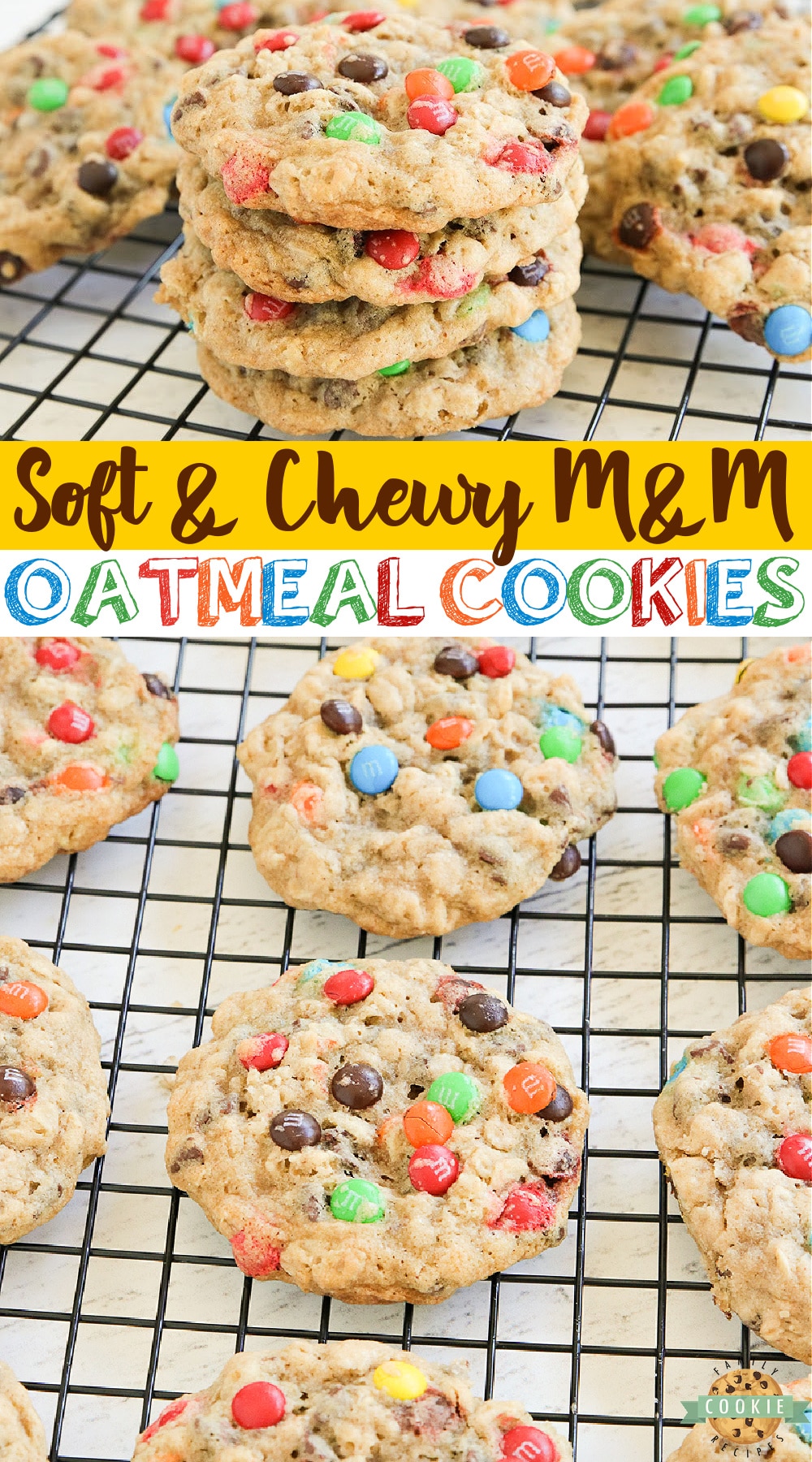 M&M Oatmeal Cookies are soft, chewy and loaded with mini chocolate chips and M&Ms. Delicious M&M cookie recipe that is loaded with oats too!


Can you believe how big my baby is getting? She has the longest, thickest, most beautiful hair I've ever seen on a 2 year old, but she absolutely hates getting it combed. She is so pleasant about pretty much everything, but she sees a comb or a brush and runs away. So I decided it was time for a simpler hair style until we get past this little phase. She was a little nervous about her first hair cut, but we went to a fun place where she could sit in a little car and watch a show the whole time and we all survived with minimal trauma. And I love how cute it turned out! Don't love that she instantly looked older when it was over, but we all love not having any more tangles!