Blackberry Oatmeal Cookies are the best, perfectly sweet, soft and chewy oatmeal cookie recipe. The fresh blackberries add the most delicious flavor! This is one of my favorite blackberry recipes ever.
[adthrive-in-post-video-player video-id="dROev2Ik" upload-date="2018-04-25T16:23:14.000Z" name="Blackberry Oatmeal Cookies" description="Blackberry Oatmeal Cookies are absolutely amazing! The cookies are soft and chewy and the fresh blackberries add the most delicious flavor!"]
Blackberry Oatmeal Cookies have become a new favorite of mine! I live in Washington State where blackberries grow all over the place. In mid to late summer, you can stop your car pretty much anywhere and find blackberries growing right next to the road. They are also usually on sale at the grocery stores around here so we go through a lot of blackberries at my house!
My kids absolutely love blackberries plain, but I like finding different ways to use them in recipes. Last year, I "invented" Raspberry Chocolate Chip Cookies and they were so good that I wanted to try something similar with blackberries. I thought they would go perfectly in a soft and chewy oatmeal cookie and to add some more texture and flavor, I added white chocolate chips too! These cookies are sweet enough to balance out the tartness of the blackberries and these cookies were even better than I had hoped!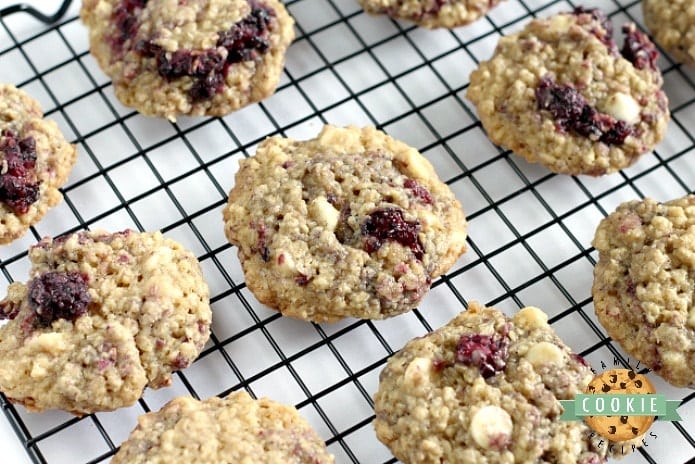 BLACKBERRY OATMEAL COOKIES
1 cup butter, softened to room temperature
1 cup packed light brown sugar
1/2 cup white sugar
2 eggs
2 tsp vanilla extract
1 1/4 cups flour + 2 TBSP flour, divided
1/2 tsp baking soda
1 tsp salt
3 cups quick oats
1 cup white chocolate chips
1 cup blackberries, quartered (if your blackberries are huge, you might cut them into sixths or even eighths!)
Cream together the butter and sugars until smooth. Beat in the eggs and vanilla.
Combine the 1 1/4 cup of flour, baking soda and salt in a separate bowl and add to the creamed mixture, mixing just enough to combine. Gently mix in the oats and white chocolate chips.
Place the remaining 2 TBSP flour in a small bowl and gently coat the blackberry pieces until evenly coated. (The flour helps to keep all of your batter from turning purple when you add the blackberries! If you really want to avoid any batter turning purple, you could place the blackberries in the freezer for 30 minutes before coating in flour. I didn't do that step this time around and it still worked fine!) Very gently fold the blackberries into the cookie dough, just enough to separate them evenly into the mixture.
Use a cookie scoop to drop cookies onto a greased cookie sheet. Bake for about 12-13 minutes at 325.
Cool on the baking sheet for about 5-7 minutes before transferring to a wire rack to cool completely. Enjoy!
After you try these Blackberry Oatmeal Cookies try a few of our other favorite cookies with fruit: