Blackberry Oatmeal Cookies are made by adding blackberries to a deliciously soft and chewy oatmeal cookie recipe.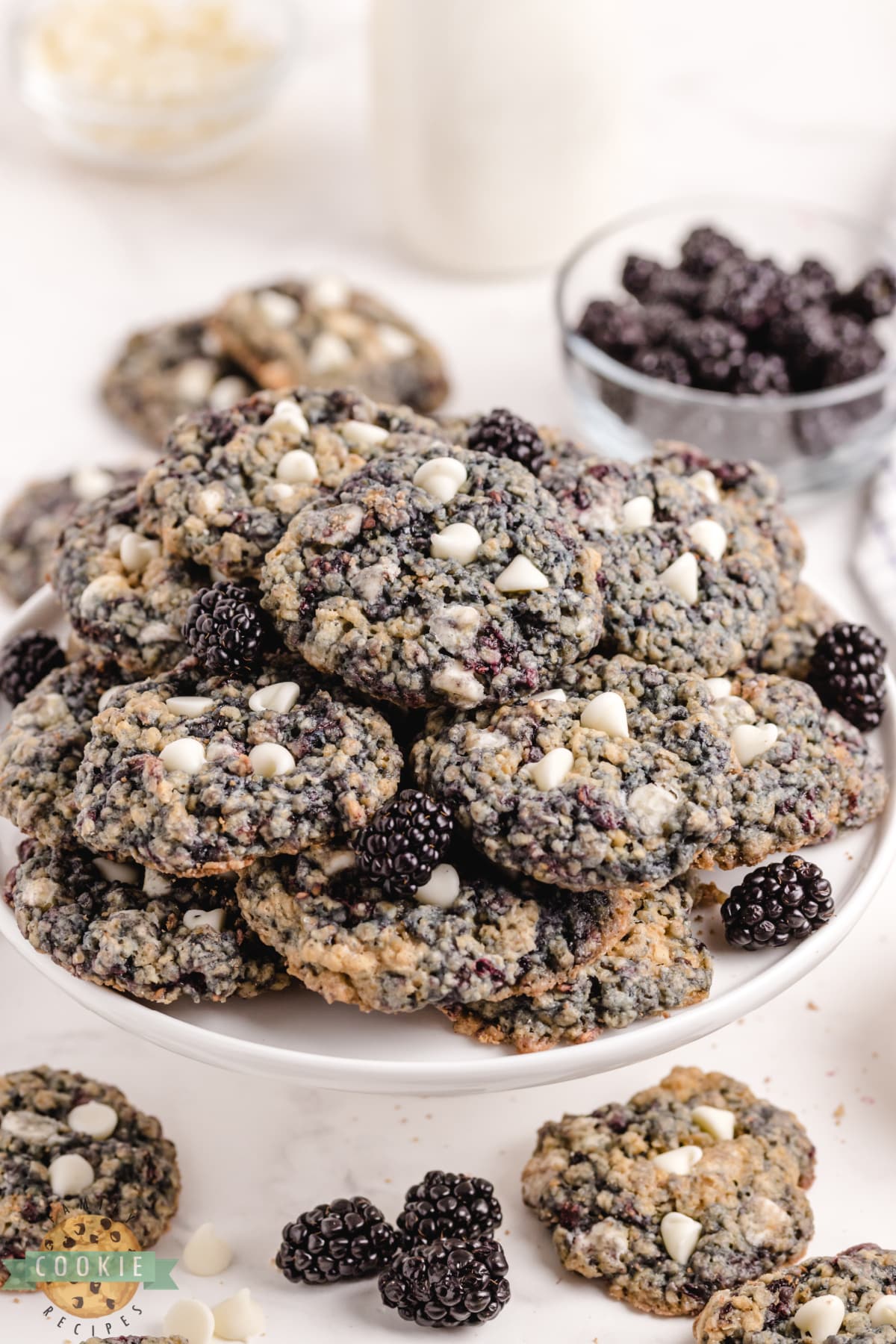 Blackberry Oatmeal Cookies have become a new favorite of mine! I love fresh blackberries, and I love finding different ways to use them in recipes. A few years ago, I "invented" Raspberry Chocolate Chip Cookies and they were so good that I wanted to try something similar with blackberries. I thought they would go perfectly in a soft and chewy oatmeal cookie and to add some more texture and flavor, I added white chocolate chips too! These cookies are sweet enough to balance out the tartness of the blackberries and these cookies were even better than I had hoped!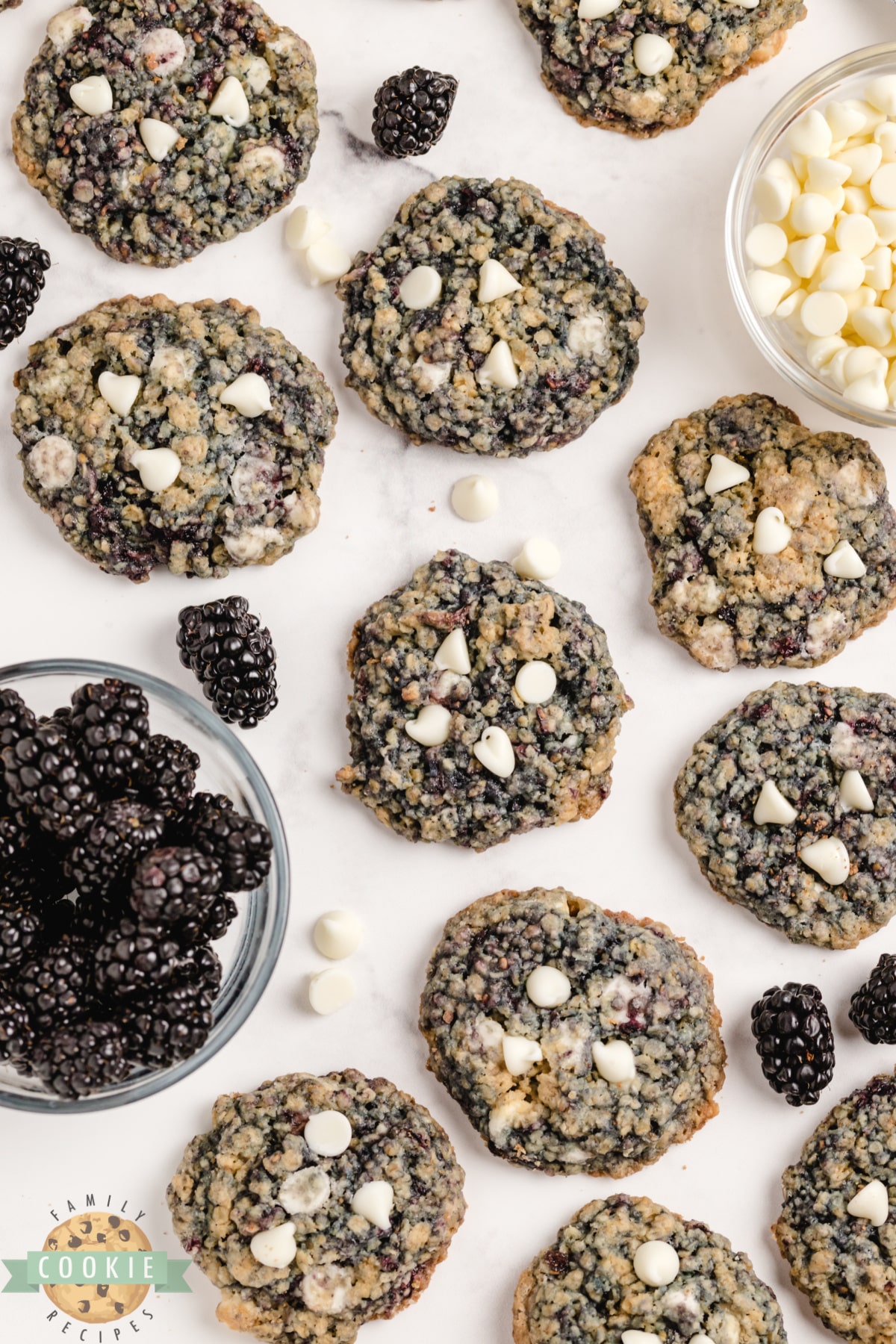 BLACKBERRY OATMEAL COOKIES
Oatmeal cookies have always been a favorite of mine. Made with simple ingredients like butter, sugar, eggs and vanilla, this oatmeal cookie recipe is super easy to make. Add some fresh blackberries and white chocolate chips for the most amazing flavor and texture!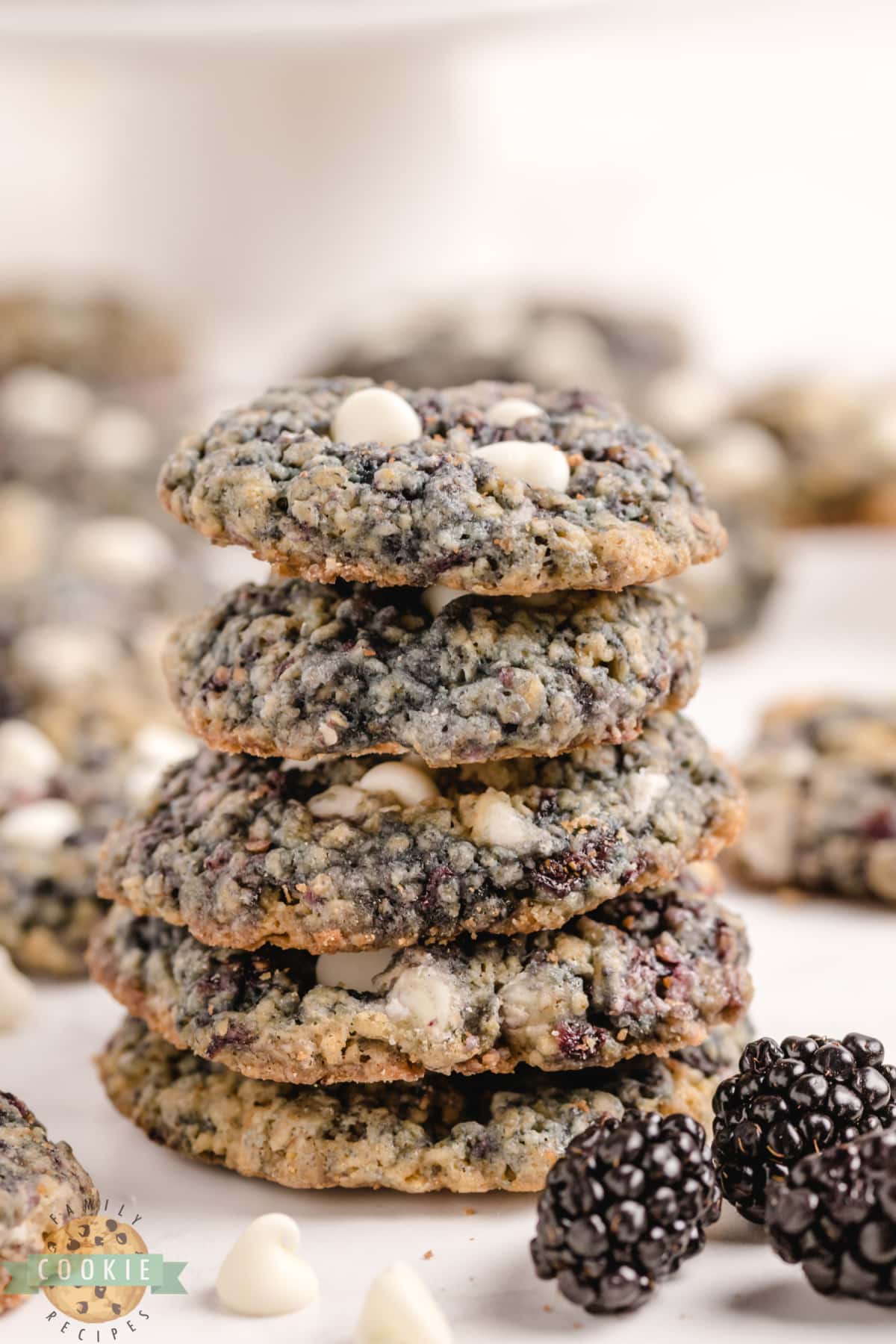 TIPS FOR MAKING THE BEST COOKIES
Three kitchen items really help you make the best cookies ever! I actually use these items in nearly every cookie recipe I make, as well as several other types of recipes, so they're quite versatile.
First, I line my cookie sheets with a piece of parchment paper or a silicone baking mat. They're sold in sizes that fit a 12×16 cookie sheet perfectly and enable to cookies to bake well without sticking- and no mess from spraying oil on the cookie sheets!
The second item is a KitchenAid mixer. I love mine! I have a Bosch as well but I find I use my KitchenAid for cookies. There is a cookie paddle that comes with every mixer that you attach to the top of the mixer. They're easy to use and help you mix the ingredients uniformly. Add this to your wish list because it's one of my all-time used small appliances ever!
The third item is a cookie scoop! Years and years ago I used to use 2 spoons to measure and scrape cookie dough onto the pans. It wasn't a perfect process and I often ended up with oblong cookies in various sizes. A friend of mine brought cookies to a party and I noticed each and every one of her cookies looked PERFECT. Her secret? A cookie scoop! They come in three sizes- 1/2 tablespoon, 1.5 tablespoon and 3 tablespoon scoops. I usually use the 1.5 tablespoon size for cookies like these!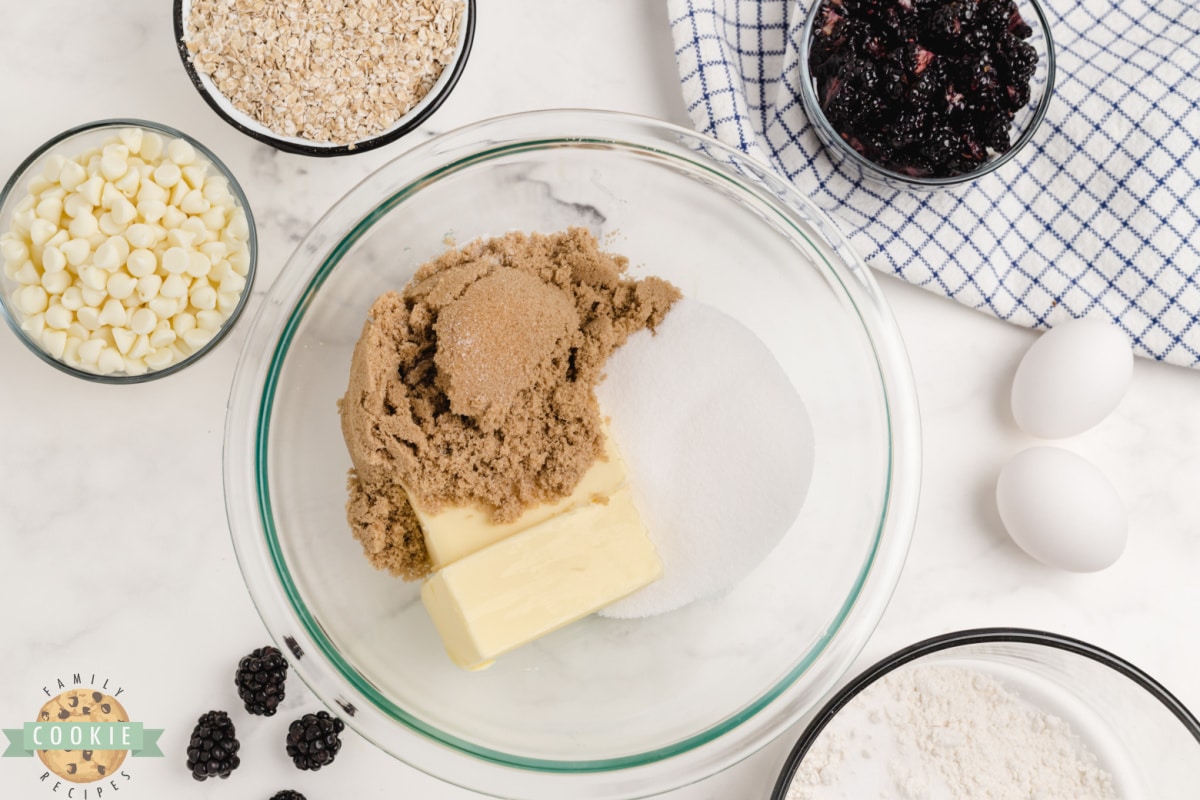 INGREDIENTS IN BLACKBERRY OATMEAL COOKIES
Butter – You will need 1 cup (2 sticks) of butter. Make sure the butter is softened to room temperature before adding to the recipe.
Sugars – You'll need 1 cup of granulated sugar and 1/2 cup of brown sugar. Make sure the brown sugar is fresh and soft.
Eggs – The recipe calls for 2 large eggs to bind everything together.
Vanilla extract – The higher the quality of the vanilla, the better!
Flour – All purpose flour works best in these cookies. Cake flour also works well.
Baking soda – This is the leavening agent in the cookies so make sure your baking soda isn't old or expired.
Salt – Just a teaspoon of salt helps to bring out the other flavors in the cookies.
Oats – This recipe calls for quick oats, but you can use old-fashioned oats if you'd like. I actually think the best oatmeal cookie consistency comes from using a 50/50 mix of the two!
White chocolate chips – These pair so well with the blackberries! Feel free to leave them out or add more if you'd like!
Blackberries – This is the star ingredient in these cookies! You will need about 1 cup of blackberries that have been washed and patted dry. I usually quarter them before adding to the cookies, but if they are really large, you may have to cut them into sixths or eighths.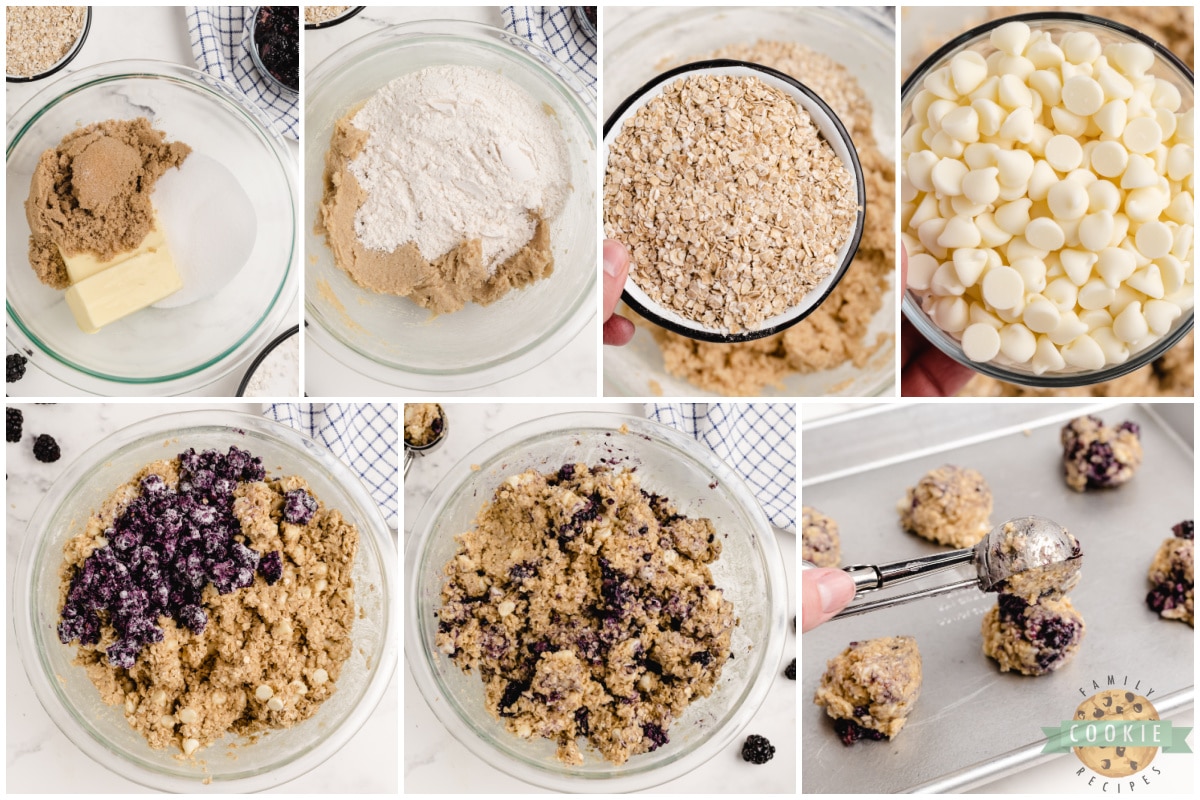 How to make Blackberry Oatmeal Cookies
Preheat the oven to 325°.
Cream together the butter and sugars until smooth. Beat in the eggs and vanilla.
Combine the 1 1/4 cup of flour, baking soda and salt in a separate bowl and add to the creamed mixture, mixing just enough to combine. Gently mix in the oats and white chocolate chips.
Place the remaining 2 TBSP flour in a small bowl and gently coat the blackberry pieces until evenly coated. (The flour helps to keep all of your batter from turning purple when you add the blackberries! If you really want to avoid any batter turning purple, you could place the blackberries in the freezer for 30 minutes before coating in flour. I didn't do that step this time around and it still worked fine!) Very gently fold the blackberries into the cookie dough, just enough to separate them evenly into the mixture.
Use a cookie scoop to drop cookies onto a greased cookie sheet. Bake for about 12-13 minutes.
Cool on the baking sheet for about 5-7 minutes before transferring to a wire rack to cool completely.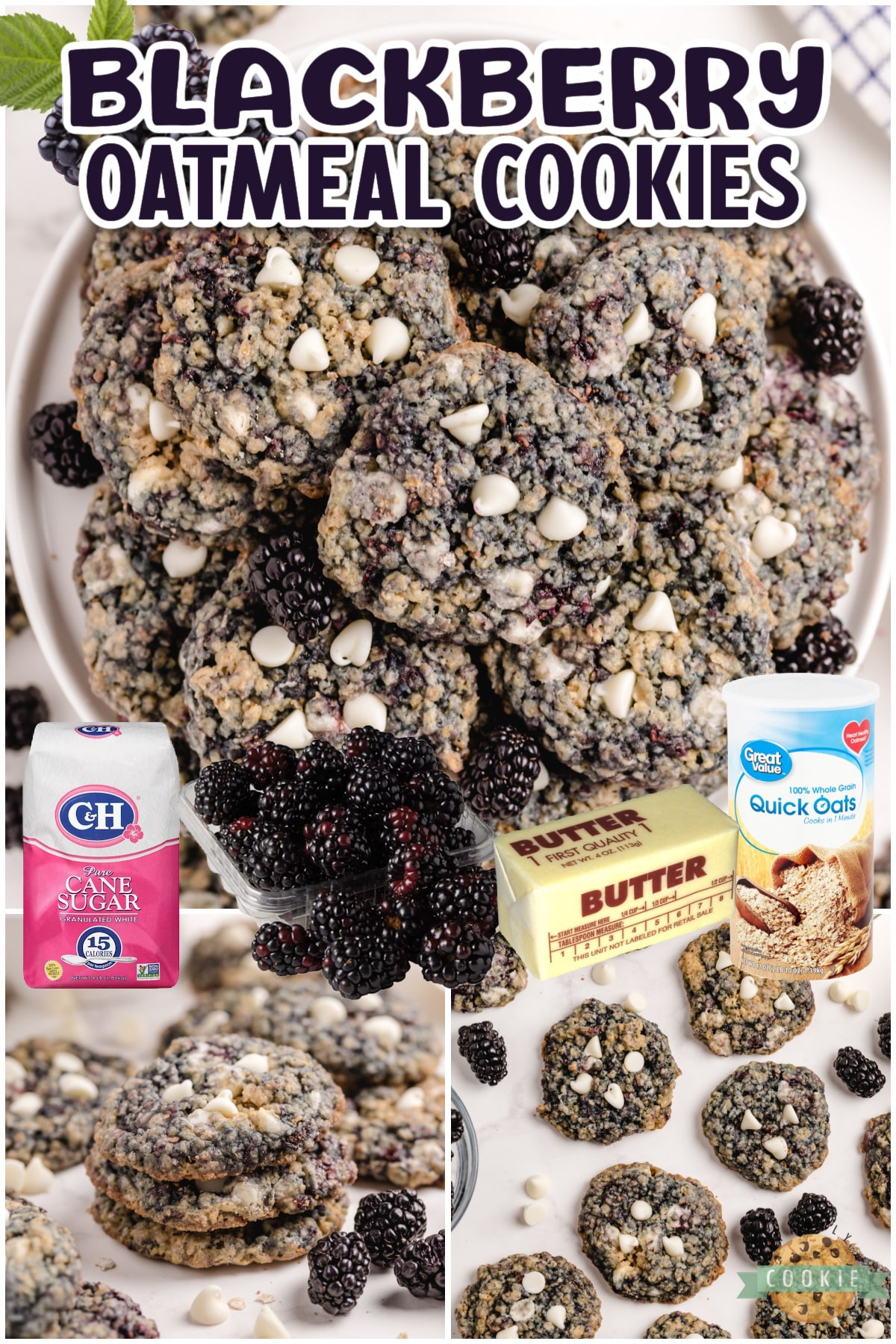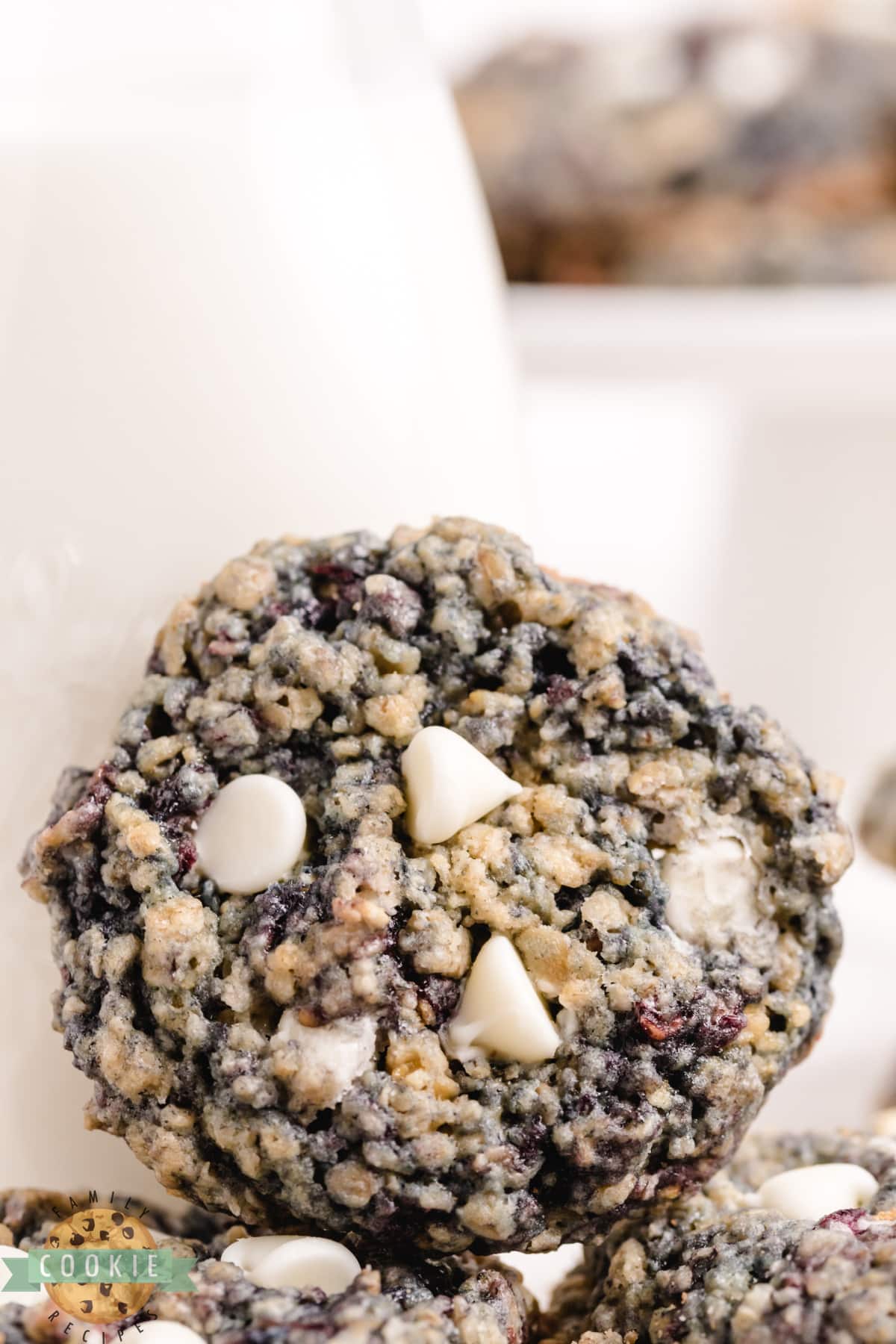 HOW TO MAKE THE BEST OATMEAL COOKIES:
After trying out multiple oatmeal cookie recipes over many years, I have picked up several important tips for making the absolute BEST Oatmeal Cookies!
Make sure that you have enough flour in the dough. If the dough is too sticky, you may need to add a little bit of flour.
Spend a little extra time when you mix the butter and sugars. Creaming them together for 2-3 minutes will improve the consistency of your cookies.
Preheat the oven. This will help your cookies turn out right every time!
Use a cookie scoop! If you want all your cookies to be perfectly shaped and have them all be the same size, a cookie scoop is the way to go.
Use parchment paper or a silicone baking mat. Doing this will make it really easy to remove the cookies from your cookie sheet so that you don't have to scrape them off the pan – they will just slide right off in perfect shape!
Don't over bake the cookies – when I take mine out of the oven, they still look slightly under baked but they will continue to bake on the cookie sheet for a couple more minutes so that's ok!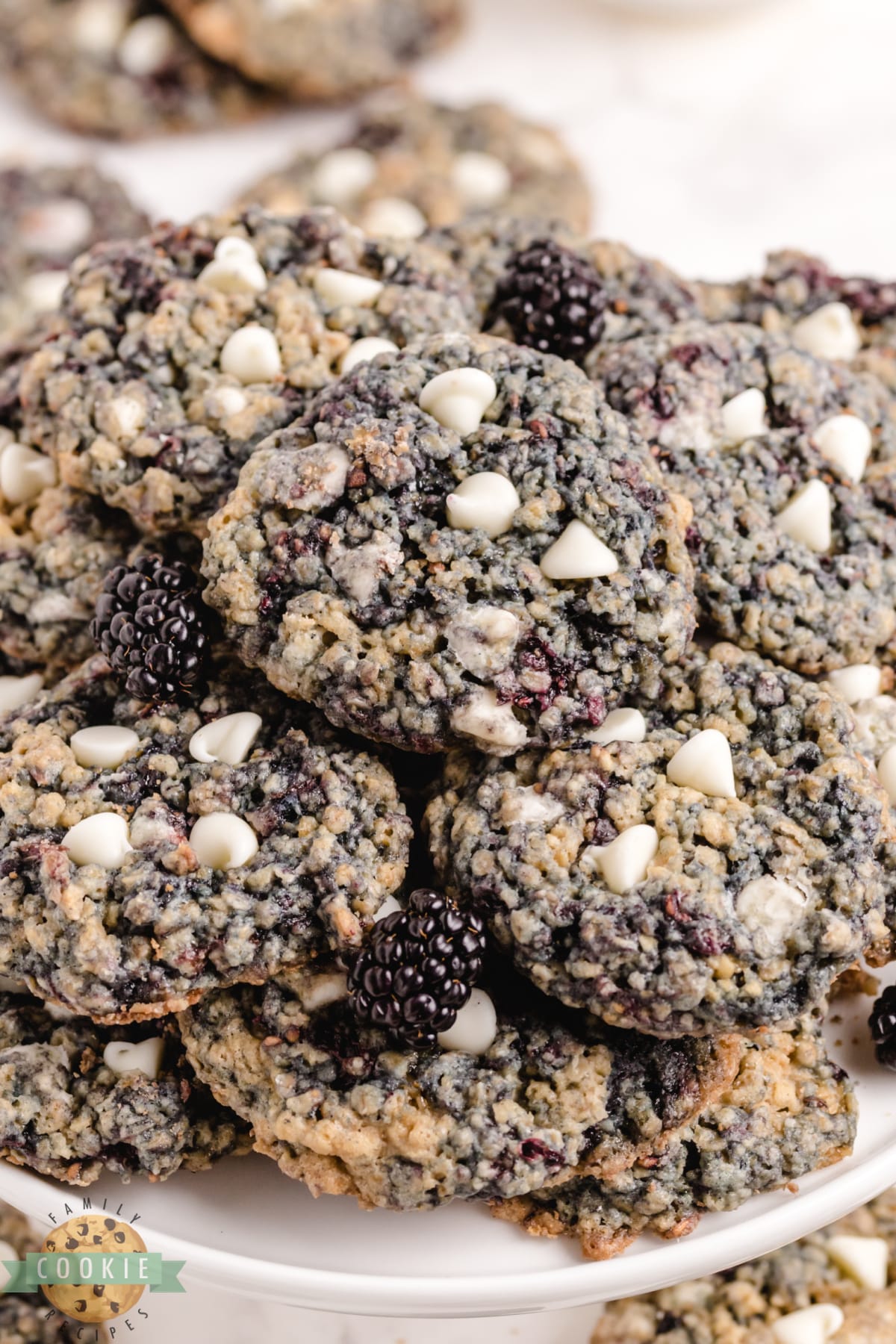 WHAT KIND OF OATS ARE BEST IN OATMEAL COOKIES?
You can use quick oats or old-fashioned oats in your cookies- it really comes down to a personal preference. I really love using quick oats in this recipe, but it's totally up to you and what type of oats you have in your pantry! If you use all quick oats, the cookies will end up being a little bit more dense and a little bit puffier. Old-fashioned oats will make the cookies a little bit chewier. You can even use a combination of both types if you'd like!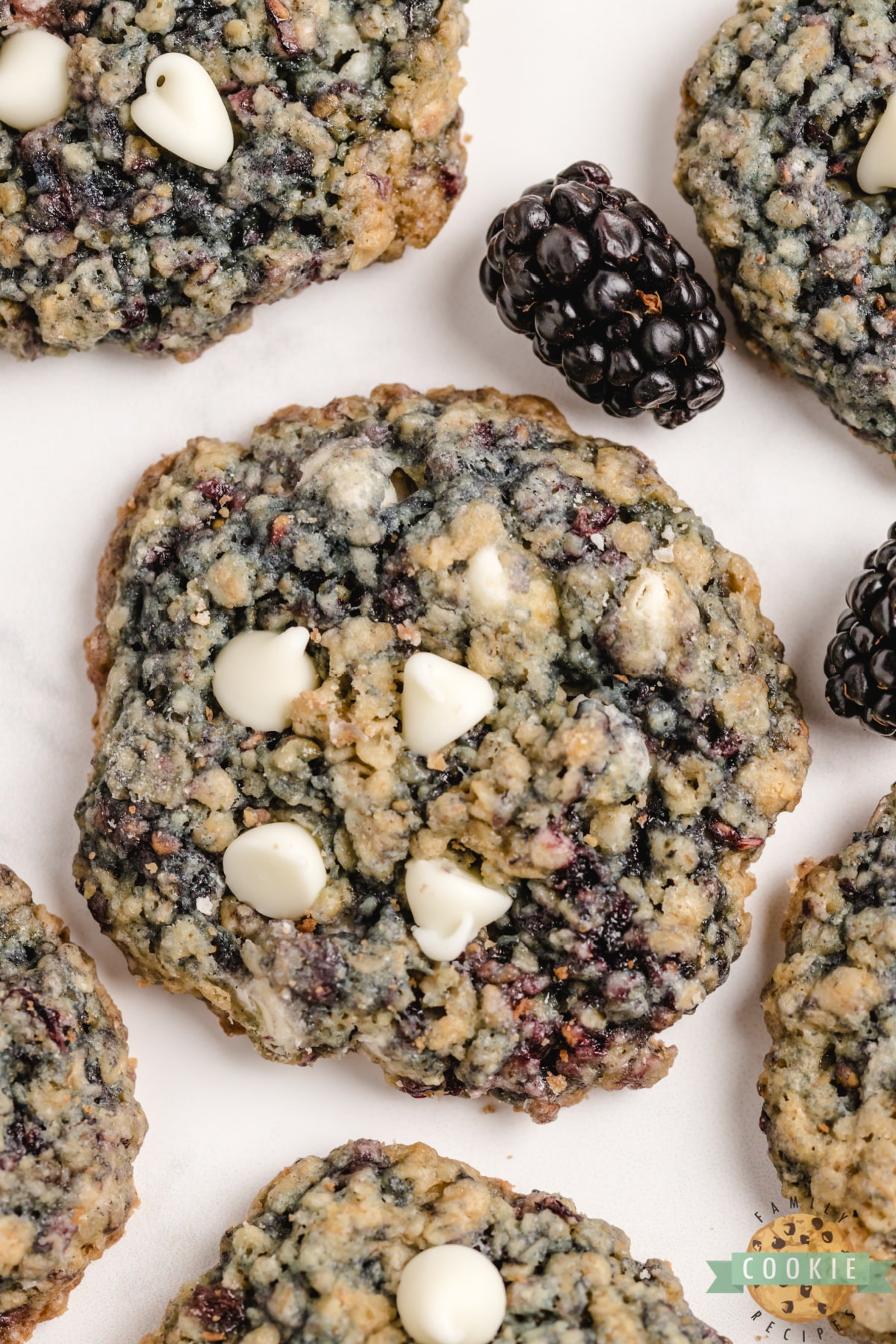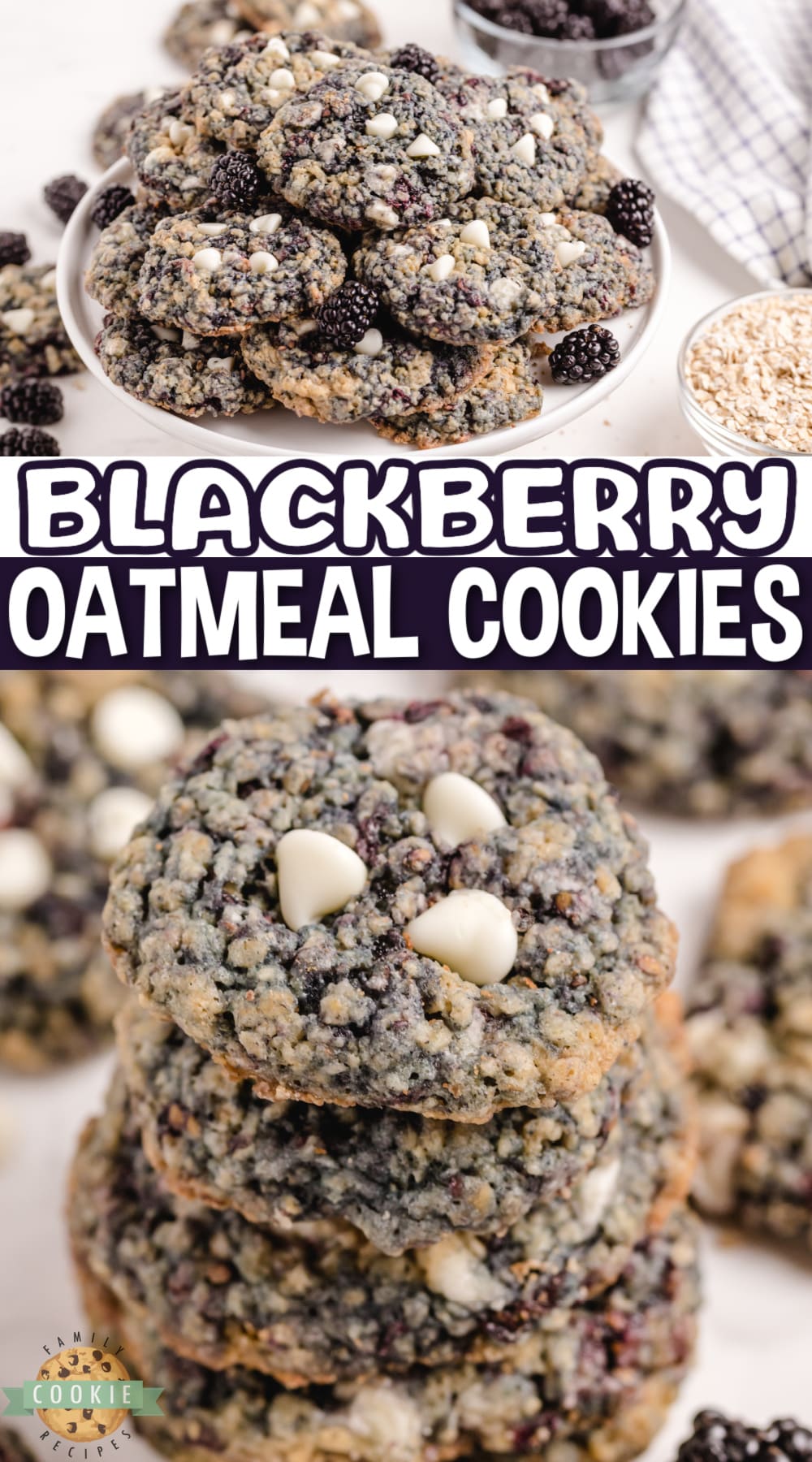 Soft and chewy oatmeal cookie recipe made with fresh blackberries and white chocolate chips. Blackberry Oatmeal Cookies are absolutely delicious!