Easy Fruit Pizza Cookies are everything you love about fruit pizza, but in cookie form! Soft, vanilla cookies baked & topped with sweet cream & fresh fruits and berries!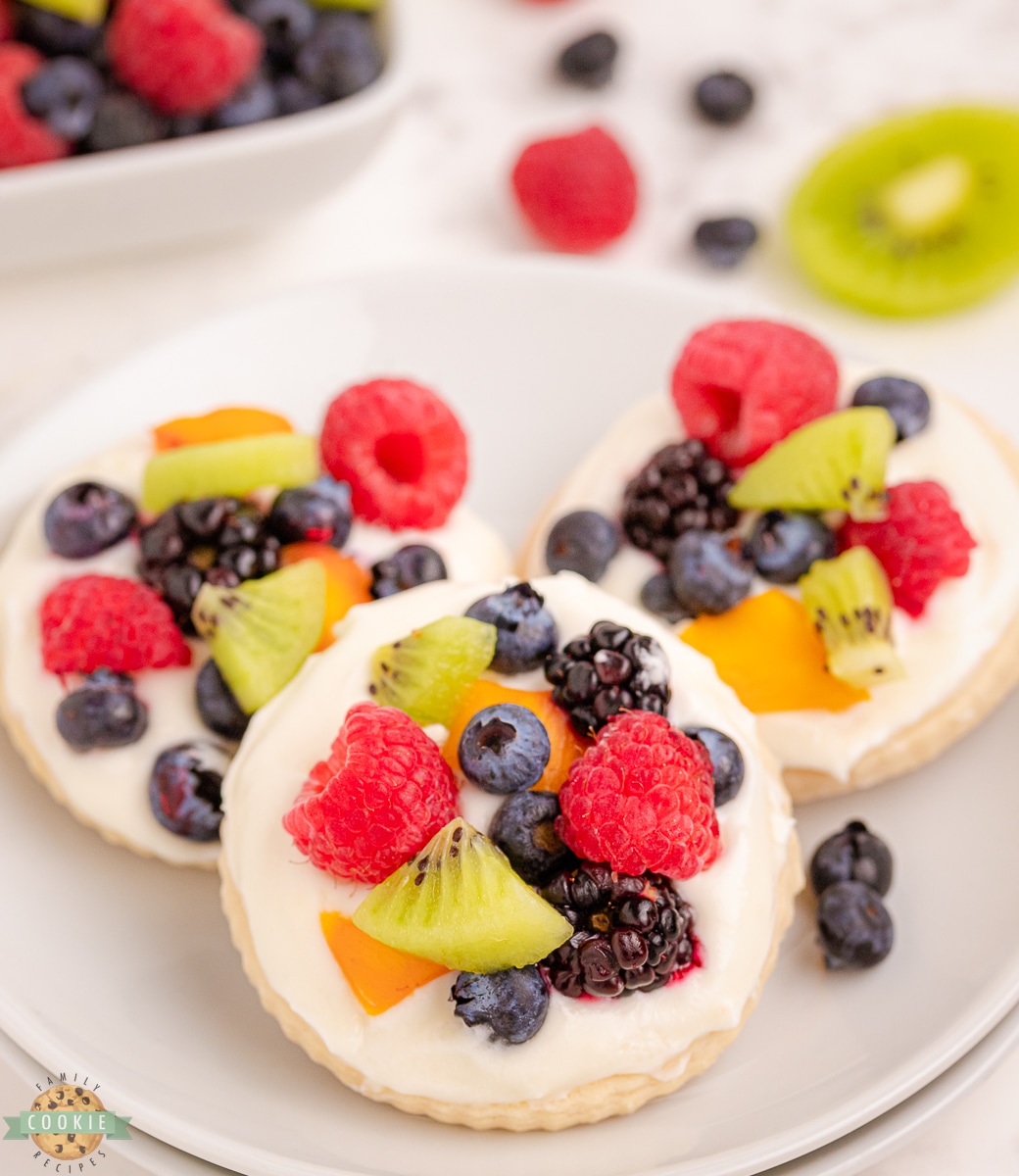 Making this fruit pizza cookie is so easy and the end results are an amazing tasting treat that is absolutely beautiful too! This sugar cookie pizza with fruit has a fantastic fluffy cookie crust, topped with sweet cream and delicious fresh fruit.
What are Cookie Fruit Pizzas?
Fruit Pizza cookies begin with a delectable homemade sugar cookie that has just 6 simple ingredients! Then we top each cookie with an amazing sweet cream frosting. After that you get to exercise your creativity and top each cookie with your favorite fruits. I love putting a mixture of chopped strawberries, as well as blueberries, mandarin oranges and kiwi on my cookies.
You can whatever fruits you like best or whatever is in season at the time. These personal fruit pizzas are such a great treat to bring to your next party or get together. You can set up a fruit pizza bar, with the cookies, frosting and every fruit you can think of and  everyone can make their own dessert! Kids and Moms rejoice when dessert is a make-your-own fruit pizza bar!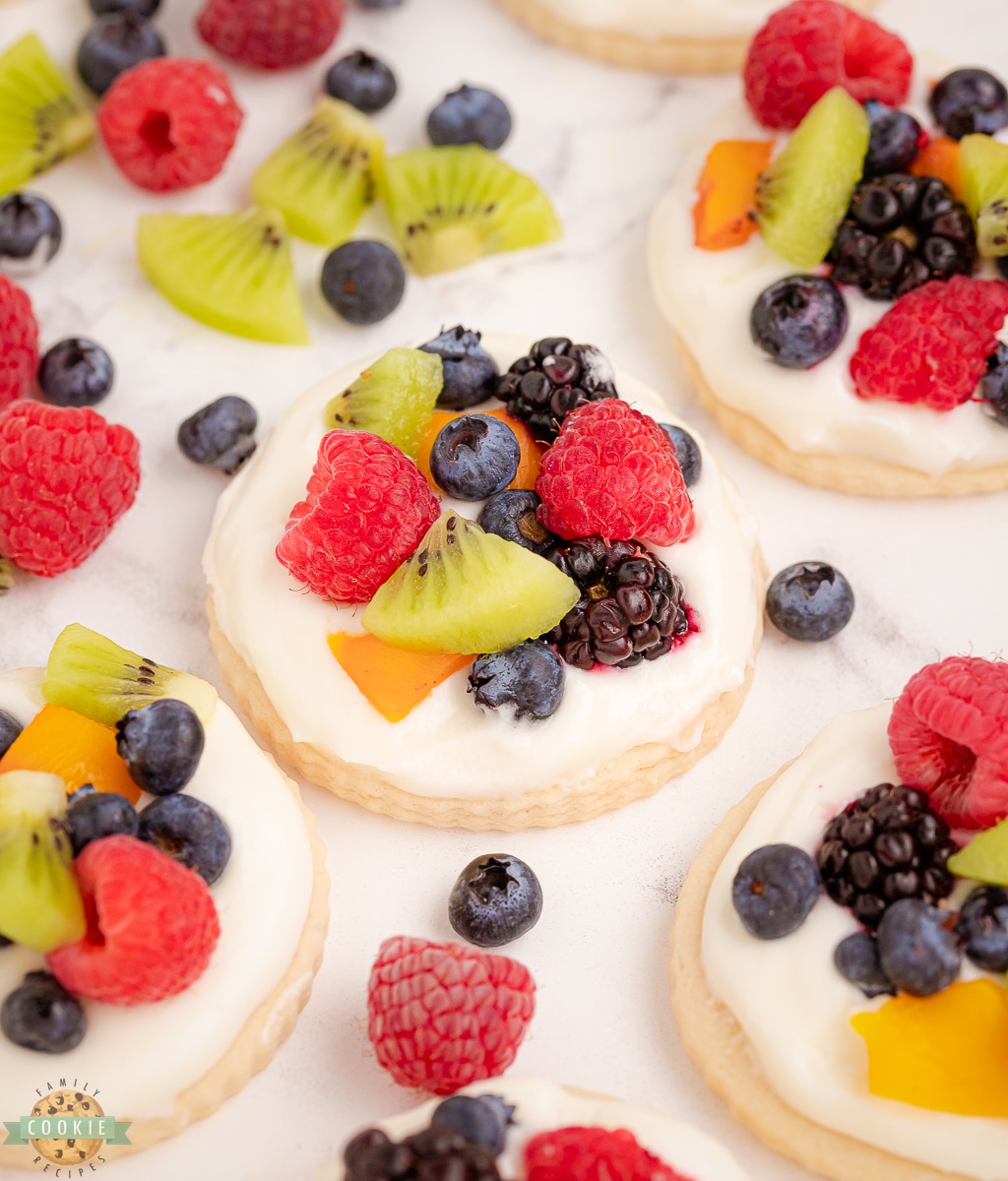 Why you should try theses amazing Pizza Cookies today!
As you are probably aware, we are a huge fan of cookies and these especially! Here are the top three reasons why we think you will love these yummy treats too!
Pizza cookie. My two favorite words, how can you possibly go wrong with this recipe? This dessert is a lovely combination of a sweet and soft cookie with tart and sweet fruit topping. It is so perfect for a warm spring or summer day, refreshing and satisfying.
Versatile recipe. This cookie recipe is fantastic because each time you make it a new creation is born. You can change up the fruit based on what is in season, what you have on hand, what is in season, or even make it to match a theme too. Create a 4th of July cookie with red strawberries, white frosting and blueberries! So fun!
Healthy(ish). Can we all collectively think this is a healthier dessert option? Let's just let me hold onto this ok? The cookie base is made with minimal ingredients and is not overly sweet. The frosting you can put as much or little as you want, on the cookie, depending on your preference. And the fresh fruit topping is the perfect addition!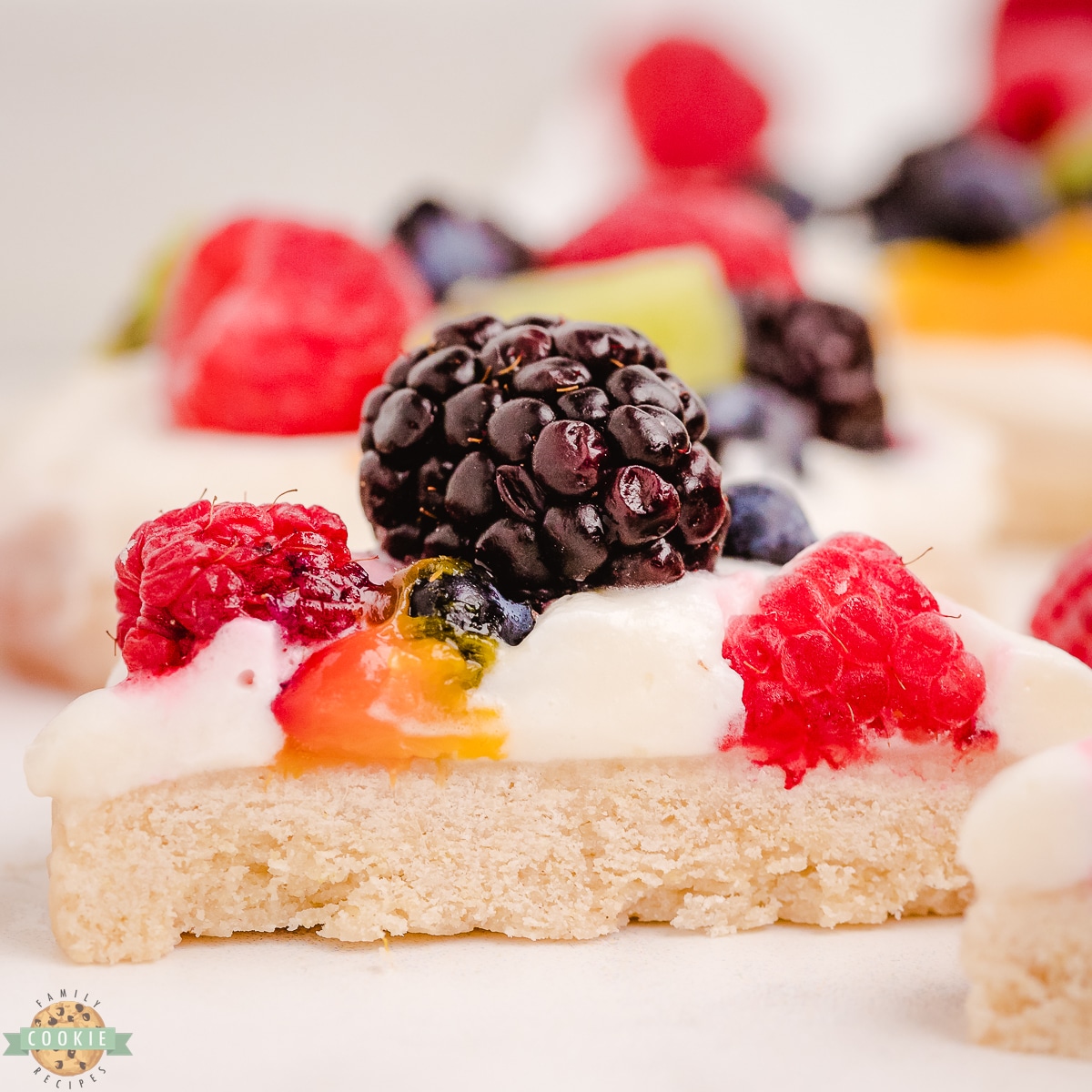 What fruit do you put on a Fruit Pizza recipe?
I like to choose my fruit by what is in season, the fresher the fruit the better. Here are a few great ideas for fruit that will make the most amazing cookie toppings! Really, just about any fresh fruit will work well on Sugar Cookie Fruit Pizza!
Strawberries
Raspberries
Blackberries
Grapes
Pineapple
Blueberries
Kiwi
Mango
Banana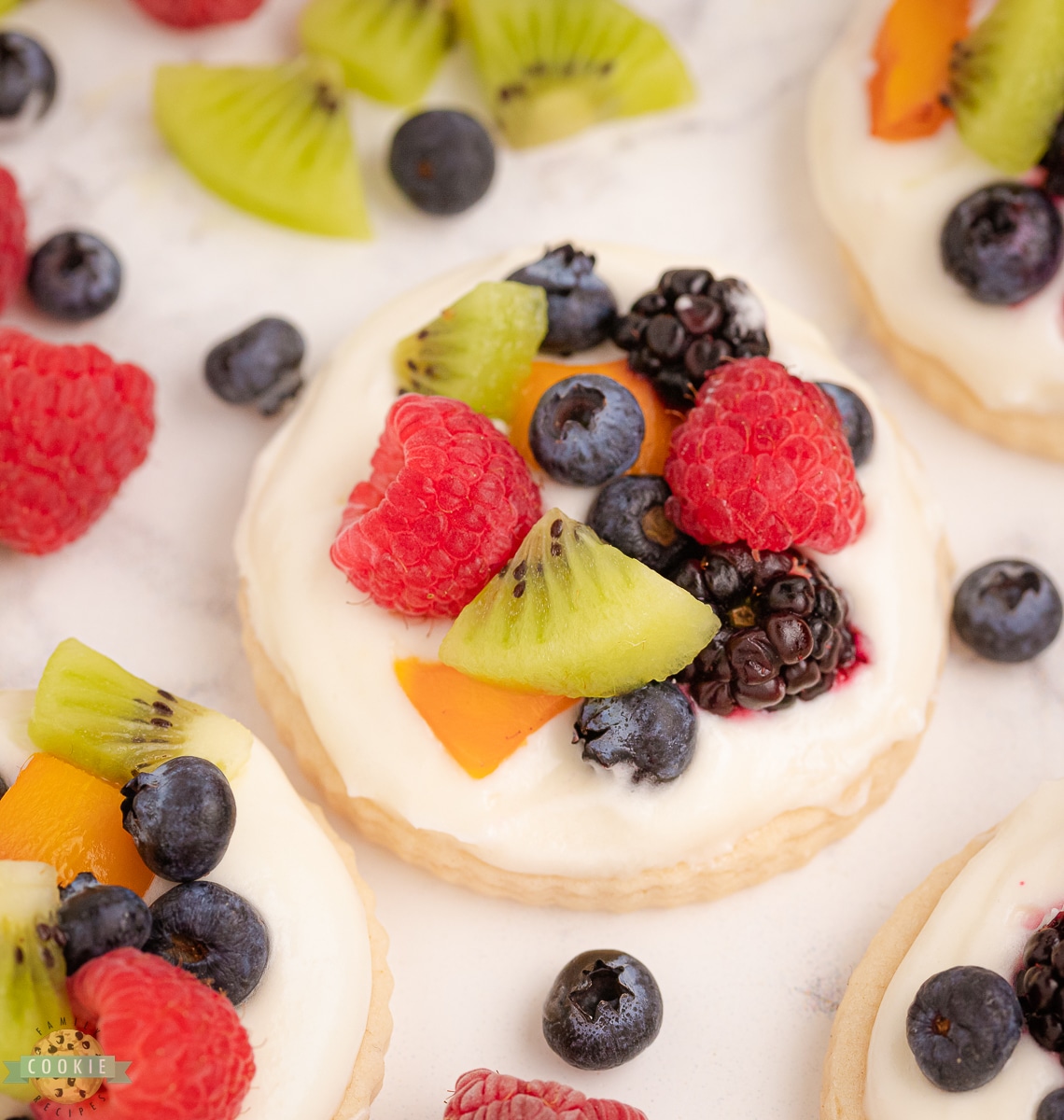 Easy Fruit Pizza Cookie Ingredients
Sugar Cookie Crust
-Butter: You need ½ cup of softened butter to create a wonderful texture for this cookie.
-Sugar: Adding in ½ cup granulated sugar will result in a lovely sweet cookie.
-Vanilla extract: Adding in 2 tsp vanilla extract will enhance all the great flavors in this cookie recipe.
-Egg white: You will need 1 egg white to achieve a nice rich taste for this sugar cookie.
-Baking powder: Use just 1 tsp baking powder to help leaven the cookie while it bakes.
-Flour: You need 1 ½ cups flour for the base of this cookie recipe.
Whipped Cream Frosting
-Butter: For a perfect frosting consistency and taste, use ¼ cup butter.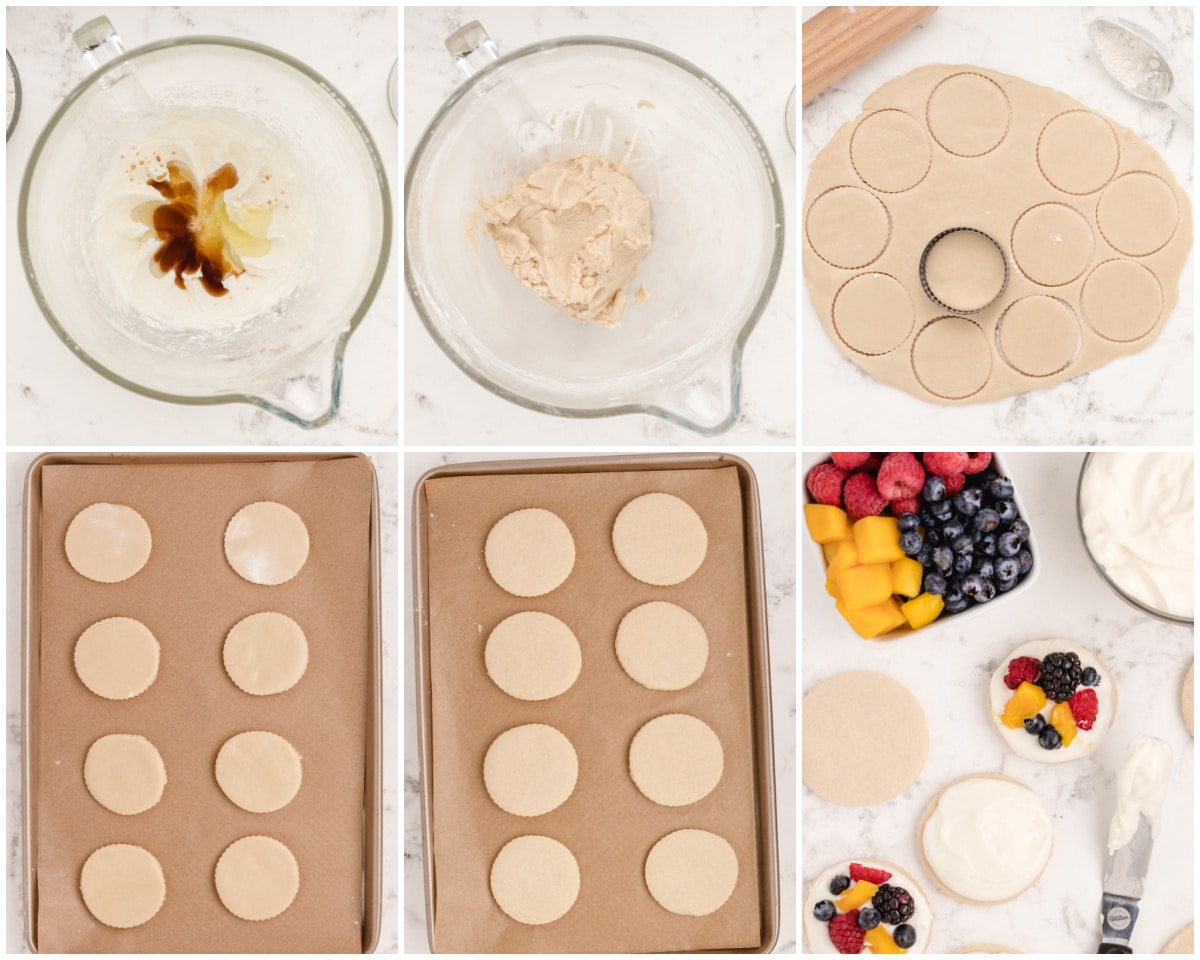 -Powder sugar: You need 1 ½ cup powdered sugar to achieve an extra delicious and sweet frosting.
-Vanilla extract: Adding 1 tsp vanilla extract will give this topping a subtle vanilla flavor.
-Milk: You need 1 tbsp milk to provide creaminess to this cookie topping.
-Whipping cream: Using ½ cup heavy whipping cream will result in the most delicious and amazing frosting!
Fresh Fruit topping
-Fruit: Strawberries, raspberries, Blueberries, and blackberries all make for sensational cookie toppings.
Choose any fruit toppings that you want, see the full list above for more ideas! Make sure to dice your chosen fruit into small pieces to be easily placed on each cookie.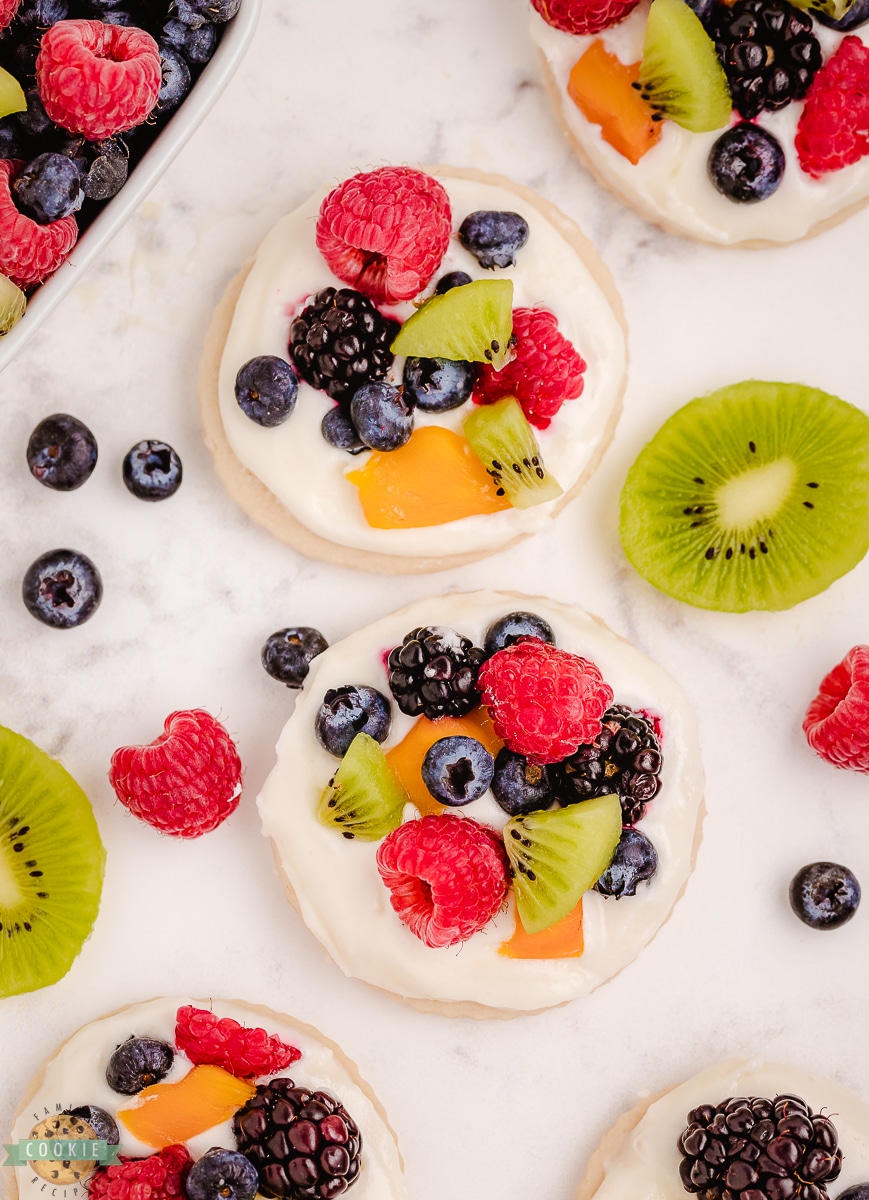 How to make Fruit Pizza Cookies
Cookie Crust
Start by preheating the oven to 350° F.
Next, line a baking sheet with parchment paper or a silicon baking mat. Set aside.
In the bowl of a stand mixer, cream together the butter and sugar for a full 3 minutes. You can also use an electric handheld mixer if that is what you have available.
Make sure to scrape the sides of the bowl down, then add in vanilla extract and egg. Mix until well combined.
Then, add in the flour and baking powder. Mix slowly at first, gradually increase the speed until the dough comes together. The texture should be like Playdoh, you can add a little more flour or water if needed to get it to a soft, pliable consistency.
Proceed to turn out the dough onto a floured surface. Use a rolling pin, roll the dough until about 1/4 inch thick. The cookies will not get any thicker or thinner while baking, so roll out to your desired FINISHED thickness.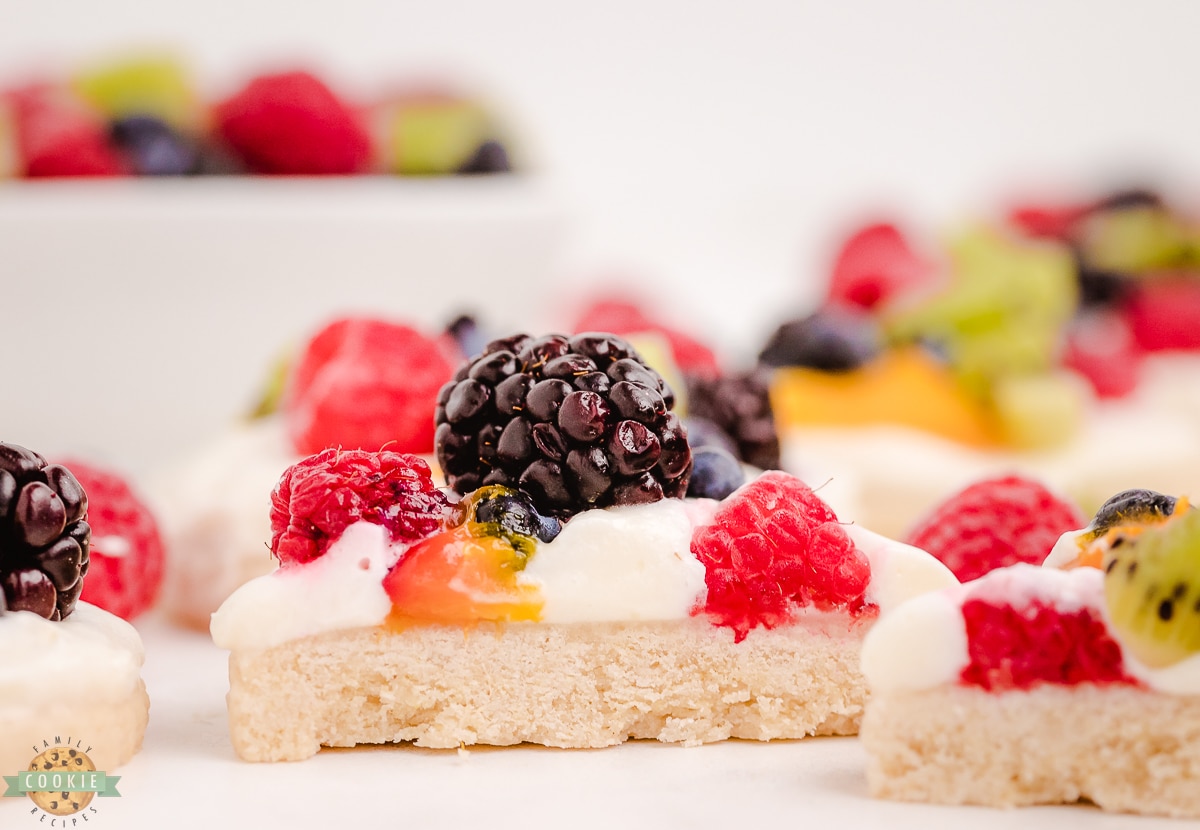 After that, use cookie cutters and cut out desired shapes. Transfer the cookies to the prepared cookie sheet.
Place in the preheated oven and bake for 6-8 minutes or until the centers are puffy and no longer glossy. Pull the cookies out of the oven BEFORE they start turning brown. If they turn brown, the cookie will be dry and crispy instead of soft and chewy.
Fruit Prep
Wash and then dice your chosen fruit topping into small pieces. You want them in ¼ size pieces to fit well on your cookie and easy enough to be bite size.
Whipped Cream Frosting
When the cookies are out of the oven and cooling, it is time to start making your frosting.
In the bowl of a stand mixer, using the whisk attachment, combine the butter, powder sugar, vanilla extract and milk. Whip until well combined.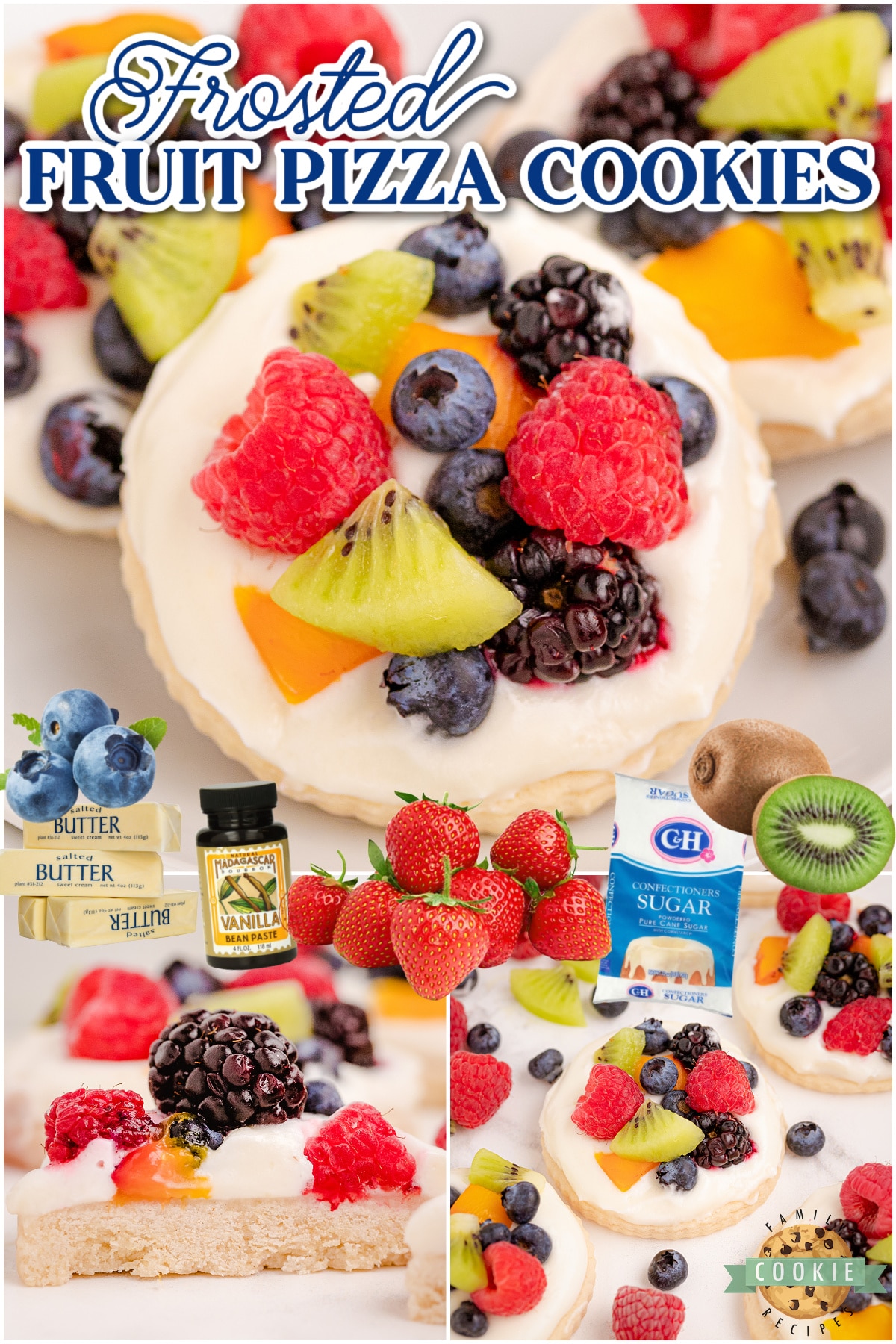 Next, in a separate bowl, use an electric handheld mixer and whip the heavy whipping cream until stiff peaks form.
After that, gently fold the buttercream and whipping cream together until combined and smooth.
Pizza assembly
Proceed to spread the whipped cream frosting onto the sugar cookie base. Depending on your preference, you can spread a little or a lot of frosting onto the cookie. Just make sure there is enough for the fruit to stick to.
Then, sprinkle the frosting with the fruit of your choice.
Serve immediately and enjoy!
Can I freeze Pizza Fruit Cookies?
Yes and no. You can freeze the actual cookie itself, hold off on the frosting and the fresh fruit topping until you are ready to enjoy. The cookie will freeze well and be good for up to three months. When you are ready to create the pizza cookie, then prepare your frosting and fresh fruit.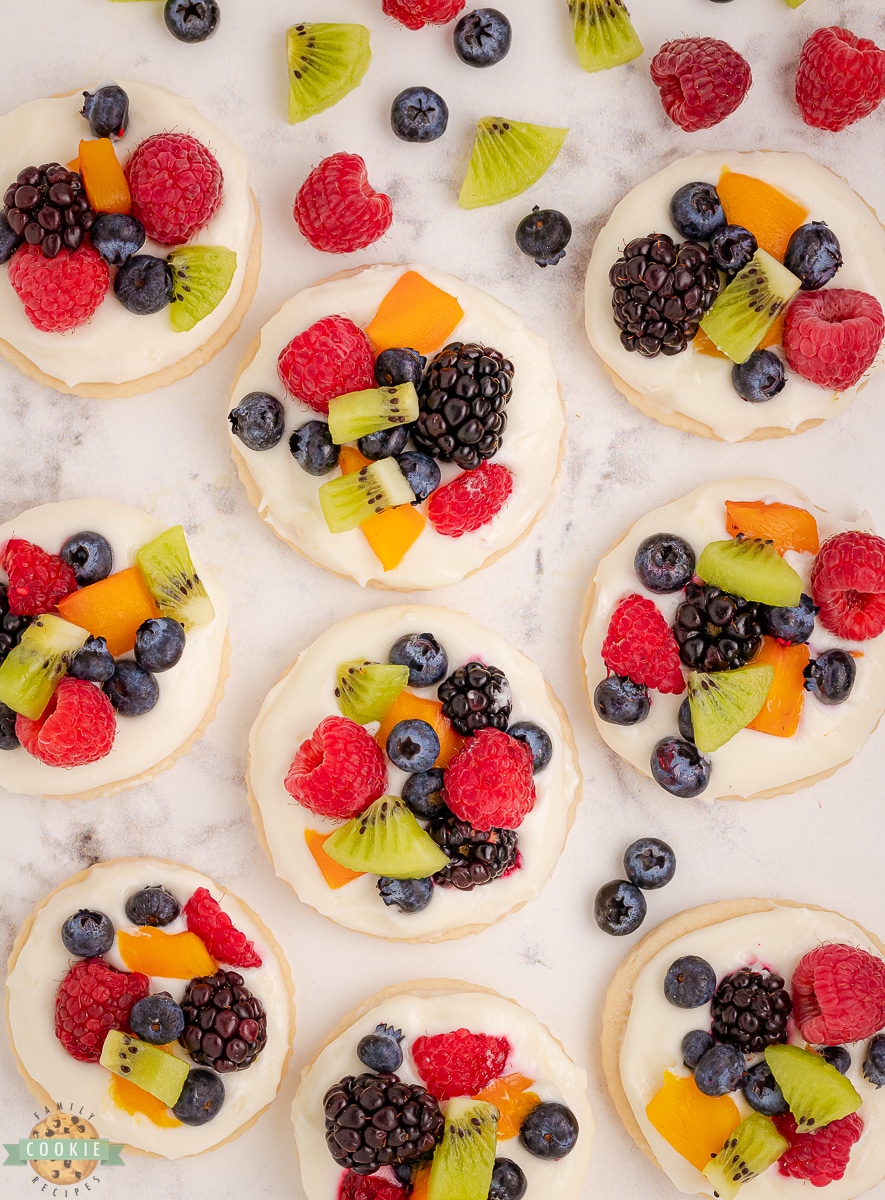 Can I top my pizza cookies with something other than fruit?
You sure can! These pizza cookies can be fun to experiment with. Another good idea is dried fruits and nuts, maybe some dried cranberries with mini chocolate chips and chopped walnuts! Or you can do some fruit with mini chocolate chips and a chopped nut, that combination would be sensational! This is the great thing about this recipe, you can create your out pizza as you see fit!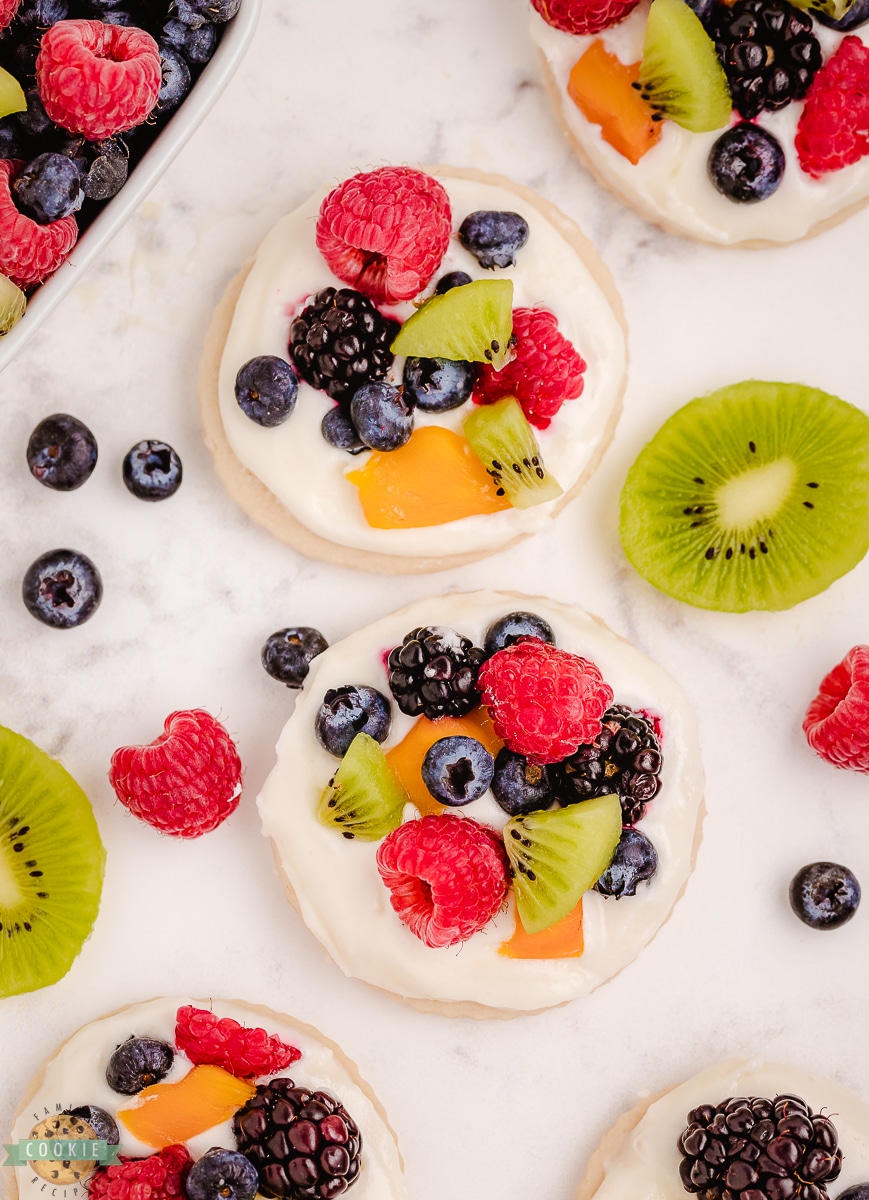 How do you store Fruit Pizza Cookies?
Since these cookies are topped with sweet cream and fresh fruit, they do need to be refrigerated in an airtight container. They are best when served the same day they are made, but I have made them the night before and served them the next day and they were delicious.


I have a love-hate relationship with the fact that my children have very little fears. I love that they're confident and that new things don't scare them. But hello, when a kid swims up and shoves a lizard in my face, well, I'm going to scream. Ha! He made a friend and they played for a long time. Fun!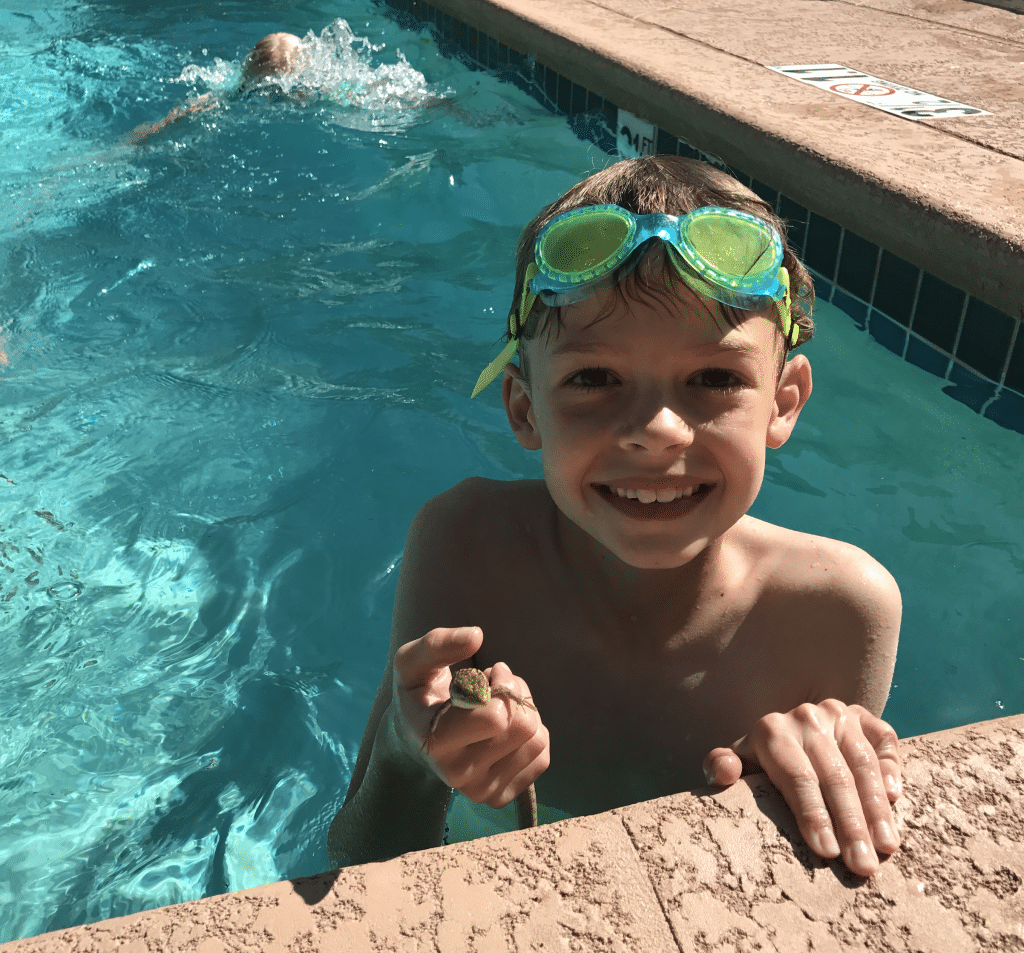 Love these Sugar Cookie Fruit Pizzas? Try these other recipes:
Easy Fruit Pizza Cookies are such a great combination of cookie and fruit! A great thing about this cookie pizza is the versatility, you can use different fruits and create delicious master pieces!