Cream Cheese Sugar Cookies are soft, thick and easily the best sugar cookie recipe I've ever tried. These sugar cookies hold their shape when baked and they are moist and perfectly sweet too!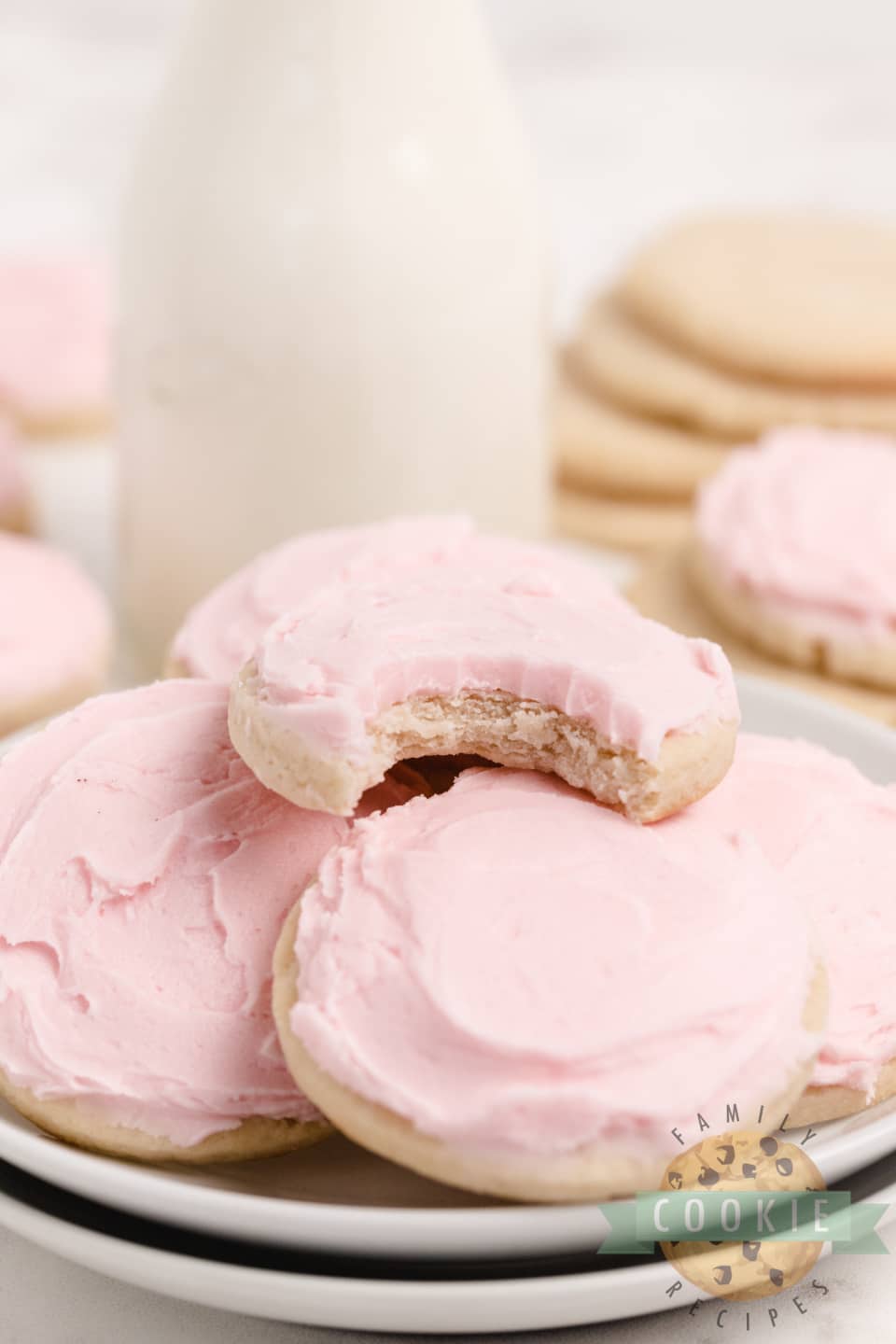 I've tried a lot of sugar cookie recipes, and many of them have been really good. I recently tried this one, and I don't think I'll ever use any of my other recipes again. You can roll the dough out and cut into shapes, or just make balls and flatten them a bit before baking if you want circle cookies.
What are Cream Cheese Sugar Cookies?
Cream cheese is the "secret" ingredient in these delicious cookies. The cream cheese not only adds a unique flavor to the cookie, but helps to keep the cookies soft and the consistency just about as perfect as you can hope for in a sugar cookie.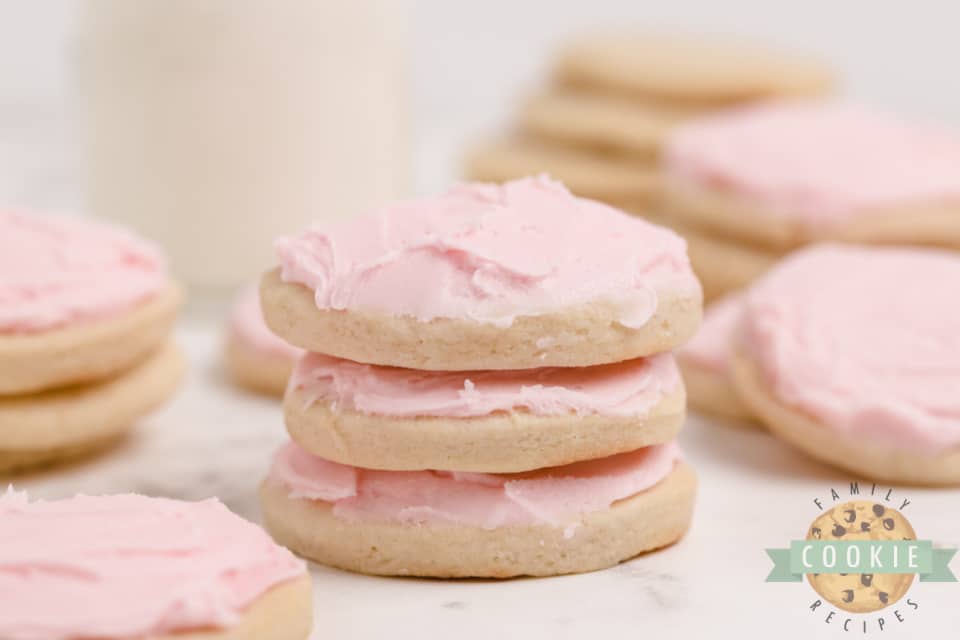 Ingredients in Cream Cheese Sugar Cookies
Butter: I use salted butter, but you can use unsalted if you prefer. No margarine! Make sure the butter is softened, but not melted before adding to the recipe.
Sugar: Can't leave this one out – kind of an important ingredient in sugar cookies!
Cream cheese: This also needs to be softened to room temperature for best results. You can use regular cream cheese or a low-fat or non-fat alternative, but regular cream cheese is ideal for the best consistency.
Egg: We only need 1 egg, but it is important for helping to bind the dough together so that the cookies cook properly and don't crumble.
Vanilla and almond extract: I suggest using a good quality vanilla extract or a Vanilla Bean Paste. You can leave the almond extract out if you have allergies or don't like the flavor, but I think it takes these cookies to the next level in taste!
Flour: I usually use all purpose flour, but you can use bread flour, or even pastry flour in this recipe.
Baking powder: Leavening agent in the cookies. Make sure your baking powder isn't old or expired for best results.
SUGAR COOKIE FROSTING INGREDIENTS
Powdered sugar: Gives us that thick frosting texture packed with sweetness and smooth creamy results. Yum!
Butter: Again, I use salted butter, but you can use unsalted if you prefer. No margarine!
Almond extract: Again, I love the almond extract in these cookies, but you can use vanilla instead if you'd like. Either way is delicious.
Milk: You can use almond milk, coconut milk or cashew milk in place of cow's milk. You can make the frosting a little thicker or thinner based on how much milk you add.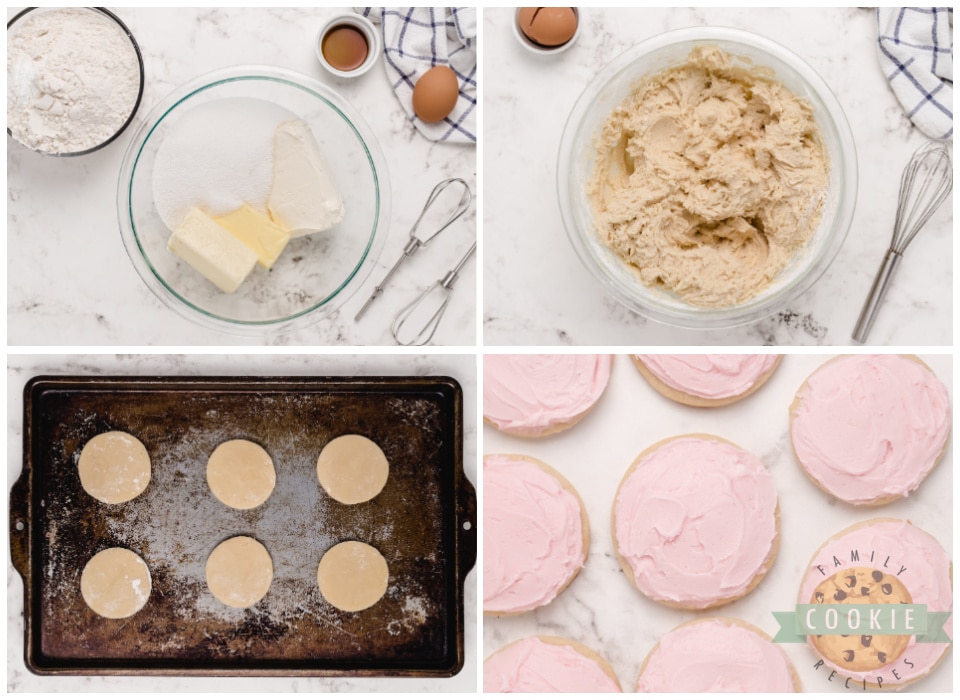 How to make Cream Cheese Sugar Cookies
Preheat oven to 375°.
Mix sugar, butter, cream cheese together for about 2-3 minutes with an electric mixer.
Add egg, vanilla and almond extract and mix for another 1-2 minutes. Add the flour and baking powder and mix just until mixed in and smooth.
Place the dough in an airtight container and chill for at least 2 hours. When you are ready to make the cookies, roll out on floured surface to about 1/4" thick and cut out with cookie cutters. (If you prefer to just make circle cookies, you can scoop out tablespoons of dough and roll into a ball. Place on the cookie sheet and use the bottom of a measuring cup or glass to flatten the ball to a 1/4″ thickness.)
Bake for 8-10 minutes…just until barely turning golden on edges. Cool on cookie sheets for about 5-10 minutes before transferring to a wire rack to cool completely.
To make the frosting, mix all of the frosting ingredients together with a mixer until smooth. Use a knife to spread the frosting onto the completely cooled cookies.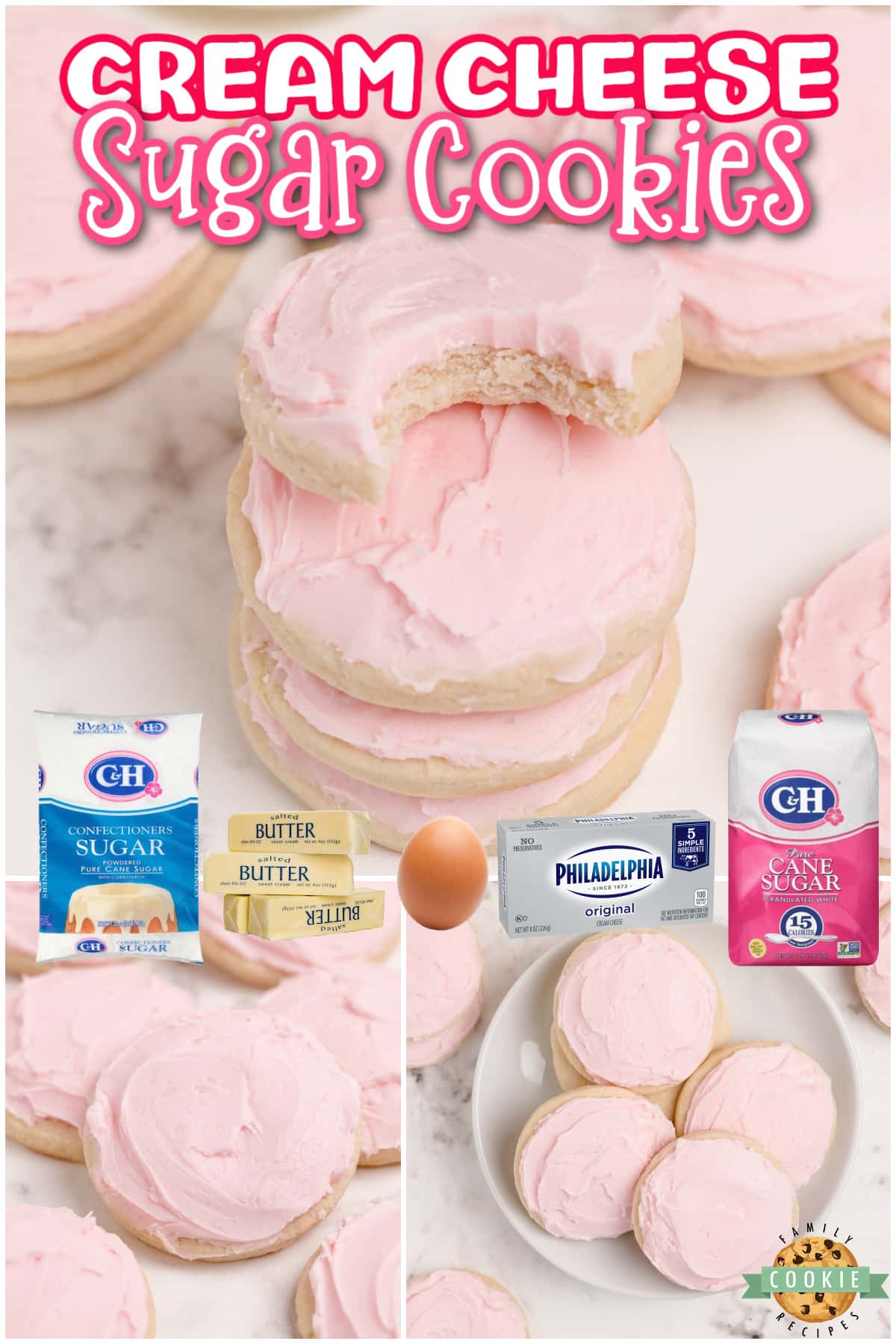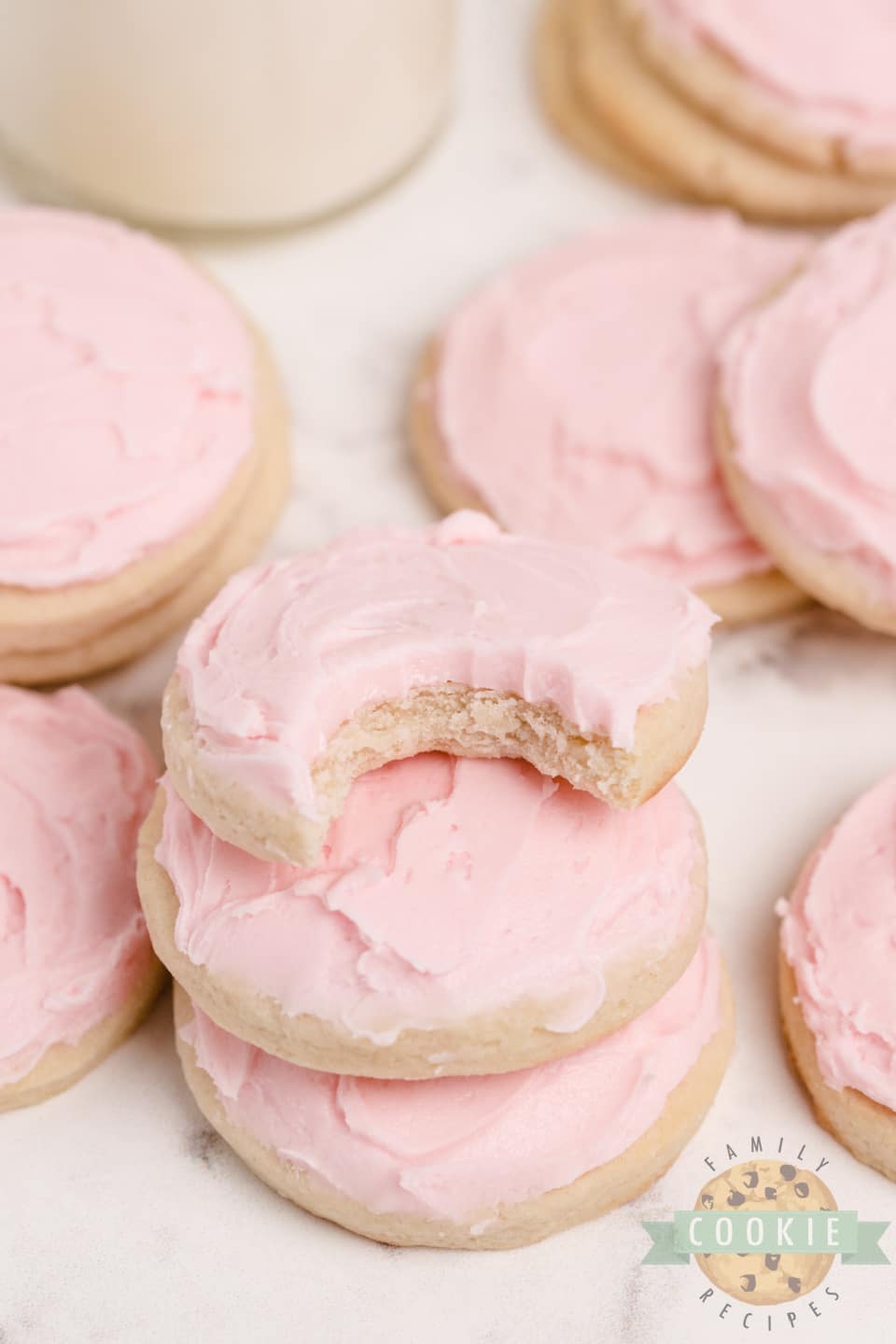 TIPS FOR MAKING THE BEST SUGAR COOKIES
Sugar cookie dough is sticky, but once it's sufficiently chilled, it's much more workable. Resist the urge to add more flour to the dough before chilling! If you add too much flour, the ratio of wet to dry ingredients is off and the cookies end up drier and more crumbly.
Do not melt the butter! The butter needs to be softened (at room temperature). Using melted butter will ruin the cookies.
Spend a little extra time when you mix the butter and sugars. Creaming them together for 2-3 minutes will improve the consistency of your cookies.
Preheat the oven. This will help your cookies turn out right every time!
Use parchment paper or a silicone baking mat. Doing this will make it really easy to remove the cookies from your cookie sheet so that you don't have to scrape them off the pan. They will just slide right off in perfect shape!
Make sure that you don't roll out the dough too thin before cutting your sugar cookies out. You want the dough to be about 1/4″ thick. If the dough is too thin, your cookies will be crispy and hard and easily breakable. But if the dough is too thick, the cookies may not bake all the way through the middle.
Make sure not to over bake your cookies. They may not even look totally done on the tops, but if the bottoms start to brown, I take mine out and they are perfect!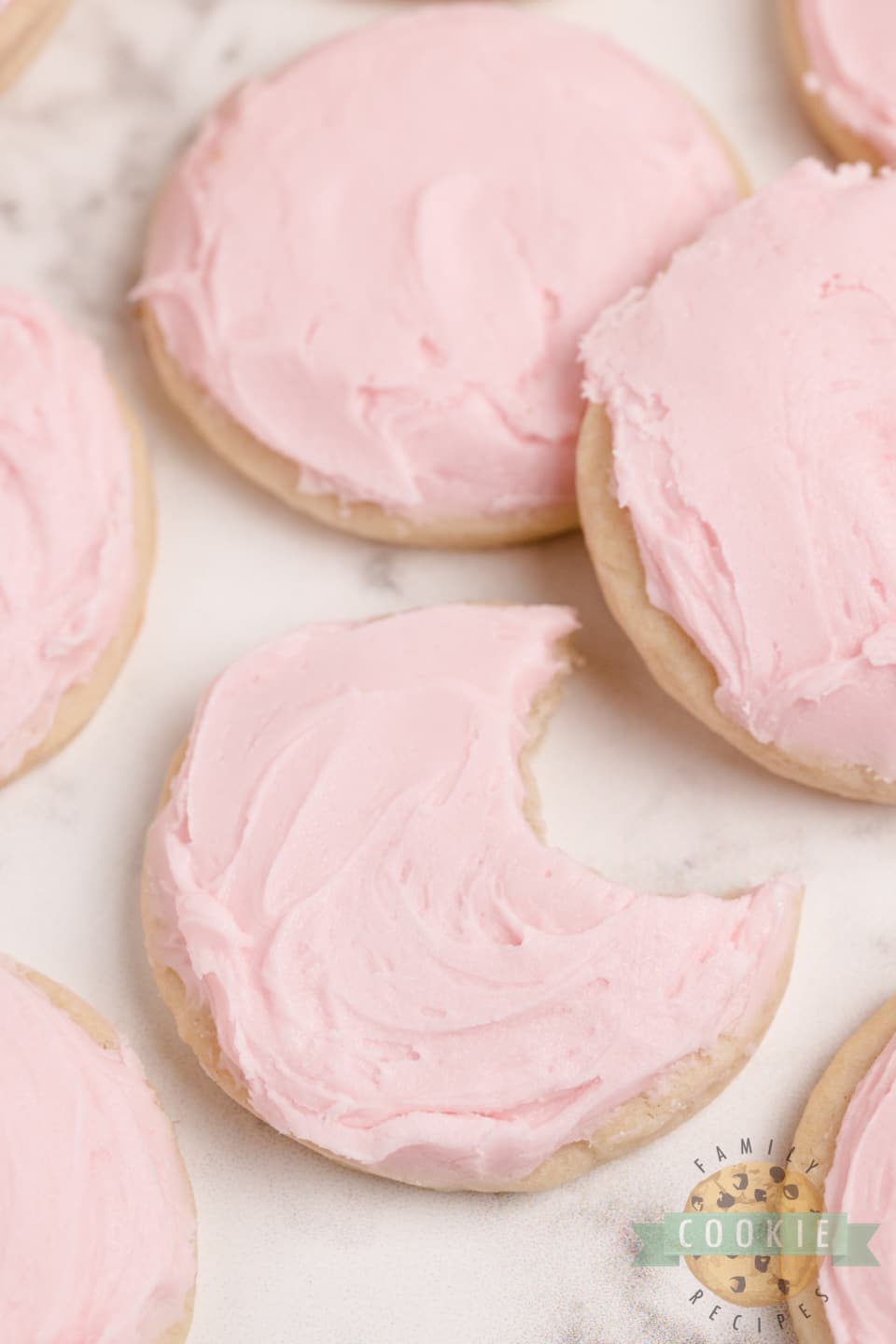 HOW DO YOU KEEP SUGAR COOKIES SOFT?
This is another reason to love these cookies, thanks to the cream cheese in the dough- they stay softer for longer! After the cookies have cooled, simply place them in an airtight container to keep them fresh for as long as possible. It also helps to make sure that when you roll out the cookie dough that you do it to the right thickness so that they don't become brittle when baking.
HOW LONG WILL DECORATED SUGAR COOKIES LAST?
If you keep your cookies properly stored you can expect them to last up to a week at room temperature.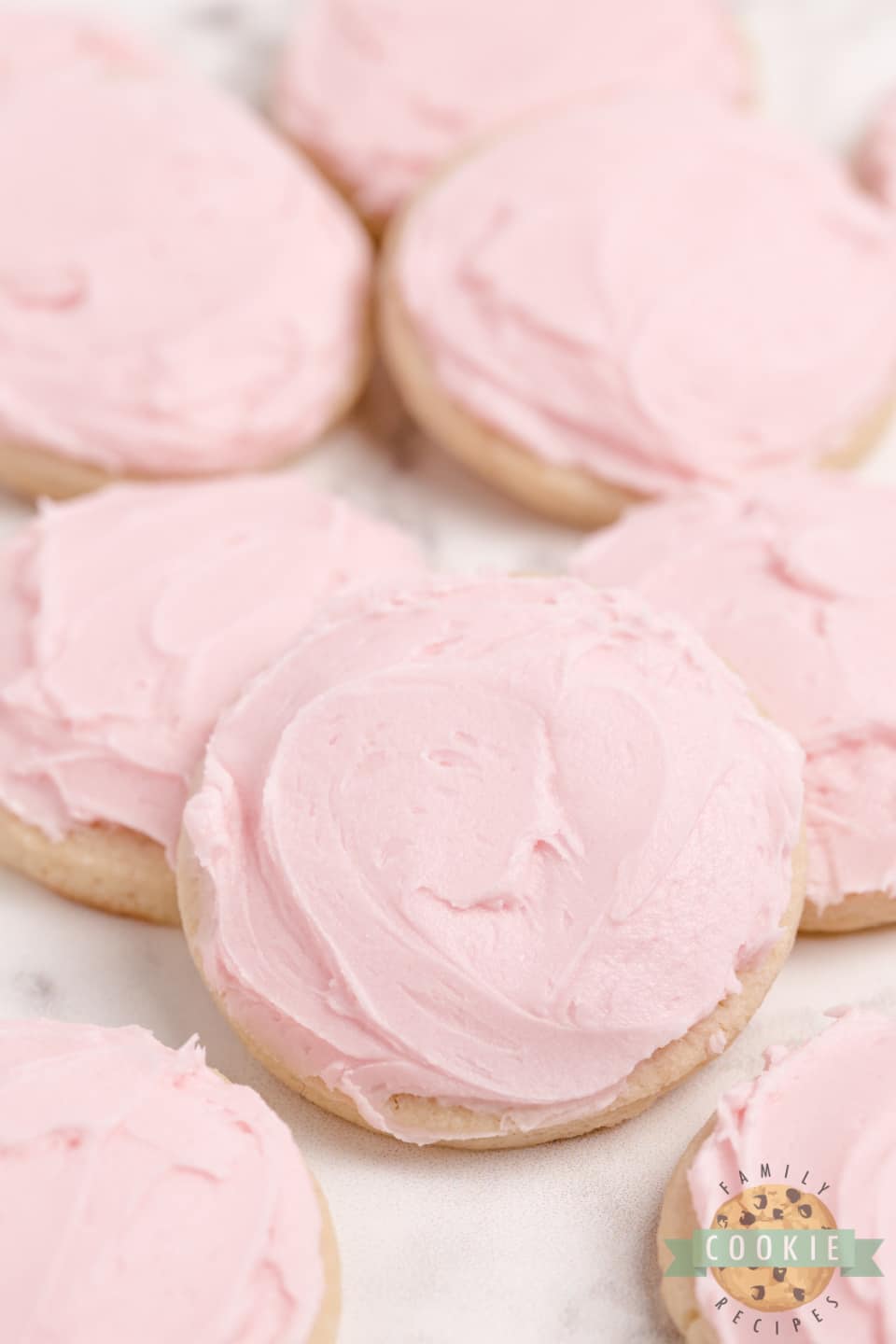 CAN I FREEZE DECORATED SUGAR COOKIES?
Yes. After frosting has been applied, allow them to set at room temperature for about an hour so that the frosting can firm up a bit. Then place the cookies in a single layer on a baking sheet and flash freeze until solid (about 1-2 hours). After that, transfer to an airtight container. I recommend laying a sheet of parchment paper between the cookie layers, just in case. Then simply remove and thaw to eat.
OTHER DELICIOUS COOKIE RECIPES:


My 15 year old is so artistic. She's always been so good at anything crafty or artsy and I have no idea where she got it from! Even as a very young child, it was clear that she had some above-average art skills. She recently saved up to buy an iPad so that she could start doing some of her art digitally, and has figured out how to do all kinds of amazing things. She has started a business and one of the products she offers is digital photos that look like paintings…this is one of the first ones she did as an experiment and I absolutely love it!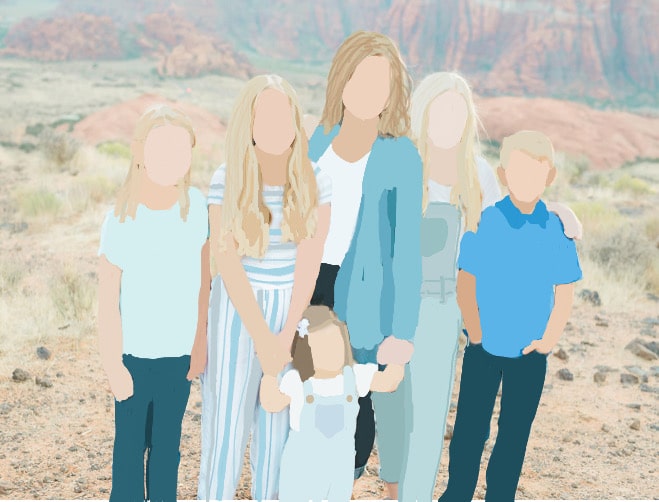 Cream Cheese Sugar Cookies are soft, thick and easily the best sugar cookie recipe I've ever tried. These sugar cookies hold their shape when baked and they are moist and perfectly sweet too!