Sugar Cookie Bars are thick, soft and frosted with a delicious vanilla buttercream frosting. Simple sugar cookie recipe that is made in a pan and can be easily sliced and served.
Sugar Cookie Bars are so much easier to make than taking the time to roll and cut out individual cookies. I absolutely love sugar cookies, but sometimes it just feels like a lot of work (and mess!) to roll out the dough and cut out cookies. The solution? Sugar cookie bars! Just put all the dough in a 9X13 pan and bake the whole batch at one time! No rolling out the dough, no cutting and baking individual cookies.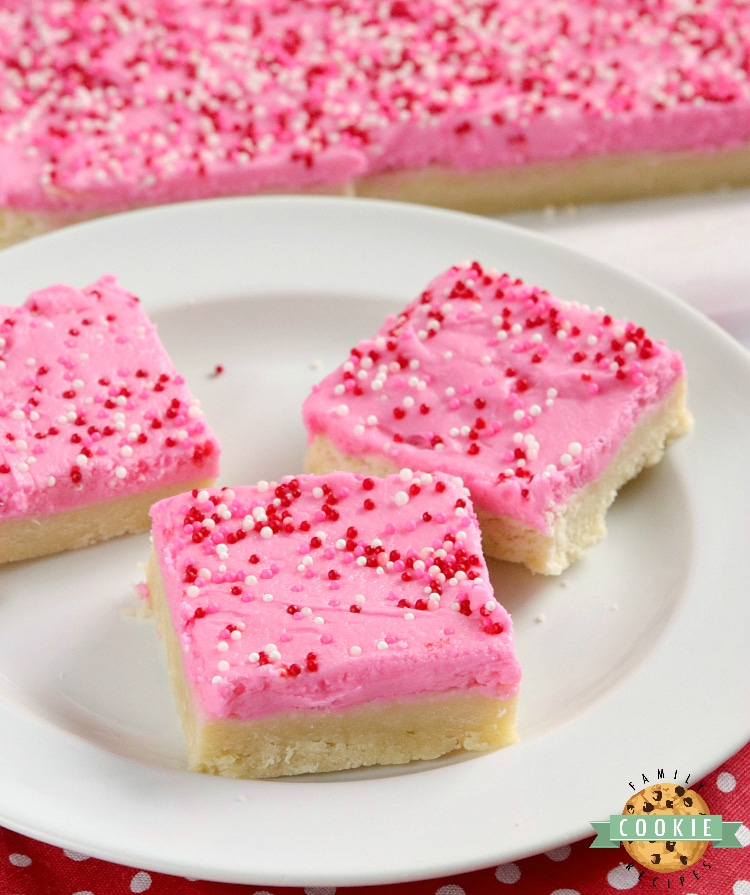 I love these sugar cookie bars because they are so thick and soft and the frosting is absolutely amazing. This is one of my go-to cookie recipes because it is so easy to change the color of the frosting and the sprinkles for any type of celebration or holiday.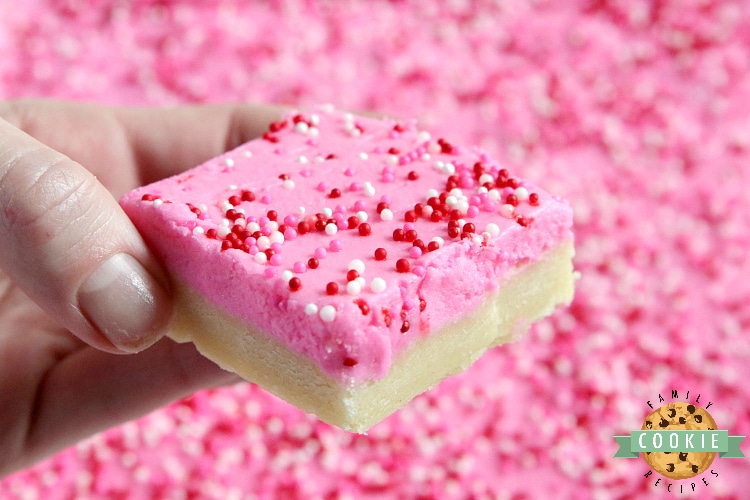 Ingredients in sugar cookie bars
3/4 cup butter, softened to room temperature
1 cup sugar
2 eggs
1/2 tsp vanilla extract
1/2 tsp almond extract
2 1/2 cups flour
3/4 tsp salt
1/4 tsp baking powder
Ingredients in sugar cookie frosting
1/2 cup butter, softened
2 Tbsp sour cream/plain yogurt
4 cups powdered sugar
2 tsp vanilla
food coloring (if desired)
1-2 Tbsp of milk, to consistency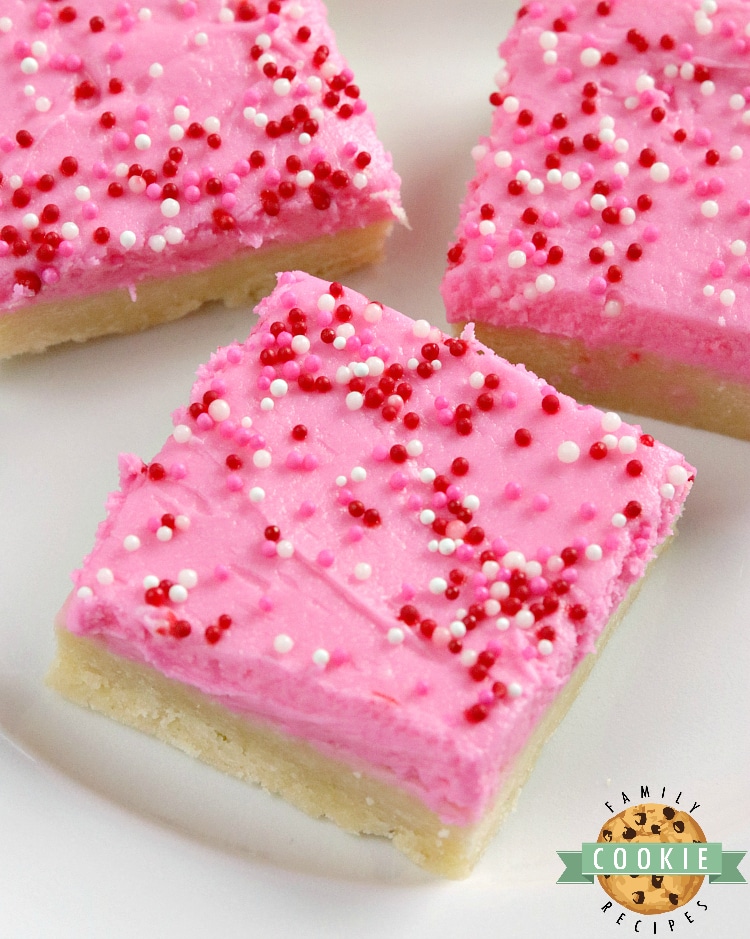 How to make sugar cookie bars
Preheat oven to 350°. Line a 9X13 pan with parchment paper and lightly spray the parchment paper with nonstick spray.
In a large bowl, cream together the butter and sugar for about 3-4 minutes. Add the eggs, vanilla extract and almond extract and beat together for another 2-3 minutes.
In a separate bowl, whisk together the flour, salt and baking powder.
Add the flour mixture to the butter mixture and mix just until combined. Press the cookie dough evenly into the prepared pan.
Bake for 15-18 minutes or until the edges barely start to turn a light golden brown. Cool completely before frosting.
How to make buttercream frosting for sugar cookies
To make the frosting, just mix the butter, sour cream (or yogurt), powdered sugar and vanilla together with an electric mixer until well combined. Add food coloring if desired and then add the milk, just a little bit at a time to get the consistency that you want.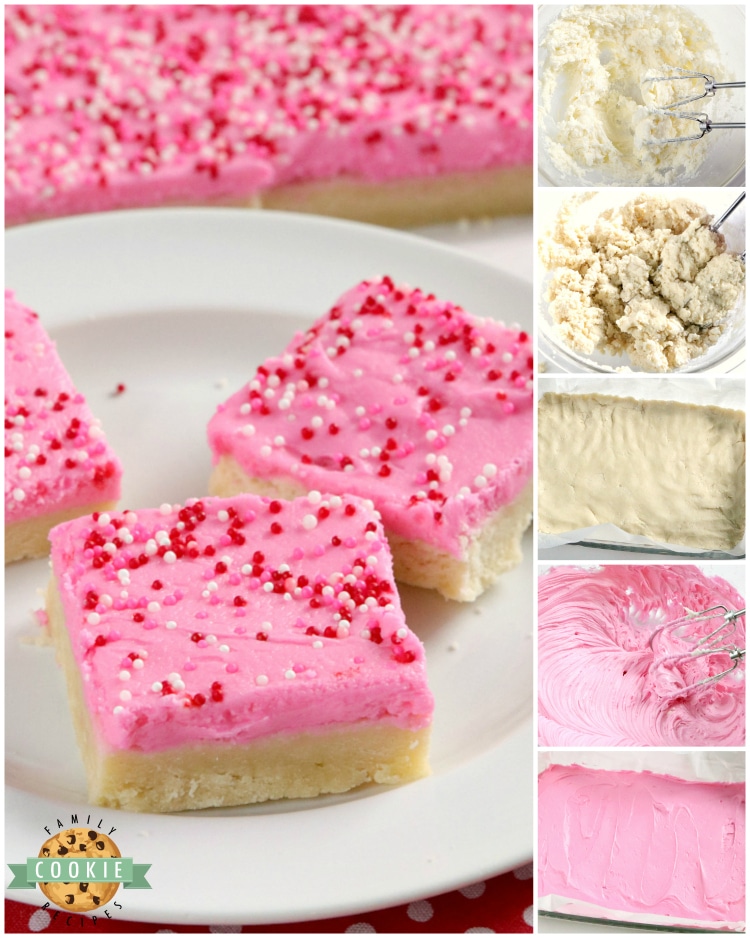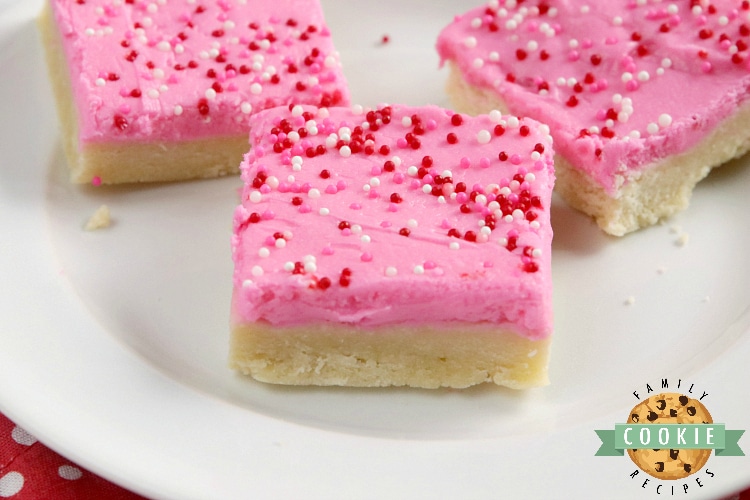 How to cut perfect cookie bars
The answer to getting every single cookie bar cut and looking perfect is parchment paper! I used to always get frustrated with desserts that are made in a 9X13 pan because I felt like I was always destroying the entire first row trying to get them out of the pan! Then I discovered that if you use parchment paper, you can remove all the cookie bars from the pan and slice them perfectly.
If you don't have parchment paper, you can just grease your pan like you usually do but your first row may just not be quite as pretty! This cookie bar recipe is one of the easiest to cut into squares – they stay intact much better than many other desserts!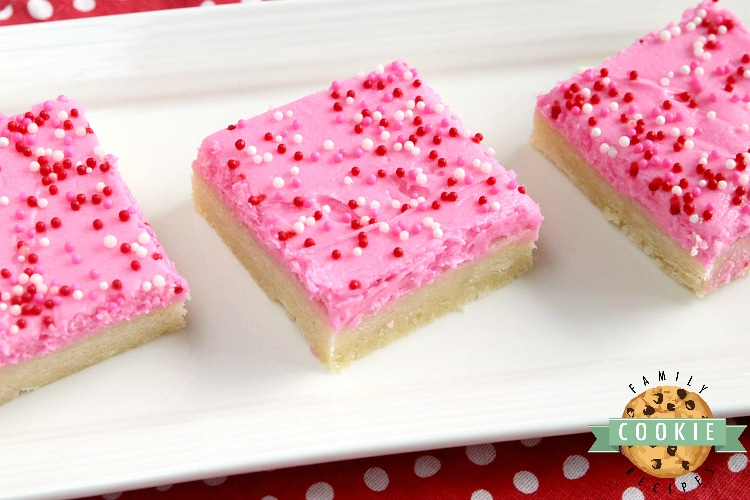 Tips for making the best sugar cookie bars
Do not melt the butter! The butter needs to be softened (at room temperature), but using melted butter will ruin the cookies.
Spend a little extra time when you mix the butter and sugar. Creaming them together for 2-3 minutes will improve the consistency of your cookies.
Preheat the oven. This will help your cookies turn out right every time!
Use parchment paper. Doing this will make it really easy to remove the cookies from your 9X13 pan.
Make sure not to over bake your cookie bars.  Once the edges begin to turn even the lightest golden brown, take them out of the oven! I prefer to err on the side of being slightly undercooked for cookies because if they cook even a little bit too long, they can get hard and I really like soft cookies!
Like cookie bars? Here are some of our favorite cookie bar recipes!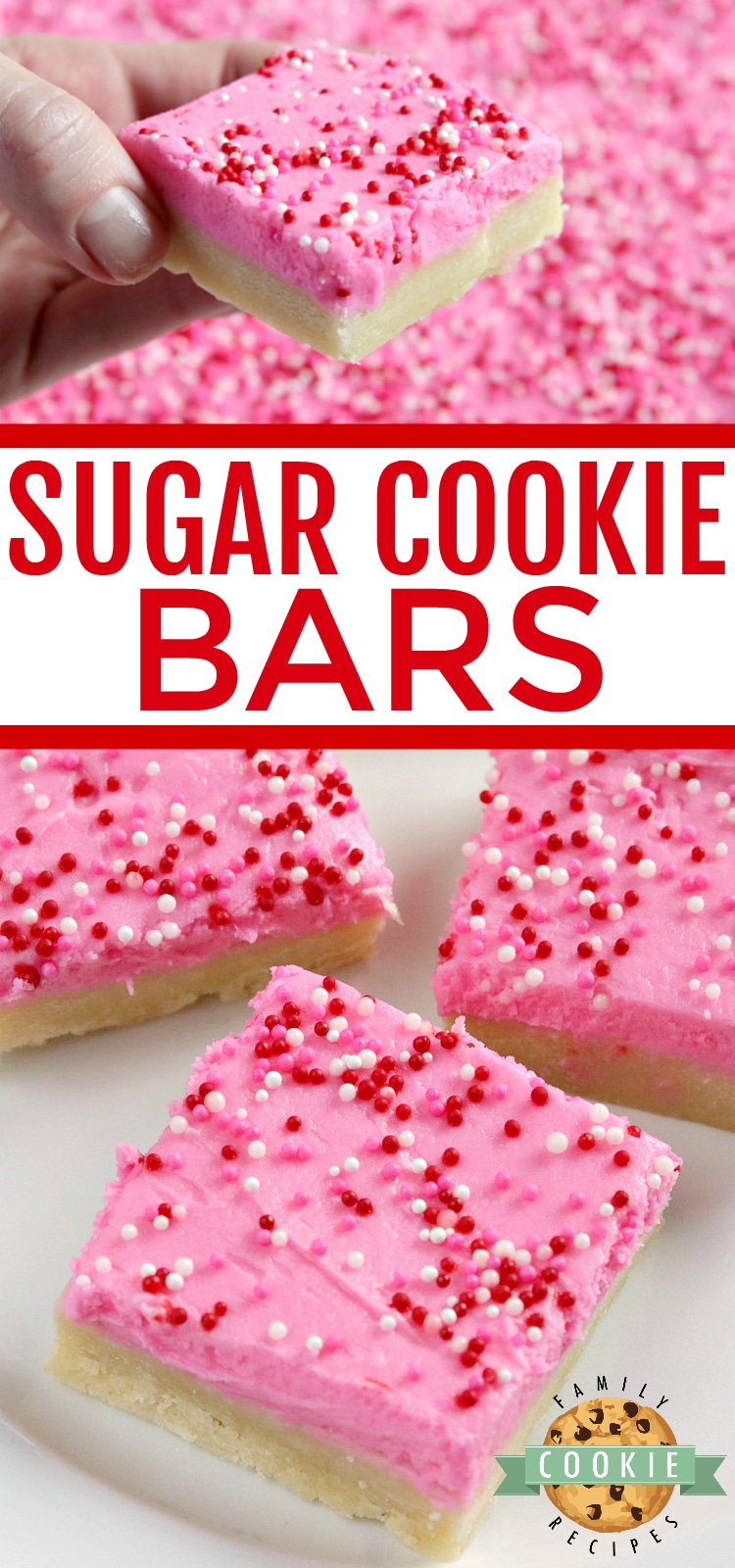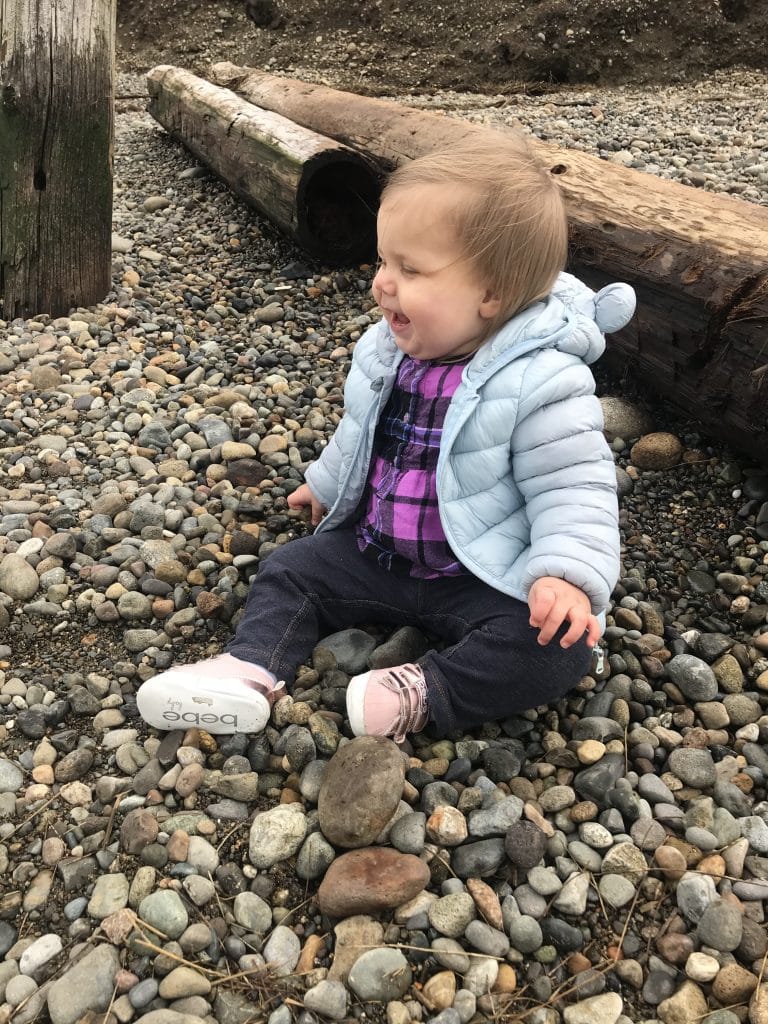 This little one just has such an enthusiasm for life! We went on a family hike this last weekend and the hike ended on the beach. And yes, the word beach sounds warm and sandy, but not if you live in the Pacific Northwest. Especially in January!
When we first moved here, I was so excited that we lived so close to the water and the beach. Until I saw the beach. Full of rocks and the water sits at about 44° all year. Not my idea of a beach. 😳But we actually do love to go to the beach – I've just learned to adjust my expectations! My kids can spend hours turning rocks over to find little crabs and they love to explore for shells and skip rocks in the water.
This little one hasn't been to the beach since she was a tiny baby and this time she absolutely loved it. She absolutely loved playing with all the rocks (it was a little nerve-wracking for me since I had to watch her like a hawk to make sure she wasn't eating them!) and she thought the little crabs were super funny. So fun to see everything through the eyes of a little one who is seeing everything for the first time and finding even the simplest things to be really exciting.