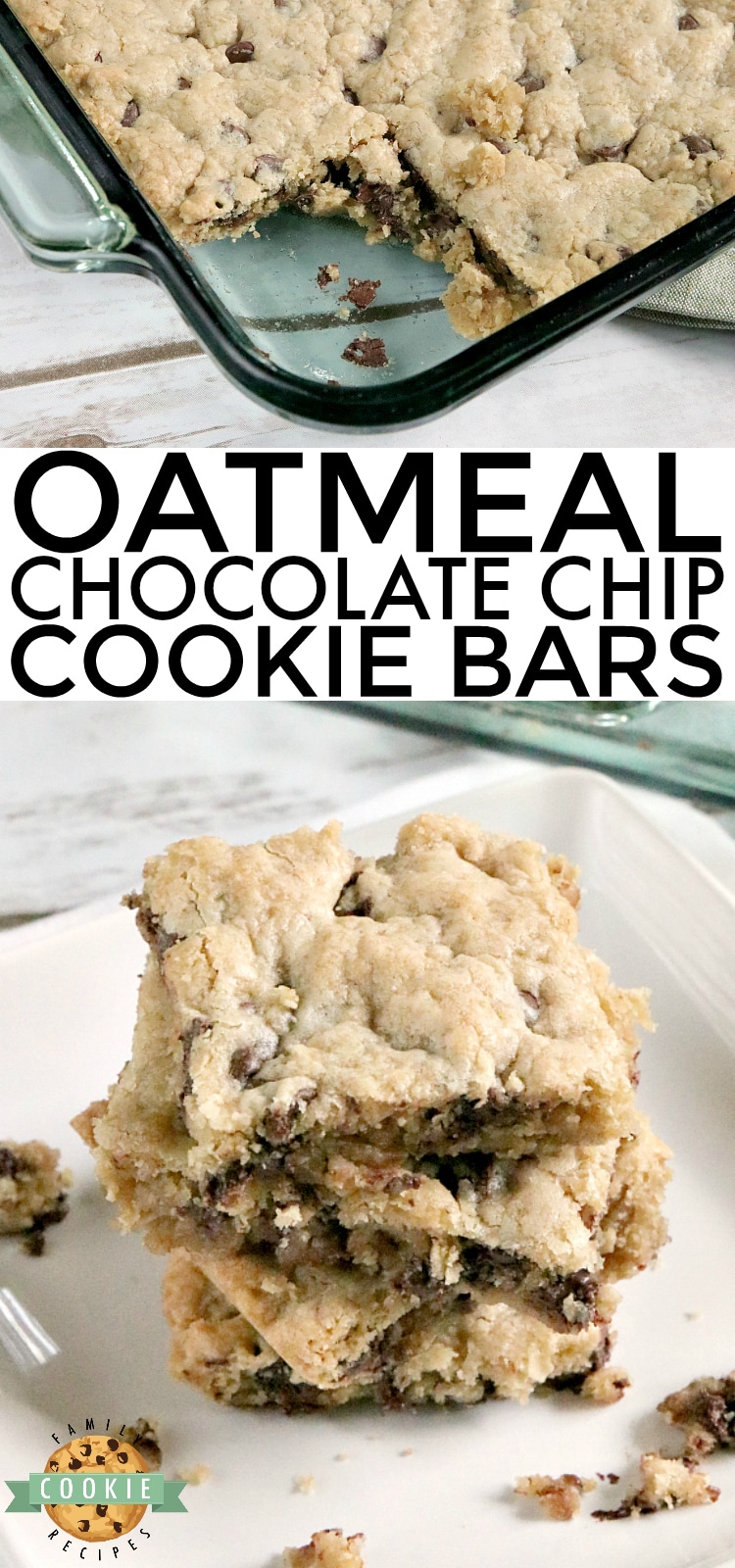 Oatmeal Chocolate Chip Cookie Bars are soft, chewy and easy to make when you don't have time to scoop individual cookies! This delicious cookie bar recipe is filled with oats and chocolate chips and comes together in just a few minutes.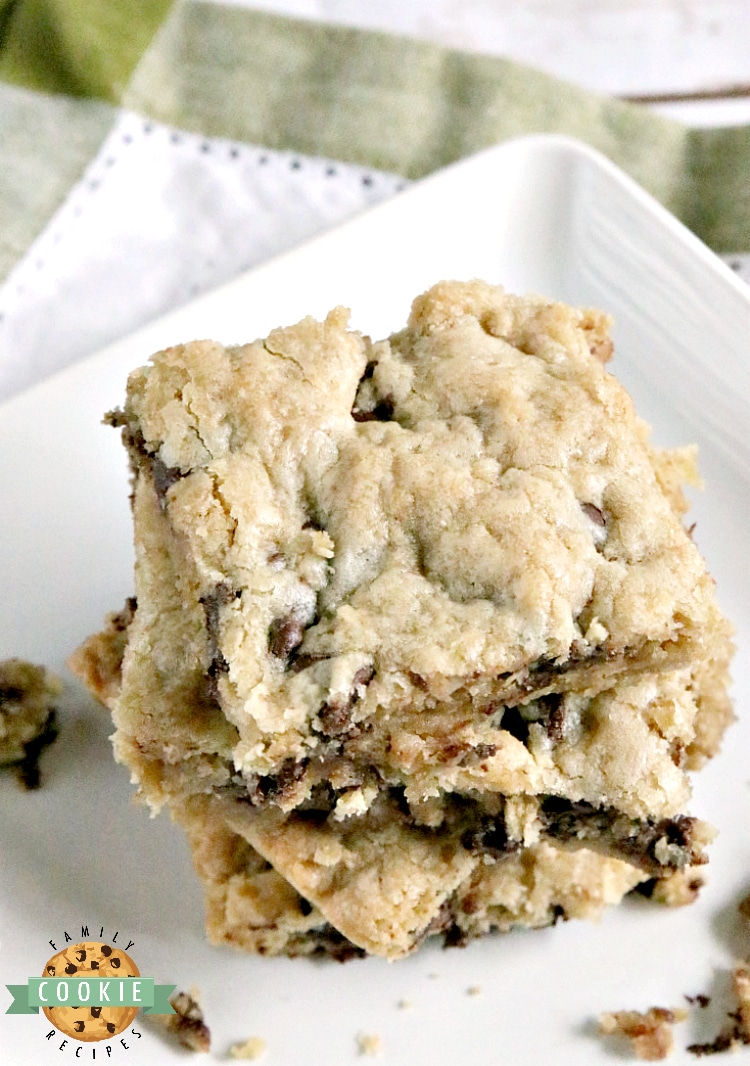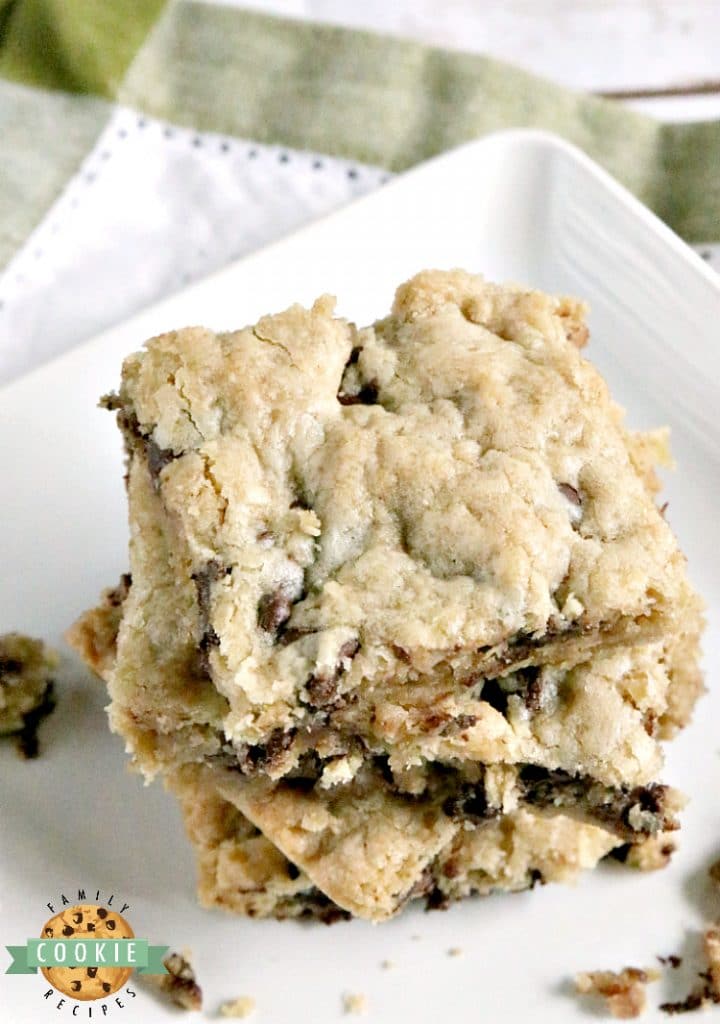 Oatmeal Chocolate Chip Cookie Bars are made quite often at my house because they are just so easy to make. It's like making one giant cookie! Which is never a bad idea, right?! I love making cookies, but sometimes I don't have the time to scoop and bake several cookie sheets worth of cookies. Making cookie bars is a great way to make a cookie without having to take the time to make lots of individual cookies.
Ingredients in Oatmeal Chocolate Chip Cookie Bars
-flour
-baking soda
-salt
-oats
-butter
-sugar
-brown sugar
-egg
-vanilla extract
-semi-sweet chocolate chips

How to make Oatmeal Chocolate Chip Cookie Bars
Preheat oven to 375°. Mix all the dry ingredients together. Beat the butter, sugars, egg and vanilla extract together until creamy.
Add the dry ingredients to the butter and sugar mixture and mix until combined. Stir in the chocolate chips.
Place the dough into a greased 9X13 pan and spread until evenly distributed throughout the entire pan. I think it's easiest to use your fingers for this!
Bake the cookie bars for 18-20 minutes, or just until they begin to turn a light golden brown on top. Let them cool and then slice and serve. Or eat them warm like I do – they fall apart a little bit but they are so yummy!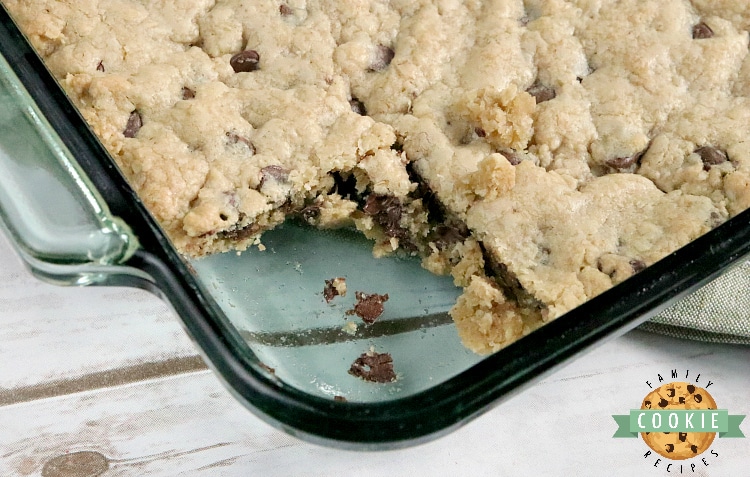 Tips for making the best cookie bars
Don't melt the butter! Just soften it to room temperature before adding to the mixture.
Spend a little extra time when you mix the butter and sugars. Creaming them together for 2-3 minutes will improve the consistency of your cookies.
Preheat the oven. This will help your cookie bars turn out right every time!
Don't over bake them – when I take mine out of the oven, they still look slightly under baked in the middle but they will continue to bake in the pan for a couple more minutes so that's ok!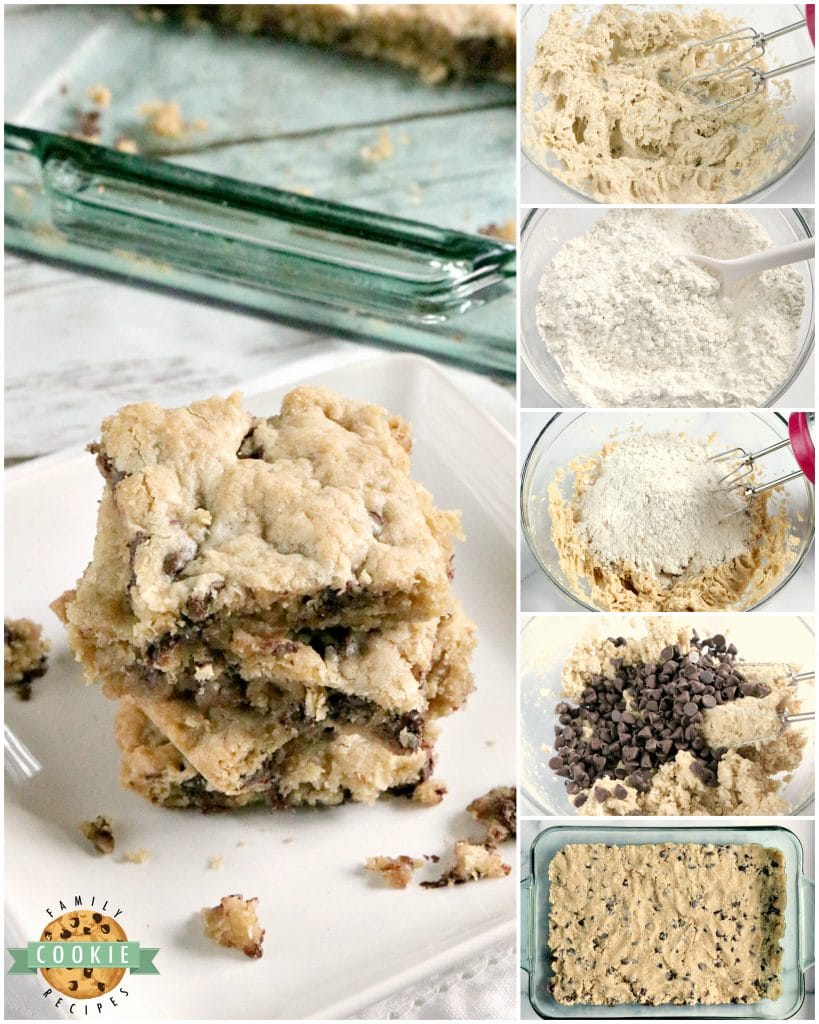 What kind of oats are best in Oatmeal Chocolate Chip Cookie Bars?
You can use quick oats or old-fashioned oats in your cookies- it really comes down to a personal preference. I actually like to do a combination – half quick oats and half old-fashioned, but it's totally up to you and what type of oats you have in your pantry! If you use all quick oats, the cookie bars will end up being a little bit more dense and a little bit puffier.
I like the texture of old-fashioned oats because it make the cookie bars a little bit chewier (and also like I am eating real oatmeal which makes it easier for me to justify eating a few of these cookie bars for breakfast!).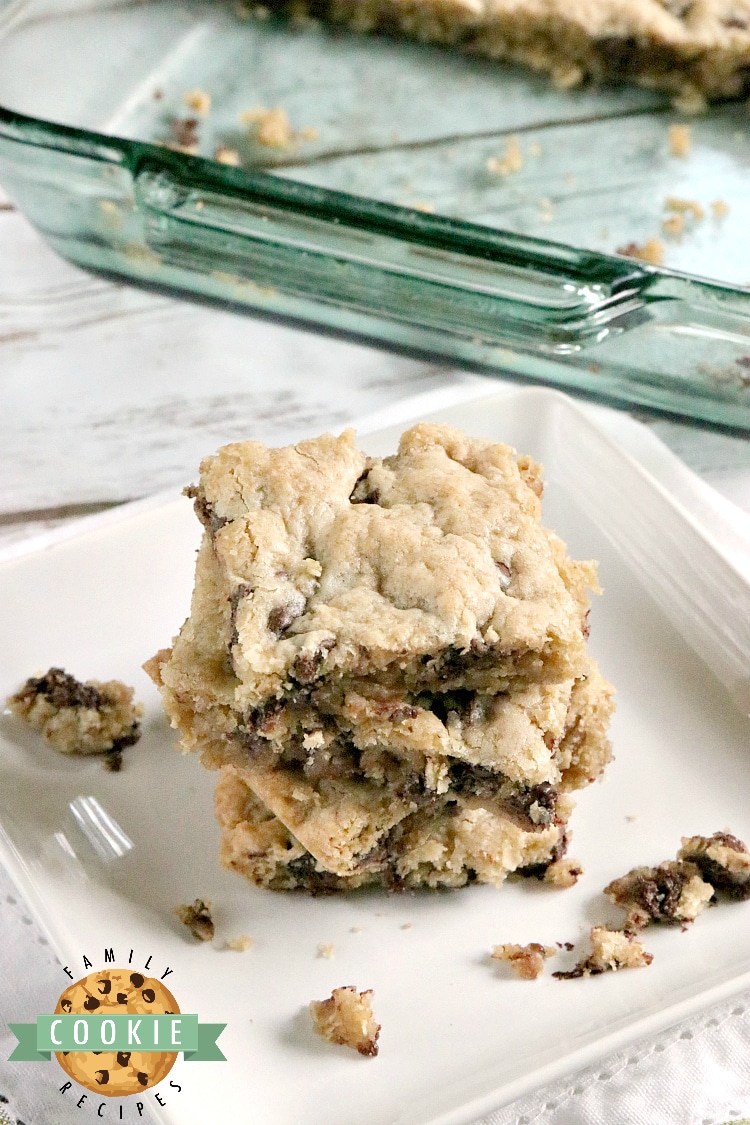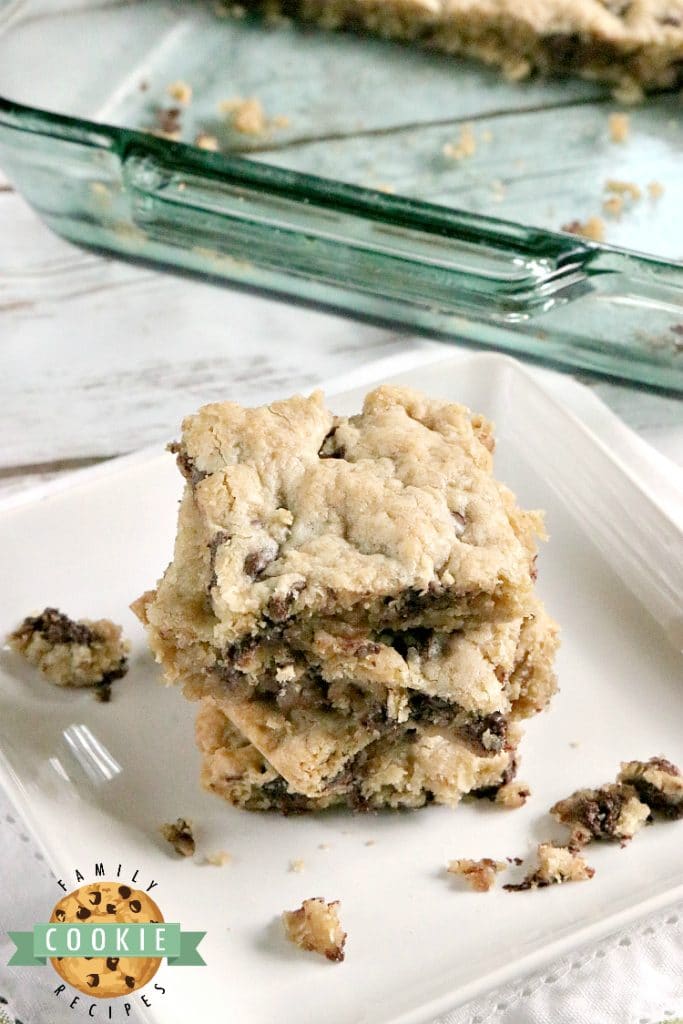 How do you soften butter to room temperature?
The best way to soften butter is to set it out for a few hours before you make your cookies. Since most of us (or maybe just me!) aren't that prepared or don't think that far in advance, there are a few tricks to softening butter perfectly in just a matter of minutes.
My favorite way to soften butter is in the microwave. It's definitely fast, but you do have to be very careful not to melt it. Just put the whole stick of butter in the microwave (as long as it isn't wrapped in foil!) and microwave for about 6-7 seconds. If the butter is still really cold, try another 5-7 seconds and check it again. You may need a few intervals, and if the butter is starting to feel soft, you can shorten the final interval to just a few seconds to make sure it doesn't start melting.
I actually prefer to use the defrost setting on my microwave – I don't know exactly what that mode does differently, and it takes a little bit longer (closer to 30 seconds), but it seems to be easier to get the butter to soften without melting.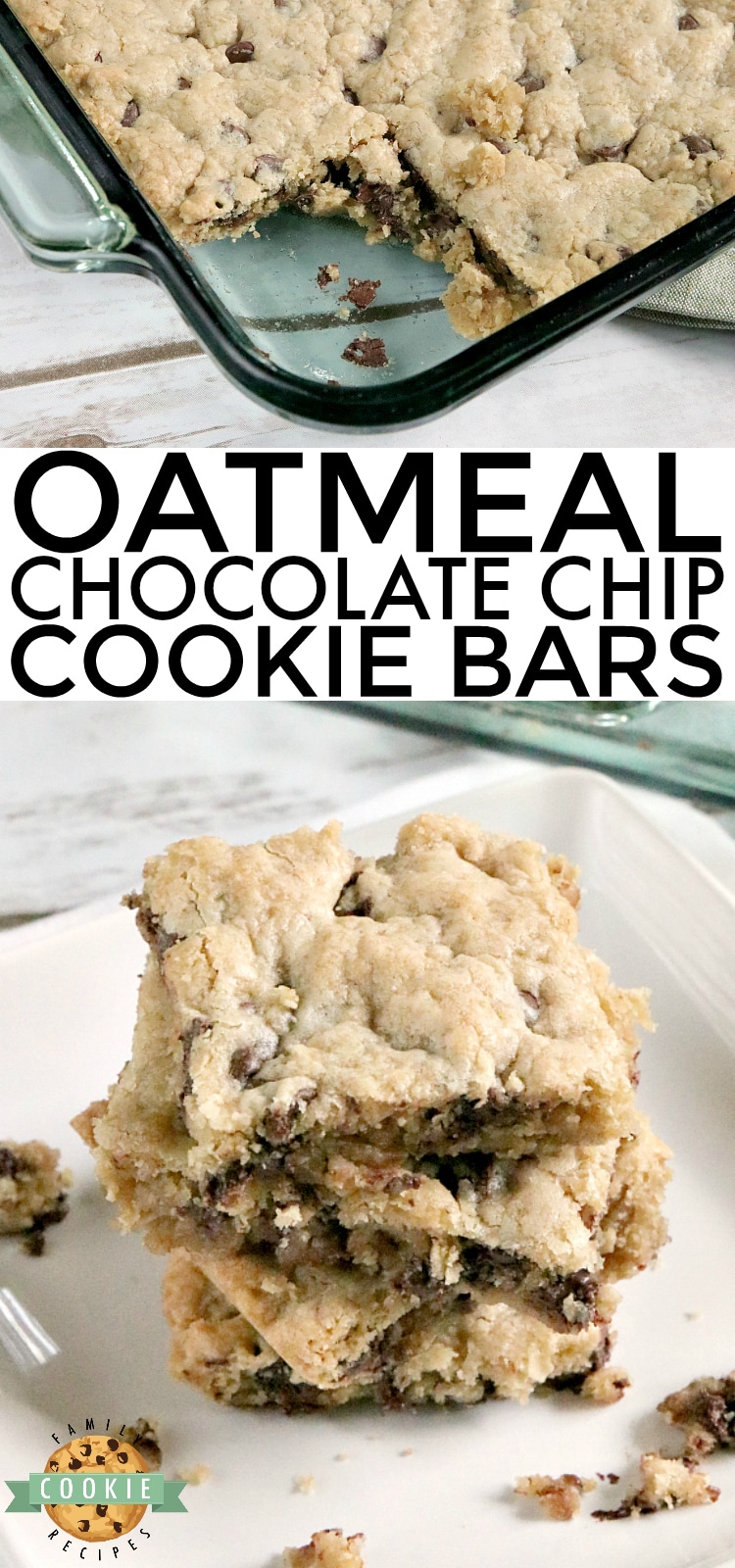 Oatmeal Chocolate Chip Cookie Bars are soft, chewy and easy to make in just a few minutes! This delicious cookie bar recipe is full of oats and chocolate chips and is perfect for when you don't have time to scoop individual cookies!


Little Baby B is 6 months old! How did that happen?! She absolutely loves food! No surprise there – the cheeks are a dead giveaway! She isn't picky – she will eat pretty much anything, but she absolutely LOVES avocados and bananas. She can eat a whole avocado in one sitting and she can polish off a whole banana pretty quickly too. Her latest trick is to chomp down on the spoon while I'm feeding her – she's pretty talented already!