Peanut Butter Cookie Bars are soft and chewy with a chocolate fudge frosting on top. Delicious cookie bar recipe made with peanut butter, oats and a simple chocolate ganache for the frosting!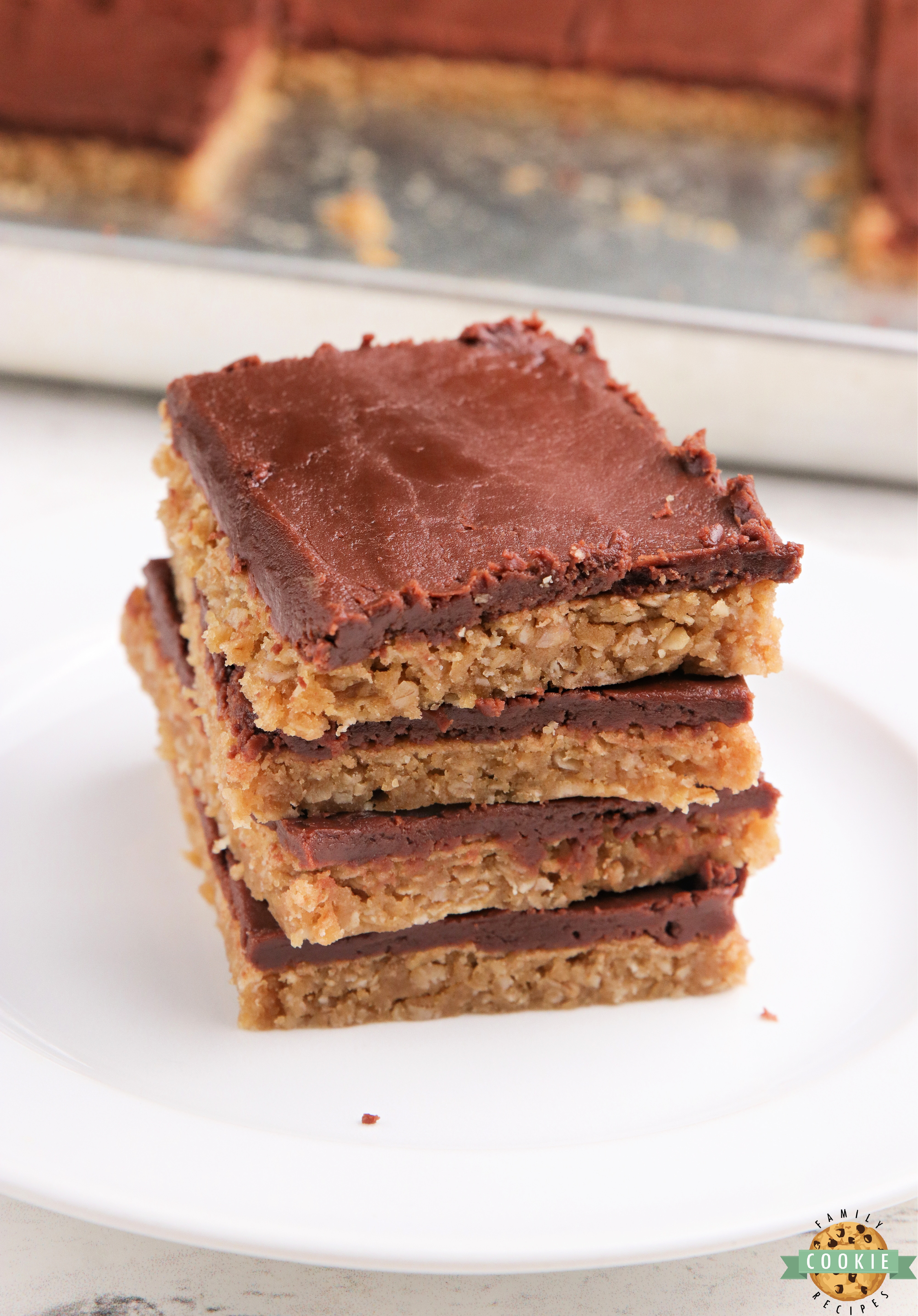 It's no secret that we love chocolate and we love peanut butter. Bonus points if we can have a treat that has both! Everyone in my family has stated that these cookie bars are in the "top 5 treats I've ever made" and that is saying a lot since I make treats multiple times a week.
PEANUT BUTTER COOKIE BARS
Thick and chewy peanut butter bars made with peanut butter, oats, sugar, brown sugar, flour and a few other simple ingredients. Once these cookie bars are baked, they are topped with a fudgy layer of chocolate made with sugar, butter, milk, chocolate chips and marshmallows. Yep, these bars are as delicious as they sound!
Cookie bars are a favorite of mine because there is much less time involved than in making individual cookies. Instead of shaping the cookie dough and baking all the cookies in multiple batches, you can just bake all the dough at one time in one pan!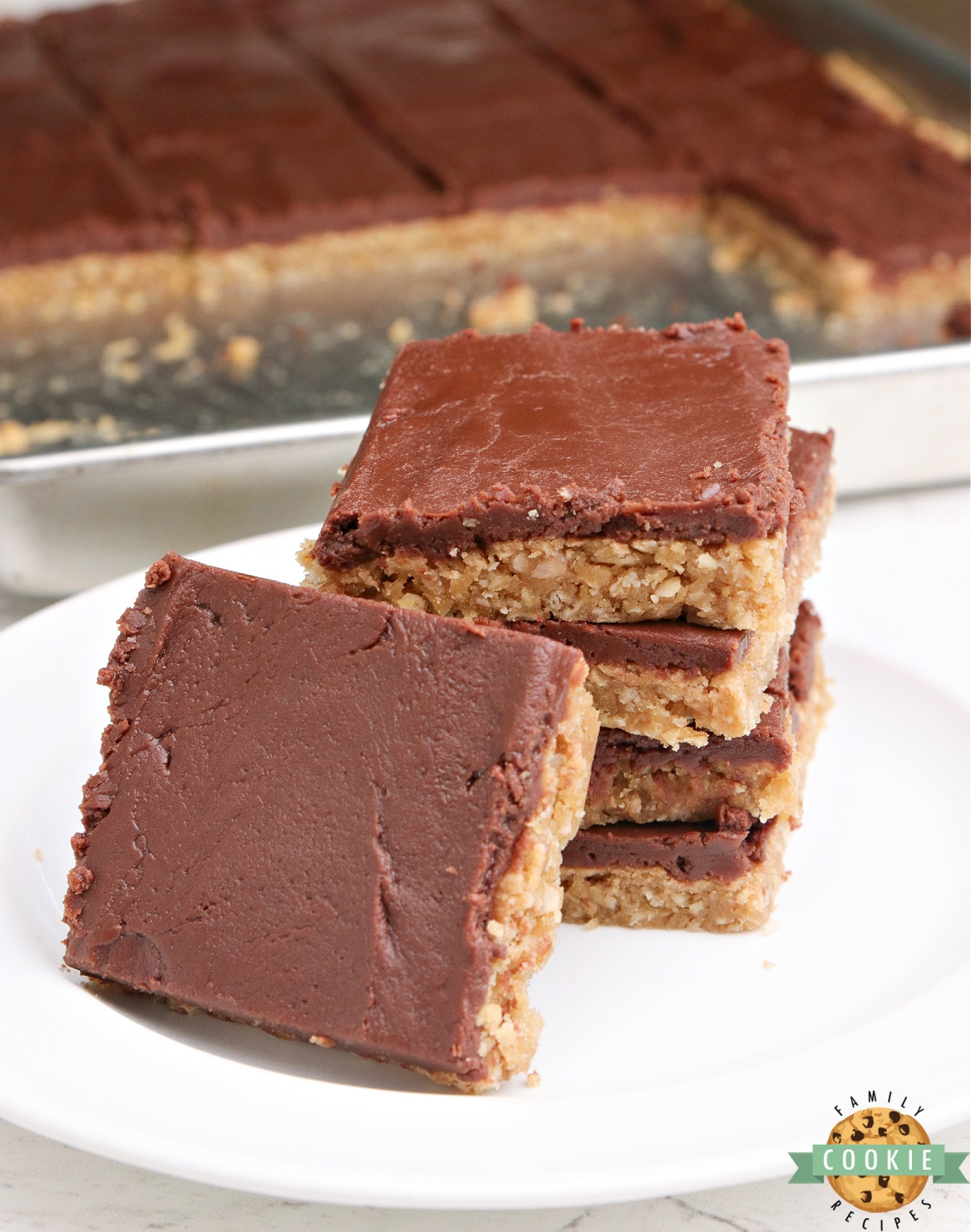 Here are some of our other favorite cookie bar recipes: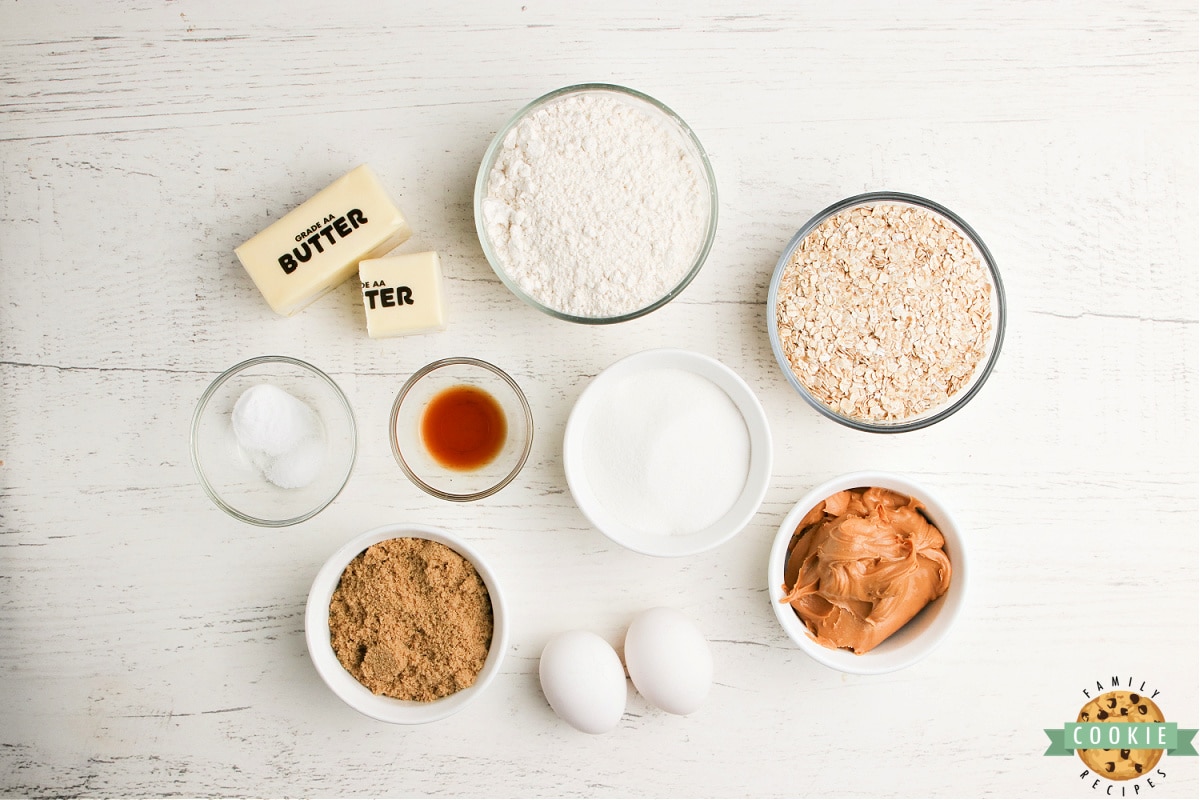 Ingredients in Peanut Butter Cookie Bars
Butter: I use salted butter, but you can use unsalted if you prefer. No margarine! Make sure the butter is softened to room temperature, but not melted before adding to the recipe.
Sugar: Can't leave this one out – kind of an important ingredient in cookies!
Brown sugar: Also an important cookie ingredient. Make sure your brown sugar isn't dried out or stale.
Peanut butter: For best results, use a regular peanut butter. Every time I have made these cookies I have used a regular creamy peanut butter (like Jif or a store-brand alternative). Several readers have commented that cookies do not turn out as well when using a natural style peanut butter.
Egg: We need 2 large eggs to help bind everything together.
Vanilla: I suggest using a good quality vanilla extract or a Vanilla Bean Paste.
Baking soda: Leavening agent in the cookie bars. Make sure your baking soda isn't old or expired for best results.
Salt: Just a little bit, but don't leave it out!
Flour: I usually use all purpose flour, but you can use bread flour, or even pastry flour in this recipe.
Oats: Quick oats work best in this recipe, but you can use old-fashioned oats. The bars will be a little bit less moist and they will also be a bit chewier.
CHOCOLATE FROSTING
Sugar: Granulated sugar adds a lot of the sweetness for the frosting.
Butter: Again, real butter works best!
Milk: You only need 1/3 cup of milk. Any type of milk will work fine!
Semi-sweet chocolate chips: Semi-sweet chocolate chips provide the chocolate for the frosting.
Mini marshmallows: The marshmallows help to add flavor, but they also make this frosting the absolute perfect consistency.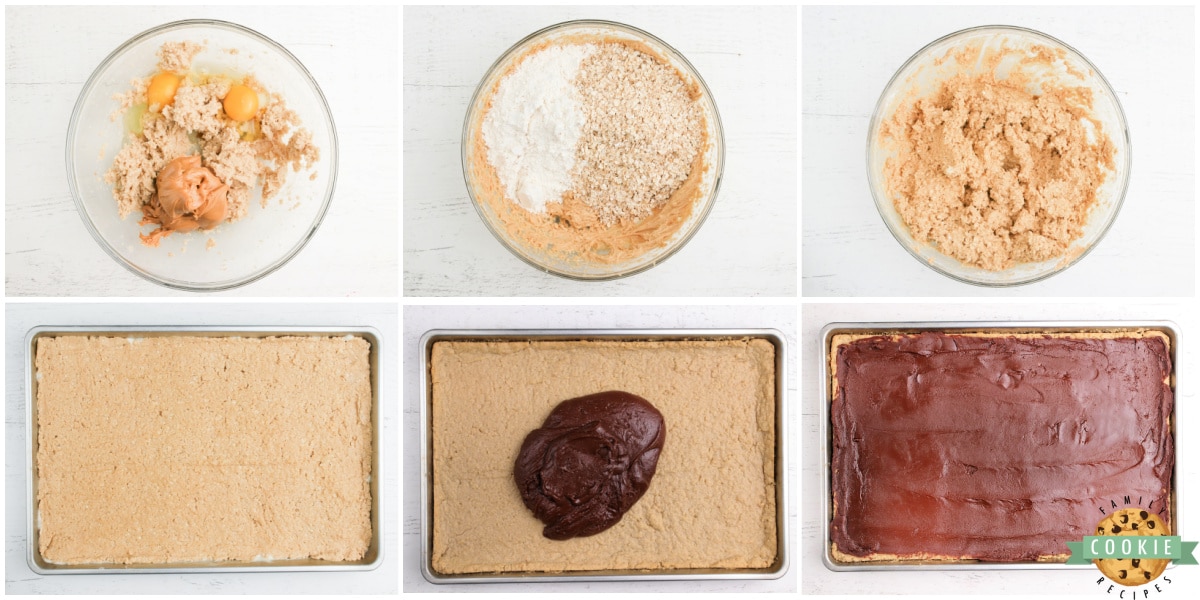 How to make Peanut Butter Cookie Bars
Preheat oven to 325°. Grease a jelly roll pan (10″X15″X1″).
Cream butter and sugars together for about 2 minutes with an electric mixer. Add peanut butter, eggs and vanilla and cream for another 2-3 minutes.
Add baking soda, salt and flour and mix just until combined. Stir in the oats.
Pour the batter into the prepared jelly roll pan. The batter will be thick so you will need to spread it evenly to fill the entire pan. I use a small rolling pin, but you can use your fingers or the back of a spoon.
Bake for about 13-15 minutes or until the edges barely start to turn a golden brown. Do not over bake or the bars will lose a lot of their moisture!
While the bars cool, you can make the frosting.
In a small saucepan, melt the butter, sugar and milk together over medium heat, stirring frequently. Bring to a boil and let it boil for 1 minute. Remove from heat and add the chocolate chips. Stir until the chocolate is completely melted and then add the marshmallows. Stir until the marshmallows are melted and then spread over the cooled bars. (The bars don't have to be completely cooled, but should at least sit for about 20-30 minutes before adding the frosting.)
Slice and serve!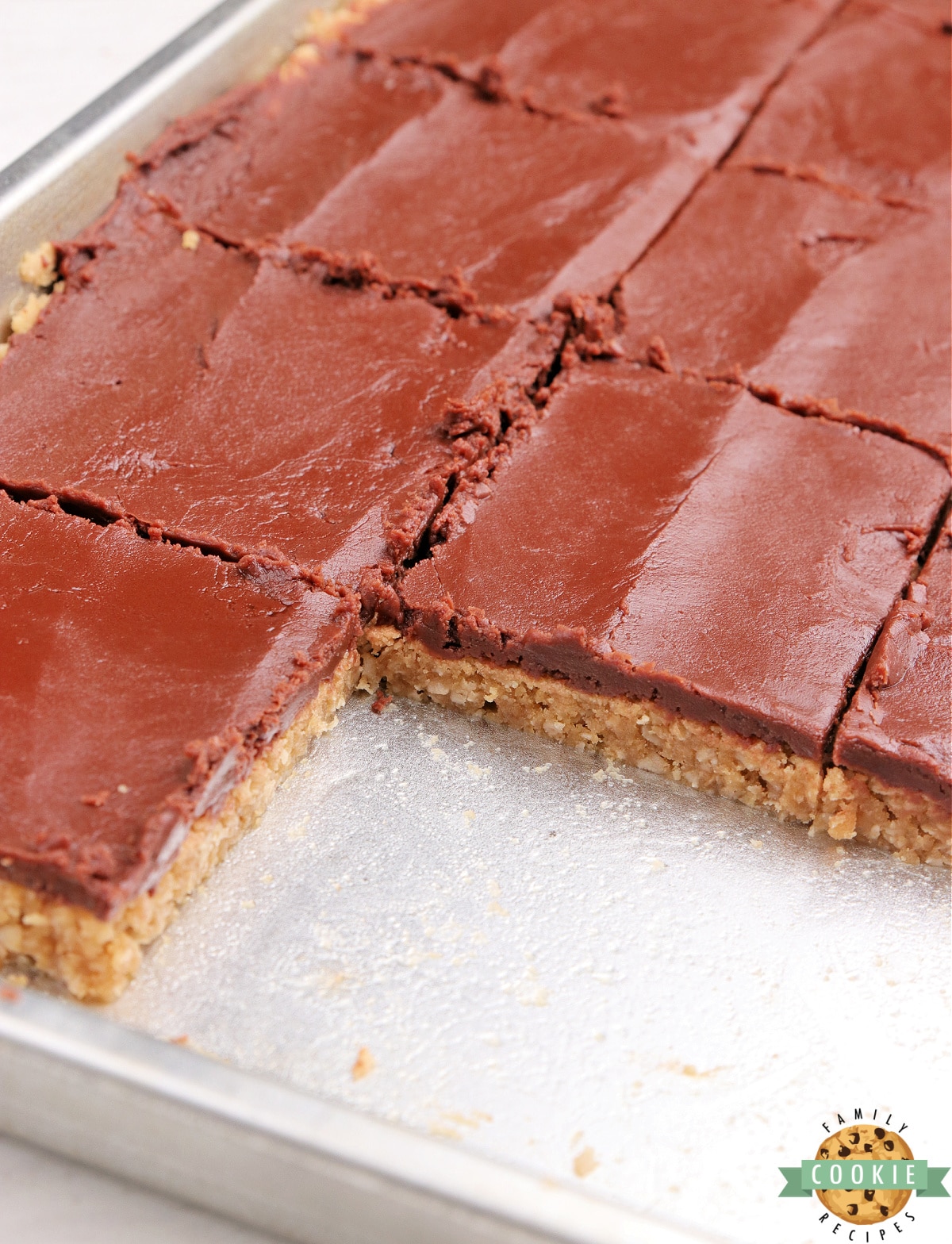 WHAT TYPE OF PEANUT BUTTER TO USE IN PEANUT BUTTER BARS?
I have found that regular peanut butter (Skippy, Jif, etc.) works much better in most recipes than more natural peanut butters. The natural type peanut butters tend to be a lot runnier and they just don't turn out quite the same.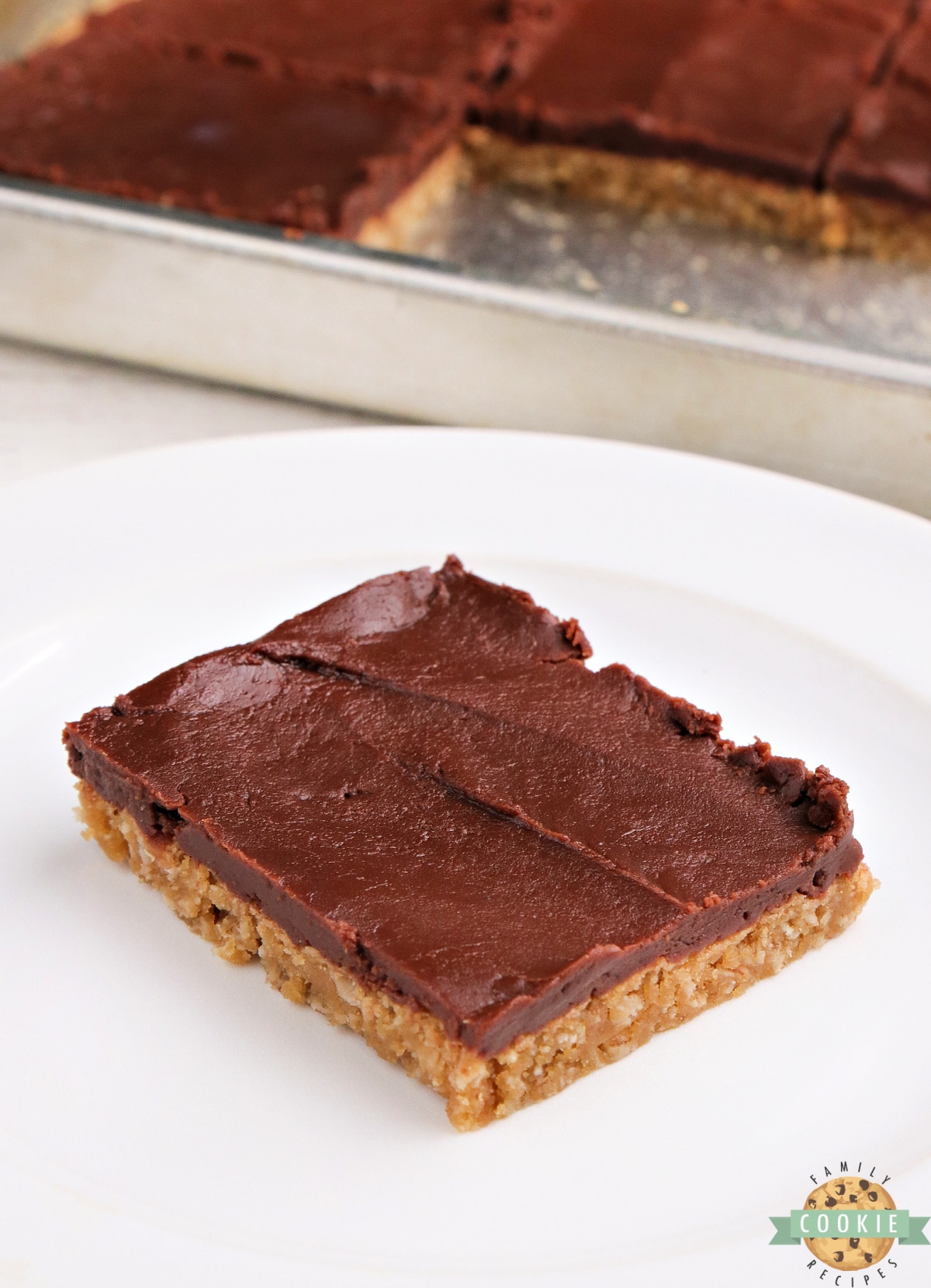 Tips for making the best peanut butter bars
Do not melt the butter! The butter needs to be softened (at room temperature), but using melted butter will ruin the cookies.
Spend a little extra time when you mix the butter and sugars. Creaming them together for 2-3 minutes will improve the consistency of your cookie bars.
Use regular peanut butter, not the more natural kind. The peanut butters where the oils separate out tend to be a little runnier and just don't yield consistently favorable results in baking!
Preheat the oven. This will help your cookies turn out right every time!
Don't over bake the cookie bars – when I take mine out of the oven, they still look slightly underbaked but they will continue to bake in the pan for a couple more minutes so that's ok!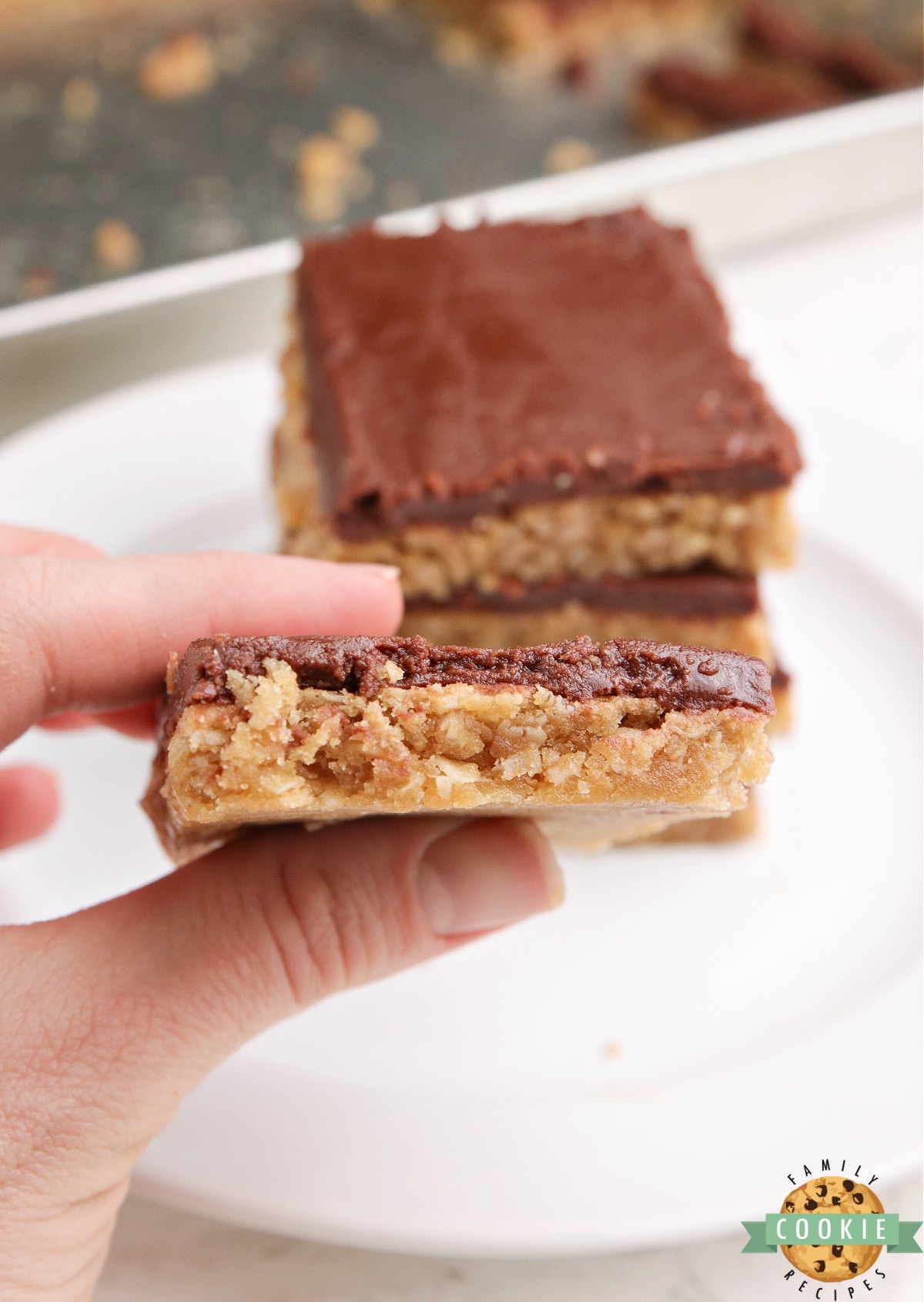 HERE ARE A FEW MORE PEANUT BUTTER COOKIE RECIPES YOU'LL ENJOY: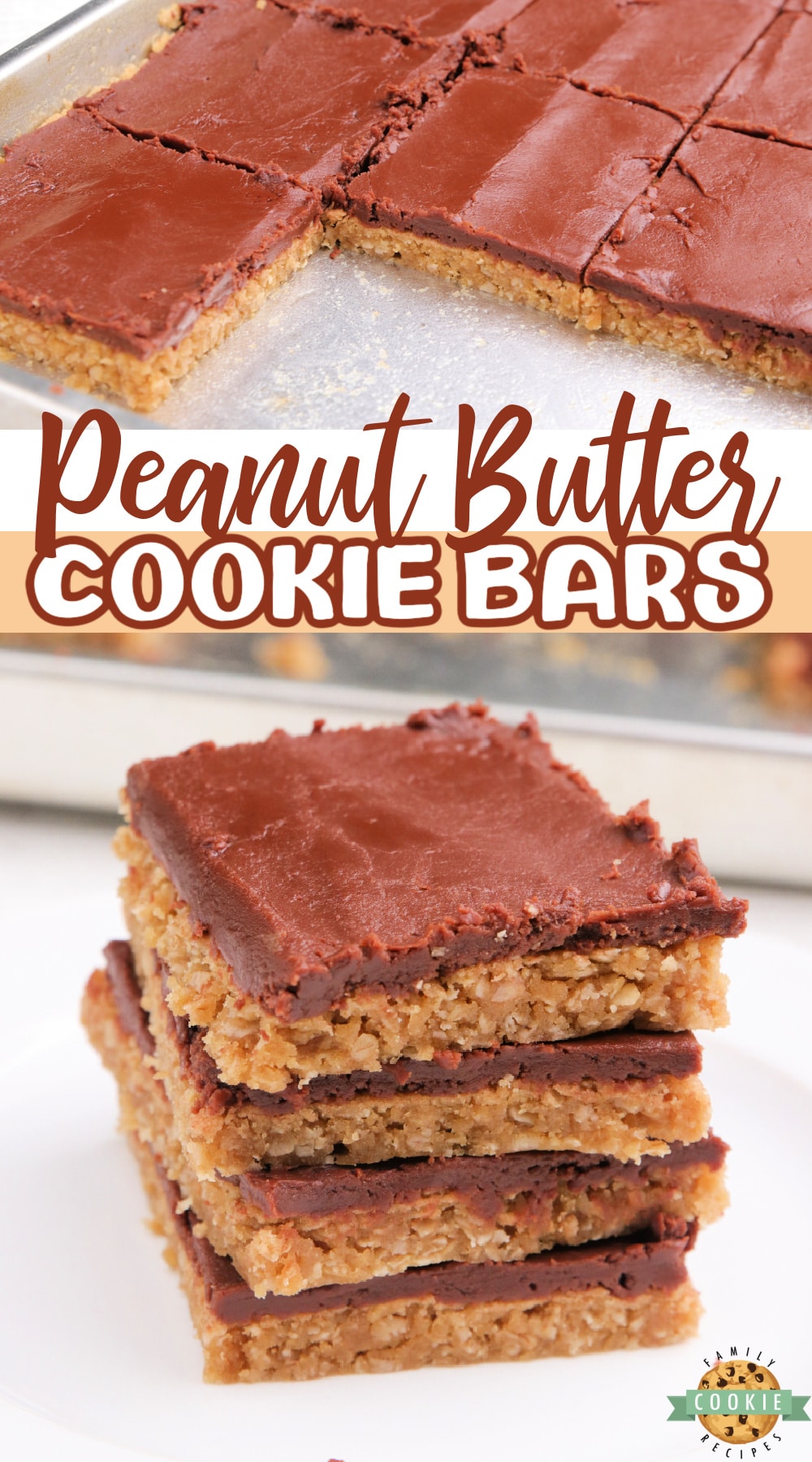 Peanut Butter Cookie Bars are soft and chewy with a chocolate fudge frosting on top. Delicious cookie bar recipe made with peanut butter, oats and a simple chocolate ganache for the frosting!



A couple of weeks ago, we were frantically shopping to find my oldest daughter a pair of shoes to wear to prom. She doesn't like heels at all (it runs in the family), and so we were having a hard time finding anything fancy enough that was still flat. We had little Miss B along with us, and she kept finding the most sparkly, most tall high heels she could find and getting so excited about them. She was walking all over the store in her high heels, even though they were still attached together and about 10 sizes too big for her. She would only take them off when she found a taller, sparklier pair. And then when it was time to leave, she was hysterical because I wouldn't let her keep any of them. Apparently she is the only female in about 3 generations of my family that likes high heels. Crazy girl!