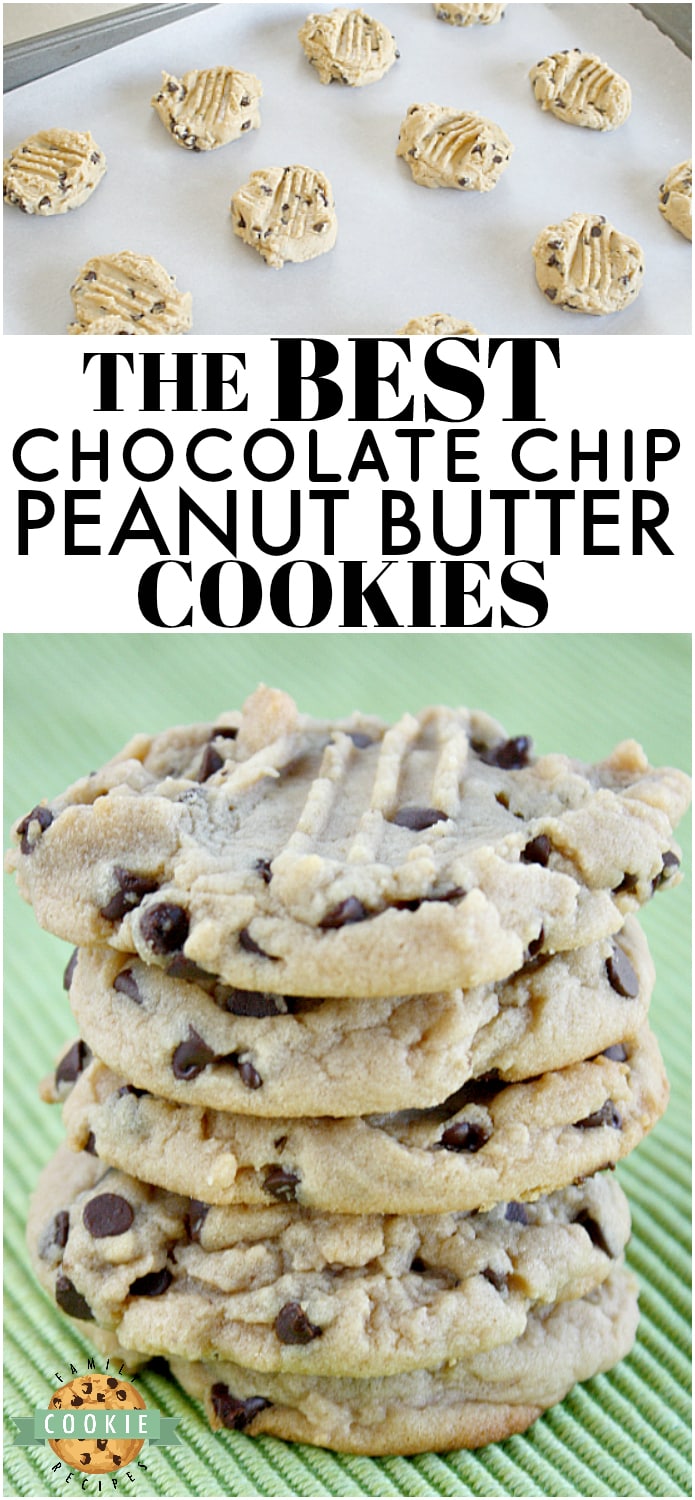 Chocolate Chip Peanut Butter Cookies are soft and chewy, and they turn out perfect every time! Start with an amazing Peanut Butter Cookie recipe and add chocolate chips to take these cookies to the next level!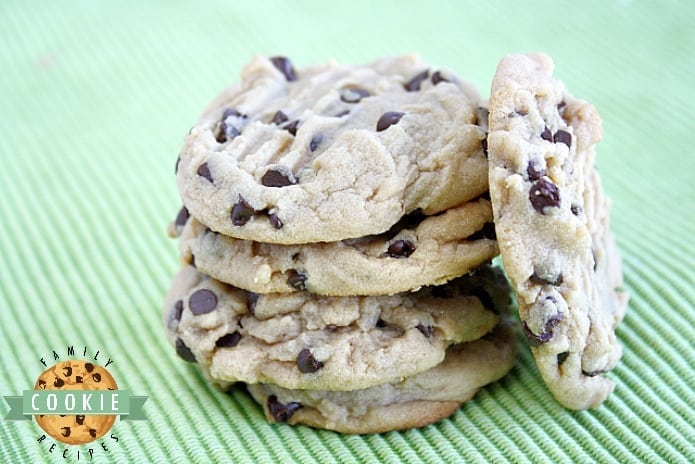 Chocolate Chip Peanut Butter Cookies have become a staple around my house since I discovered this recipe. I know, I know. Everyone says that their cookie recipe is the best and that doesn't always mean much, but I promise that this is the BEST peanut butter cookie recipe you have ever tried. I can say this because I have tried dozens and dozens of peanut butter cookie recipes and was never very excited about any of them. Until I tried this one. It seems like a lot of the peanut butter cookie recipes turn out really crumbly and dry. Not this one!
Chocolate Chip Peanut Butter Cookies are not just my favorite Peanut Butter Cookies recipe, but my favorite COOKIE recipe. Period. It is really that good. Just try it! I always add chocolate chips to mine, but they are good without also…totally up to you! And call me strange, but I usually prefer mini chocolate chips to the regular sized ones. I think it's because I actually prefer cookie dough to baked cookies, and I like just a hint of chocolate mixed with the cookie – I don't like my cookie dough to be overshadowed by too much chocolate!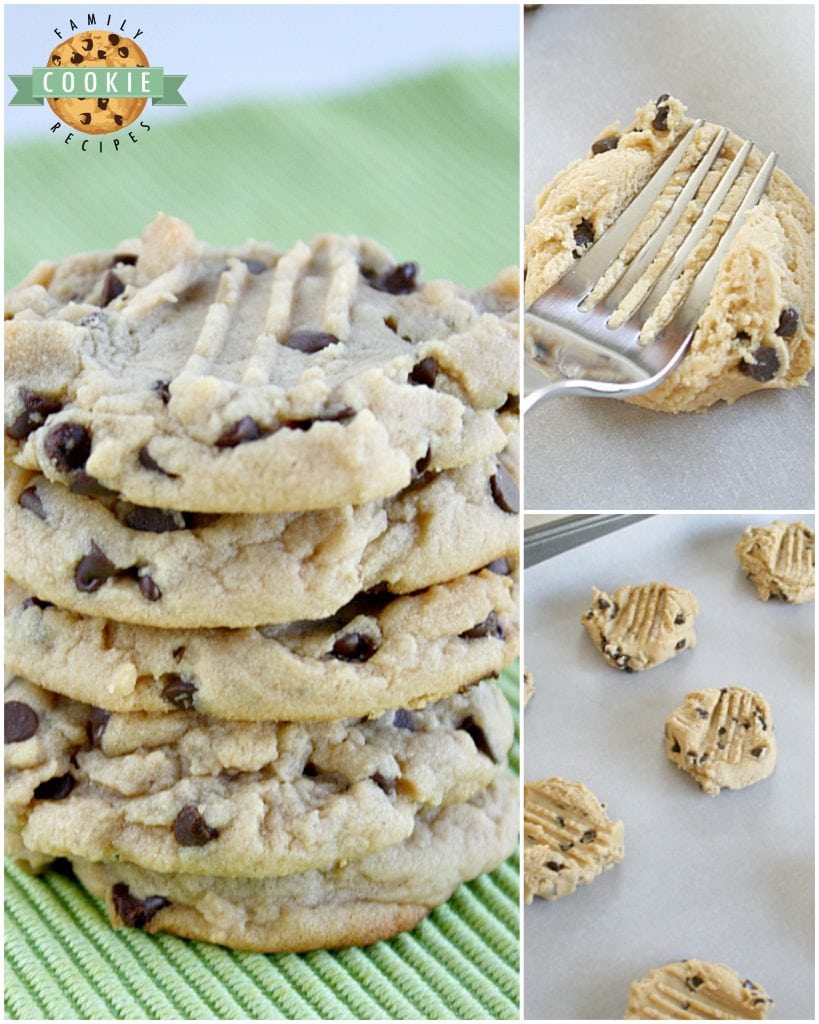 How do you make homemade peanut butter cookies?
Making homemade peanut butter cookies is easy! Here are a few tips to getting perfect cookies every time!
Make sure you use softened butter – DON'T melt it! One of the most common errors in cookie making is using butter that is either really cold and hard, or using butter that is too warm and melted. If you have time, just leave butter out on the counter for about 1-2 hours before making your cookies. If you are like me and don't plan your cookie cravings that far in advance, just place the butter in your microwave and soften in 5 second intervals, being very careful to pull it out before it melts. I actually like to use the defrost setting on my microwave to soften butter- I don't know the technical reasons behind it, but it seems to soften the butter more evenly and takes a little bit longer so I'm less likely to start melting it!
Most cookie recipes require that you mix the dry ingredients separately before adding the wet ingredients. This is an important step!
Make sure to slightly press peanut butter cookies on the top with a fork before baking.
Why do peanut butter cookies always have fork marks on the top?
Peanut butter makes cookies more dense, so they need to be slightly flattened before baking so that they can cook more evenly. There is nothing worse than a cookie with burnt edges and a doughy middle! My kids like to help make the criss-cross pattern on the tops of the cookies, but if you don't like the pattern, you can just use the back of a wooden spoon to slightly flatten the tops before placing the peanut butter cookies in the oven.

THE BEST CHOCOLATE CHIP PEANUT BUTTER COOKIES
1 cup peanut butter*
1/2 cup butter, softened
1/2 cup white sugar
1/2 cup brown sugar
1 egg
3 Tbsp milk
1 tsp vanilla extract
1 1/2 cups flour
3/4 tsp baking powder
1/4 tsp salt
1 1/2 cups semi-sweet chocolate chips (optional)
With a hand mixer, cream together the peanut butter, butter, white sugar and brown sugar until blended. Beat in the egg, milk, and vanilla.
Combine the flour, baking powder and salt in a separate bowl. Add flour mixture to the peanut butter mixture and mix together.
Stir in chocolate chips at this point if desired. Scoop tablespoonfuls of dough and roll into balls.
Place cookies 2 inches apart on ungreased cookie sheets (I used parchment paper since my cookies tend to burn on my darker pans). Press each ball once with a fork.
Bake for 8-10 minutes at 375. Don't overcook! These cookies are much better soft and just barely cooked all the way through! Enjoy!
NOTE: Every time I have made these cookies I have used a regular creamy peanut butter (like Jif or a store-brand alternative). Several readers have commented that the cookies do not turn out as well when using a natural peanut butter.
After you try these Chocolate Chip Peanut Butter Cookies try a few of our other favorite cookie recipes: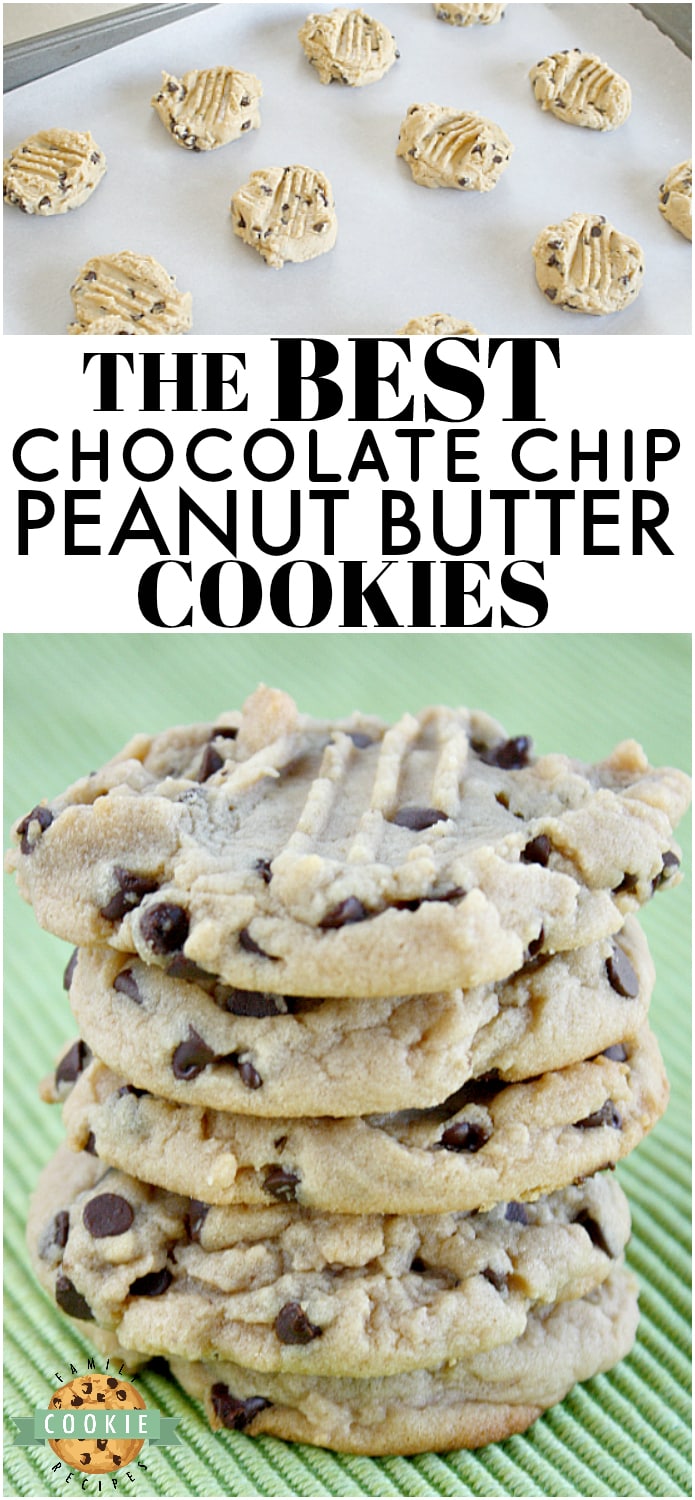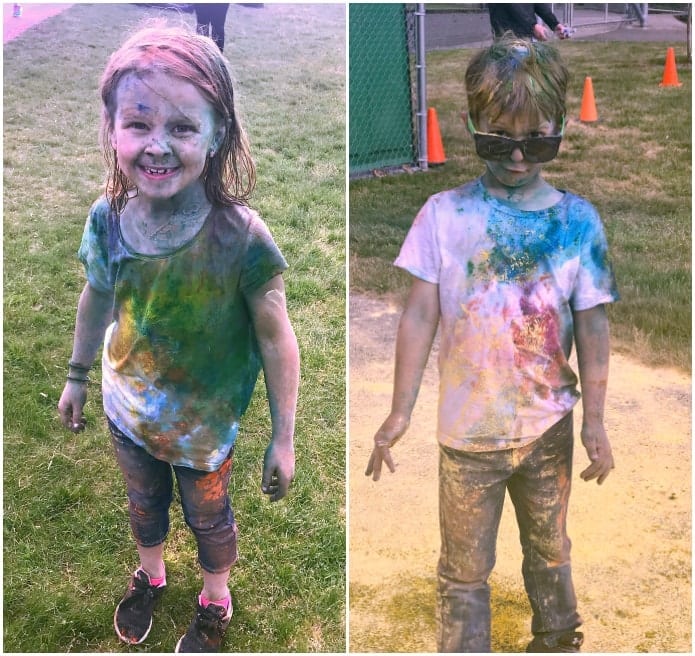 Our elementary school recently did a Color Run fundraiser and my kids took it very seriously! Last year, they barely got a dusting of color and this year, they were literally scooping up the powder and rubbing it all over, and then rolling on the ground to make sure they absorbed as much color as possible! I think we had to shampoo at least 7-8 times before their scalps were no longer bluish-greenish!
The BEST Chocolate Chip Peanut Butter Cookies are soft and chewy, and they turn out perfect every time! Peanut butter + chocolate chips= ❤️!