Nothing beats Grandma's peanut butter cookies and this recipe is sure to make you feel nostalgic! Simple old fashioned peanut butter cookies made with classic ingredients like butter, peanut butter, sugar, eggs & flour.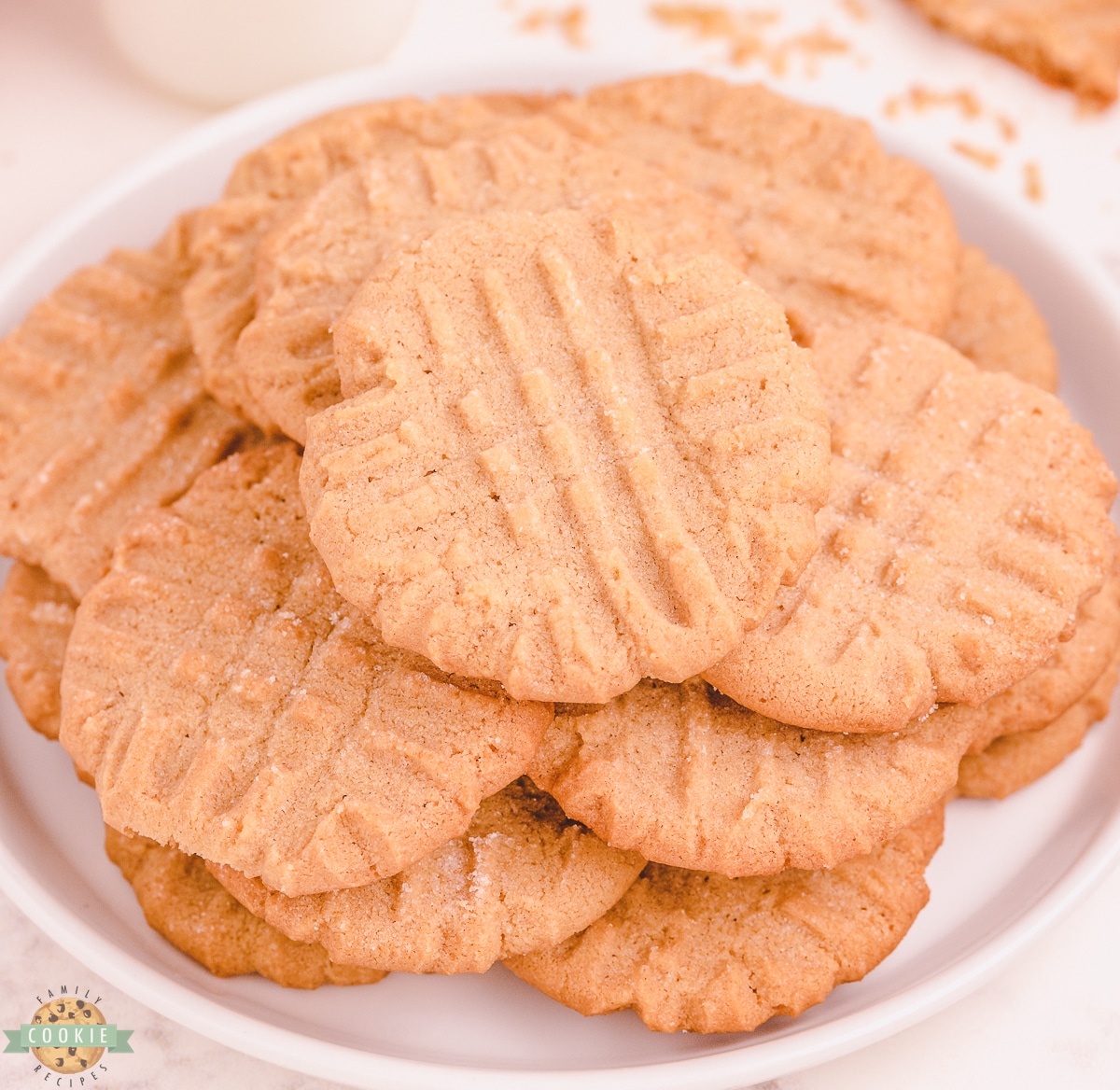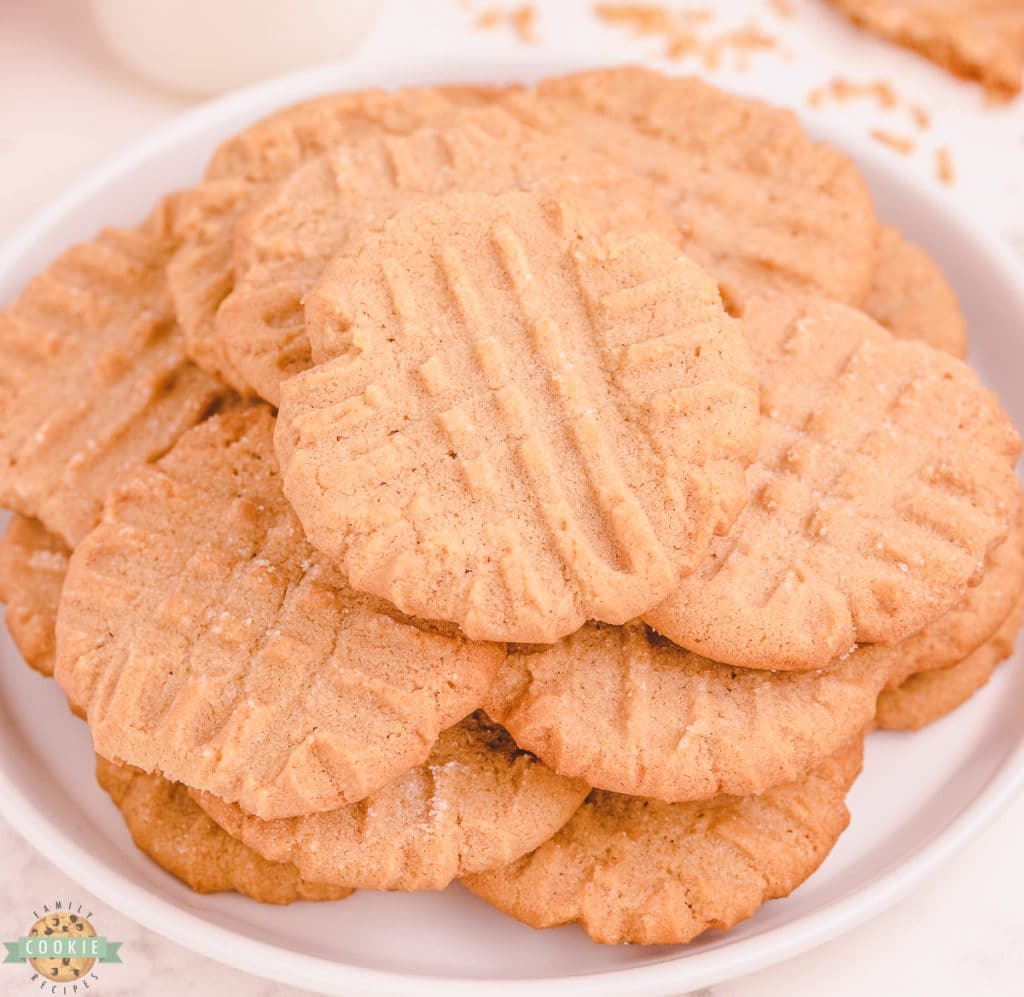 Making peanut butter cookies from scratch is pretty easy and while there are several different ways to do it, this recipe is by far the best. The little criss-cross hash marks on top of every cookie will lure you in while the soft and chewy cookies practically melt in your mouth.
The BEST Peanut Butter Cookies
When I say this recipe is the best, I truly mean it. We have tons of peanut butter cookie recipes on this site but none of them are quite like this. Grandma's old fashioned peanut butter cookies are perfect for any occasion or just when you want something sweet and savory. This is a recipe you'll want to keep close by for years to come.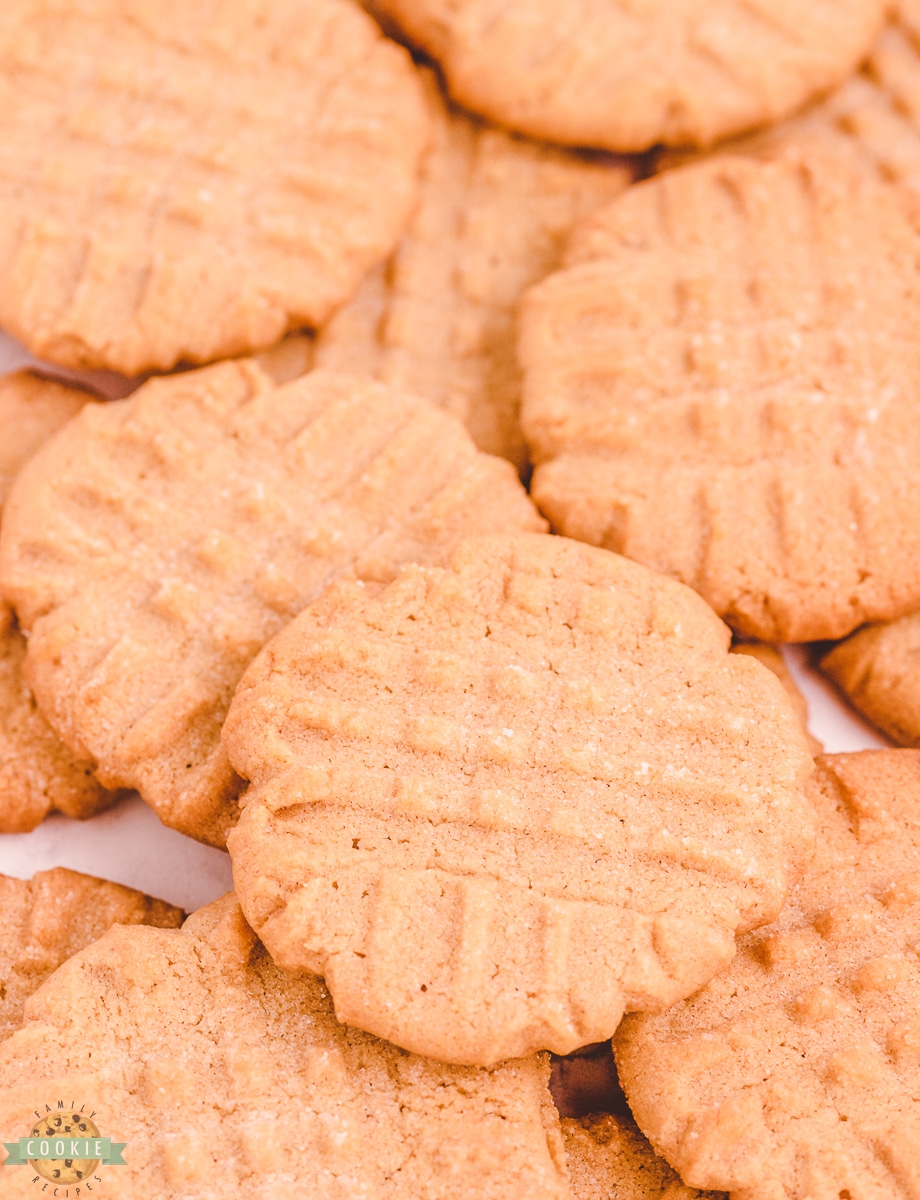 Why This Recipe Works
Simple ingredients. This recipe uses basic pantry staple ingredients such as butter, peanut butter, sugars, flour, and eggs. You may even find that you have most if not all of the ingredients to make this recipe on hand already.
Easy to follow steps. Peanut butter cookies are really easy to mix together and shape. Your biggest tools will be an electric mixer and fork. The best part? There's no dough chilling required!
It comes together quickly. If you're like me you sometimes get a craving for a sweet treat and want a cookie to fix it fast. This recipe comes together really quickly and within minutes you can be enjoying a tasty warm peanut butter cookie straight from the oven.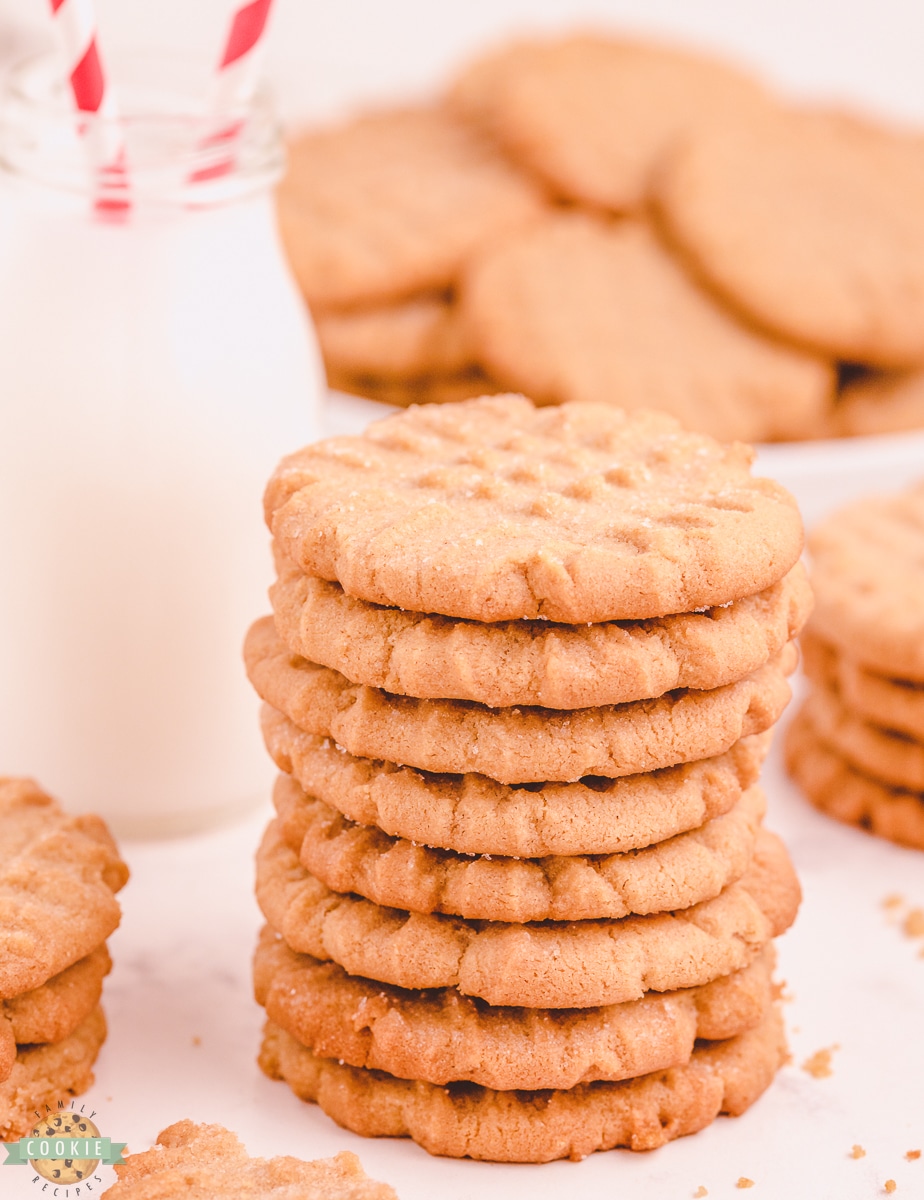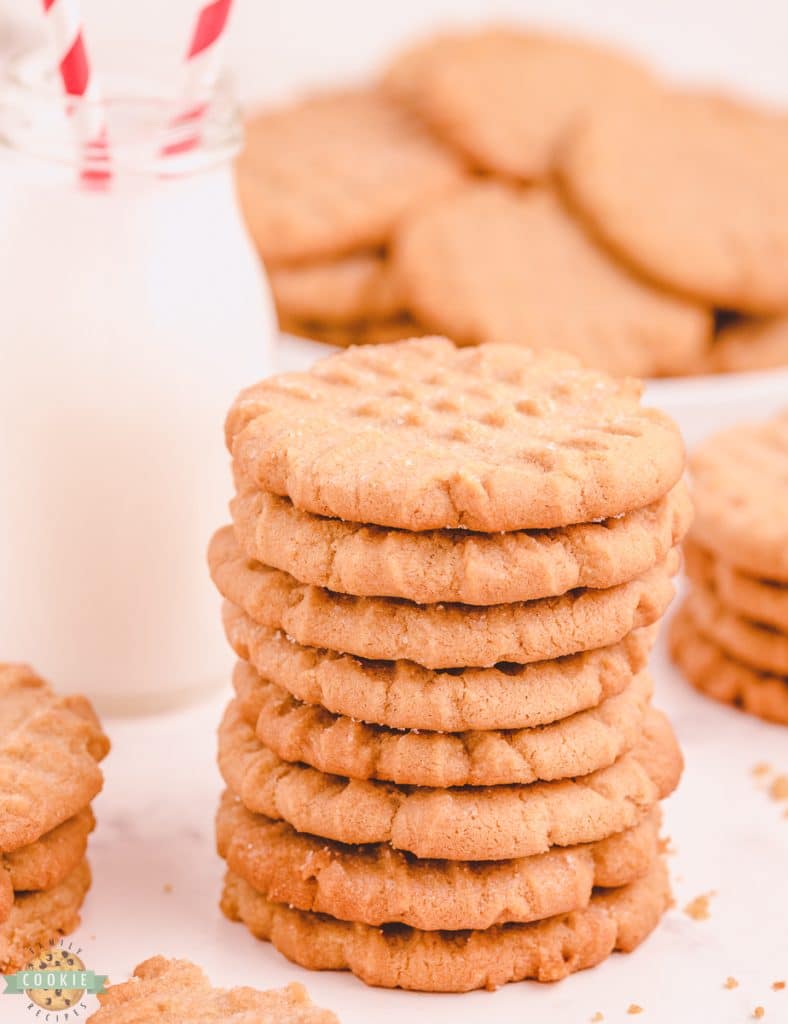 Easy Peanut Butter Cookie Ingredients
Butter: You will need 1/2 cup of utter for this recipe. This is one stick.
Shortening: Use 1/2 cup of shortening to get a rich texture and a cookie that really holds its shape while baking.
Peanut butter: It wouldn't be a peanut butter cookie without 1 cup of creamy (or chunky) peanut butter.
Sugars: To make these cookies chewy and sweet you will need 1 cup of granulated sugar and 1 cup of brown sugar. Note that you will need an additional 3 tablespoons of granulated sugar to decorate the tops of the cookies with.
Eggs: Use two eggs to help bind the dough together well.
Flour: 2 cups of all-purpose flour will be the base of this cookie dough recipe.
Baking soda: You will need 1 teaspoon of baking soda to make the cookies puff up a little as they rise and bake.
Salt: Use 1/2 teaspoon of salt to enhance the flavors in the cookies well.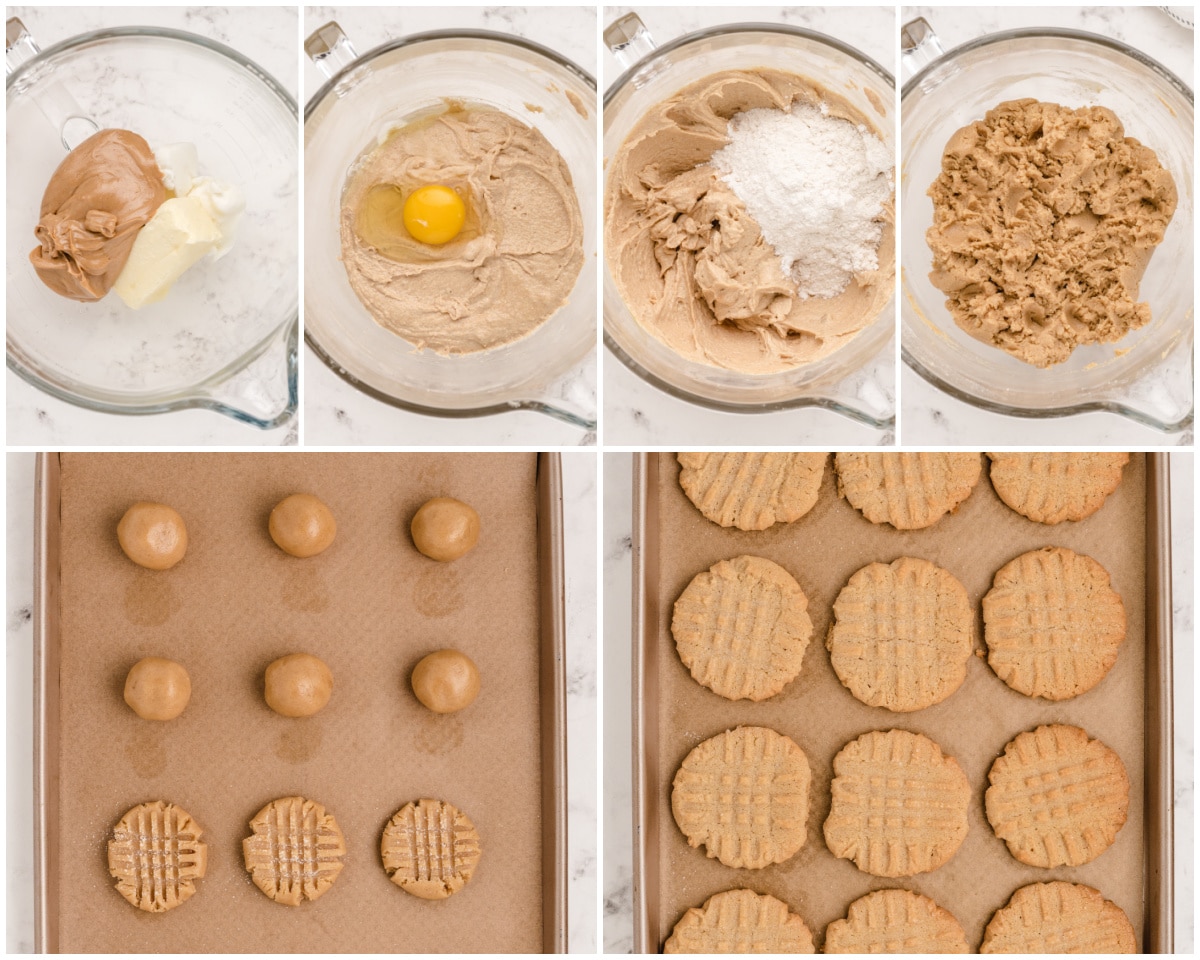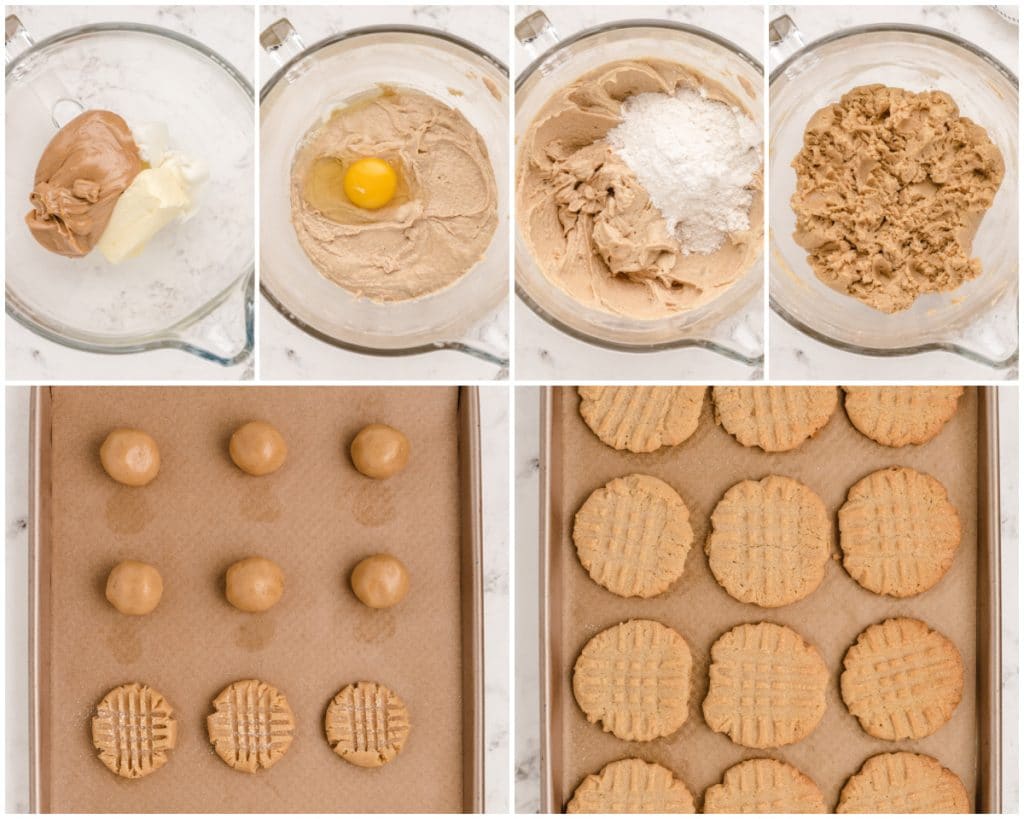 How to Make Grandma's Peanut Butter Cookies
Prep
Preheat the oven to 325 degrees F.
Line a baking sheet with parchment paper and set it aside.
Mix wet ingredients
In a large mixing bowl, cream together the butter, shortening, and peanut butter for 2 minutes using a hand mixer or stand mixer.
Add in the sugars and mix for an additional 2 minutes to combine.
Add in the eggs, one at a time, mixing well after each addition.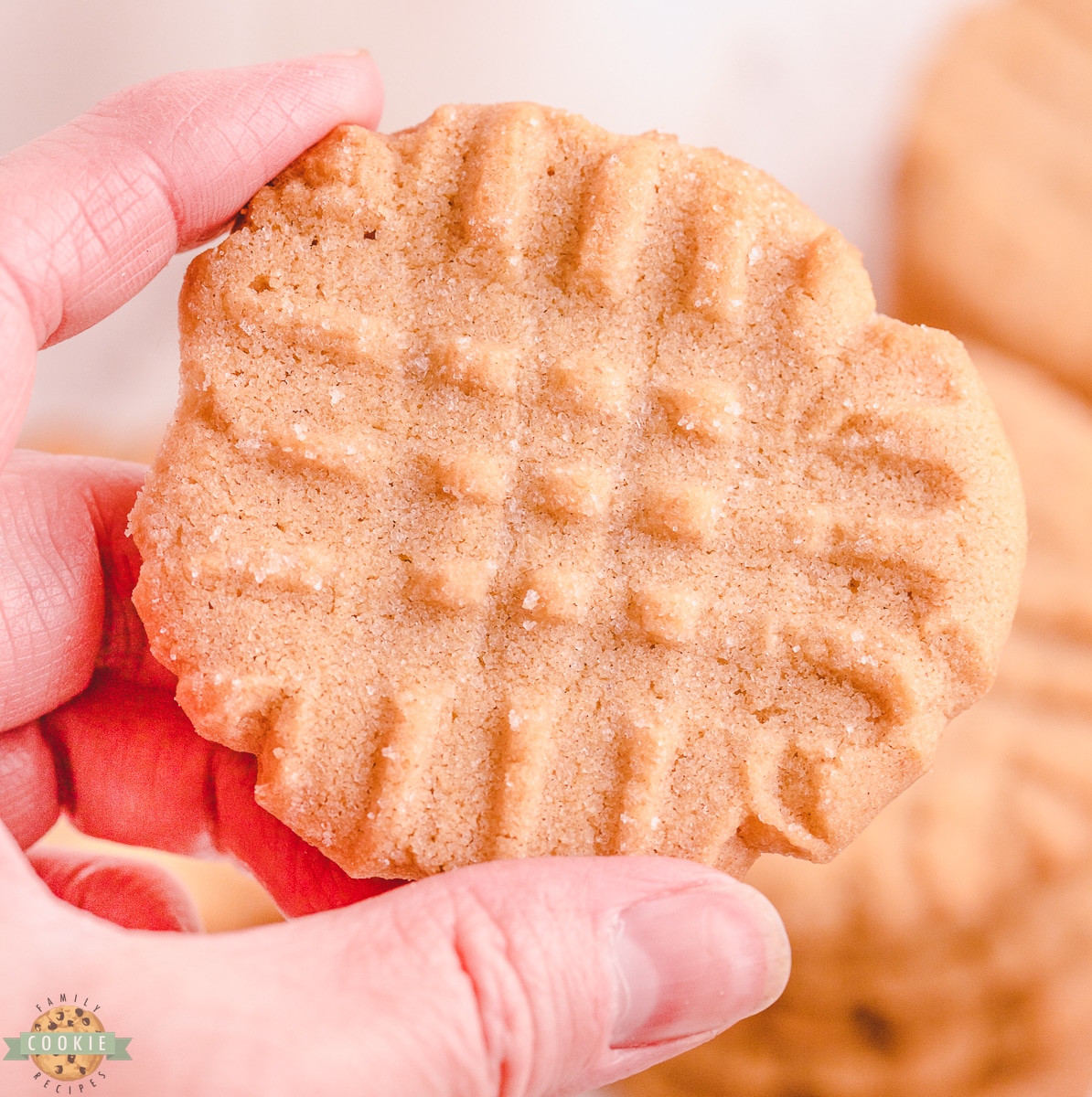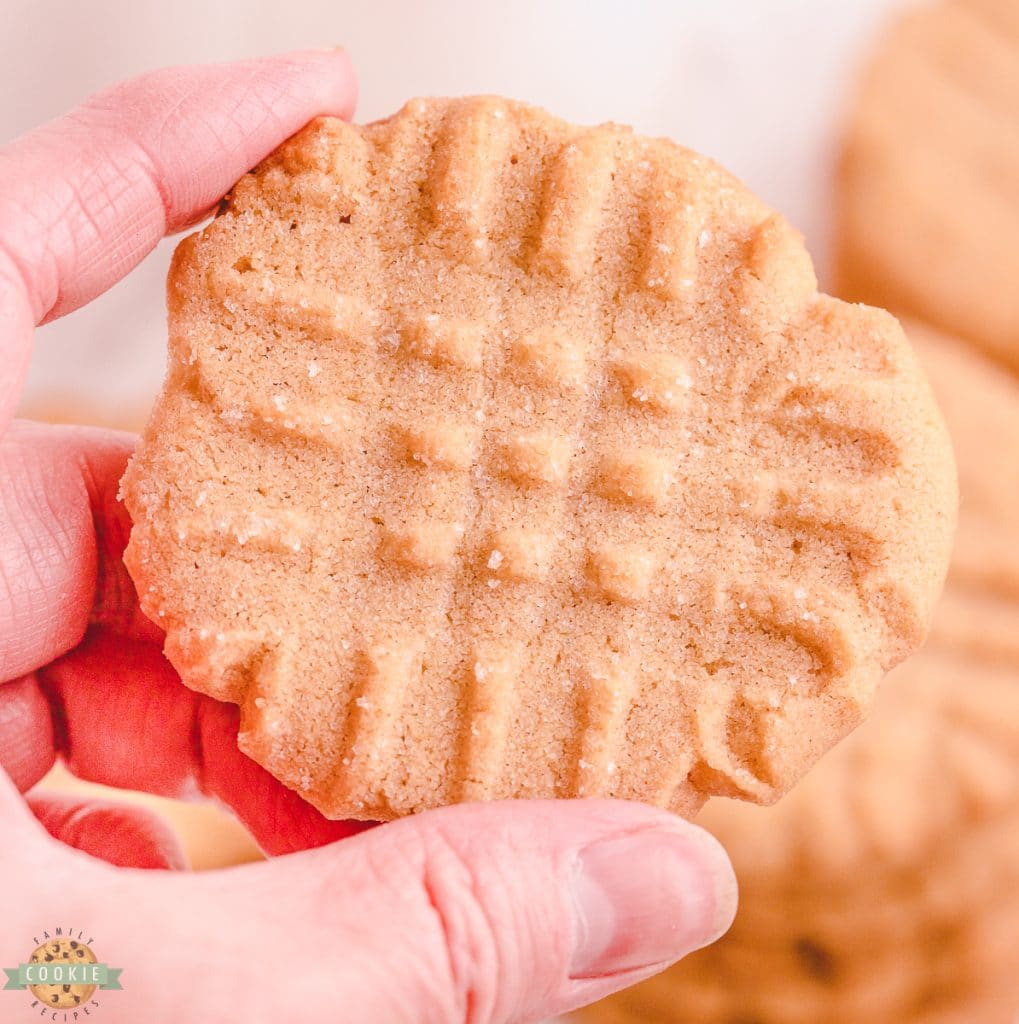 Mix dry ingredients
In a separate mixing bowl, whisk together the flour, baking soda, and salt.
Gradually add your dry ingredients to the peanut butter mixture while mixing well between additions.
Scoop and shape
Drop your dough by the rounded tablespoonfuls onto the prepared baking sheet.
Wet a fork and dip it in 3 tablespoons of granulated sugar.
Make a criss-cross hash mark over the top of the cookie dough balls, re-wetting it and dipping it in sugar before pressing down on every cookie.
Bake
Bake your cookies in the oven at 325 degrees F for 13-14 minutes.
Allow the cookies to cool on the pan for 2 minutes before transferring them to a wire cooling rack.
Enjoy!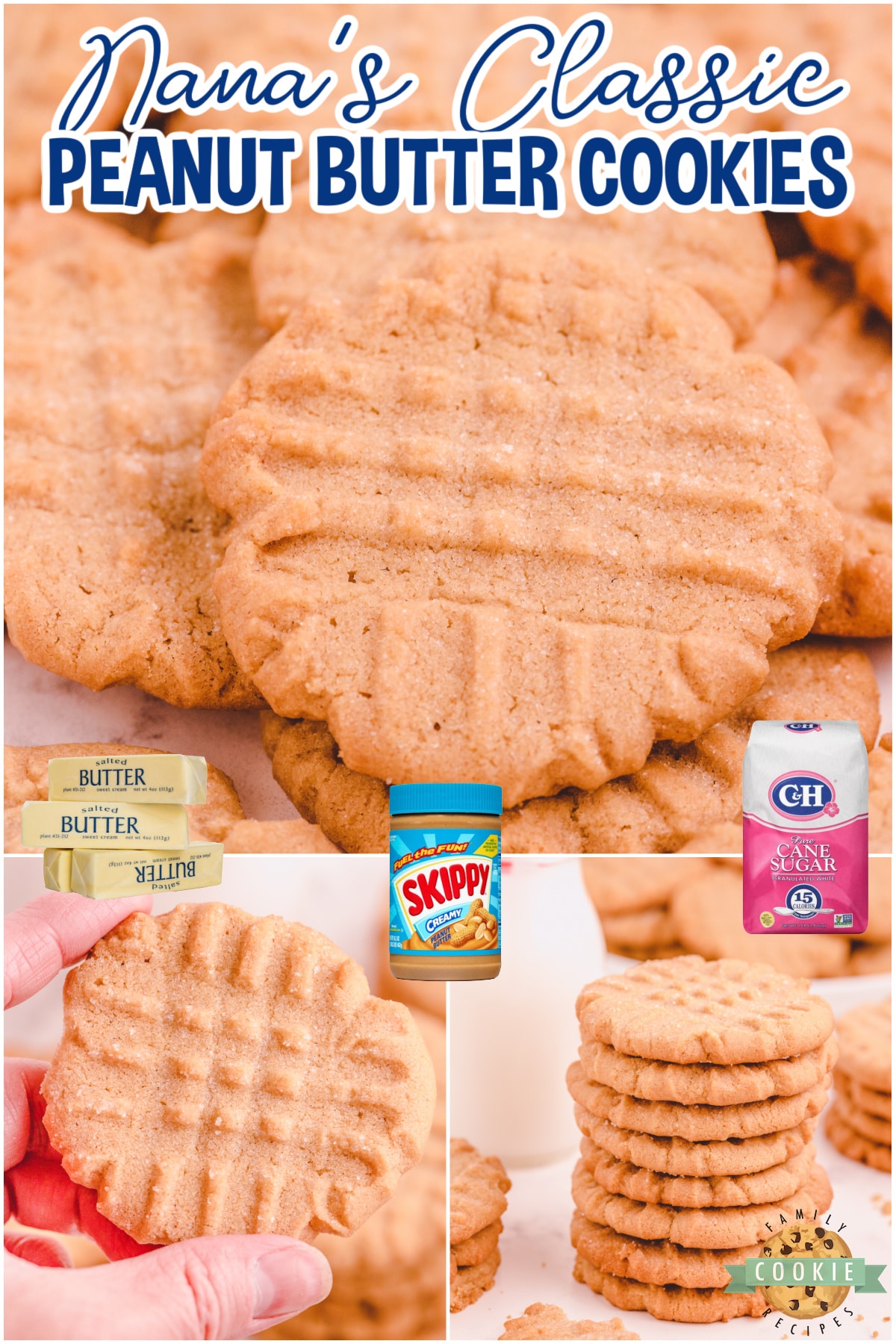 Tips for Making Soft Chewy Peanut Butter Cookies
Here are a few helpful tips to make sure that you get the best results every time.
Use real butter and not margarine. Butter holds up much better when baking and will help to keep your cookies from spreading.
Butter flavored shortening adds flavor. While using plain shortening is perfectly fine, butter-flavored really helps to enhance the flavors a bit.
Don't use fancy peanut butters. I recommend sticking with classics like Jiff and Skippy (or store brand similar products). The fancier nut butters usually have a higher oil amount which keeps the cookies from turning out correctly.
How long are Grandma's peanut butter cookies good for?
These cookies if properly stored in an airtight container can last up to a week at room temperature. I recommend enjoying them within 2 or 3 days for the best tasting results.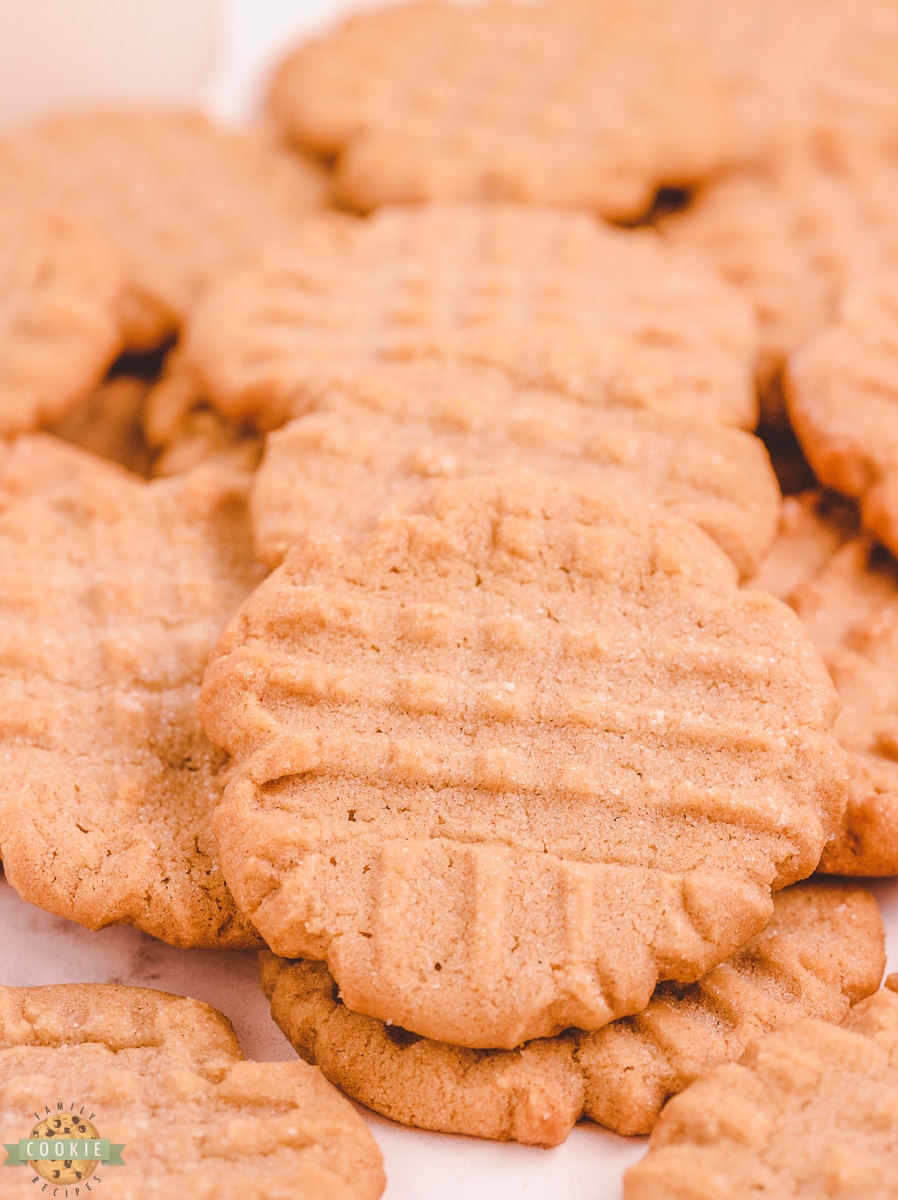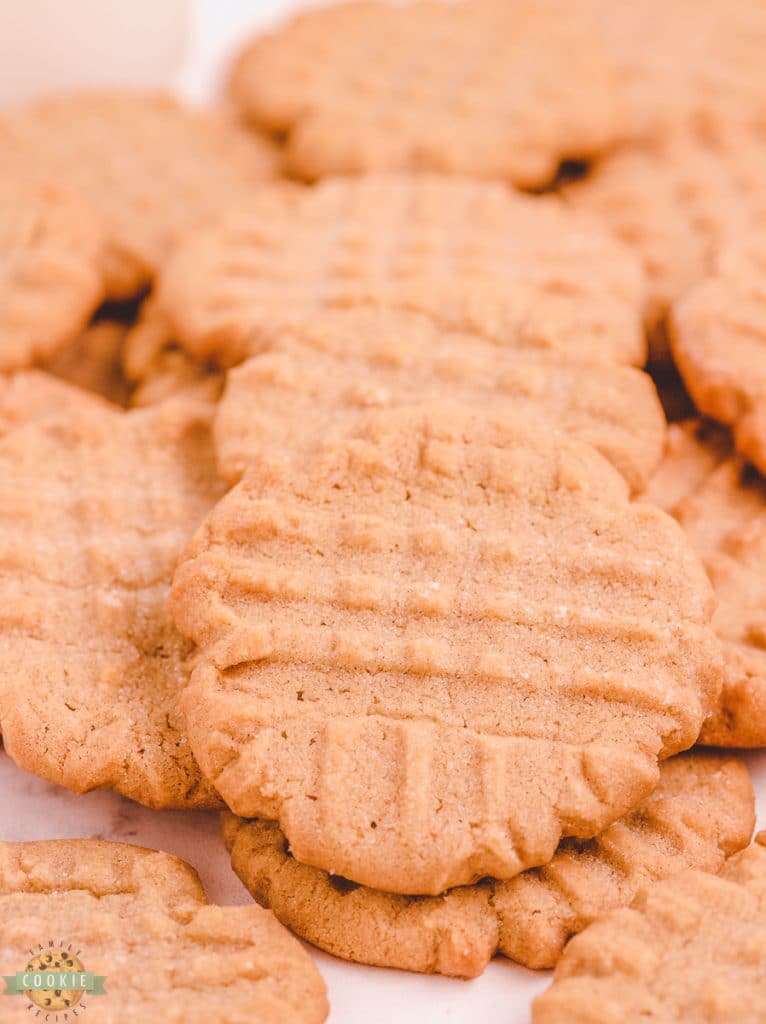 Can I freeze this peanut butter cookies recipe?
Yes, these cookies can be frozen for up to 3 months in an airtight container. I recommend allowing the cookies to cool completely before stacking them into a said container with sheets of parchment paper between the cookies. Thaw them at room temperature before eating. Enjoy.
Can I make peanut butter cookie dough in advance?
Yes, this cookie dough can be made in advance and be kept covered and stored in the fridge for up to 2 days before baking. This will give you plenty of time to make them before a party or event if you want fresh cookies to be served. Just make sure to allow the cookie dough to rest at room temperature for 30 minutes before scooping, shaping, and baking.


Fun with Dad and funny photo filters! BAHAHAHAHA! Oh yes, that's the man I married. LOL!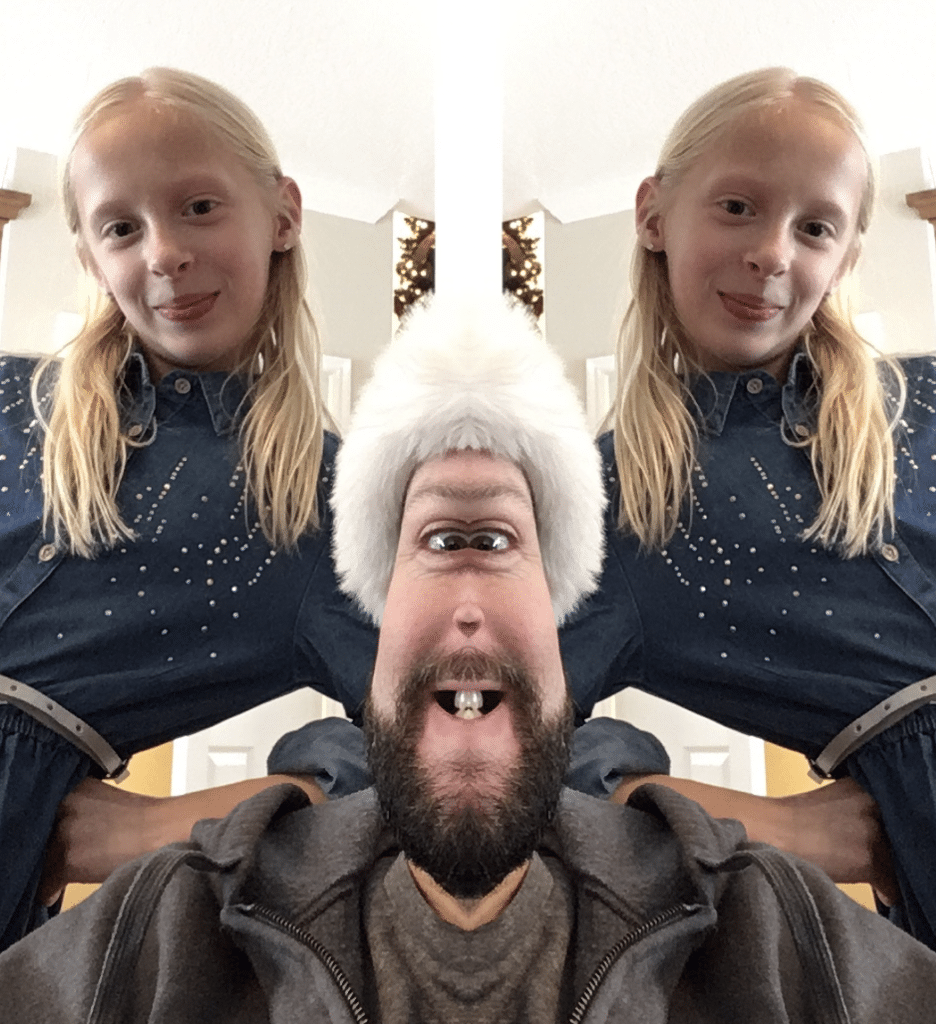 This old fashioned Grandmas peanut butter cookie recipe is sure to make you feel nostalgic with every bite as you fall in love with a cookie recipe that has been around for decades. Enjoy a warm cookie soon and see for yourself.