Peanut Butter M&M Cookies are soft, chewy and packed with peanut butter flavor! Our favorite peanut butter cookie recipe is even better with Peanut Butter M&Ms!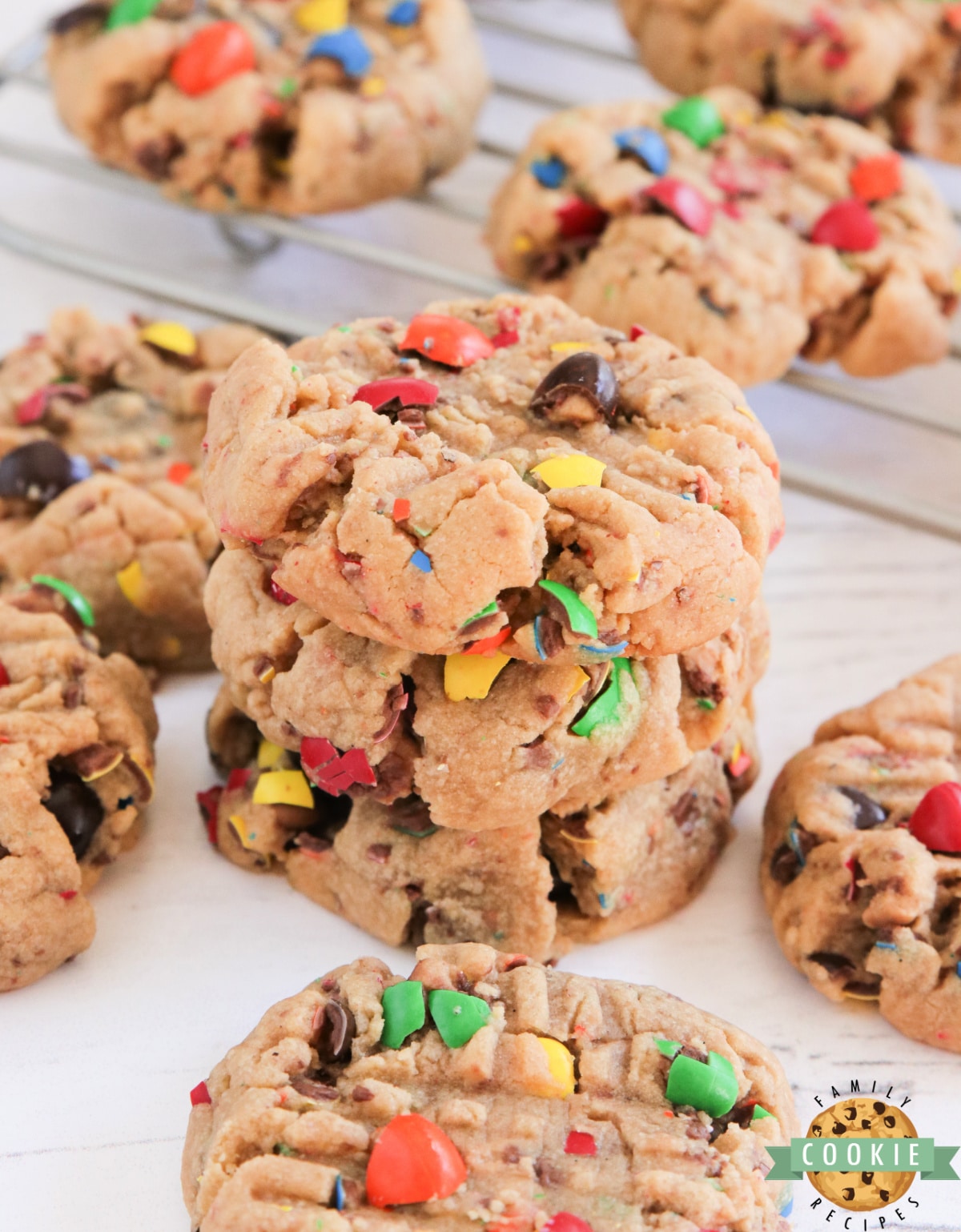 I love Peanut Butter M&Ms. I don't eat a ton of sweets, but I have a major weakness for these little treats and I know quite a few people who share my love for this candy. They are pretty much perfect on their own, but putting them in my favorite cookie recipe…I think I really have created the perfect cookie!
What are Peanut Butter M&M Cookies?
Peanut Butter M&M Cookies take an amazing peanut butter cookie recipe to the next level by adding Peanut Butter M&Ms. Simple peanut butter cookies that are absolutely amazing!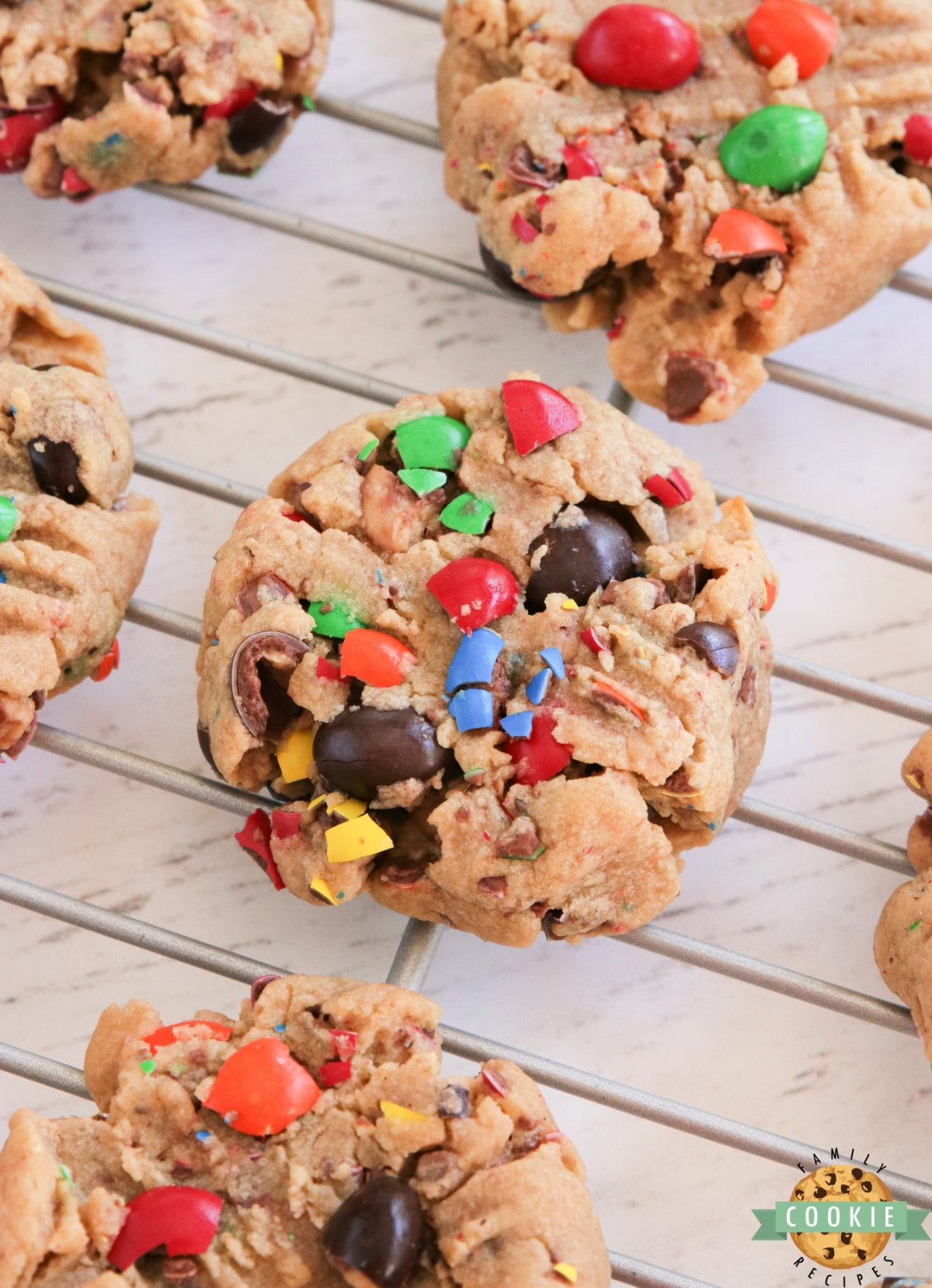 HOW DO YOU MAKE HOMEMADE PEANUT BUTTER COOKIES?
Making homemade peanut butter cookies is easy! Here are a few tips to getting perfect cookies every time!
Make sure you use softened butter – DON'T melt it! One of the most common errors in cookie making is using butter that is either really cold and hard, or using butter that is too warm and melted. If you have time, just leave butter out on the counter for about 1-2 hours before making your cookies. If you are like me and don't plan your cookie cravings that far in advance, just place the butter in your microwave and soften in 5 second intervals, being very careful to pull it out before it melts. I actually like to use the defrost setting on my microwave to soften butter- I don't know the technical reasons behind it, but it seems to soften the butter more evenly and takes a little bit longer so I'm less likely to start melting it!
Most cookie recipes require that you mix the dry ingredients separately before adding the wet ingredients. This is an important step!
Make sure to slightly press peanut butter cookies on the top with a fork before baking.
WHY DO PEANUT BUTTER COOKIES ALWAYS HAVE FORK MARKS ON THE TOP?
Peanut butter makes cookies more dense, so they need to be slightly flattened before baking so that they can cook more evenly. There is nothing worse than a cookie with burnt edges and a doughy middle! My kids like to help make the criss-cross pattern on the tops of the cookies, but if you don't like the pattern, you can just use the back of a wooden spoon to slightly flatten the tops before placing the peanut butter cookies in the oven.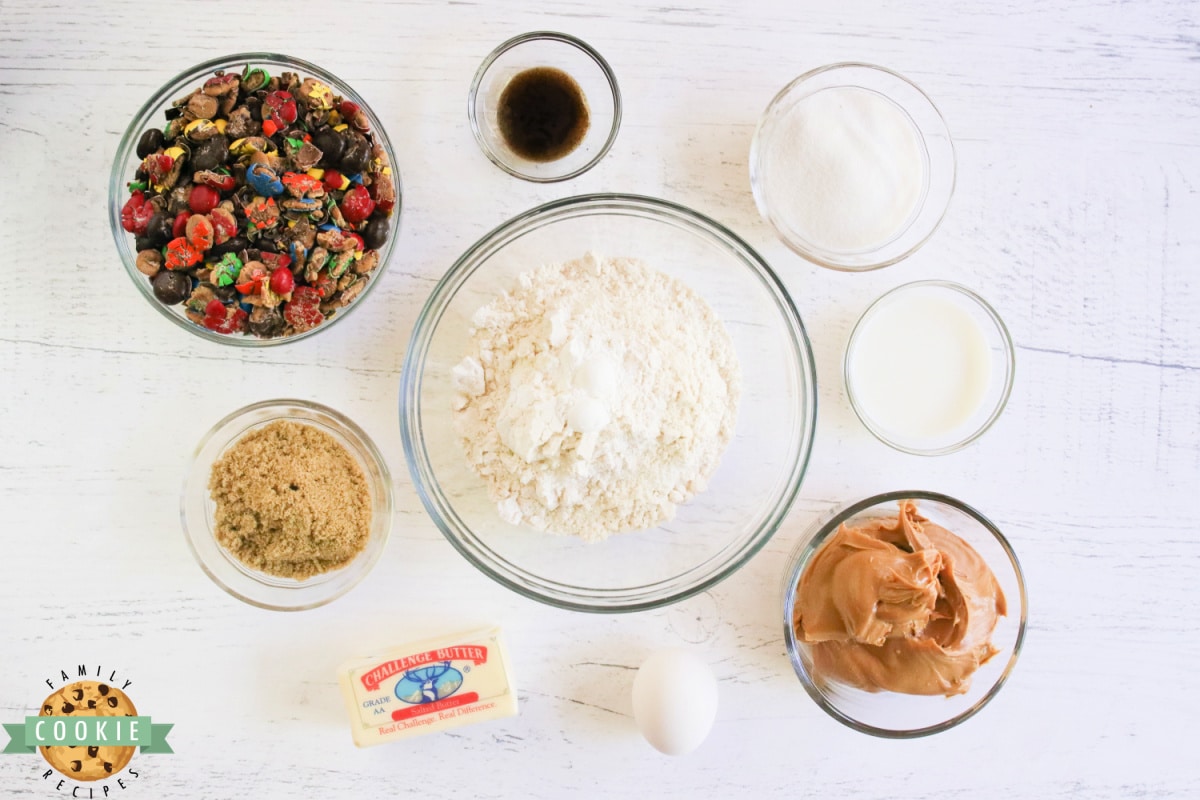 INGREDIENTS IN PEANUT BUTTER M&M COOKIES COOKIES
Peanut butter: For best results, use a regular peanut butter. Every time I have made these cookies I have used a regular creamy peanut butter (like Jif or a store-brand alternative). Several readers have commented that the cookies do not turn out as well when using a natural style peanut butter.
Butter: I use salted butter, but you can use unsalted if you prefer. No margarine! Make sure the butter is softened to room temperature, but not melted before adding to the recipe.
Sugar: Can't leave this one out – kind of an important ingredient in cookies!
Brown sugar: Also an important cookie ingredient. Make sure your brown sugar isn't dried out or stale.
Egg: We only need 1 large egg, but it helps to bind the dough together so that the cookies cook properly and don't crumble.
Milk: Just a little bit of milk, but it is needed to add a bit of moisture to the cookie dough. Any type of milk will work just fine!
Vanilla: I suggest using a good quality vanilla extract or a Vanilla Bean Paste.
Flour: I usually use all purpose flour, but you can use bread flour, or even pastry flour in this recipe.
Baking powder: Leavening agent in the cookies. Make sure your baking powder isn't old or expired for best results.
Salt: Just a little bit, but don't leave it out!
Peanut Butter M&Ms: These are the star of the show, so don't leave them out! You can use chocolate chips or regular M&Ms or something else, but don't. Peanut Butter M&Ms are the best! I like to smash them up a little bit before adding the cookie dough…just place them in a Ziplock bag and smash with a meat mallet. Don't smash too much – you want large pieces!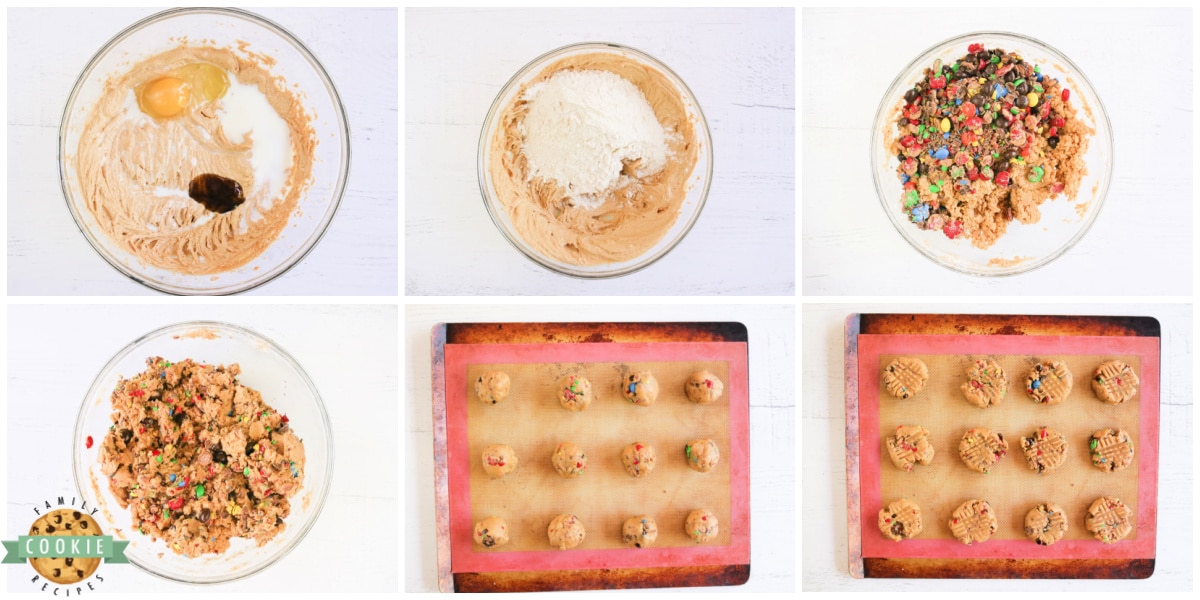 HOW TO MAKE PEANUT BUTTER M&M COOKIES
Preheat oven to 375°.
With a hand mixer, cream together the peanut butter, butter, white sugar and brown sugar until blended. Beat in the egg, milk, and vanilla.
Combine the flour, baking powder and salt in a separate bowl. Add flour mixture to the peanut butter mixture and mix together.
Stir in chocolate chips at this point if desired. Scoop tablespoonfuls of dough and roll into balls.
Place cookies 2 inches apart on ungreased cookie sheets (I used parchment paper since my cookies tend to burn on my darker pans). Press each ball once with a fork.
Bake for 8-10 minutes. Don't overcook! These cookies are much better soft and just barely cooked all the way through!
Let the cookies cool on the cookie sheet for a few minutes before transferring to a wire rack to cool completely.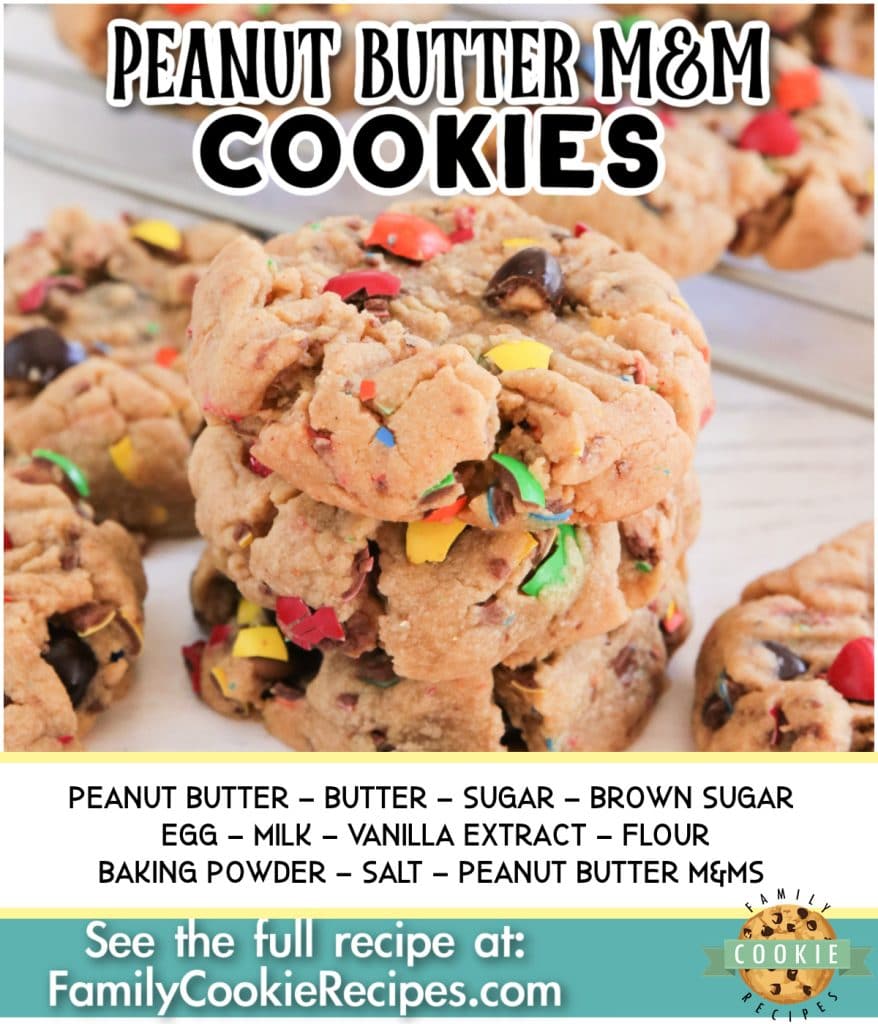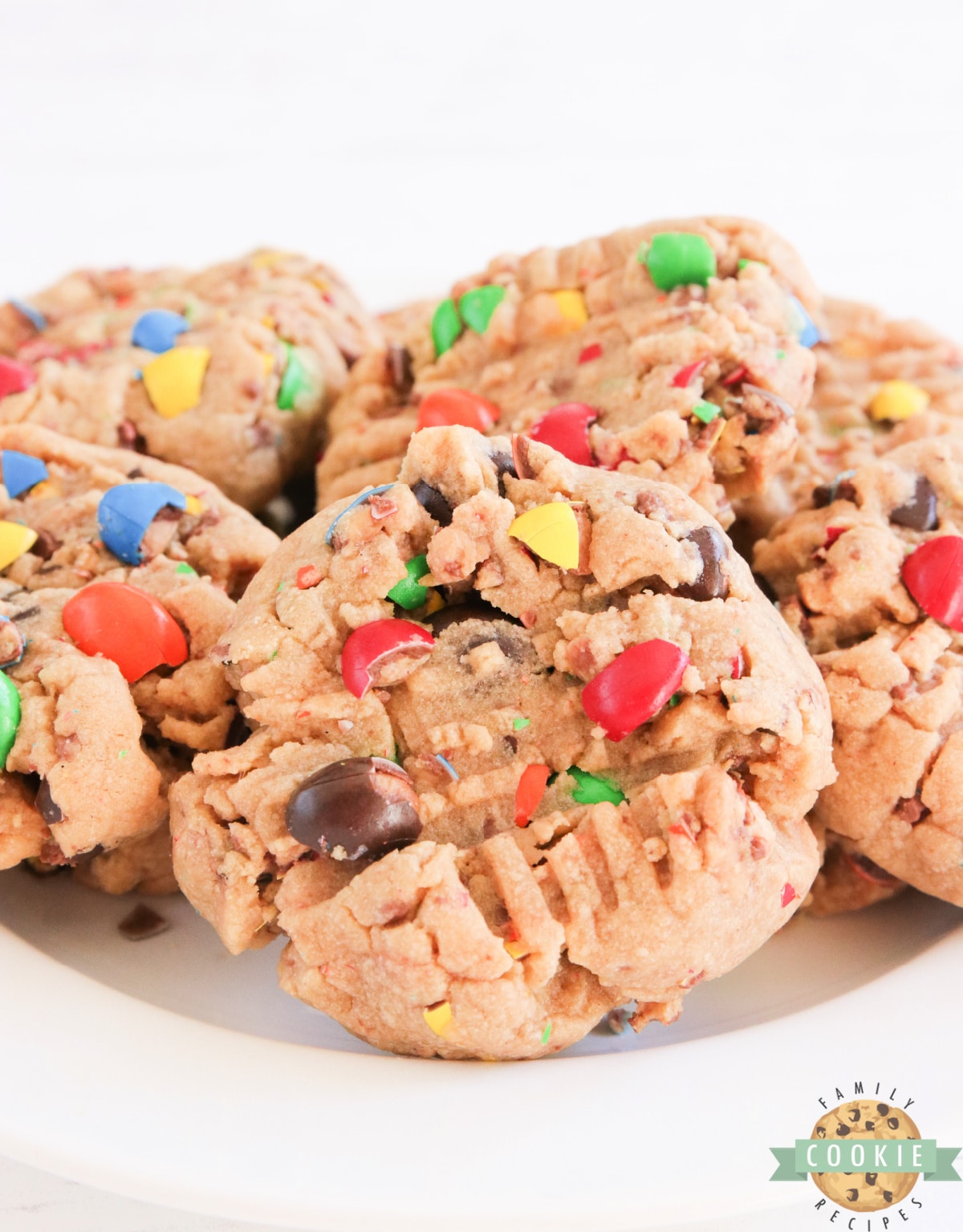 CAN YOU FREEZE PEANUT BUTTER COOKIES?
Peanut butter cookies are easily frozen, either before or after baking them. I prefer to form the cookie dough balls and freeze those so that I can pull them and bake them whenever I need them. This way the cookies will be warm and fresh every time!
To freeze the cookie dough, place the balls on wax paper on a cookie sheet and freeze for about 30-45 minutes. Then you can place all of the frozen cookie dough balls in an airtight container or Ziplock freezer bag. When you are ready to bake them, just pull them out and place on a cookie sheet, let them thaw for about 10-15 minutes and then bake as usual.
You can also freeze the cookies once they have been baked. Just make sure they have cooled all they way to room temperature and then place them in an airtight container in the freezer. I like to wrap them in plastic wrap and then place them in a freezer bag or airtight container to make sure to prevent freezer burn. If stored properly, peanut butter cookies will stay good in the freezer for 2-3 months.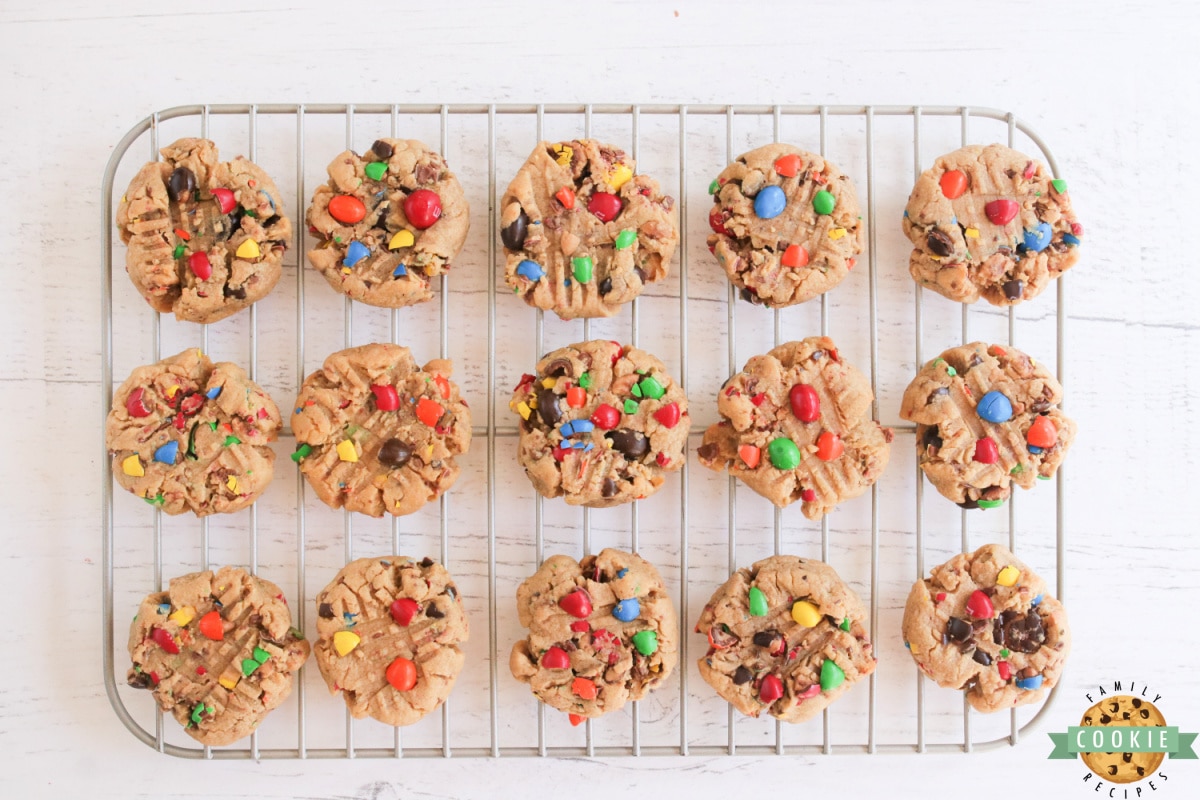 HOW DO YOU KEEP PEANUT BUTTER COOKIES SOFT AND FRESH?
If you don't eat all the peanut butter cookies within the first day or two, you can keep them soft and fresh by placing half a slice of white bread with the cookies in an airtight container or Ziplock bag. Make sure the bag or container is sealed well. The cookies will absorb moisture from the bread and stay softer for a longer amount of time this way!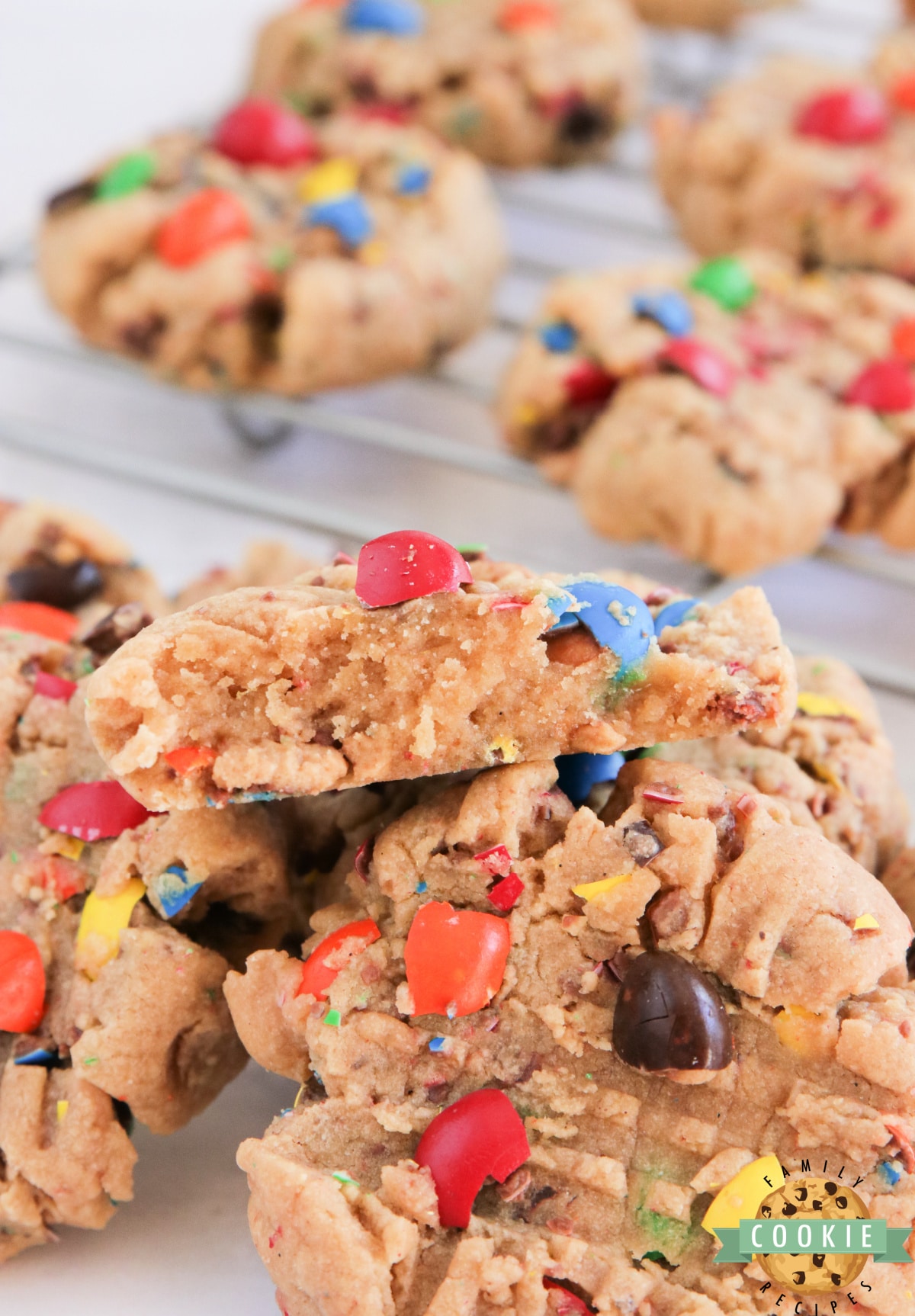 LOVE PEANUT BUTTER COOKIES? SO DO WE! HERE ARE SOME OF OUR FAVORITE PEANUT BUTTER COOKIE RECIPES: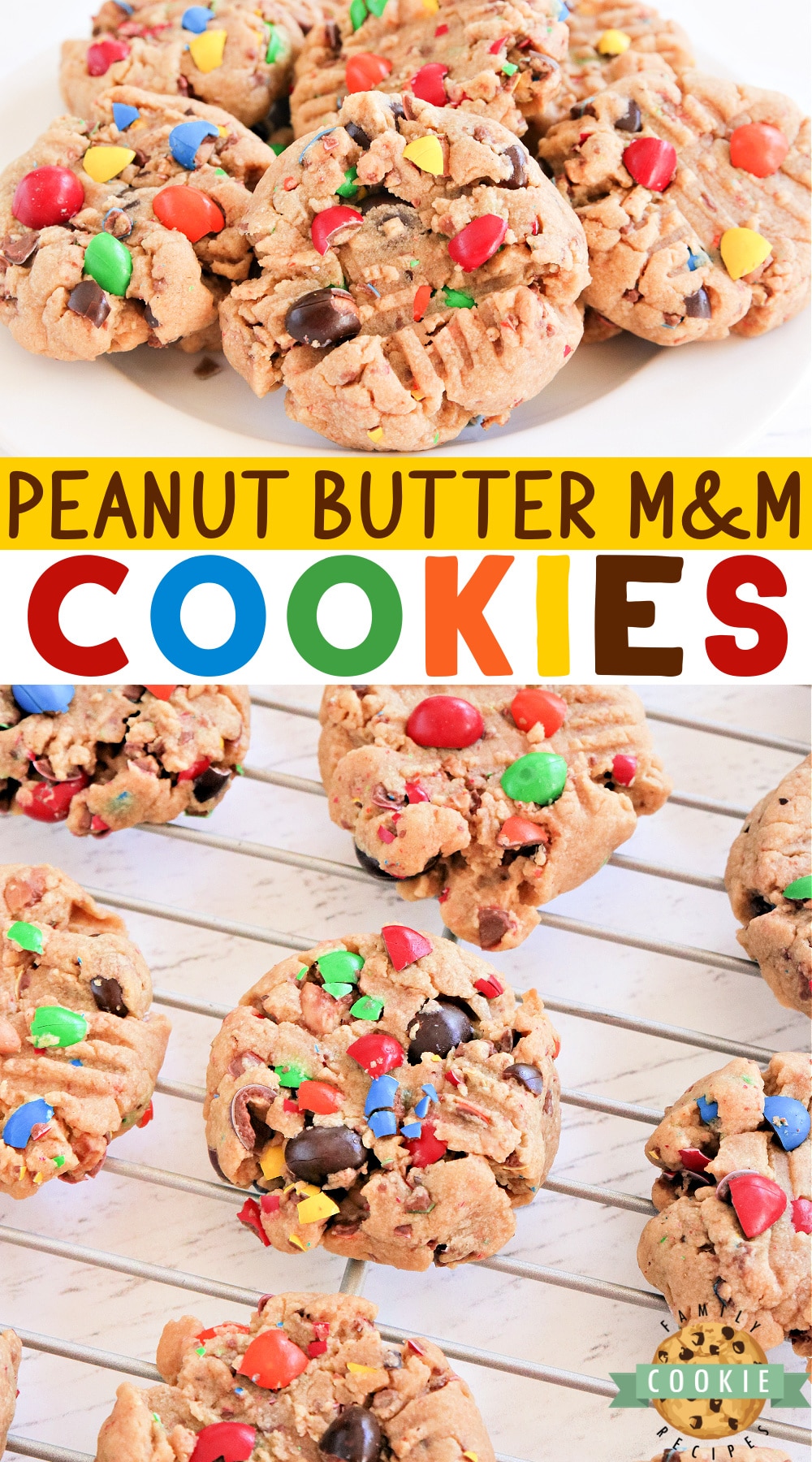 Peanut Butter M&M Cookies are soft, chewy and packed with peanut butter flavor. Our favorite peanut butter cookie recipe is even better with Peanut Butter M&Ms!