Cake Mix Peanut Butter Blossoms made with a cake mix, peanut butter and a Hershey kiss right in the middle. The easiest way to make Peanut Butter Blossom Cookies!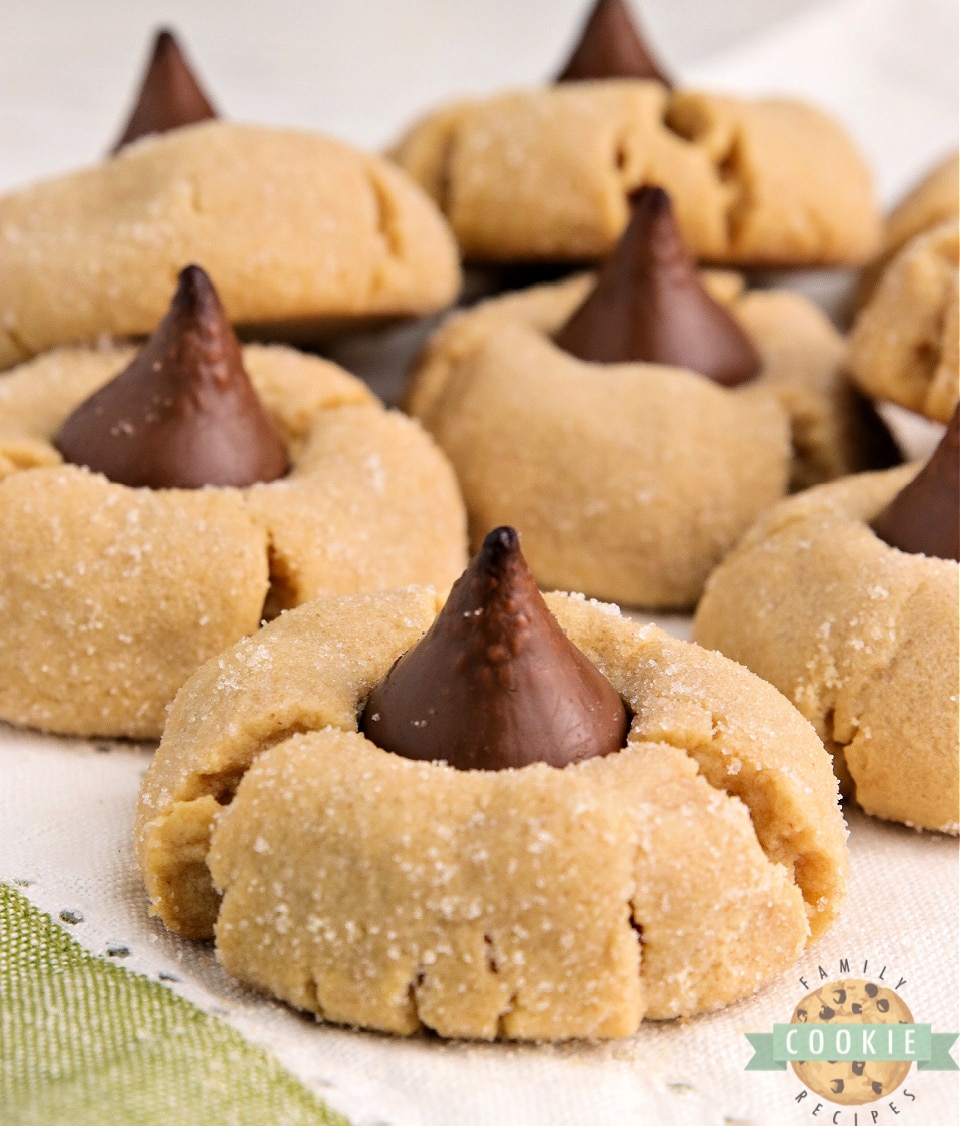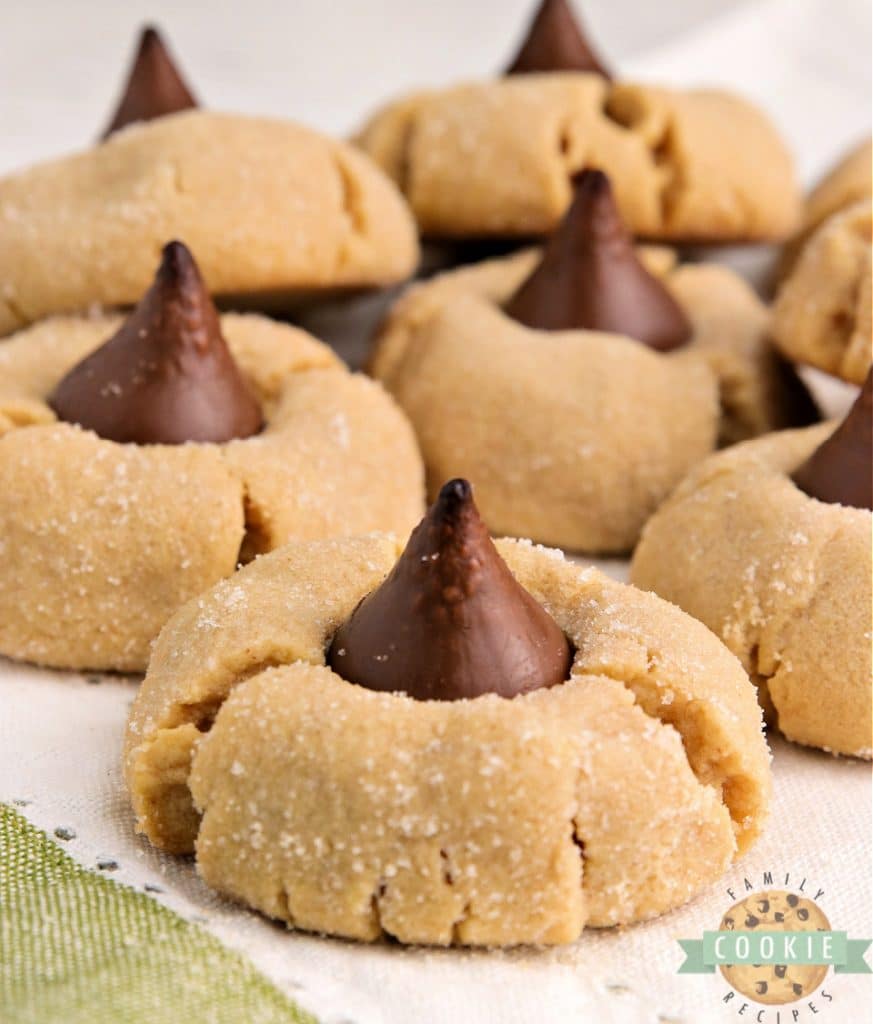 My favorite cookies have peanut butter and chocolate in them. I've always loved Peanut Butter Blossoms, but just recently figured out I could make them a cake mix which makes them even easier to make than normal. You only need a few ingredients to make these delicious cookies and no one will ever even know that you cheated a little bit!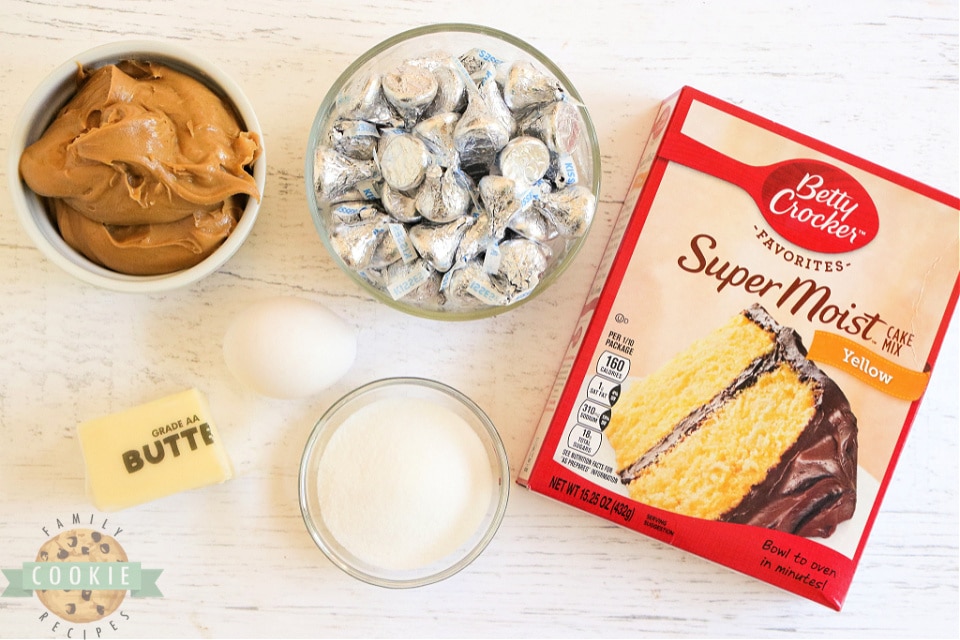 Ingredients in Cake Mix Peanut Butter Blossoms
1/4 cup sugar
1 pkg yellow cake mix
1 cup peanut butter
1/3 cup butter, softened to room temperature
1 egg
24 Hershey kisses, unwrapped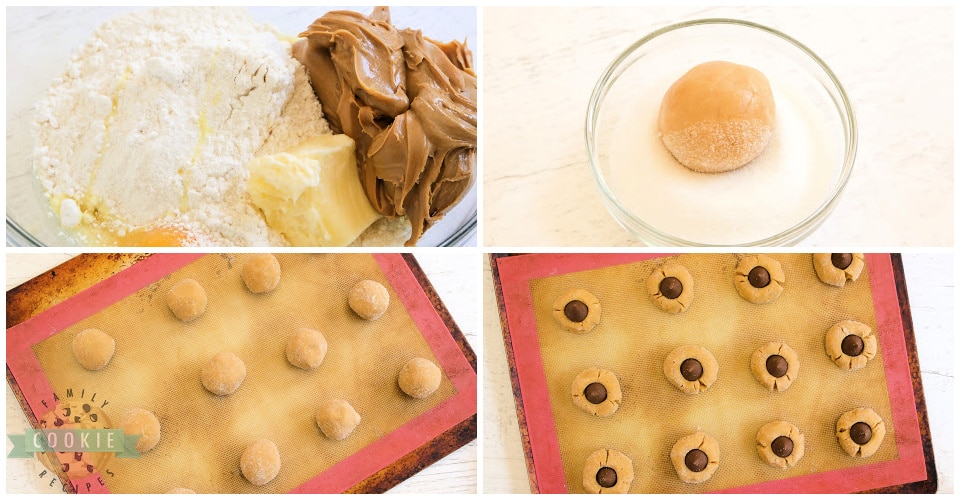 How to make Cake Mix Peanut Butter Blossoms
Preheat oven to 350°. Prepare a cookie sheet by lining with a silicone mat or parchment paper or lightly greasing it with non-stick cooking spray.
Place sugar in a small bowl and set aside.
In a large mixing bowl, add the cake mix, peanut butter, butter and egg and mix with an electric mixer for 1-2 minutes or until well blended. Scoop the dough with a cookie scoop and roll into 1″ balls. Roll each dough ball in the sugar and place on the cookie sheet about 2 inches apart. Press one Hershey kiss into the center of each ball, barely flattening the dough.
Bake for 10 minutes or until edges barely begin to brown. Cool on the cookie sheet for a few minutes before transferring to wire racks to cool completely.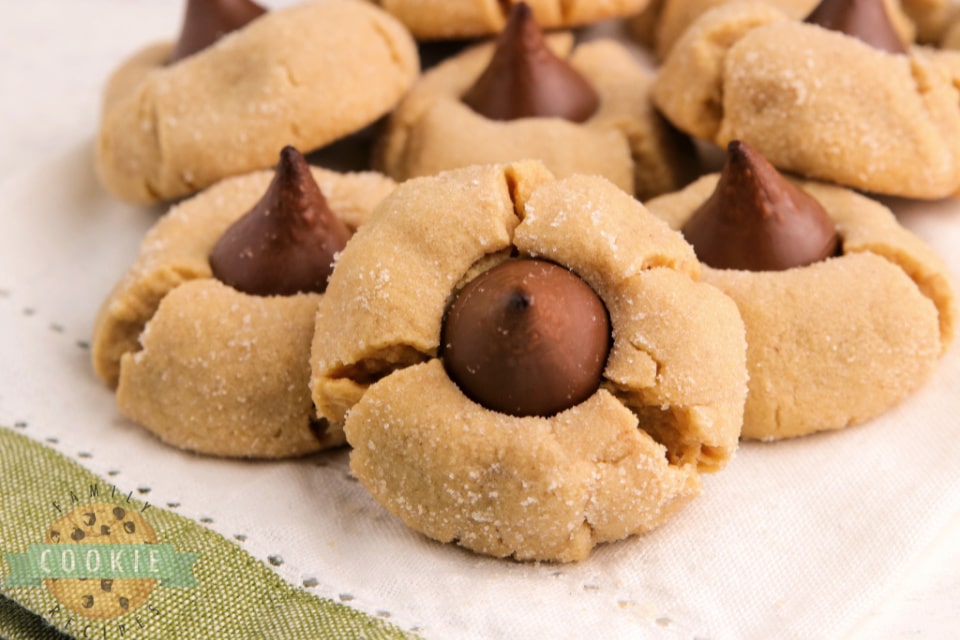 HOW DO YOU MAKE PERFECT PEANUT BUTTER BLOSSOMS?
Making Cake Mix Peanut Butter Blossom cookies is easy! Here are a few tips to getting perfect cookies every time!
Make sure you use softened butter – DON'T melt it! One of the most common errors in cookie making is using butter that is either really cold and hard, or using butter that is too warm and melted. If you have time, just leave butter out on the counter for about 1-2 hours before making your cookies. If you are like me and don't plan your cookie cravings that far in advance, just place the butter in your microwave and soften in 5 second intervals, being very careful to pull it out before it melts. I actually like to use the defrost setting on my microwave to soften butter- I don't know the technical reasons behind it, but it seems to soften the butter more evenly and takes a little bit longer so I'm less likely to start melting it! 
Preheat the oven. This will help your cookies turn out right every time!
Use a cookie scoop! If you want all your cookies to be perfectly shaped and have them all be the same size, a cookie scoop is the way to go.
Use parchment paper or a silicone baking mat. Doing this will make it really easy to remove the cookies from your cookie sheet so that you don't have to scrape them off the pan – they will just slide right off in perfect shape!
Don't over bake the cookies – when I take mine out of the oven, they still look slightly under baked but they will continue to bake on the cookie sheet for a couple more minutes so that's ok!
IF YOU ENJOYED THESE PEANUT BUTTER BLOSSOM COOKIES, HERE ARE A FEW MORE PEANUT BUTTER COOKIE RECIPES YOU'LL ENJOY:

Cake Mix Peanut Butter Blossoms made with a cake mix, peanut butter and a Hershey kiss right in the middle. The easiest way to make Peanut Butter Blossom Cookies!


I have 5 kids, but somehow this one child takes more energy than all the other 4 combined! Two and a half years old is rough sometimes – phewf! But it's also such a fun age because she is learning and developing so fast. She absolutely loves to repeat things and comes up with funniest phrases that she will say again and again….and again. She absolutely loves all of her older siblings and I have to say that I'm a little bit excited that they just finished up school for the year so they will be around for a few months to help entertain this busy little girl of mine! She loves to sing, spin in circles, wash dishes, read books, eat treats and play with blocks. She has quite the imagination and her vocabulary is just growing by leaps and bounds every single day. I just wish I could bottle up the energy and give myself a dose to keep up with her…and all of the messes she makes every day!