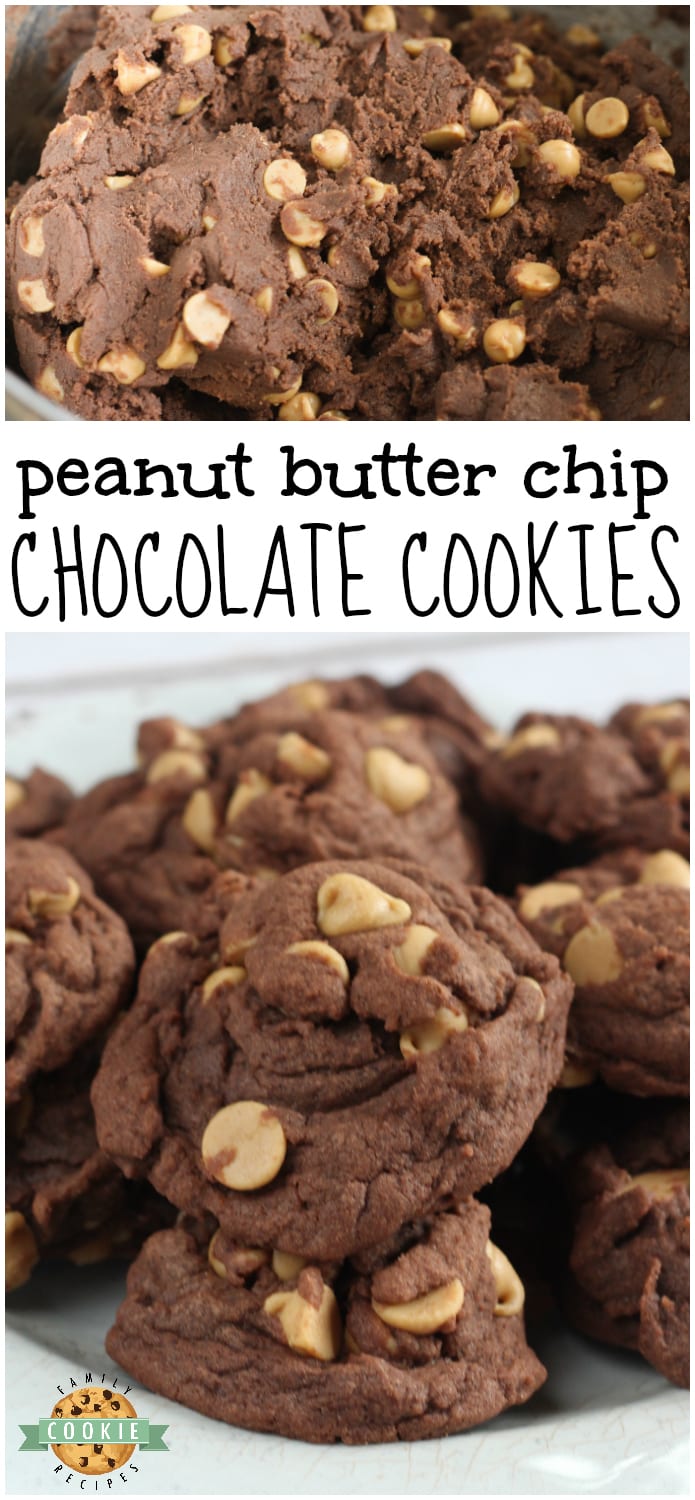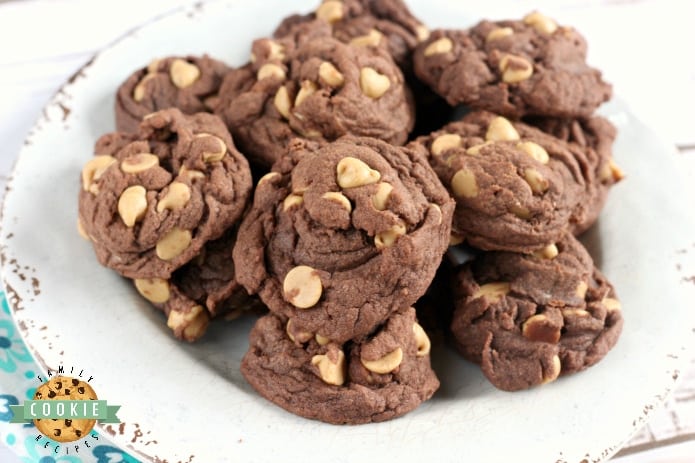 These Peanut Butter Chip Chocolate Cookies are made with chocolate pudding for a soft, chewy cookie that is completely loaded with chocolate flavor and peanut butter chips.
Has anyone else made the recipe that is on the back of the bag of Reese's Peanut Butter Chips? I grew up eating those cookies and they are delicious, but I never liked the consistency very much. I like a thick, soft cookie and that recipe never quite turned out like that for me – it seemed like they were always flat and more crispy than soft.
But I love that peanut butter/chocolate combination, so I decided to make up my own recipe and the results were every bit as good as I was hoping for. Some of my favorite chocolate chip cookie recipes have vanilla pudding in them, so I decided I would try to use chocolate pudding in the recipe. Now that I've done it, I can't believe I didn't try this earlier!
How do I prevent my cookies from getting flat?
Make sure that you have enough flour in the dough. If the dough is too sticky, you may need to add a little bit of flour.
Do not melt the butter! The butter needs to be softened (at room temperature), but using melted butter will ruin the cookies.
Spend a little extra time when you mix the butter and sugars. Creaming them together for 2-3 minutes will improve the consistency of your cookies.
Preheat the oven. This will help your cookies turn out right every time!
What is easiest way to get perfectly shaped cookies?
Use a cookie scoop! If you want all your cookies to be perfectly shaped and have them all be the same size, a cookie scoop is the way to go.
Use parchment paper or a silicone baking mat. Doing this will make it really easy to remove the cookies from your cookie sheet so that you don't have to scrape them off the pan – they will just slide right off in perfect shape!
PEANUT BUTTER CHIP CHOCOLATE COOKIES
1 cup butter, room temperature
1 cup brown sugar
1/2 cup sugar
2 eggs
2 tsp vanilla
1 (3.9 oz) box instant chocolate pudding mix
2 Tbsp cocoa powder
1 tsp baking soda
1 Tbsp cornstarch
1/2 tsp salt
2 1/2 cups flour
1 pkg Reese's Peanut Butter Chips
In a large bowl, cream together the butter and sugars for 2 minutes. Add in eggs and vanilla, mix well.
Add the dry pudding mix, cocoa powder, baking soda, cornstarch and salt. Mix until well combined.
Add the flour and mix well. Stir in the peanut butter chips.
Use a cookie scoop and place cookies about 2 inches apart on a prepared cookie sheet (lined with parchment paper or a silicone baking mat).
Bake cookies for 9 minutes at 350°.
Allow to cool for 2-3 minutes before transferring to a wire rack.
After you try these Peanut Butter Chip Chocolate Cookies try a few of our other favorite peanut butter cookie recipes: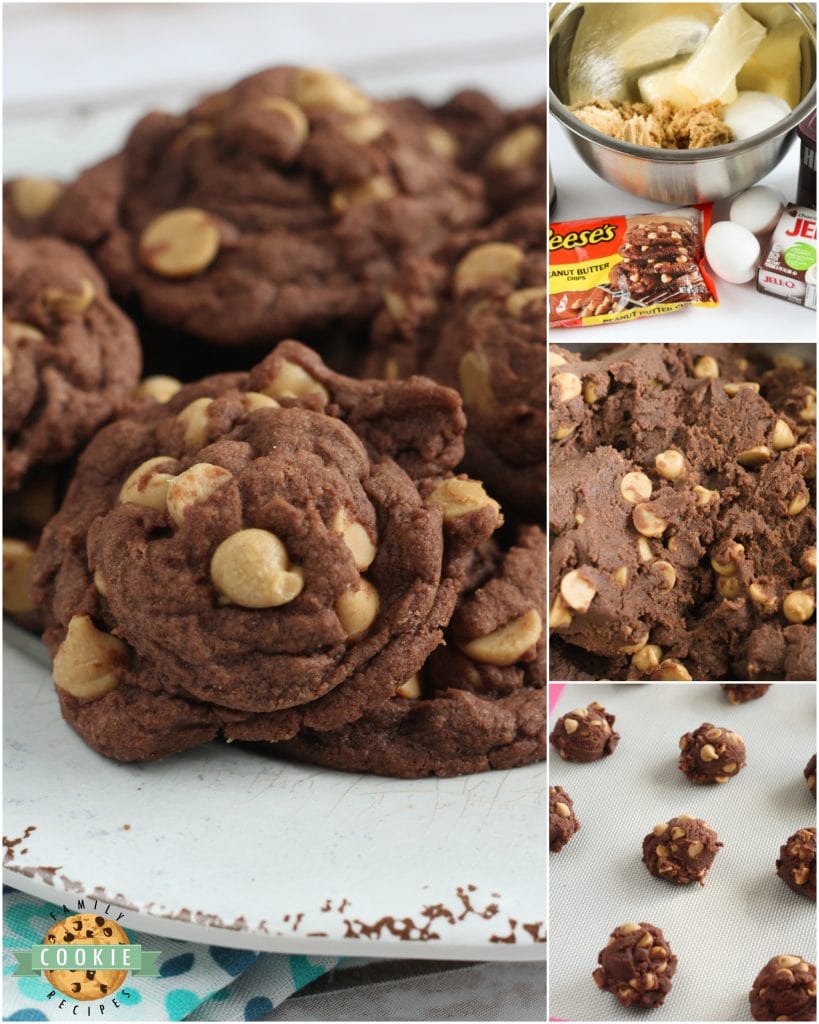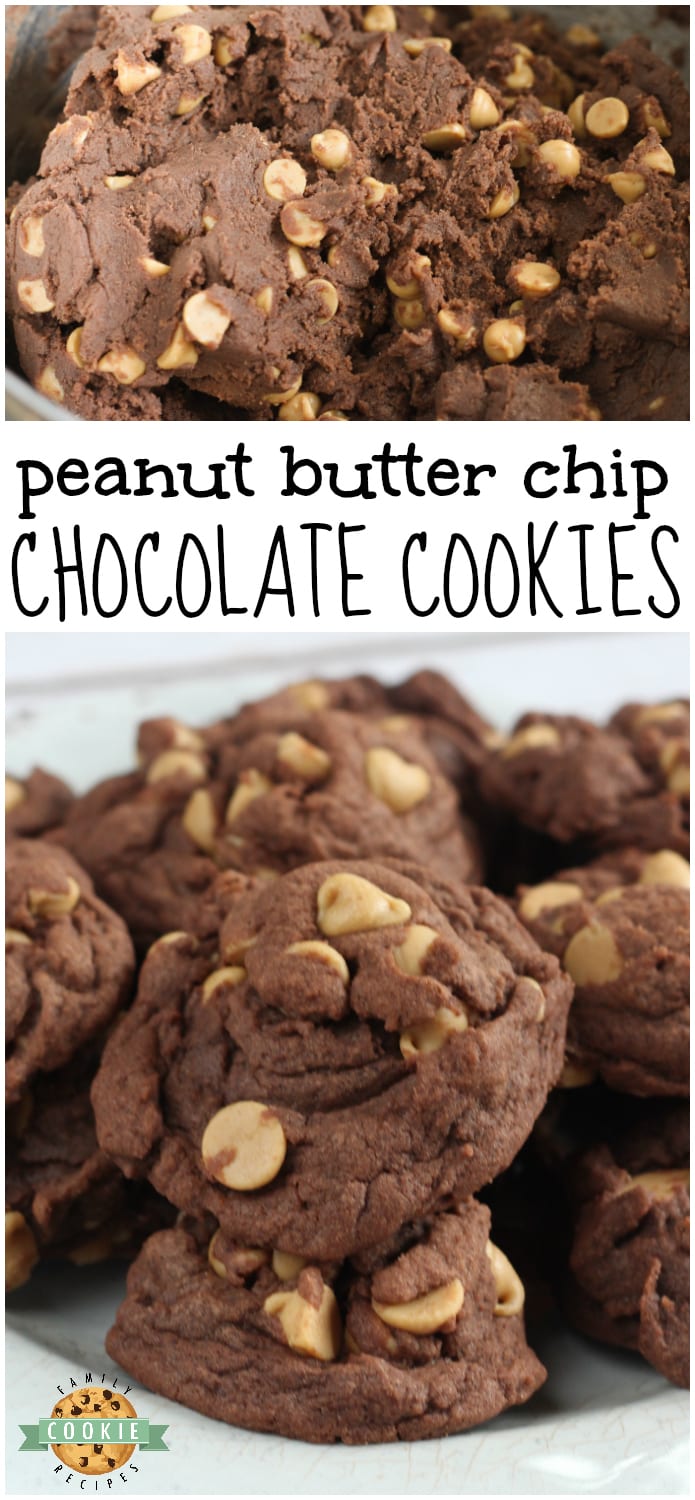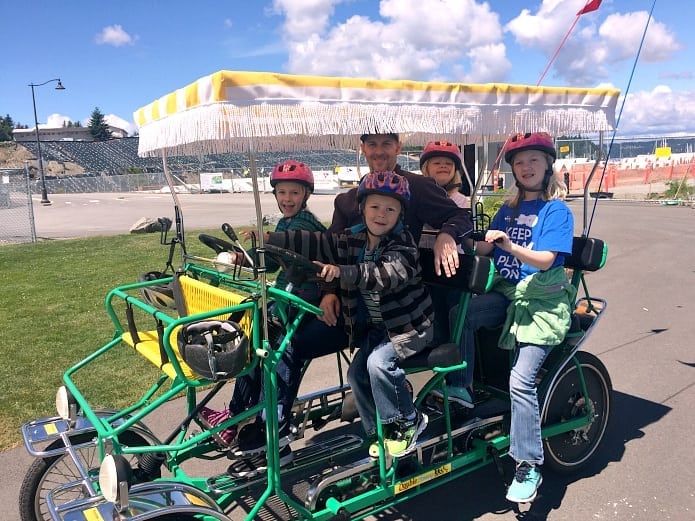 Not too far from us is a rental shop where you can rent a surrey and ride it on a path that runs right next to the Puget Sound. We lived here for a few years before we finally got to try it and had a fabulous time. We let each of the kids take a turn "driving" and quickly learned that some of our kids are going to be way scarier when they get behind the wheel of a real car! Also, half of our kids don't have legs long enough to help peddle so the rest of us got more of a workout than we had planned on!