Chocolate Peanut Butter Chip Cookies made with chocolate pudding mix for a soft and chewy cookie that is loaded with chocolate flavor and Reese's peanut butter chips.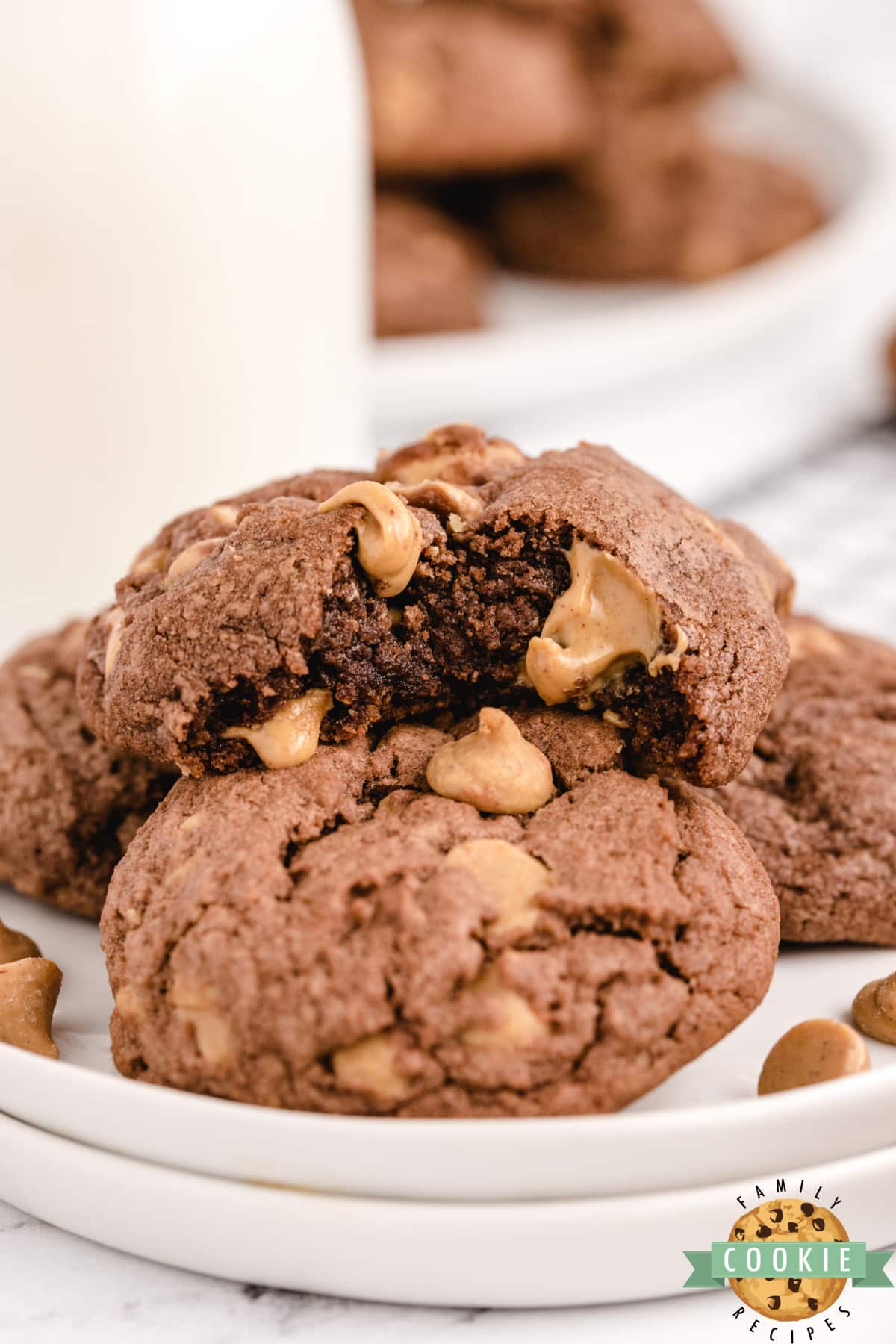 Has anyone else made the recipe that is on the back of the bag of Reese's Peanut Butter Chips? I grew up eating those cookies and they are delicious, but I never liked the consistency very much. I like a thick, soft cookie and that recipe never quite turned out like that for me – it seemed like they were always flat and more crispy than soft.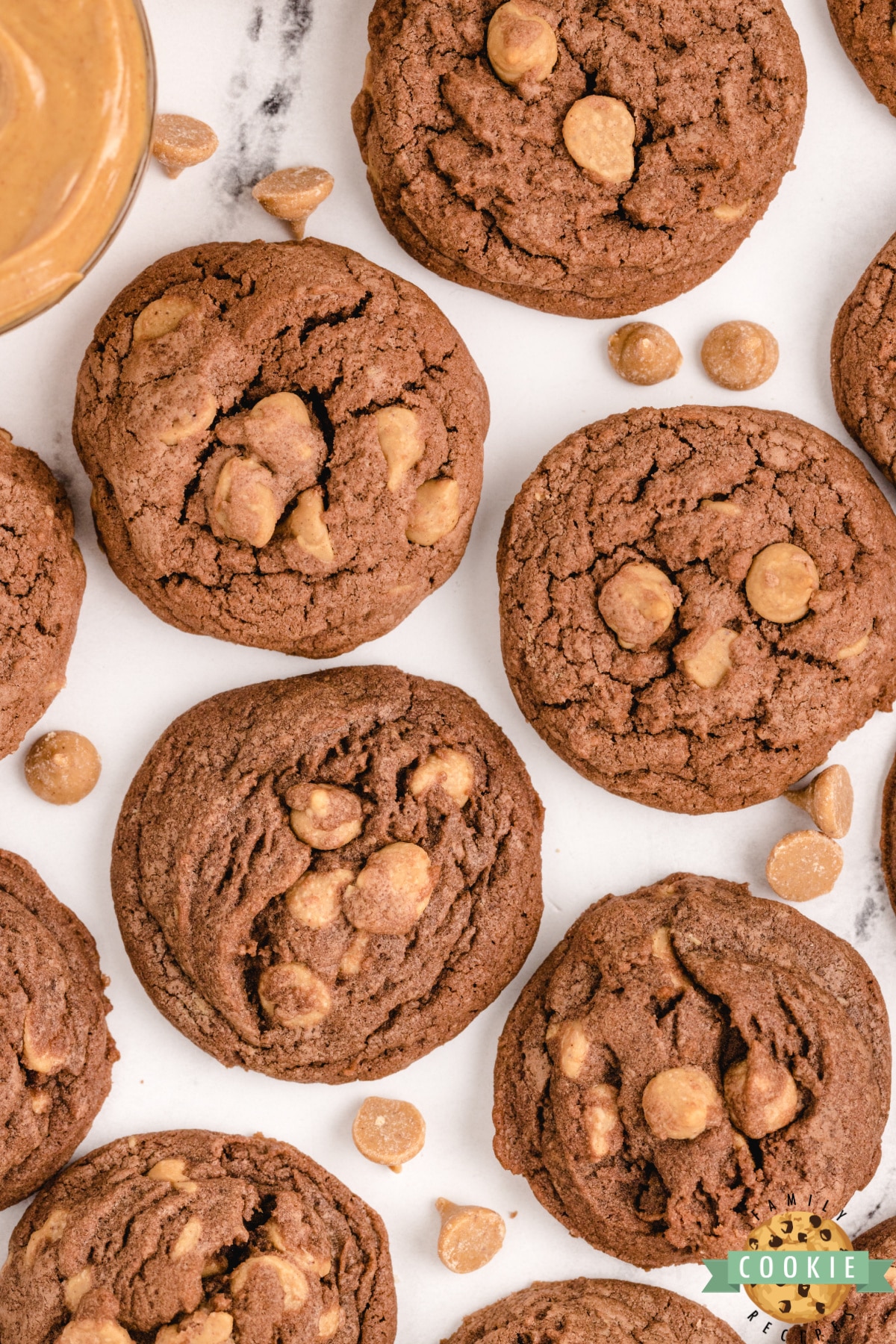 I decided to make up my own recipe and the results were every bit as good as I was hoping for. Some of my favorite chocolate chip cookie recipes have vanilla pudding in them, so I decided I would try to use chocolate pudding in the recipe. Now that I've done it, I can't believe I didn't try this earlier!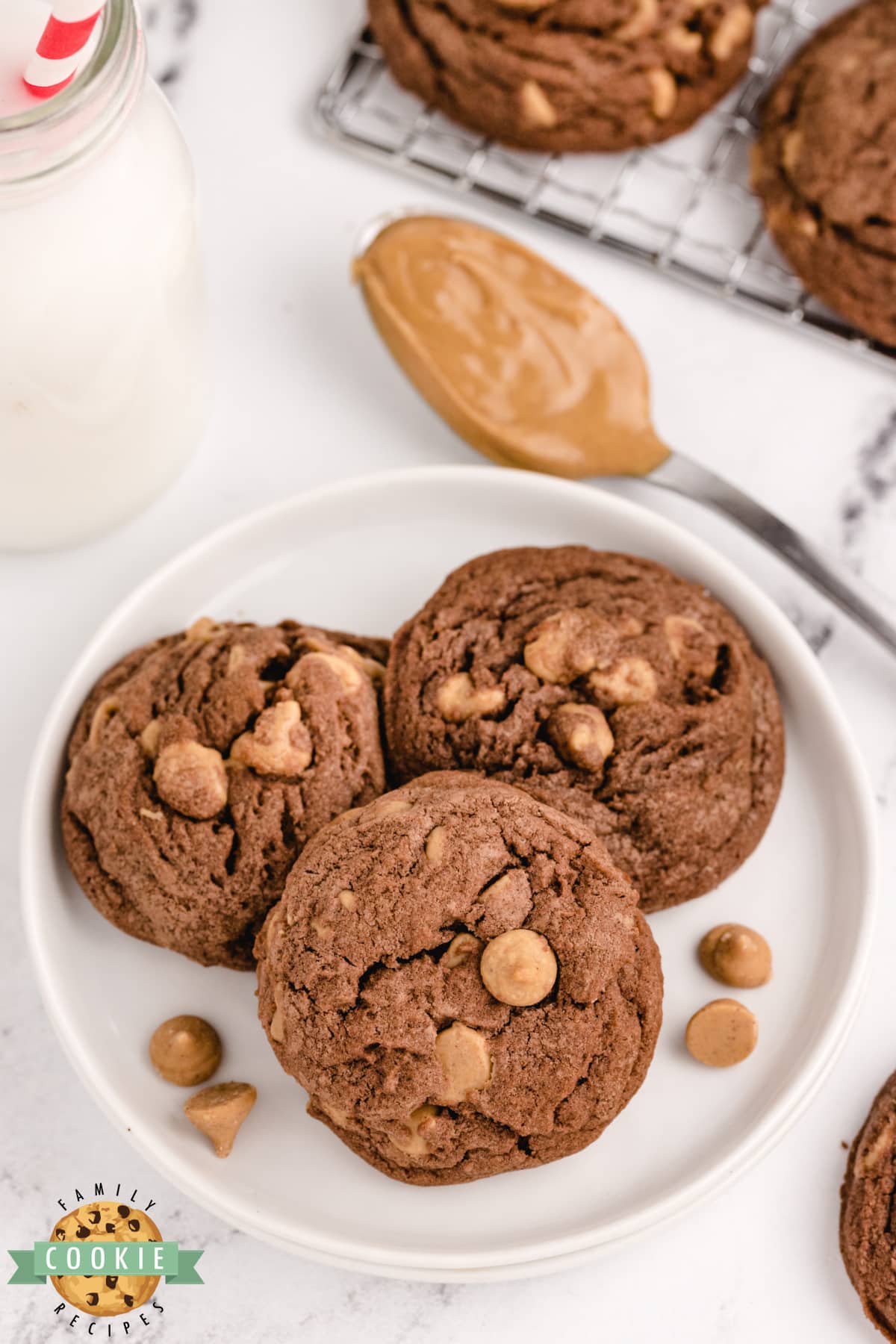 CHOCOLATE PEANUT BUTTER CHIP COOKIES
Peanut Butter Chip Chocolate Cookies are made with chocolate pudding mix in the dough to make the cookies soft and chewy with a ton of chocolate flavor. Add the pudding mix to standard cookie ingredients (eggs, butter, sugar, etc) and then mix in some peanut butter chips. The chocolate and peanut butter flavor combination is amazing!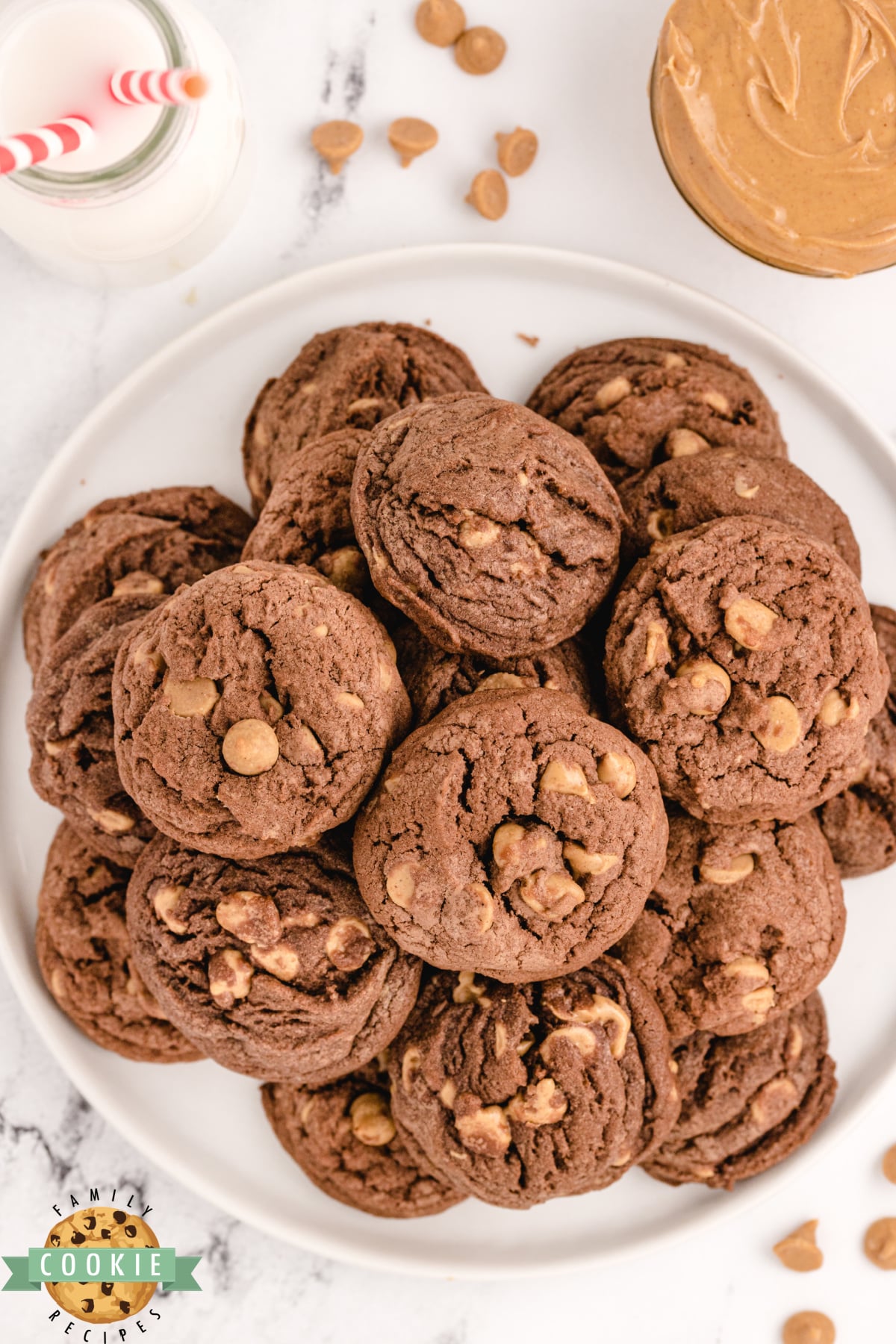 TIPS FOR MAKING THE BEST COOKIES
Do not over mix the dough or use too much flour.
Make sure that the butter is softened, but NOT melted. If you melt the butter, it will completely change the consistency of the cookies and they will be flat and crispy.
Bake cookies the minimum amount of time, even though the center may look slightly underbaked. I have made these cookies so many times and ten minutes seems to be the perfect amount of time for this particular recipe. Let cookies stand on baking sheet for one to three minutes to continue to bake, then remove to cooling rack.
Store soft cookies in an airtight container.
Do not store soft chewy cookies with crisp type cookies.
Use shiny aluminum cookie sheets, not dark colored ones. I have recently begun using silicone baking mats for all of my cookie baking and they are incredible! The cookies come off of the mats so easily and as an added bonus, your cookie sheets stay perfect too!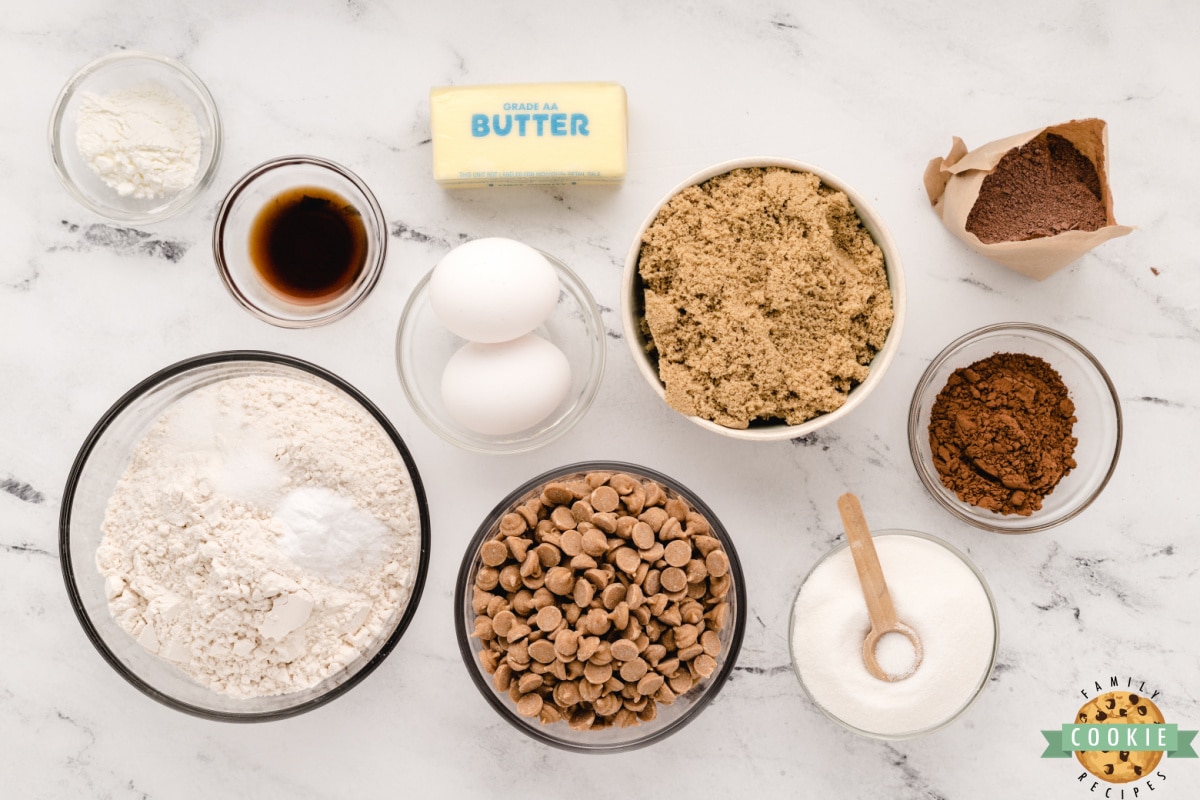 INGREDIENTS IN CHOCOLATE PEANUT BUTTER CHIP COOKIES
Butter – Make sure the butter is completely softened to room temperature before adding to the cookies.
Brown sugar– Use light brown sugar in these cookies. Just make sure your brown sugar is soft and fresh because if it is dried out, it will affect your cookies!
Sugar – Regular granulated sugar adds some extra sweetness to the cookie recipe.
Eggs – You'll need 2 eggs – I always use large eggs in recipes for best results.
Vanilla – I suggest using a good quality vanilla extract or a Vanilla Bean Paste.
Instant chocolate pudding mix – You will need a small (3.9 oz) box of instant chocolate pudding mix. This adds a lot of chocolate flavor but also gives these cookies a perfectly soft and chewy consistency.
Cocoa powder – Just 2 tablespoons of cocoa powder adds the rest of the chocolate flavor to the cookies.
Baking soda – This is the leavening agent in the cookies. For best results, make sure your baking soda isn't old or expired.
Cornstarch – A tablespoon of cornstarch also helps to make the cookies softer.
Salt – Just a half teaspoon of salt helps all of the other flavors to pop.
Flour – I usually use all purpose flour, but you can use bread flour, or even pastry flour in this recipe.
Reese's Peanut Butter Chips – You need a package of Reese's Peanut Butter Chips. If you have a peanut allergy, you can swap these out for chocolate chips or Andes baking bits or even M&Ms. You can put pretty much anything in these cookies and they will still be delicious!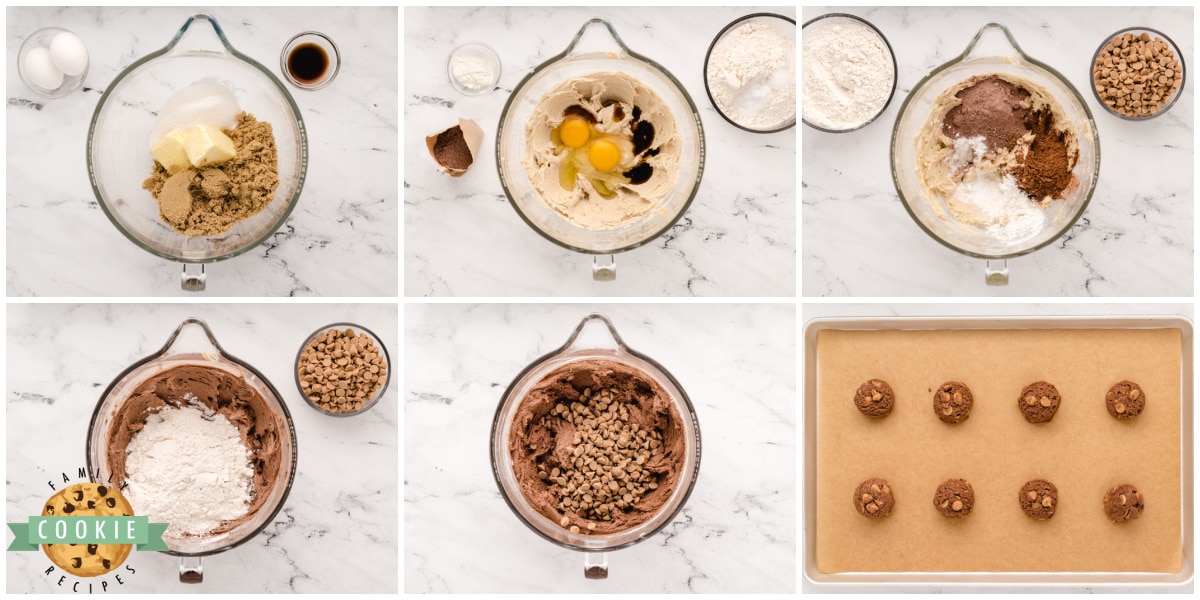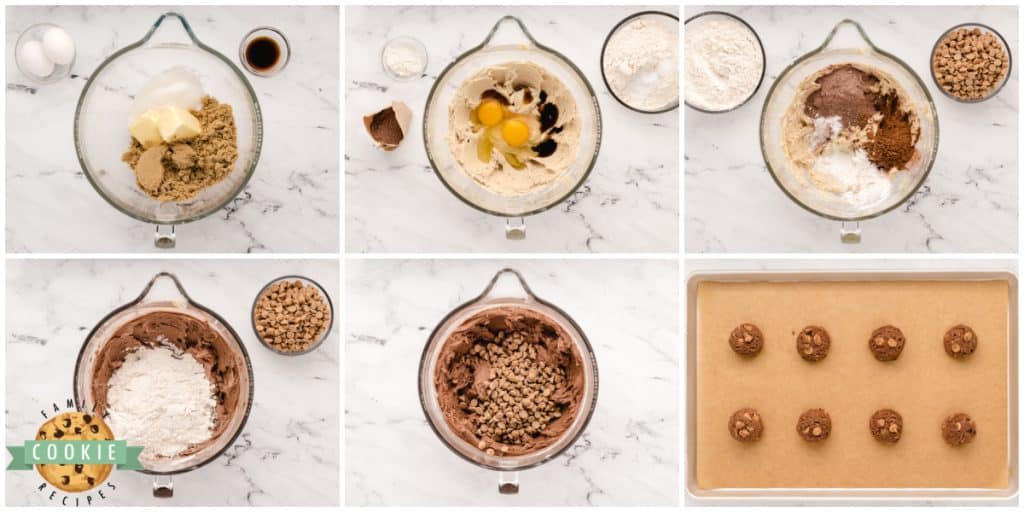 HOW TO MAKE PEANUT BUTTER CHIP CHOCOLATE COOKIES
Preheat the oven to 350°.
In a large bowl, cream together the butter and sugars for 2 minutes. Add in eggs and vanilla, mix for another 2-3 minutes.
Add the dry pudding mix, cocoa powder, baking soda, cornstarch and salt. Mix until well combined.
Add the flour and mix just until combined. Fold in the peanut butter chips.
Use a cookie scoop and place cookies about 2 inches apart on a prepared cookie sheet (lined with parchment paper or a silicone baking mat).
Bake cookies for 9 minutes.
Allow to cool for 2-3 minutes before transferring to a wire rack to cool completely.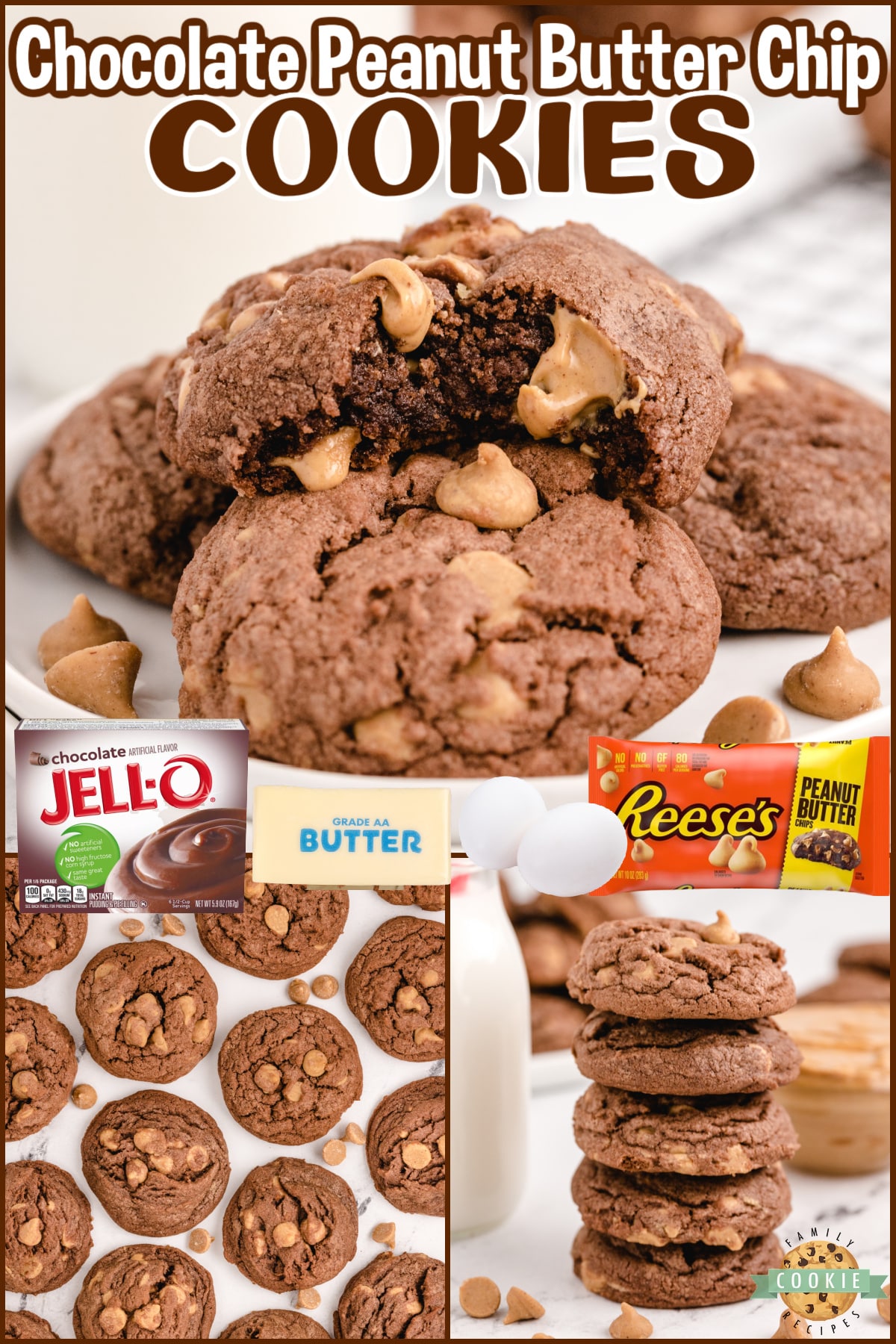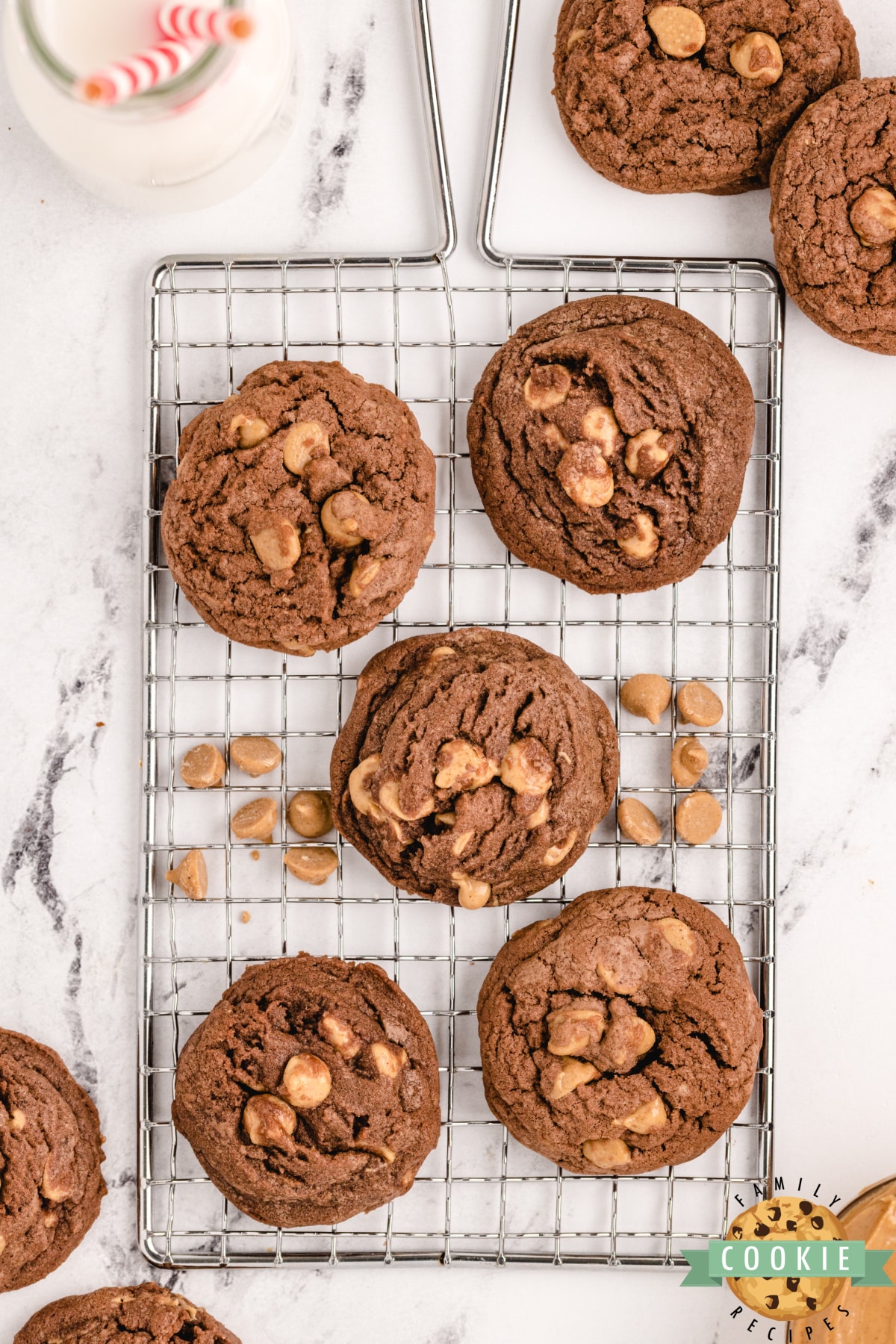 HOW DO YOU SOFTEN BUTTER TO ROOM TEMPERATURE?
The best way to soften butter is to set it out for a few hours before you make your cookies. Since most of us (or maybe just me!) aren't that prepared or don't think that far in advance, there are a few tricks to softening butter perfectly in just a matter of minutes. My favorite way to soften butter is in the microwave. It's definitely fast, but you do have to be very careful not to melt it. Just put the whole stick of butter in the microwave (as long as it isn't wrapped in foil!) and microwave for about 6-7 seconds. If the butter is still really cold, try another 5-7 seconds and check it again. You may need a few intervals, and if the butter is starting to feel soft, you can shorten the final interval to just a few seconds to make sure it doesn't start melting.
I actually prefer to use the defrost setting on my microwave – I don't know exactly what that mode does differently, and it takes a little bit longer (closer to 30 seconds), but it seems to be easier to get the butter to soften without melting.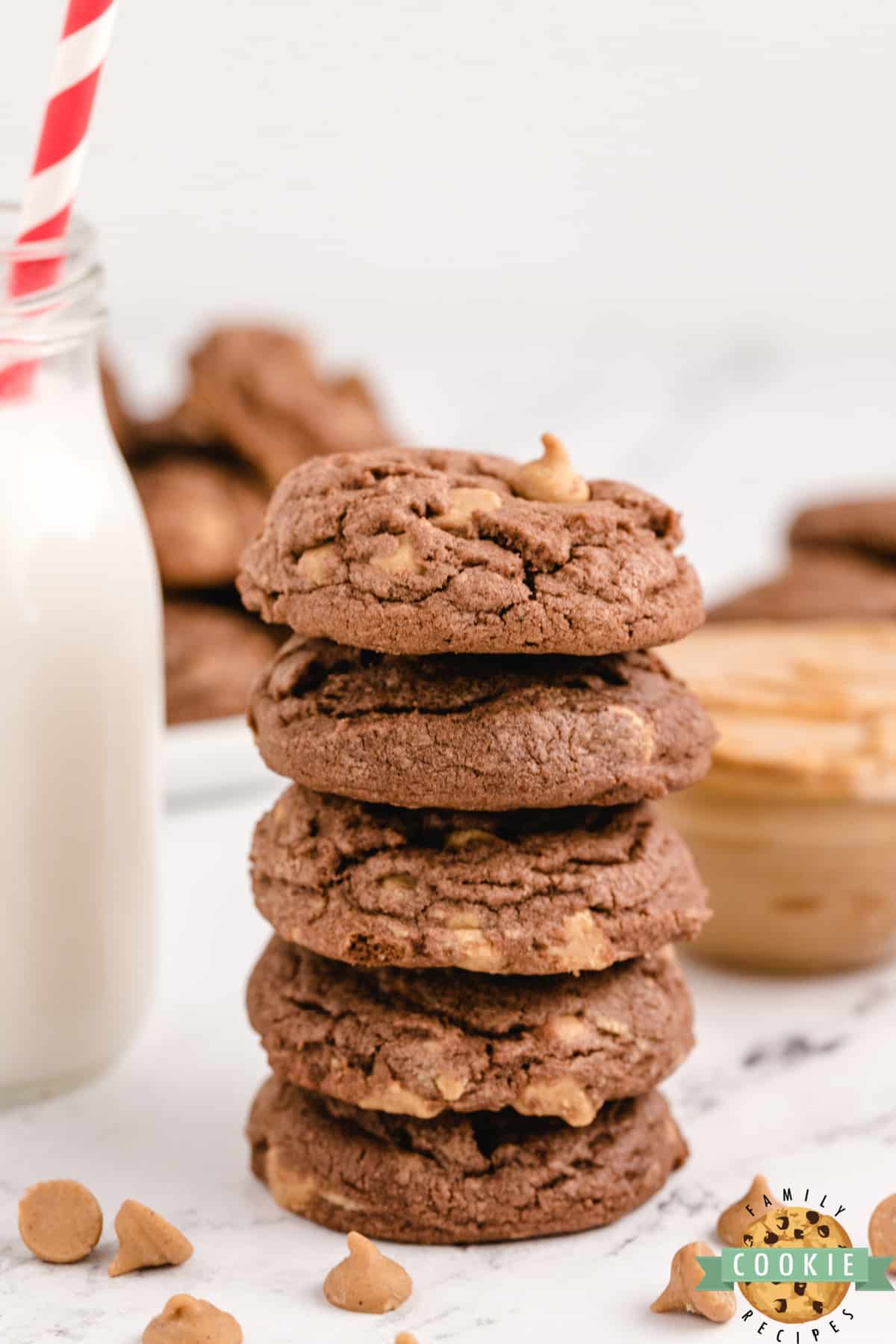 How do I prevent my cookies from getting flat?
Make sure that you have enough flour in the dough. If the dough is too sticky, you may need to add a little bit of flour.
Do not melt the butter! The butter needs to be softened (at room temperature), but using melted butter will ruin the cookies.
Spend a little extra time when you mix the butter and sugars. Creaming them together for 2-3 minutes will improve the consistency of your cookies.
Preheat the oven. This will help your cookies turn out right every time!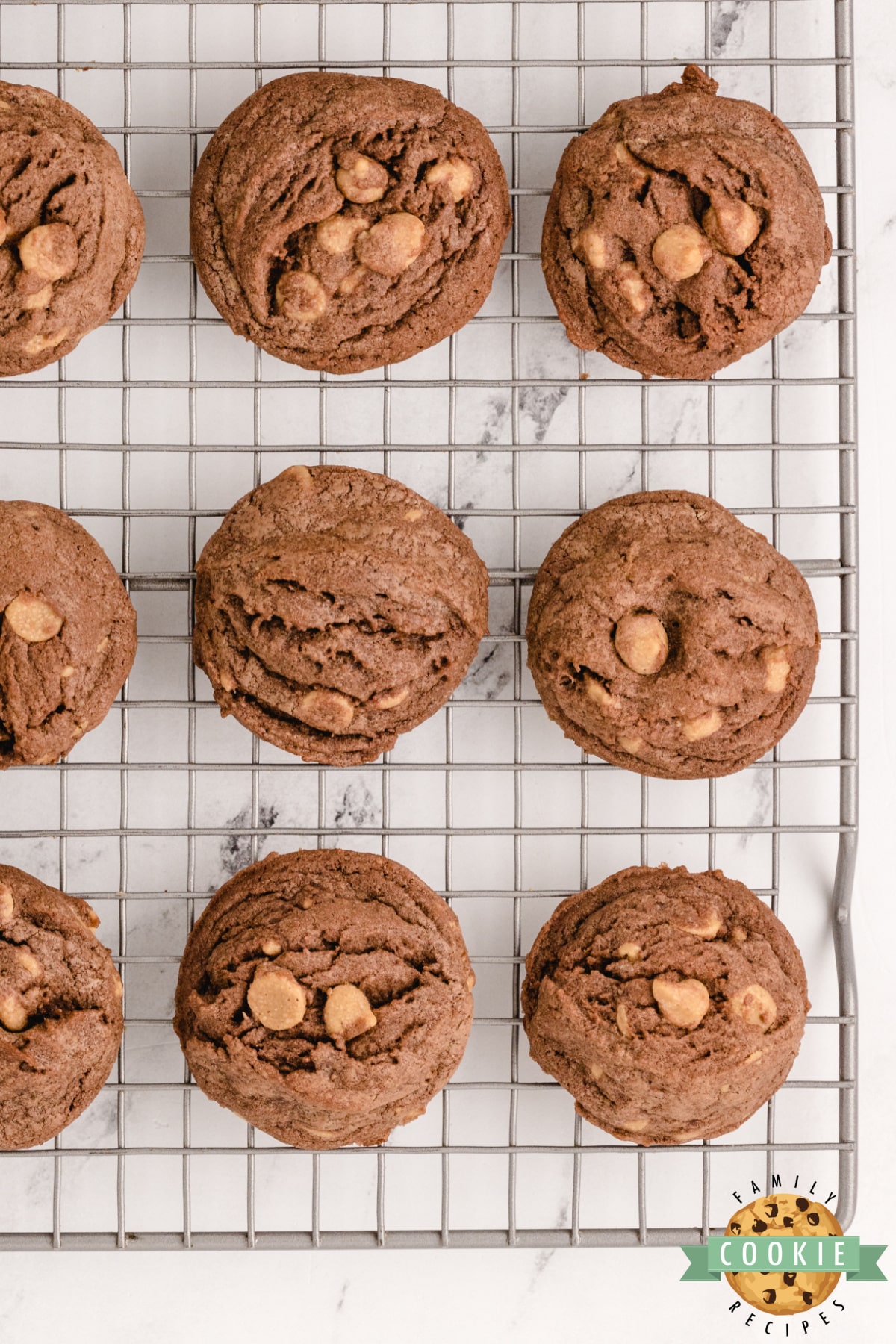 What is easiest way to get perfectly shaped cookies?
Use a cookie scoop! If you want all your cookies to be perfectly shaped and have them all be the same size, a cookie scoop is the way to go.
Use a biscuit cutter/circle cookie cutter. Immediately after taking the cookies out of the oven, use a circle cookie cutter that is slightly bigger than the cookies and place over each cookie, moving it in a circular motion to make all of the edges perfectly smooth.
Use parchment paper or a silicone baking mat. Doing this will make it really easy to remove the cookies from your cookie sheet so that you don't have to scrape them off the pan – they will just slide right off in perfect shape!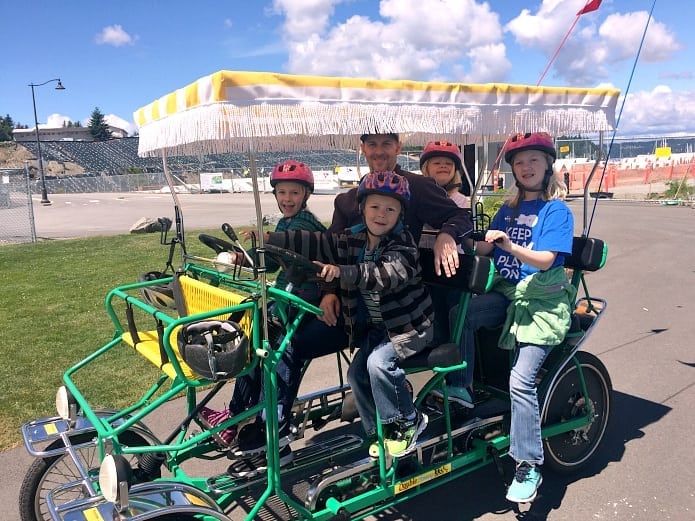 Not too far from us is a rental shop where you can rent a surrey and ride it on a path that runs right next to the Puget Sound. We lived here for a few years before we finally got to try it and had a fabulous time. We let each of the kids take a turn "driving" and quickly learned that some of our kids are going to be way scarier when they get behind the wheel of a real car! Also, half of our kids don't have legs long enough to help peddle so the rest of us got more of a workout than we had planned on!
MORE DELICIOUS CHOCOLATE AND PEANUT BUTTER RECIPES: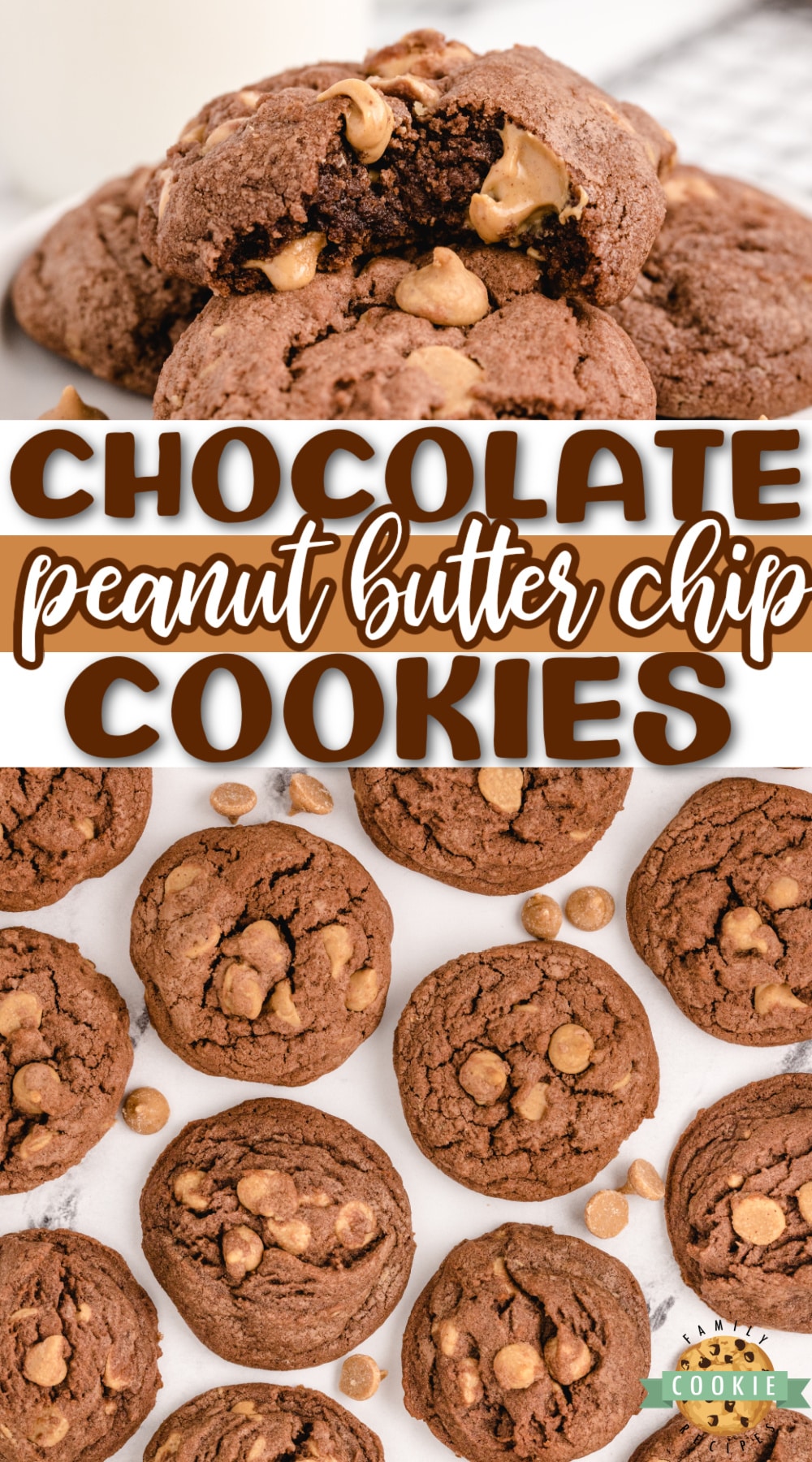 Chocolate Peanut Butter Chip Cookies made with chocolate pudding mix for a soft and chewy cookie that is loaded with chocolate flavor and peanut butter chips.