Best Ever Reese's Peanut Butter Cookies made with a full cup of peanut butter! Loaded with chocolate chips, peanut butter chips & Reese's Pieces, to get the ULTIMATE chocolate peanut butter cookies!

Make this peanut butter chocolate chip cookie recipe the next time you want to serve an incredible treat that will impress anyone who tries them! These peanut butter cookies with reese's pieces are simply heavenly and a treat you won't soon forget.
Loaded Peanut Butter Cookies
I modified Nellie's recipe for The BEST Peanut Butter Chocolate Chip Cookies to include Reese's Pieces and they are absolutely fantastic! The cookies are so soft, have a great peanut butter flavor and the chocolate and peanut butter chunks are extra delicious. These cookies are a great addition to any event or party's dessert table, everyone is immediately drawn to their colorful appearance and then hooked on their first bite. You are welcome to add a mixture of all the chocolate and candies like we did, just have it all measure about 2 cups. I added more on top too, because, why not?!
Tips to get PERFECT Peanut Butter Cookies:
Three kitchen items make these cookies come together really fast. Actually, I use these items in nearly every cookie recipe I make, so they're quite versatile.
First, I line my cookie sheets with a piece of parchment paper. They're sold in sizes that fit a 12×16 cookie sheet perfectly and enable to cookies to bake well without sticking- and no mess from spraying oil on the cookie sheets!
The second item is a KitchenAid mixer. I love mine! I have a Bosch as well but I find I use my KitchenAid for cookies. There is a cookie paddle that comes with every mixer that you attach to the top of the mixer. They're easy to use and help you mix the ingredients uniformly.
The third item is a cookie scoop! Years and years ago I used to use 2 spoons to measure and scrape cookie dough onto the pans. It wasn't a perfect process and I often ended up with oblong cookies in various sizes. My solution? A cookie scoop! They come in three sizes- 1/2 tablespoon, 1.5 tablespoon and 3 tablespoon scoops. I used the middle size- 1.5 tablespoon for these, and most other cookies. (Although when I'm serving a large crowd, I use the small cookie scoop. People love having a smaller cookie, especially at an event with several other desserts.) For this Peanut Butter Cookie recipe I used the middle scoop and even the large 3 TBSP scoop for a few cookies!
Reese's Peanut Butter Cookie Ingredients
Peanut butter: For lots of amazing flavor, use 1 cup of creamy peanut butter.
Butter: Adding in ½ cup + 2 TBSP of butter, softened, will help make these cookies rich in taste.
Sugar: You will need ½ cup of granulated sugar to create nice chewy, soft cookies.
Brown sugar: Use ½ cup of brown sugar to give these treats a lovely depth of flavor.
Egg: Add 1 egg to the dough to help bind the ingredients together and give the dough great texture.
Milk: You will want to add in ¼ cup of milk to make the dough nice and moist.
Vanilla extract: To help enhance all the wonderful flavors, add in 1 tsp of vanilla extract.
Flour: For the structural base of this cookie dough, use 1 ½ cups of flour.
Baking powder: Using 1 tsp of baking powder will help these cookies rise as they bake.
Salt: Adding ½ tsp of salt will help balance the sweetness in this cookie dough.
Candy: You will want 2 cups of combined chocolate chips/Reese's Pieces/ Peanut Butter chips, to make the most amazing and delicious cookies EVER!
How to make Peanut Butter Cookies:
Prep
Get the oven preheating to 375 degrees F. Then, line two cookie sheets with parchment paper, set aside.
Cookie dough
In a large bowl, using an electric hand mixer, cream together the peanut butter, softened butter, white sugar and brown sugar, until smooth and blended. Next, beat in the egg, milk, and vanilla extract.
In a separate small bowl, combine the flour, baking powder, mix well.
After that, add the flour mixture to the peanut butter mixture and stir well. Then, add in whatever mix of chocolate chips, peanut butter chips, mini Reese's pieces or regular Reese's Pieces you'd like! I used about ½ cup of each, reserving some of the Reese's Pieces for the top of the cookies.
Bake
Proceed to scoop tablespoonfuls of dough and roll into balls. Place the dough 2 inches apart on the prepared cookie sheets. Next, press additional Reese's Pieces onto each cookie dough ball.
Place in the preheated oven and bake for 8-10 minutes. Be careful to not overcook! These cookies are much better soft and just barely cooked all the way through. I baked the cookies scooped with the medium 1.5 TBSP scoop for 8 minutes and the 3 TBSP cookies for 10 minutes.
Let the cookies cool for about 5 minutes on the baking sheet, then transfer to a cooling rack to completely cool.
Serve immediately and enjoy!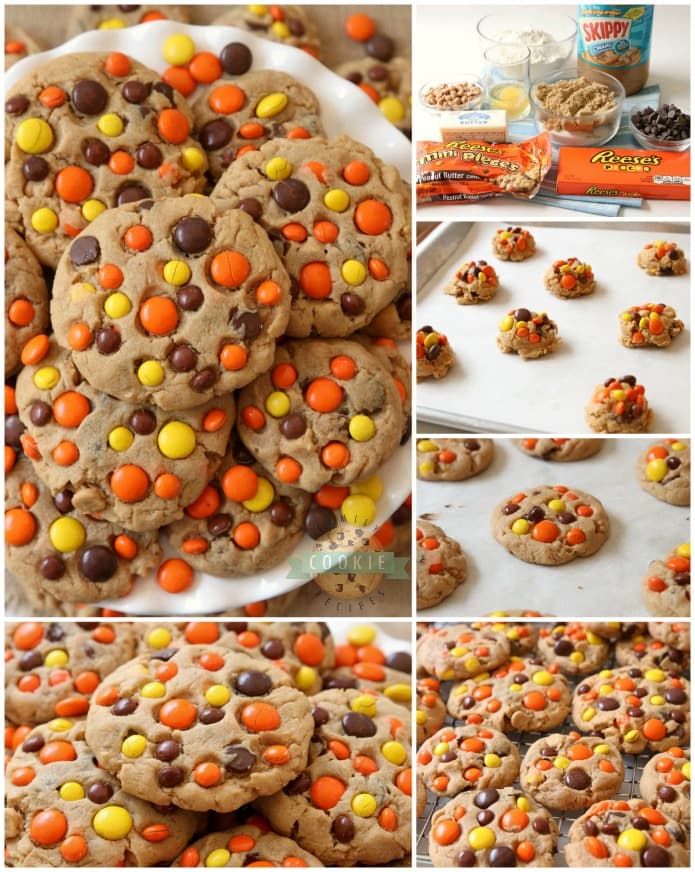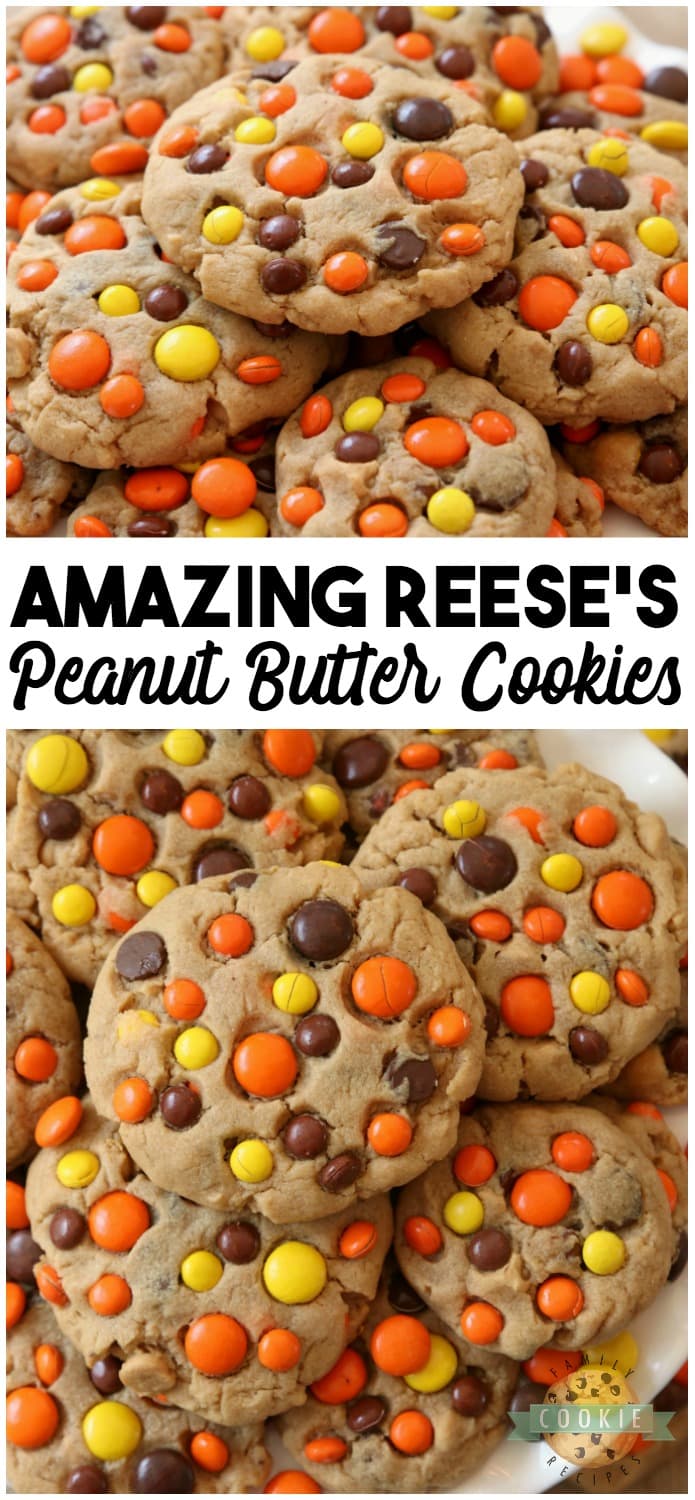 HOW LONG ARE THESE COOKIES GOOD FOR?
These cookies can last about 5 days, if stored in an airtight container, at room temperature. These cookies do not require refrigeration but can be placed in the fridge if desired.
CAN I FREEZE PEANUT BUTTER CHOCOLATE CHIP COOKIES?
Yes, these cookies can do very well in the freezer! You can freeze them after they've been baked, for up to 3 months in an airtight container, or place the scooped balls of dough in the freezer for up to 2 months before baking.
If you freeze the dough, you'll want to freeze them on a baking sheet for 2 hours before transferring them to an airtight container. Then place them on a baking sheet at room temperature as the oven preheats and bake as directed.
Here are more peanut butter cookie recipes you'll enjoy:
The most amazing Reese's Peanut Butter Cookies are made with a full cup of peanut butter! Packed with lots of chocolate chips, peanut butter chips & Reese's Pieces, to create the best chocolate peanut butter cookies!