Peanut Butter Oatmeal M&M Cookies are soft & chewy cookies loaded with oats & M&M candies! Homemade oatmeal peanut butter cookies made with classic ingredients that everyone loves!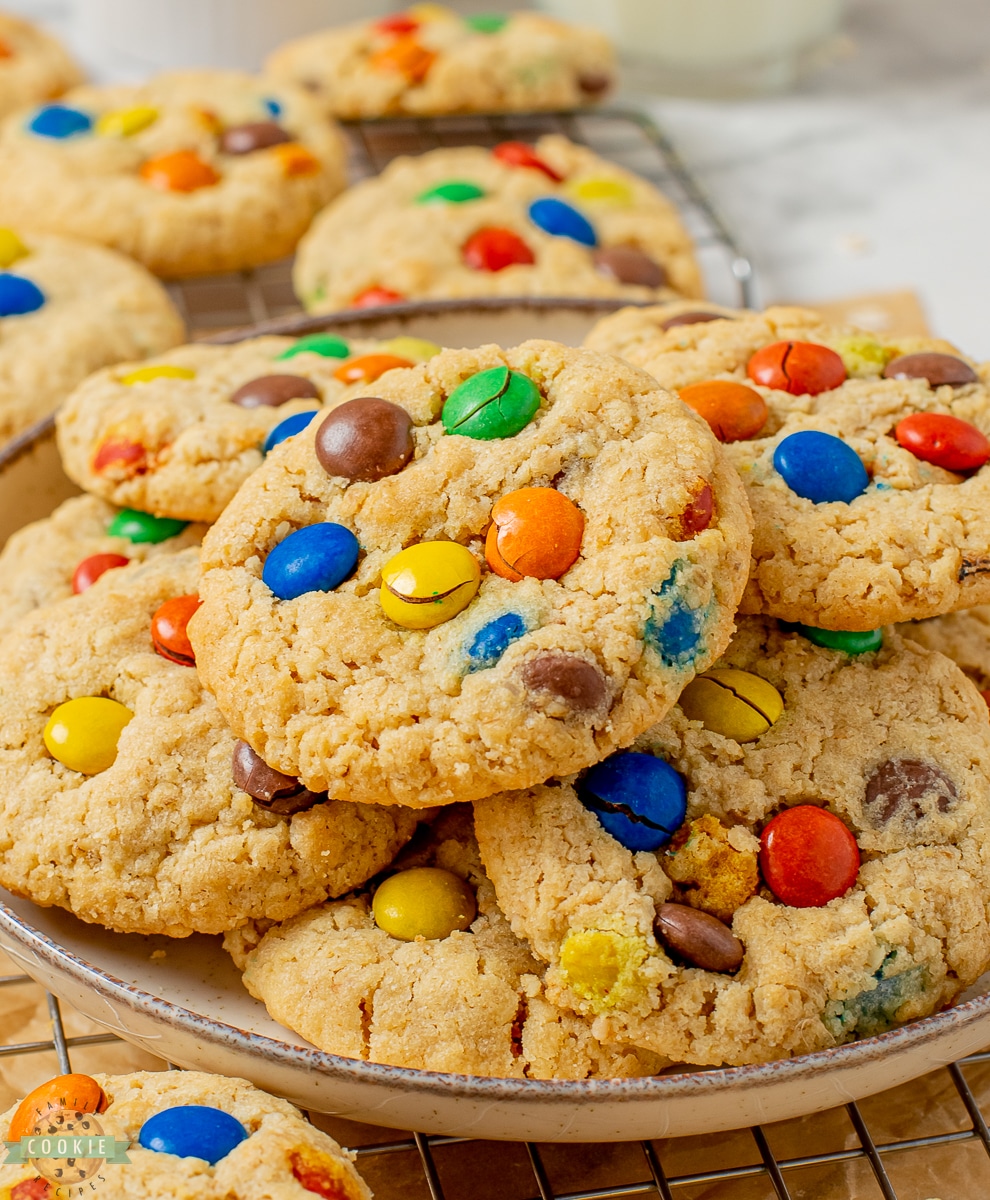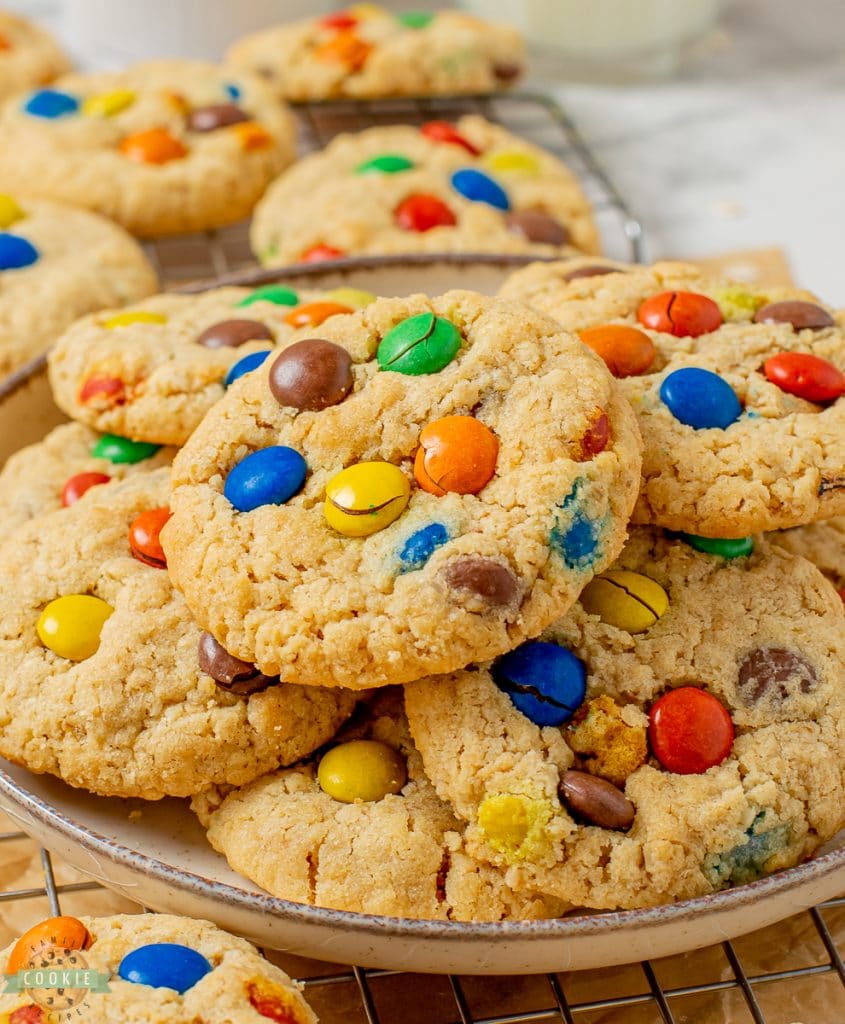 Peanut butter M&M's cookies are a fantastic combination of oats, peanut butter and chocolate pieces swirled in every bite. These peanut butter oatmeal cookies are a wonderful blend of savory, sweet, soft, and chewy, for the ultimate cookie experience.
The Ultimate M&M Peanut Butter Cookie Recipe
Chocolate and peanut butter are a classic duo and winning combination that has withstood the ages, so you already know these cookies are going to taste amazing. When you add in the oats and brown sugar, we get cookies that are chewy and extra flavorful too. These peanut butter M&M oatmeal cookies are really hard to beat.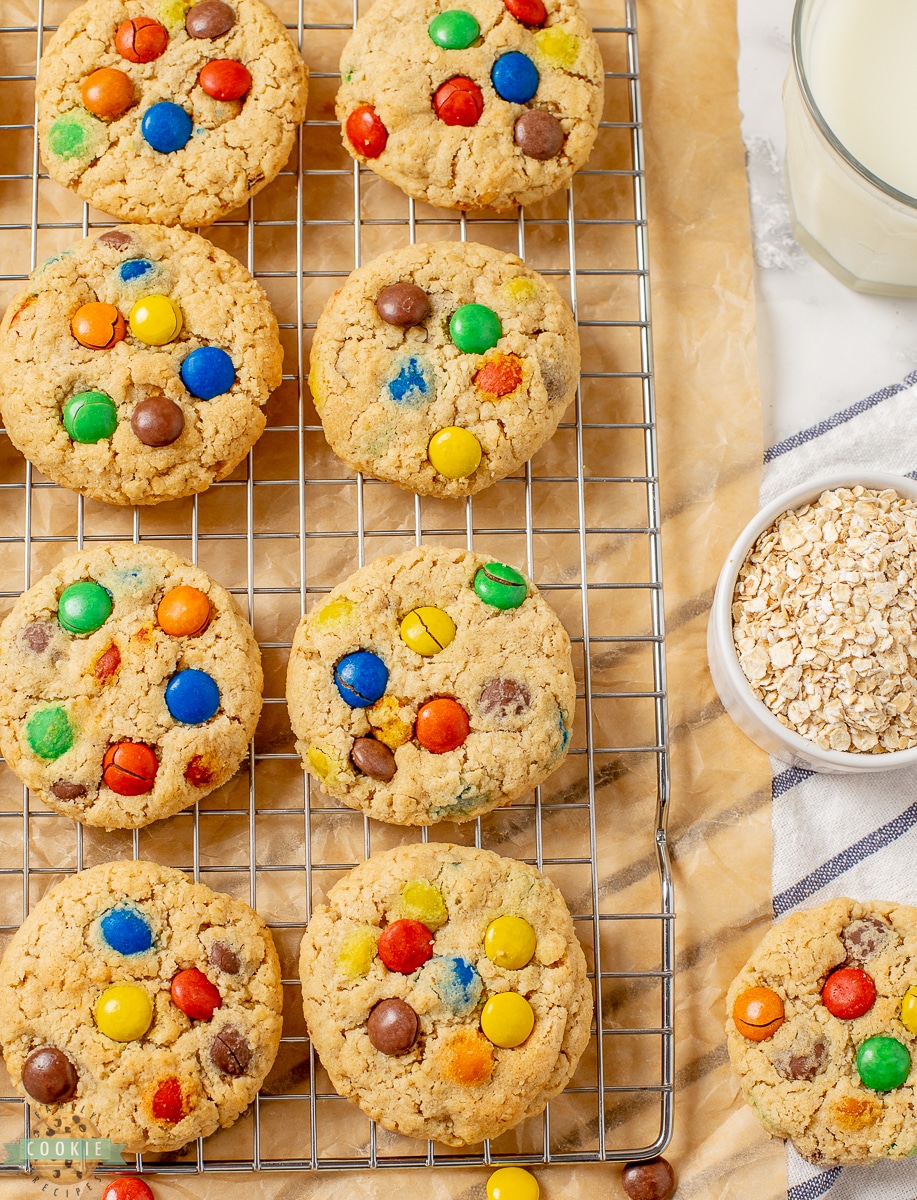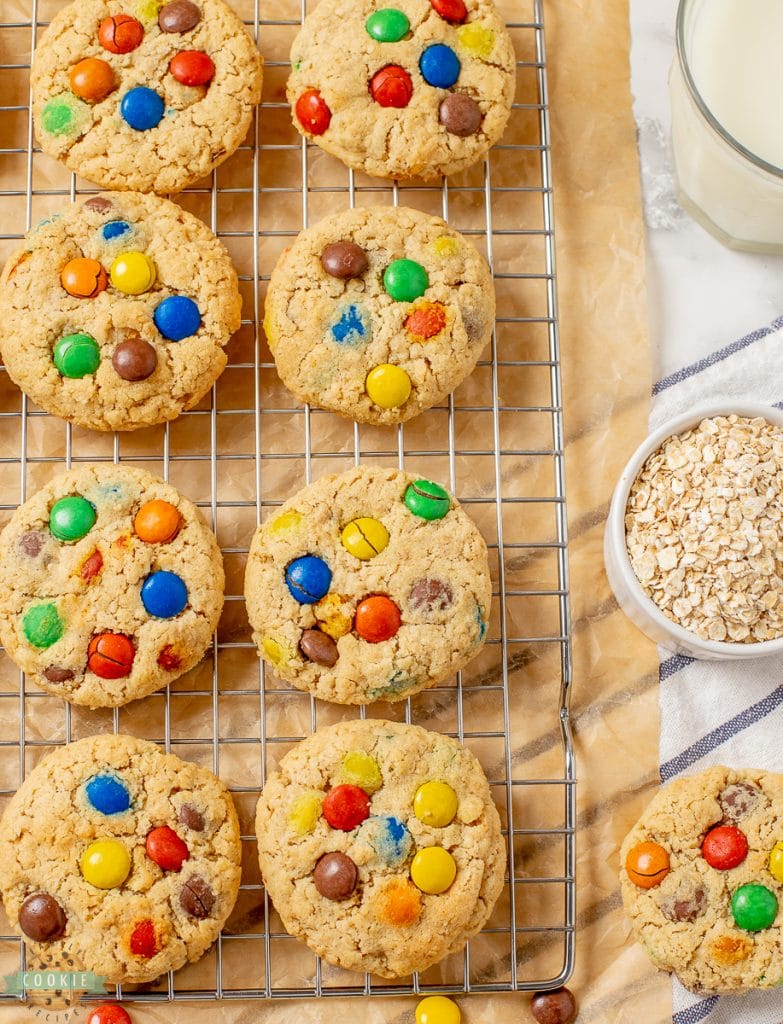 Why you should make this recipe
We simply adore these chewy peanut butter oatmeal cookies, but here are three reasons that will help you feel the same!
The dough comes together quickly. With about 10-15 minutes of your time, you have the dough made and ready to chill. Letting the dough chill is what gets the cookies perfectly textured, so make sure to not skip that step.
Simple pantry staple ingredients. From the butter to the flours and sugars, these cookies use staple pantry ingredients, meaning that you may have most, if not all, of them on hand already. So no big shopping trips to the grocery store are needed to enjoy these amazing cookies.
You can make the cookies festive. By simply switching out the M&Ms for different holiday-colored blends, you can recreate this recipe all year long, but with a fresh and festive spin. Imagine pastel Easter M&Ms or spooky Halloween M&Ms scattered throughout your cookies. Fun!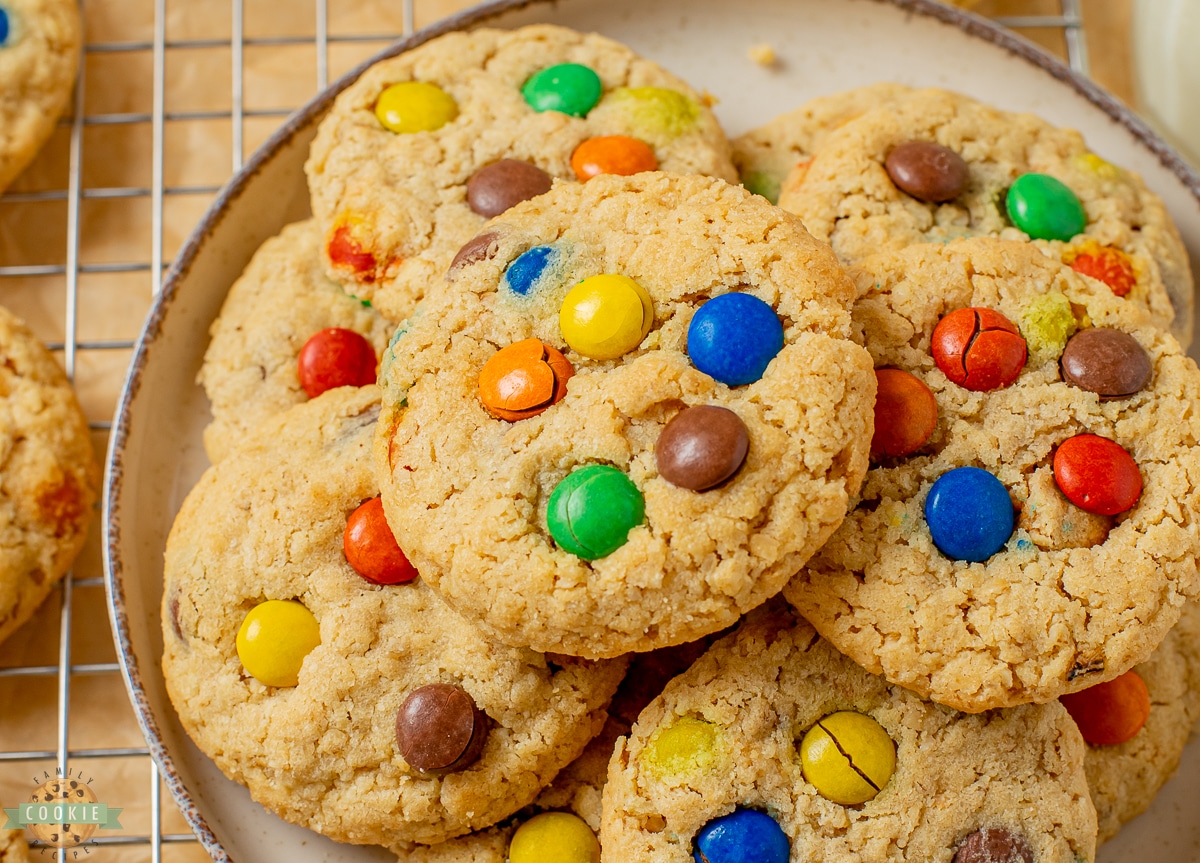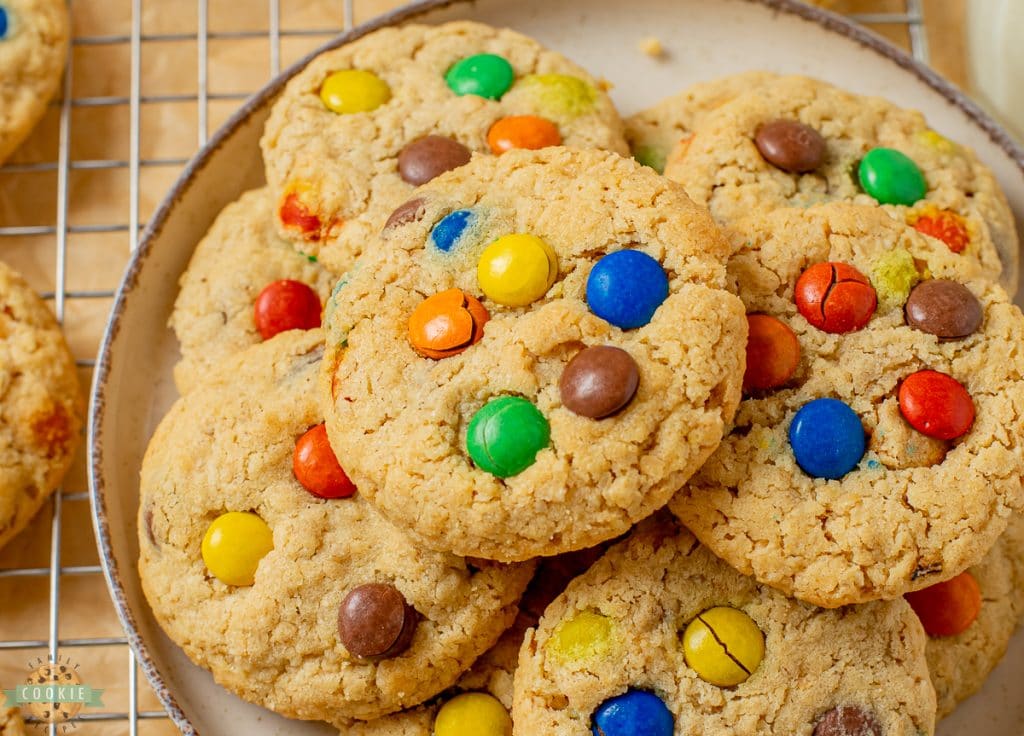 Oatmeal Peanut Butter M&M Cookie Ingredients
Butter: You will need 1 ½ cups of softened room temperature unsalted butter for these cookies. This is equal to 3 sticks of butter.
Sugars: Use ½ cup each of granulated sugar and brown sugar to make these cookies chewy and sweet. If you don't have brown sugar, you can use 1 cup of granulated sugar, but using both sugars in this recipe is ideal for the perfect experience.
Vanilla extract: You will need 1 teaspoon of vanilla extract to help enhance the flavors in these cookies.
Eggs: 2 large eggs will help to bind the cookie dough together and give these cookies a great texture.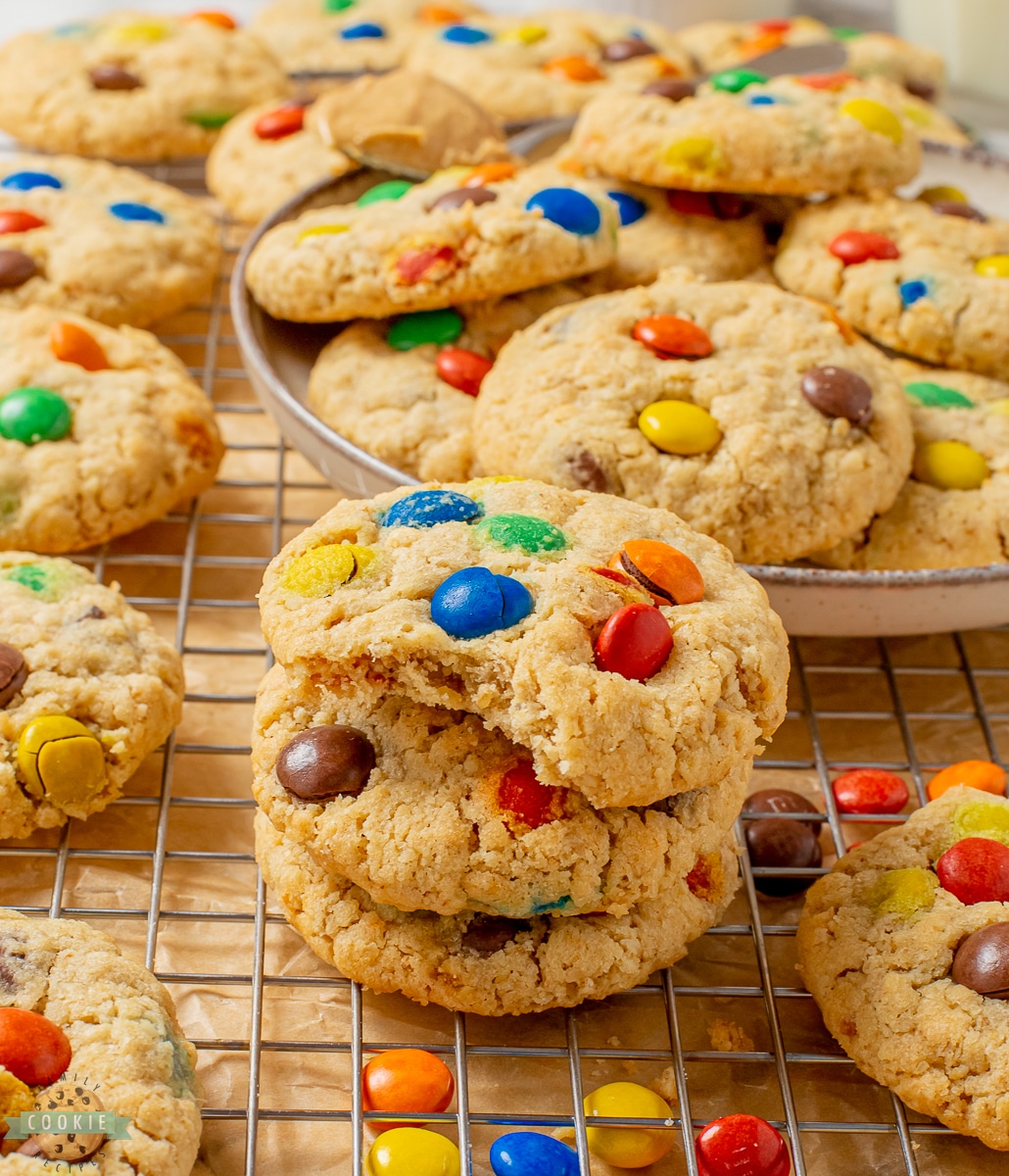 Peanut butter: You will need 1 cup of smooth and creamy peanut butter for this recipe.
Flour: You need 1 ½ cups of all-purpose flour for the base of the cookie dough.
Oats: Use 2 cups of quick-cooking oats for this recipe. This will make the cookies chewy and soft.
Baking soda: You need 1 teaspoon of baking soda to leaven the cookies properly to rise as they bake.
Salt: Use ½ teaspoon of salt to help enhance the flavors and make the cookies taste incredible.
M&Ms: You will need ¾ cups of M&M candies so that there is plenty in every bite.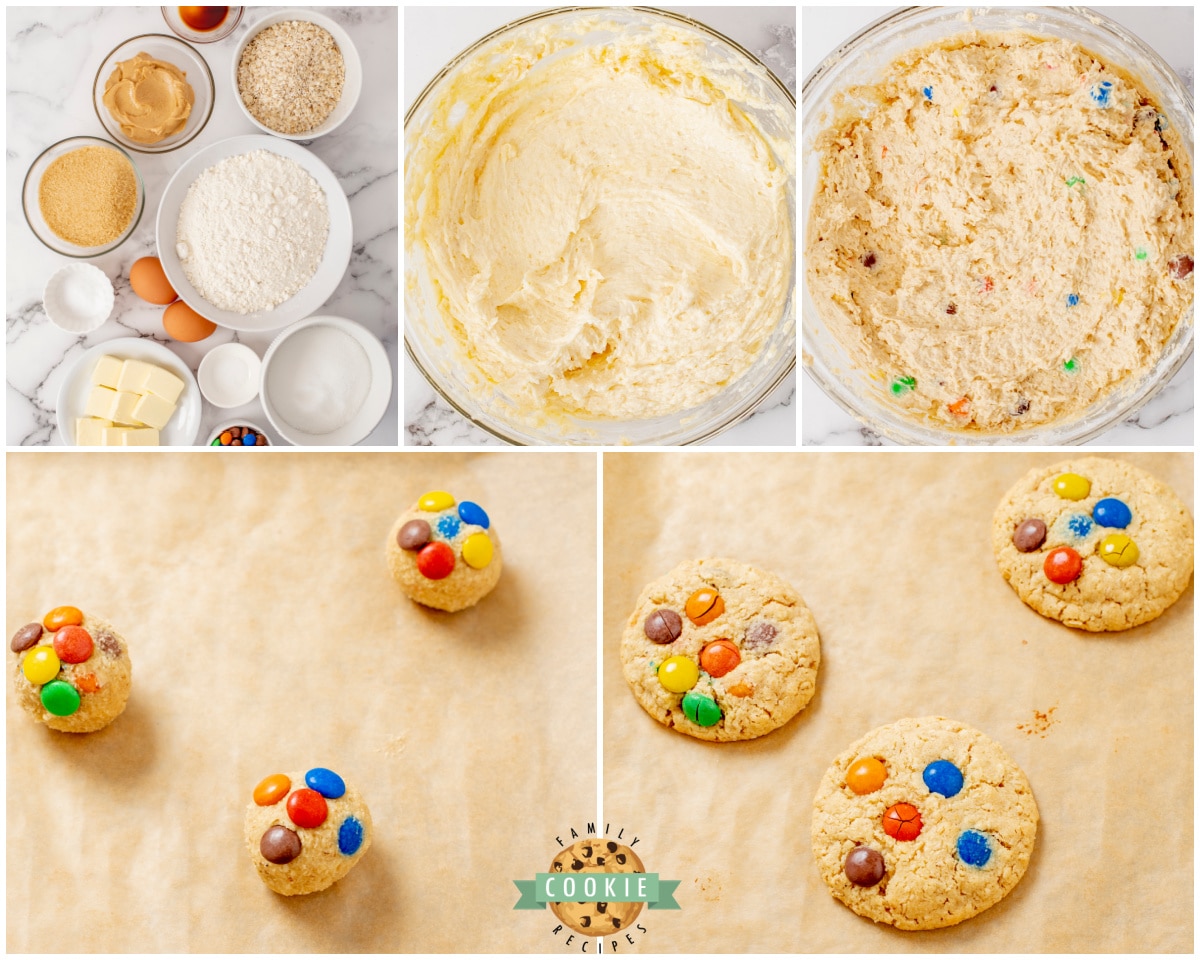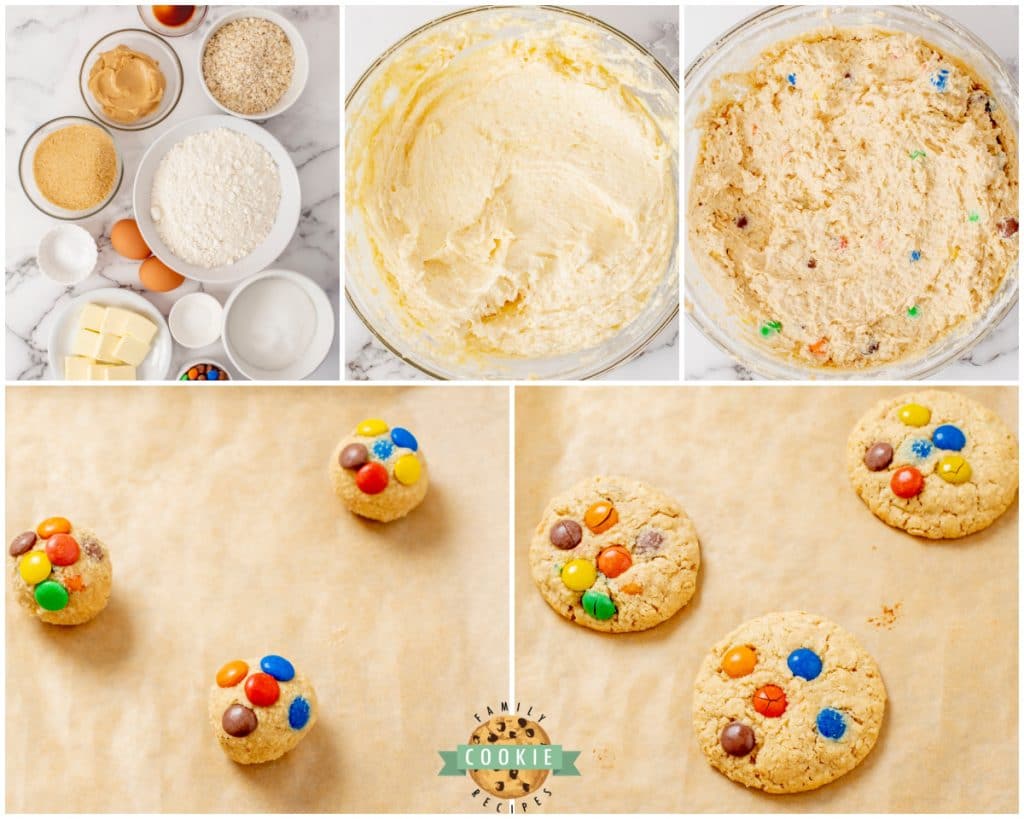 How to Make Peanut Butter Oatmeal M&M Cookies
Cookie Dough
In a large mixing bowl, combine the butter, both sugars, and egg and beat together with an electric mixer until smooth and creamy.
Then, add in the peanut butter and vanilla extract. Mix on low speed until combined, and then set the bowl aside.
In a separate small bowl, combine all of the dry ingredients, the flour, oats, baking soda, and salt, with a whisk.
After that is complete, add the dry ingredients to the large bowl of wet ingredients, in gradual 1/2 cup to 1 cup-sized increments. Once one has been incorporated, add in the next portion and continue until no flour streaks remain.
Lastly, stir in the M&Ms, the batter will be thick and a little sticky.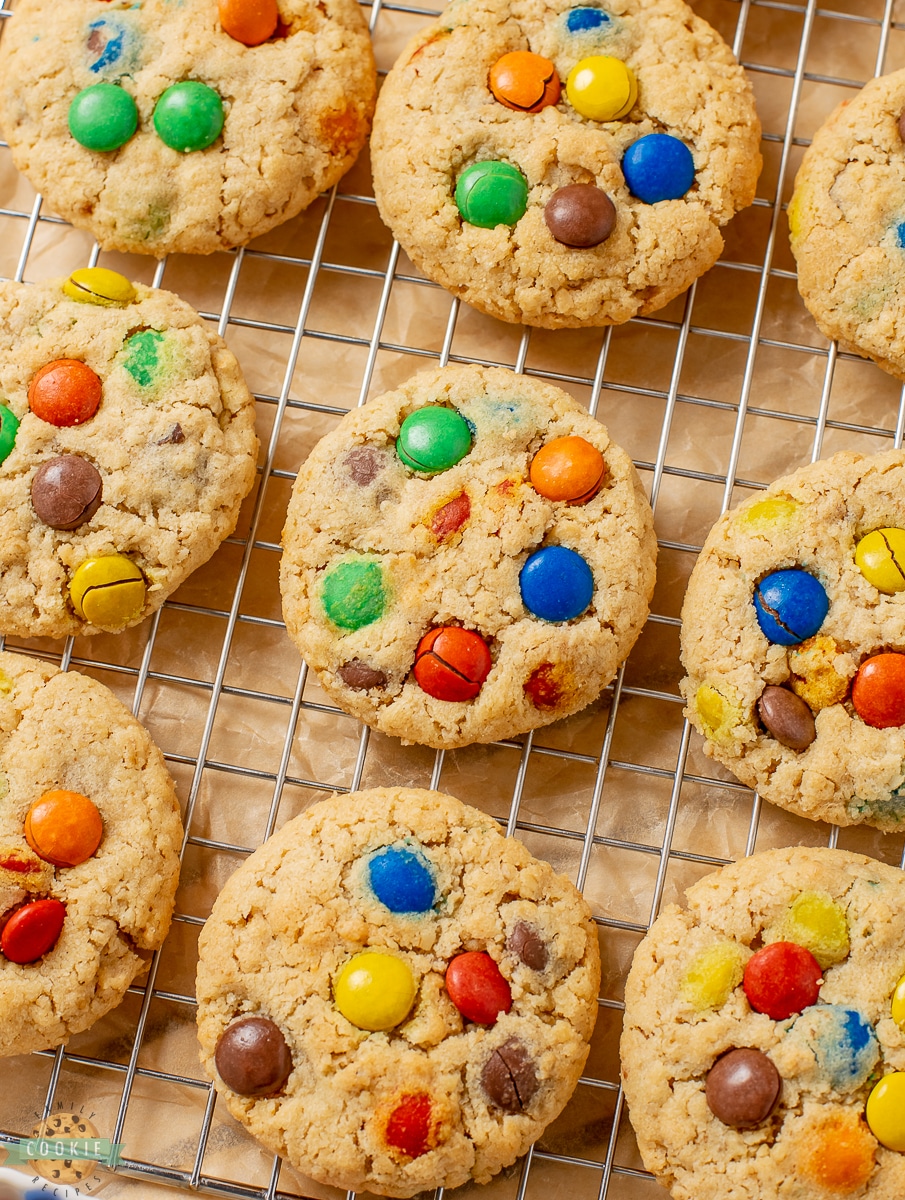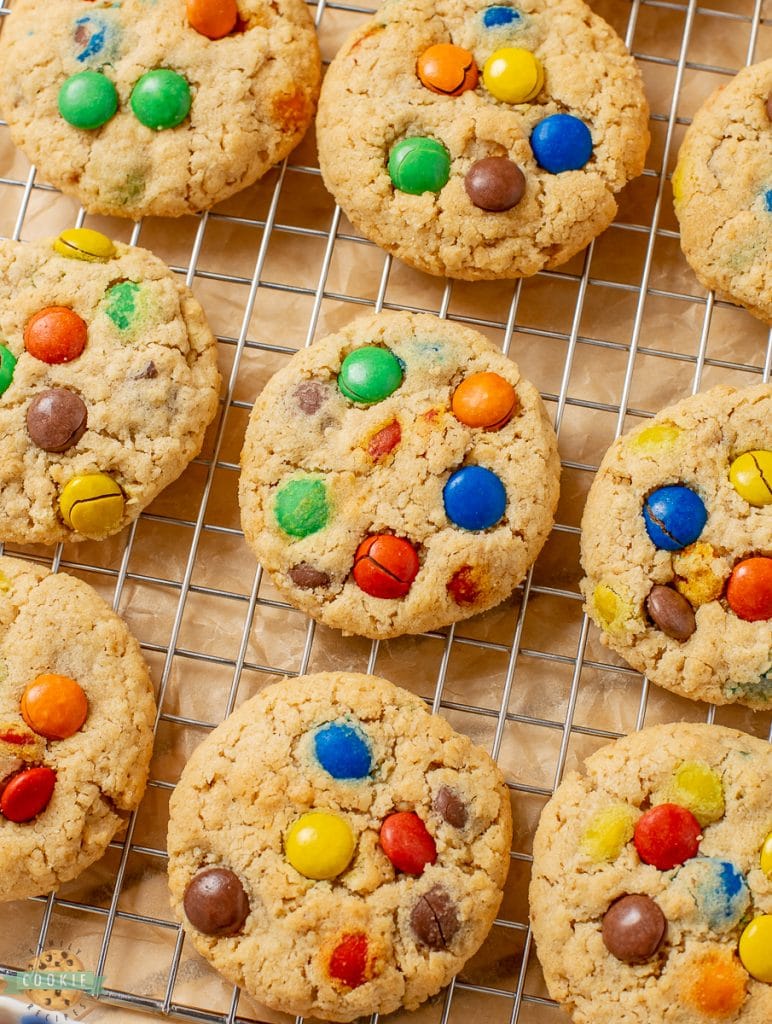 Chilling time
It is time to chill the dough in the bowl, for 30 minutes in the freezer (for a faster method) or store it in the fridge for 1-3 hours. The dough should not be sticky after chilling and should resemble play-dough.
Bake
Preheat your oven to 350 degrees F.
Then, line your baking sheets with parchment paper.
Proceed to scoop the batter into 2 tablespoon-sized portions and roll to get a smooth round ball shape.
Arrange the cookies about 2 inches apart on your prepared baking sheets, and do not press them down.
Bake in the oven for 10-12 minutes until done.
Let the cookies cool on the pan for 5-10 minutes before transferring them to a wire rack to cool completely.
Serve and enjoy!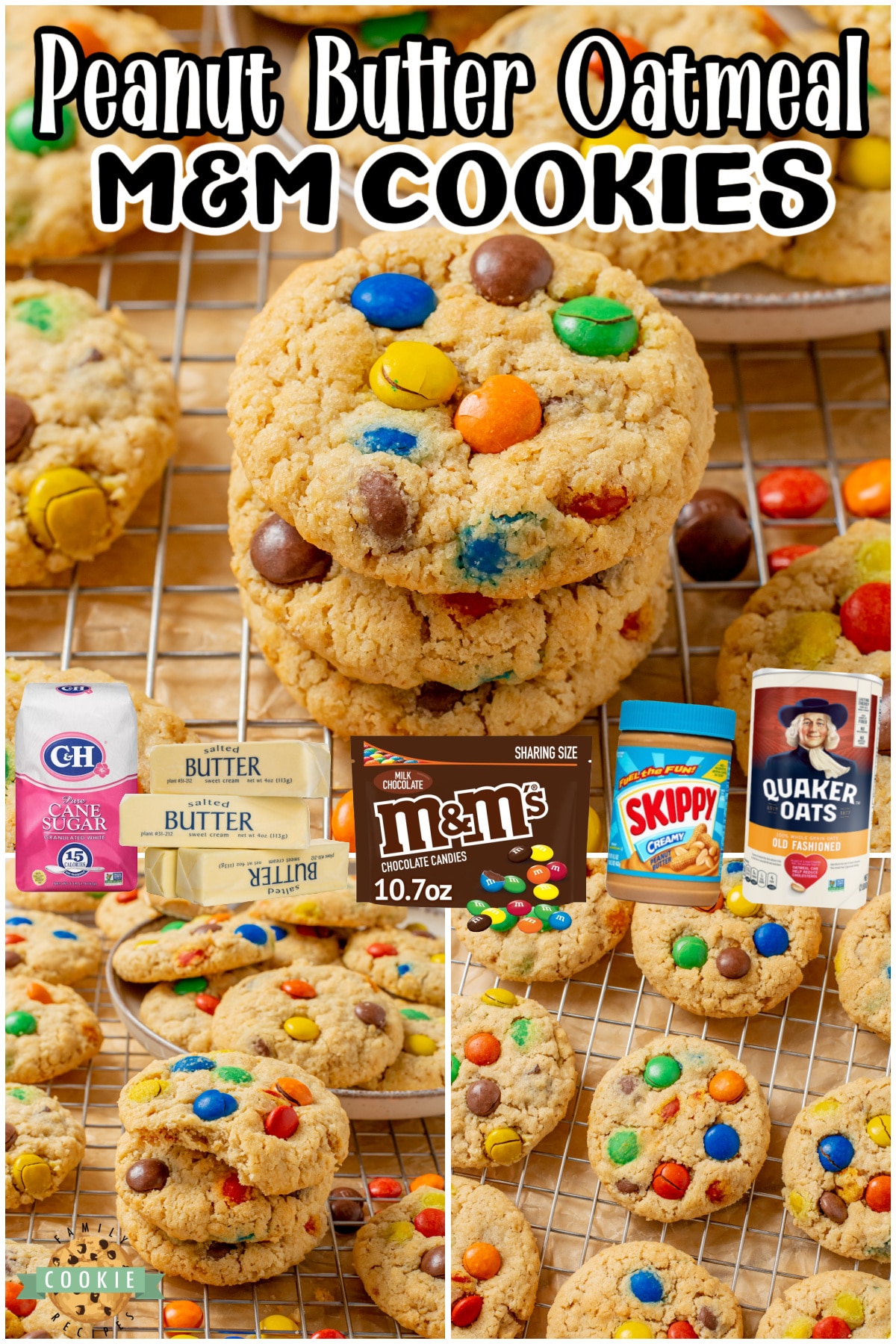 How to Get a Perfectly Round Cookie Shape
Want to know a neat little trick? After your cookies have been baked, while they are still hot and cooling on the pan, take a medium-sized round cookie cutter or a round glass/drinking mug and place it over the top of the cookie. The round shape should be slightly bigger than the cookie for this trick to work.
Swirl the round cutter/object around the cookie, knocking it into the sides a bit as you go. The more you swirl, the smaller and thicker the cookie will become. Then let the cookies cool. This is how you can get homemade cookies to look perfectly rounded. This trick won't work with cutout cookies, but it works fine with drop cookies and rolled cookies.
Do I have to chill my cookie dough?
Yes, this cookie recipe requests that you chill your dough and it's for great reasons. By chilling the dough we help to solidify the fats (butter) which means that the cookies will spread less while they bake, giving you a nicer shape and texture. The chill time also helps flavors to develop more, resulting in a more flavorful cookie.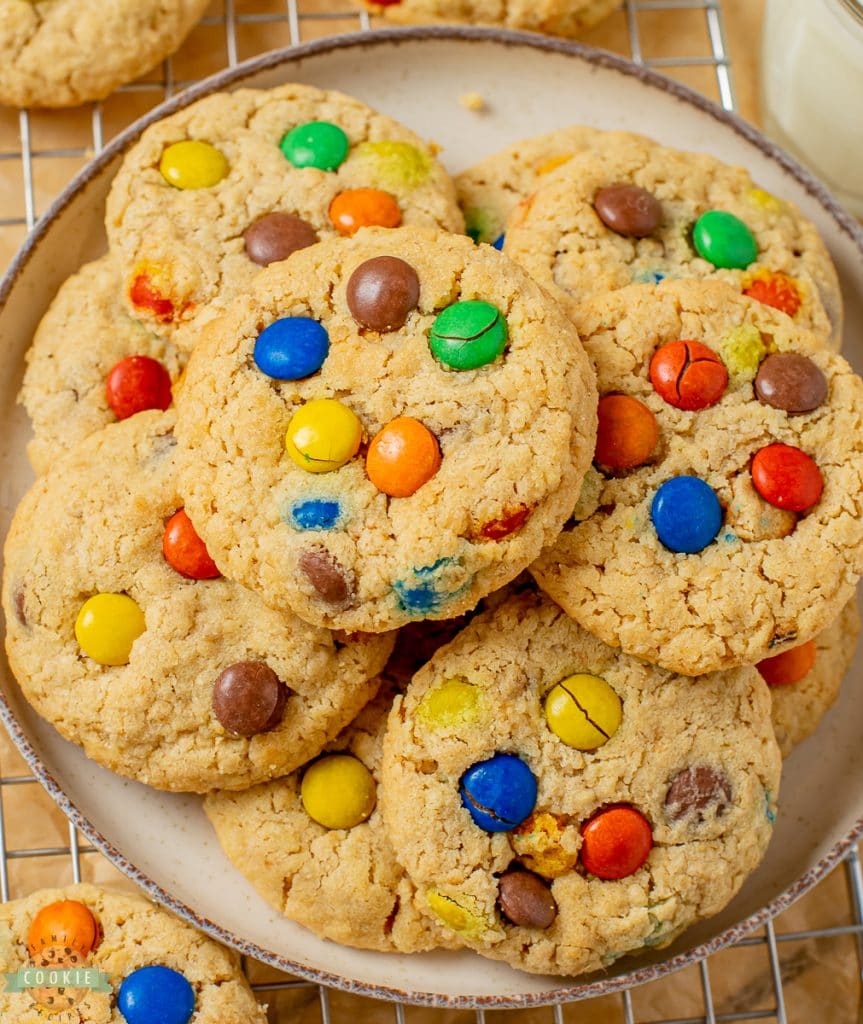 How long are peanut butter M&M oatmeal cookies good for?
These cookies can be stored in an airtight container for about 1-2 days. After about a day you may notice that the cookies start to crumble a bit, but they'll still taste great. You can store them for up to 5 days in an airtight container in the fridge.
Why do I need quick oats?
As you may have already noticed or guessed, there is a big difference between quick-cooking oats and regular oats. Quick-cooking oats will produce a softer texture while still giving you a chewy cookie while whole oats like steel cut will produce a very chewy cookie with a firmer texture. This is because the quick cook oats have been processed more so they can absorb more liquids and act as a binder too.


I remember this day, even though it was several years ago. We were all struggling. It was cold outside and the kids were a bit bored. And starting to drive me crazy. So I grabbed my camera and told them all we were going outside to jump in the leaves. Pretty soon we were shedding layers because we were all running around so much we were hot! And happy. These smiles! I love it.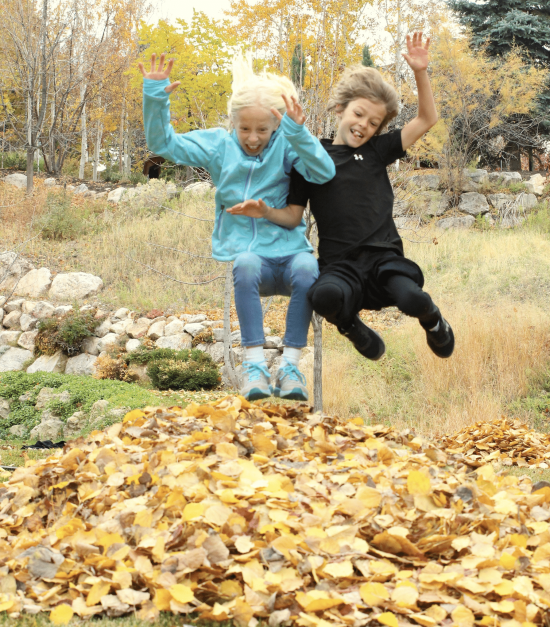 Made to be perfectly soft and chewy, this peanut butter oatmeal M&M cookie recipe is sure to be a huge hit. Every bite is studded with colorful M&Ms and peanut butter swirls, making these cookies hard to ignore.