Eggless Oatmeal Chocolate Chip Cookies are soft, chewy and have the perfect consistency – you can't even tell there aren't any eggs in the recipe! Best eggless cookie recipe ever!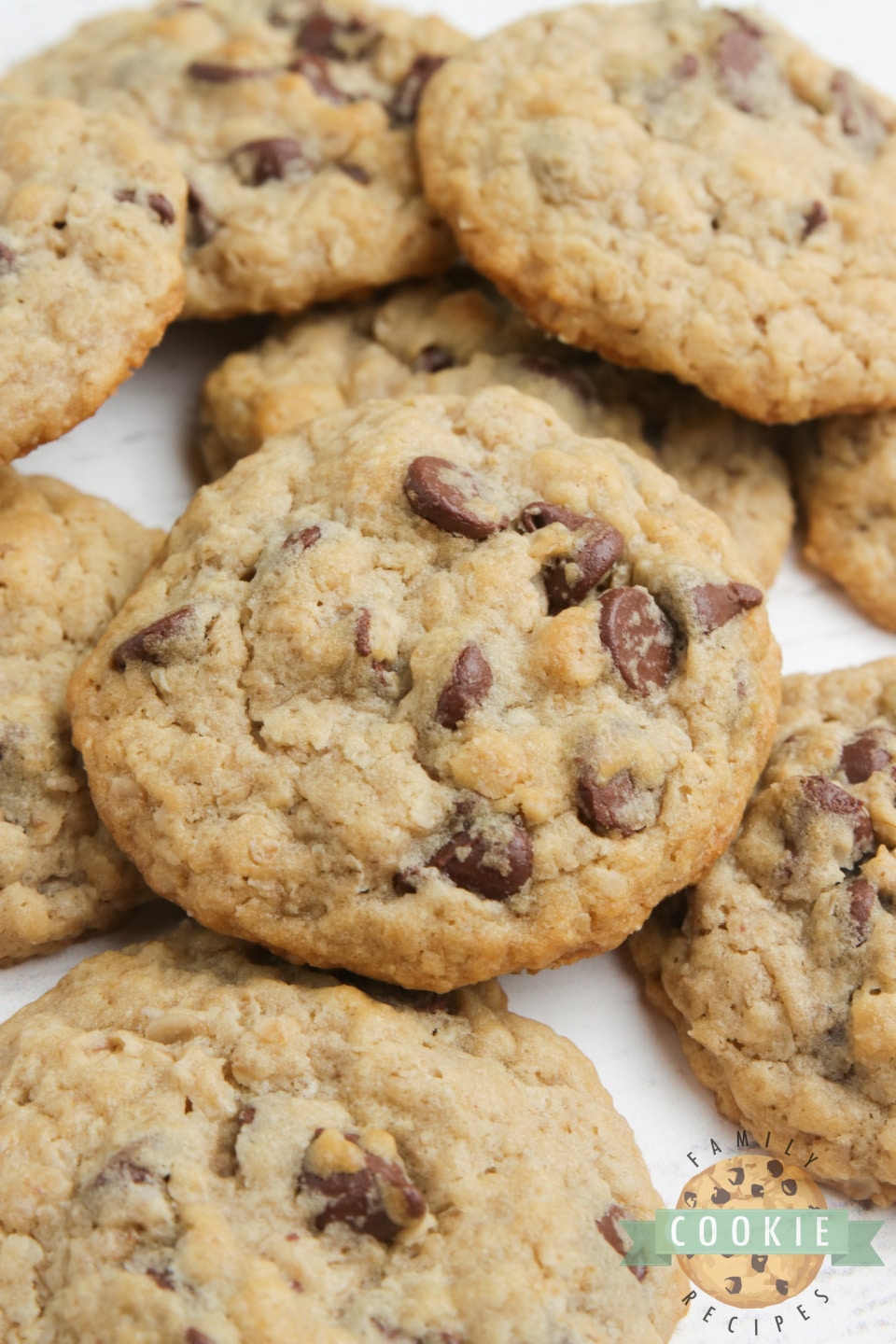 We have lots of delicious chocolate chip cookies, but I've never even tried to make one without eggs. We have had a lot of readers requesting a cookie recipe without eggs, and I found this Eggless Oatmeal Chocolate Chip Cookie recipe in an old family cookbook.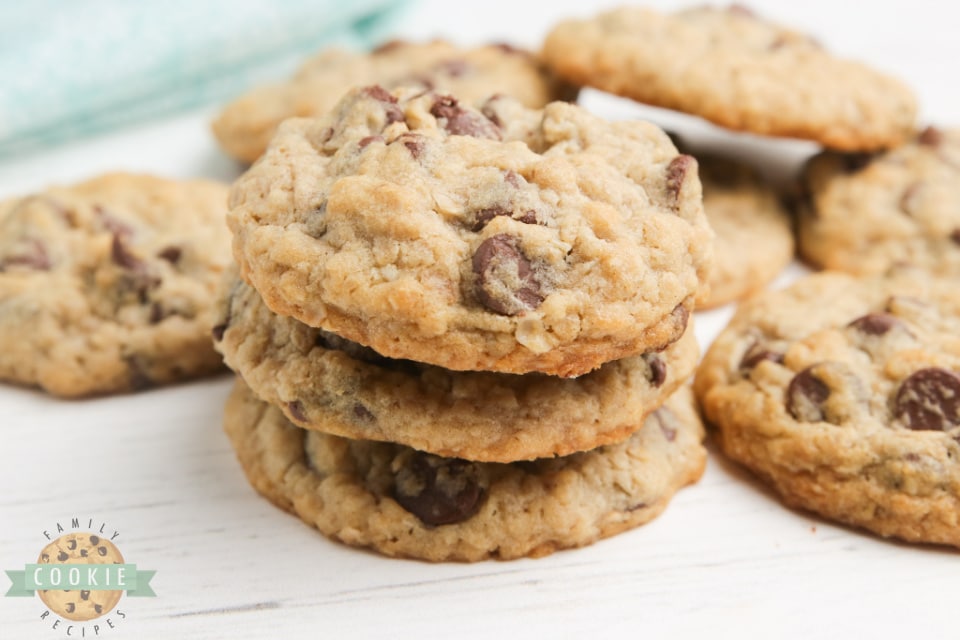 Some eggless cookie recipes don't taste quite the same as regular cookies, but this recipe is amazing. I've had lots of people test them and they couldn't tell there was anything different at all. When I told them there was no egg, they couldn't believe it! So whether you have an egg allergy or you just don't have any eggs on hand, these eggless cookies are perfect!

How do you make chocolate chip cookies without eggs?
Eggs are pretty important to cookies – they hold everything together and keep the cookies from being too dry as well. There are a lot of different substitutes to help bind cookies together without eggs. Often applesauce, bananas, or chia seeds are used as a substitute. This particular recipe just requires a little bit of boiling water and baking soda to replace the egg. I have no idea why this works, but it is amazing because the cookies are able to keep the texture and taste of normal cookies, which doesn't usually happen with other egg substitutes.

Ingredients in Eggless Oatmeal Chocolate Chip Cookies
Butter– I always use salted butter, but unsalted works fine too! Make sure it is softened to room temperature before making the cookies.
Brown sugar and granulated sugar – I use light brown sugar, but dark brown works also. Make sure your brown sugar is fresh (not dry and hard) for best results.
Boiling water – Needed to dissolve the baking soda. I just put it in the microwave for about 1-2 minutes, until boiling.
Baking soda & salt – Make sure your baking soda isn't old or expired!
Vanilla extract – The higher the quality of vanilla, the better!
Flour – I usually use all-purpose flour, but you can use wheat flour if you'd like. It will make the cookies more dense and change the consistency a little bit, but they are still delicious!
Quick oats – I prefer quick oats in cookies, but you can use old-fashioned oats if you prefer. Your cookies will be a lot chewier, but still delicious!
Chocolate Chips – You can leave these out if you want, but I usually don't! I prefer semi-sweet, but you can use any kind. Or swap them out for raisins or nuts (almonds/cashews/etc). These cookies are very versatile!

How to make Eggless Oatmeal Chocolate Chip Cookies
Preheat oven to 350°.
Cream together butter and brown sugar for 2-3 minutes.
Dissolve the baking soda in the boiling water and then add to the butter/sugar mixture. Add the vanilla extract and mix for another 2-3 minutes. Add the flour and oats and mix just until well combined. Stir in the chocolate chips.
Use a cookie scoop to scoop cookie dough onto cookie sheets, lined with silicone baking mats or parchment paper. Bake for 10 minutes. Let the cookies cool on the cookie sheet for about 5 minutes before transferring to a wire rack to cool completely.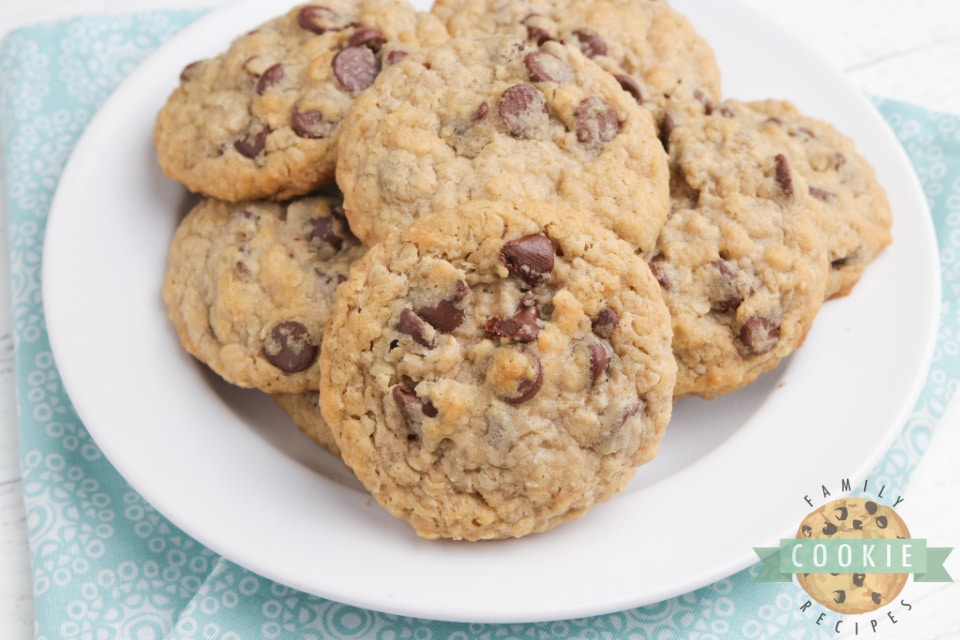 HOW TO MAKE PERFECT CHOCOLATE CHIP COOKIES
Making chocolate chip cookies is easy! Here are a few tips to getting perfect cookies every time!
Spend a little extra time when you mix the butter and sugar. Creaming them together for 2-3 minutes will improve the consistency of your cookies.
Preheat the oven. This will help your cookies turn out right every time!
Use a cookie scoop! If you want all your cookies to be perfectly shaped and have them all be the same size, a cookie scoop is the way to go.
Use parchment paper or a silicone baking mat. Doing this will make it really easy to remove the cookies from your cookie sheet so that you don't have to scrape them off the pan – they will just slide right off in perfect shape!
Don't over bake the cookies – when I take mine out of the oven, they still look slightly under baked but they will continue to bake on the cookie sheet for a couple more minutes so that's ok!
LOVE CHOCOLATE CHIP COOKIES? SO DO WE! HERE ARE SOME OF OUR FAVORITE CHOCOLATE CHIP COOKIE RECIPES!

Eggless Oatmeal Chocolate Chip Cookies are soft, chewy and have the perfect consistency – you can't even tell there aren't any eggs in the recipe! Best eggless cookie recipe ever!


I know most of the country was under feet of snow this week, but we actually had pretty pleasant weather down here in southern Utah. We decided to go on a hike for President's Day, and this little one had a blast. She loved climbing on all the rocks and had a hard time staying on the path! We only hiked about 2 miles, but when you're wrestling a toddler for most of that, it definitely felt a little bit longer!