Reese's Peanut Butter Banana Cookies made with Reese's peanut butter cups, chocolate chips, peanut butter and banana pudding mix. Best flavor combination all together in one delicious cookie recipe!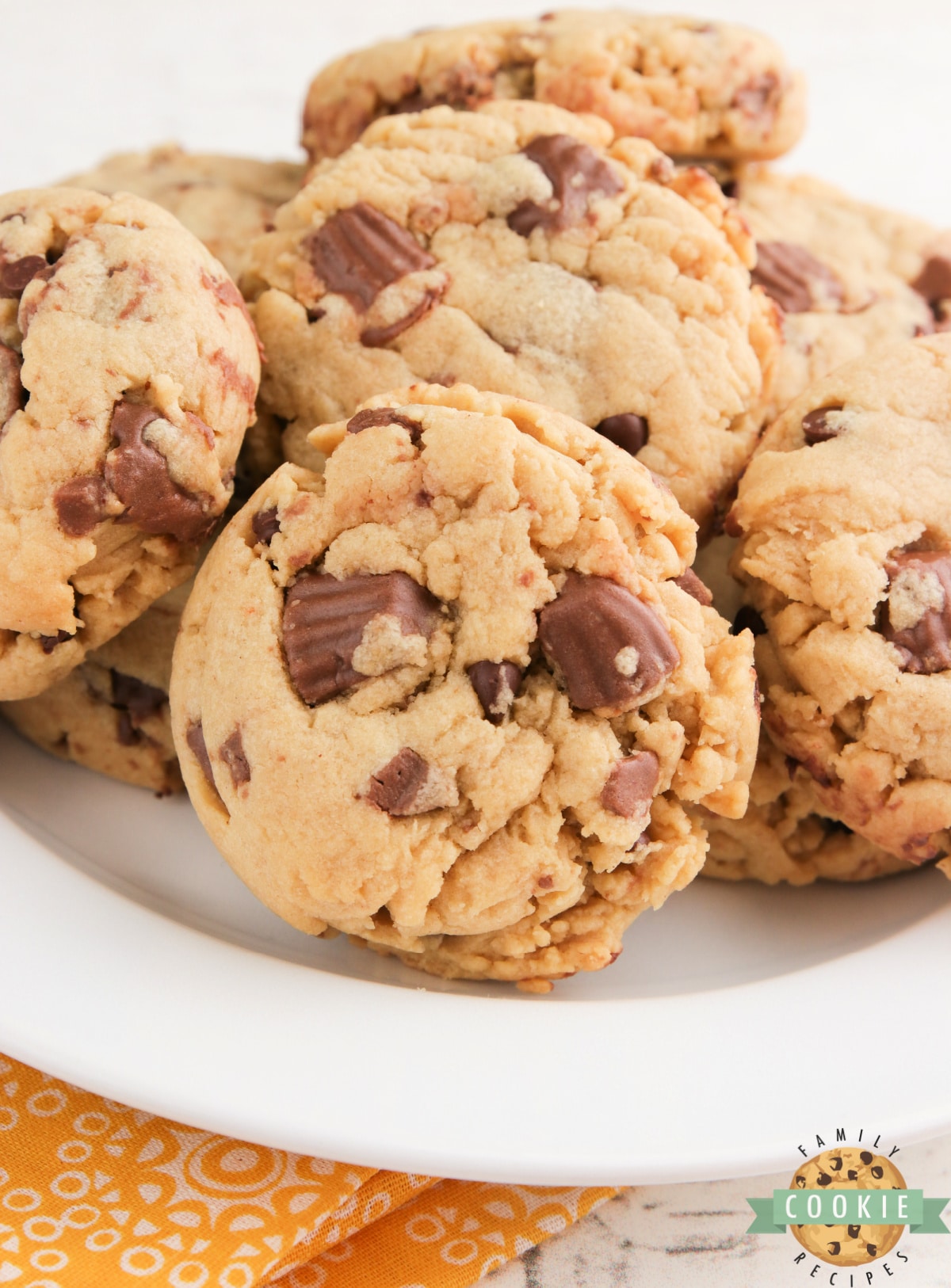 We love Reese's Peanut Butter Cups at my house. We've already come up with all kinds of ways to use them in cookies, but I've never added banana in the mix…until now. The results? Even better than I imagined!
Reese's Peanut Butter Banana Cookies
These delicious cookies are simple but with a few little tweaks that make them unique and absolutely delicious. Take an amazingly soft and chewy peanut butter cookie recipe and add banana flavor and Reese's peanut butter cups. The banana pudding mix adds the perfect amount of softness and banana flavor to the peanut butter cookies, and the chopped up Reese's peanut butter cups take these cookies to the next level.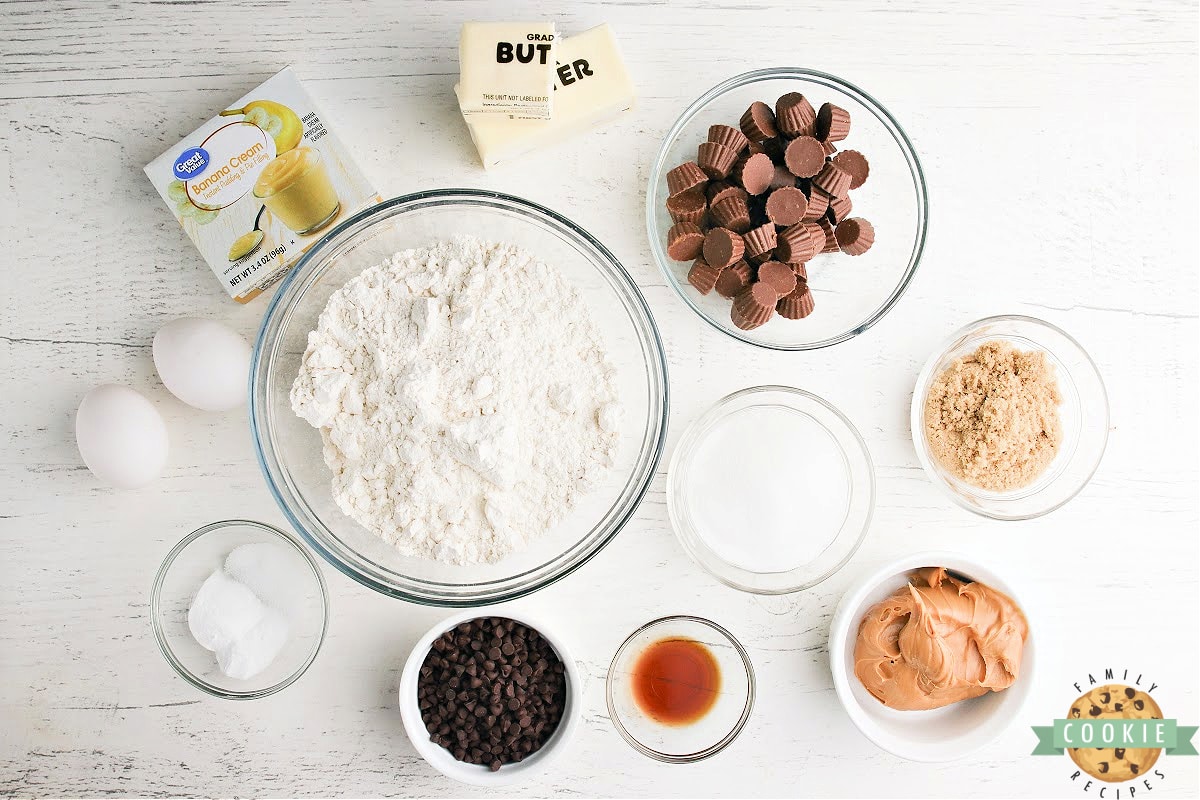 INGREDIENTS IN REESE'S PEANUT BUTTER BANANA COOKIES
Butter – You will need 3/4 cup (1 1/2 sticks) of butter. Make sure the butter is softened to room temperature before adding to the recipe.
Peanut butter – You can use creamy or crunchy peanut butter, but note that if you use a more natural peanut butter, the cookies won't quite turn out the same. Traditional peanut butters (Jif, Skippy, etc) tend to work much better for baking.
Sugars – You'll need 1/2 cup of granulated sugar and 1/2 cup of brown sugar. Make sure the brown sugar is fresh and soft.
Banana pudding mix – You will need one small box (3.4 ounces) of instant banana pudding mix. This adds the banana flavor to the cookies, and makes them soft and chewy too!
Eggs – The recipe calls for 2 large eggs to bind everything together.
Vanilla extract – The higher the quality of the vanilla, the better!
Flour – All purpose flour works best in these cookies. Cake flour also works well.
Baking soda – This is the leavening agent in the cookies so make sure your baking soda isn't old or expired.
Salt – Just a half teaspoon of salt helps to bring out the other flavors in the cookies.
Mini chocolate chips – You can use regular sized semi-sweet chocolate chips, but I like the mini ones in these cookies so that they don't overpower the peanut butter cups. Chocolate is chocolate though – you really can't go wrong no matter what size the chips are!
Reese's miniature peanut butter cups – You can use regular sized peanut butter cups, but I like to use the unwrapped miniature ones so that I don't have to deal with a lot of peeling wrappers off! Chop them up into small pieces. If you use the mini ones, you can just quarter them.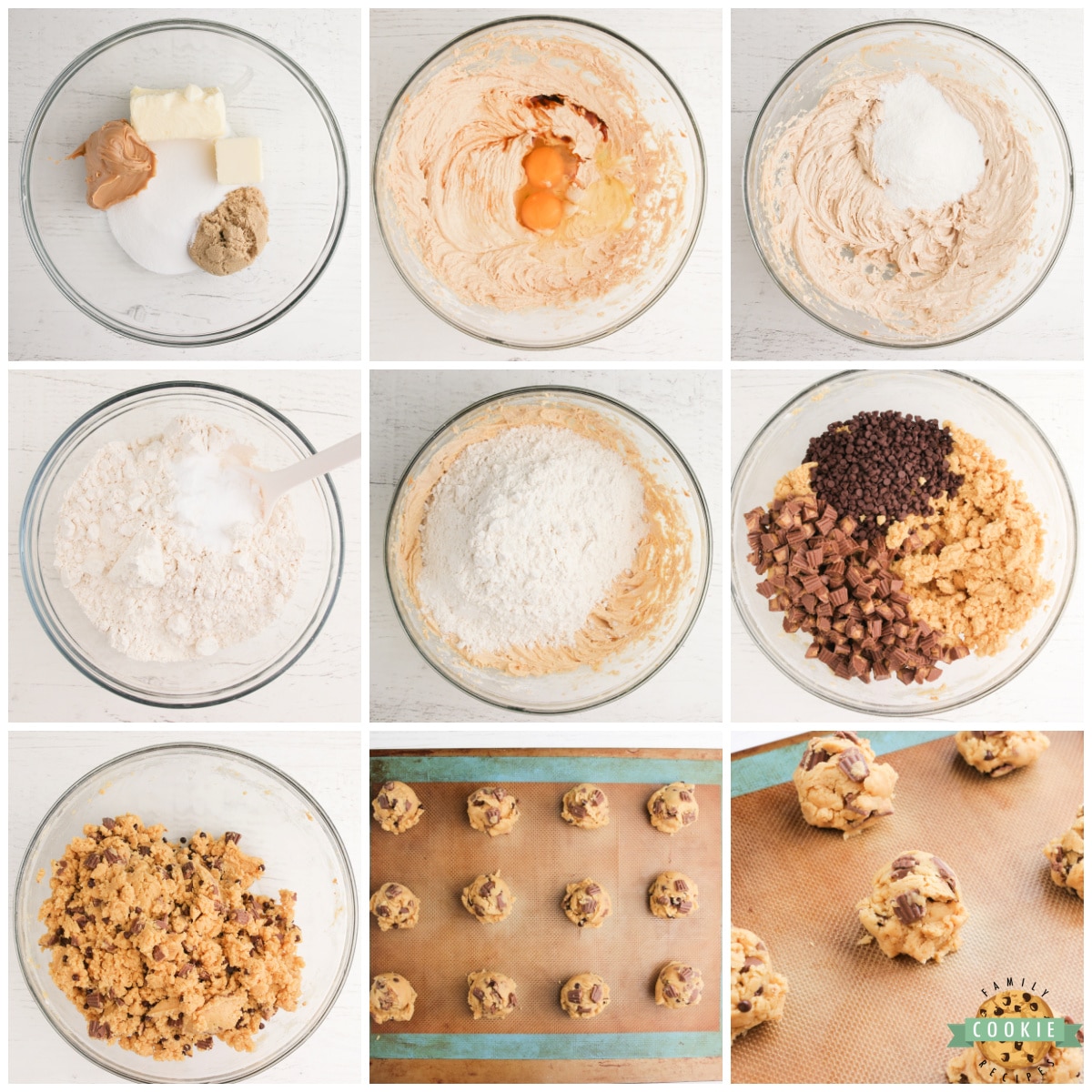 HOW TO MAKE REESE'S PEANUT BUTTER PUDDING COOKIES
Preheat oven to 350°.
In a large bowl, beat the butter until creamy and fluffy (about 2 minutes). Add the peanut butter and sugars and beat for another 2-3 minutes. Add the pudding mix and beat for another minute.
Add the eggs and vanilla and beat for another 2 minutes.
In a separate bowl, stir together the flour, baking soda and salt. Add this mixture to the butter mixture and mix just until combined.
Carefully fold in the chocolate chips and chopped Reese's peanut butter cups. And anything else you want to add in!
Use a cookie scoop to scoop the dough onto a prepared cookie sheet, placing the cookie dough balls about 2 inches apart.
Bake cookies for about 10 minutes – do not overbake!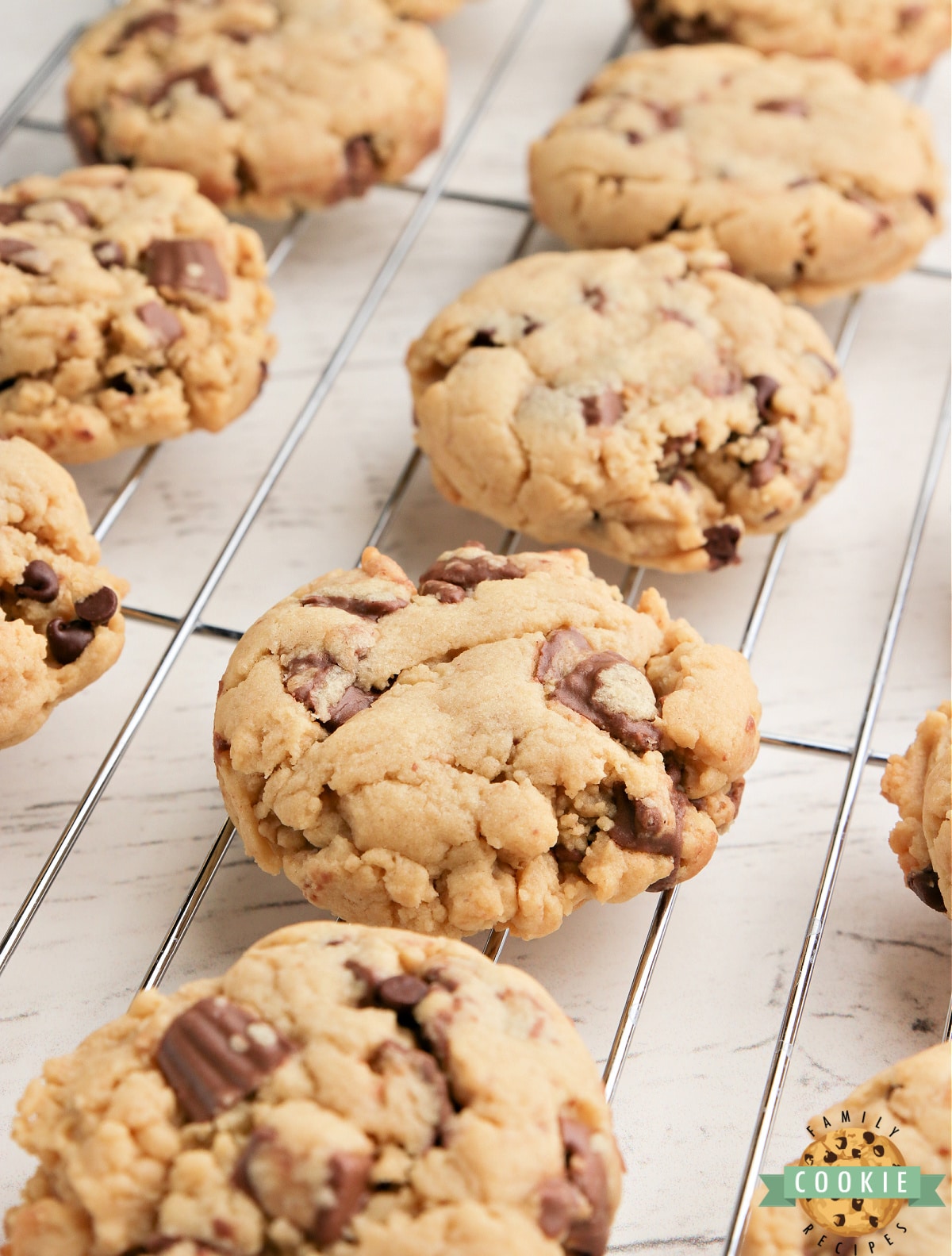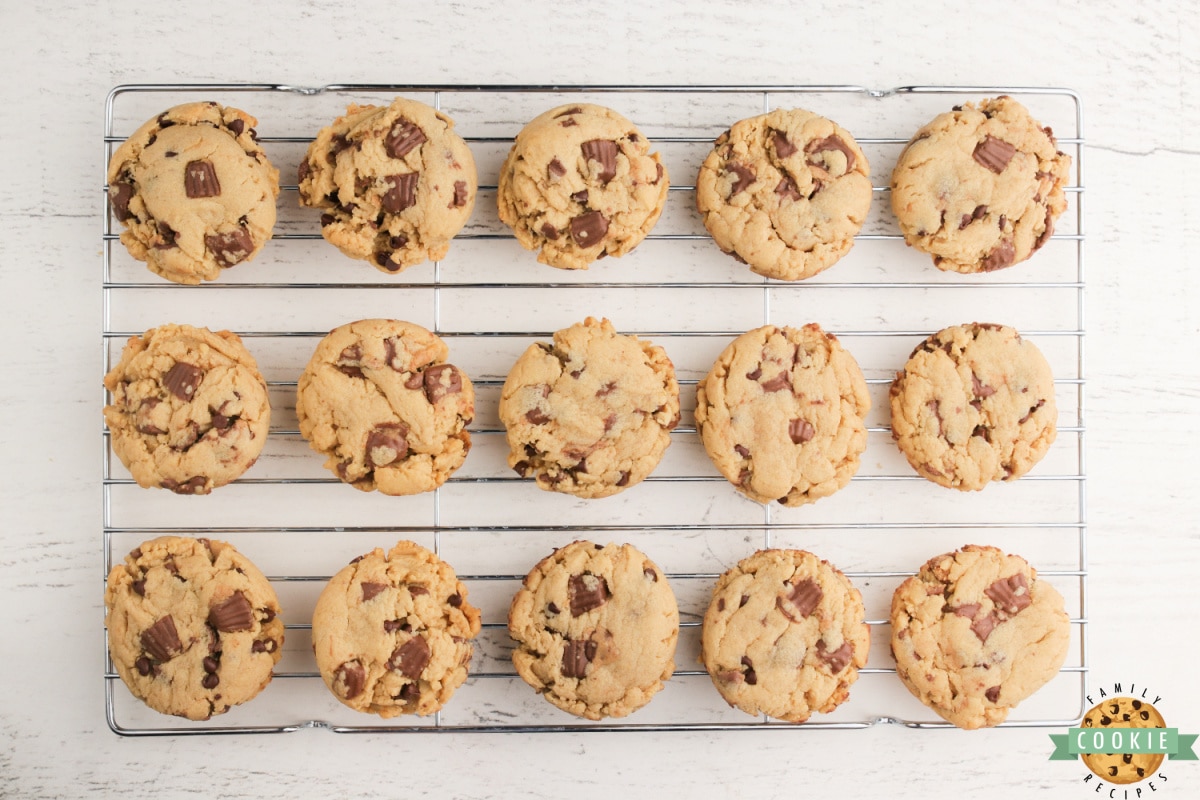 HOW DO YOU MAKE PERFECT PEANUT BUTTER COOKIES?
Making Reese's Peanut Butter Banana cookies is easy! Here are a few tips to getting perfect cookies every time!
Make sure you use softened butter – DON'T melt it! One of the most common errors in cookie making is using butter that is either really cold and hard, or using butter that is too warm and melted. If you have time, just leave butter out on the counter for about 1-2 hours before making your cookies. If you are like me and don't plan your cookie cravings that far in advance, just place the butter in your microwave and soften in 5 second intervals, being very careful to pull it out before it melts. I actually like to use the defrost setting on my microwave to soften butter- I don't know the technical reasons behind it, but it seems to soften the butter more evenly and takes a little bit longer so I'm less likely to start melting it!
Most cookie recipes require that you mix the dry ingredients separately before adding the wet ingredients. This is an important step!
Spend a little extra time when you mix the butter and sugars. Creaming them together for 2-3 minutes will improve the consistency of your cookies.
Preheat the oven. This will help your cookies turn out right every time!
Use a cookie scoop! If you want all your cookies to be perfectly shaped and have them all be the same size, a cookie scoop is the way to go.
Use parchment paper or a silicone baking mat. Doing this will make it really easy to remove the cookies from your cookie sheet so that you don't have to scrape them off the pan – they will just slide right off in perfect shape!
Don't over bake the cookies – when I take mine out of the oven, they still look slightly under baked but they will continue to bake on the cookie sheet for a couple more minutes so that's ok!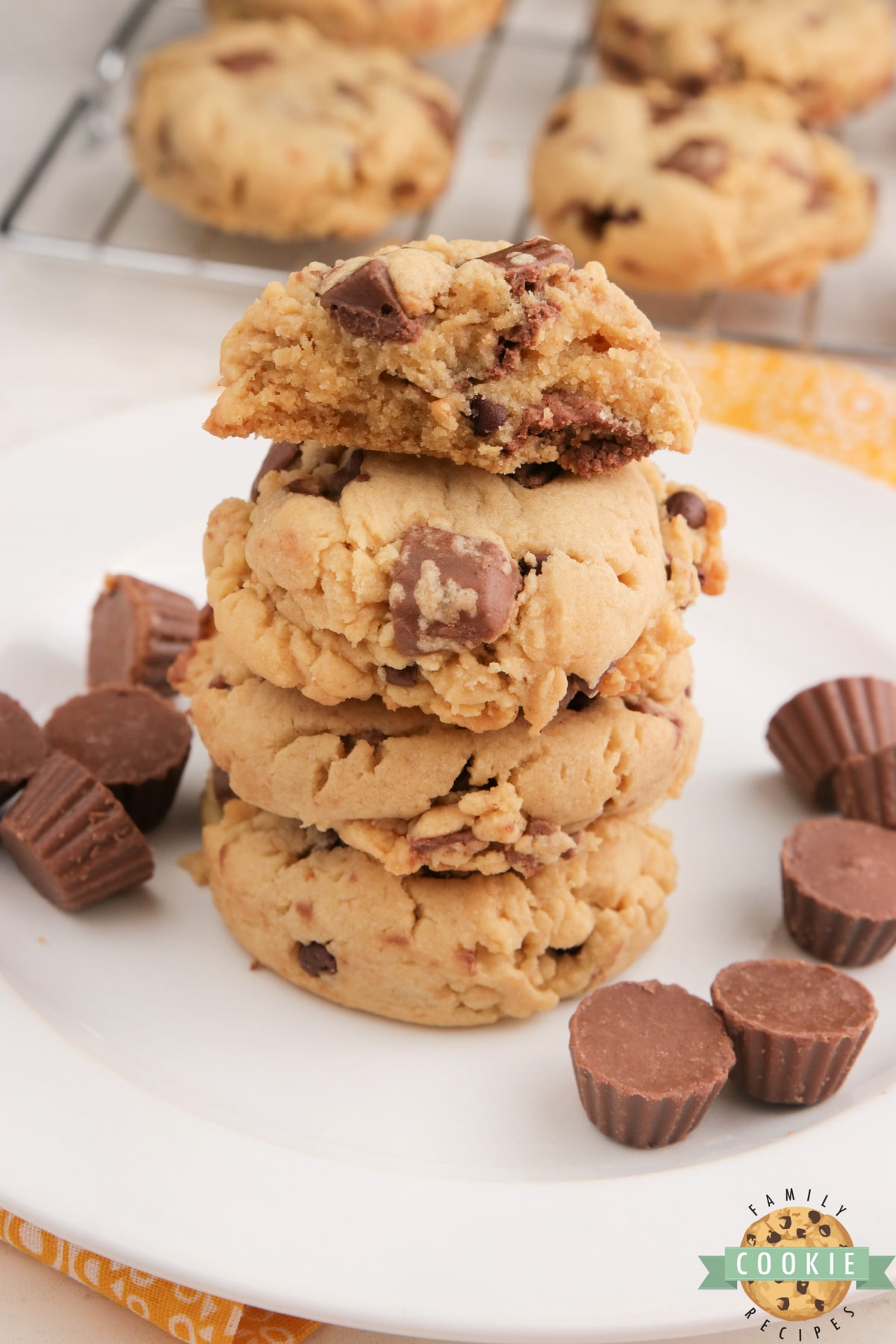 IF YOU ENJOYED THESE COOKIES, HERE ARE A FEW MORE PEANUT BUTTER COOKIE RECIPES YOU'LL ENJOY: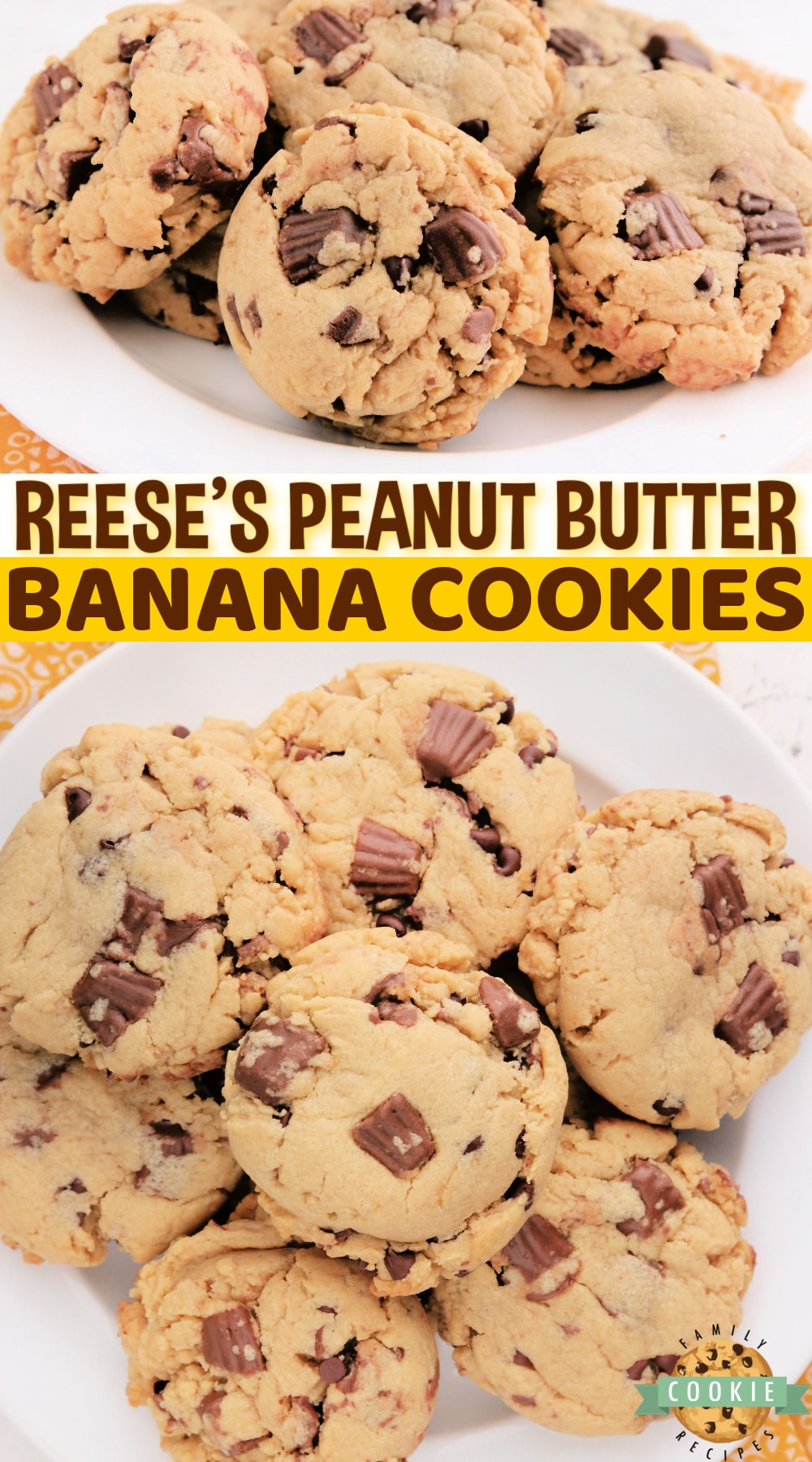 Reese's Peanut Butter Banana Cookies made with Reese's peanut butter cups, chocolate chips, peanut butter and banana pudding mix. Best flavor combination all together in one delicious cookie recipe!



Years ago, I heard about a family who took each of their kids on their own trip when they were 12 years old. I loved the idea and was able to have awesome vacations with my older girls and it was finally time to go on a trip with daughter #3! She chose to go to Orlando and we had a fun week at Universal Studios, swimming with dolphins and shopping for many many hours. Love this girl and it was so fun to spend so much one-on-one time with her!