Easy Peanut Butter Cookies made with just a handful of ingredients and no flour! Easy peanut butter cookie recipe made with peanut butter, brown sugar, an egg and baking soda.
I love this simple recipe for Peanut Butter Cookies. It whips up fast and it's a great gluten-free option. I've seen other peanut butter cookies with few ingredients and trust me, the small amount of baking soda you add in for these makes them better! They puff up slightly and have a great texture.

Tips to get the PERFECT Peanut Butter Cookies:
Three kitchen items make these cookies come together really fast. I actually use these items in nearly every cookie recipe I make, so they're quite versatile. First, I line my cookie sheets with a piece of parchment paper. They're sold in sizes that fit a 12×16 cookie sheet perfectly and enable to cookies to bake well without sticking- and no mess from spraying oil on the cookie sheets!
The second item is a KitchenAid mixer. I love mine! I have a Bosch as well but I find I use my KitchenAid for cookies. There is a cookie paddle that comes with every mixer that you attach to the top of the mixer. They're easy to use and help you mix the ingredients uniformly. I also use the metal whisk attachment in this recipe to make the frosting. It whips it up super fast! Add this to your wish list because it's one of my all-time used small appliances ever!
The third item is a cookie scoop! Years and years ago I used to use 2 spoons to measure and scrape cookie dough onto the pans. It wasn't a perfect process and I often ended up with oblong cookies in various sizes. A friend of mine brought cookies to a party and I noticed each and every one of her cookies looked PERFECT. Her secret? A cookie scoop! They come in three sizes- 1/2 tablespoon, 1.5 tablespoon and 3 tablespoon scoops. I used the middle size- 1.5 tablespoon for these, and most other cookies. (Although when I'm serving a large crowd, I use the small cookie scoop. People love having a smaller cookie, especially at an event with several other desserts.)

Easy Peanut Butter Cookies
1 cup peanut butter
1 cup firmly packed brown sugar
1 egg
1/2 tsp baking soda
2 TBSP granulated sugar
Heat oven to 350 degrees F. Line a baking sheet with parchment paper.
Combine all ingredients (except granulated sugar) in a medium bowl or mixer. I think a mixer works well for these cookies because it almost whips the dough, so it's lighter. Drop rounded teaspoons of dough onto baking sheet.
Wet a fork with water and dip in granulated sugar. Press fork into each cookie dough ball twice, in a criss cross pattern.
Bake 7-9 minutes. Let cool on the baking sheet for an additional 5 minutes after removing them from the oven. Transfer to a cooling rack.
Store leftovers in an air tight container. Enjoy!
If you like our Easy Peanut Butter Cookies, try a few of our other favorite peanut butter cookie recipes: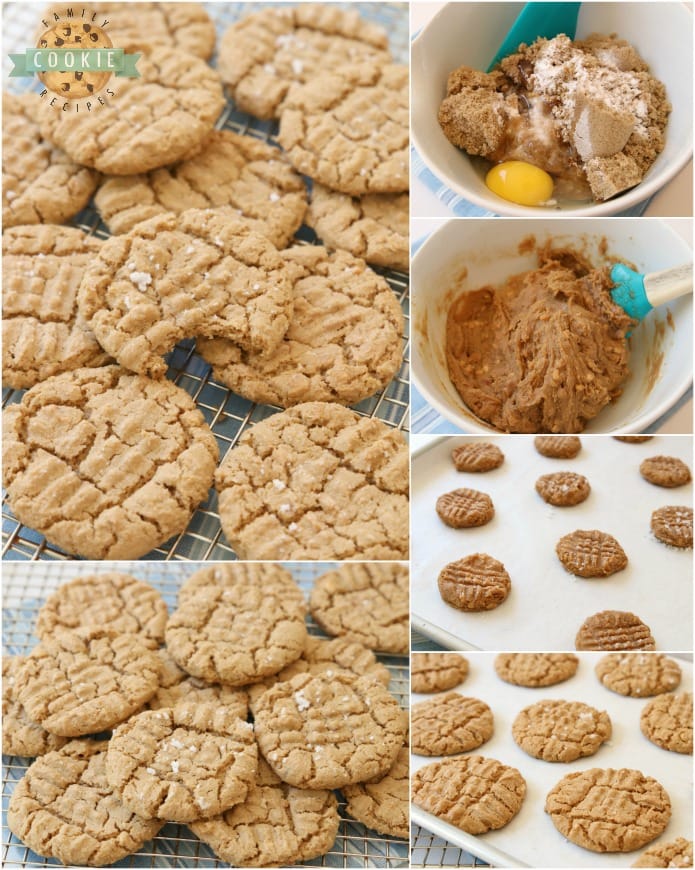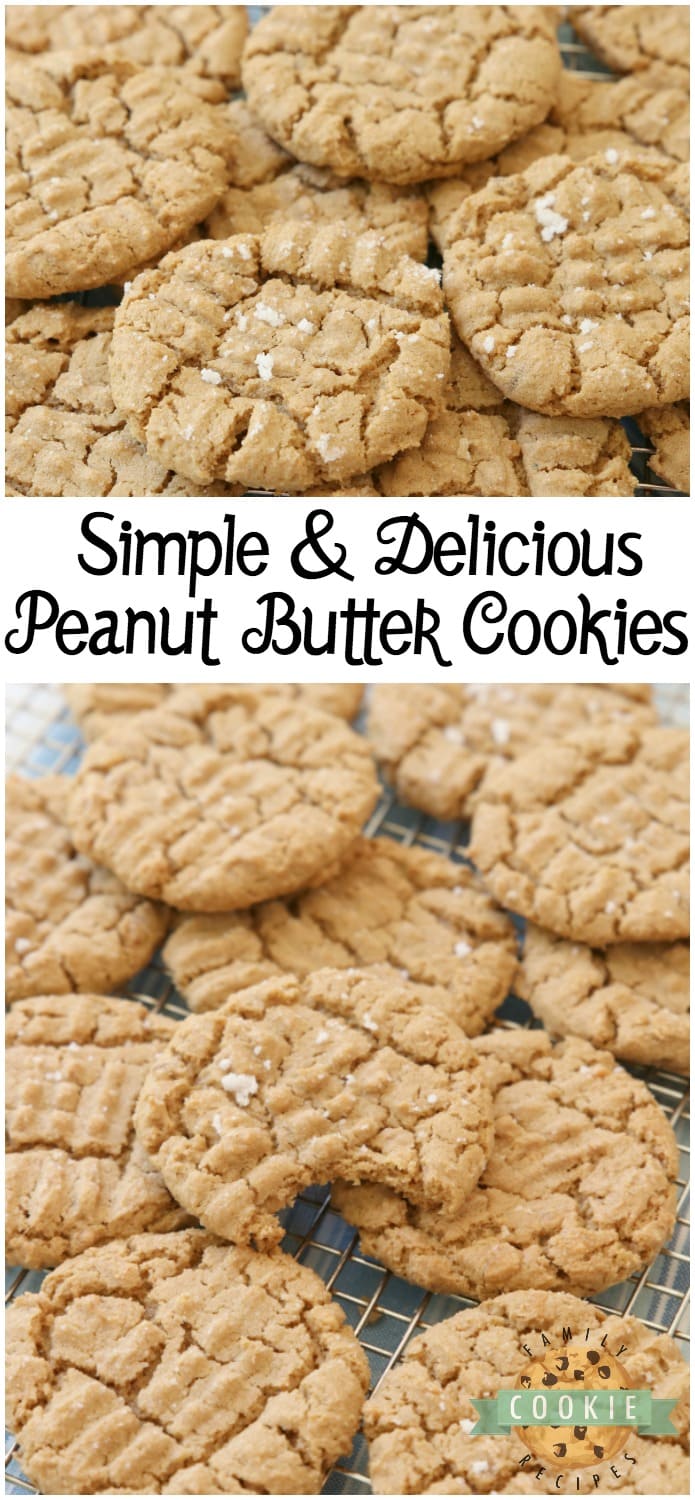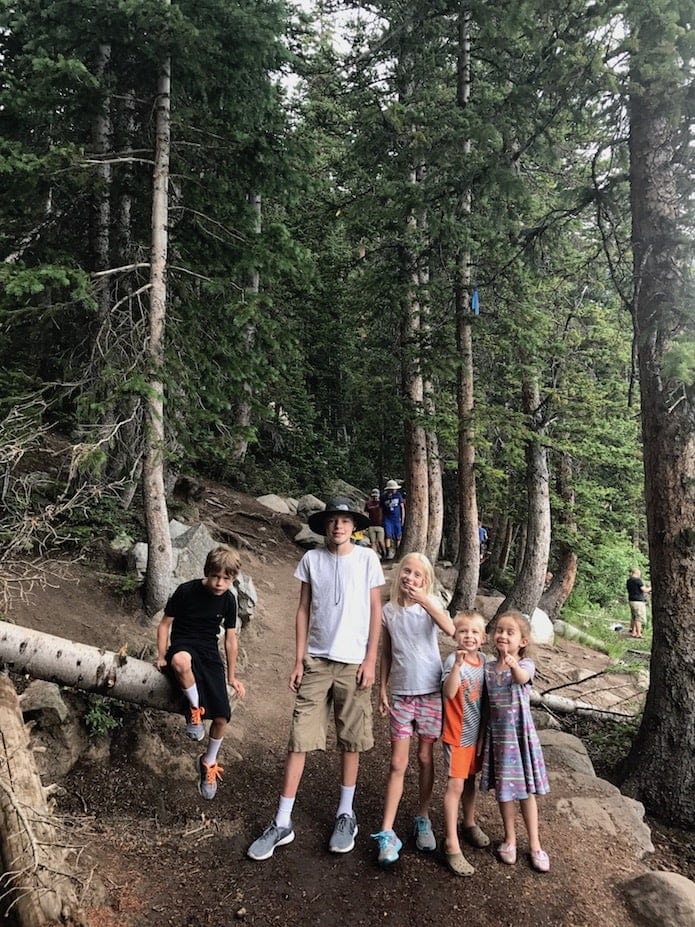 My family and I lives in the beautiful state of Utah. Have you ever been? It's one of the best states for outdoor recreation and we try to take advantage of that whenever possible. Here we went for a hike up high in the mountains. We live on the bench- meaning the bench of a mountain. On this day it was about 95 degrees at home, but way up high in the mountains it was easily 20 degrees cooler. We had such a great time! We had to leave a bit earlier than planned as some thunderstorms rolled in, but we saw 4 moose in the wild, which was incredible!
Do you like to go hike in the mountains?