Nutter Butter Chocolate Chip Peanut Butter Cookies include the BEST combination: peanut butter + chocolate! Nutter Butter lovers unite with these peanut butter chocolate chip cookies you won't be able to get enough of.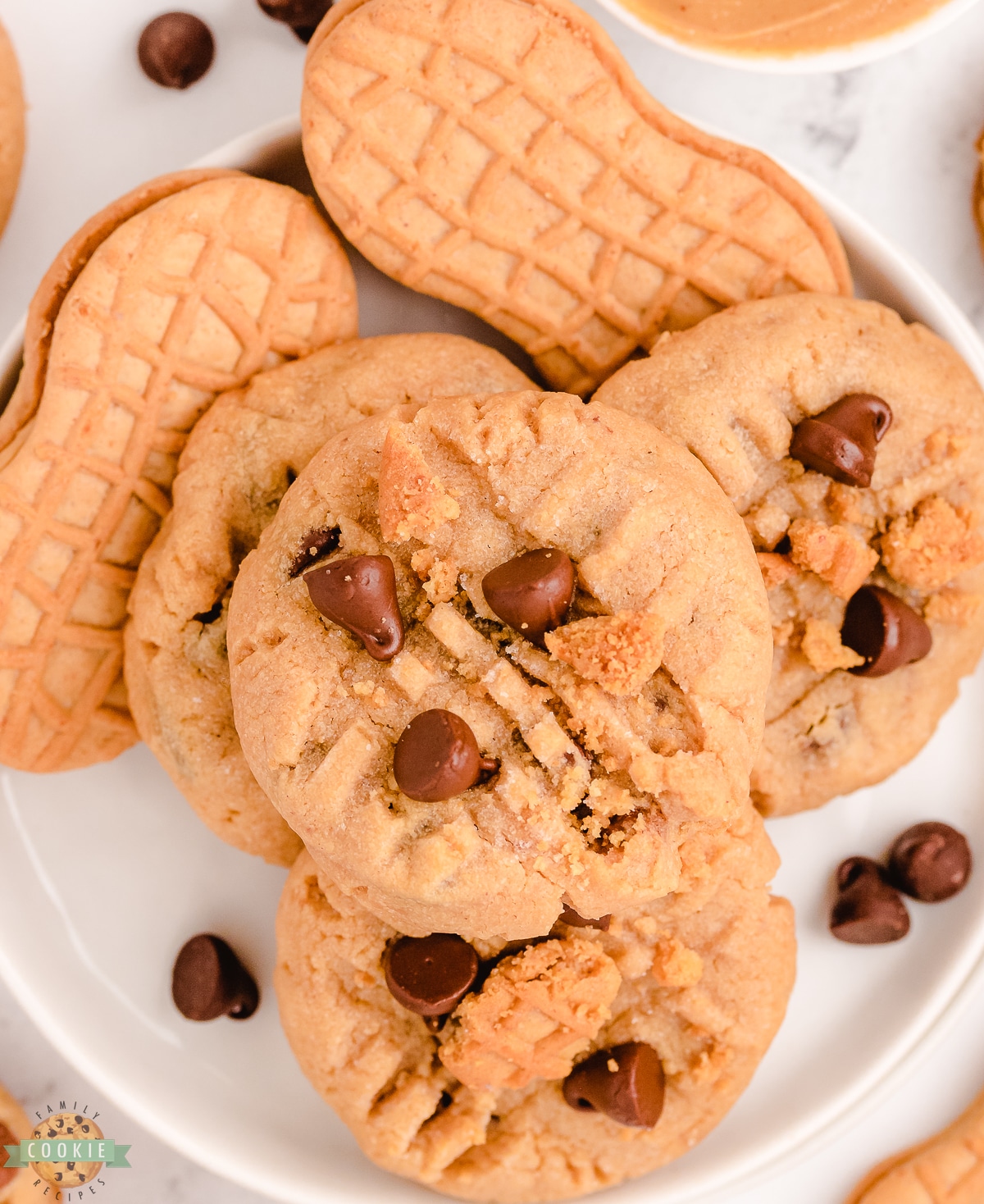 This peanut butter chocolate chip cookie recipe calls for basic ingredients, it is likely that you have many of the ingredients in your kitchen already. Chocolate chip peanut butter cookies are a heavenly blend of flavors in every bite, they are truly an amazing tasting dessert.
Nutter Butter Peanut Butter Chocolate Chip Cookies
Without a doubt, peanut butter and chocolate are a flavor combination has been popular forever (or at least, it feels that way, haha). By adding peanut butter to chocolate chip cookies, you truly elevate them to new heights. The rich taste and depth of flavor in these cookies makes them so hard to resist. Give this amazing cookie recipe a try, I guarantee your family will devour them quickly and be asking for a second batch!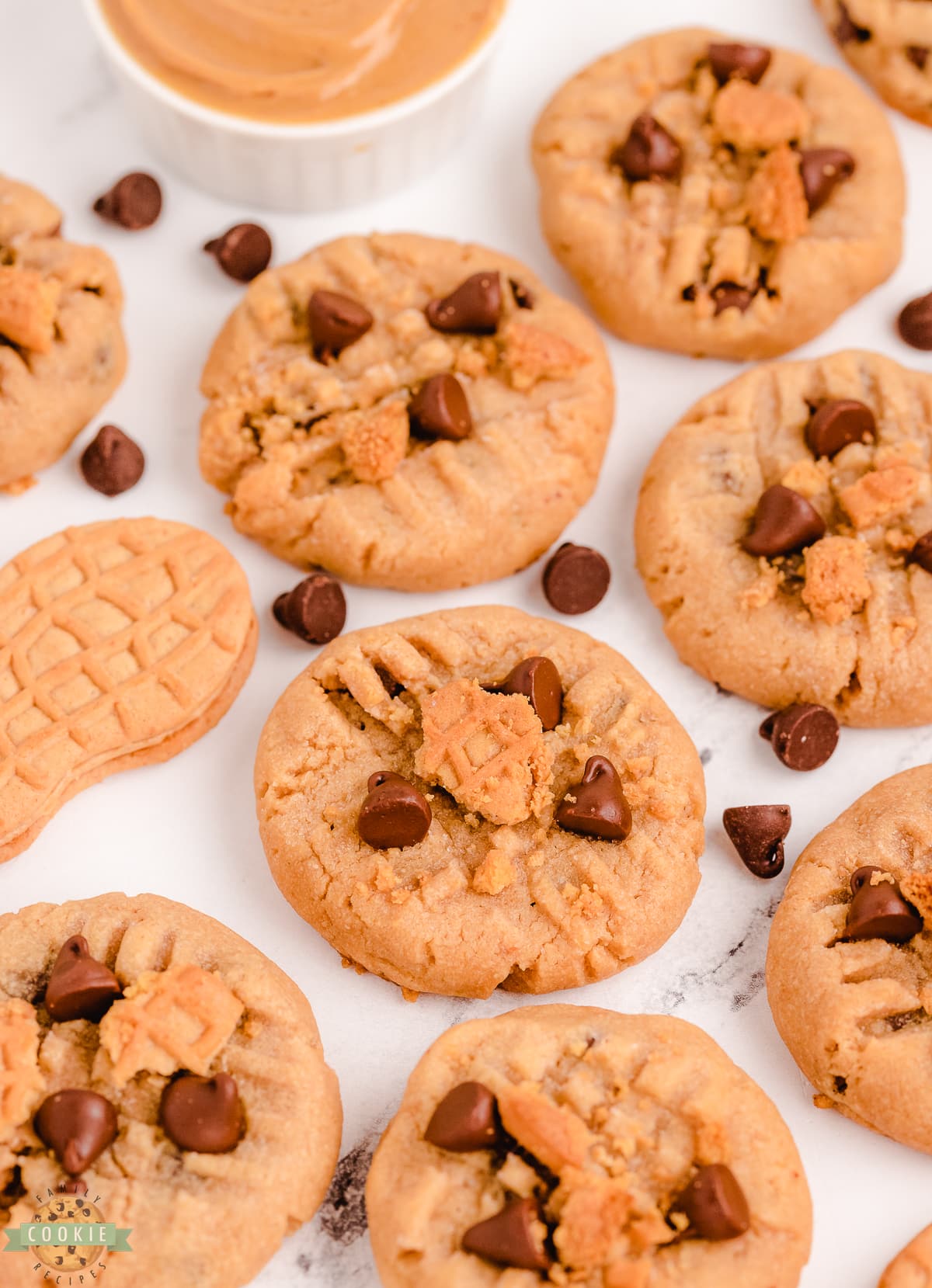 Why you'll love this peanut butter cookie recipe
Easy to make! This recipe requires some measuring, mixing, scooping, and baking. These are pretty basic steps, which means that anyone can enjoy making this recipe, including novice bakers and kids too.
Simple ingredients. You don't need anything too fancy, expensive or difficult to find. This recipe uses pantry staples like flour, sugar, and vanilla extract. As well as, some peanut butter, chocolate chips, and nutter butter cookies.
Nutter Butters! Need I say more?! We made cookies using Oreo cookies and I knew I'd love these as well when I saw the recipe. So if you love Nutter Butters, you've got to try them!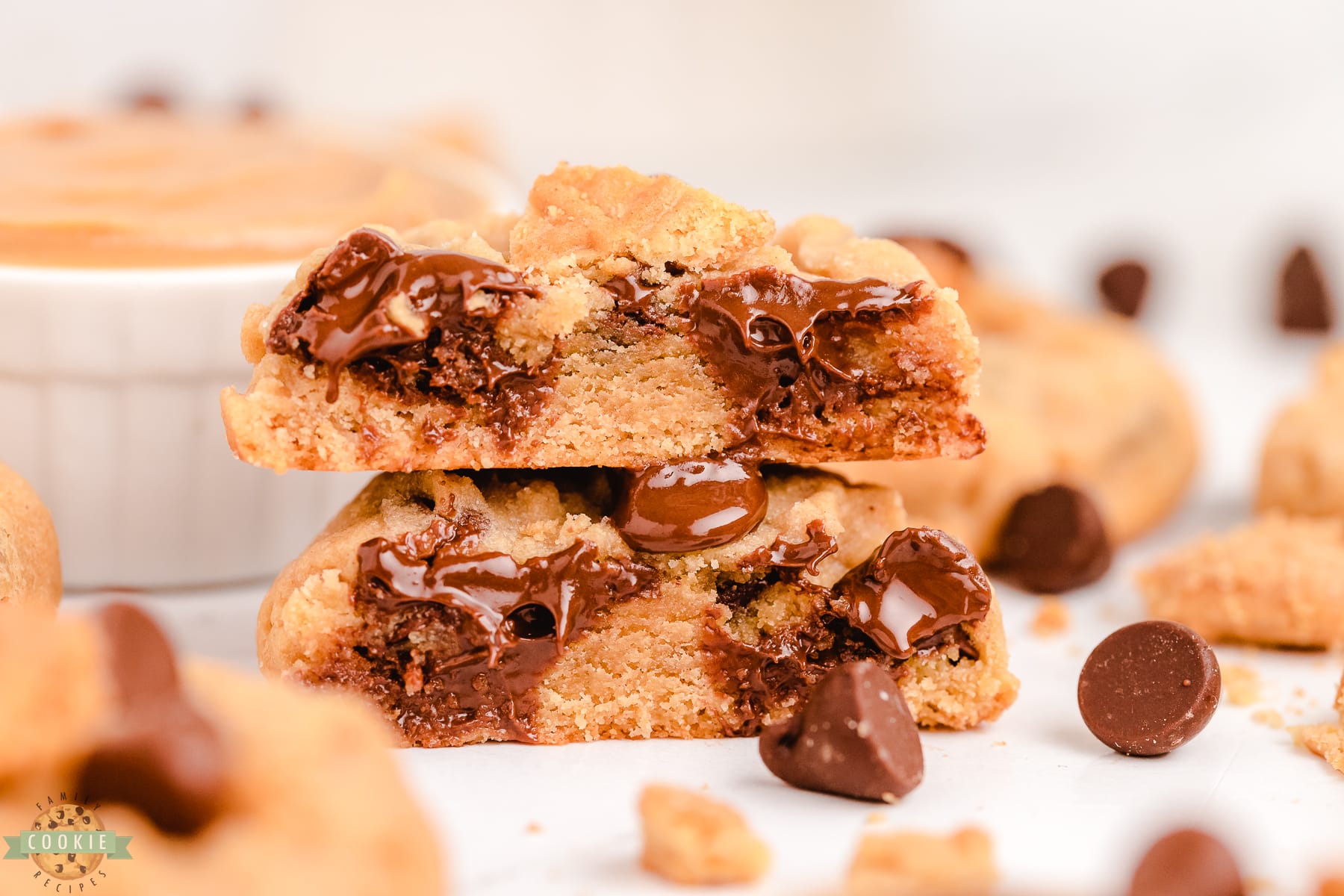 Nutter Butter Chocolate Chip Cookie Ingredients
Peanut butter: You will need 1 cup of peanut butter for this recipe. Note, we recommend sticking with the classics like Jif or Skippy peanut butter. Natural peanut butter does not bake well and will not give you the same results.
Butter: You will need ½ cup of softened butter for this recipe, this is equal to one stick.
Sugars: Use ½ cup each of granulated white sugar and brown sugar to make these cookies sweet and chewy.
Egg: You need 1 large egg to be the binder for this cookie dough.
Milk: Also, add in 3 tablespoons of milk to help moisten the dough.
Vanilla extract: You will need 1 teaspoon of vanilla extract to enhance the great flavors in this dough.
Flour: The base and structure of this cookie recipe is 1 ½ cups of all purpose flour.
Baking powder: Use ¾ teaspoons of baking powder to help these cookies puff up nicely as they bake.
Salt: Add in ¼ teaspoon of salt to bring out the natural flavors in every bite.
Chocolate chips: To make sure that there is plenty of chocolate in every cookie, you will need 1 ½ cups of semi sweet chocolate chips.
Nutter butter cookies: You will need 1 cup of crushed or broken up nutter butter cookie pieces.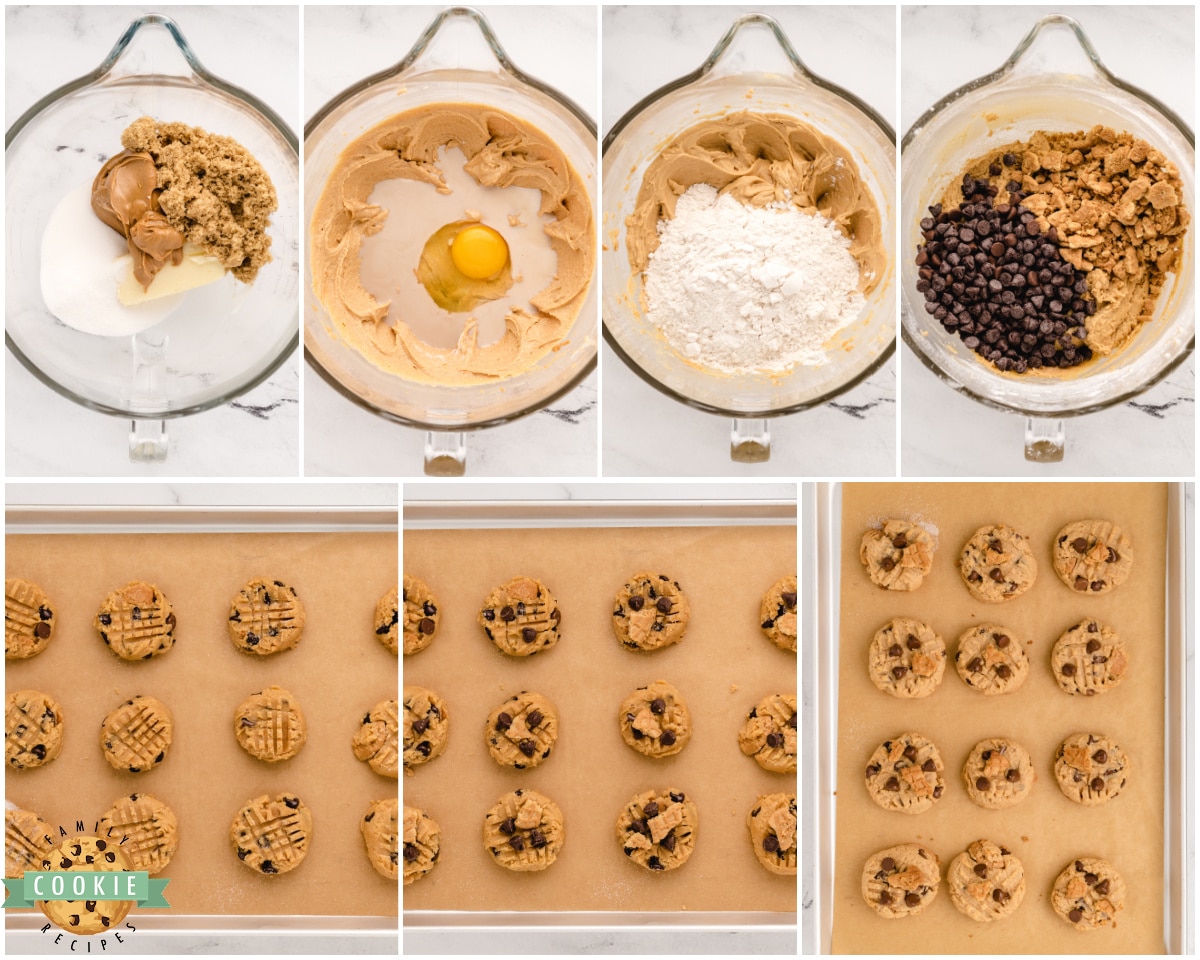 How to make Nutter Butter Chocolate Chip Peanut Butter Cookies
Prep
Start by preheating the oven to 375°F. Then, line a baking sheet with parchment paper or a silicon mat and set aside.
Place the nutter butter cookies in a zip locked bag and break into small pieces, you don't want sand like texture, you want small chunks.
Cookie dough
Next step, use a large bowl and an electric hand mixer or stand mixer, and cream together the peanut butter, softened butter, white sugar, and brown sugar until well blended.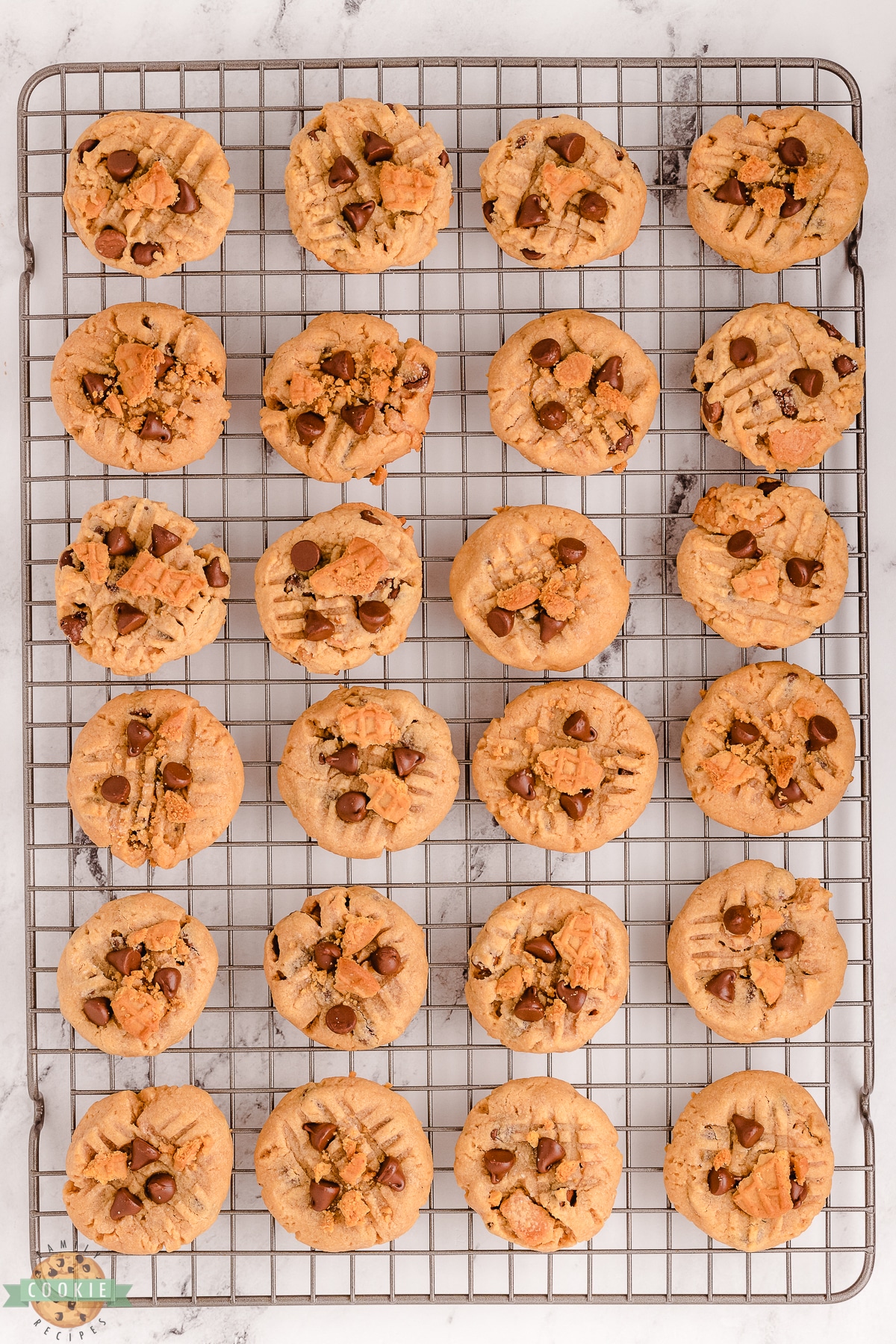 Now, beat in the egg, milk, and vanilla extract until combined.
In a separate bowl, combine the flour, baking powder, and whisk to mix. Proceed to add the dry flour mixture to the wet peanut butter mixture and beat to combine.
After that, stir in the chocolate chips and 3/4 cup of the nutter butter cookie pieces.
Scoop
Proceed to scoop tablespoonfuls of the cookie dough and roll into balls, place the cookies 2 inches apart on the prepared baking sheets.
Then gently flatten each ball of dough with your hand or a fork and then top each with 3-4 chocolate chips and pieces of the Nutter Butter cookies.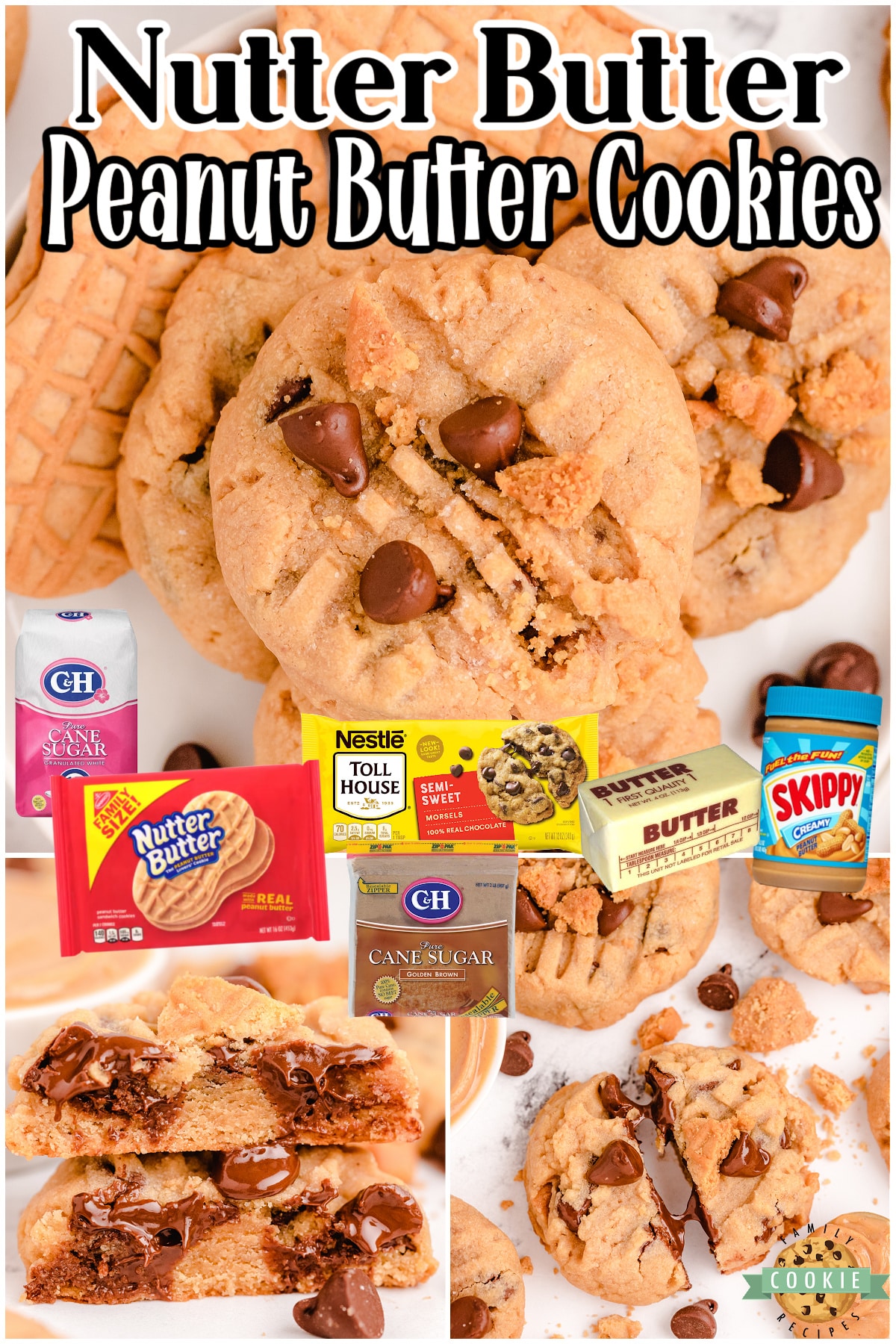 Bake
Place the cookies in the preheated oven and bake for 8-10 minutes. Be careful not to overcook, these cookies are much better when soft and barely cooked all the way through.
Let the cookies cool for 5 minutes on the baking sheets, then transfer to a wire rack to cool completely.
Serve immediately and enjoy!
How long are nutter butter chocolate chip cookies good for?
These cookies can last about 5 days in an airtight container at room temperature. These cookies do not require refrigeration but can be placed in the fridge if desired.
Can I freeze peanut butter chocolate chip cookies?
Yes, these cookies can do very well in the freezer! You can freeze them after they've been baked, for up to 3 months in an airtight container, or place the scooped balls of dough in the freezer for up to 2 months before baking.
If you freeze the dough, you'll want to freeze them on a baking sheet for 2 hours before transferring them to an airtight container. Then place them on a baking sheet at room temperature as the oven preheats and bake as directed.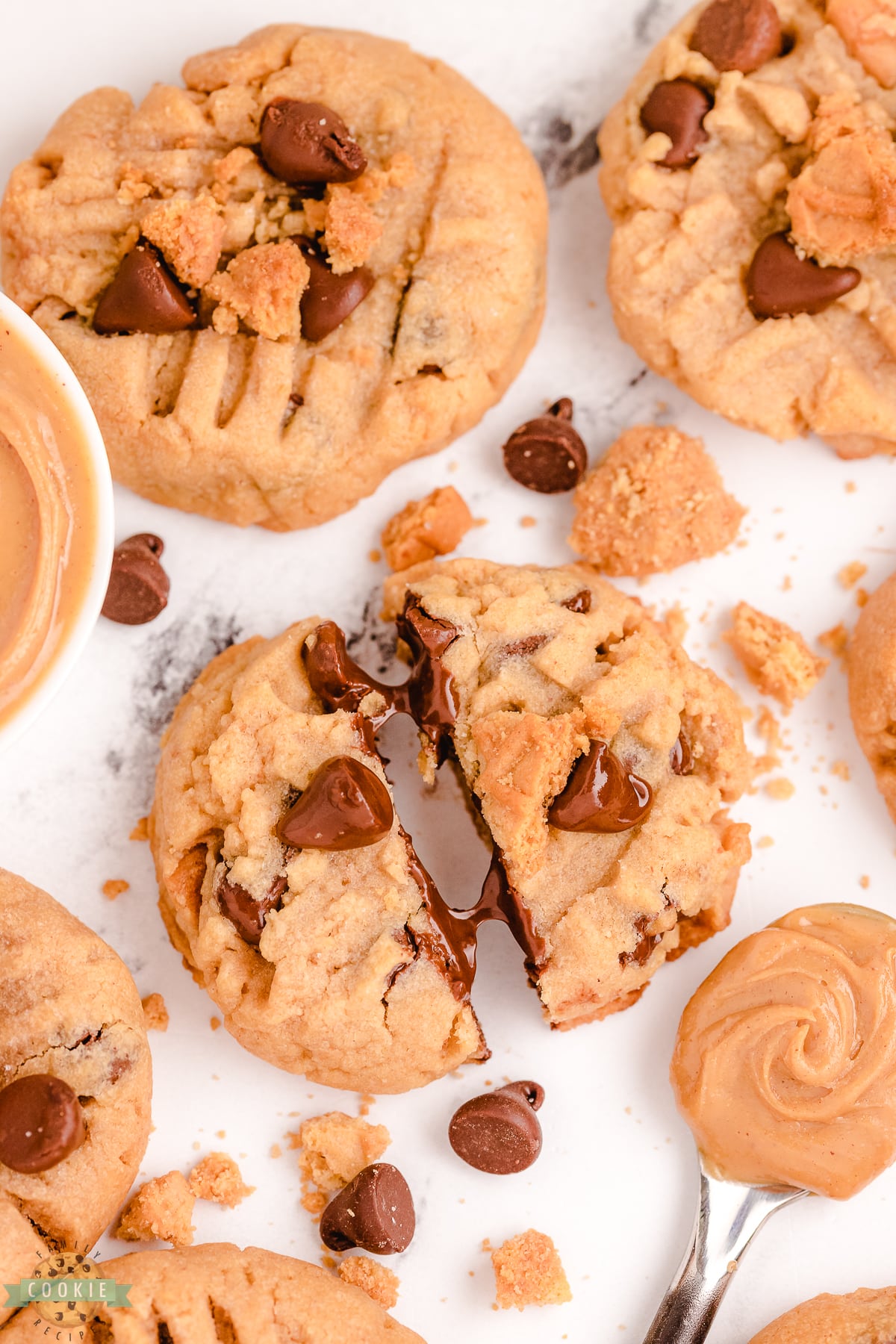 HOW TO MAKE THE BEST COOKIES EVER!
Three kitchen items really help you make the best cookies ever! In fact, I use these items in nearly every cookie recipe, as well as several other types of recipes, they are quite versatile. First, I line my cookie sheets with a piece of parchment paper. They're sold in sizes that fit a 12×16 cookie sheet perfectly and enable to cookies to bake well without sticking- and no mess from spraying oil on the cookie sheets!
The second item is a KitchenAid mixer. I love mine! I have a Bosch as well but I find I use my KitchenAid for cookies. There is a cookie paddle that comes with every mixer that you attach to the top of the mixer. They're easy to use and help you mix the ingredients uniformly. Add this to your wish list because it's one of my all-time used small appliances ever!
The third item is a cookie scoop! Years and years ago I used to use 2 spoons to measure and scrape cookie dough onto the pans. It wasn't a perfect process and I often ended up with oblong cookies in various sizes. A friend of mine brought cookies to a party and I noticed each and every one of her cookies looked PERFECT. Her secret? A cookie scoop! They come in three sizes- 1/2 tablespoon, 1.5 tablespoon and 3 tablespoon scoops. I used the smallest size- 1/2 tablespoon for these thumbprint cookies.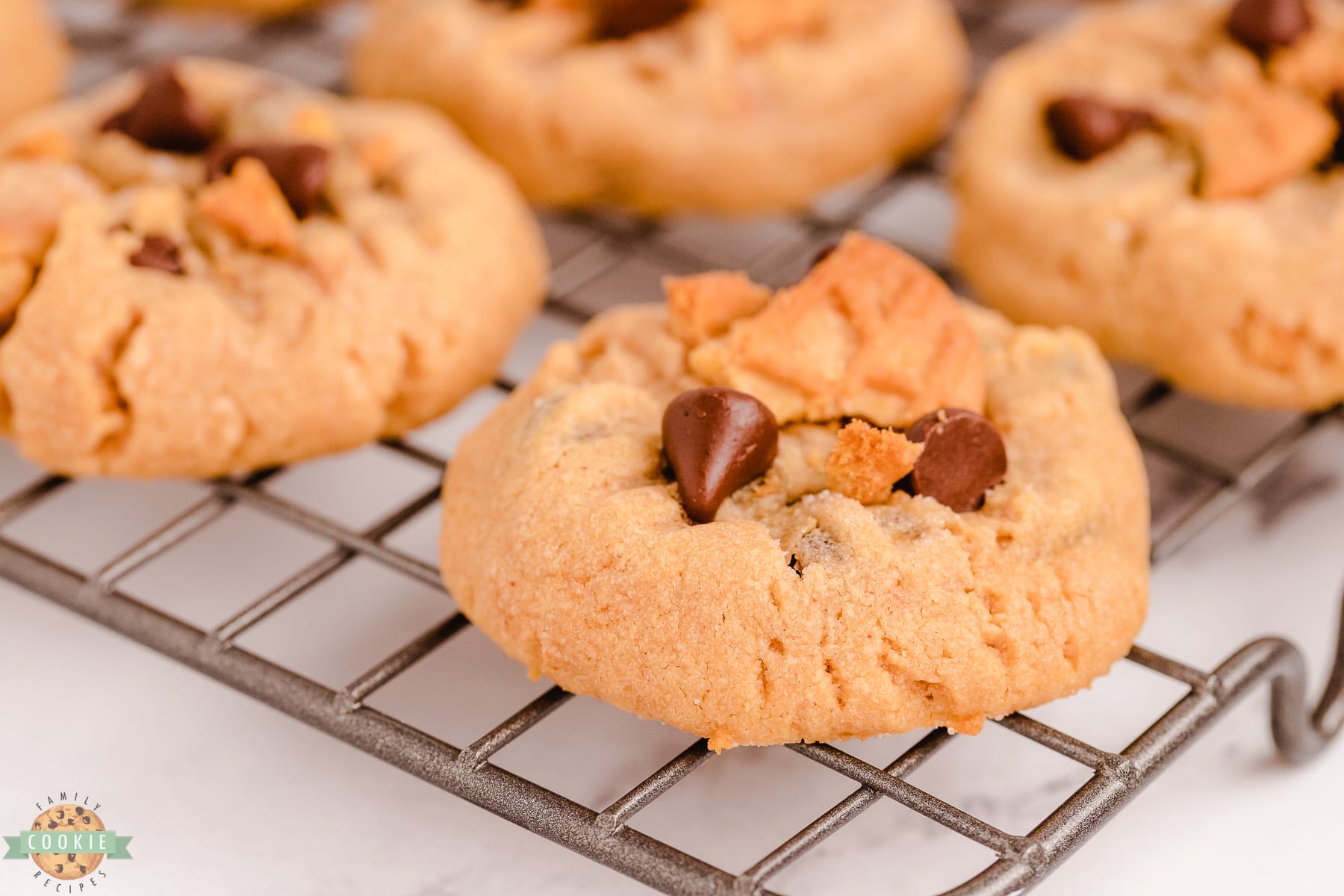 Sometimes I take a picture and it's almost like that picture gives me a glimpse into the future. This is one of those! She's only 9 here but I see her as a teenager! It makes me laugh too as the humidity of the beach takes her curly hair up a notch or 5. Ha! If anyone has figured out how to make their kids stop growing up so fast, pass the tip along to me, because I need it!
If you love peanut butter, you'll love these peanut butter cookies!
Nutter Butter Chocolate Chip Peanut Butter Cookies are delicious, chewy and absolutely incredible treats! These peanut butter chocolate chip cookies are easy to make, they come together quickly and the results are tasty cookies.