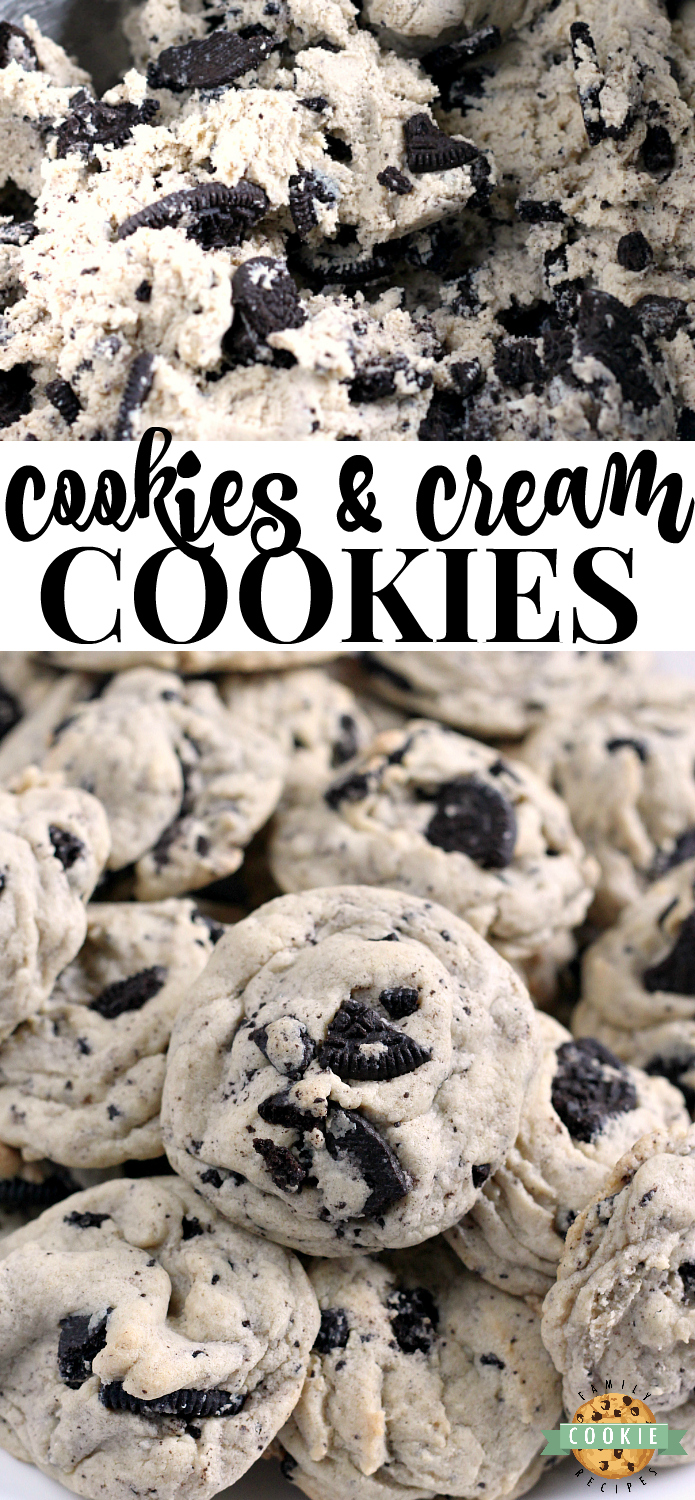 Cookies & Cream Cookies are made with Oreo pudding mix and crushed Oreo cookies for a perfectly soft and chewy cookie that is sure to be a favorite!
[adthrive-in-post-video-player video-id="dQIBaTk2″ upload-date="2017-05-05T13:17:44.000Z" name="Cookies & Cream Cookies" description="Homemade cookies with Oreos added- they're amazing!" player-type="default" override-embed="default"]
Cookies & Cream Cookies have become a regular treat around my house because they are just so yummy! I discovered this recipe several years ago (thanks to my sister!) and it has been a favorite of mine ever since! With Oreo pudding mix and crushed Oreo cookies, these cookies are amazing!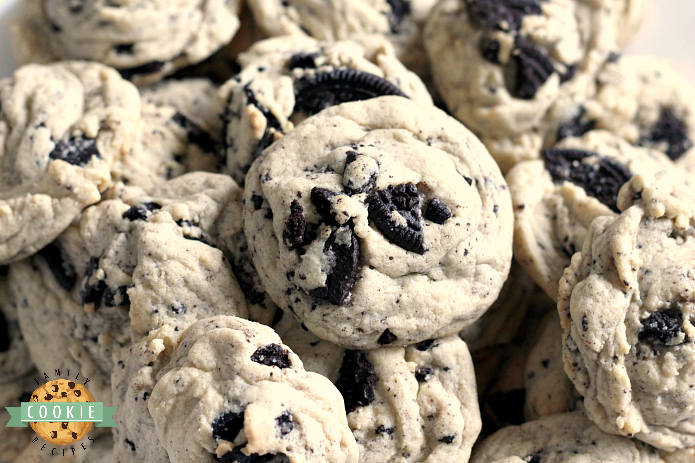 *Side note: Cookie recipes that include pudding always help create the soft texture we all love, but below you'll find a few other tips for making soft cookies!
Some tips for making cookies that stay soft and chewy:
Make sure that you have enough flour in the dough. If the dough is too sticky, you may need to add a little bit of flour.
Spend a little extra time when you mix the butter and sugars. Creaming them together for 2-3 minutes will improve the consistency of your cookies.
Preheat the oven. This will help your cookies turn out right every time!
Use a cookie scoop! If you want all your cookies to be perfectly shaped and have them all be the same size, a cookie scoop is the way to go.
Use parchment paper or a silicone baking mat. Doing this will make it really easy to remove the cookies from your cookie sheet so that you don't have to scrape them off the pan – they will just slide right off in perfect shape!
Don't over bake the cookies – when I take mine out of the oven, they still look slightly under baked but they will continue to bake on the cookie sheet for a couple more minutes so that's ok!
Ingredients in Cookies & Cream Cookies
1 cup butter, softened
1/2 cup brown sugar
1/2 cup sugar
1 (4.2 oz) pkg Oreo Cookies & Cream pudding mix
2 eggs
1 tsp vanilla extract
2 1/4 cups flour
1 tsp baking soda
1 cup white chocolate chips (optional)*
15 Oreo cookies, coarsely crushed (you want big chunks!)
How to make Cookies & Cream Cookies
Using a hand mixer, cream the butter and sugars. Add the pudding mix and mix until well blended.
Add the eggs and vanilla and mix well.
Add the flour and baking soda and continue mixing.
Stir in the white chocolate chips and Oreo cookie chunks.
Drop cookies by rounded teaspoonfuls (I use a cookie scoop) onto a greased cookie sheet. Bake for 10 minutes at 350. Enjoy!
*The original recipe called for white chocolate chips. I'm just not a huge fan of white chocolate chips so I usually leave them out, but you can definitely give it a try!
If you enjoyed our Cookies & Cream Cookies, you might also enjoy some of our other favorite cookie recipes too!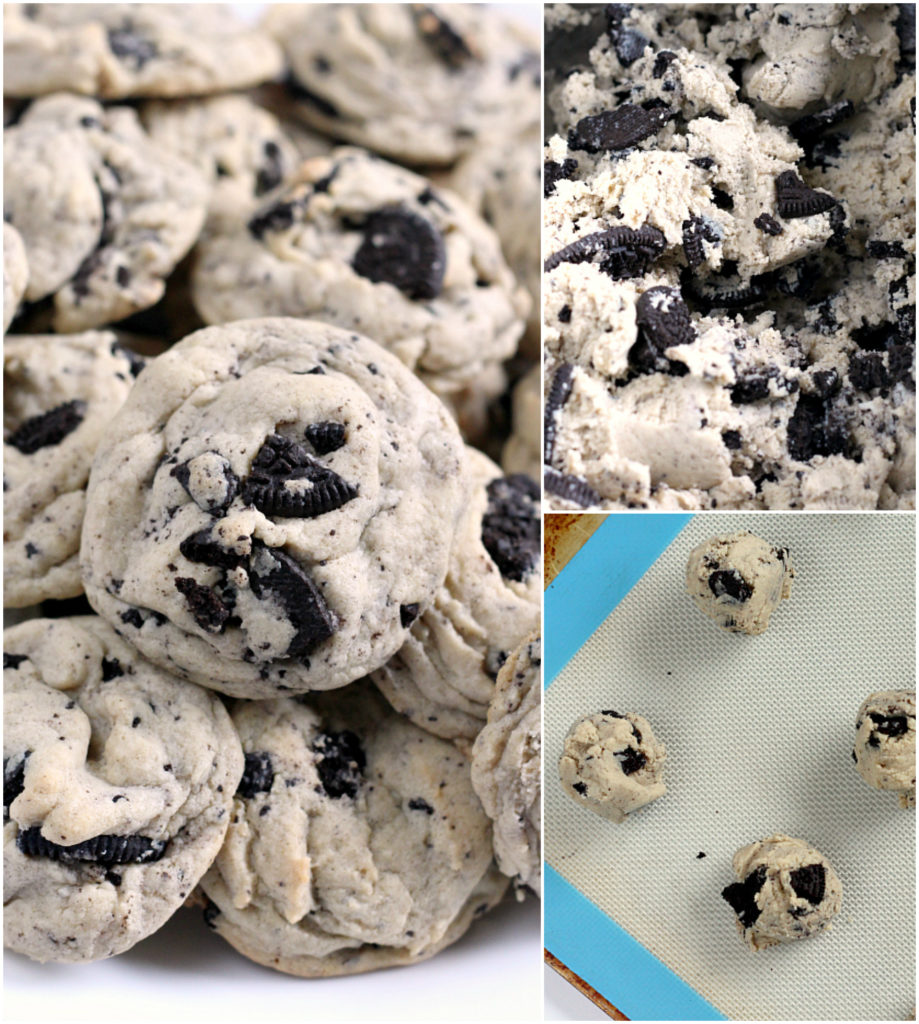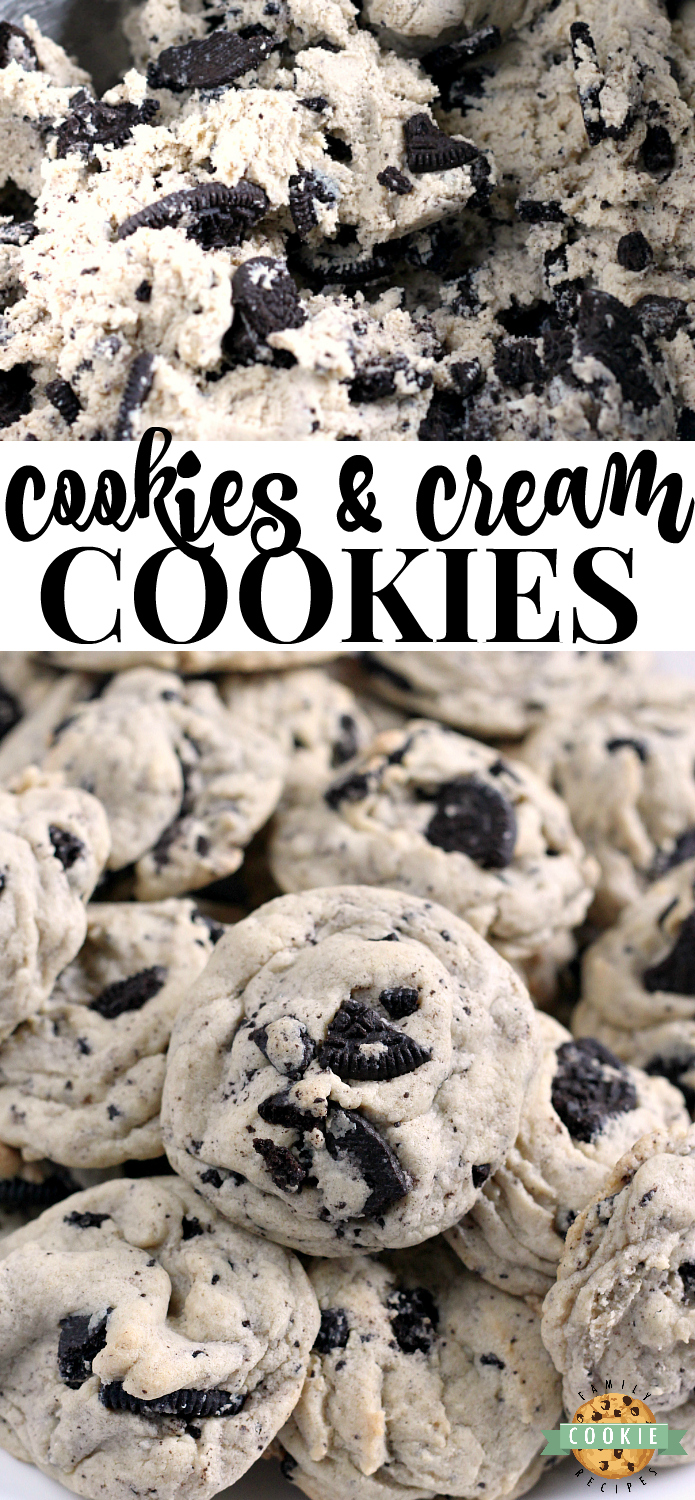 Cookies & Cream Cookies are made with pudding mix and Oreo cookies for a perfectly soft and chewy cookie that is sure to be a favorite!


My "baby" is 7 and has recently had the opportunity to take golf lessons near our home. He absolutely loves golf now and my husband is especially excited to gain a golf buddy and a good excuse to "need" to go golfing more frequently! As a side note – isn't WA beautiful?!? I had never been to WA State before we moved here 5 years ago, but I absolutely love it here and still can't believe how many trees there are here!