Oreo No Bake Cookies made with oats, Oreos and a few other simple ingredients. Delicious no bake cookie recipe packed with cookies and cream flavor!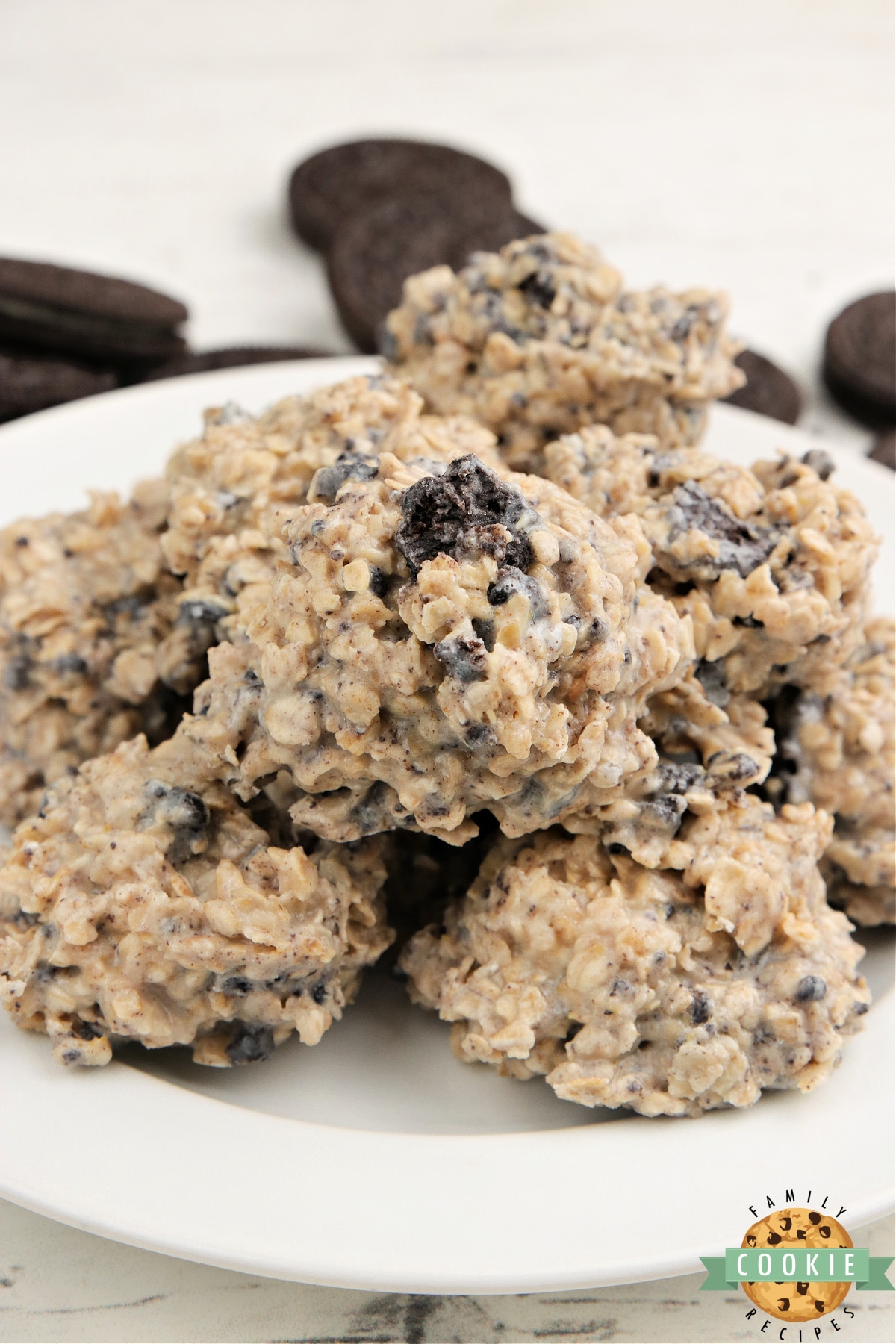 I've been making traditional No Bake Cookies with chocolate, peanut butter and oats for many years and we all love them. I recently found this recipe for Lemon No Bake Cookies and they quickly became one of my favorite cookies ever. I decided to try that same recipe with Oreo instant pudding and I've made three batches in the last week because they just keep disappearing. Warning: don't make these unless you're prepared to eat at least five or six. Or ten.
WHAT ARE OREO NO BAKE COOKIES?
Oreo No Bake Cookies only need 7 ingredients and about 10 minutes of prep time. The Oreo pudding mix in the recipe adds the most amazing flavor! Add a few crushed Oreos and these cookies will quickly become your new favorite. The cookies take just a few minutes to set up and then they are ready to eat – no baking required!
Do you love No Bake Cookies as much as we do? We have gathered all of our favorite No Bake Cookie recipes together here! I love no bake cookies because they are so fast and easy to make!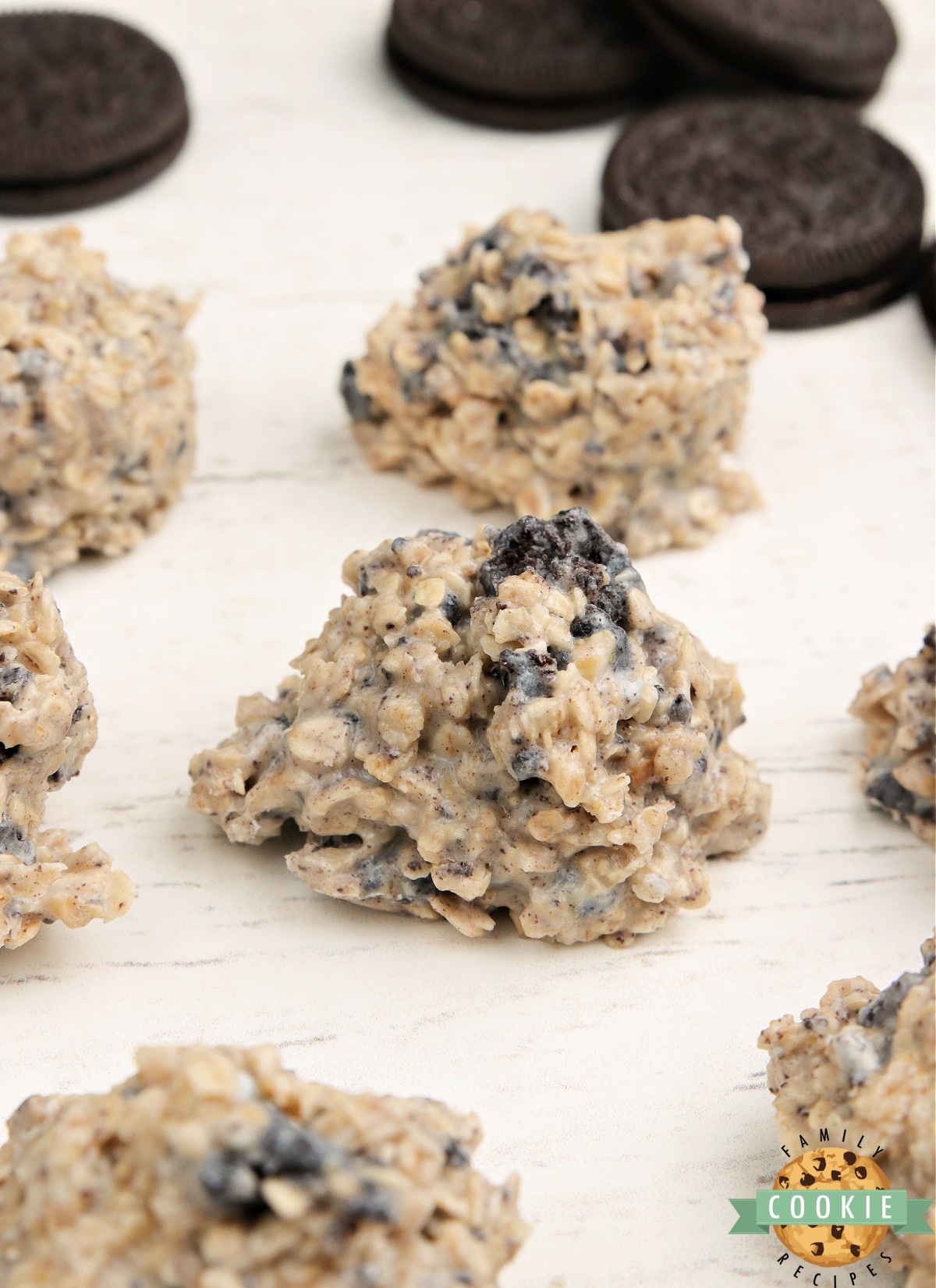 DIFFERENT NO BAKE COOKIE FLAVORS
Most No Bake Cookies are made with chocolate and peanut butter, but I think I love these Oreo ones the best. The good news is that because all most of the Cookies and Cream flavor comes from a pudding mix, you can easily try some other flavors by swapping out the flavor of pudding. Any type of pudding you can find…you can use to make this cookie recipe! Vanilla pudding, pistachio pudding, chocolate pudding, butterscotch pudding…all of them work great and make delicious no bake cookies.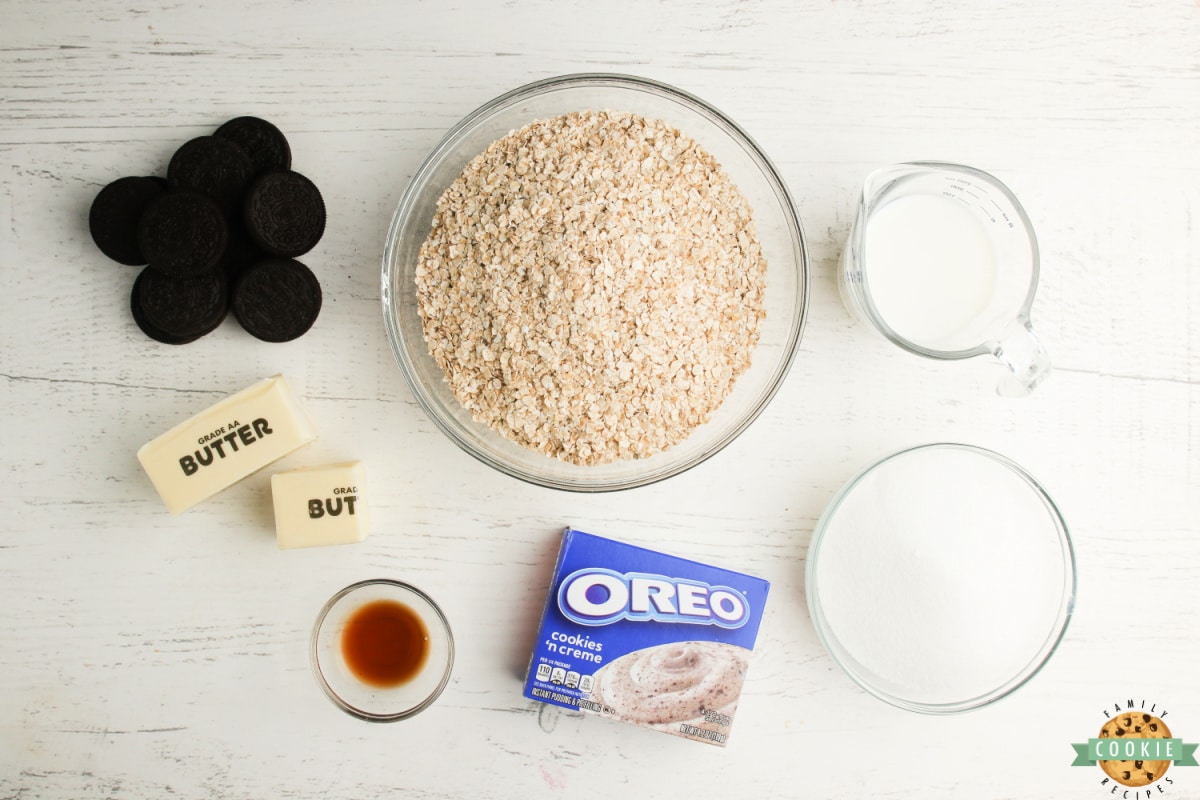 INGREDIENTS IN OREO NO BAKE COOKIES
Sugar – Yep, you need sugar to make cookies. You will need 1 1/2 cups of granulated sugar.
Butter – Another key ingredient in most cookie recipes. The recipe calls for 3/4 cup of butter (1 1/2 sticks). For best results, use real butter.
Milk – Any type of milk will work fine. I usually use 2% because that's what I have on hand, but you can even use a non-dairy alternative if you'd like.
Oreo pudding mix – You need a small box (4.2 oz) of instant Oreo pudding.
Oats – Quick oats work best in no bake cookies. You will need 3 cups.
Vanilla – The higher the quality of the vanilla, the better. You could even add a little bit of lemon extract if you really want to intensify the lemon flavor in the cookies. Be careful not to add too much though – extracts are pretty strong!
Oreo Cookies – You will need 10 Oreo cookies, crushed into fairly decent sized chunks. The first time I made these cookies, I didn't add the crushed Oreos. The cookies were absolutely delicious even without them, but to be completely honest, they just didn't look very appetizing. They kind of looked like lumps of regular oatmeal! Adding crushed Oreos makes them look a lot prettier. But know that you can make and eat these cookies without the Oreos and they will still be super yummy!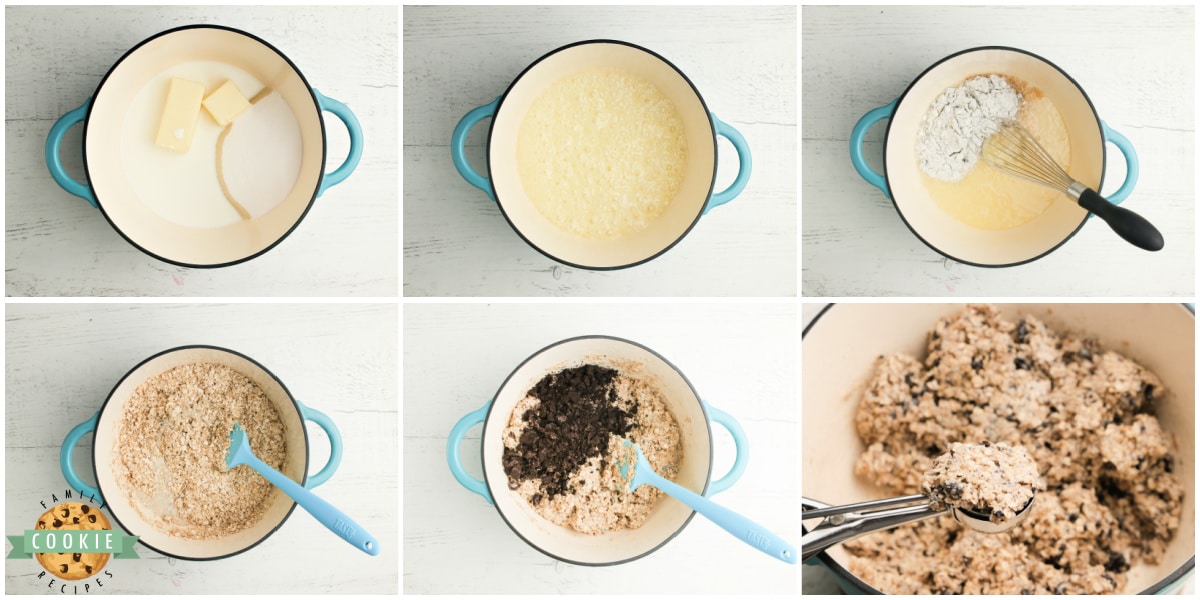 HOW TO MAKE OREO NO BAKE COOKIES
In a large saucepan, mix sugar, butter and milk over medium heat. Stirring occasionally, melt and bring to a boil.
Let the mixture boil for 5 minutes. Remove from heat. (Don't boil for more than 5 minutes, or the mixture will start to caramelize too much). Add the vanilla and then whisk in the pudding until mixture is smooth. Stir in the oats. Mix in the crushed Oreos.
Drop by spoonfuls onto a cookie sheet lined with wax paper. Let the cookies cool before removing from the wax paper. Can be stored at room temperature or in the refrigerator.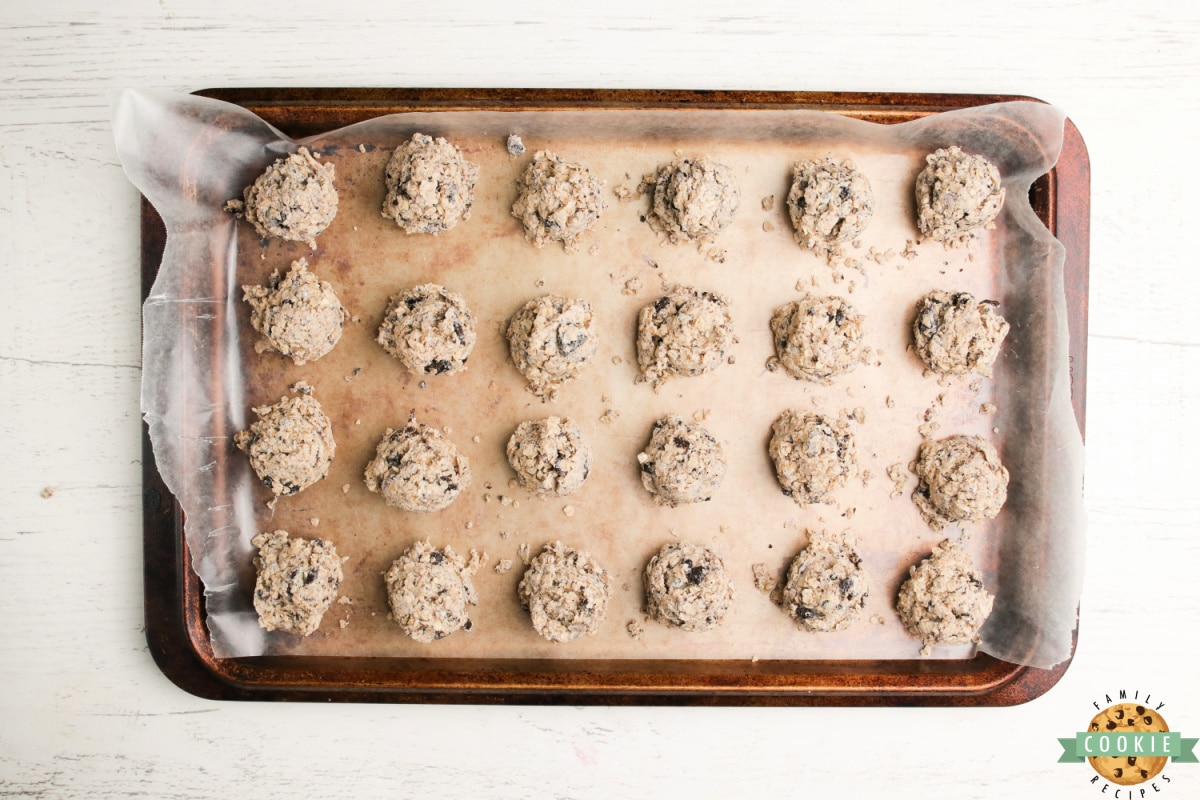 CAN NO BAKE COOKIES BE FROZEN?
Yes, these cookies can absolutely be frozen. It will help them firm up, and in my opinion, taste better! Especially in the summer. Although, mine are always eaten before I even open the freezer!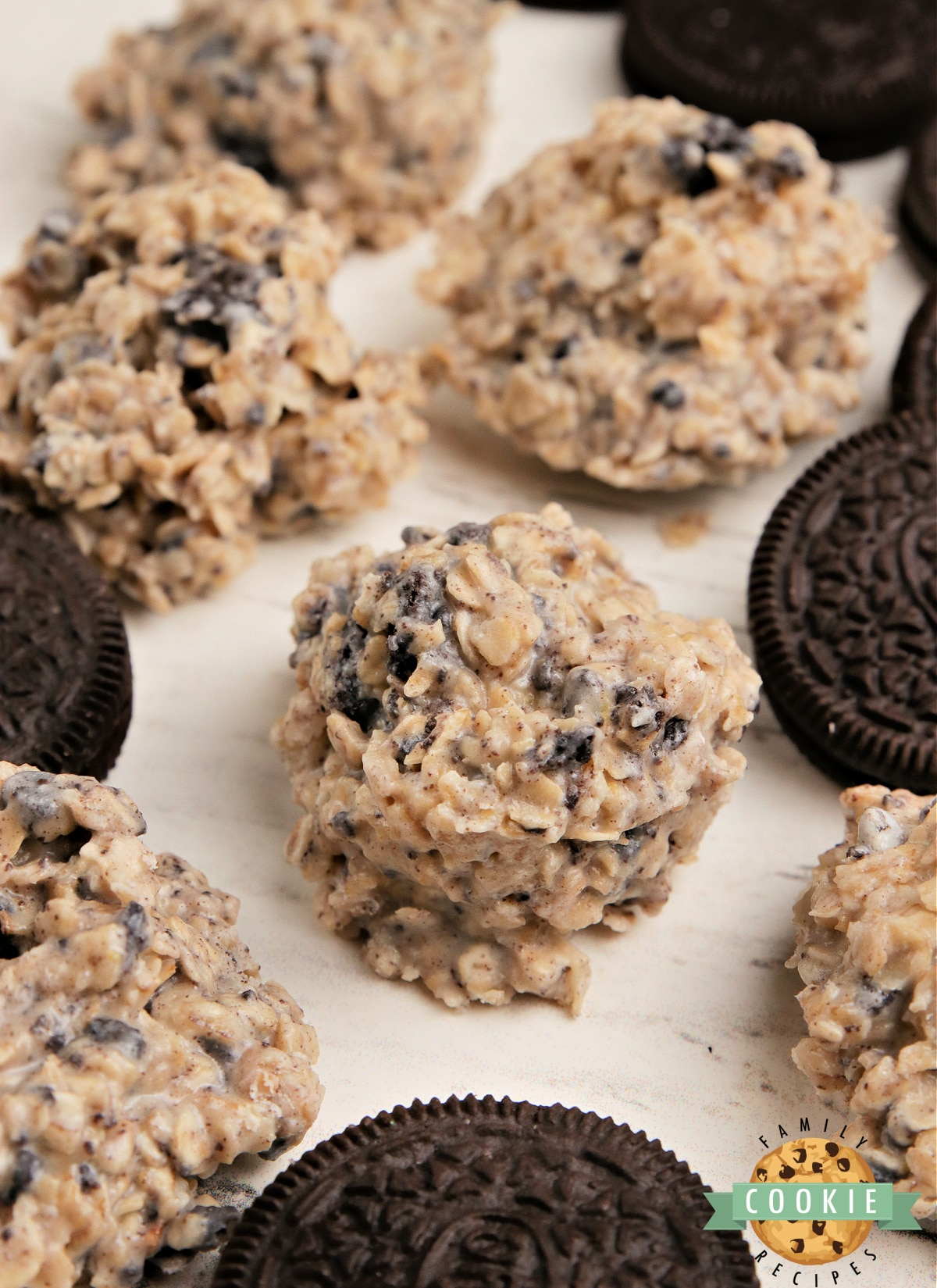 WHICH OATS ARE BEST FOR NO BAKE COOKIE RECIPE?
Different recipes will call for different kinds of oats, but to make the best No Bake Cookies, you should use quick oats. Using different kinds of oats will change the texture of the cookies, and you risk them not setting up right. Being the main ingredient in this recipe, it's important to get the right kind of oats.
WILL NO BAKE COOKIES STICK TO FOIL?
I've seen these cookies stick to aluminum foil before, but it doesn't always. To avoid the hassle and the risk I would recommend using wax paper or parchment paper as that's what's always worked for me!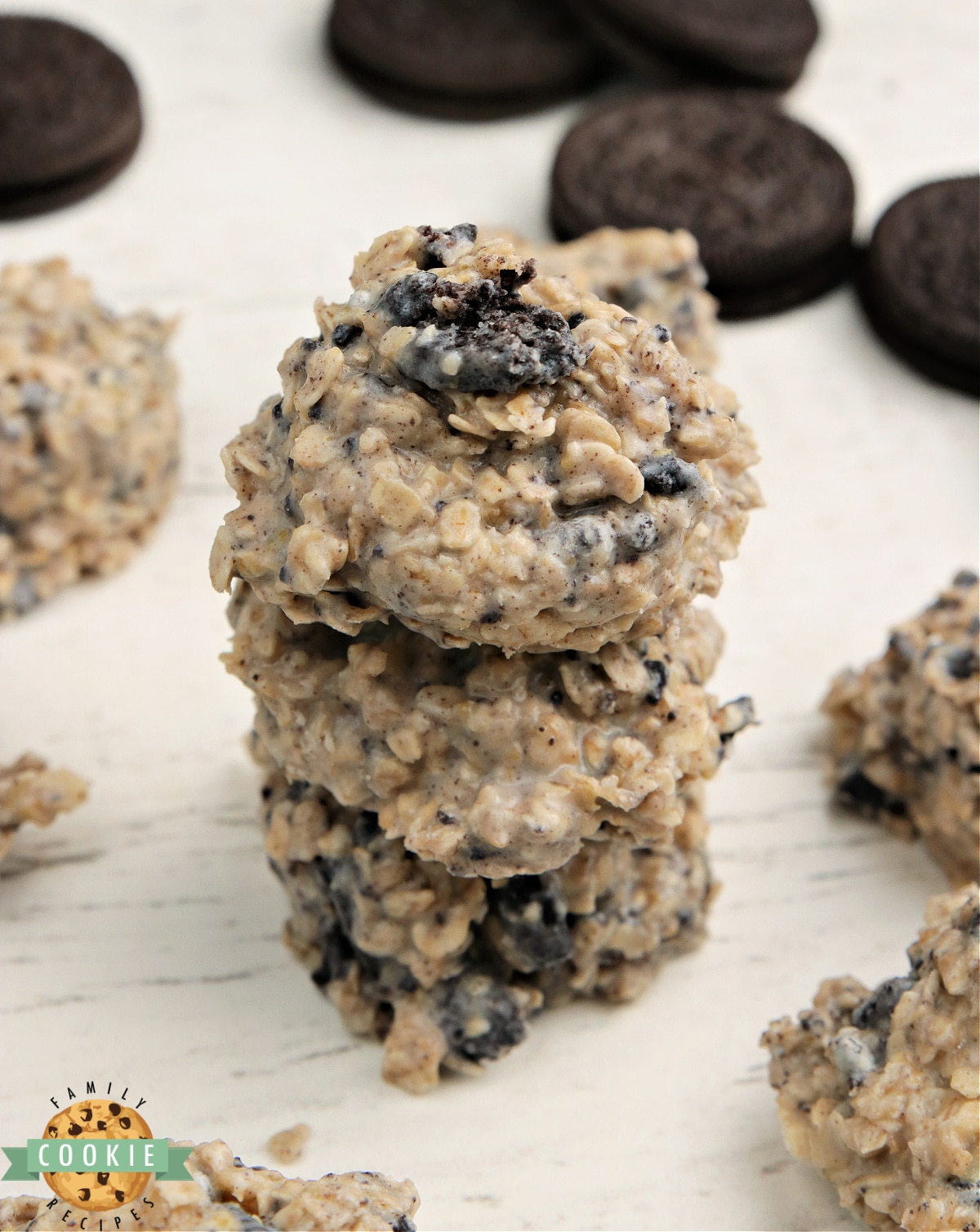 DO NO BAKE COOKIES NEED TO BE REFRIGERATED?
Putting No Bakes in the fridge will help the cookies to hold a firmer shape. They also will last longer if you keep them in the fridge.
However, they technically don't need to be refrigerated. You can store them in an airtight container in room temperature and they will be fine.
HOW LONG DOES IT TAKE FOR NO BAKE COOKIES TO SET UP?
These cookies only take about 15-20 minutes to cool and set up at room temperature, but you can reduce that time by at least half if you let them set up in the refrigerator. If you prefer the taste and texture of these cookies at room temperature just make sure to remove them from the refrigerator once set. You can definitely eat them while cold though too!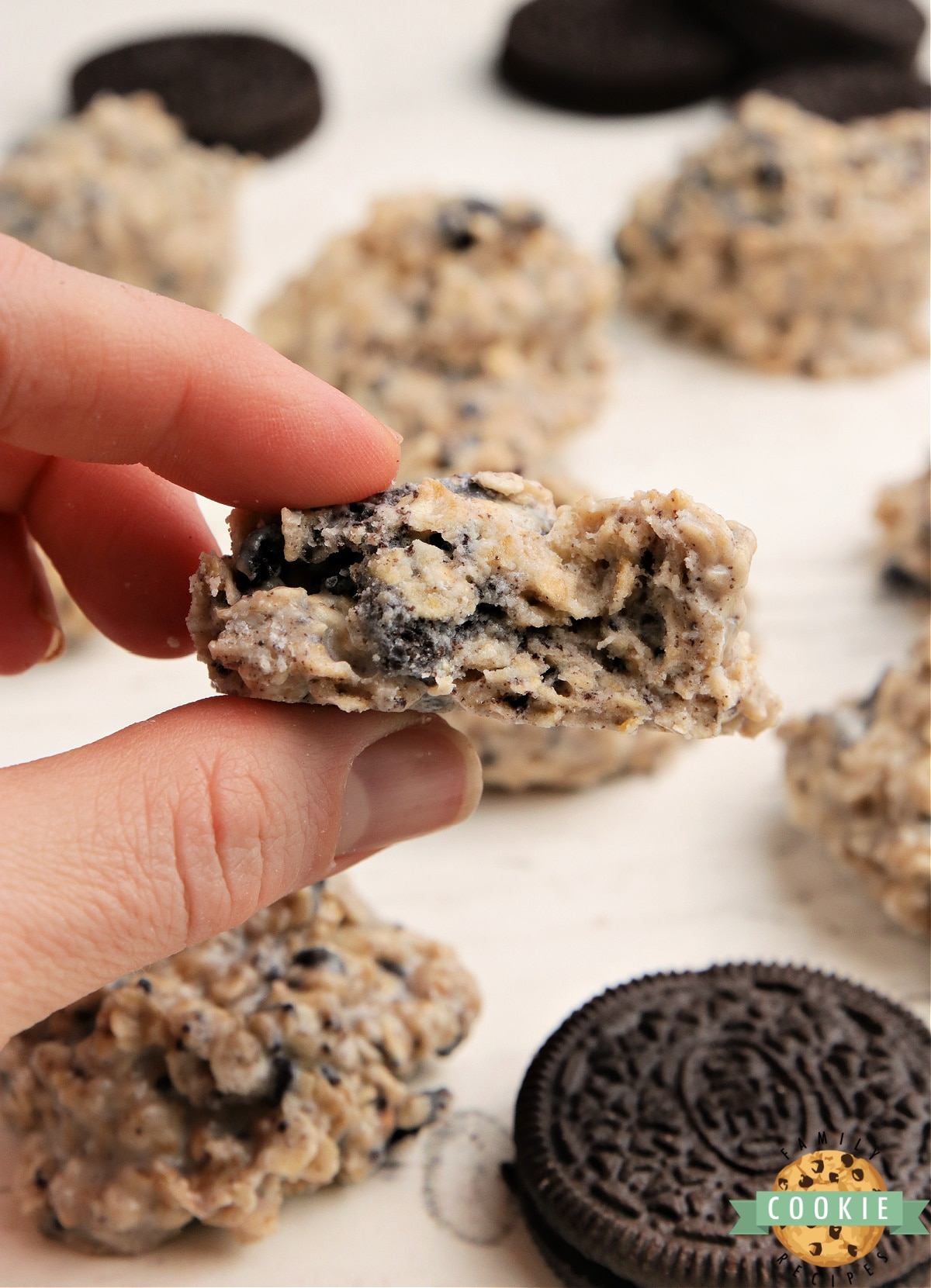 Love Oreos? So do we! Here are some of our favorite Oreo treats: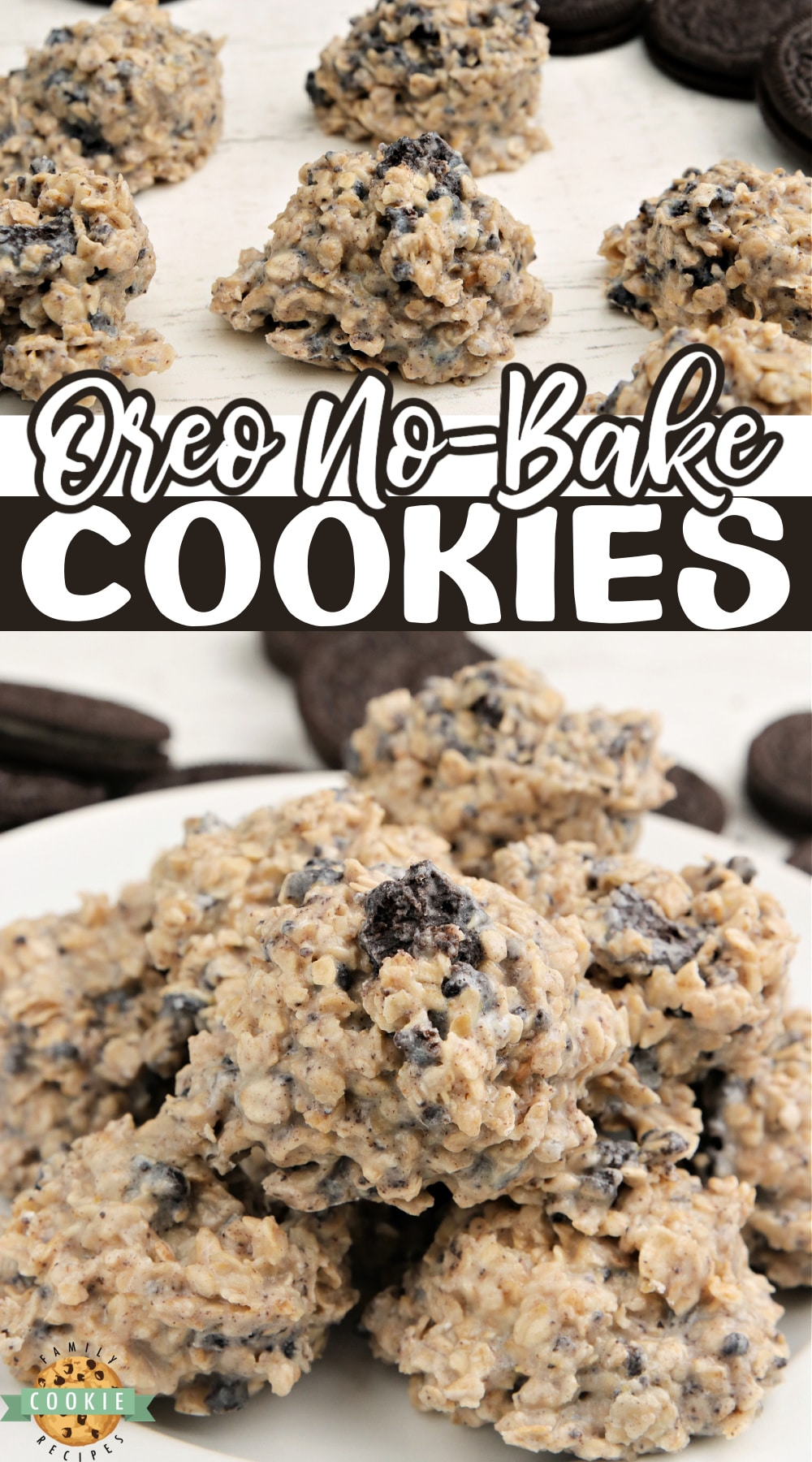 Oreo No Bake Cookies made with oats, Oreos and a few other simple ingredients. Delicious no bake cookie recipe packed with cookies and cream flavor!



Just went to M's final spring concert a few days ago. This is her first year playing cello and she really has enjoyed it. She is taking private lessons now too and I'm really excited that I have at least one kid playing the cello. I've always loved the sound of it and it'll be fun to watch her continue to get better and better.