Homemade Oreo Cookies recipe for anyone who loves OREOS! Our Homemade Oreos taste even better with the chocolaty cookies on the outside & buttery vanilla cream on the inside.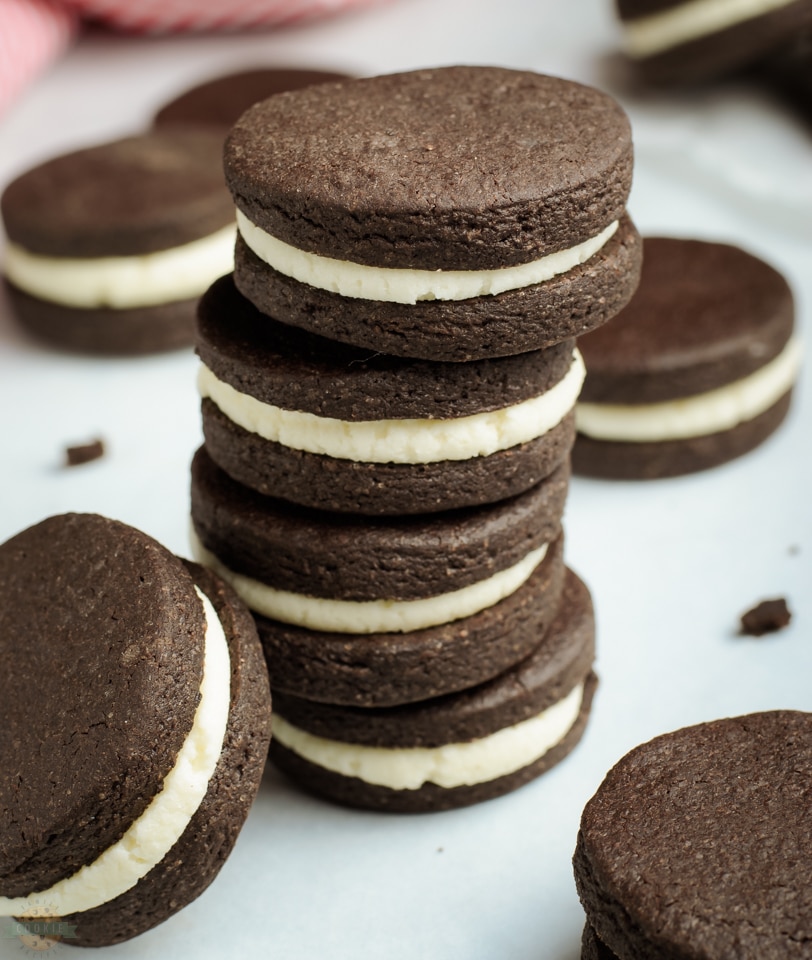 We all know those little chocolate cookies with creamy filling inside a blue package, but what if I said you could make your own Oreo cookies at home? It's true! This homemade Oreo cookie recipe is easy, fun, and delicious. With a crispy cookie sandwich and a vanilla frosting filling inside, every bite is an incredible experience.
Within an hour you can be enjoying tasty homemade Oreos. These cookies don't require much, but with a homemade Oreo cream and crispy chocolate cookies, these cookies are simply amazing. Who knows, you may even stop buying those blue packages and find yourself in the kitchen more often making these irresistible goodies.
What are Homemade Oreos?
Similar to a whoopie pie but closer to an actual oreo are these crispy chocolate sandwich cookies with vanilla-flavored cream filling. With a simple cookie dough and filling coming together to create the ultimate cookies and cream experience, you'll enjoy this homemade oreo recipe for years to come.
Homemade Oreo Ingredients
For the Cookies, You Will Need:
-Flour: We need 1 3/4 cups of all-purpose flour for the gluten-filled base of this cookie dough recipe.
-Butter: With 1/2 cup (one stick) of softened unsalted butter we can get a richer tasting cookie.
-Sugar: We need 1 cup of granulated sugar to make the cookie nice and sweet and to help it crisp up while baking.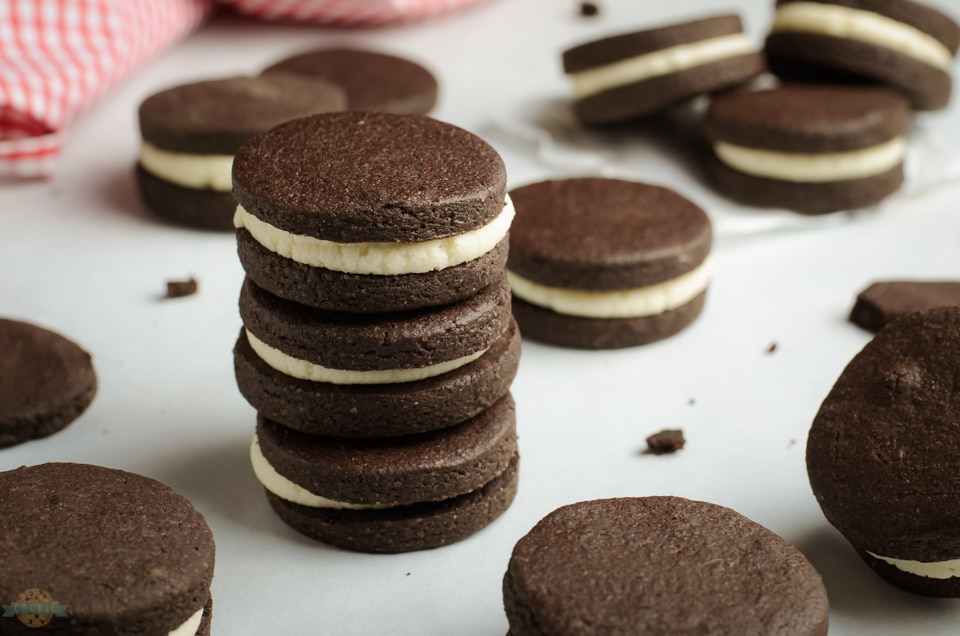 -Cocoa Powder: Using 1/2 cup of cocoa powder will give us that chocolate flavor and brown color we want in every cookie.
-Egg: We only need 1 egg (room temperature) to help bind the dough together You can temp an egg quickly by placing it in a bowl of warm water for a few minutes.
-Salt: A 1/2 teaspoon of salt will act as the flavor enhancer for the cookie, making all of the other flavors shine and taste even better.
-Vanilla: Vanilla helps to enhance flavors by creating a nice base for them to branch off of. We need 1 teaspoon of vanilla extract to do this.
For the Filling, You Will Need:
-Butter: We only need 1/4 cup of unsalted butter (room temperature) to help give our filling a creamy texture and rich flavor.
-Powdered sugar: 1 1/2 cups of powdered sugar will make our frosting filling nice and sweet.
-Vanilla: Giving our filling a nice flavor is 1/2 teaspoon of vanilla extract. I like to use higher quality vanillas for a better result, but use what you have on hand.
How to make Oreos
Preheat your oven to 375 degrees F and line a baking sheet with parchment paper.
Beat together the butter and sugar in a large bowl until light and fluffy. Mix in the salt, egg, and vanilla.
Add the cocoa powder, mixing to combine.
Add in the flour, a little at a time.
Gather the dough together and then gently knead it for about 10 seconds.
Roll your dough out on a solid surface until it's about 1/4 inches thick. Use a 2 inch round cookie cutter to cut out shapes and then place them on the prepared baking sheet.
Bake your cookies in the oven for 9-12 minutes, but be careful not to overcook. Let the cookies rest on the baking sheet for 5 minutes before transferring to a wire rack to finish cooling down.
When the cookies are cooled, prepare your frosting by beating the butter until creamy and smooth. Add in the powdered sugar and vanilla and mix again until well distributed.
Using a piping bag or a spoon, frost the bottoms of half of the cookies and top them with another cookie, making a nice Oreo sandwich. Enjoy!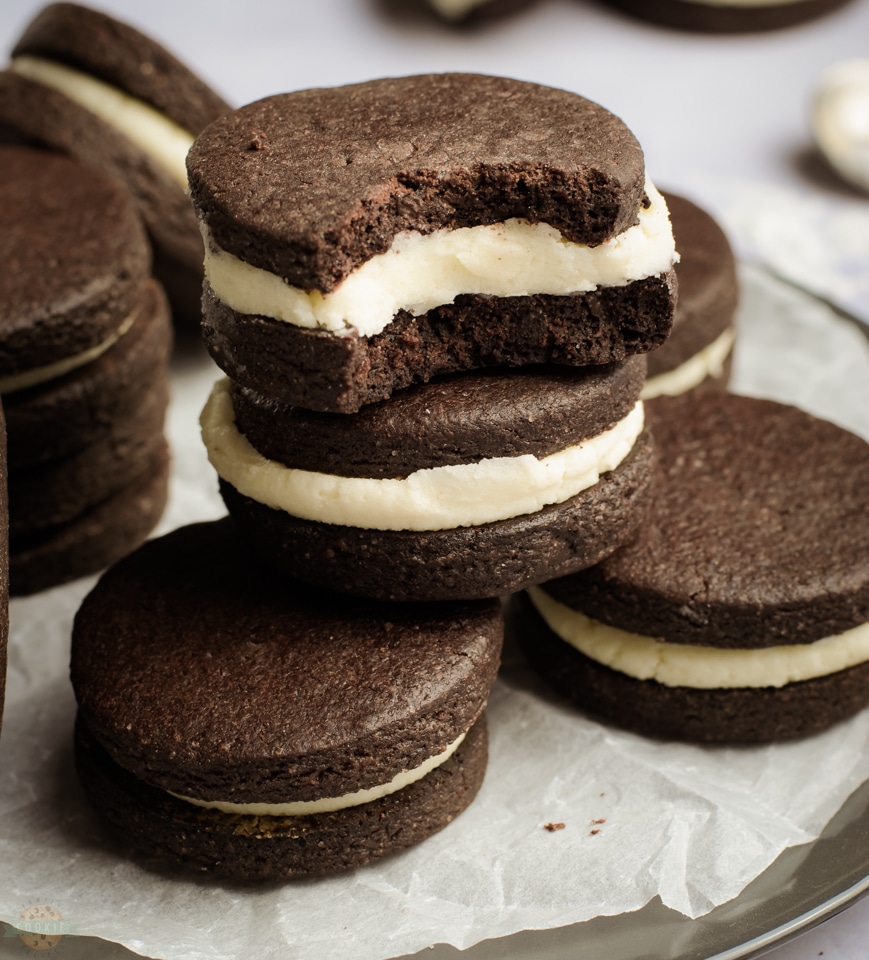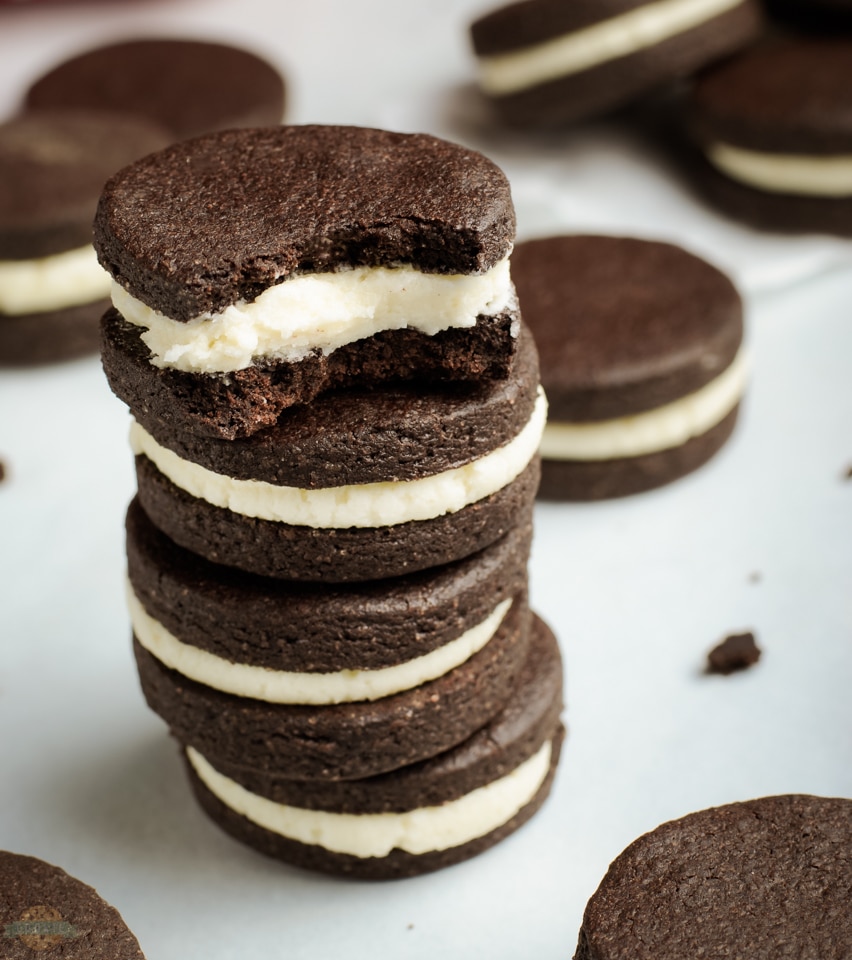 How to store homemade Oreos
Keep your cookies well covered or stored in an airtight container in the fridge for up to a week. This will keep the filling and the cookies nice and fresh.
How long are homemade Oreos good for?
These cookies can last up to a week in the fridge, but up to 2 months if stored in the freezer. To store the cookies in the freezer, layer them in an airtight container with parchment paper between each to prevent sticking.
More Cookie Recipes to Try Soon!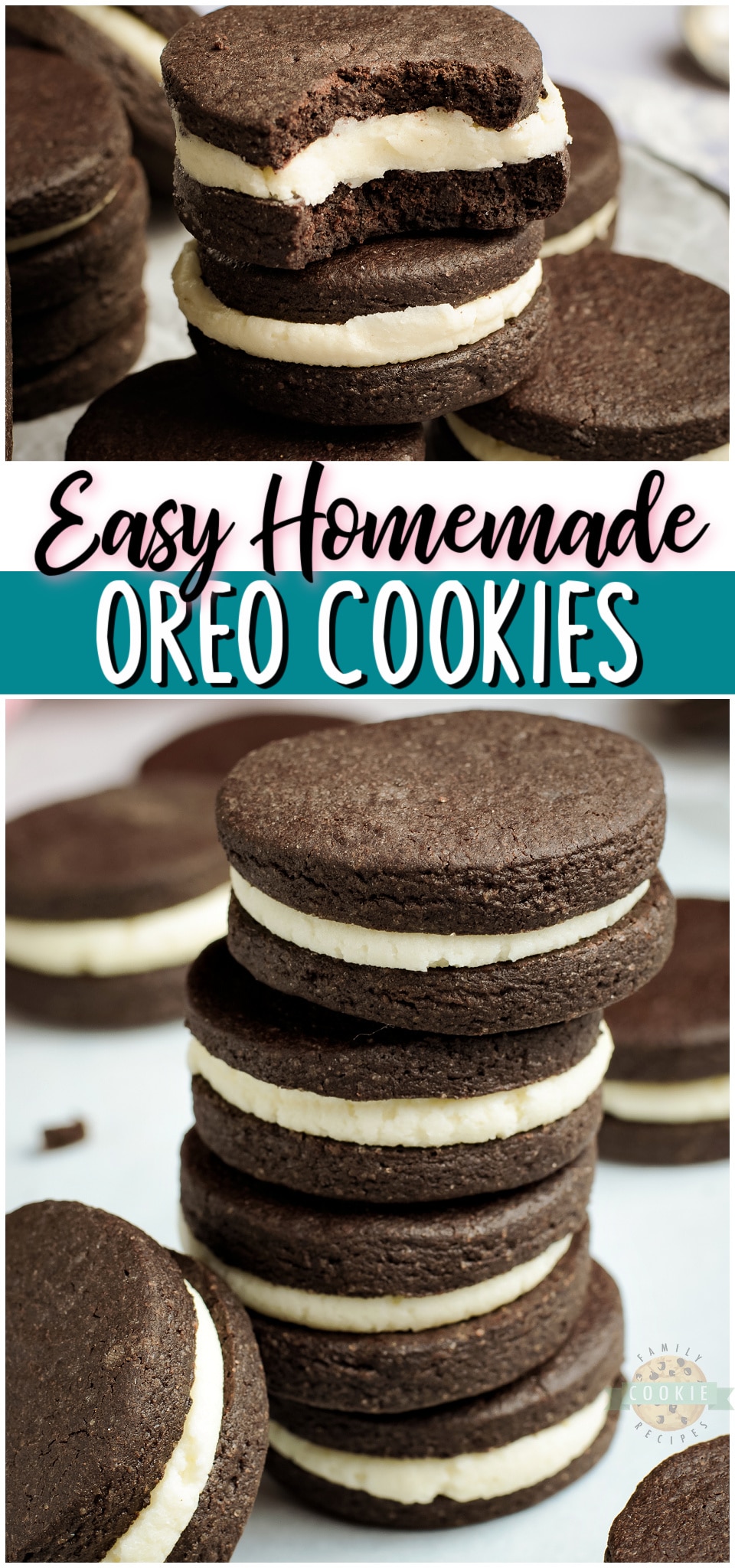 Homemade Oreo Cookies recipe for anyone who loves OREOS! Our Homemade Oreos taste even better with the chocolaty cookies on the outside & buttery vanilla cream on the inside.