Strawberry Cool Whip Cookies made with a strawberry cake mix, Cool Whip and an egg. A lighter cookie recipe that is easy to make and with less calories than traditional cake mix cookies!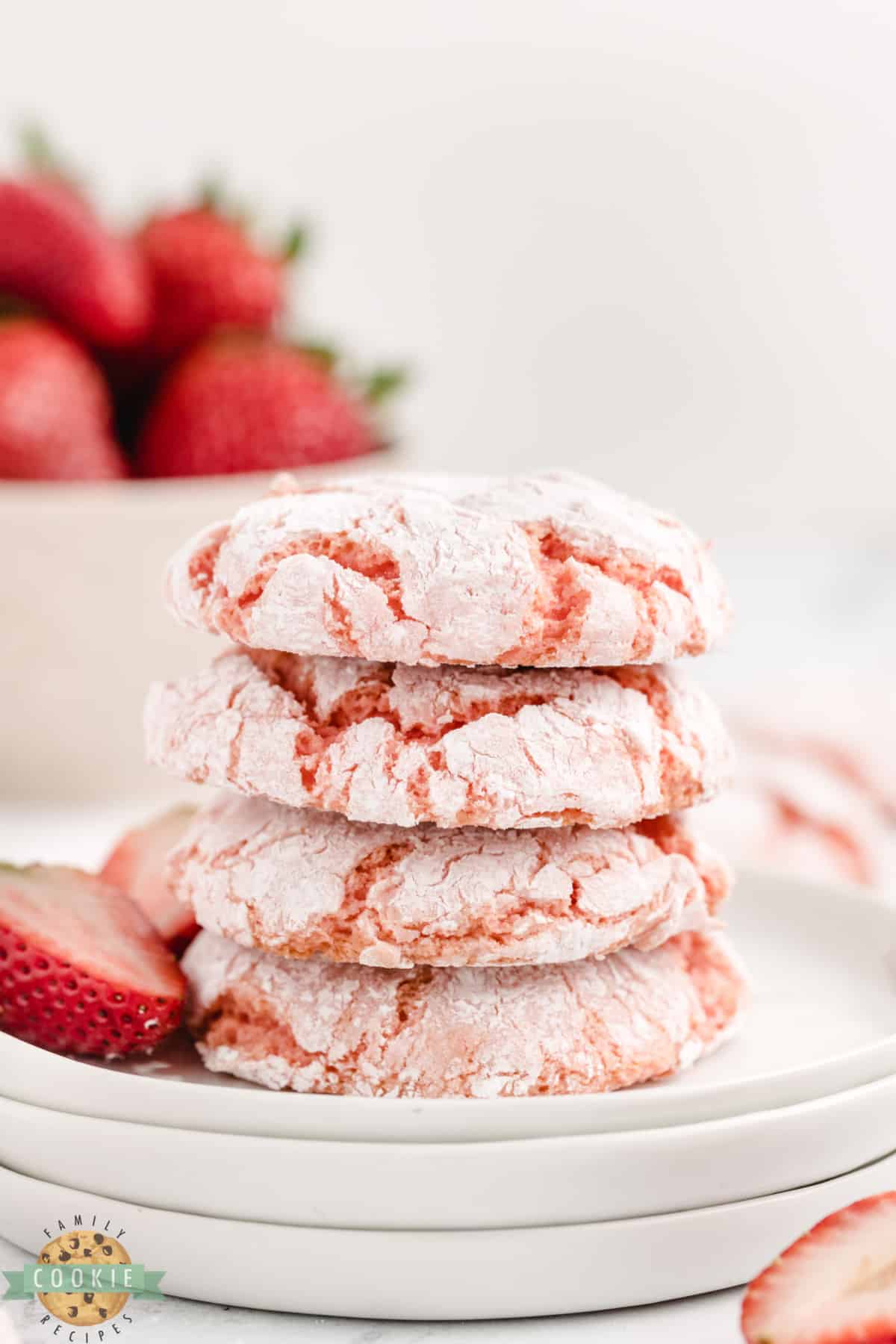 Strawberry Cool Whip Cookies are one of my favorite, fast and easy cookie recipes. Only a few ingredients and a few minutes needed to make soft, delicious cookies!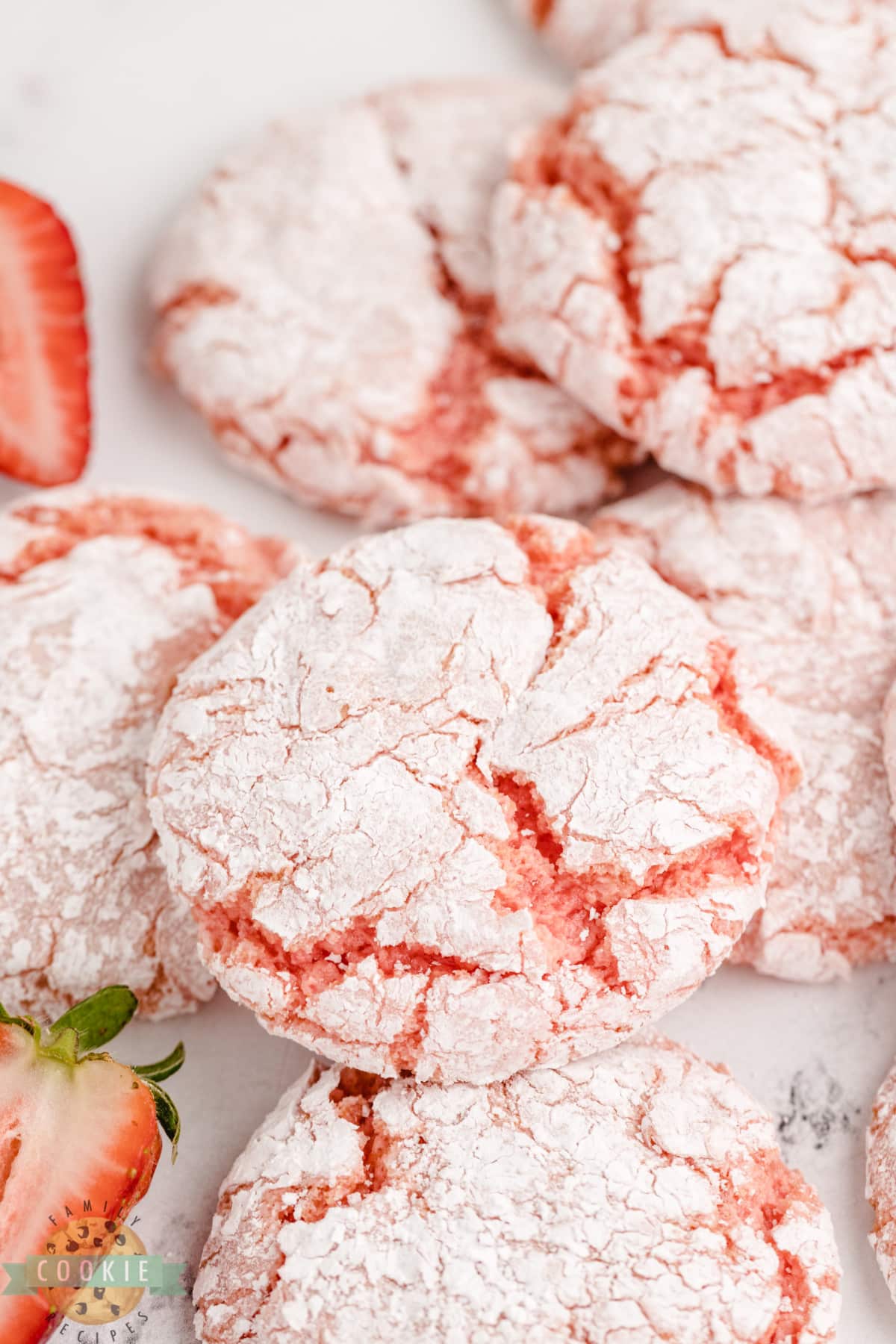 What are cool whip cookies?
Traditional cake mix cookies are made with a cake mix, butter and eggs. When making Cool Whip cookies, you swap out the butter with Cool Whip to save on calories. The result is a softer cookie with a slightly different consistency, but all of the flavor and sweetness! The Cool Whip makes the cookie dough a bit more sticky than normal, so I like to roll the cookie dough balls in powdered sugar, but you can skip that step if you prefer.
One of the best parts about cake mix cookies is how versatile they are! You can use any cake mix you want! This recipe is wonderful with lemon cake mix, but I also like chocolate. You can add chocolate chips or M&Ms…add any type of mix-in you'd like!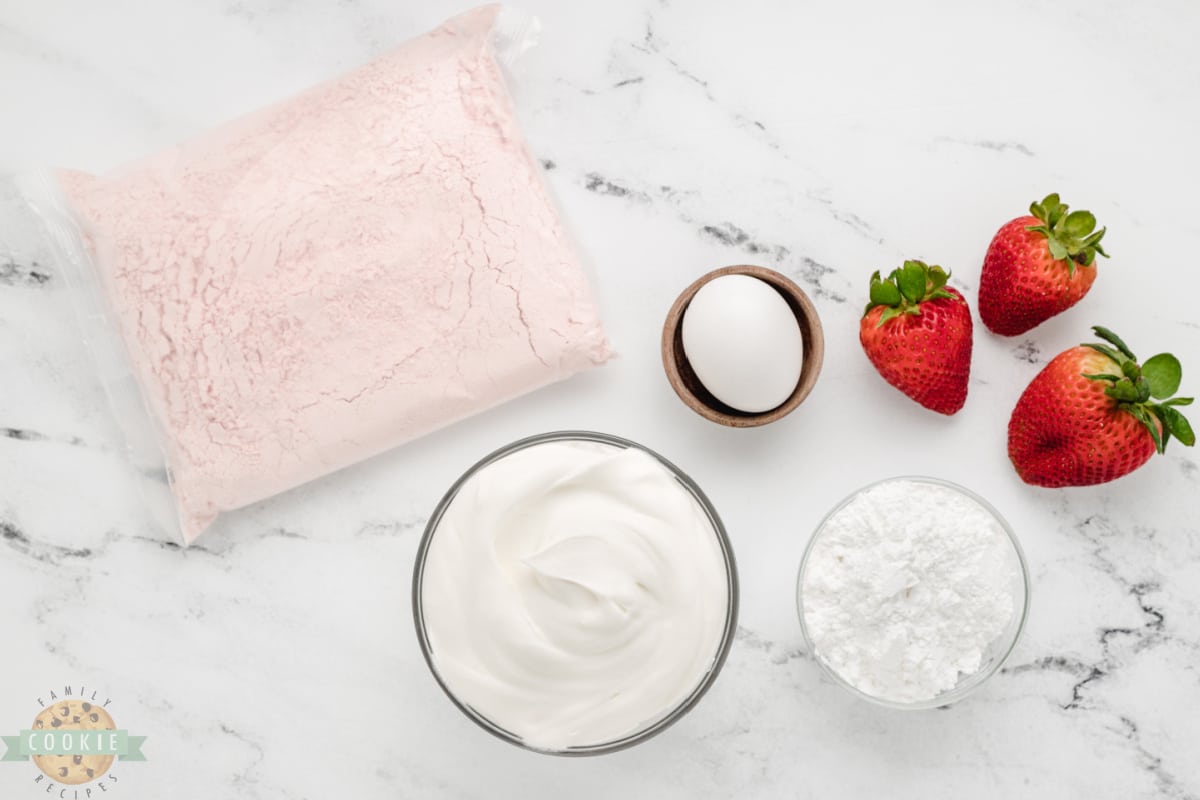 Ingredients in Cool Whip Cookies
Strawberry cake mix – You will need one box of Strawberry Cake Mix. Most cake mixes are about 15-18 ounces, but they all will work. You can use a different flavor if you prefer – we love swapping in lemon!
Cool Whip – You will need 2 cups of thawed Cool Whip whipped topping. This ends up being about 2/3 of an 8 oz container. If you don't have Cool Whip, you can use a stick of melted butter, but the consistency will definitely be different and you'll be adding a few more calories too!
Egg – Just one large egg will help to bind everything together.
Powdered sugar – This ingredient is completely optional, but I love the way it makes the cookies look. Roll each ball of cookie dough in a little bit of powdered sugar before baking.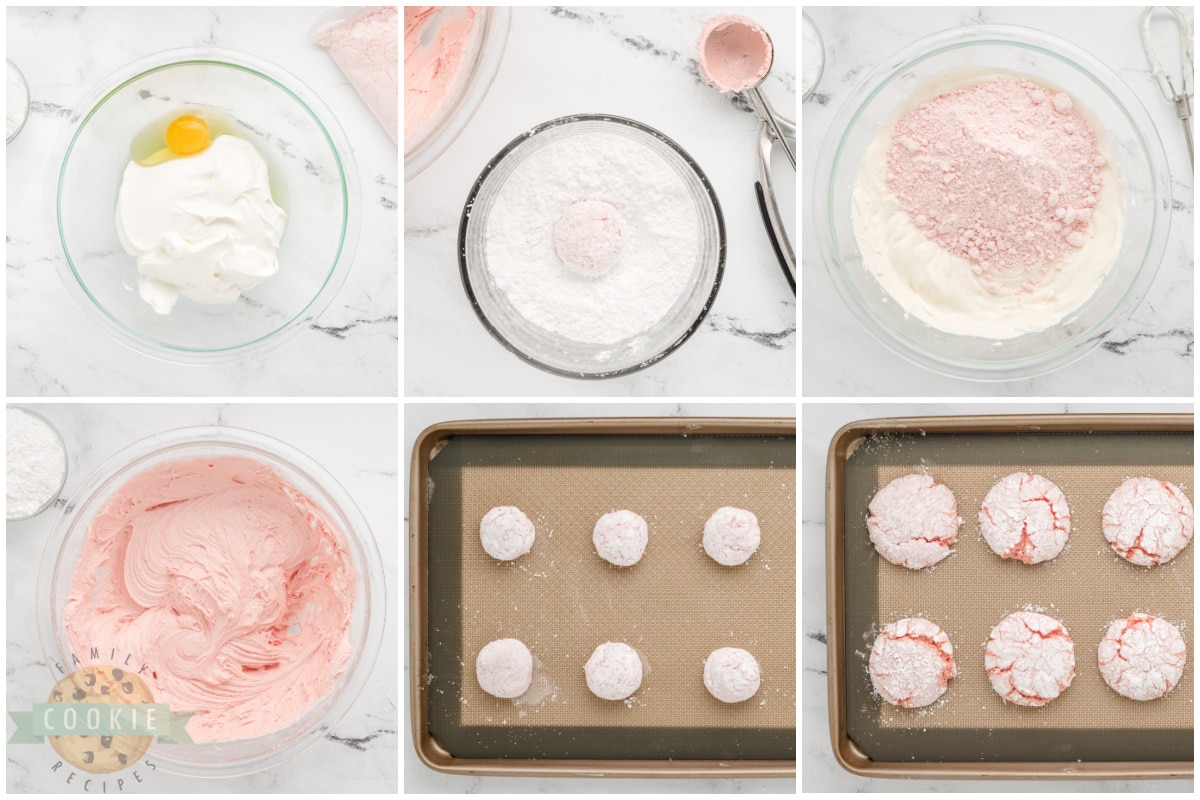 How to make Strawberry Cake Mix Cookies
Preheat oven to 350°.
Use an electric mixer to beat Cool Whip and egg together in a mixing bowl. Add cake mix and beat until well blended.
Place the powdered sugar in a small bowl. Use a cookie scoop to scoop out the cookie dough into balls and roll them in the powdered sugar.
Place on a greased cookie sheet and bake for 10-12 minutes.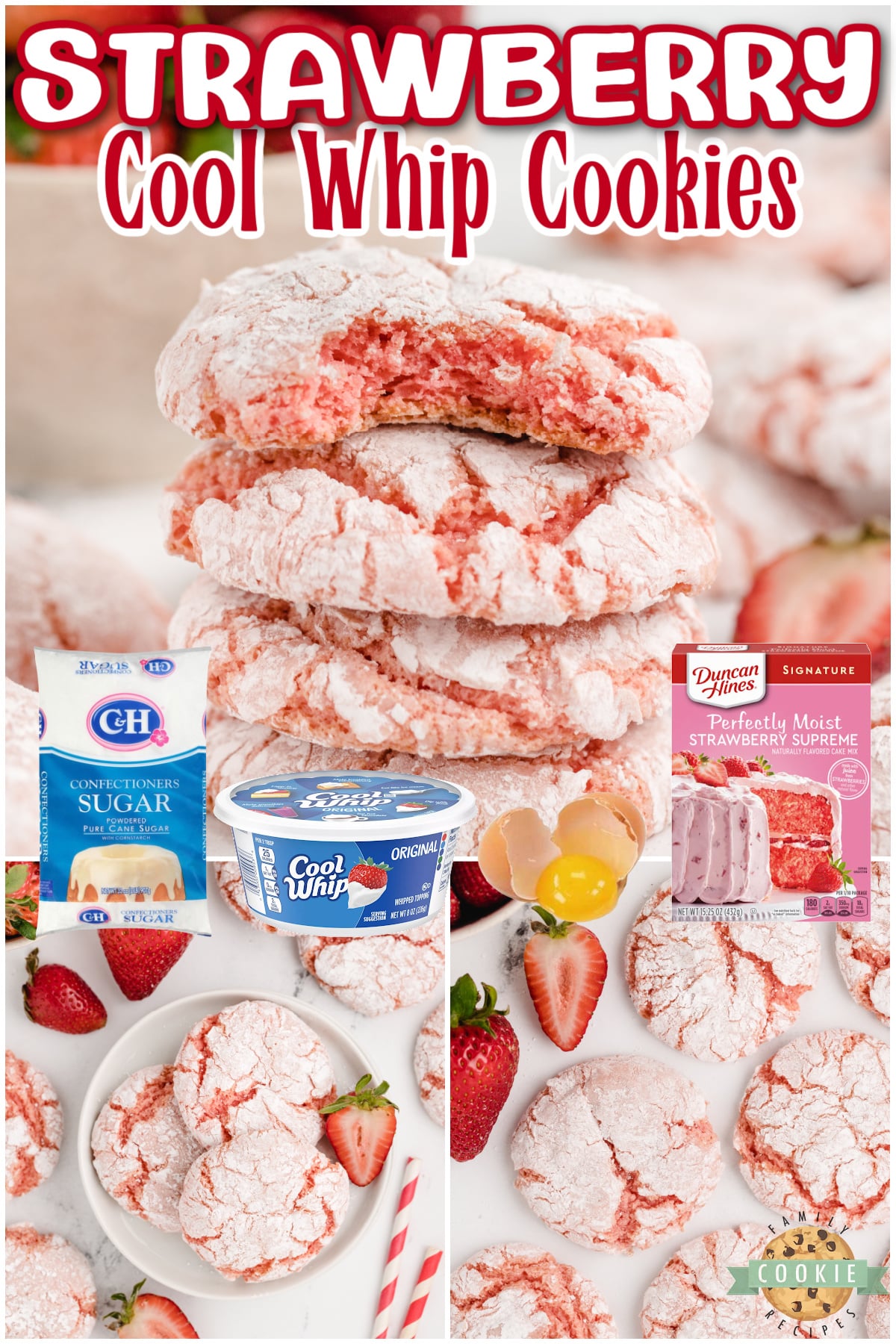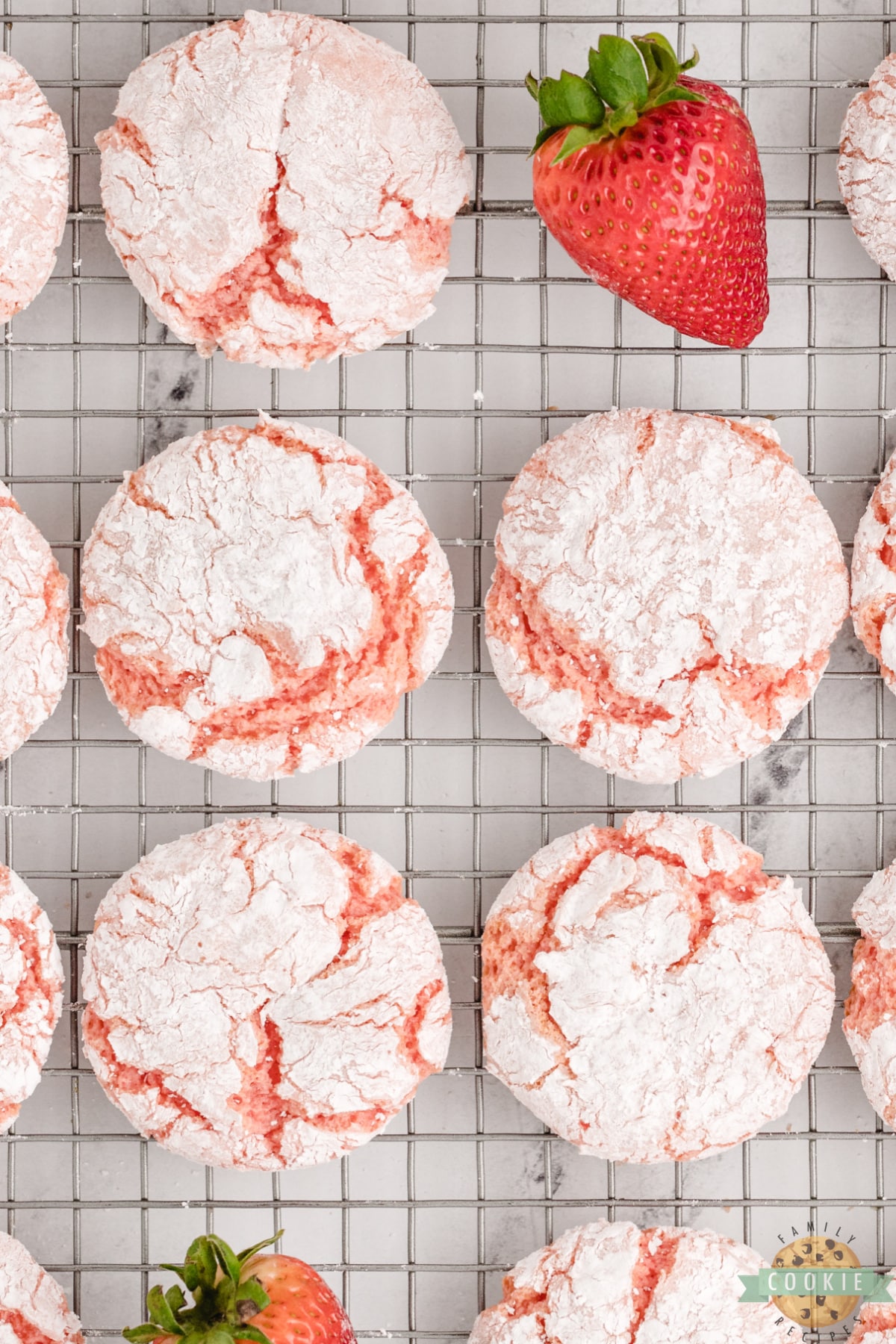 Can you replace the Cool Whip in the cookies?
If you don't have access to Cool Whip or just don't have any on hand, you can swap out the Cool Whip with 1 stick of melted butter. You will definitely be adding a few calories, but the cookies will be delicious!
WHAT BRAND OF CAKE MIX SHOULD I USE?
You can use any brand of cake mix, whether that is a store brand, Duncan Hines, Betty Crocker or another store brand. All of them should work the same but I recommend picking one that you have tried before so you know you like it.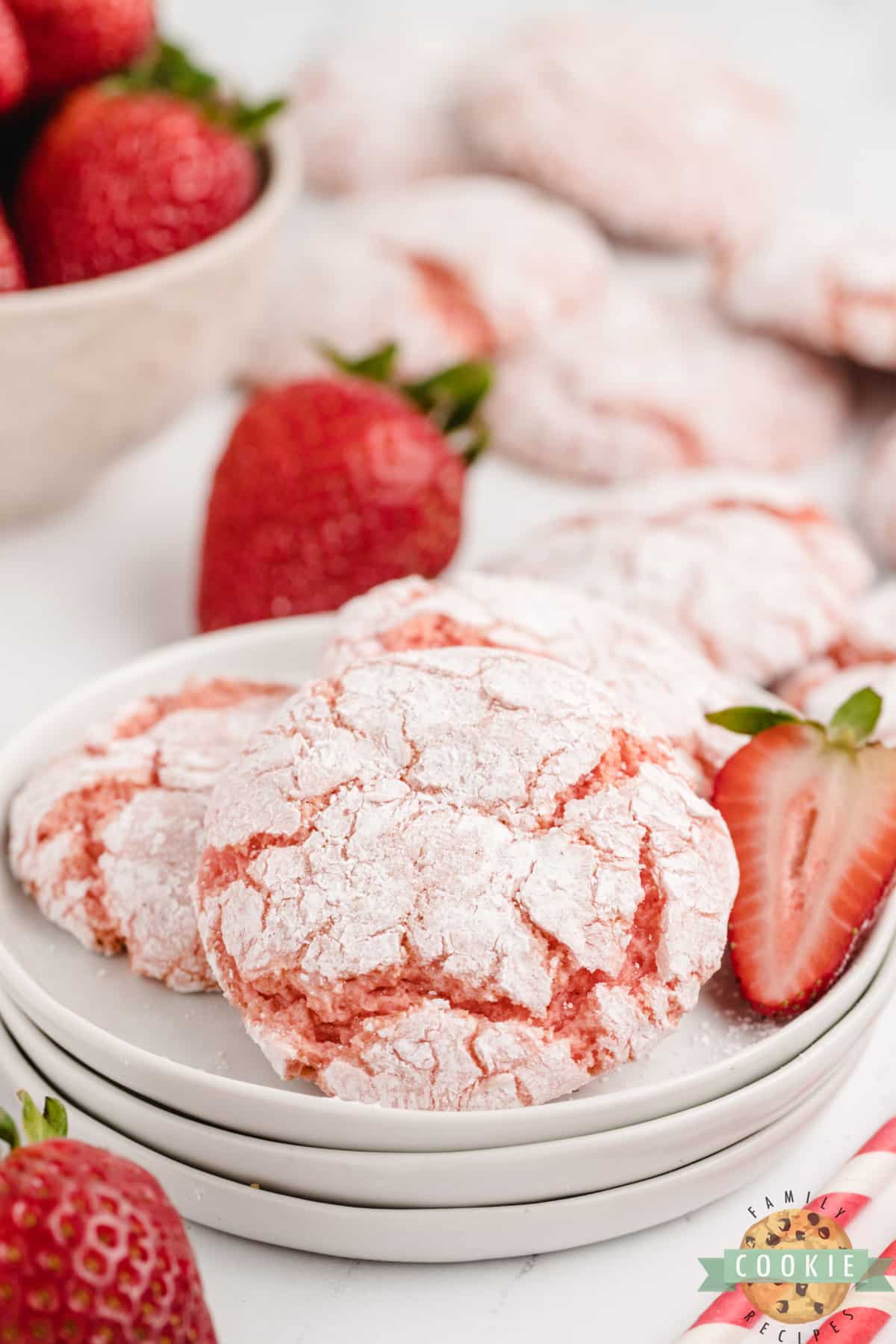 TIPS FOR MAKING PERFECT CAKE MIX COOKIES
Preheat the oven. This will help your cookies turn out right every time!
Use a cookie scoop! If you want all your cookies to be perfectly shaped and have them all be the same size, a cookie scoop is the way to go.
Use parchment paper or a silicone baking mat. Doing this will make it really easy to remove the cookies from your cookie sheet so that you don't have to scrape them off the pan – they will just slide right off in perfect shape!
Don't over bake the cookies – when I take mine out of the oven, they still look slightly under baked but they will continue to bake on the cookie sheet for a couple more minutes so that's ok!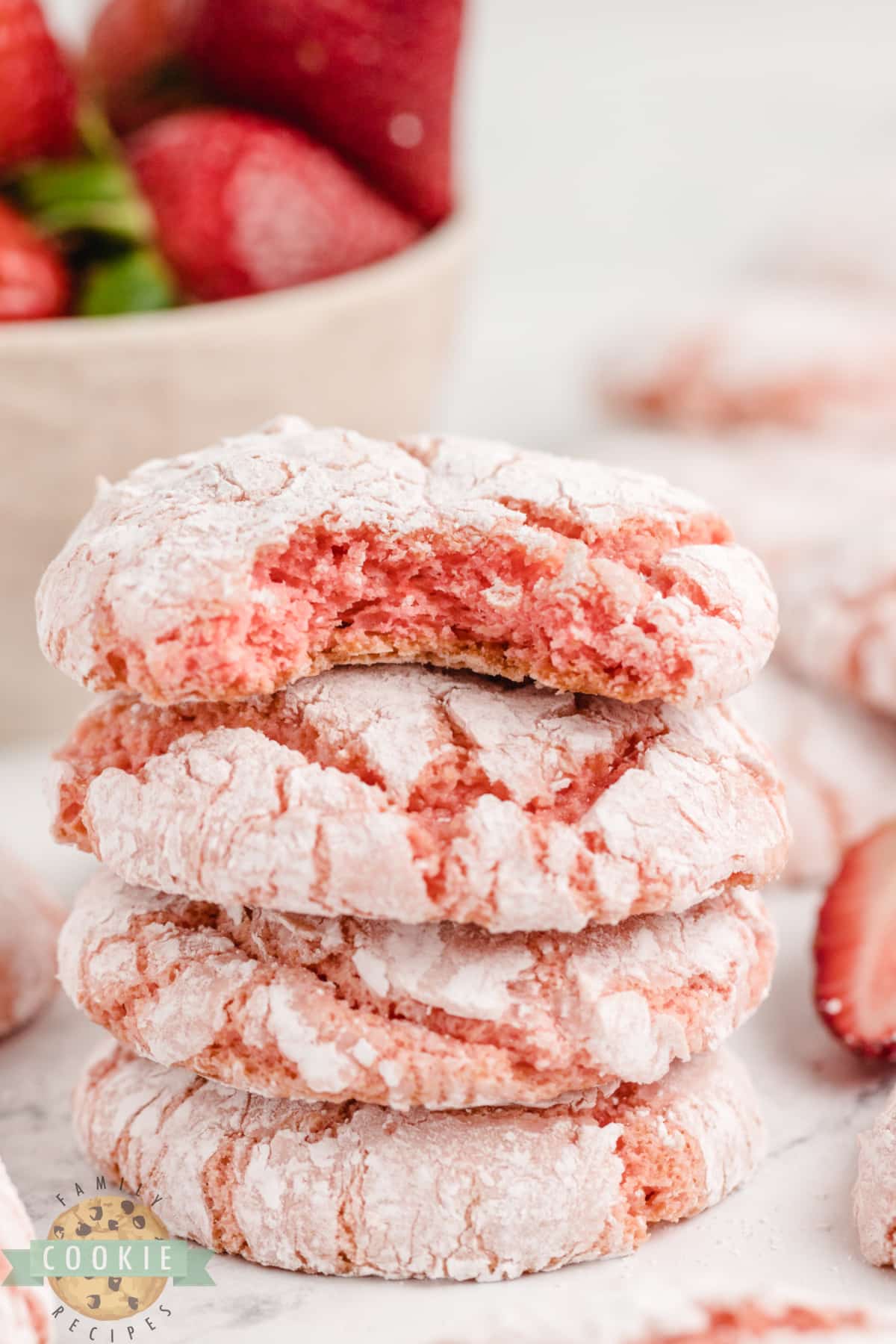 HOW LONG ARE CAKE MIX COOKIES GOOD FOR?
You can keep these cooled cookies in an airtight container at room temperature for up to 3 or 4 days. A trick my mother in law taught me is to put a piece of bread in the cookie container, the cookies absorb the moisture from the bread and stay soft for a couple days longer.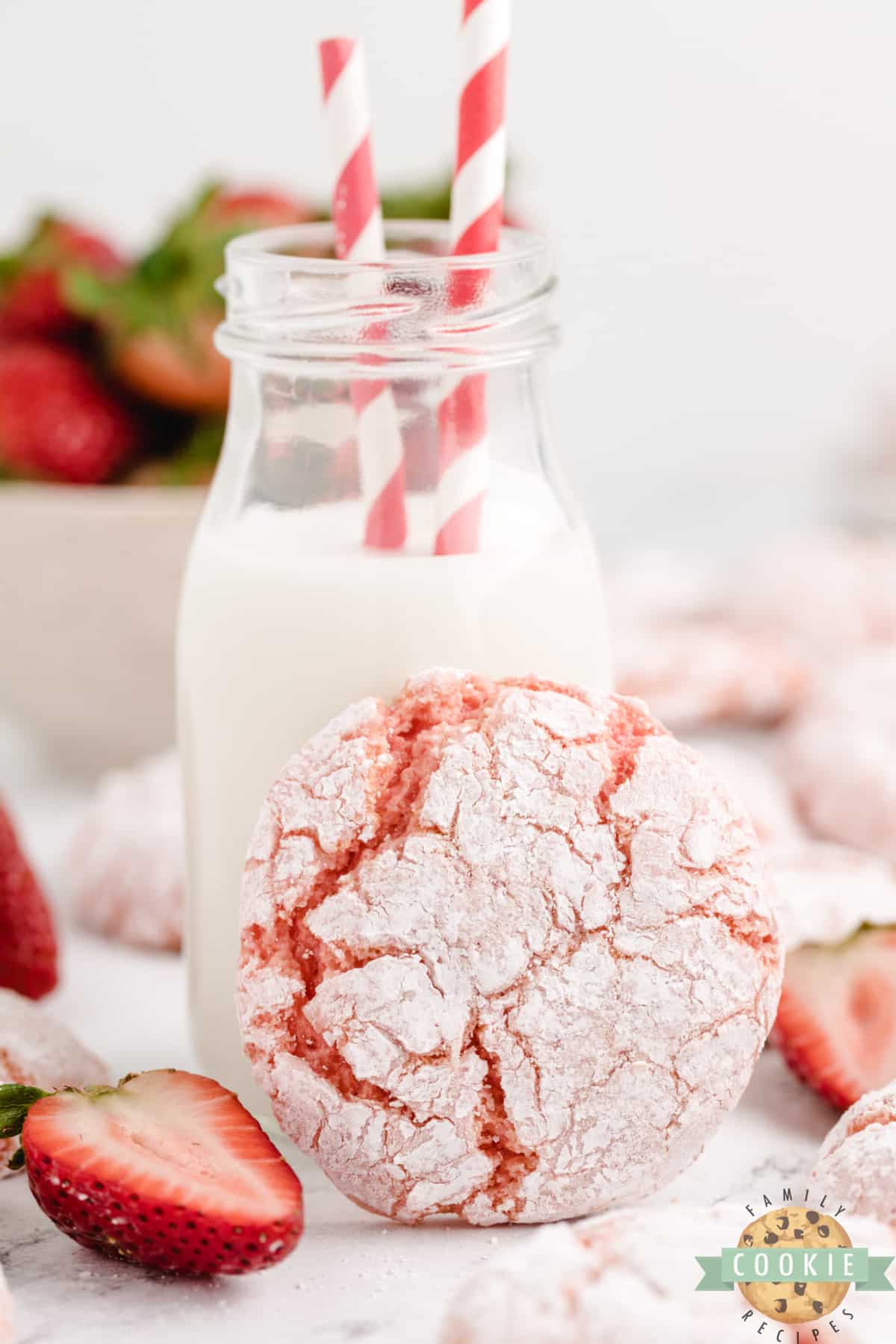 CAN I FREEZE CAKE MIX COOKIES?
Yes, these cookies freeze wonderfully. Simply place the cookies into an airtight container and freeze for up to three months. Let the cookies thaw on the counter before eating so that they are softer enough to bite into. This only takes a few minutes for a single cookie or two.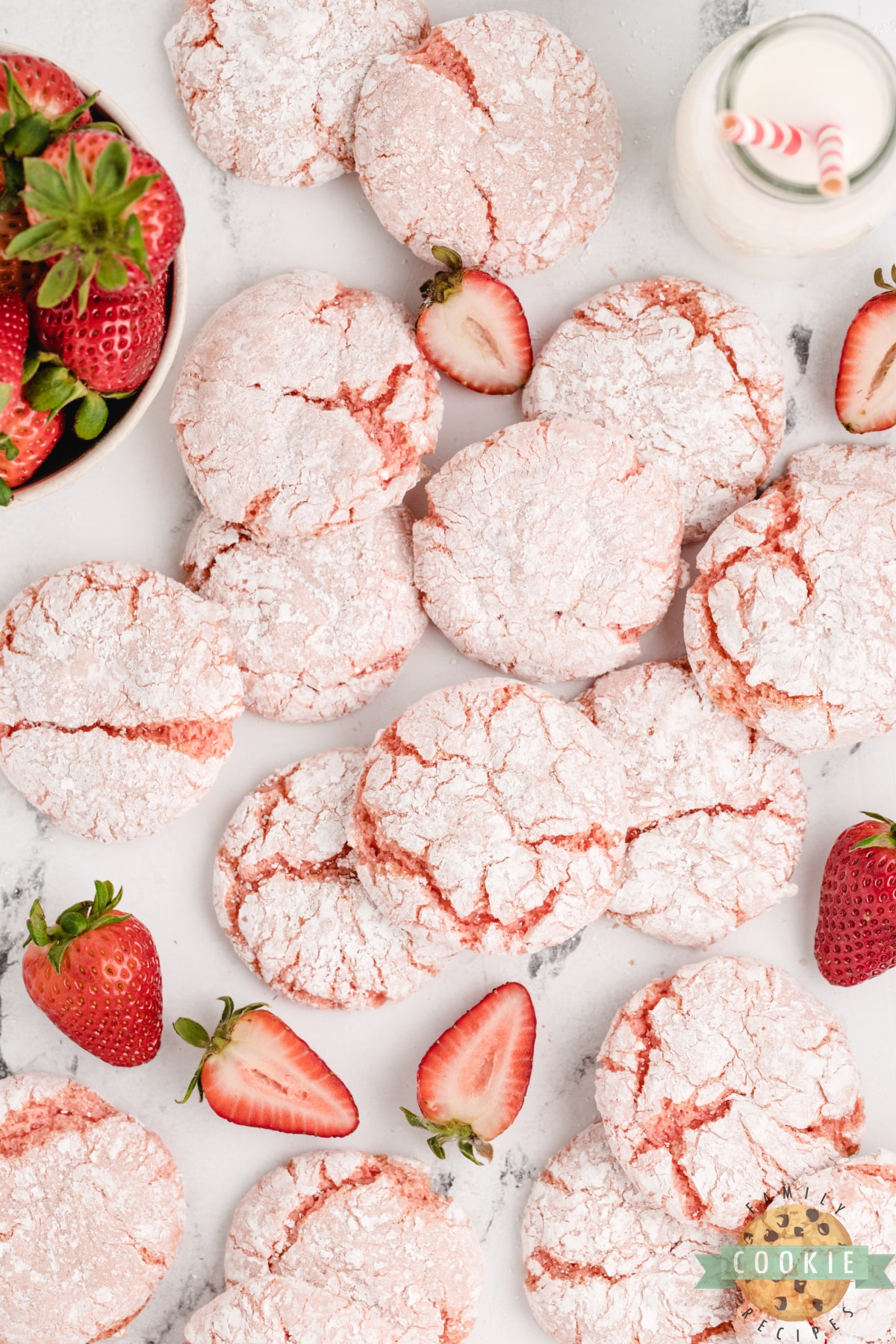 My oldest and my youngest. There are thirteen and a half years between the two of them, yet they have this amazing bond and they both absolutely adore each other. Little B is so excited for S to come home every day from school and she loves to hang out in her room, "coloring on her iPad." Luckily for me (and little B), S is so patient and willing to let a barely 2 year old follow her around and do everything she is doing. It will be so fun to watch as their relationship continues to develop over the years-I hope they always have this special connection!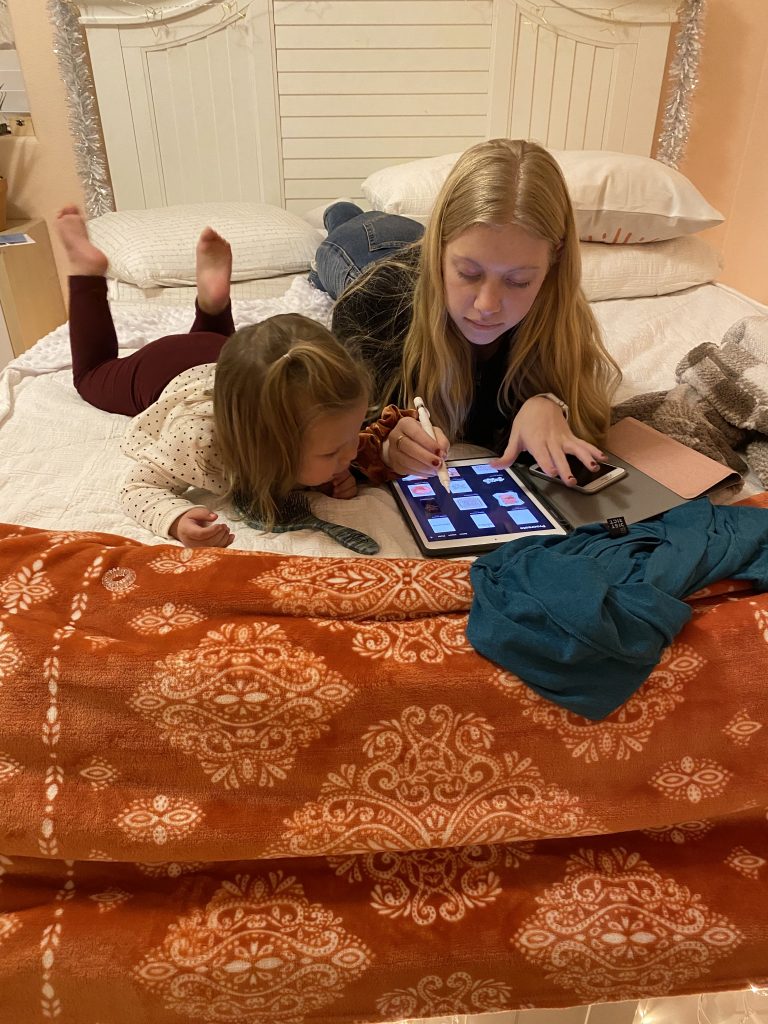 MORE CAKE MIX COOKIE RECIPES TO TRY: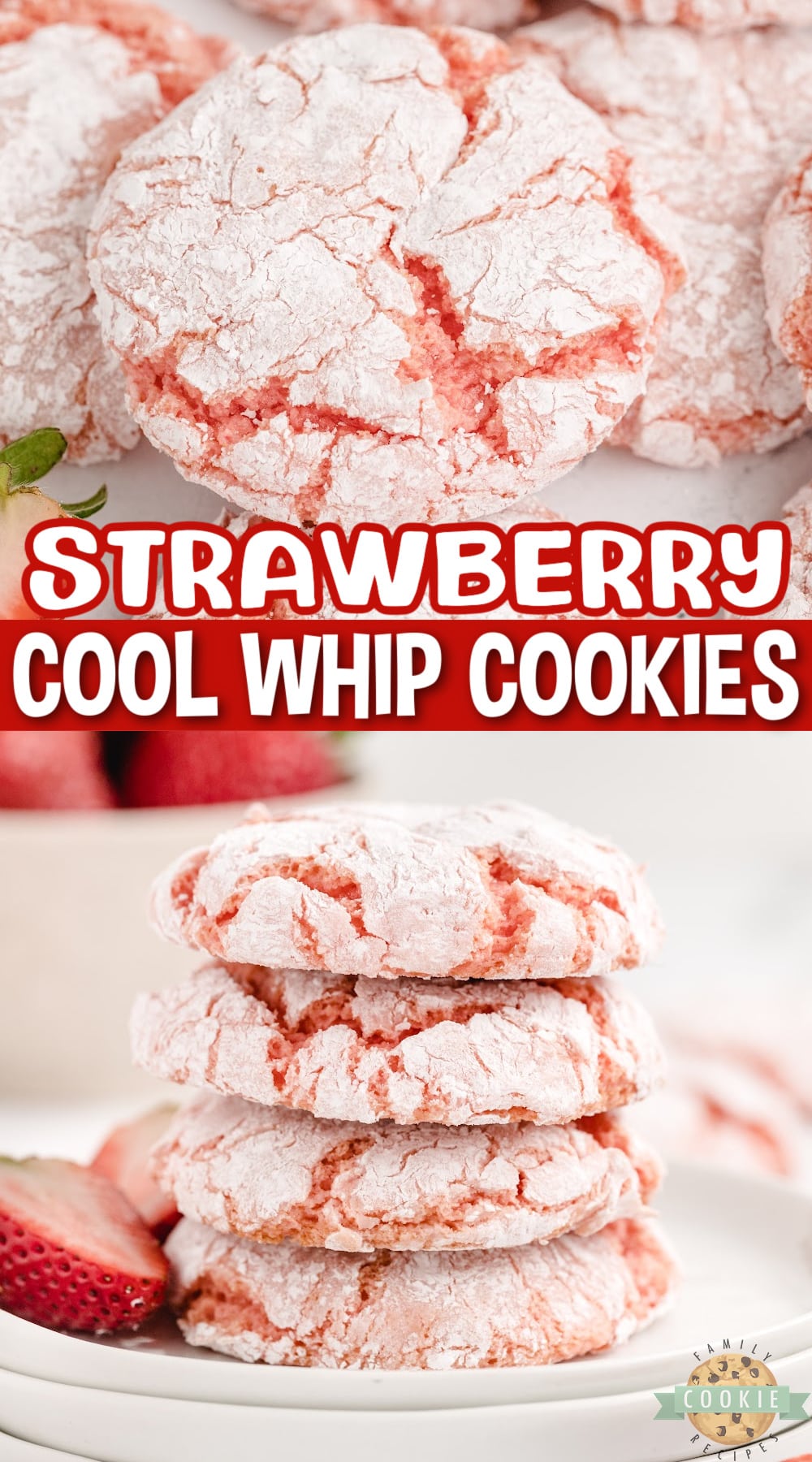 Strawberry Cool Whip Cookies made with a strawberry cake mix, Cool Whip and an egg. A lighter cookie recipe that is easy to make and with less calories than traditional cake mix cookies!