Caramel Spice Cake Mix Cookies made with just 5 ingredients! Soft & chewy spiced cookies with crunchy pecans and sweet caramel baking chips. Perfect Fall cookie recipe!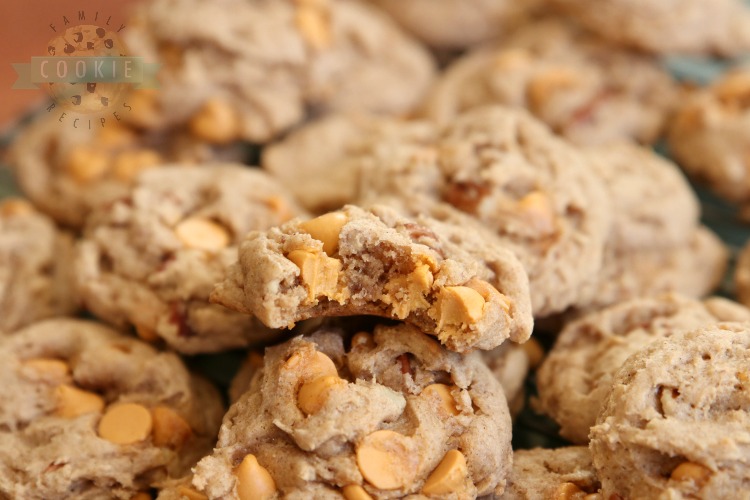 This sweet, chewy and crunchy cookie is easy to make. In fact, cake mix cookies with butter are probably one of the easiest types of cookies to make because there are minimal ingredients and steps!
Easy cake mix cookies like this recipe are one of the best treats to enjoy. They are packed full of delicious flavors and you hardly have to do a thing! The best part is probably that they usually give you less dirty dishes too!
How to Make Spice Cake Mix Cookies
You will want to line your baking sheet with parchment paper to keep the cleanup minimal. It also helps to keep the bottom of cookies from getting too brown.
All of your ingredients will be mixed together in one bowl, and from there you can scoop it out and roll the dough into balls.
You want the dough balls to be equal in size, so it could be helpful to use a tablespoon as a measuring device or using a cookie scoop so that the dough balls remain uniform.
Can you freeze baked cake mix cookies?
Yes, you can! I recommend freezing them flat on a baking sheet before transferring them to a Ziploc bag because it will help to prevent them from sticking together. While a giant cookie might be great in theory, it's inconvenient if you're grabbing a quick on-the-go snack. You can thaw the cookies on the counter for about 10 minutes before enjoying.
How do you make cookies soft after baking?
Let the cookies remain on the baking sheet for a few minutes before transferring to the cooling rack. Once cooled, store them in an airtight container and add in a slice of bread to help retain the moisture.
Caramel Spice Cake Mix Cookies Ingredients
You'll need just 5 ingredients to make these Cake Mix Cookies:
-1 15.25-oz box Spice Cake Mix
-2 eggs
-1/3 cup butter, melted
-1 cup caramel baking chips
-1/3 cup chopped pecans
How to Make Caramel Spice Cake Mix Cookies
Preheat your oven to 350 degrees and line a cookie sheet with parchment paper. Set aside.
Using an electric mixer, combine eggs and cake mix in a bowl. It should look like wet sand.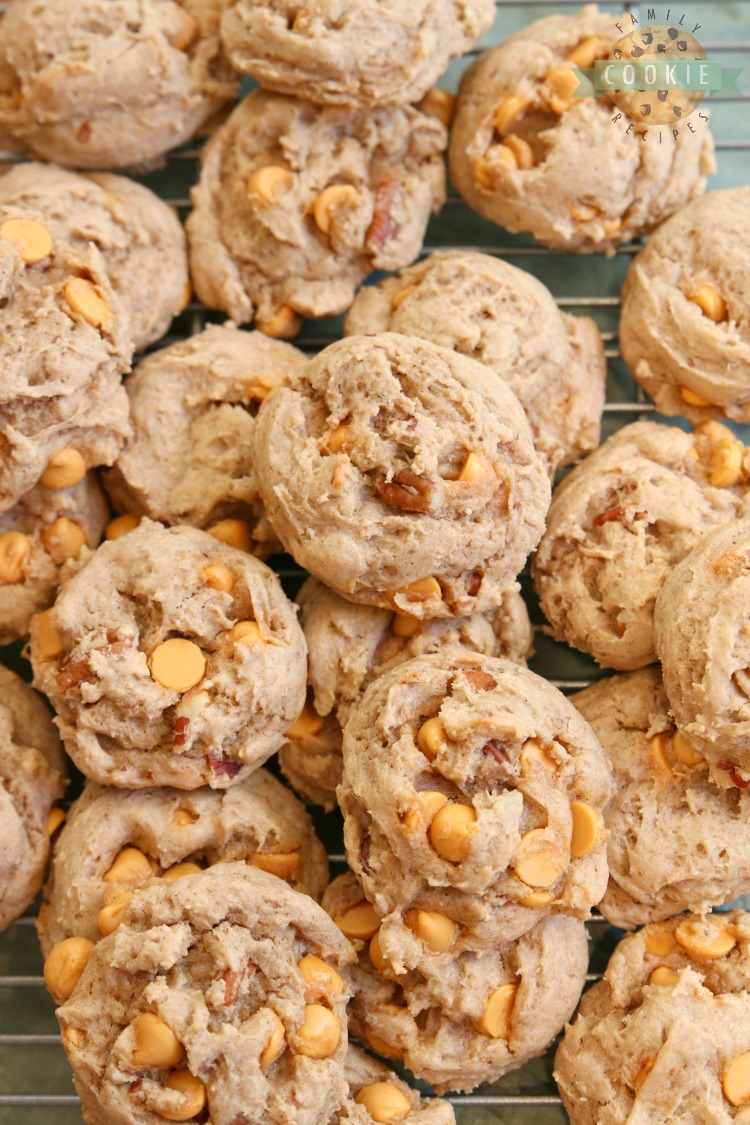 Add in the melted butter to the cake mix and the egg mixture. Combine until smooth. The dough will be slightly sticky and thick.
Allow the cookie dough to rest for a couple of minutes, this makes the scooping and rolling much easier!
Scoop out the dough and roll each scoop into a ball to help smooth the edges before arranging them on the parchment paper on a lined cookie sheet.
Bake 350 for 8-10 minutes, pulling them out when the cookies are puffy and the tops are no longer glossy. Let cool 3-4 on the cookie sheet, then transfer them to a cooling rack.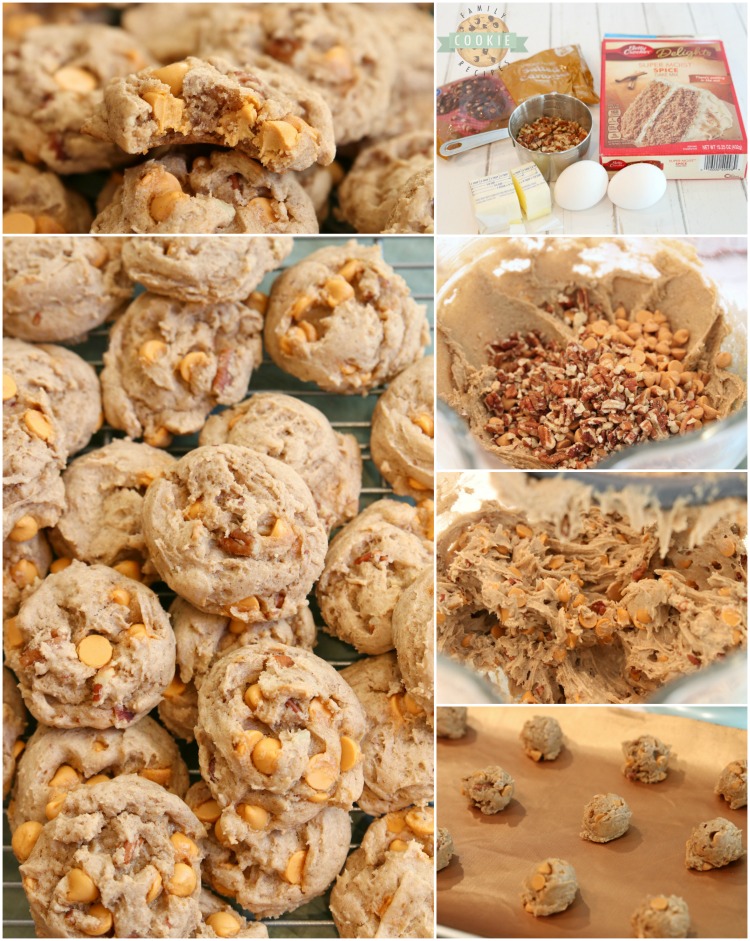 What makes cookies chewy vs cakey?
The difference in oven temperatures and ingredients all play a part in the end results of a cookie. For example, melted butter gives a chewier texture and flatter appearance whereas cold butter could give you a more puffy looking cookie. Eggs help the dough to rise and the other ingredients all play a specific part as well.
How long do cake mix cookies last?
If properly stored, fresh-baked cake mix cookies can last up to 3 weeks at room temperature. After that, they become too stale to enjoy. If you think that you won't finish your cookies within that time frame, you can put them in the freezer for longer storage.

I have to share this cute picture of my kids with you! WHEN DID THEY GET SO OLD?! Ha! People told me this would happen but it seems like just in the last few months my kids have aged years. Is it just me?! Anyhow, such a good bunch of kids I have.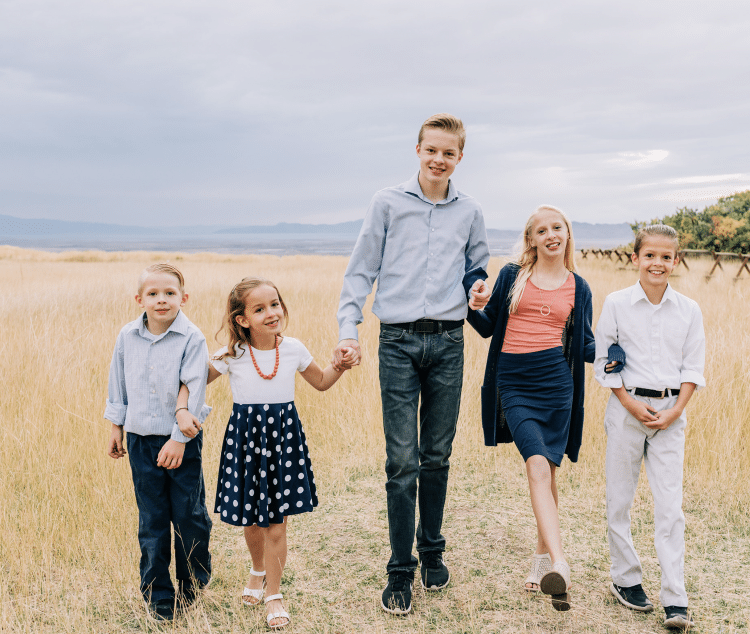 More cake mix cookie recipes you're going to enjoy!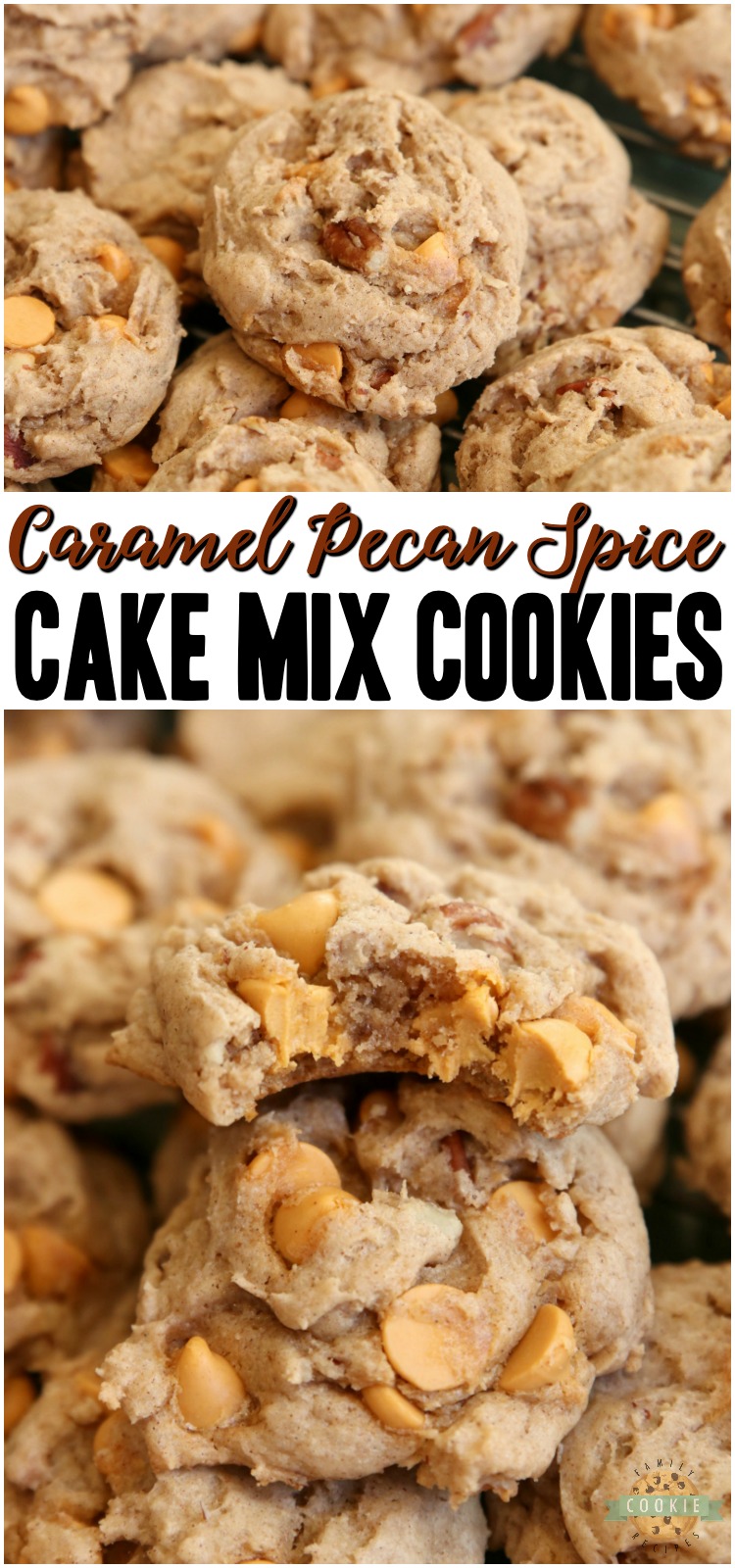 Caramel Spice Cake Mix Cookies made with just 5 ingredients! Soft & chewy spiced cookies with crunchy pecans and sweet caramel baking chips. Perfect Fall cookie recipe!