Caramel Apple Snickerdoodles add fresh apples and a gooey caramel filling to your favorite snickerdoodle cookie recipe. Soft and chewy cinnamon sugar cookies that are perfect for fall!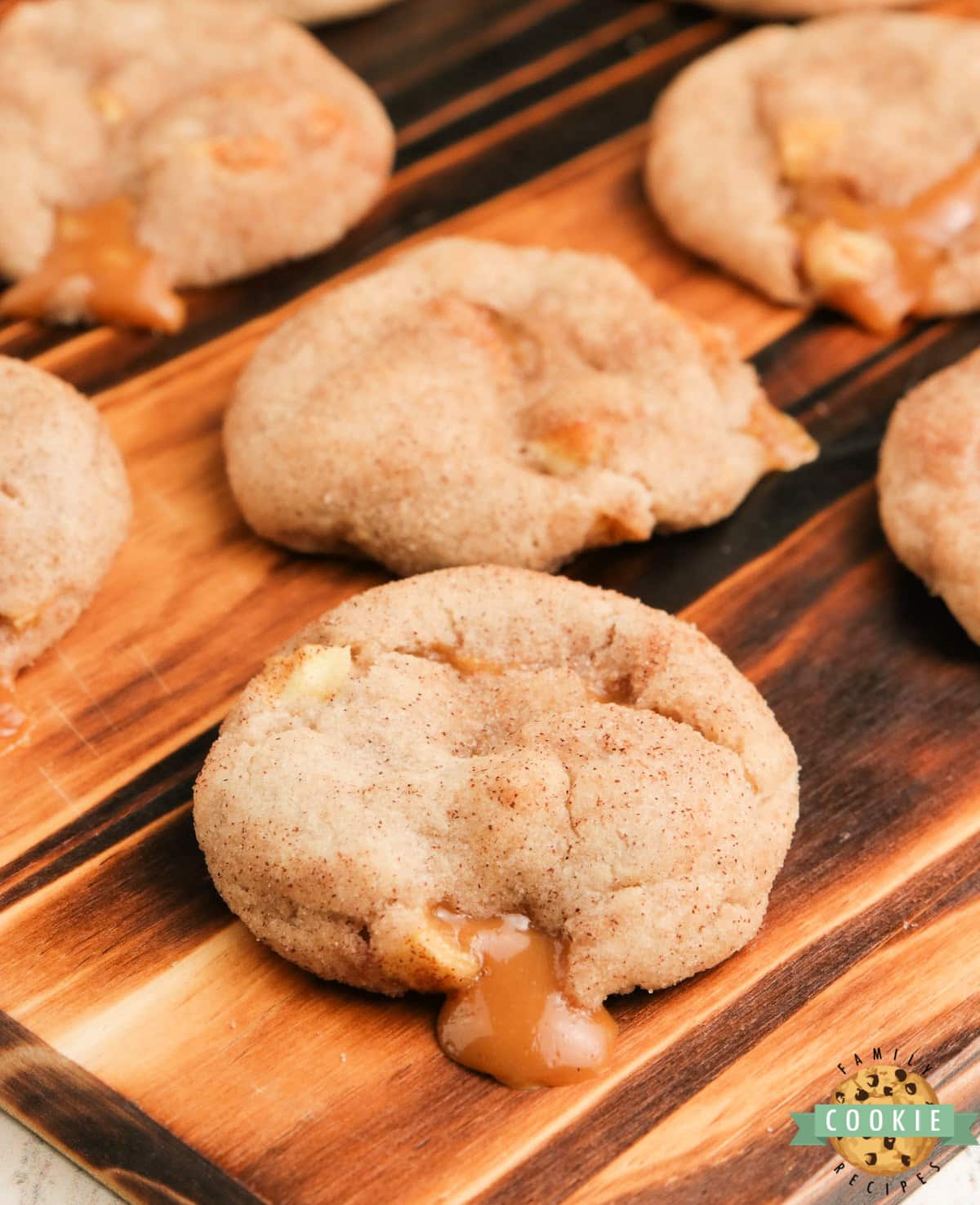 Caramel Apple Snickerdoodles came about as I was trying to come up with a fun fall twist on one of my favorite cookie recipes. The snickerdoodles are fabulous on their own, but add the apples and caramel and these cookies become absolutely unbelievable. I wish I could explain how good these are, but you will just have to try this recipe so you can discover the goodness for yourselves.
CARAMEL APPLE SNICKERDOODLES
Snickerdoodles are soft cookies that are rolled in cinnamon and sugar. Caramel apple snickerdoodles take these cookies up a notch or two. Place a soft caramel in the middle of the cookie and mix some chopped apples into the cookie dough. Nothing says fall better than cinnamon, apples and caramel…in one delicious cookie recipe!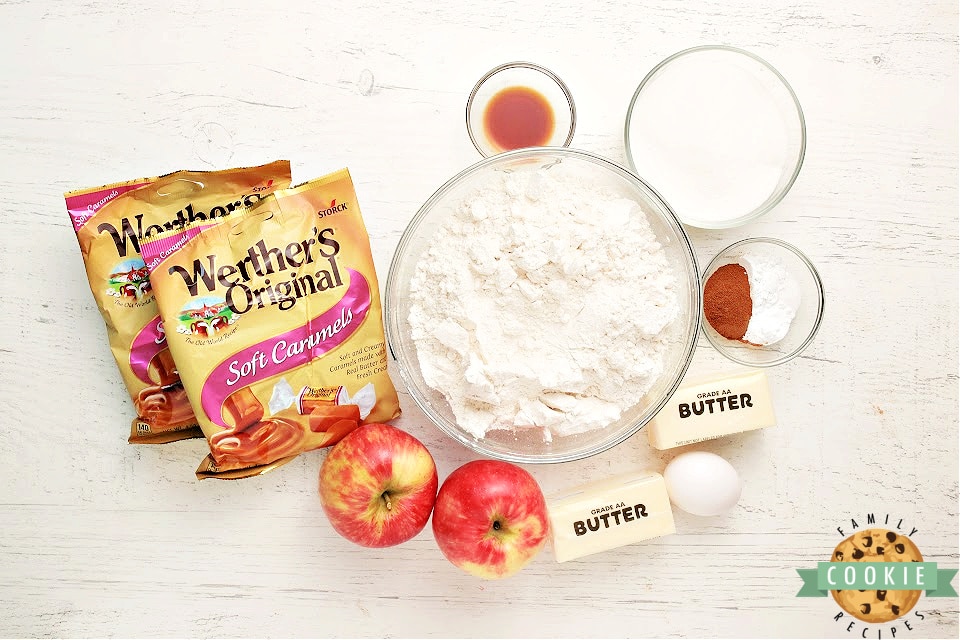 INGREDIENTS IN CARAMEL APPLE SNICKERDOODLES
Butter – You'll need 1 cup of butter, softened to room temperature. For best results, use real butter.
Sugar – You'll need 1 1/3 cup of granulated sugar for these cookies.
Egg – The recipe calls for 1 large egg to bind everything together.
Vanilla extract – The higher the quality of the vanilla, the better!
Flour – All purpose flour works best in these cookies. Cake flour also works well.
Cream of tartar – Cream of tartar really helps with the consistency of these cookies and makes them perfectly soft and chewy.
Baking soda – This is the leavening agent in the cookies so make sure your baking soda isn't old or expired.
Cinnamon – The recipe calls for 2 1/2 teaspoons of ground cinnamon. This is a key ingredient in snickerdoodles, so don't leave it out!
Salt – Just a half teaspoon of salt helps all of the other flavors to pop.
Apple – You will need one large apple so that you can add about 1 cup of diced apples to the cookies. Make sure to peel the apple first.
Caramels – You'll need 30 Werther's Soft Caramels (you will need two 4.5 oz bags). Make sure to use soft caramels because they will melt down and work much better than regular caramels. Homemade caramels work great in this recipe because they are so soft!
CINNAMON SUGAR TOPPING
Sugar and cinnamon – You'll need to mix 1/4 cup of sugar with 1 teaspoon of cinnamon so that you can coat the cookie dough balls in it.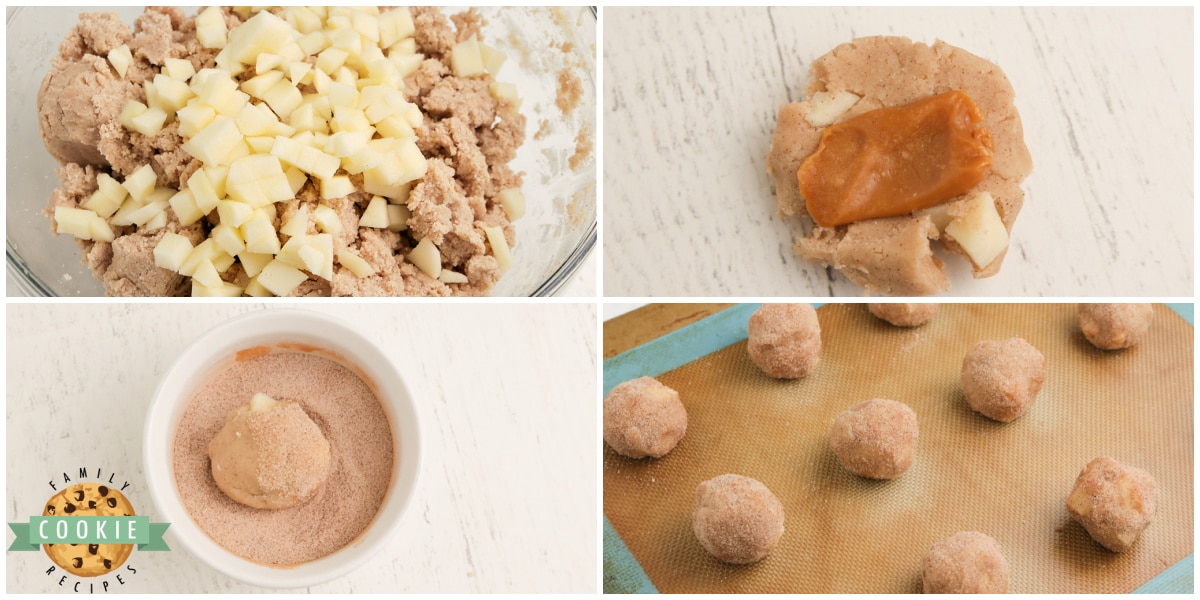 HOW TO MAKE CARAMEL APPLE SNICKERDOODLES
Make the topping by mixing the sugar and cinnamon together. Set aside.
Cream the butter and sugar together until fluffy (1-2 minutes) with an electric mixer. Mix in the egg and vanilla and set aside.
In another bowl, whisk together the flour, cream of tartar, baking soda, cinnamon and salt. Slowly add the dry ingredients to the wet ingredients and mix together on low until well combined.
Stir in the apples until well combined.
Using a cookie scoop, scoop out the dough and flatten it a little bit with your fingers. Flatten one of the caramels a little and place on top of the dough. Then mold the dough around the caramel and roll into a ball.
Place each ball of dough into the topping mixture and roll around until well coated. Place the cookie dough balls onto a greased cookie sheet. Bake at 350 for about 10-11 minutes or until the cookies are very lightly browned. Cool for at least 15-20 minutes on the baking sheets before you try to move them to a wire rack so that the cookies don't fall apart! Or you can eat them warm with a spoon. And some vanilla ice cream. 😉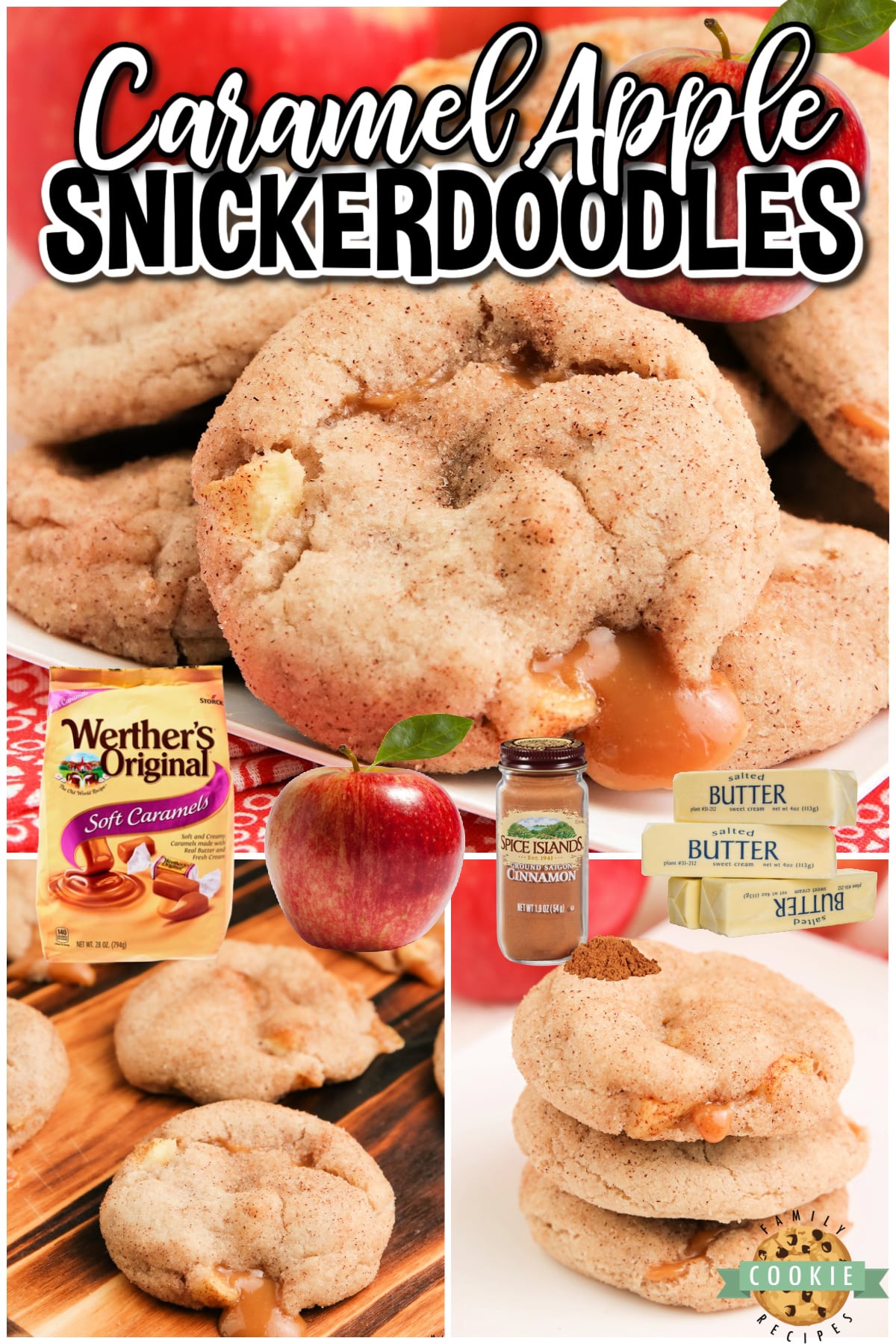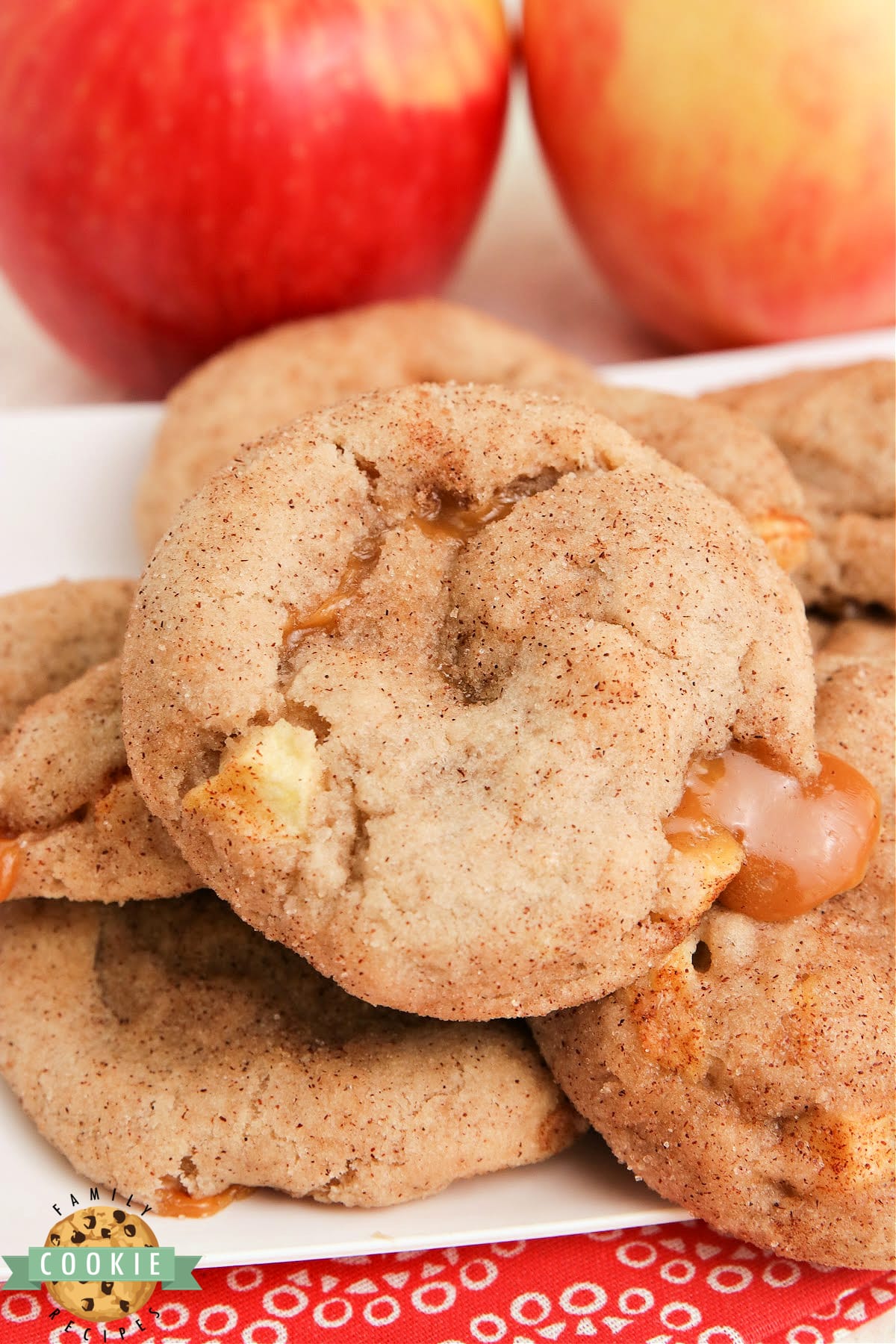 WHAT KIND OF APPLES WORK BEST IN COOKIES?
You can use any apples, but apples that are firm and tart like Granny Smith, Honeycrisp or Pink Lady will work the best. They will add a nice flavor of tang to offset the sweetness of everything else and will taste incredible!
TIPS FOR MAKING AMAZING CARAMEL APPLE SNICKERDOODLE COOKIES
Make sure that you have enough flour in the dough. If the dough is too sticky, you may need to add a little bit of flour. The dough in this recipe is slightly sticky and may stick to your fingers slightly as you are rolling the balls, but if they are impossible to shape into balls, add a little bit more flour.
Do not melt the butter! The butter needs to be softened (at room temperature), but using melted butter will ruin these cookies.
Spend a little extra time when you mix the butter and sugars. Creaming them together for 2-3 minutes will improve the consistency of your cookies.
Preheat the oven. This will help your cookies turn out right every time!
Use a cookie scoop! If you want all your cookies to be perfectly shaped and have them all be the same size, a cookie scoop is the way to go.
Use parchment paper or a silicone baking mat. Doing this will make it really easy to remove the cookies from your cookie sheet so that you don't have to scrape them off the pan – they will just slide right off in perfect shape!
Don't overbake the cookies – when I take mine out of the oven, they still look slightly underbaked but they will continue to bake on the cookie sheet for a couple more minutes so that's ok!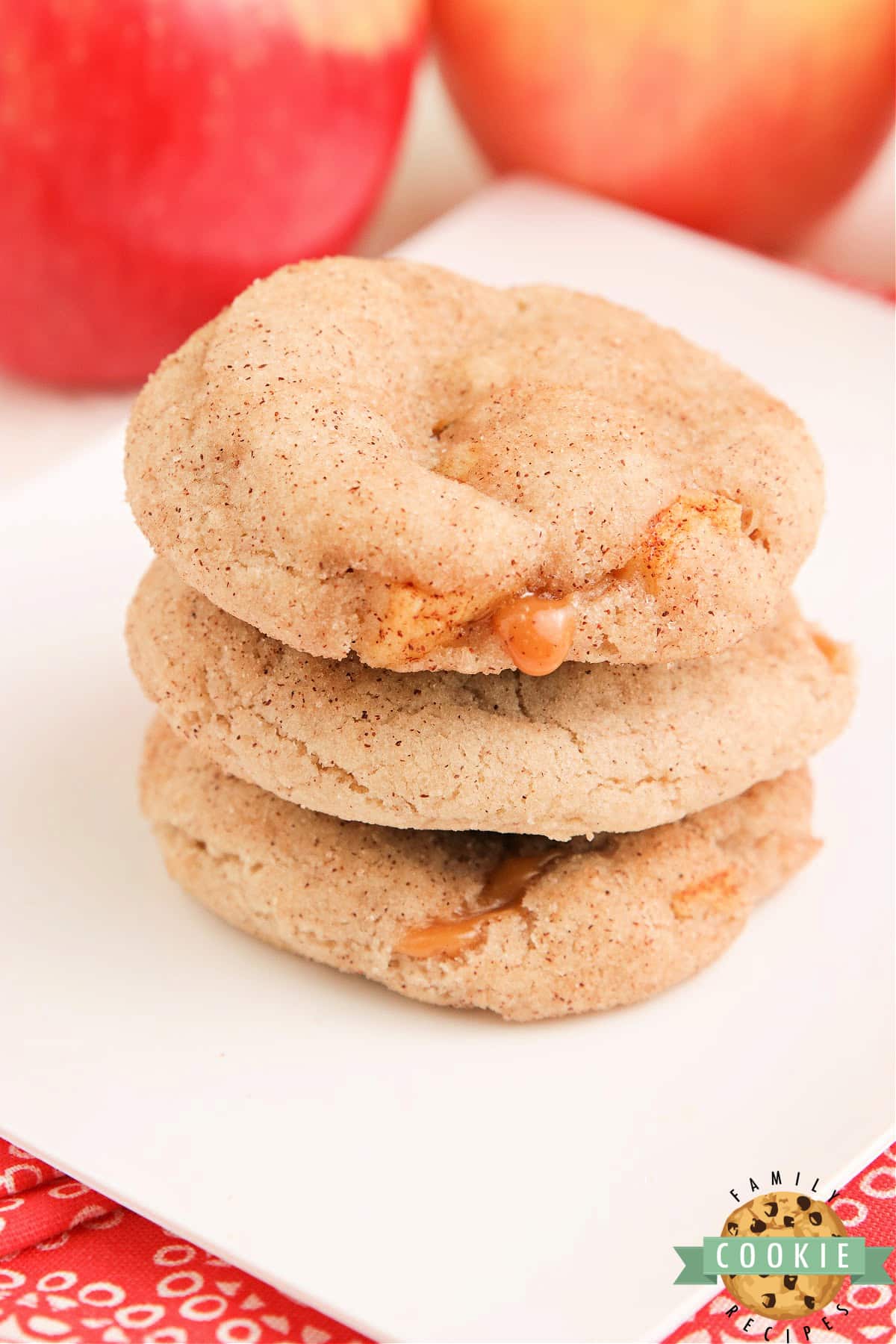 HOW DO YOU SOFTEN BUTTER?
I like to soften butter by using the defrost function on my microwave. If you need the full 1/2 cup cube of butter, you can leave it in the paper wrapper, otherwise, place the amount of butter you need in a glass or porcelain bowl. I use the lowest defrost setting on my microwave and just let it run for 20 seconds. Check the butter and see how soft it is by pressing it with a rubber scraper. If it is still not soft to the touch, meaning it doesn't indent when you press into it, let it warm for another 5-10 seconds. Watch it closely! Butter softens very quickly.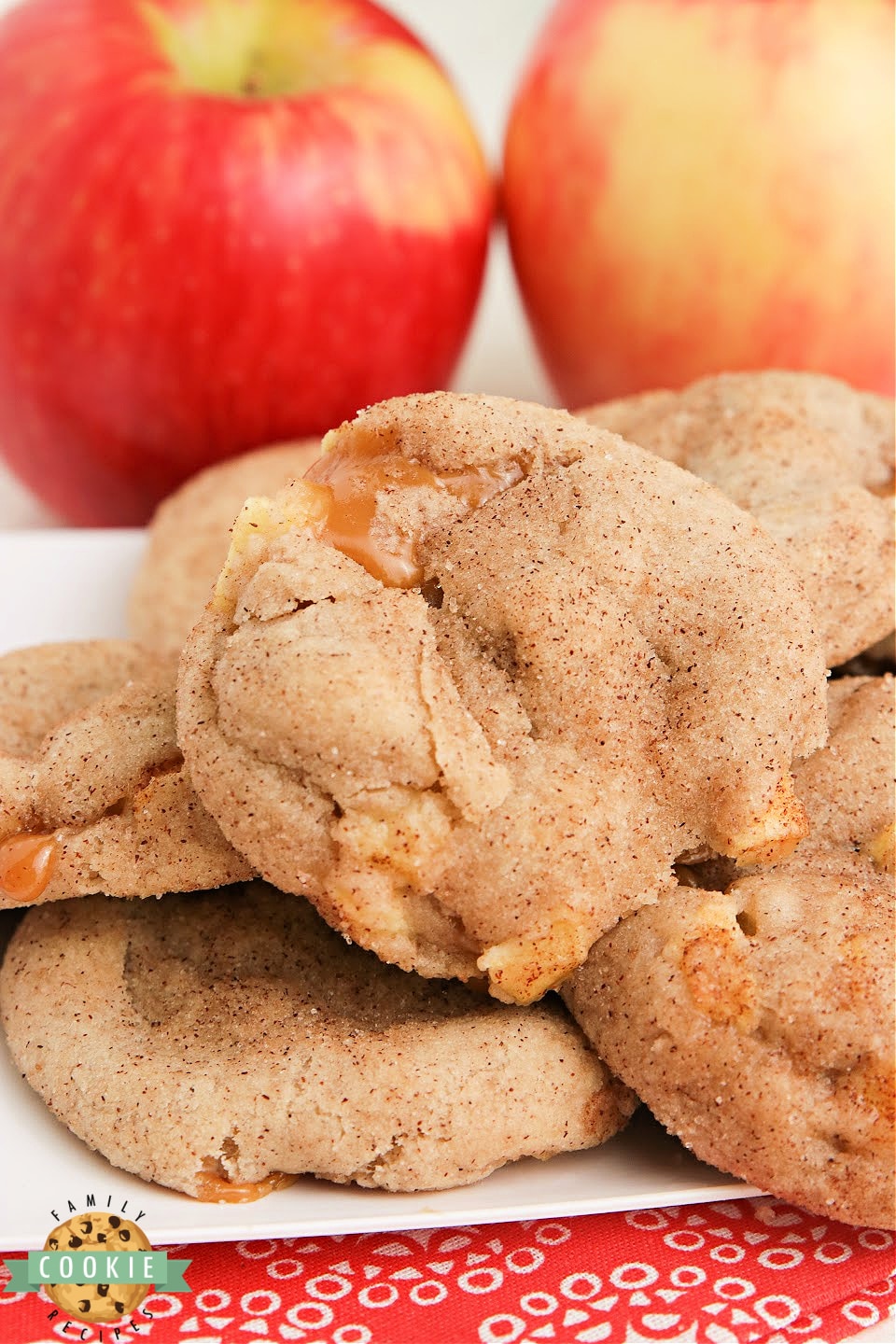 Try some of our other favorite Snickerdoodle recipes: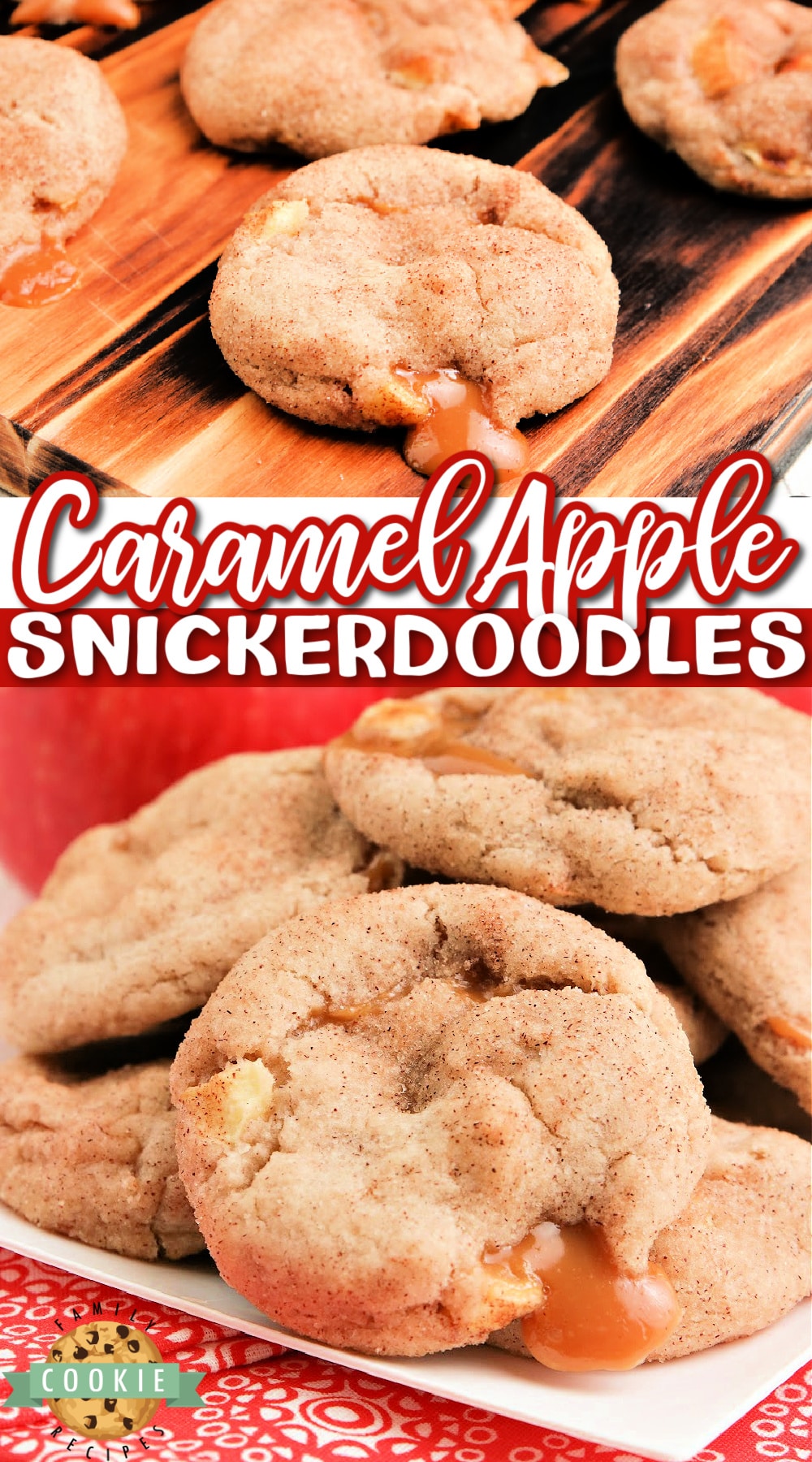 Caramel Apple Snickerdoodles add fresh apples and a gooey caramel filling to your favorite snickerdoodle cookie recipe. Soft and chewy cinnamon sugar cookies that are perfect for fall!



M is my third child and she has the most interesting personality. She can be the sweetest thing one minute and extremely stubborn and sassy the next. Since she was a baby, she has been entertaining our family with her sense of humor – she's a completely goofball and has the faces to prove it!