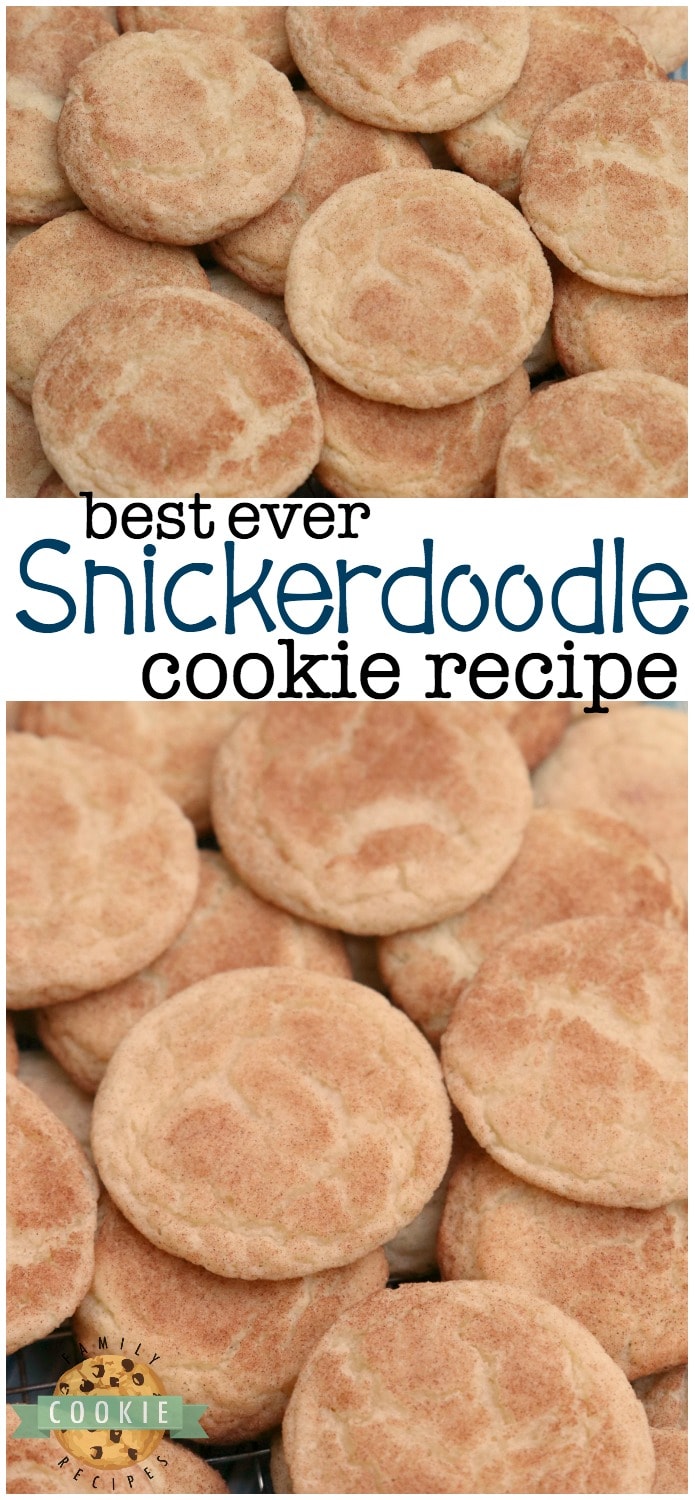 Classic Snickerdoodle recipe for the best Snickerdoodle Cookies ever! Soft & chewy with great cinnamon sugar flavor and that traditional snickerdoodle texture.
Be sure to check out our updated collection of BEST CHRISTMAS COOKIE RECIPES here!
My oldest son adores Snickerdoodles so I make them often. I've used the same recipe for years- if it 'aint broke and all that. It's easy and my kids love spooning the sugar over the dough. I adore the simple flavor of Snickerdoodle cookies, so really, everyone wins!

Do you have to have Cream of Tartar for Snickerdoodles?
Cream of Tartar is one of the ingredients that gives Snickerdoodles its distinct flavor & texture. It makes it so that these cookies don't just taste like sugar cookies with a cinnamon sugar coating. The flavor is unique and fairly difficult to replicate. Nevertheless, if you're out and don't want to run to the store, you can substitute baking powder instead, being as baking powder actually contains Cream of Tartar!
Tips to get the PERFECT Snickerdoodle Recipe:
Three kitchen items make these cookies come together quickly and easily. I actually use these items in nearly every cookie recipe I make, so they're quite versatile. First, I line my cookie sheets with a piece of parchment paper. They're sold in sizes that fit a 12×16 cookie sheet perfectly and enable to cookies to bake well without sticking- and no mess from spraying oil on the cookie sheets! Parchment is especially useful for this recipe as the dough is quite soft. It makes clean up a breeze!
The second item is a KitchenAid mixer. I love mine! I have a Bosch as well but I find I use my KitchenAid for cookies. There is a cookie paddle that comes with every mixer that you attach to the top of the mixer. They're easy to use and help you mix the ingredients uniformly. I also use the metal whisk attachment in this recipe to make the frosting. It whips it up super fast! Add this to your wish list because it's one of my all-time used small appliances ever!
The third item is a cookie scoop! Years and years ago I used to use 2 spoons to measure and scrape cookie dough onto the pans. It wasn't a perfect process and I often ended up with oblong cookies in various sizes. A friend of mine brought cookies to a party and I noticed each and every one of her cookies looked PERFECT. Her secret? A cookie scoop! They come in three sizes- 1/2 tablespoon, 1.5 tablespoon and 3 tablespoon scoops. I used the middle size- 1.5 tablespoon for these, and most other cookies. (Although when I'm serving a large crowd, I use the small cookie scoop. People love having a smaller cookie, especially at an event with several other desserts.)

The BEST Snickerdoodle Recipe
1/2 cup softened butter
1/2 cup shortening (I used butter flavored Crisco)
1 1/2 cups sugar
2 eggs
1 TBSP vanilla
2 3/4 cups flour + 2 TBSP flour
2 tsp cream of tartar
1 tsp baking soda
1/2 tsp salt
cinnamon-sugar mixture (3 TBSP sugar + 2 tsp cinnamon)
Preheat oven to 400 degrees F.

Cream together butter, shortening, 1 1/2 cups sugar, the eggs and the vanilla. Blend in the flour, cream of tartar, soda and salt. Shape dough by rounded spoonfuls into balls.

Mix the 3 tablespoons sugar and cinnamon. Roll balls of dough in mixture, then spoon cinnamon-sugar mixture over each cookie, turning once and doing the same on the other side. Place 2 inches apart on baking sheets lined with parchment paper.
Bake 8 minutes exactly! Remove from oven and let cookies cool on the baking sheets for an additional 2 minutes. Transfer to a cooling rack to cool completely.
Enjoy!
If you like our Best Snickerdoodle Recipe, try a few of our other favorite snickerdoodle recipes: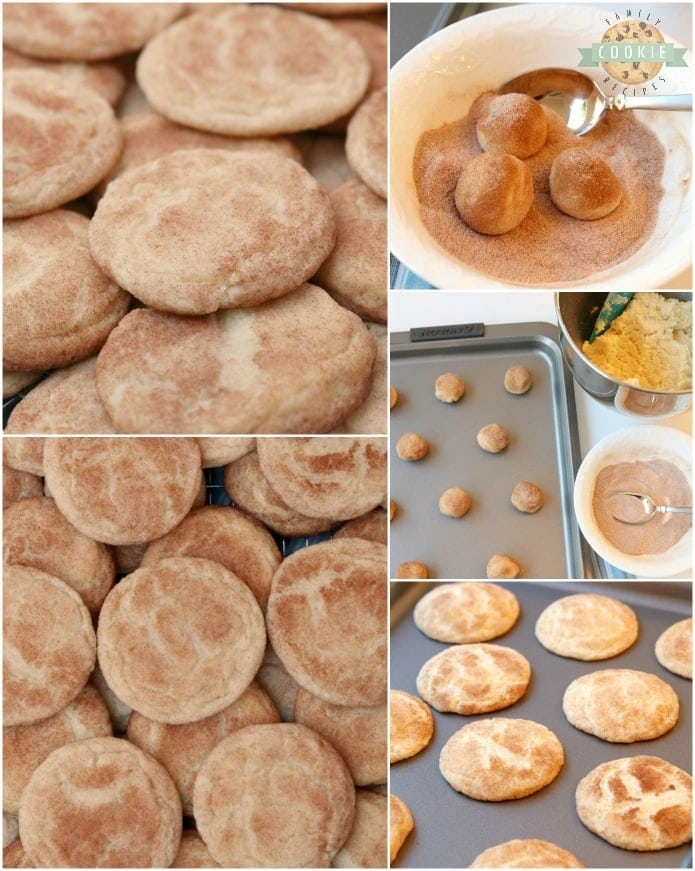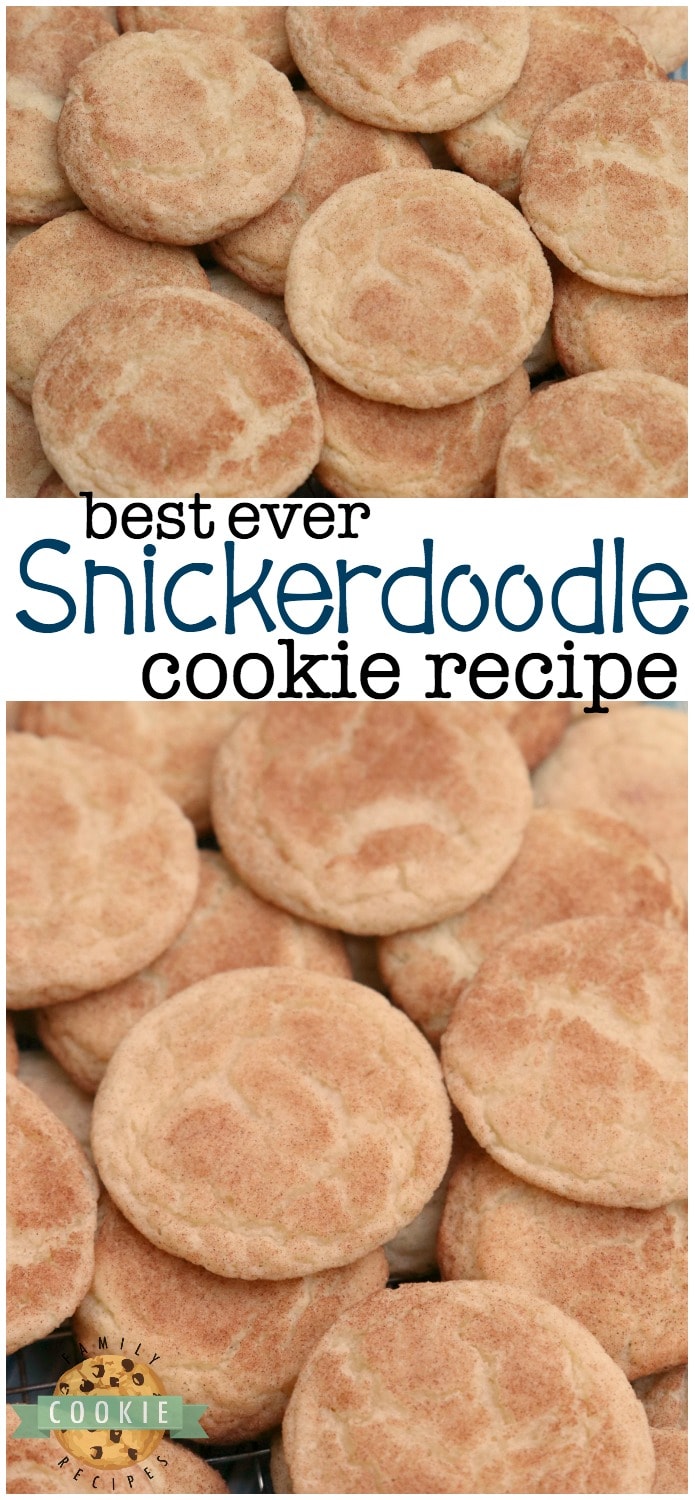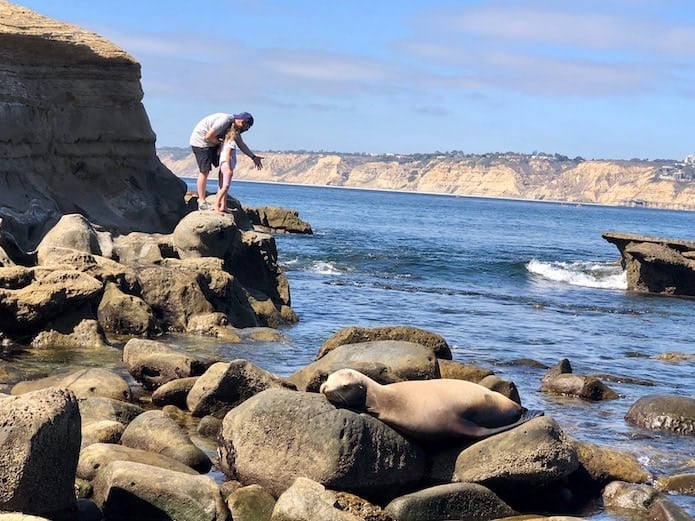 There's something magical about visiting the ocean with your kids. I'm going to be honest, it's nowhere near as serene as visiting the ocean without kids, but still, there's something incredible about it. Here my husband is helping my youngest daughter spot the colorful fish swimming right around the rocks on the shoreline. Don't miss the sleeping sea lion in the foreground! This was a very small, very popular beach with lots of fun things to see.
Do you like visiting the beach with your family? Where's your favorite beach?