Best Snickerdoodle Recipe made with classic ingredients that yield soft, chewy cookies with that lovely cinnamon sugar taste we enjoy! Perfect Snickerdoodle cookies that everyone craves!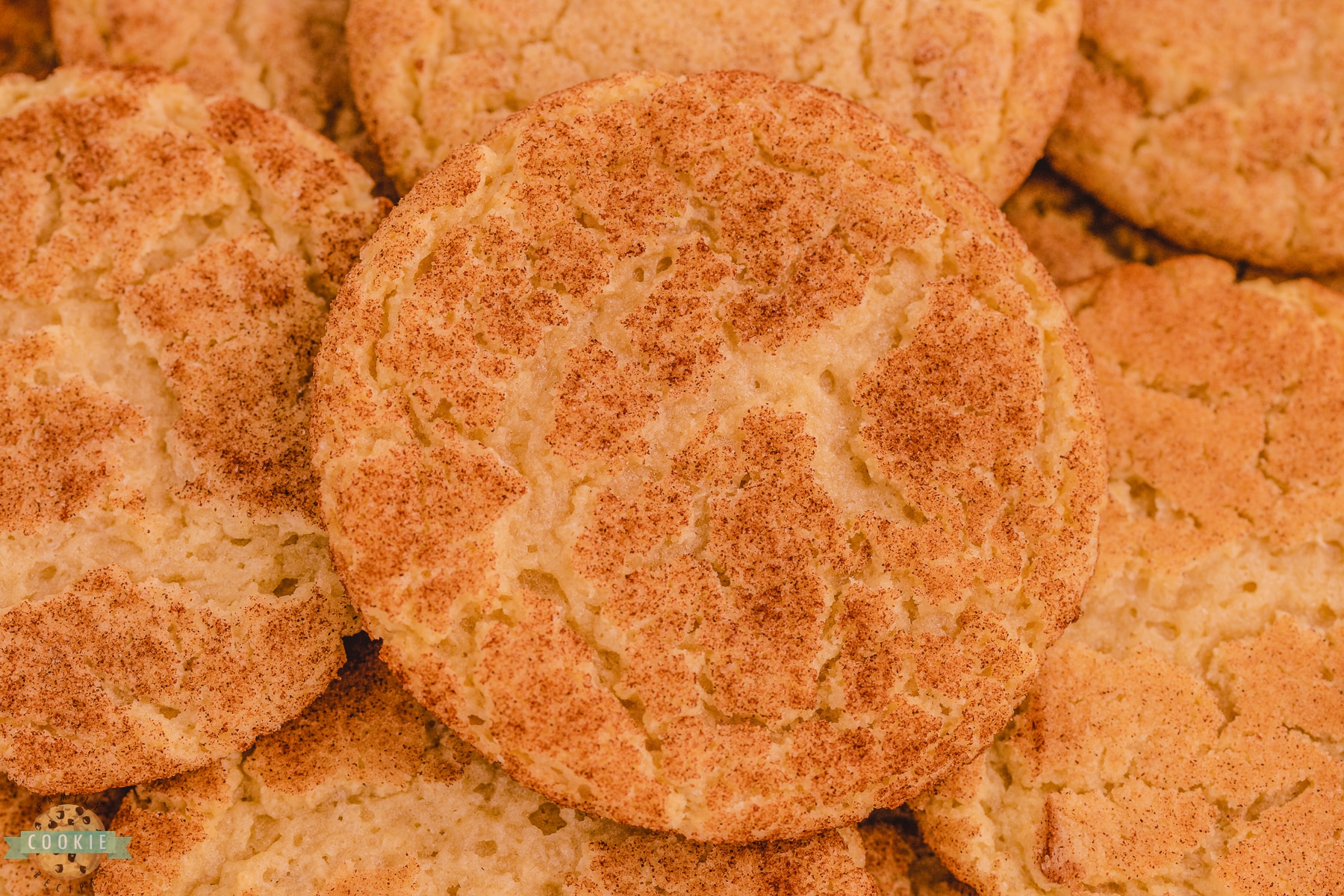 Be sure to check out our updated collection of BEST CHRISTMAS COOKIE RECIPES here!
Make these cinnamon sugar cookies easily, using basic pantry ingredients and about 20 minutes of your time. It is never a wrong time for sugar cookies, with this snickerdoodle recipe you can whip up a batch of these tasty treats!
Easy Snickerdoodle Recipe for AMAZING cookies
My oldest son adores Snickerdoodles so much, I tend to make them often. I have used the same recipe for years, I believe in the moto "if it ain't broke, don't fix it". It is such an easy cookie recipe and my kids love spooning the sugar over the dough to help with the process. I adore the simple flavor of Snickerdoodle cookies, so really, everyone wins! Give this recipe a try today, have your kids help out and enjoy these simply delightful cookies.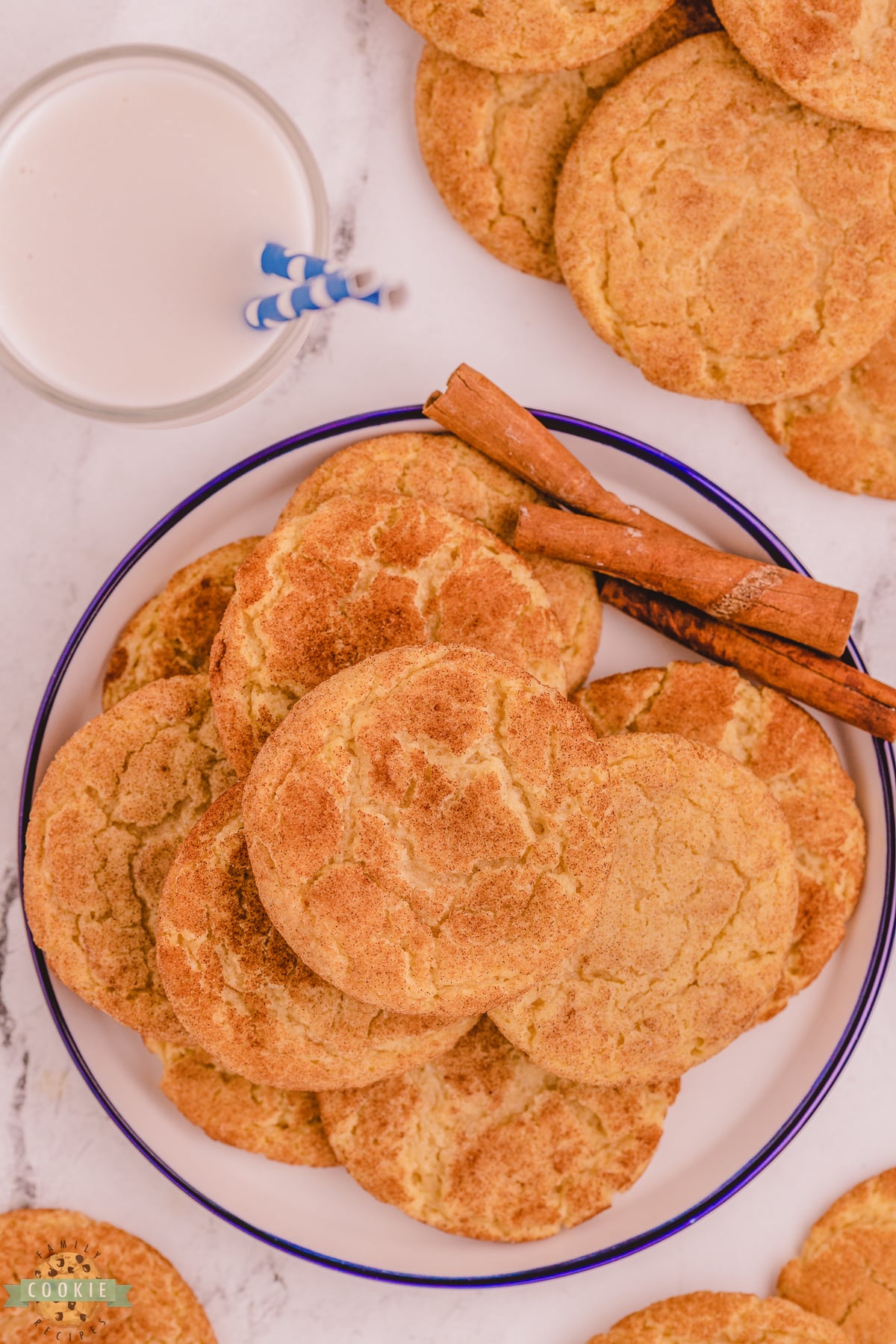 WHY YOU'LL LOVE THESE CINNAMON SUGAR COOKIES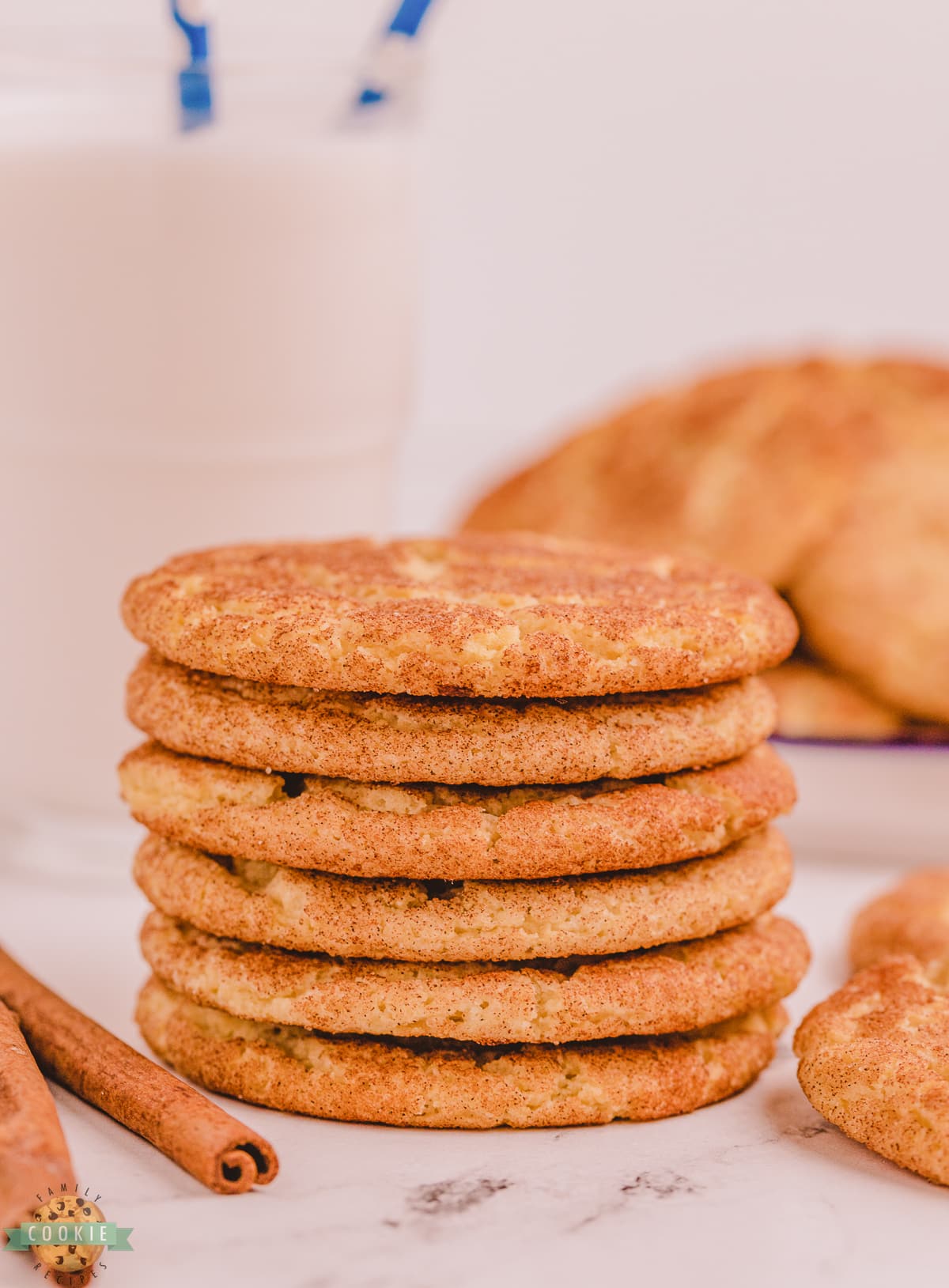 Ingredients for the BEST Snickerdoodle Cookies
Butter: You need ½ cup of butter, softened , to make these cookies wonderfully rich in flavor.
Shortening: Add in ½ cup of shortening (I used butter flavored Crisco) to make these cookies soft and moist.
Sugar: To make each cookie perfectly chewy and sweet, use 1 ½ cups of sugar.
Eggs: You will want to add in 2 eggs to this cookie dough to give them great taste and texture too.
Vanilla extract: Help enhance all the great flavors by using 1 tablespoon of vanilla extract.
Flour: The structural base of this cookie recipe is 2 ¾ cups of flour + 2 tablespoons.
Cream of tartar: Adding in 2 tsp of cream of tartar will help make these cookies nice and tender.
Baking soda: Use 1 teaspoon of baking soda to help the cookies rise as they bake.
Salt: Balance the flavors in this dough by adding in ½ teaspoon of salt.
Cinnamon-sugar: For the sweet coating that makes these cookies amazing, use a mixture of 3 tablespoons of sugar + 2 teaspoons of cinnamon.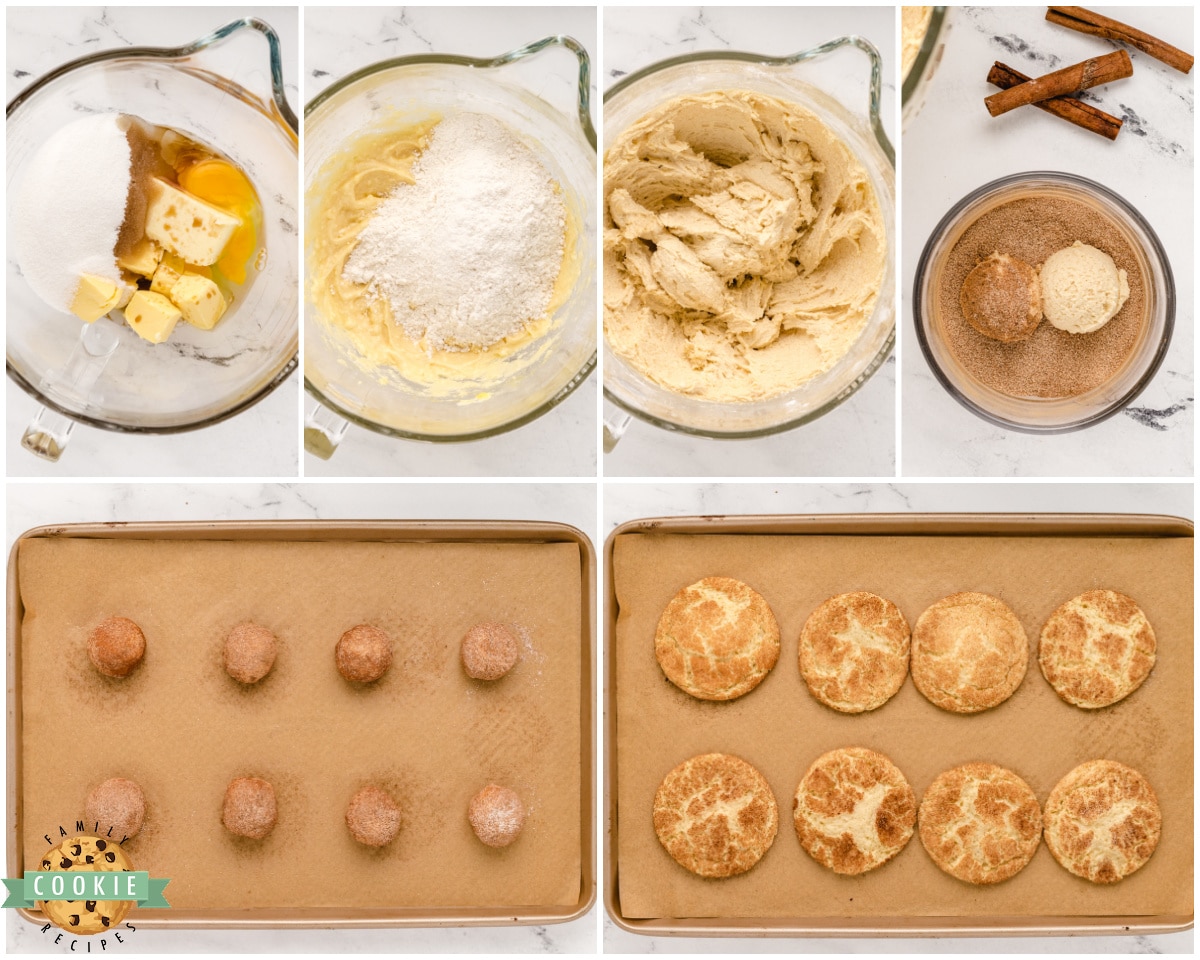 How to make the BEST Snickerdoodle Cookie Recipe
Prep
Begin by preheating the oven to 400 degrees F. Then, line a baking sheet with parchment paper or a silicon mat, set aside.
Also, get the sugar & cinnamon coating ready. Combine the 3 tbsp of sugar and 2 tsp of cinnamon in a small bowl, whisk with a fork to combine well.
Dough
Next, in a large bowl, cream together the softened butter, shortening, 1 ½ cups sugar, the eggs and vanilla extract. After that, mix in the flour, cream of tartar, baking soda and salt.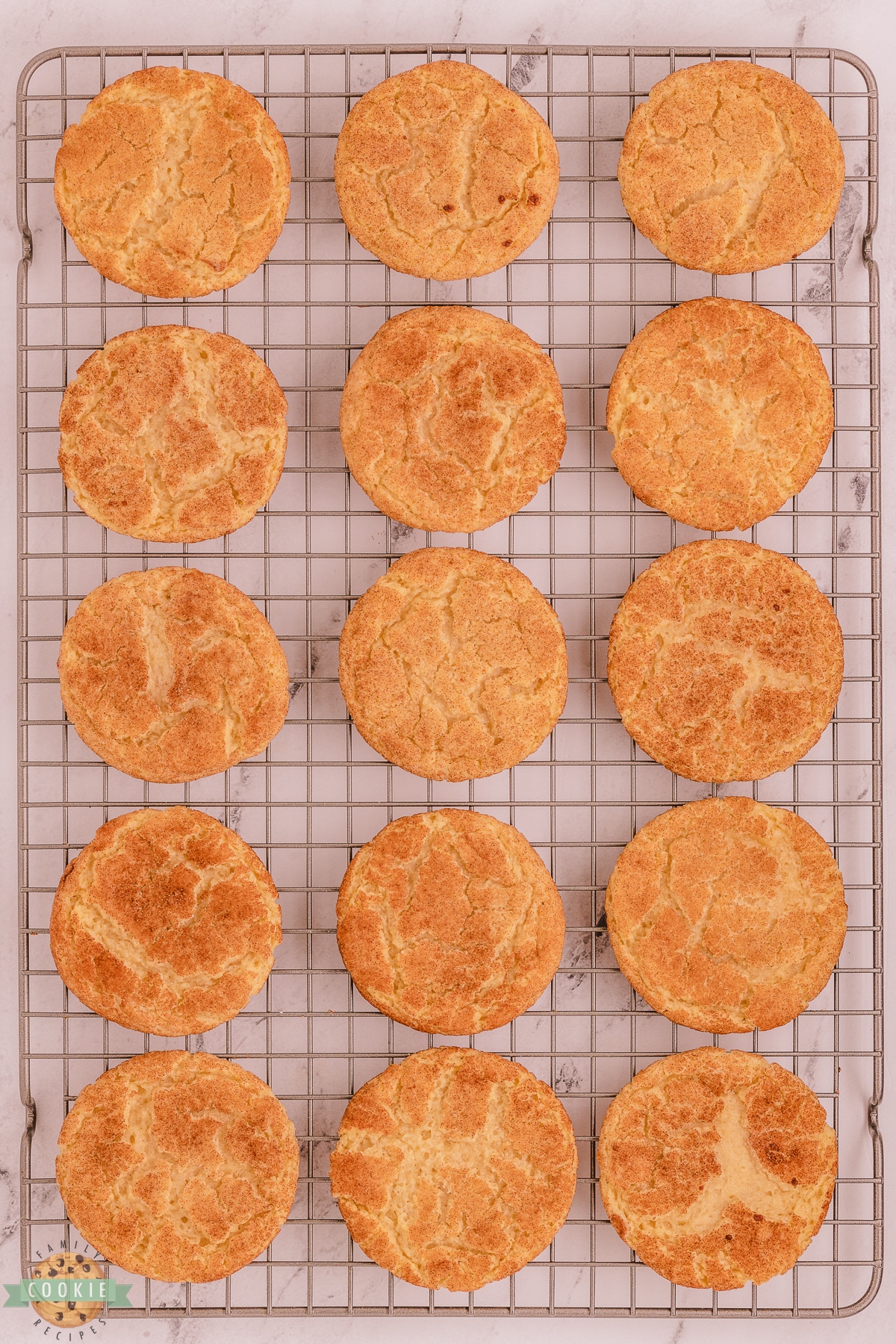 Proceed to shape the dough, by rounded spoonful's, into balls. Continue to roll each ball of dough in sugar/cinnamon mixture, then spoon the mixture over each cookie, turning once and doing the same on the other side. Place the dough 2 inches apart on the prepared baking sheet.
Bake
Place the cookies in the preheated oven and bake for 8 minutes exactly. Remove them from the oven and let the cookies cool on the baking sheets for an additional 2 minutes. Transfer to a cooling rack to cool completely.
Serve immediately and enjoy!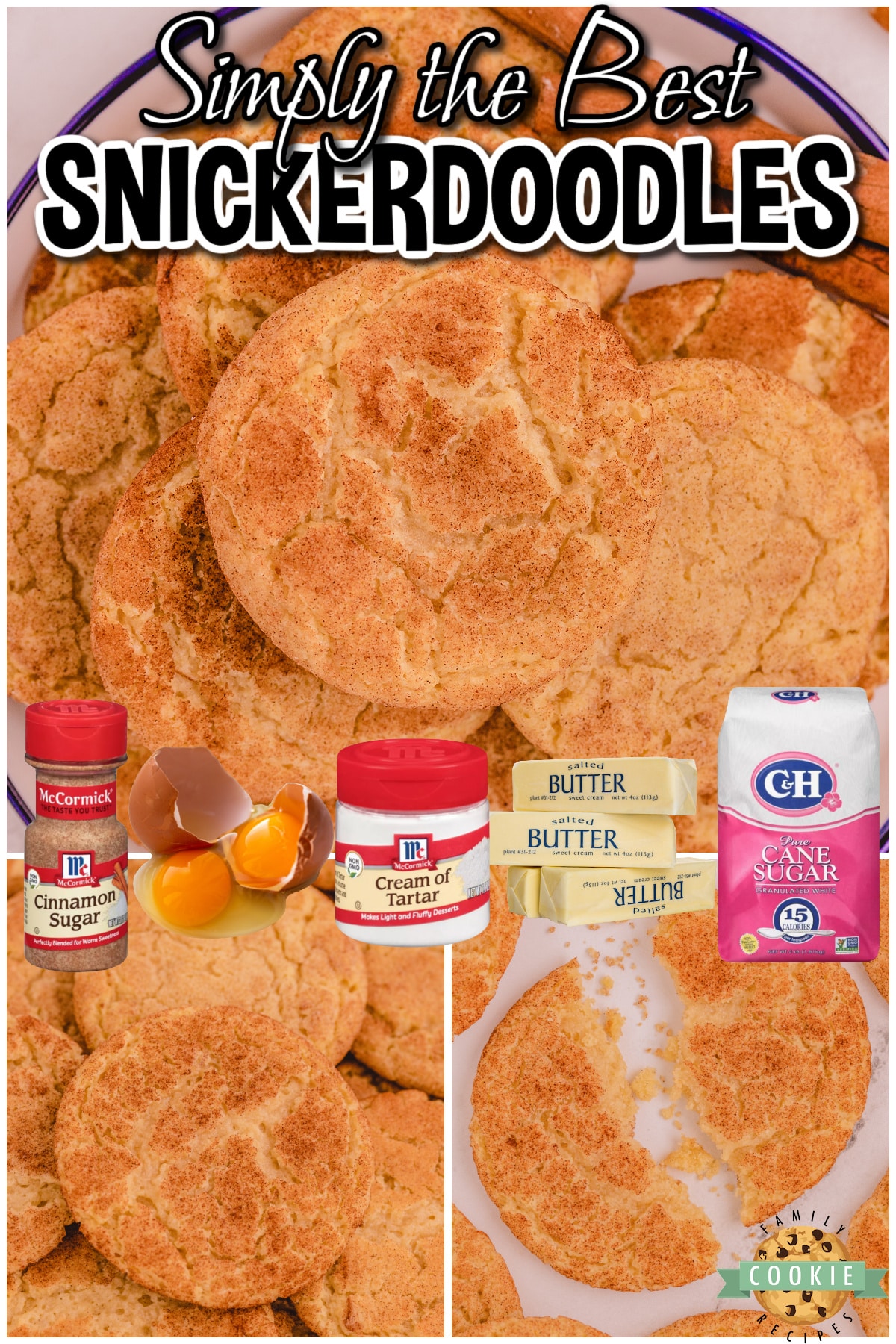 Tips to make the PERFECT Snickerdoodle cookies:
Three kitchen items make these cookies come together quickly and easily. I actually use these items in nearly every cookie recipe I make, so they're quite versatile.
Do you have to have Cream of Tartar for Snickerdoodles?
Cream of Tartar is one of the ingredients that gives Snickerdoodles its distinct flavor & texture. It makes it so that these cookies don't just taste like sugar cookies with a cinnamon sugar coating. The flavor is unique and fairly difficult to replicate. Nevertheless, if you're out and don't want to run to the store, you can substitute baking powder instead, being as baking powder actually contains Cream of Tartar!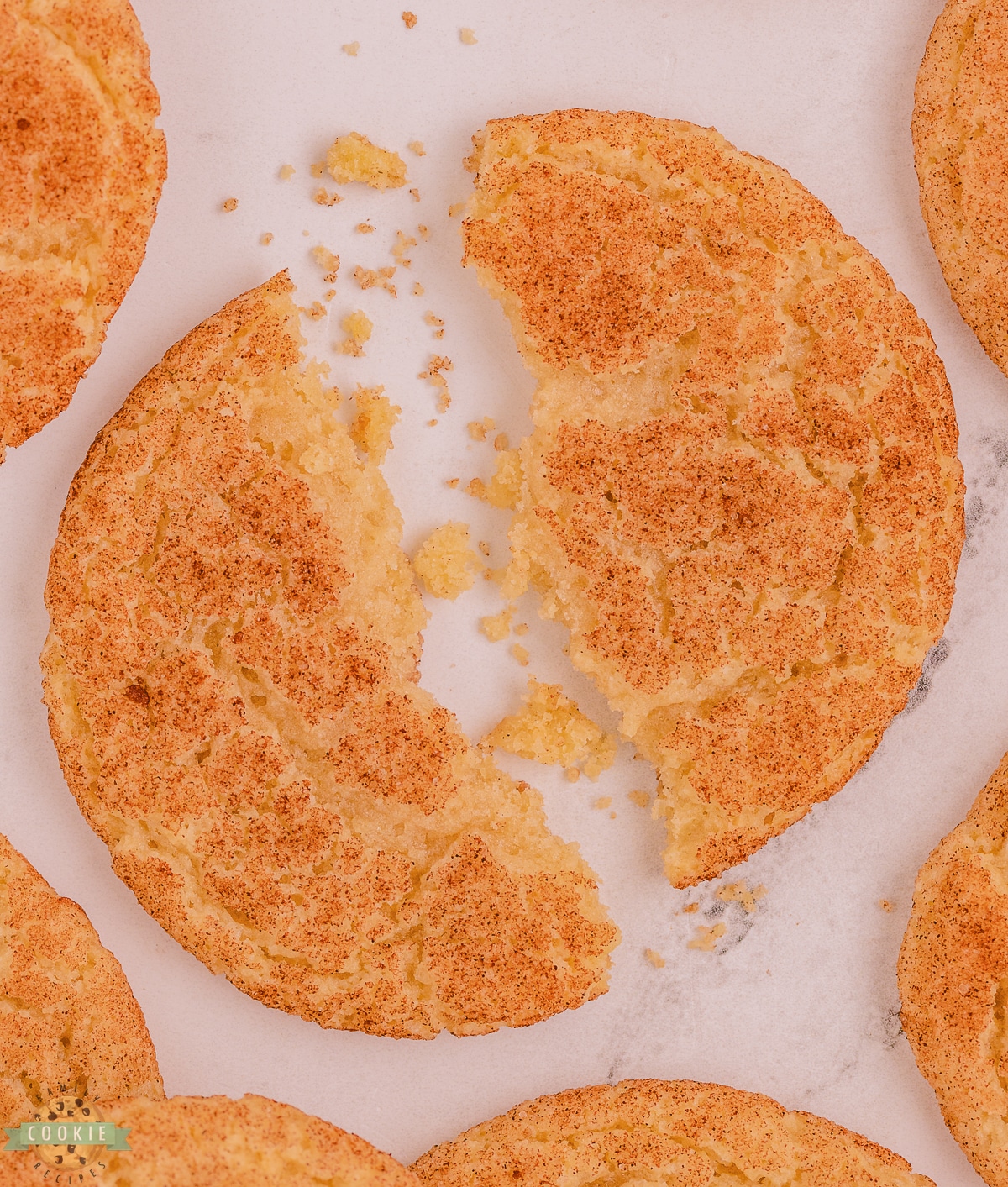 How long are these frosted cookies good for?
These cookies can be kept stored in an airtight container for up to 3-5 days. To keep the cookies nice and chewy I recommend keeping them stored in the fridge.
Try a few of our other favorite snickerdoodle recipes: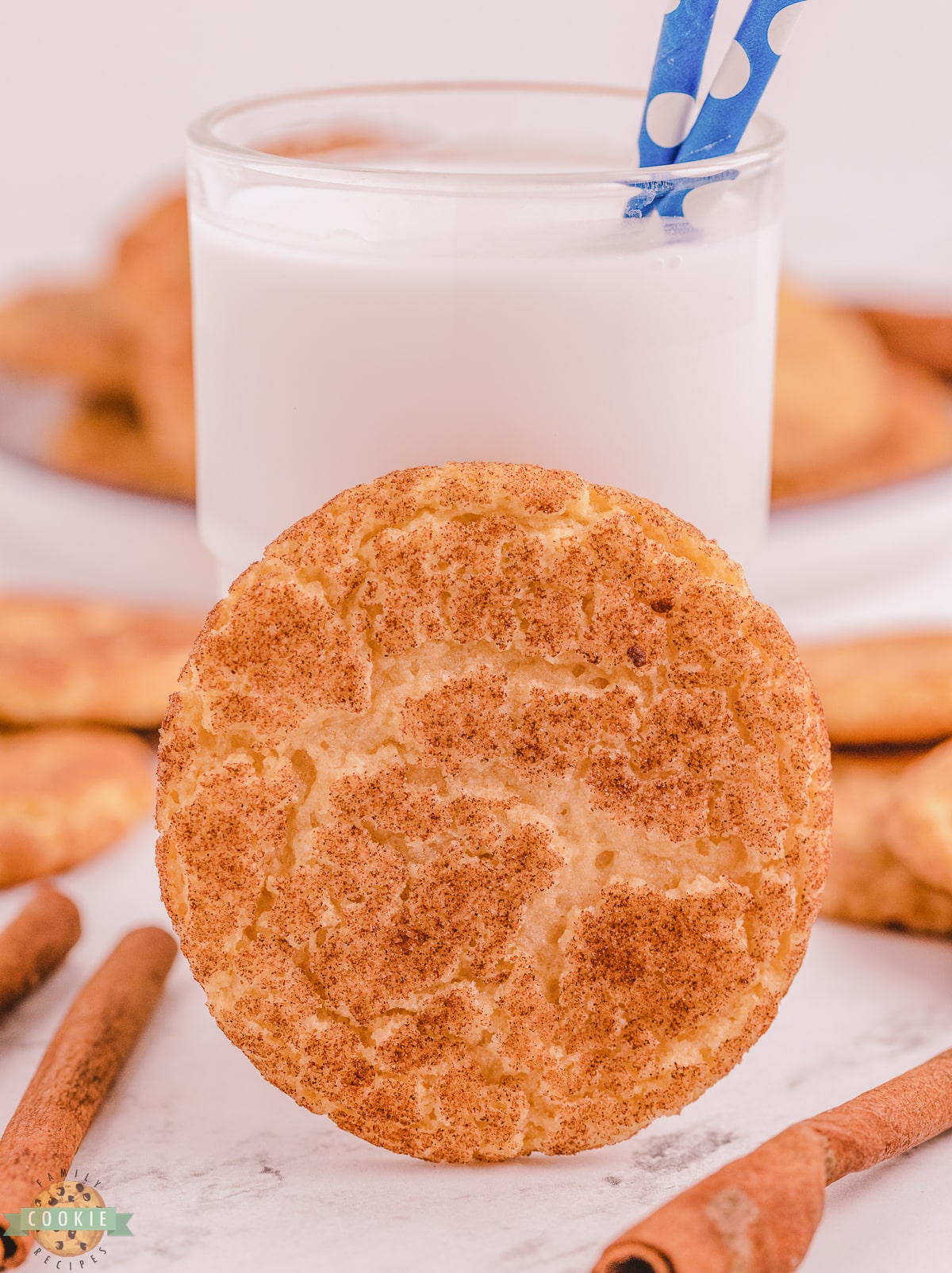 Love sugar cookies? Try more amazing recipes here: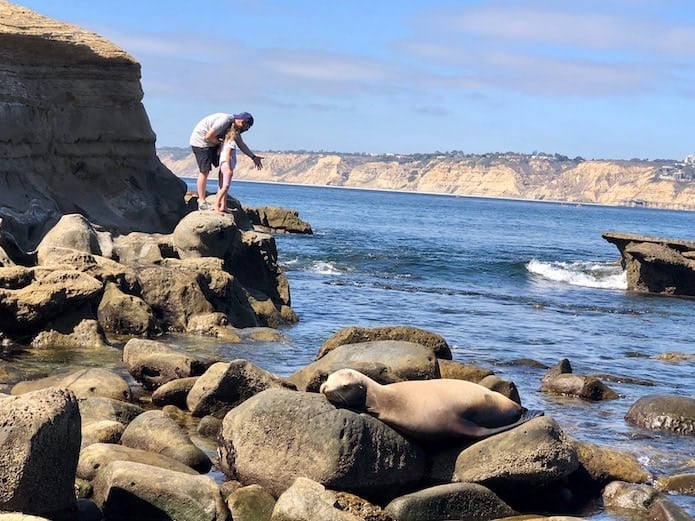 There's something magical about visiting the ocean with your kids. I'm going to be honest, it's nowhere near as serene as visiting the ocean without kids, but still, there's something incredible about it. Here my husband is helping my youngest daughter spot the colorful fish swimming right around the rocks on the shoreline. Don't miss the sleeping sea lion in the foreground! This was a very small, very popular beach with lots of fun things to see.
Do you like visiting the beach with your family? Where's your favorite beach?
Try this Best Snickerdoodle Recipe to create the amazing traditional snickerdoodle cookies we all know and love! Tender & sweet, the snickerdoodle cookie dough has great cinnamon flavor and the traditional texture too!