Cinnamon Roll Snickerdoodles are your favorite snickerdoodle cookies with the addition of a sweet vanilla frosting swirl on top! These snickerdoodle cookies with frosting are a fun variation on a traditional snickerdoodle recipe for anyone who loves cinnamon rolls!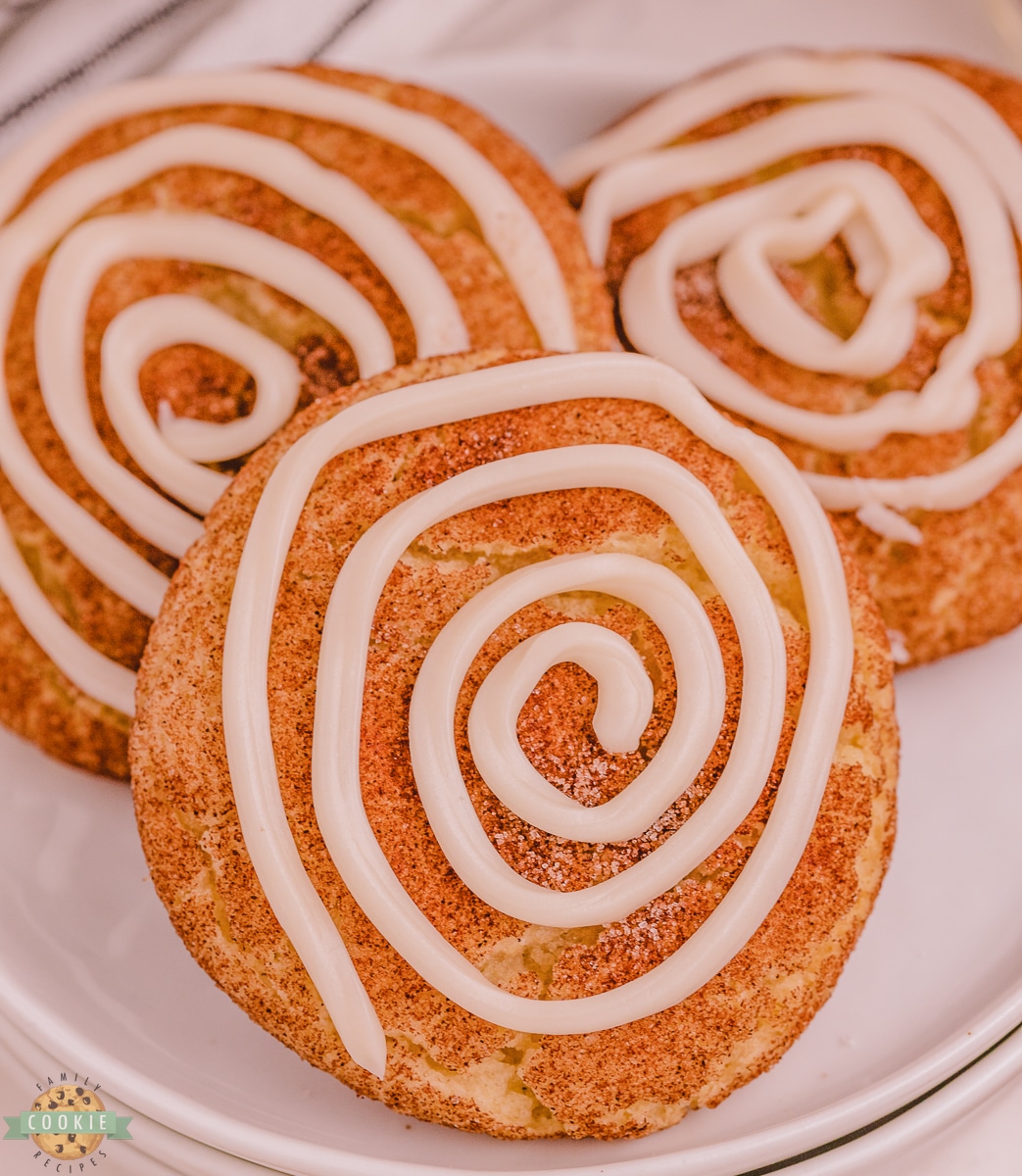 This cinnamon roll cookie recipe is so easy to make and the best part is you likely have most of the ingredients in your kitchen already! These snickerdoodle cinnamon roll cookies are soft, chewy, delicious and take your favorite cinnamon sugar cookie up a couple notches!
Snickerdoodle Cinnamon Roll Cookies
These cinnamon snickerdoodles are a fun twist on a favorite classic cookie recipe. This traditional cookie recipe is amazing on its own, but the addition of the vanilla swirl on top is fabulous. The smooth powder sugar frosting goes so well with the cinnamon in the cookie. These cookies are so soft and chewy and the way your house will smell while these are baking is absolutely incredible too. Give them a try today and see just how amazing they taste!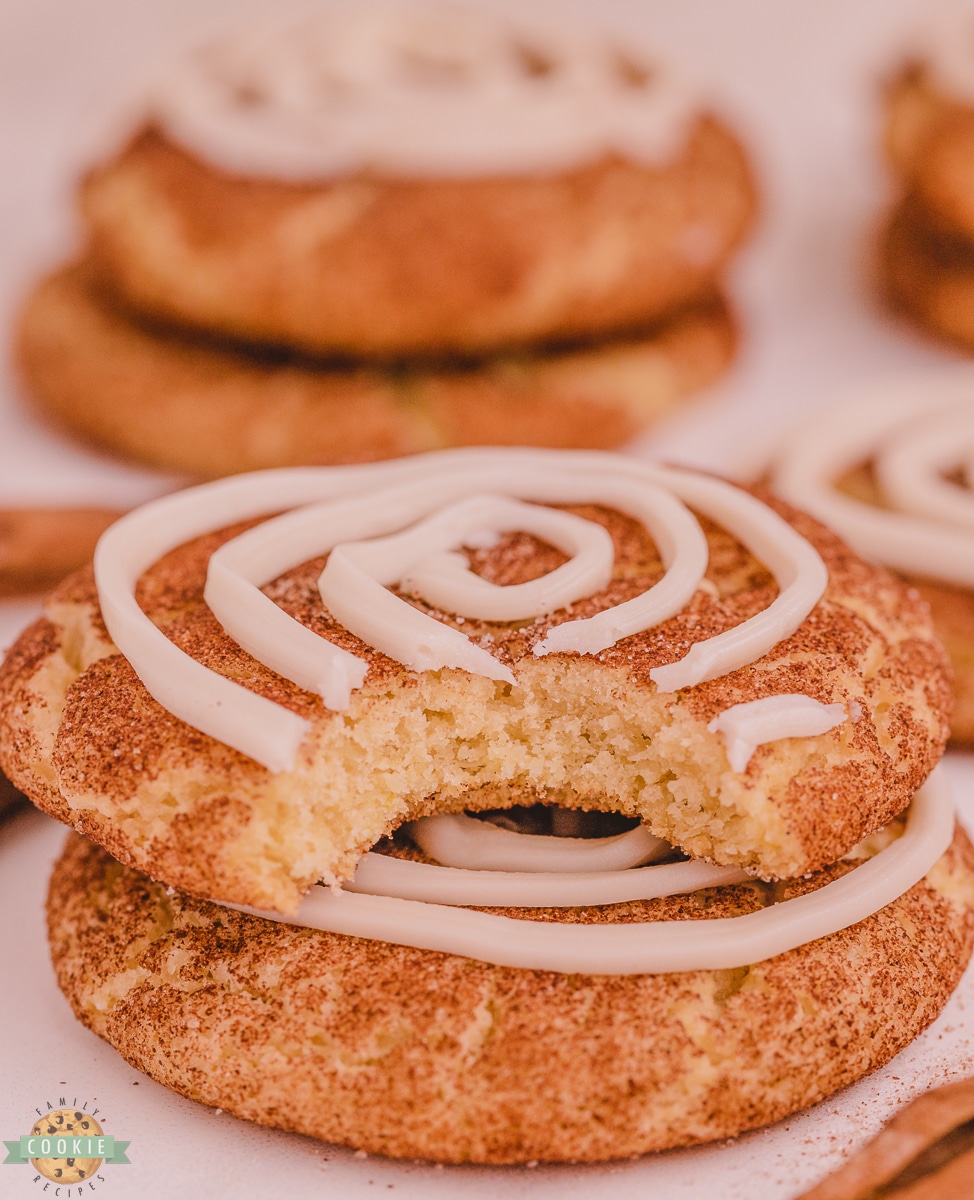 Tips to get the PERFECT Cinnamon Roll Snickerdoodle Cookies:
Three kitchen items make these cookies come together really fast. I actually use these items in nearly every cookie recipe I make, so they're quite versatile. First, I line my cookie sheets with a piece of parchment paper. They're sold in sizes that fit a 12×16 cookie sheet perfectly and enable to cookies to bake well without sticking- and no mess from spraying oil on the cookie sheets!
The second item is a KitchenAid mixer. I love mine! I have a Bosch as well but I find I use my KitchenAid for cookies. There is a cookie paddle that comes with every mixer that you attach to the top of the mixer. They're easy to use and help you mix the ingredients uniformly. I also use the metal whisk attachment in this recipe to make the frosting. It whips it up super fast! Add this to your wish list because it's one of my all-time used small appliances ever!
The third item is a cookie scoop! Years and years ago I used to use 2 spoons to measure and scrape cookie dough onto the pans. It wasn't a perfect process and I often ended up with oblong cookies in various sizes. A friend of mine brought cookies to a party and I noticed each and every one of her cookies looked PERFECT. Her secret? A cookie scoop! They come in three sizes- 1/2 tablespoon, 1.5 tablespoon and 3 tablespoon scoops. I used the middle size- 1.5 tablespoon for these cookies. (Although when I'm serving a large crowd, I use the small cookie scoop. People love having a smaller cookie, especially at an event with several other desserts.)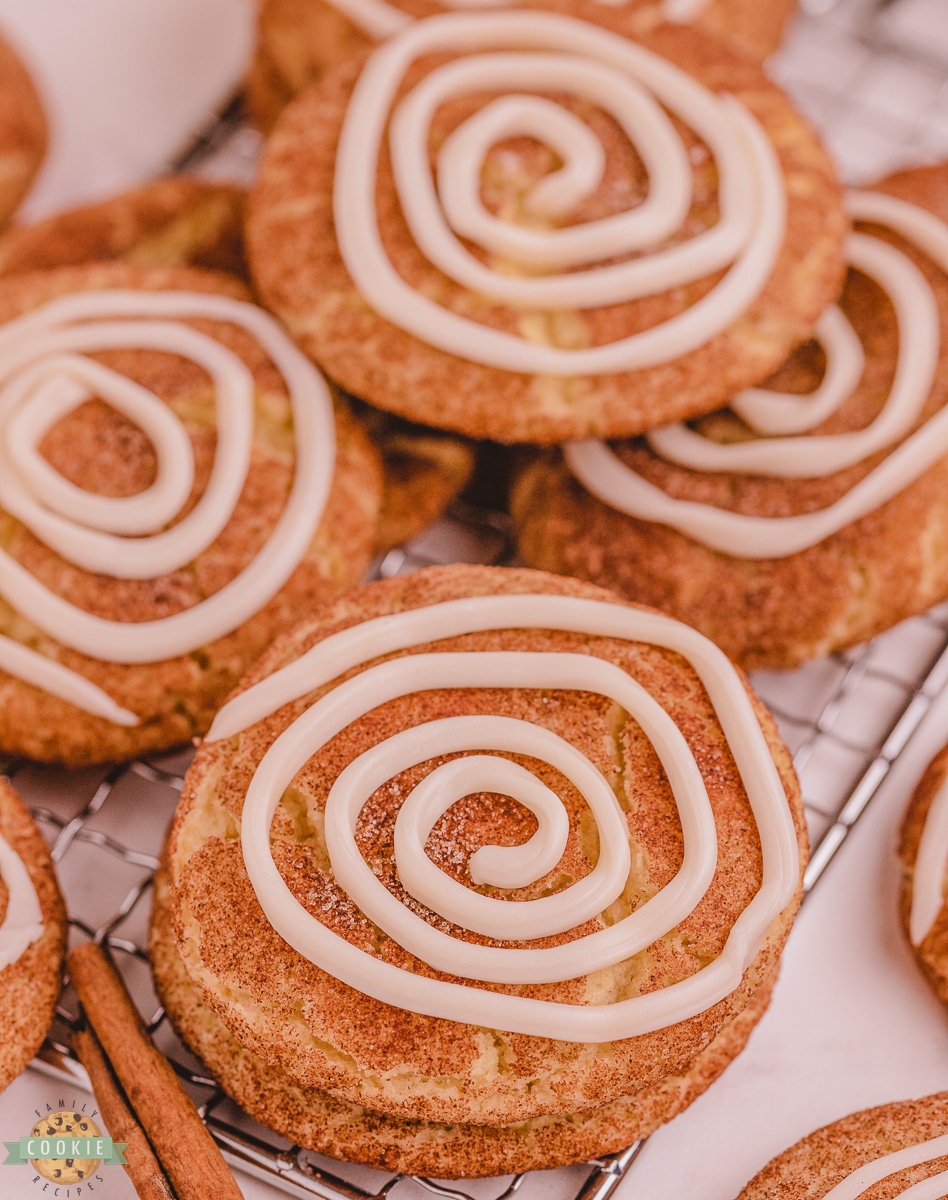 Cinnamon Roll Snickerdoodle Ingredients
Butter: You will need 1/2 cup of softened butter to create lovely rich tasting cookies.
Shortening: To make the cookies nice and tender, add in 1/2 cup of shortening (I used butter flavored Crisco).
Sugar: Using 1 1/2 cups of sugar helps make these cookies nice and sweet.
Eggs: Adding in 2 eggs helps bind the cookie dough together and give the cookies wonderful texture too.
Vanilla extract: You need 1 tablespoon of vanilla extract to enhance all the amazing flavors in this recipe.
Flour: The base of this cookie dough is 2 3/4 cups of flour.
Cream of tartar: Add 2 teaspoons of cream of tartar for one of the leavening agents used in this cookie recipe.
Baking soda: Another leavening agent is to use 1 teaspoon of baking soda to help the cookies rise as they bake.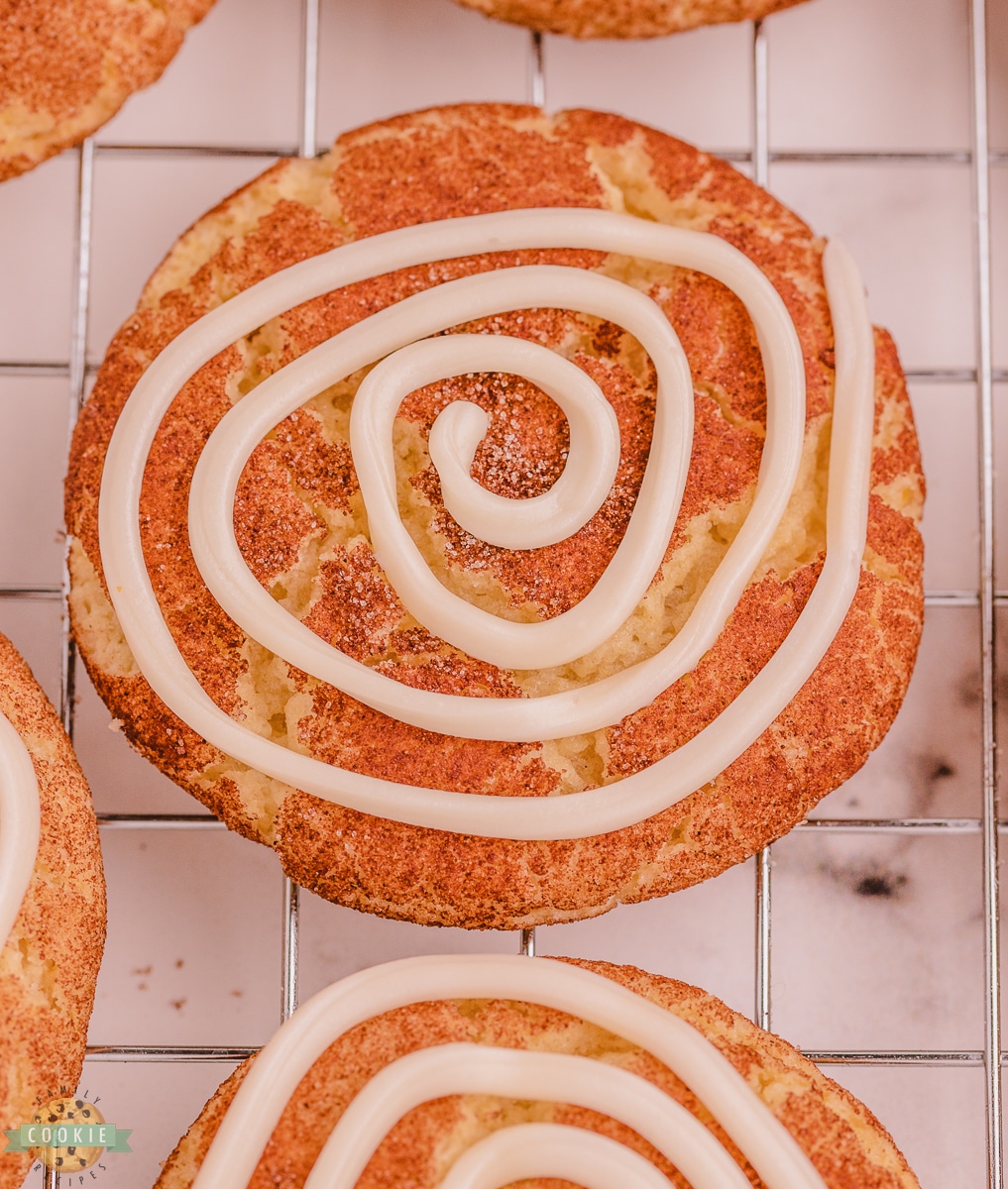 Salt: To help balance all the tasty flavors in these cookies, add in 1/2 teaspoon of salt.
Cinnamon & sugar mixture: You will need 3 tablespoons of sugar and 2 teaspoons of cinnamon for these cookies.
Vanilla Swirl Ingredients
Butter: To give the frosting a great rich flavor, use 2 tablespoons of butter, melted.
Powder sugar: For a great sweet taste, add in 2/3 cups of powdered sugar.
Milk: Using 1-2 tablespoons of milk will have create the perfect consistency for this topping.
Vanilla extract: Add in 1 teaspoon of vanilla extract to give this cookie frosting great flavor.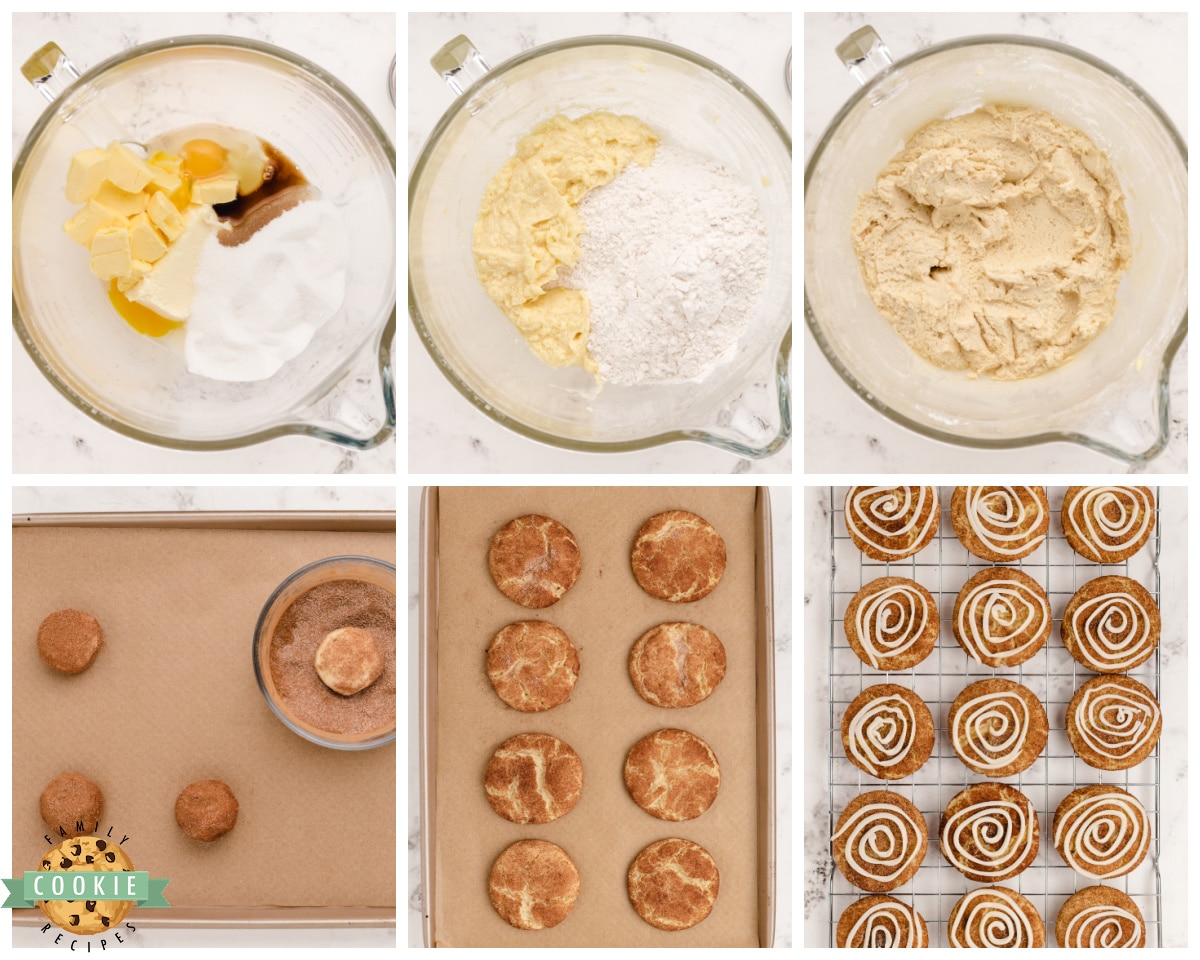 How to make Cinnamon Roll Snickerdoodle Cookies
Prep
Begin by preheating the oven to 400 degrees F. Then, line a baking sheet with parchment paper or a silicon mat, set it aside.
Next, in a small bowl, create the cinnamon and sugar mixture. Stir the two ingredients together well, set it aside for future use.
Cookie dough
In a large bowl, cream together the butter, shortening, sugar, eggs and the vanilla extract. Then, add in the flour, cream of tartar, baking soda and salt.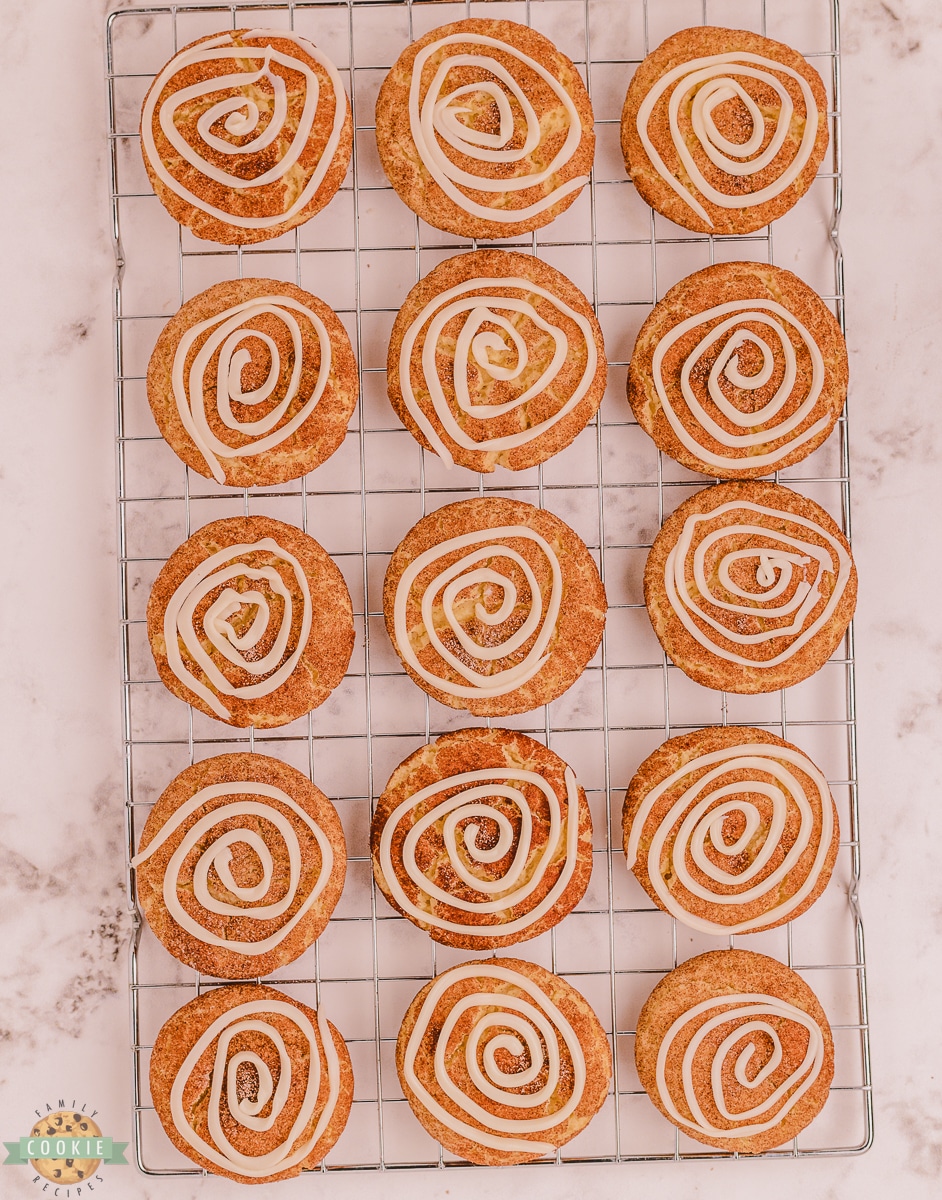 Proceed to shape the dough by rounded scoops into balls. Continue to roll the balls of dough in cinnamon and sugar mixture, spoon cinnamon-sugar mixture over each cookie, turning once and doing the same on the other side. Coat the ball of dough well in this mixture.
Place the cookie dough balls 2 inches apart on the prepared baking sheet.
Bake
Place the baking sheet in the preheated oven and bake for 8 minutes exactly! Remove the cookies from oven and let them cool on the baking sheets for an additional 2 minutes. Transfer them to a cooling rack to cool completely.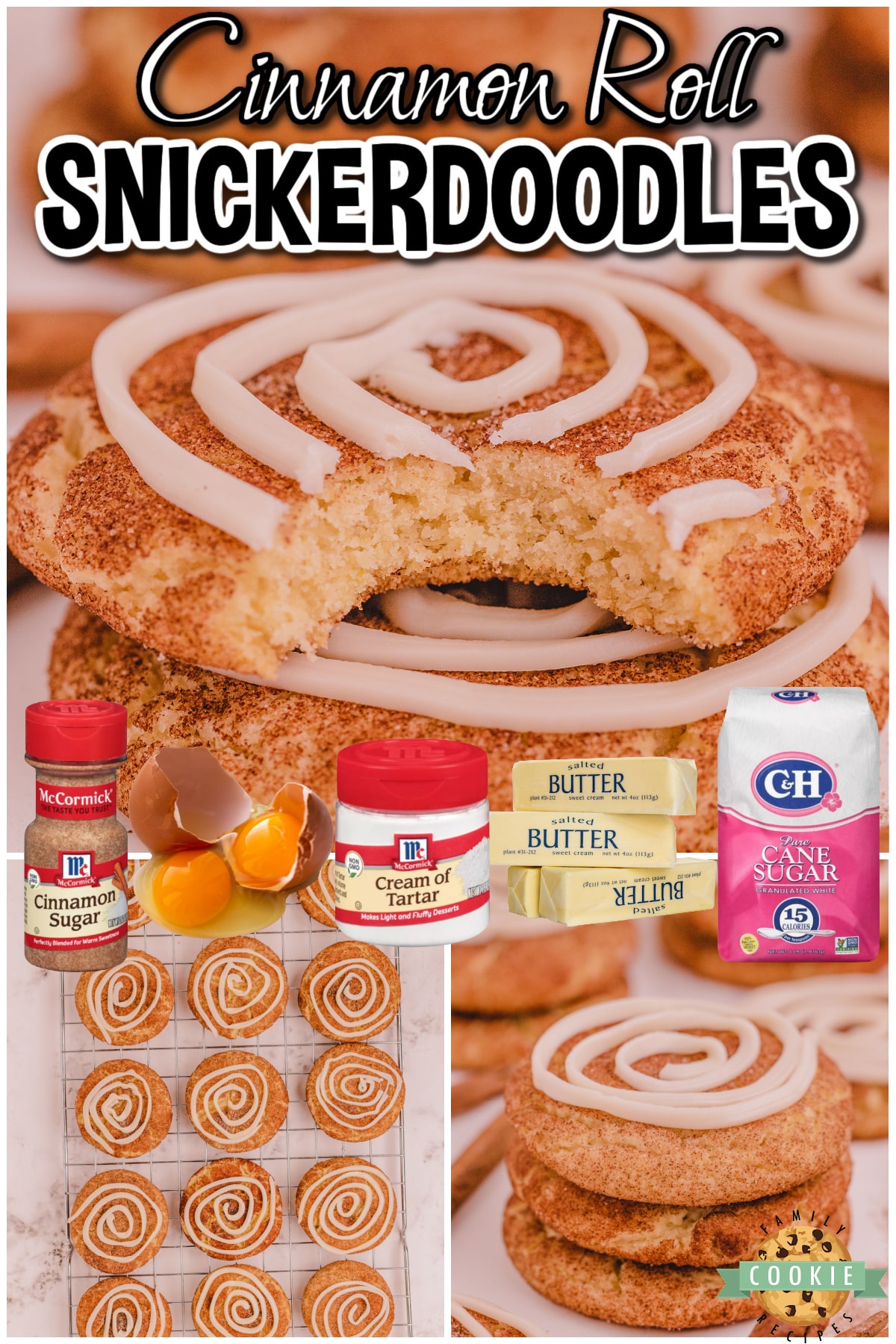 Vanilla Swirl Frosting
In a small bowl, whisk the melted butter, powder sugar, milk and vanilla extract together well. Let the frosting cool for about 5 minutes, then transfer it to a small bag and snip off a corner. Proceed to pipe the glaze onto each cookie in the shape of a swirl.
Serve and enjoy!

HOW LONG ARE THESE SNICKERDOODLE COOKIES GOOD FOR?
I recommend eating these cookies within 3-5 days for the best tasting results. You can keep them stored in an airtight container at room temperature for 3-5 days, but eating these cookies sooner means they will taste so much better. Yum!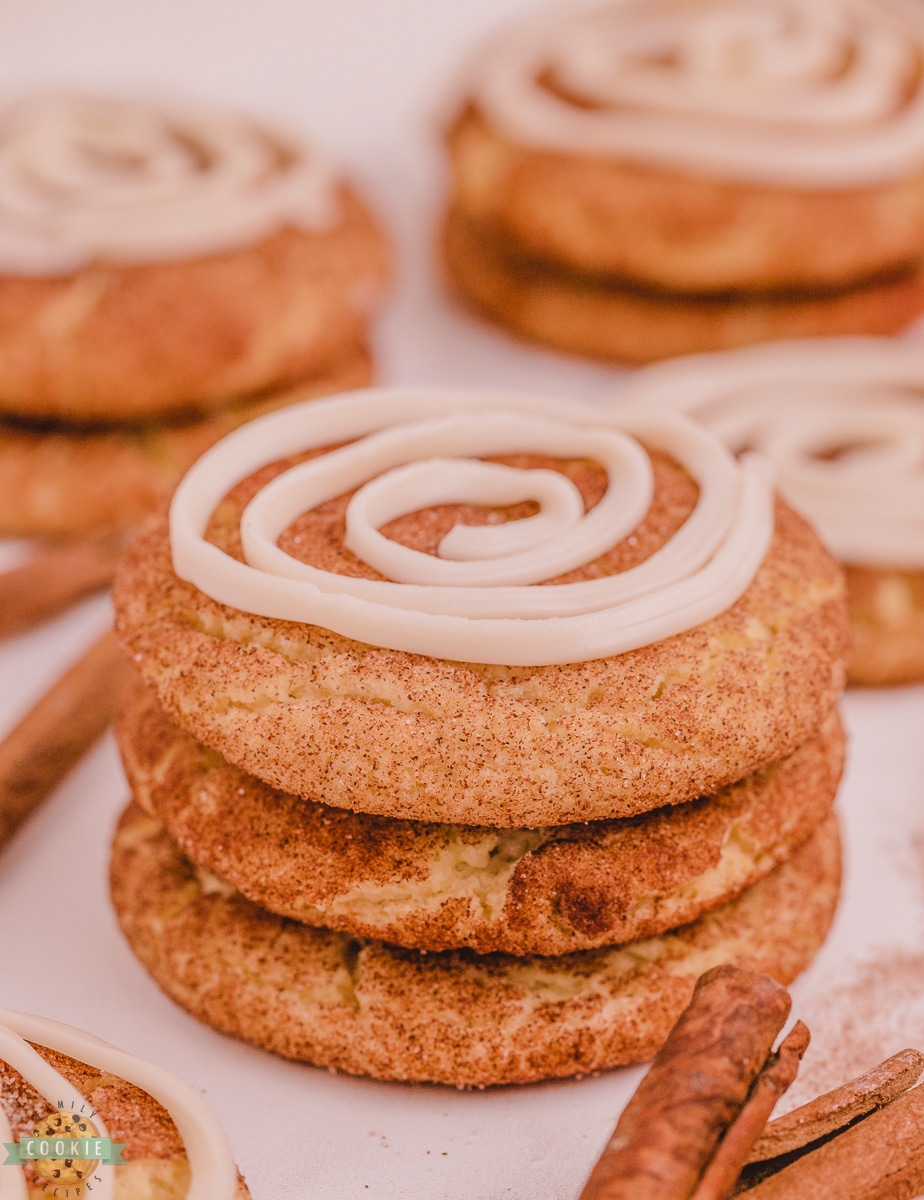 CAN I FREEZE THESE SNICKERDOODLE COOKIES?
Yes, these cookies can be frozen. Simply place them in an airtight container and freeze for up to 3 months. Thaw before eating by placing a cookie (or more) on the counter for about 30 minutes to come to room temperature. I recommend adding the vanilla frosting AFTER you have defrosted them and are ready to enjoy them.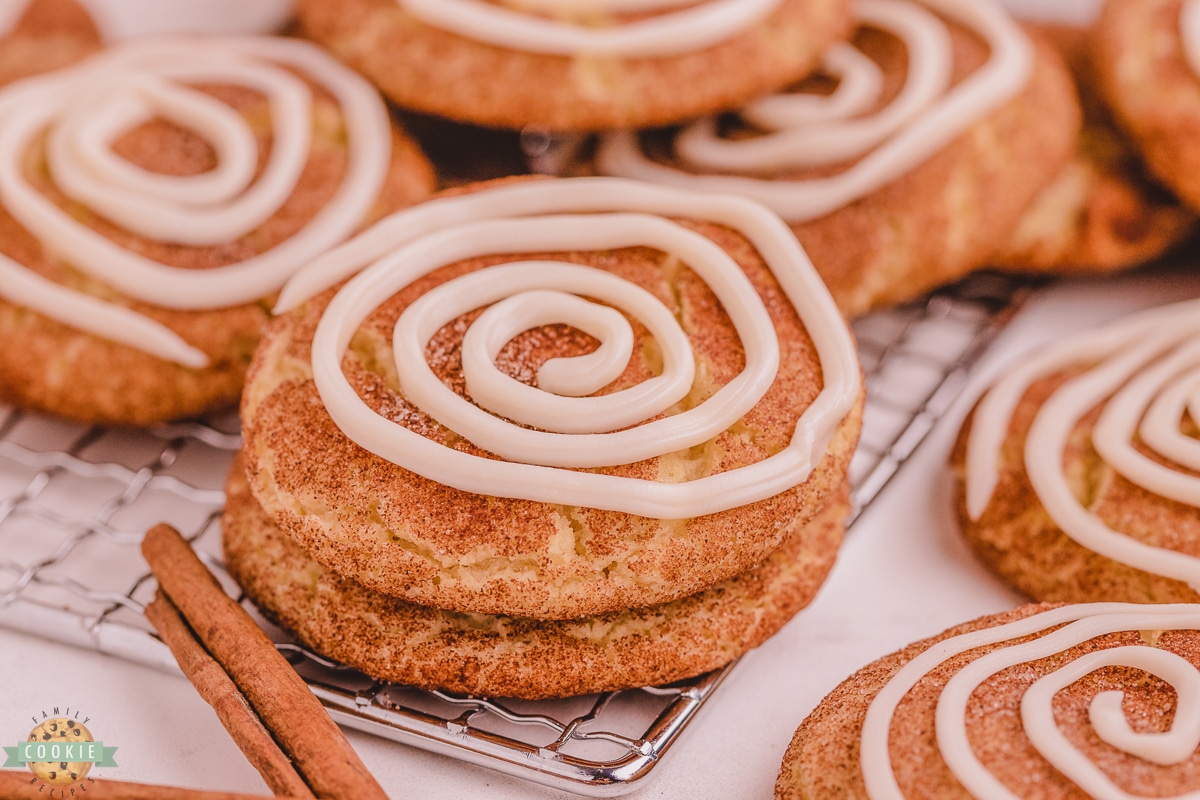 If you loved these cinnamon cookies, try more recipes here!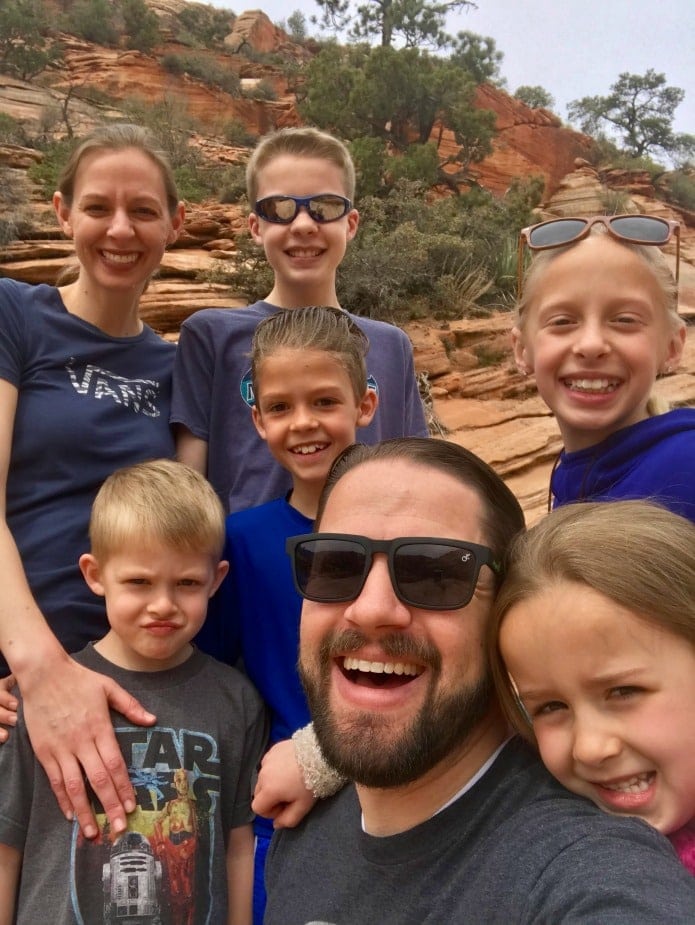 Last year my husband and I made the decision to spend more on travel and less on "stuff." This isn't easy! Not only is travel with our family of 7 hard, but most, if not all of the little people in the photo above really like their stuff. Ha! Nevertheless, we press forward. We recently took a trip to Zions National Park and had a wonderful time. We took this picture on the last day. Notice 6 out of 7 are smiling and the last one really wants to smile. I consider that a success for the last day of a family vacation!
Cinnamon Roll Snickerdoodles are a traditional snickerdoodle cookie with the addition of a sweet vanilla frosting! These snickerdoodle cookies with frosting are an amazing variation on a classic snickerdoodle recipe for anyone who adores cinnamon rolls!