Apple Cider Snickerdoodles are everything you love about Snickerdoodles, with fresh & tangy apple cider! Fabulous Fall flavors in this apple cinnamon spiced snickerdoodle recipe.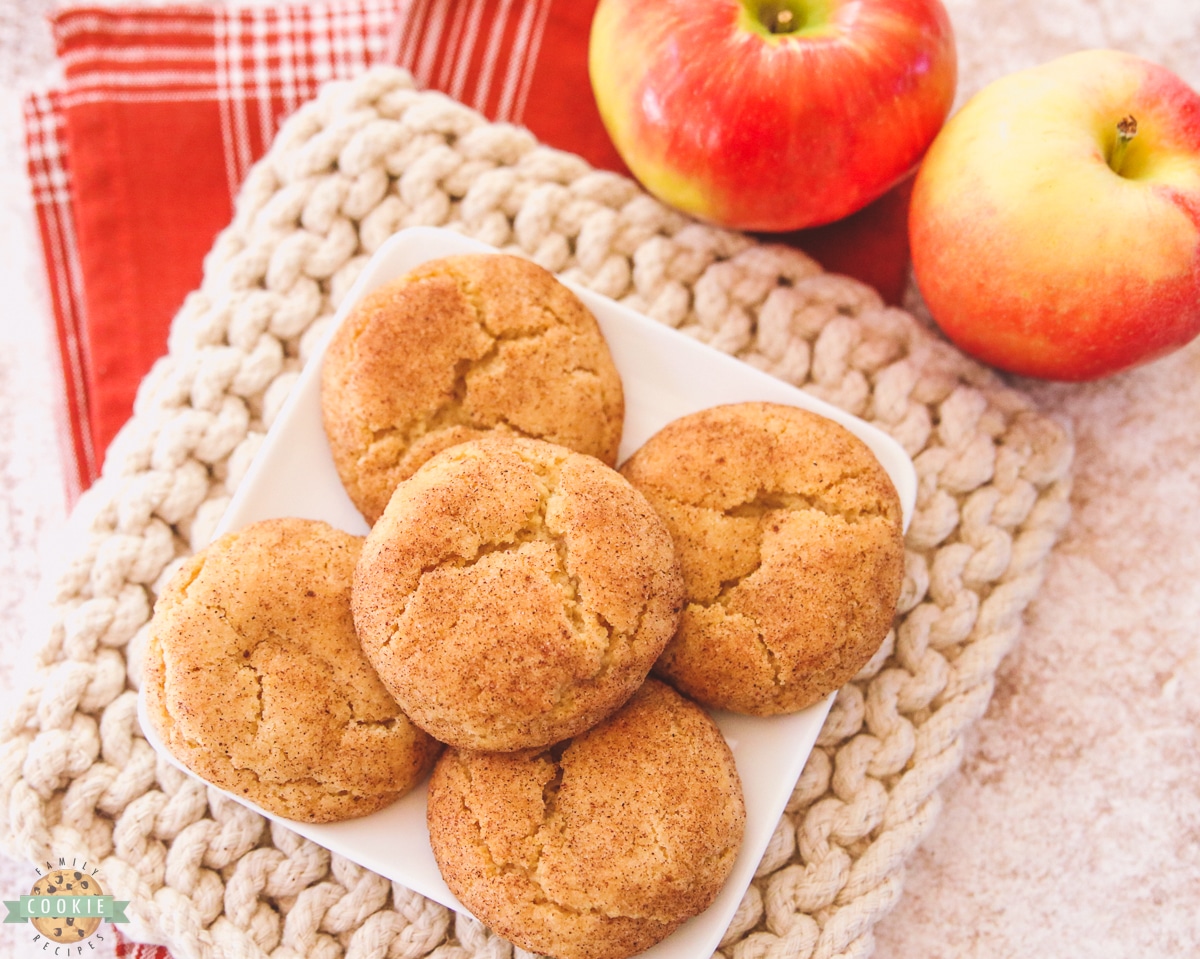 We love autumn around here, nothing is better than the comfy sweaters, cooler weather, and leaves changing colors but the homemade goodies really help to put you in that fall mood and mindset. This apple snickerdoodle cookie recipe is going to do exactly that! From the apple smelling dough to the soft and chewy spiced cookies warm from the oven, every step of the way will fill you with
What are apple cider snickerdoodle cookies?
They are everything that you already know and love about snickerdoodle cookies but with a fun fall twist. Given the addition of a homemade apple cider syrup and then rolled in a cinnamon and nutmeg sugar combo these cookies are perfectly flavored and spiced. The steps are simple and easy and these cookies are pretty low maintenance too making them ideal for any occasion.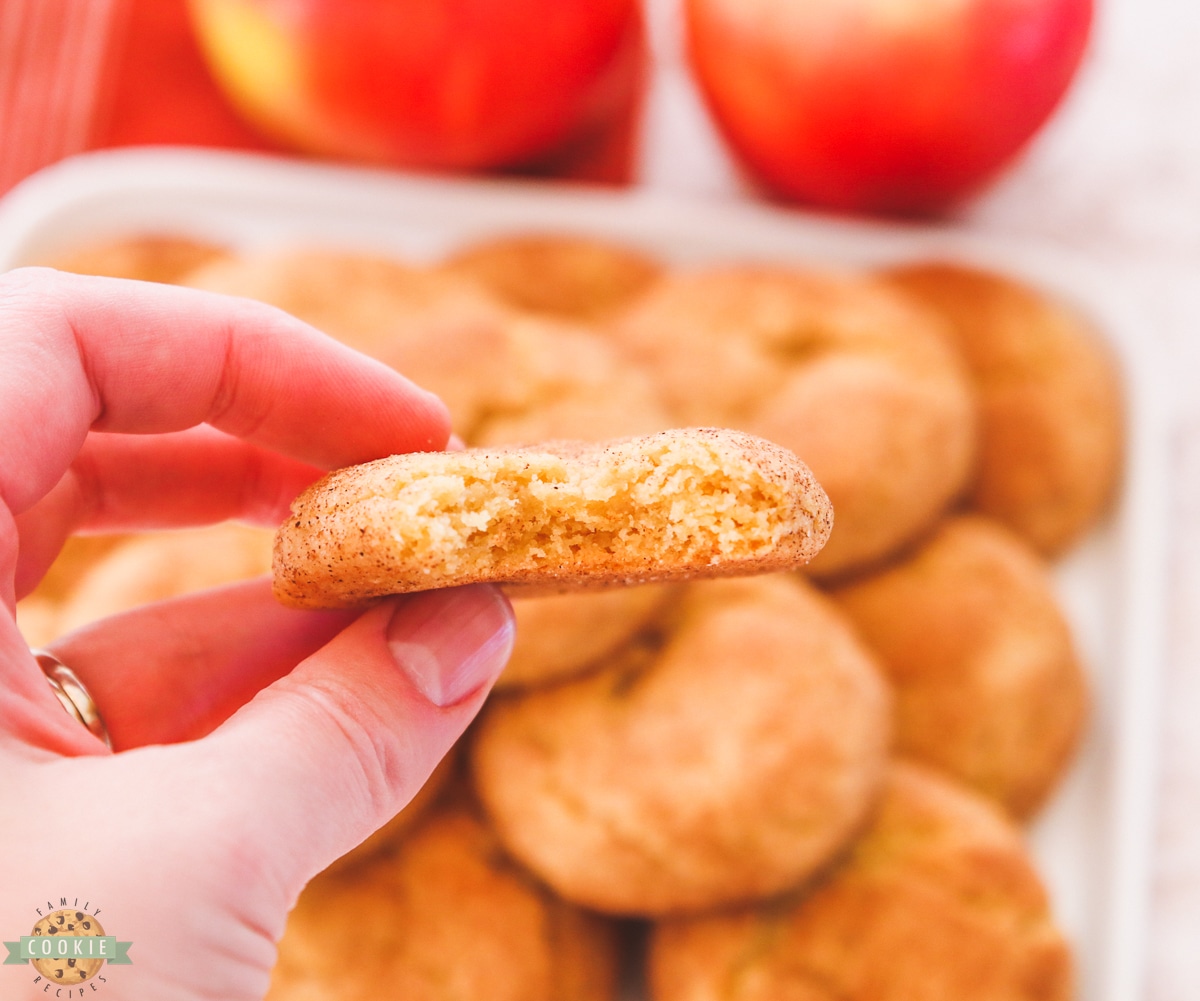 Apple snickerdoodle ingredients
-Butter: You will need ½ cup (one stick of butter) to help the dough turn out richer in taste.
-Shortening: Adding in shortening will give us more fats without compromising the structure of the cookies. I like to use butter-flavored Crisco.
-Sugar: You will need 1 ½ cups of granulated sugar to get the cookies to turn out sweet and chewy.
-Eggs: Use 2 eggs to help bind the dough together well so that the cookies aren't crumbly.
-Vanilla: Adding in 1 tablespoon of vanilla will make the cookies taste incredible. Higher quality vanillas will have a stronger flavor, but use what you have on hand.
-Apple cider syrup: You will need ⅓ cup of syrup, made easy by boiling using 6 cups of apple cider on the stove. By the end, the syrup will yield 1 cup's worth so you can triple this recipe if desired or save the remaining syrup for another day.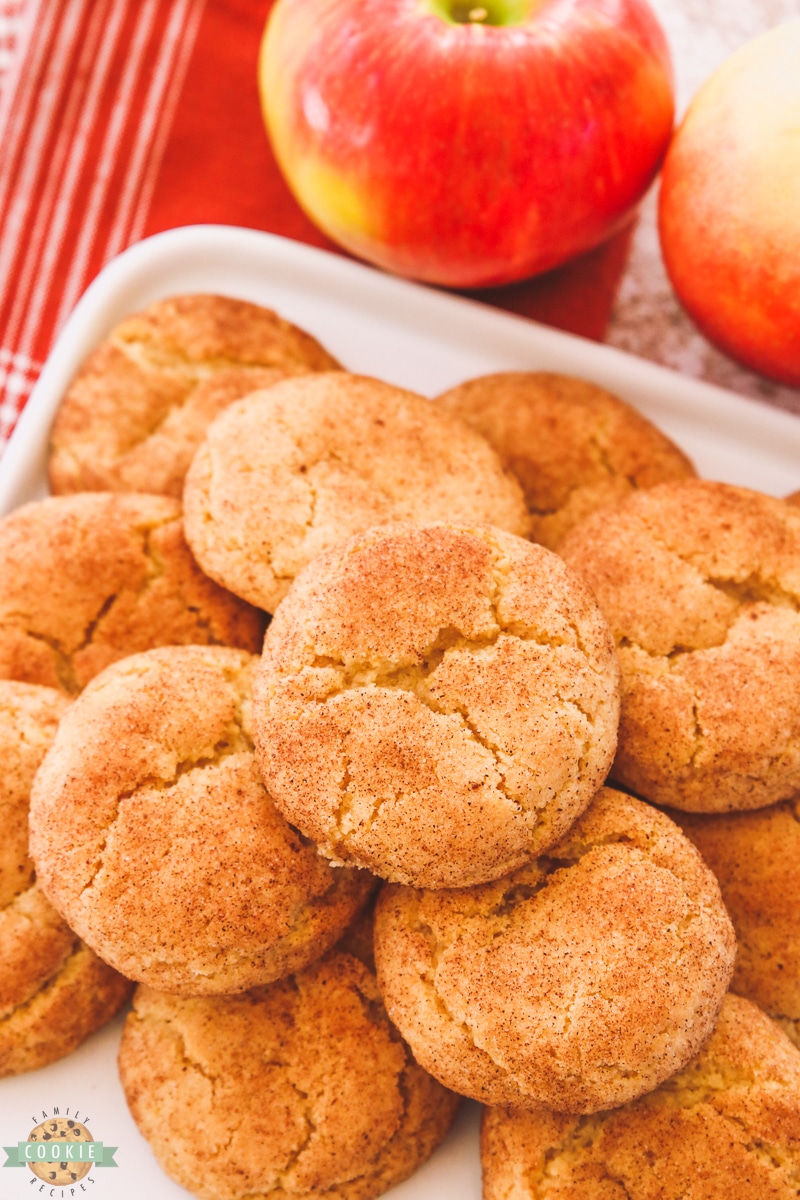 -Flour: Use 2 ¾ cups of all-purpose flour for the gluten-filled base of the cookies.
-Cream of tartar: Adding in 2 teaspoons of cream of tartar will give the cookies that traditional snickerdoodle flavor we want.
-Baking soda: Use 1 teaspoon of baking soda to make the cookies leaven properly as they bake.
-Salt: Adding ½ teaspoon of salt will help the cookies to have an even better flavor because salt naturally helps to enhance the other flavors in recipes.
-Cinnamon sugar: You will need a mixture of 6 tablespoons of sugar and 1 tablespoon of cinnamon plus ¼ teaspoon of ground nutmeg for rolling the cookies in after shaping into balls, before baking.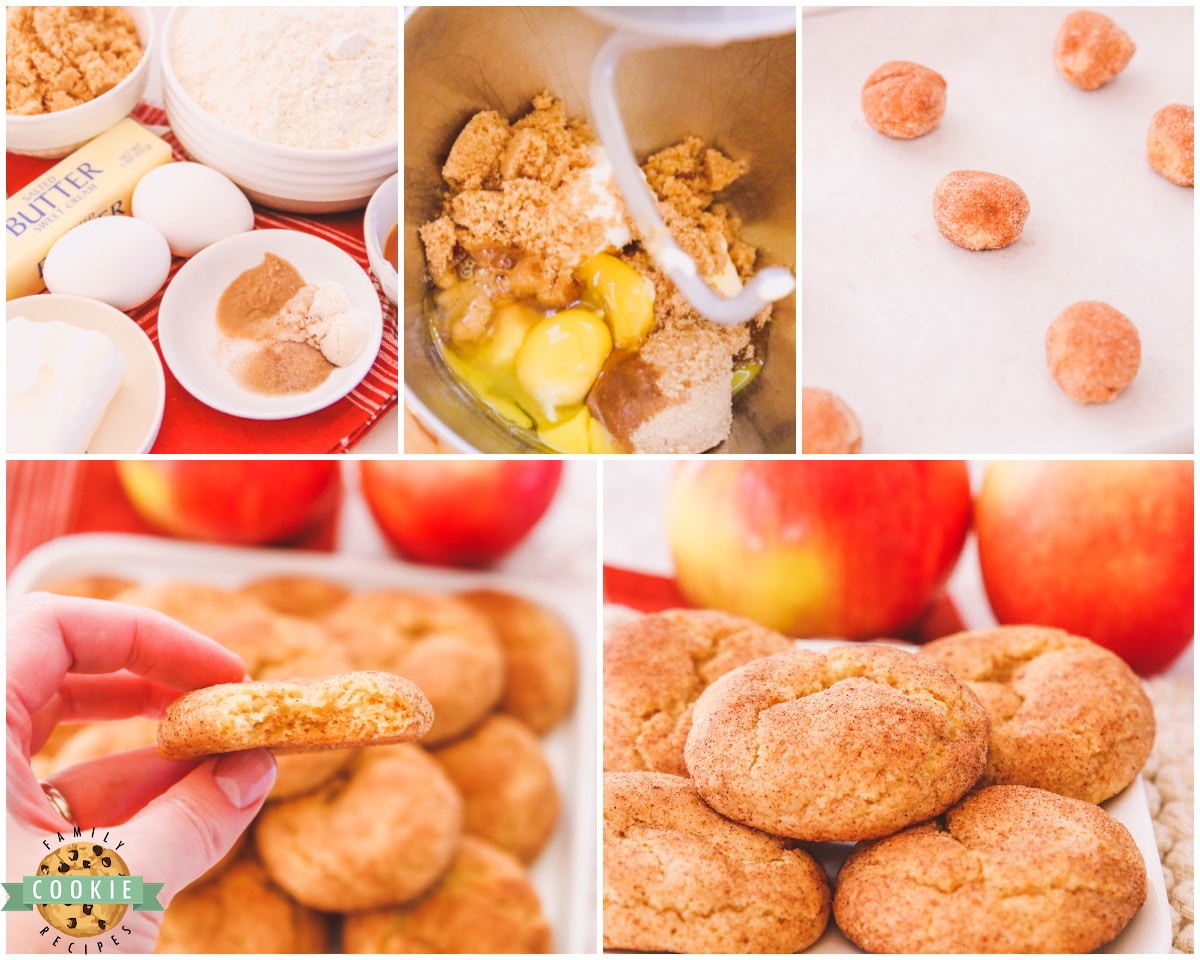 How to make apple cider snickerdoodle cookies
Start by making the syrup needed. Measure out 6 cups of apple cider into a large pot and heat over medium-high until it boils and then decrease the heat slightly.
Let boil for 45-55 minutes, stirring every 10 minutes or so until thickened slightly and reduced. You should have about 1 cup of syrup by the time that you have finished. Let cool before using or storing in the fridge.
To make the cookies you will first need to preheat the oven to 400 degrees F.
In a large mixing bowl cream together the butter, shortening, sugar, eggs, vanilla, and syrup until well mixed.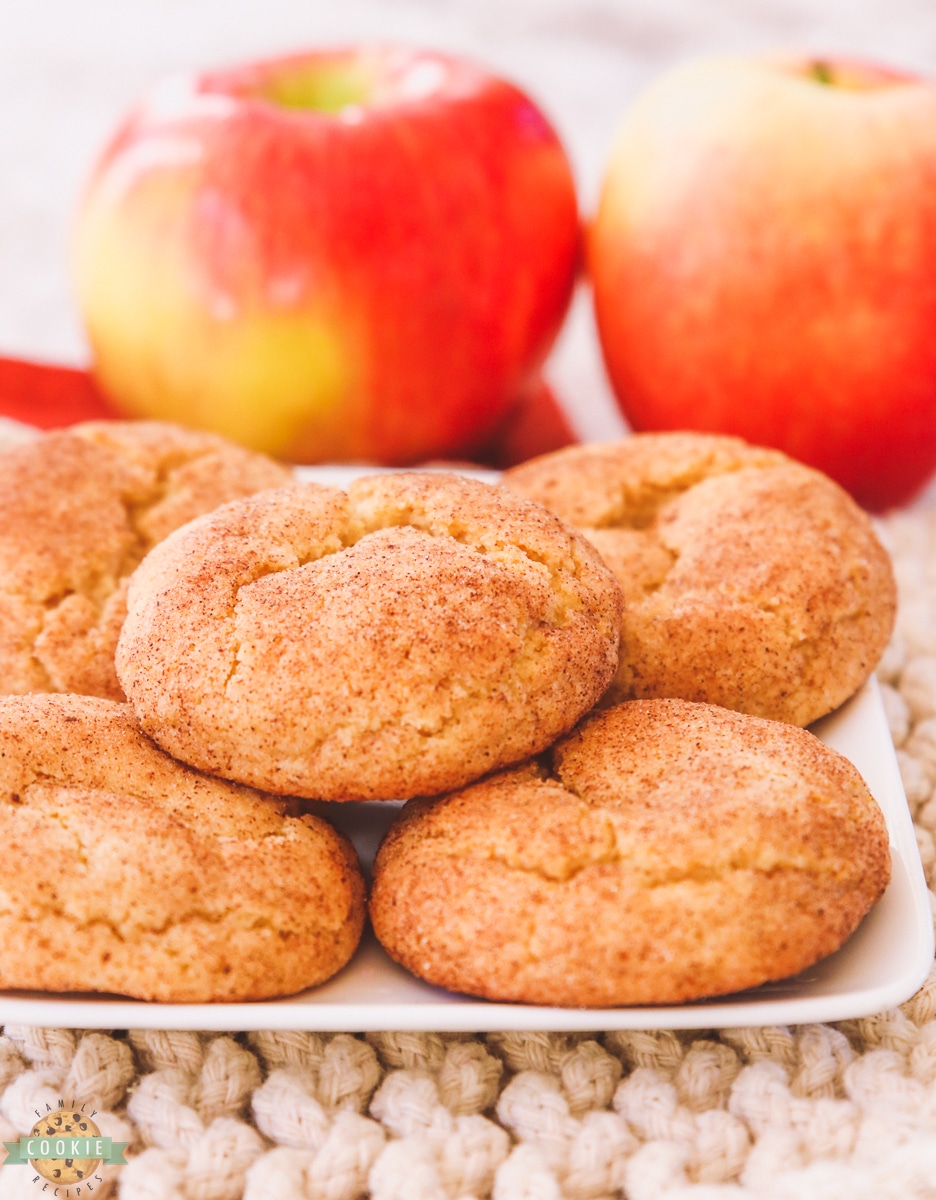 Add in the flour, cream of tartar, baking soda, and salt. Mix until incorporated.
Shape the dough by the rounded scoops into little balls.
Whisk together the cinnamon sugar and nutmeg in a small bowl and roll your dough balls through the sugar before placing 2 inches apart on a parchment-lined baking sheet.
Bake in the oven for 8-9 minutes.
Remove from the oven and allow the cookies to cool on the baking sheets for an additional 5 minutes before transferring to a wire rack to cool completely. Enjoy!
How to get an even stronger apple cider flavor from the cookies
The apple cider flavor will be more prominent if you mix the dough, cover it and let it chill in the fridge overnight. Then let the bowl sit on the counter for a couple of hours to return to room temp, before baking the cookies.
What is the purpose of cream of tartar in snickerdoodles?
Cream of tartar is an acidic powder that helps to give snickerdoodle cookies their traditional tangy flavor. Not only that ut they help to make the cookies turn out chewy too. They don't do much for leavening which is why baking soda and baking powder are often used with tartar.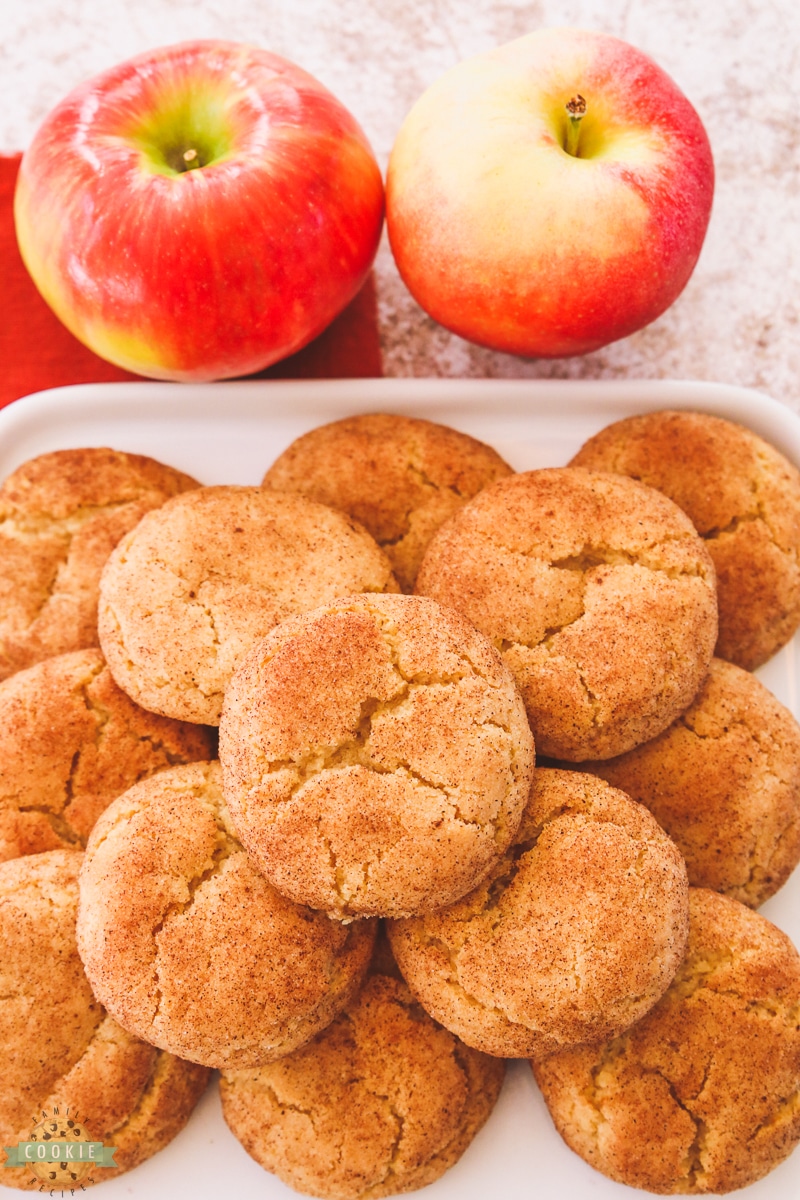 Check out these other great snickerdoodle cookie recipes

When I had my first girl, I was thrilled to have a daughter. When I had my 2nd, I was beyond thrilled that she was going to have a sister! Sisters are a funny thing… they fight like feral cats one minute, and by the next, they're best friends! Here's a cute moment with these two girls!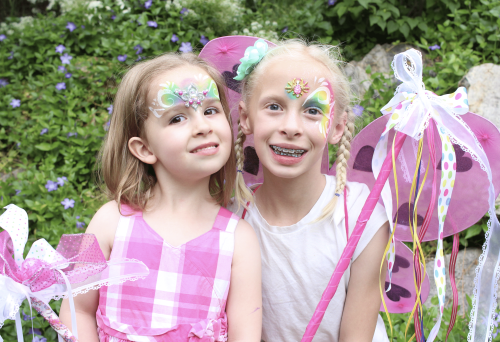 This apple cider snickerdoodle recipe is one to keep on hand every year for delicious fall flavors at your fingertips. Made with just a few basic steps and ingredients, these cookies are simple and incredible for any occasion.