Peach Snickerdoodle Cookies are soft, chewy, delicious and the addition of fresh peaches makes these cinnamon sugar cookies even better!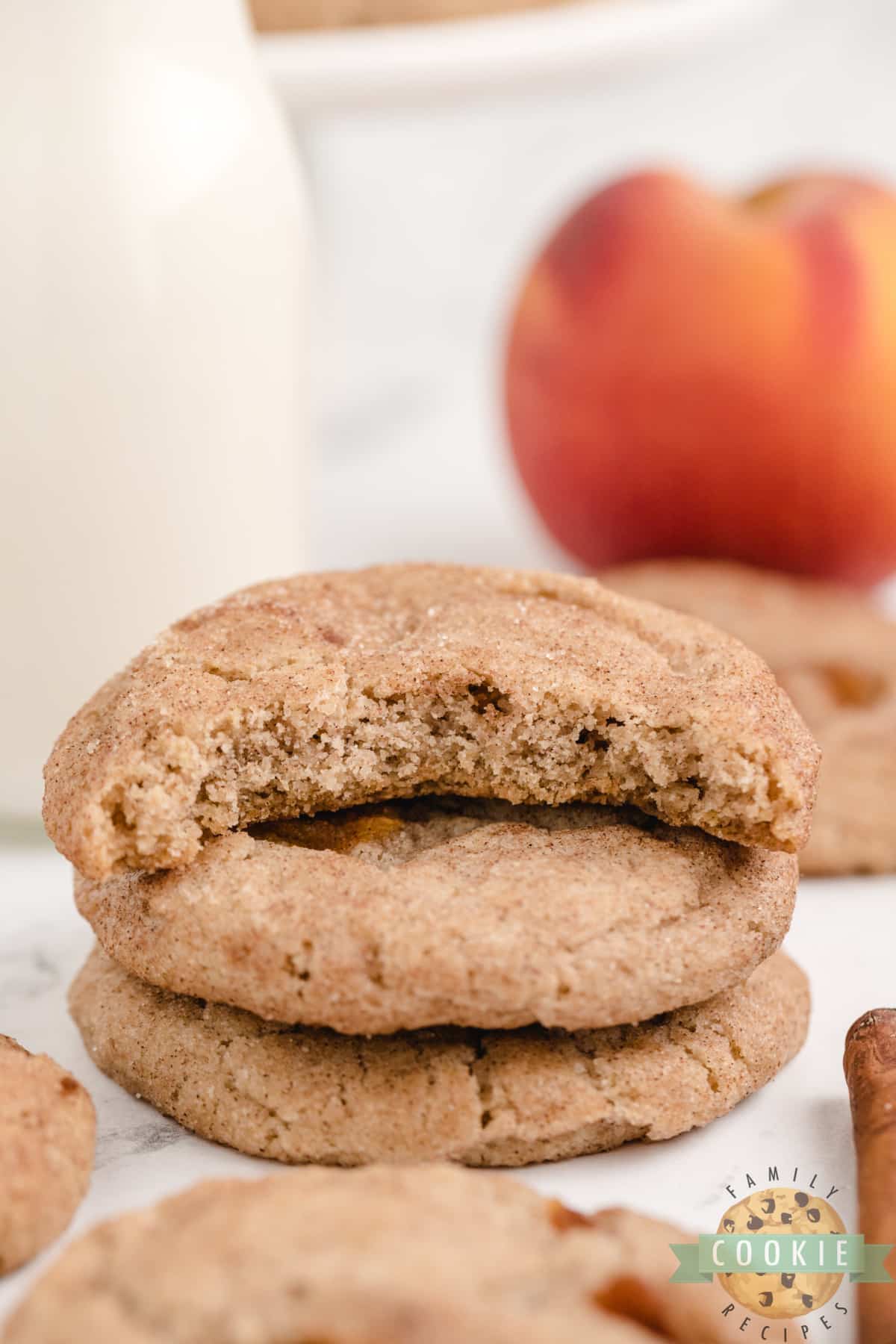 What are Peach Snickerdoodles?
Snickerdoodles are a popular cookies that are known for their crispy exterior and soft and chewy interior, as well as their unique cinnamon sugar coating. Each ball of cookie dough is rolled in a mixture of cinnamon and sugar before baking, giving it its distinctive taste and appearance. Peach Snickerdoodles are a fun twist on a favorite classic cookie recipe. The snickerdoodle recipe is amazing on its own, but the addition of fresh peaches is absolutely fabulous. The peaches go so well with the cinnamon in the cookie!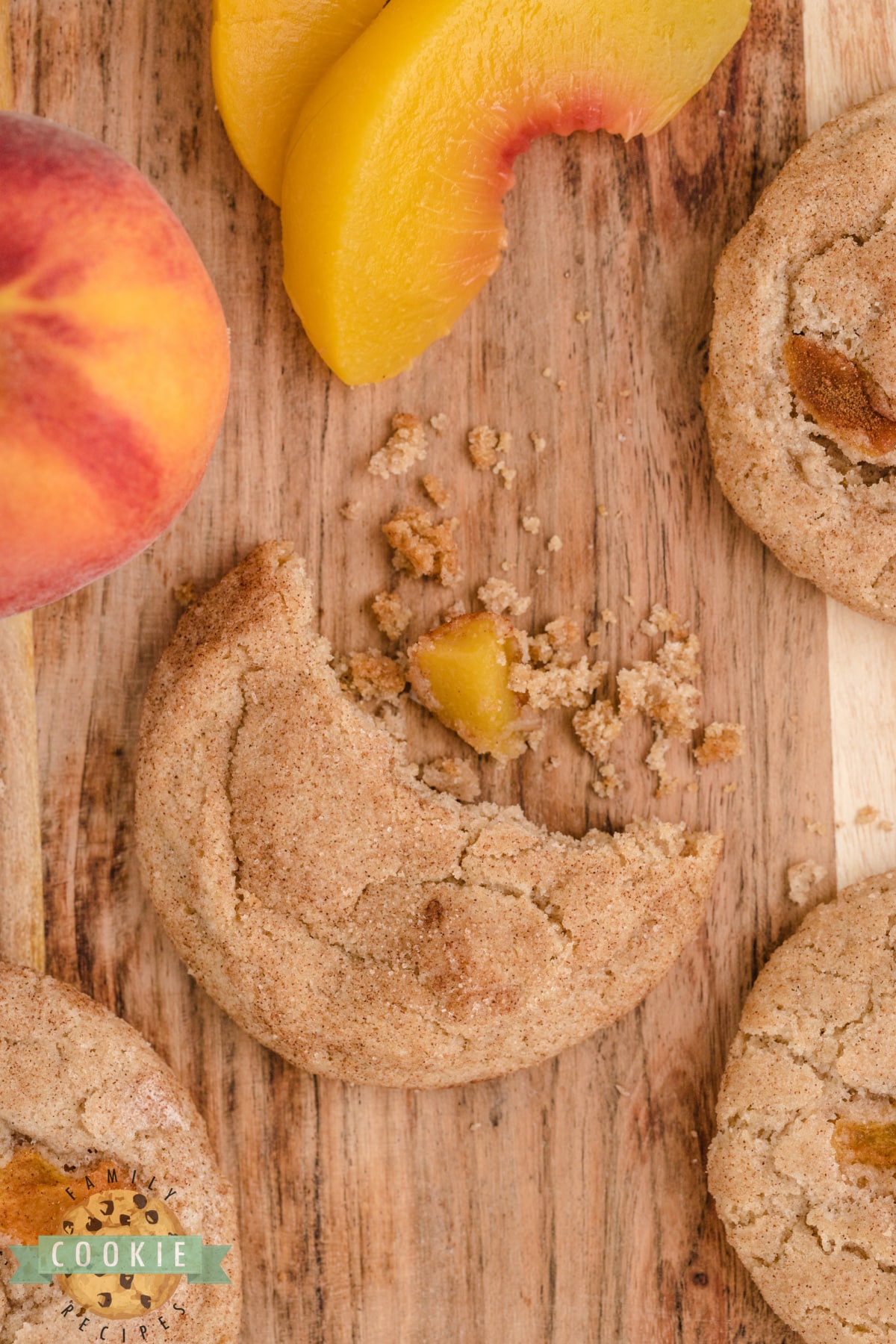 My favorite cookie making tips:
Three kitchen items make these cookies come together really fast. I actually use these items in nearly every cookie recipe I make, so they're quite versatile. First, I line my cookie sheets with a piece of parchment paper. They're sold in sizes that fit a 12×16 cookie sheet perfectly and enable to cookies to bake well without sticking- and no mess from spraying oil on the cookie sheets!
The second item is a KitchenAid mixer. I love mine! I have a Bosch as well but I find I use my KitchenAid for cookies. There is a cookie paddle that comes with every mixer that you attach to the top of the mixer. They're easy to use and help you mix the ingredients uniformly. I also use the metal whisk attachment in this recipe to make the frosting. It whips it up super fast! Add this to your wish list because it's one of my all-time used small appliances ever!
The third item is a cookie scoop! Years and years ago I used to use 2 spoons to measure and scrape cookie dough onto the pans. It wasn't a perfect process and I often ended up with oblong cookies in various sizes. A friend of mine brought cookies to a party and I noticed each and every one of her cookies looked PERFECT. Her secret? A cookie scoop! They come in three sizes- 1/2 tablespoon, 1.5 tablespoon and 3 tablespoon scoops. I used the middle size- 1.5 tablespoon for these cookies. (Although when I'm serving a large crowd, I use the small cookie scoop. People love having a smaller cookie, especially at an event with several other desserts.)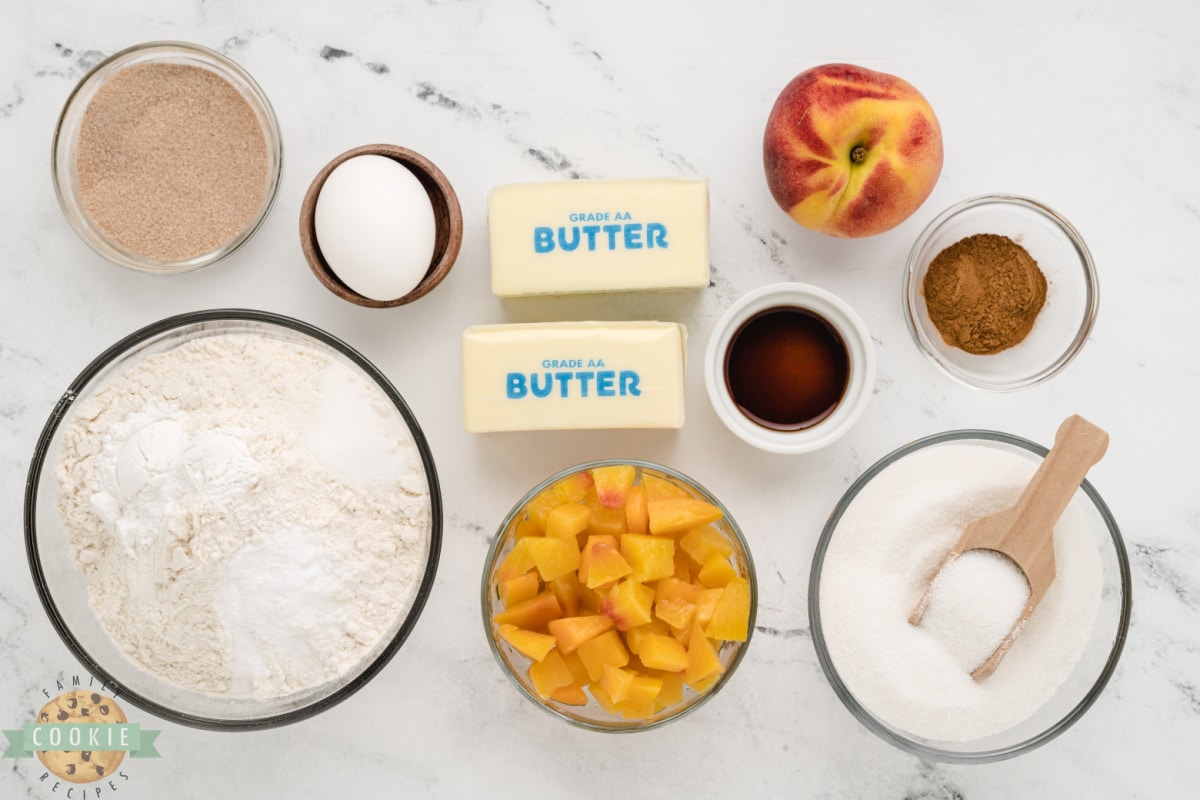 INGREDIENTS IN PEACH SNICKERDOODLE COOKIES
Butter – For best results, use real butter and make sure it is softened to room temperature before adding to the dough.
Sugar – Can't have cookies without sugar! You just need granulated sugar for this recipe.
Egg – One large egg is needed to bind the cookie dough together.
Vanilla – You will need 2 teaspoons of vanilla to add just the right amount of flavor to the cookie dough.
Flour – All-purpose flour works best in most cookie recipes.
Cream of tartar – Cream of tartar gives snickerdoodles that fabulous chewy consistency that is so incredible.
Baking soda – The baking soda is the leavening agent in the cookies, so make sure your baking soda isn't old or expired.
Cinnamon – Cinnamon is a key ingredient in snickerdoodles, so don't leave it out! And yes, there is cinnamon in the dough AND in the topping too.
Salt – Just a little bit of salt helps all of the other flavors to pop.
Peaches – You will need 1 cup of fresh peaches, peeled and chopped. Make sure the peaches are chopped into bite-sized pieces and if the peaches are extra ripe, pat them dry with a paper towel to absorb any extra liquid.
Cinnamon & sugar – Mix a little bit of cinnamon and sugar together to roll the cookie dough in to give each cookie that classic snickerdoodle flavor.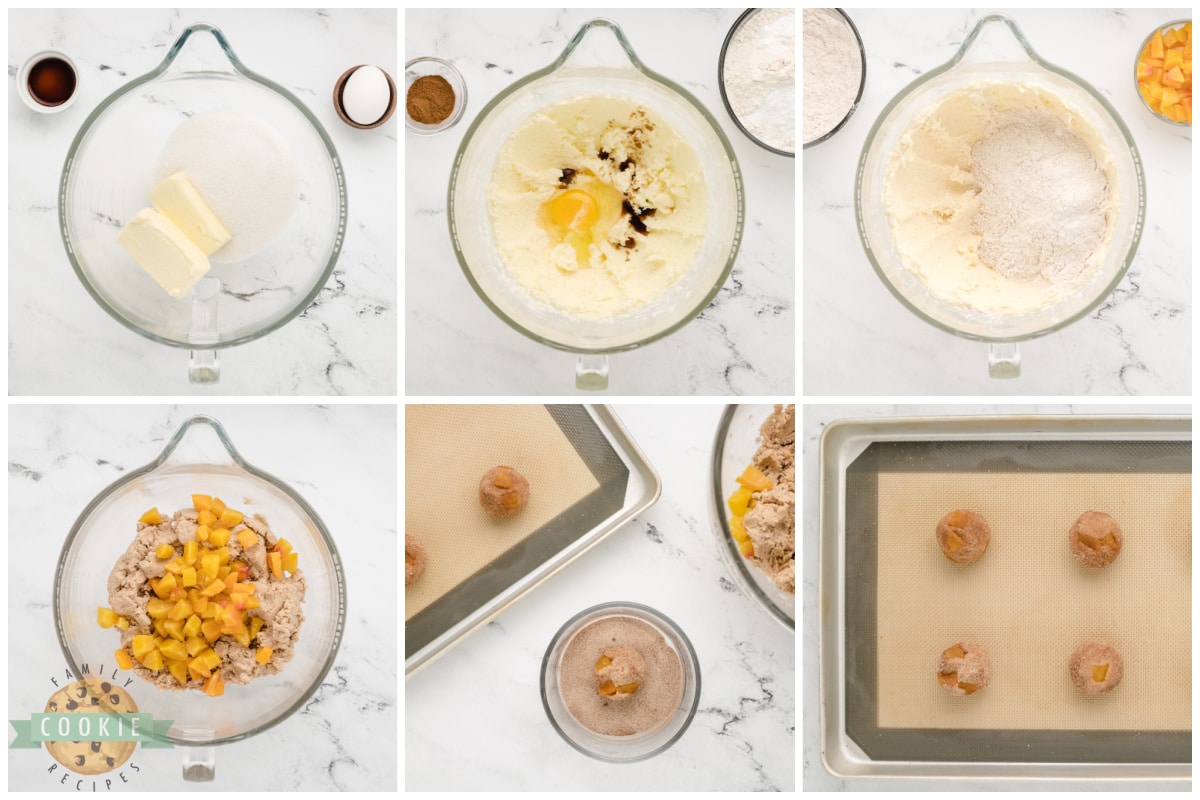 How to make Peach Snickerdoodle Cookies
To make Peach Snickerdoodles, the first step is to preheat the oven to 350°. Then, prepare the cinnamon sugar topping by mixing the sugar and cinnamon together in a bowl and set it aside.
In a separate bowl, cream the butter and sugar together until fluffy using an electric mixer. Add in the egg and vanilla and mix for another 2-3 minutes. Set aside.
In another bowl, whisk together the flour, cream of tartar, baking soda, cinnamon, and salt. Slowly add the dry ingredients to the wet ingredients and mix together on low until well combined.
Next, gently fold in the chopped fresh peaches into the dough. Take 1-2 tablespoons of dough (depending on how big you want to make the cookies) and roll it into a ball. Roll the dough balls in the cinnamon sugar topping mixture and place them on a greased cookie sheet.
Bake the cookies for 10 minutes and then allow them to cool for about 10 minutes on the cookie sheet before transferring them to a wire rack to cool completely.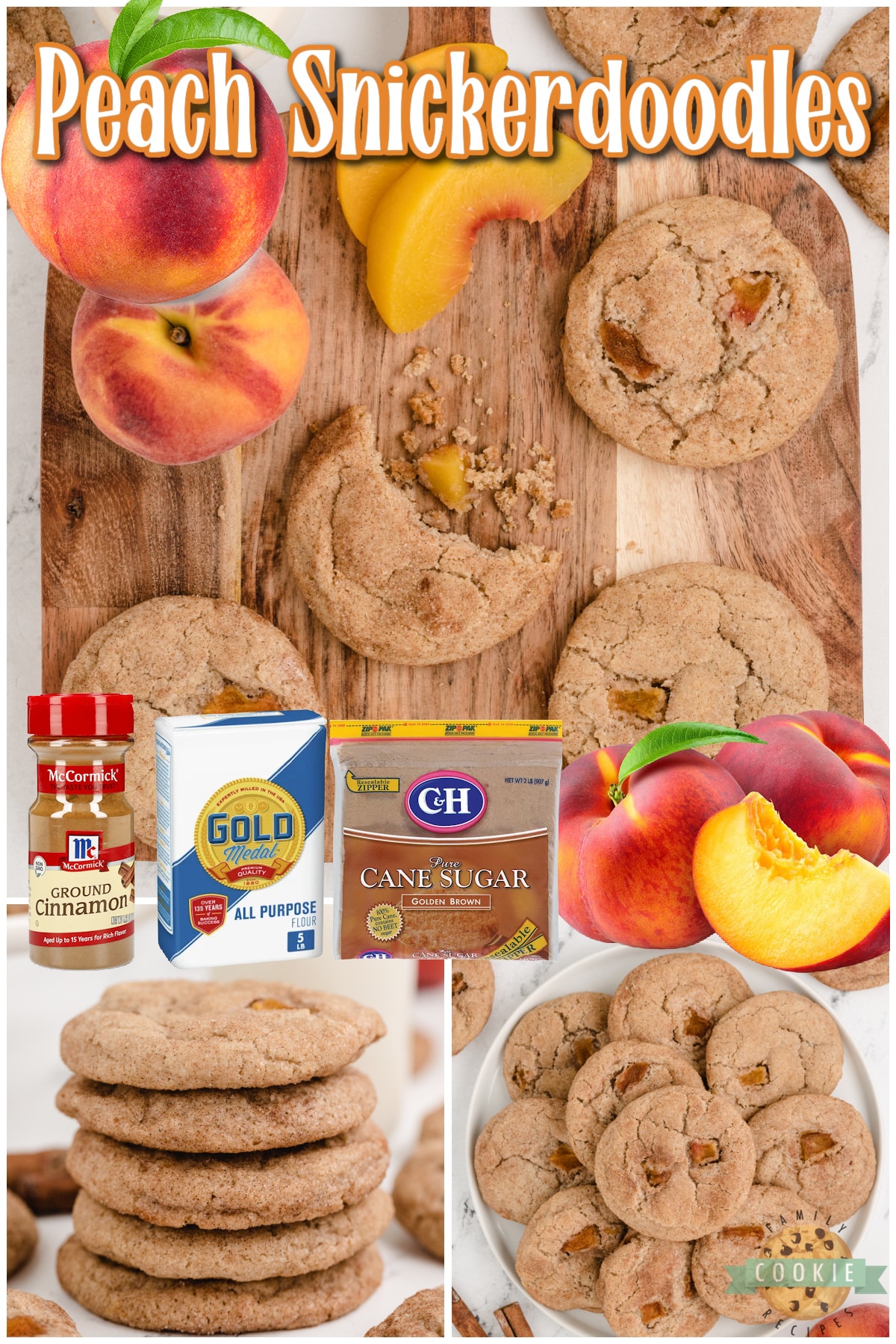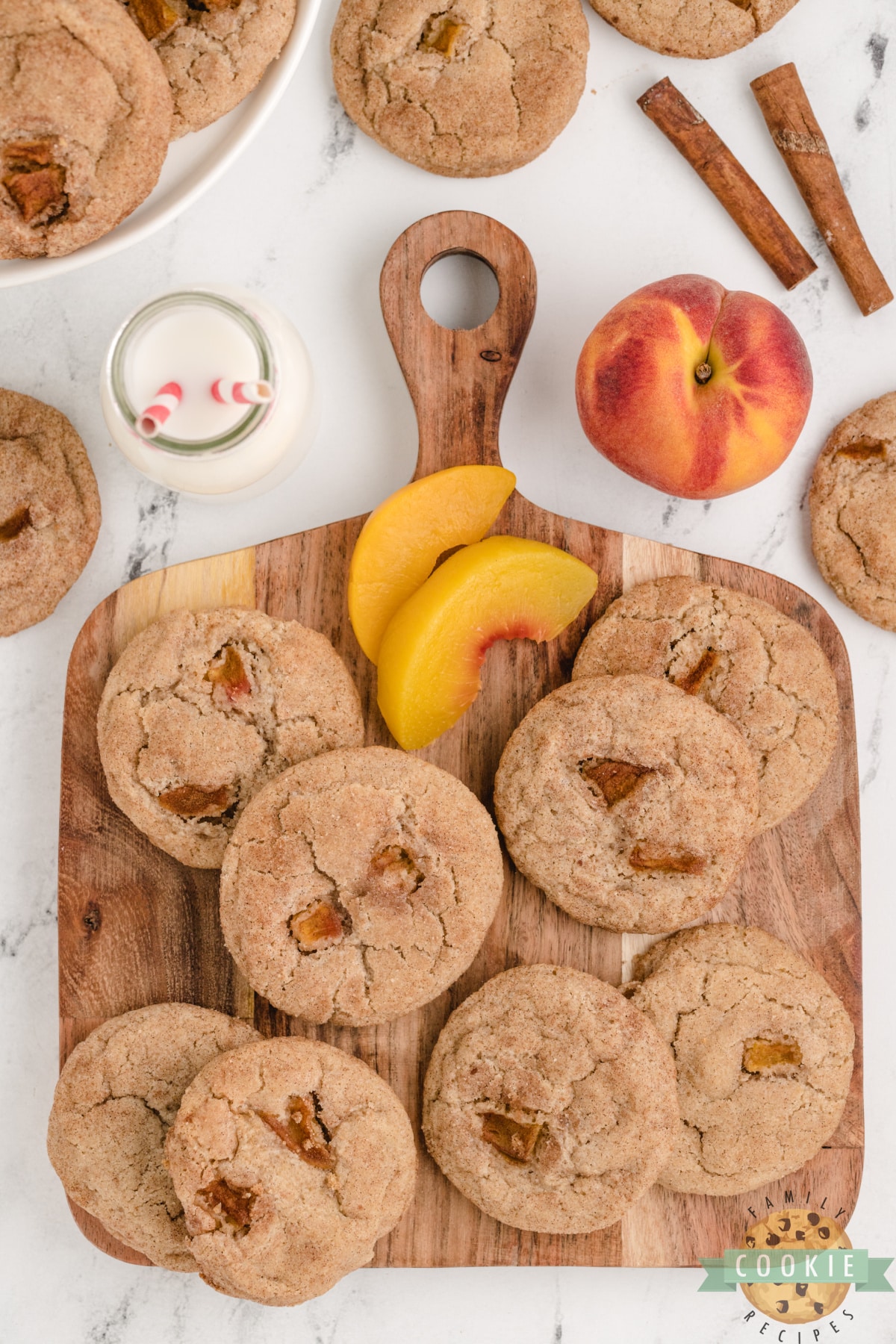 The Easiest Way to Peel a Peach
Peeling a peach is done more easily by following a few simple steps.
Choose a ripe peach: A ripe peach will be slightly soft to the touch and have a sweet aroma.
Boil water: Fill a large pot with water and bring it to a boil.
Prepare an ice bath: Fill a large bowl with ice and water.
Score the peach: Using a sharp knife, make a small "x" on the bottom of the peach.
Blanch the peach: Place the peach in the boiling water for 30 seconds.
Transfer the peach to the ice bath: Using a slotted spoon, transfer the peach to the ice bath and let it cool for a few minutes.
Peel the peach: Using your fingers, gently peel the skin away from the peach. The skin should come off easily.
Slice or chop the peach: Once peeled, the peach is ready to be sliced or chopped for use in recipes.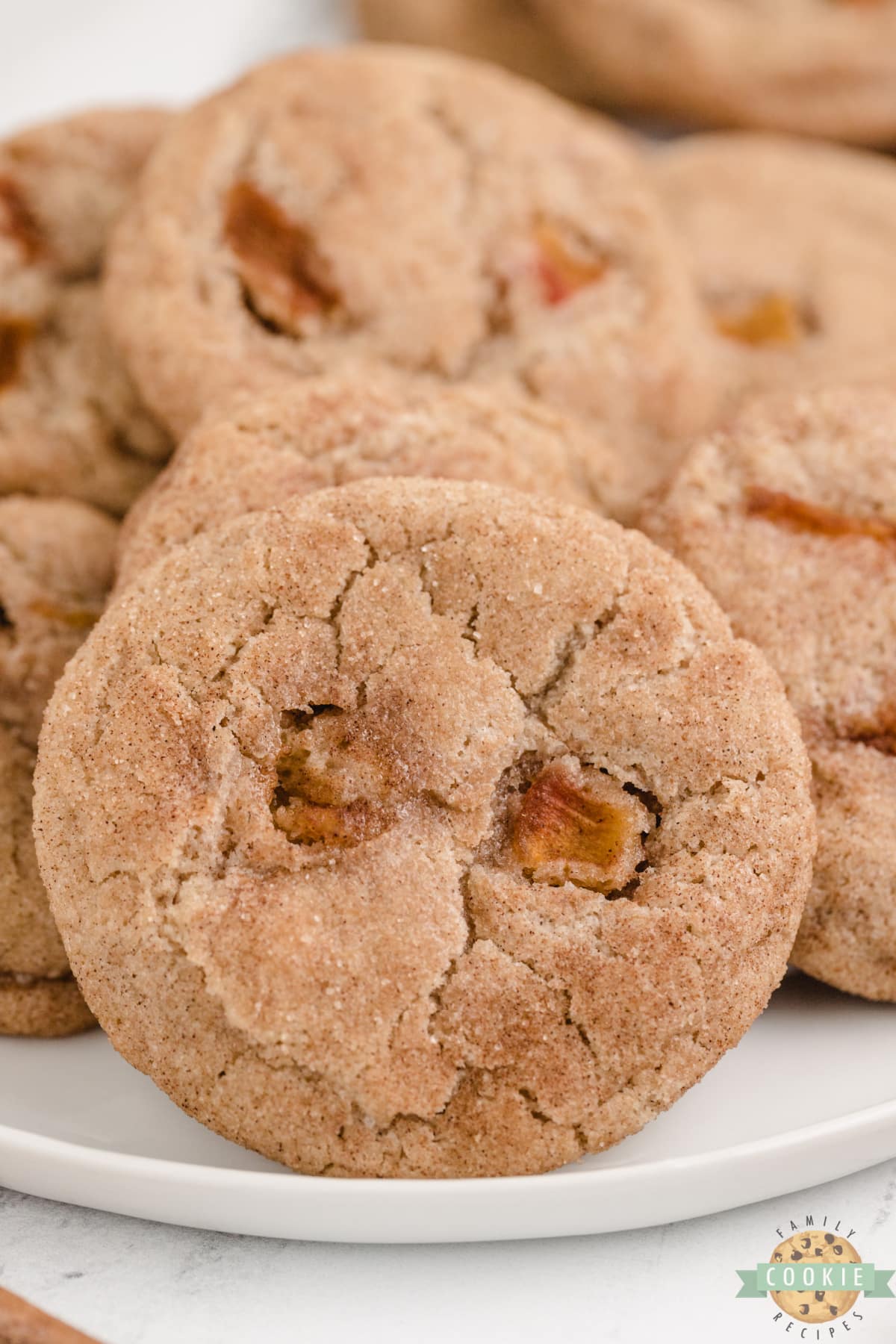 Tips for Making the best Peach Snickerdoodle Cookies
When making Peach Snickerdoodles, there are a few tips that can help ensure success:
Soften the butter to room temperature before using it. This will make it easier to cream with the sugar and will result in a smoother dough.
Use fresh peaches that are ripe but not overly soft. Overly ripe peaches can make the dough too wet and result in flat, spread-out cookies.
Make sure to roll the dough balls in the cinnamon sugar topping mixture before baking. This will give the cookies their signature snickerdoodle look and flavor.
Allow the cookies to cool on the cookie sheet for about 10 minutes before transferring them to a wire rack to cool completely. This will help them set and prevent them from falling apart.
Store the cookies in an airtight container at room temperature for up to 3 days. They can also be frozen for up to 3 months.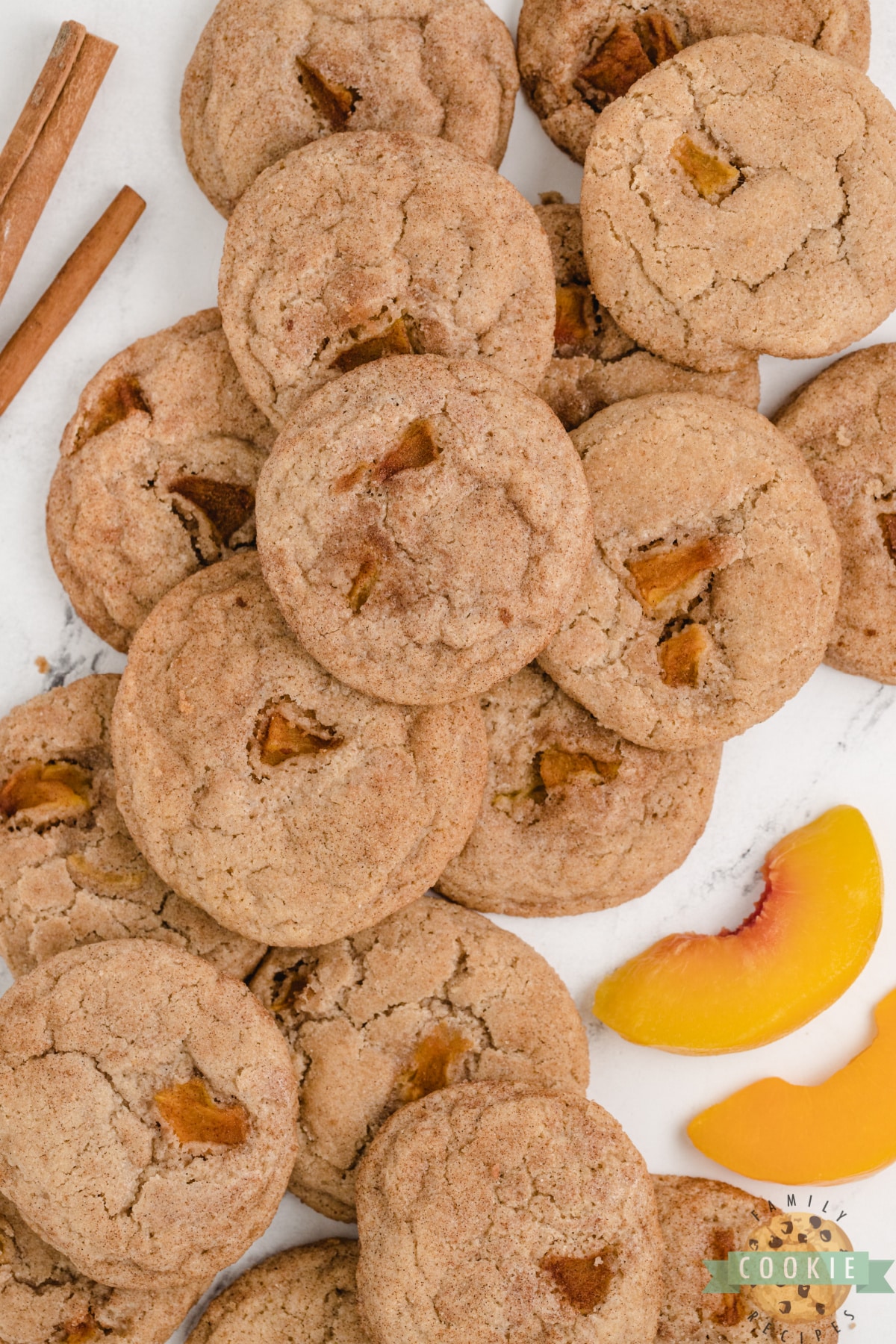 FAQs
Can I use canned peaches instead of fresh?
While fresh peaches are recommended for this recipe, canned peaches can be used in a pinch. Just be sure to drain them well and pat them dry before chopping and adding to the dough.
Can I freeze Peach Snickerdoodles?
Yes! These cookies freeze well and can be stored in an airtight container in the freezer for up to 3 months. To thaw, simply take them out of the freezer and allow them to come to room temperature before serving.
My dough is too sticky. What should I do?
If your dough is too sticky, try adding a bit more flour (1-2 tablespoons at a time) until it reaches the right consistency. Be careful not to add too much flour, as this can make the cookies dry and crumbly.
Can I make these cookies without cream of tartar?
Cream of tartar is an important ingredient in this recipe, as it helps to activate the baking soda and give the cookies their signature texture. If you don't have cream of tartar on hand, you can substitute with an equal amount of lemon juice or white vinegar.
How can I tell when the cookies are done baking?
The cookies should be lightly golden brown on the bottom and around the edges when they are done baking. They will still be slightly soft in the middle, but will firm up as they cool. Be sure to let them cool on the cookie sheet for a few minutes before transferring them to a wire rack to cool completely.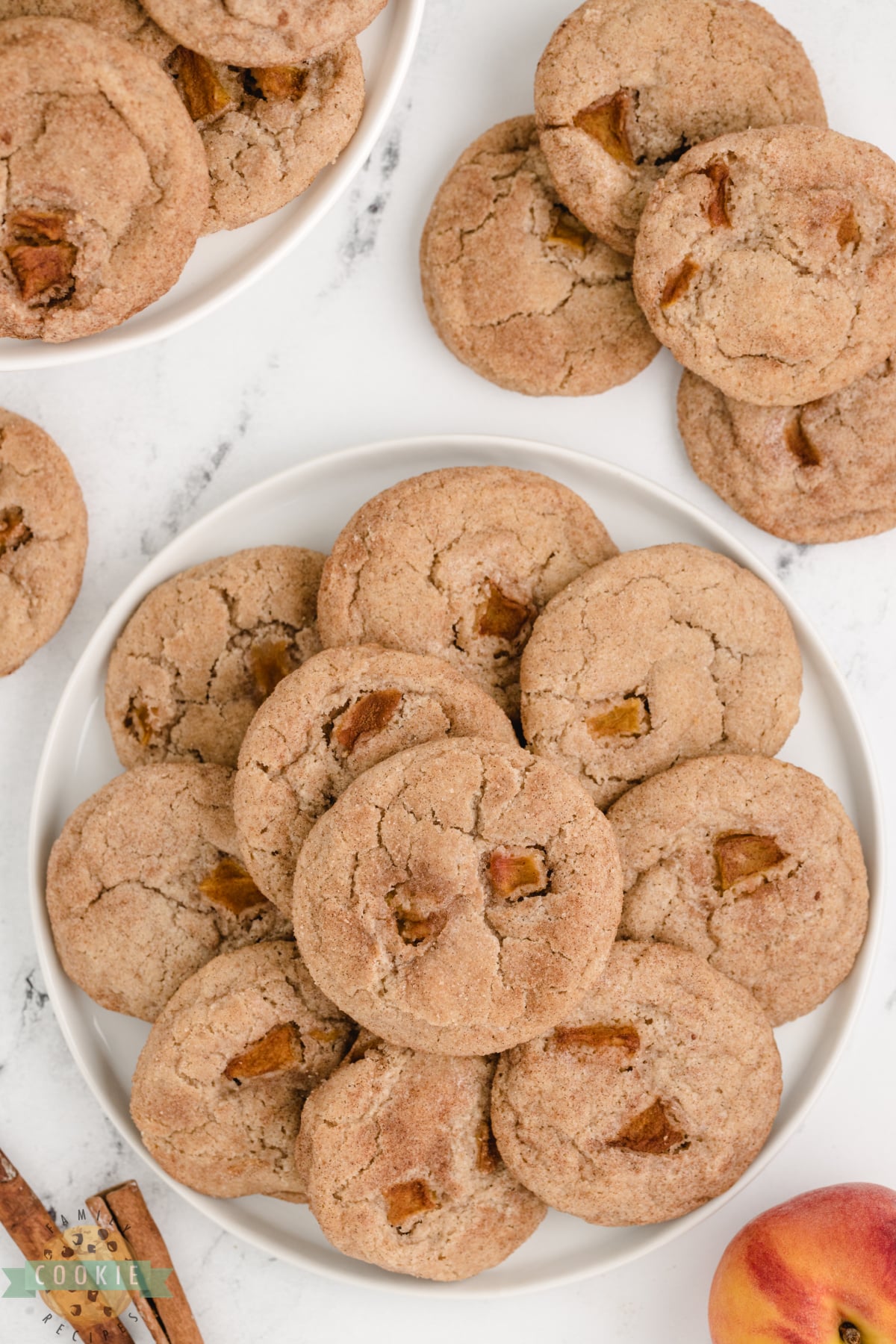 Try some more delicious Snickerdoodle recipes: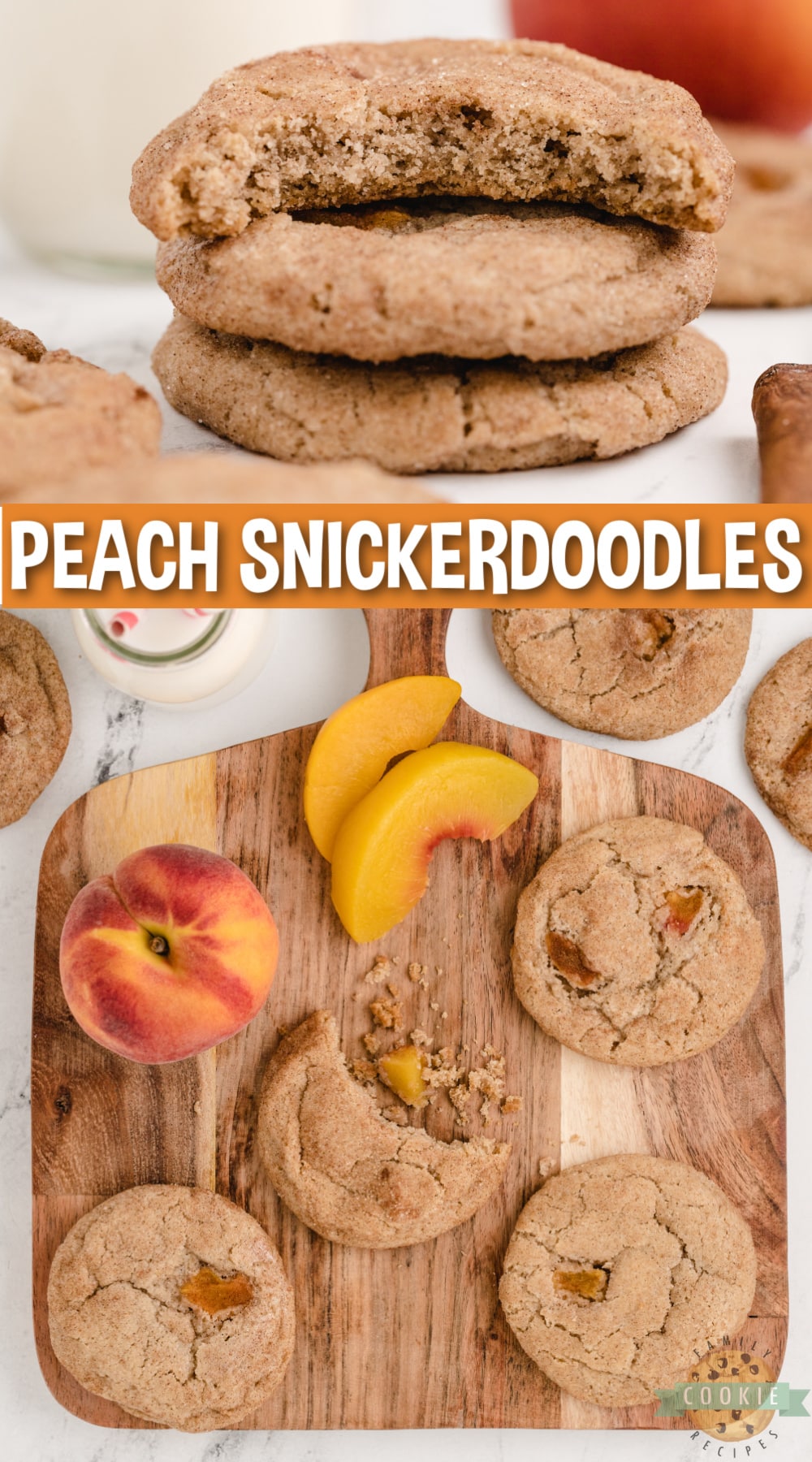 Peach Snickerdoodle Cookies are soft and chewy cookies made with fresh peaches and coated in cinnamon and sugar.