Peach Snickerdoodles are soft, chewy, delicious and the addition of fresh peaches takes your favorite cinnamon sugar cookie up a couple notches!
Peach Snickerdoodles are a fun twist on a favorite classic cookie recipe. This Snickerdoodle recipe is amazing on its own, but the addition of fresh peaches is fabulous. The peaches go so well with the cinnamon in the cookie! These cookies are so soft and chewy and the way your house will smell while these are baking is absolutely incredible too! And when you add fresh fruit, the cookies become so healthy that you can justify eating twice as many, right?!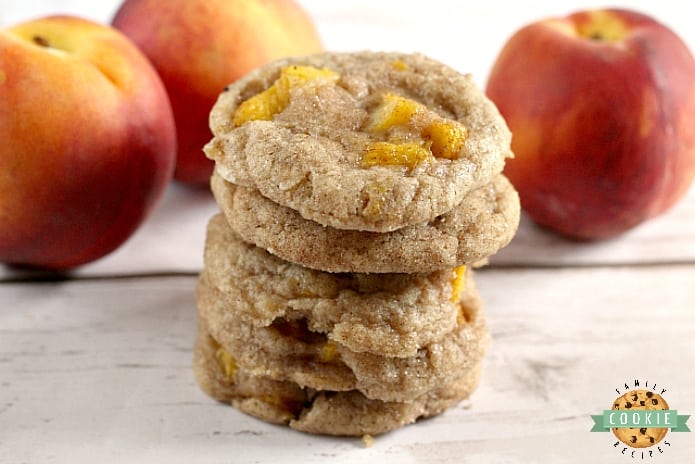 PEACH SNICKERDOODLES
1 cup butter, softened to room temperature
1 1/3 cup sugar
1 egg
2 tsp vanilla
3 cups flour
2 tsp cream of tartar
1 tsp baking soda
2 1/2 tsp cinnamon
1/2 tsp salt
1 cup chopped fresh peaches
TOPPING
1/4 cup sugar
1 tsp cinnamon
Make the topping by mixing the sugar and cinnamon together. Set aside.
Cream the butter and sugar together until fluffy (1-2 minutes) with an electric mixer. Mix in the egg and vanilla and set aside.
In another bowl, whisk together the flour, cream of tartar, baking soda, cinnamon and salt. Slowly add the dry ingredients to the wet ingredients and mix together on low until well combined.
Gently fold in the peaches.
Take 1-2 Tbsp of dough (depending on how big you want to make the cookies) and roll into a ball. Roll the dough balls in the topping mixture and place on a greased cookie sheet. Bake for 10 minutes at 350 degrees and then cool for about 10 minutes on the cookie sheet before transferring to a wire rack to cool completely.
After you give these Peach Snickerdoodles a try, try a few of our other favorite cookie recipes: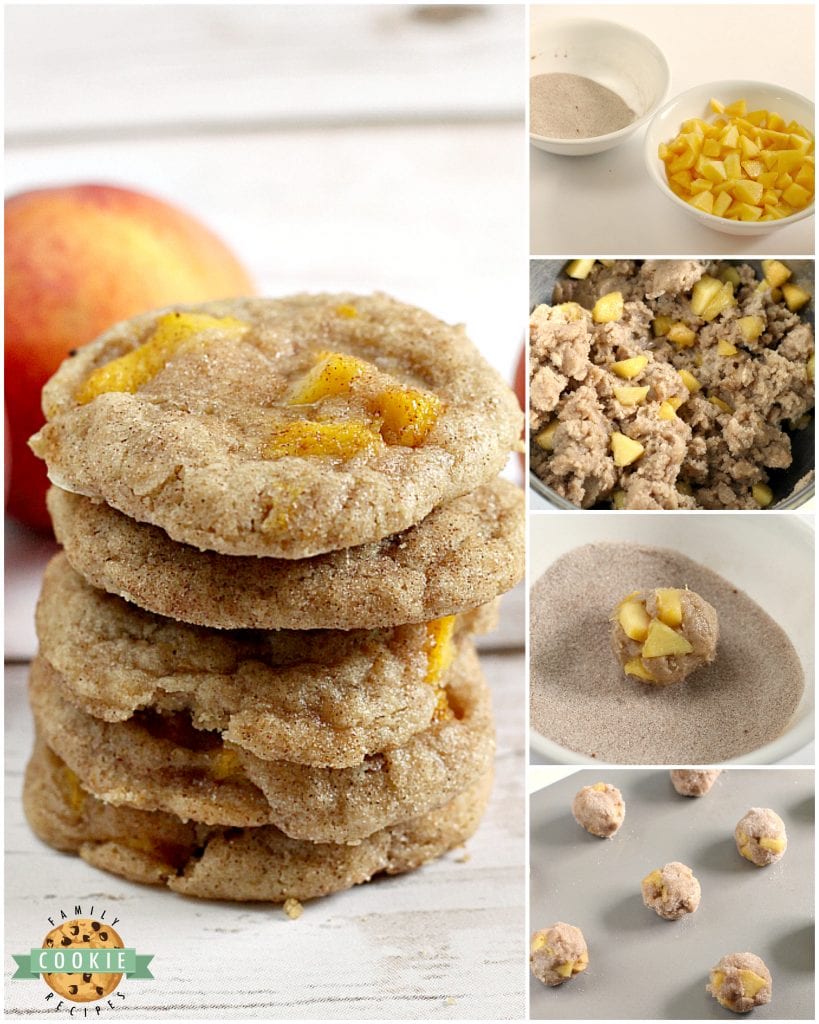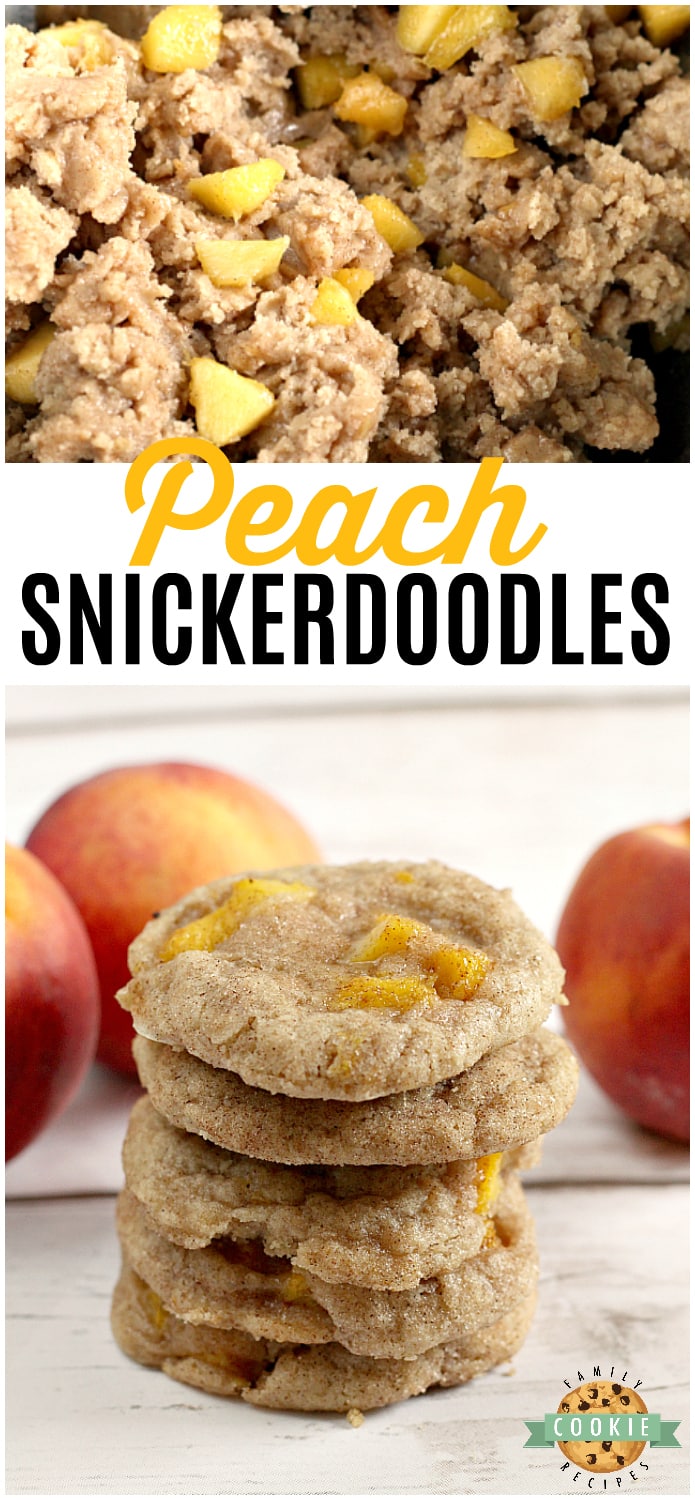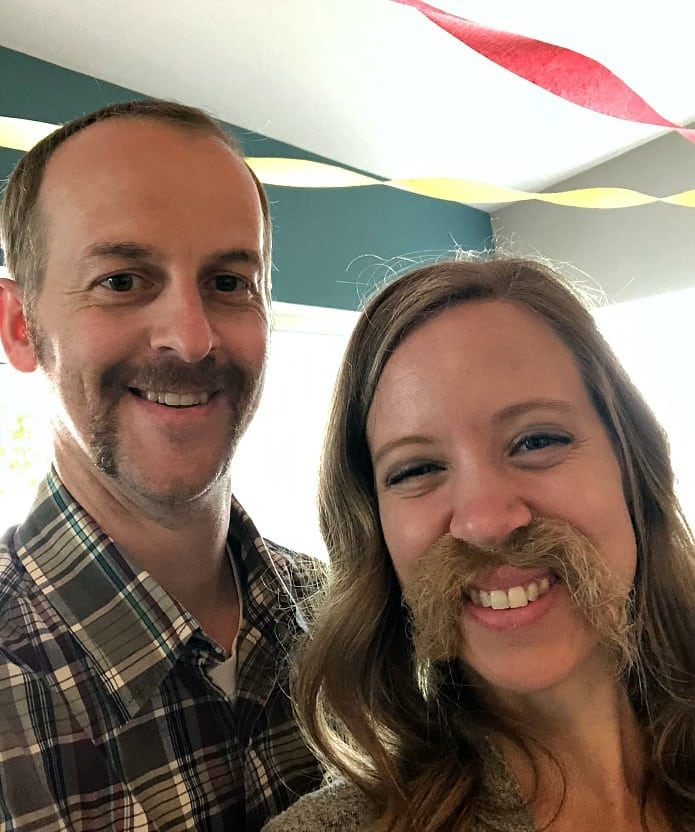 We went to a Cinco de Mustache party at a friend's house and I couldn't resist! I actually ended up winning the prize for "Best Mustache" so it was totally worth the itchiness. I don't understand how people can eat and/or drink with mustaches though! I had to take mine off to eat dinner because food was getting everywhere!